Daily Prayer for December 30
————————————————————
Christoph Friedrich Blumhardt
And Mary said: "My soul praises the Lord and my spirit rejoices in God my Savior, for he has been mindful of the humble state of his servant. From now on all generations will call me blessed, for the Mighty One has done great things for me – holy is his name." Luke 1:46–49, NIV
O Lord God, in exultation our hearts go out to you and your revelation of heaven, your revelation of the
Spirit, who can fill our hearts so that we remain steadfast throughout our earthly life. It is still dark on earth. Sin and death hold sway, but we stand unafraid and seek repentance. In spite of all our failures we look to you and know you are our Savior. You send us Jesus Christ in your own glory. The world will be filled with light. Everywhere on earth, even among those who do not know you, the sincere-hearted will come to acknowledge that you, the Father of Jesus Christ and our Father, are God over all the world. You will show your glory to all people so that they may come to you, worship you, and walk in the light, to the everlasting glory of your name. Amen.
The Sixth Day of Christmas – Feast of the Holy Family
The Feast of the Holy Family is dedicated to the Holy Family of Jesus, Mary and Joseph, commemorating their life together in Nazareth and calling us to focus on Catholic family life.
The feast is celebrated on the first Sunday after Christmas, unless Christmas falls on a Sunday, in which case it is celebrated on December 30. According to The Fisheaters this feast is placed where it is on the calendar "(B)ecause in Old Testament Law, a child wasn't a son of Abraham or a true part of the family until his circumcision at 8 days of age, an event of Christ's life that we celebrated on 1 January (from 25 December to 1 January are 8 days)." The feast was placed on the general calendar of the Roman Rite on October 26, 1921, by the Congregation of Rites under Pope Benedict XV.
The Church presents the Holy Family to us as a model for our own family life. Joseph was the head of the Holy Family and provided for Mary and Jesus with the work of his hands. He was obedient to the angel who told him to take Mary as his wife, what to name the new child and again when told to flee with them to Egypt. He taught Jesus the carpentry trade and what it was to be a man in the society in which they lived.
Mary took care of her family in the home. It was she who would have taught Jesus the Scriptures and prayers of their people when he was very young. It was through her example of managing the home that Jesus would formulate many of the examples he would later use in his teaching. Jesus saw work sanctified through the example of his earthly parents, who did all things well in the ordinary circumstances of daily life.
The feast was placed on the general calendar of the Roman Rite on October 26, 1921, by the Congregation of Rites under Pope Benedict XV.
Homily for Sunday after Christmas: Holy Family
First Reading
Genesis 15:1-6; 21:1-3
The word of the Lord came to Abram in a vision, saying: "Fear not, Abram! I am your shield; I will make your reward very great." But Abram said, "O Lord God, what good will your gifts be, if I keep on being childless and have as my heir the steward of my house, Eliezer?" Abram continued, "See, you have given me no offspring, and so one of my servants will be my heir." Then the word of the Lord came to him: "No, that one shall not be your heir; your own issue shall be your heir." The Lord took Abram outside and said, "Look up at the sky and count the stars, if you can. Just so, " he added, "shall your descendants be." Abram put his faith in the Lord, who credited it to him as an act of righteousness. The Lord took note of Sarah as he had said he would; he did for her as he had promised. Sarah became pregnant and bore Abraham a son in his old age, at the set time that God had stated. Abraham gave the name Isaac to this son of his whom Sarah bore him.
Second Reading
Hebrews 11:8, 11-12, 17-19
Brothers and sisters: By faith Abraham obeyed when he was called to go out to a place that he was to receive as an inheritance; he went out, not knowing where he was to go. By faith he received power to generate, even though he was past the normal age—and Sarah herself was sterile—for he thought that the one who had made the promise was trustworthy. So it was that there came forth from one man, himself as good as dead, descendants as numerous as the stars in the sky and as countless as the sands on the seashore. By faith Abraham, when put to the test, offered up Isaac, and he who had received the promises was ready to offer his only son, of whom it was said, "Through Isaac descendants shall bear your name." He reasoned that God was able to raise even from the dead, and he received Isaac back as a symbol.
Gospel Cycle Cycle B
Luke 2:22-40
When the days were completed for their purification according to the law of Moses, They took him up to Jerusalem to present him to the Lord, just as it is written in the law of the Lord, Every male that opens the womb shall be consecrated to the Lord, and to offer the sacrifice of a pair of turtledoves or two young pigeons, in accordance with the dictate in the law of the Lord. Now there was a man in Jerusalem whose name was Simeon. This man was righteous and devout, awaiting the consolation of Israel, and the Holy Spirit was upon him. It had been revealed to him by the Holy Spirit that he should not see death before he had seen the Christ of the Lord. He came in the Spirit into the temple; and when the parents brought in the child Jesus to perform the custom of the law in regard to him, he took him into his arms and blessed God, saying: "Now, Master, you may let your servant go in peace, according to your word, for my eyes have seen your salvation, which you prepared in sight of all the peoples, a light for revelation to the Gentiles, and glory for your people Israel." The child's father and mother were amazed at what was said about him; and Simeon blessed them and said to Mary his mother, "Behold, this child is destined for the fall and rise of many in Israel, and to be a sign that will be contradicted—and you yourself a sword will pierce—so that the thoughts of many hearts may be revealed." There was also a prophetess, Anna, the daughter of Phanuel, of the tribe of Asher. She was advanced in years, having lived seven years with her husband after her marriage, and then as a widow until she was eighty-four. She never left the temple, but worshiped night and day with fasting and prayer. And coming forward at that very time, she gave thanks to God and spoke about the child to all who were awaiting the redemption of Jerusalem. When they had fulfilled all the prescriptions of the law of the Lord, they returned to Galilee, to their own town of Nazareth. The child grew and became strong, filled with wisdom; and the favor of God was upon him.
The readings that are used today are optional in the new collection of readings for the Roman Catholic Mass of the Feast of the Holy Family. But they are strong and they can touch on many aspects of the life of the Holy Family and our own lives.
The first reading, from the Books of Genesis, speaks bout the desire of Abram (Abraham) and Sarah to have a child. This is normal desire of a young couple and here we see it as a deep and almost anguished desire of an ancient couple. There are lots of reasons and prominent among those reasons is the desire to see one's own family continue in one's own children. This old couple had not given up their desire but had realized that it was impossible in their old age.
At a spiritual level, this should remind us all that if we have good desires, we should hold on to them, even when they seem impossible. Good desires do not necessarily mean desires that are so spiritual that anyone would agree with them! The desire of this old couple was, at one level, a purely natural desire—not so spiritual. We have to be careful not to think of our good natural desires as somehow less than spiritual.
We can hope until our dying breath for the good things of this world. Sarah and Abraham also desired to be faithful to God in the midst of these normal human and good desires. This is an "incarnate" spirituality—that is, a way of seeking God within our human condition.
None of us can escape being human. The desert monks used to joke about the young monks who wanted to come and be angels: grab them by the foot and pull them back to earth! And there are many other stories of that type in the early monastic literature.
The second reading, from the letter to the Hebrews, continues to reflect on Sarah and Abraham: God can accomplish his promises even when at a natural level they seem impossible.
This should help us understand and accept God's promise to us in our Baptism that He will save us and redeem us. For many of us, who try to serve the Lord year after year and who strive to do God's will, our lives still look so broken and impossible. But we must trust that God is at work. Our task is not to strive to create ourselves in what we think is God's image, but to place ourselves in the hands of the Living God each day and simply strive to do what we can. When we fail, we ask pardon; when we sin, we ask forgiveness; when life seems okay, we give thanks.
The Gospel is about the Presentation of Christ in the Temple, one of the events in the life of the Child Jesus. It teaches us again about waiting for God's promises to be fulfilled and trusting that somehow God will transform us if we strive to the best of our ability each day to live in His love.
Simeon, the old man, also points out that true love will involve suffering. Mary is there with her infant child and Simeon points out that this child will bring suffering and pain to her heart. This is true for anyone who tries to love. Every mother and father experiences suffering and pain in the lives of their children. Everyone who loves another person experiences suffering and pain in the commitment of love.
Let us pray today for a deepening of our relationships of love and commitment to others. Let us pray that we may accept the sufferings and pains of loving. Let us ask God to bring healing and peace to our world through the commitment of love.
12/30/AM
"Better is the end of a thing than the beginning thereof."
—Ec 7:8
Look at David's Lord and Master; see His beginning. He was despised and rejected of men; a man of sorrows and acquainted with grief. Would you see the end? He sits at His Father's right hand, expecting until His enemies be made his footstool. "As He is, so are we also in this world." You must bear the cross, or you shall never wear the crown; you must wade through the mire, or you shall never walk the golden pavement. Cheer up, then, poor Christian. "Better is the end of a thing than the beginning thereof." See that creeping worm, how contemptible its appearance! It is the beginning of a thing. Mark that insect with gorgeous wings, playing in the sunbeams, sipping at the flower bells, full of happiness and life; that is the end thereof. That caterpillar is yourself, until you are wrapped up in the chrysalis of death; but when Christ shall appear you shall be like Him, for you shall see Him as He is. Be content to be like Him, a worm and no man, that like Him you may be satisfied when you wake up in His likeness. That rough-looking diamond is put upon the wheel of the lapidary. He cuts it on all sides. It loses much—much that seemed costly to itself. The king is crowned; the diadem is put upon the monarch's head with trumpet's joyful sound. A glittering ray flashes from that coronet, and it beams from that very diamond which was just now so sorely vexed by the lapidary. You may venture to compare yourself to such a diamond, for you are one of God's people; and this is the time of the cutting process. Let faith and patience have their perfect work, for in the day when the crown shall be set upon the head of the King, Eternal, Immortal, Invisible, one ray of glory shall stream from you. "They shall be Mine," saith the Lord, "in the day when I make up My jewels." "Better is the end of a thing than the beginning thereof."
SUNDAY, DECEMBER 30
The Holy Family of Jesus, Mary, and Joseph
The Presence of God
"Be still, and know that I am God!" Lord, may your spirit guide me to seek your loving presence more and more for it is there I find rest and refreshment from this busy world.
Freedom
By God's grace I was born to live in freedom, free to enjoy the pleasures he created for me. Dear Lord, grant that I may live as you intended, with complete confidence in your loving care.
Consciousness
How am I today?
Where am I with God? With others?
Do I have something to be grateful for? Then I give thanks.
Is there something I am sorry for? Then I ask forgiveness.
The Word
God speaks to each of us individually. I need to listen, to hear what he is saying to me. Read the text a few times; then listen.
Luke 2:41–52
Now every year his parents went to Jerusalem for the festival of the Passover. And when he was twelve years old, they went up as usual for the festival. When the festival was ended and they started to return, the boy Jesus stayed behind in Jerusalem, but his parents did not know it. Assuming that he was in the group of travelers, they went a day's journey. Then they started to look for him among their relatives and friends. When they did not find him, they returned to Jerusalem to search for him. After three days they found him in the temple, sitting among the teachers, listening to them and asking them questions. And all who heard him were amazed at his understanding and his answers. When his parents saw him they were astonished; and his mother said to him, "Child, why have you treated us like this? Look, your father and I have been searching for you in great anxiety." He said to them, "Why were you searching for me? Did you not know that I must be in my Father's house?" But they did not understand what he said to them. Then he went down with them and came to Nazareth, and was obedient to them. His mother treasured all these things in her heart. And Jesus increased in wisdom and in years, and in divine and human favor.
"In my Father's house." Do I believe that the Father's house may be found within myself? If I do, I can perhaps open myself to an even greater wonder: "Those who love me will keep my word, and my Father will love them, and we will come to them and make our home with them" (John 14:23).
Let me take in this scene slowly. Jesus is coming of age, entering his teens, and is an eager student questioning his teachers. To his mother's query—"your father and I"—he points gently to another paternity: "I must be in my Father's house." No Gospel scene shows more clearly the gradual process by which he grew into a sense of his mission. Let me savor it.
Conversation
How has God's word moved me? Has it left me cold?
Has it consoled me or moved me to act in a new way?
I imagine Jesus standing or sitting beside me.
I turn and share my feelings with him.
Conclusion
I thank God for these moments we have spent together and for any insights I have been given concerning the text.
Christmas Action
The Word of Their Testimony
 The courtroom is silent as the witness takes the stand. He is sworn to tell the truth, the whole truth and nothing but the truth! What will the witness say? Will he be a useless witness, one who is afraid to speak what he has seen and heard? Will he be a faithful witness? Or will his testimony change to please the expectations of those around? This is important because someone's life hangs in the balance, and it will be determined based upon word of this man's testimony!
The apostle John was exiled to "the isle that is called Patmos, for the word of God, and for the testimony of Jesus Christ." Revelation 1:9. For over sixty years he had been a faithful witness concerning Jesus Christ. He wrote, "For the life was manifested, and we have seen it, and bear witness, and shew unto you that eternal life, which was with the Father, and was manifested unto us;" I John 1:2. The word of John's testimony was the gospel of Christ that he preached. It was "the truth" that Jesus said, "shall make you free." John 8:32. If John stood faithful as a witness, then even more people would be delivered from the bondage of sin and Satan. If he gave false testimony, then "truth would be fallen in the streets" and "justice would stand afar off," Isaiah 59:14 therefore the people would look for judgment and salvation, but find none. Isaiah 59:11.
The saints of God are his witnesses in this present world. God said, "Fear ye not, neither be afraid: have not I told thee from that time, and have declared it? ye are even my witnesses. Is there a God beside me? yea, there is no God; I know not any." Isaiah 44:8. Jesus spoke to those gathered the day of his ascension, saying, "But ye shall receive power, after that the Holy Ghost is come upon you: and ye shall be witnesses unto me both in Jerusalem, and in all Judaea, and in Samaria, and unto the uttermost part of the earth." Acts 1:8. Jesus empowered and sent these "witnesses" to give "the word of their testimony" before all nations, peoples and tongues.
The "word of their testimony" is the gospel of Christ they preached everywhere they went. It is how they overcame the dragon, Satan. Revelation 12:11. This "testimony of Jesus Christ" Revelation 12:17 was in fact the great "weapon of their warfare" II Corinthians 10:4 that God gave to the church. Everywhere this "testimony" was given, the chains of sin and oppression were broken because when "the truth" is lifted up, justice and equity enter.Isaiah 59:14.
God's witnesses always hold "the testimony of Jesus Christ." Revelation 19:10. It can be no other way. Many call themselves "God's witnesses," but they do not and cannot bring you the testimony of "the Lord from Heaven" I Corinthians 15:47, Jesus Christ, who was "made in the likeness of men" Philippians 2:6 in order to shed blood that could destroy Satan and wash every sin from your heart and nature. Revelation 1:5. If the "heart, soul, and body" of their "testimony" is not "Jesus (the) Christ, and him crucified," I Corinthians 2:2 they ARE NOT God's witnesses!
God himself was the first to give "testimony" of Jesus Christ. In fact, John says, the person who does not believe the truth, makes God to be a liar "because he believeth not the record (testimony) that God gave of his Son." I John 5:10. God told us Christ is "the seed of the woman" who would bruise the head of the serpent. Genesis 3:15. He would be born of a virgin, and his name would be called "Wonderful, Counsellor, The mighty God, The everlasting Father, The Prince of Peace." Isaiah 7:14, 9:6. Christ would be "wounded for our transgressions," Isaiah 53:5 and he would "make an end of sins, make reconciliation for iniquity, and bring in everlasting righteousness." Daniel 9:24. When this "seed of the woman" was conceived in a virgin, God even sent an angel to say "thou shalt call his name JESUS: for he shall save his people from their sins." Matthew 1:21. This is the testimony God gave!
There are two promises of a great working of God shorty before the second coming of Jesus Christ. Both are so "the testimony of Jesus Christ" will be heard in all the earth. The first is found in the words of Jesus concerning the end. He said, "And this gospel of the kingdom shall be preached in all the world for a witness unto all nations; and then shall the end come. " Matthew 24:14. I believe this has hardly even begun in our generation. The modern church has been highly successful in convincing multitudes around the world that Jesus came to give you earthly wealth, or, to take you to heaven in your sinfulness. Both of these messages are "false witnesses" of Christ. The "false prophet" has given his testimony. Revelation 13:11. Soon it will be time for God to give his witness; and he will give it in all the world!
God gave another promise. He said, "And I will give power unto my two witnesses, and they shall prophesy a thousand two hundred and threescore days, clothed in sackcloth. These are the two olive trees, and the two candlesticks standing before the God of the earth." Revelation 11:3-4. This promise is very similar to what Jesus told those gathered the day of his ascension. He said, "…ye shall receive power, after that the Holy Ghost is come upon you: and ye shall be witnesses unto me…" Acts 1:8. I do not believe these "two witnesses" are literally two men. Let me explain.
The Revelation John saw gives us pictures or "imagery" to express greater truth.  Jesus is a portrayed as "a lamb …having seven horns and seven eyes." Revelation 5:6. Satan is portrayed as a "red dragon" Revelation 12:3, and the "false prophet" is portrayed as a beast that "had two horns like a lamb, and he spake as a dragon. ." Revelation 13:11. There are seven great kingdoms that either have, or shall, rule upon earth, which are portrayed as heads on a scarlet colored beast. Revelation 17:10. Even the church, "the bride, the Lamb's wife," is portrayed as a city built of precious stones. Revelation 21:9.
The "two witnesses" is also imagery portraying those who carry the gospel of Christ. God has always required "two or three witnesses" for any testimony to be established as truth. II Corinthians 13:1. God's "two witnesses" are those who in any generation give the"testimony of Jesus Christ" in truth. On the day of Pentecost, the one hundred and twenty were his "two witnesses," as was also the church at Antioch. Paul and Barnabas were certainly God's "two witnesses," but when they left a city it was often filled with many of God's "two witnesses." I believe the promise to "give power unto my two witnesses" is a promise of a great outpouring of the Holy Ghost upon those who carry"the testimony of Jesus Christ." This great outpouring of God's Spirit will come so that"the testimony of Jesus Christ" will be given in all the earth. This testimony will be accompanied by a great harvest of souls. Satan will not be able to do anything unto these faithful witnesses until "they shall have finished their testimony!" Revelation 11:7.
Verse of the Day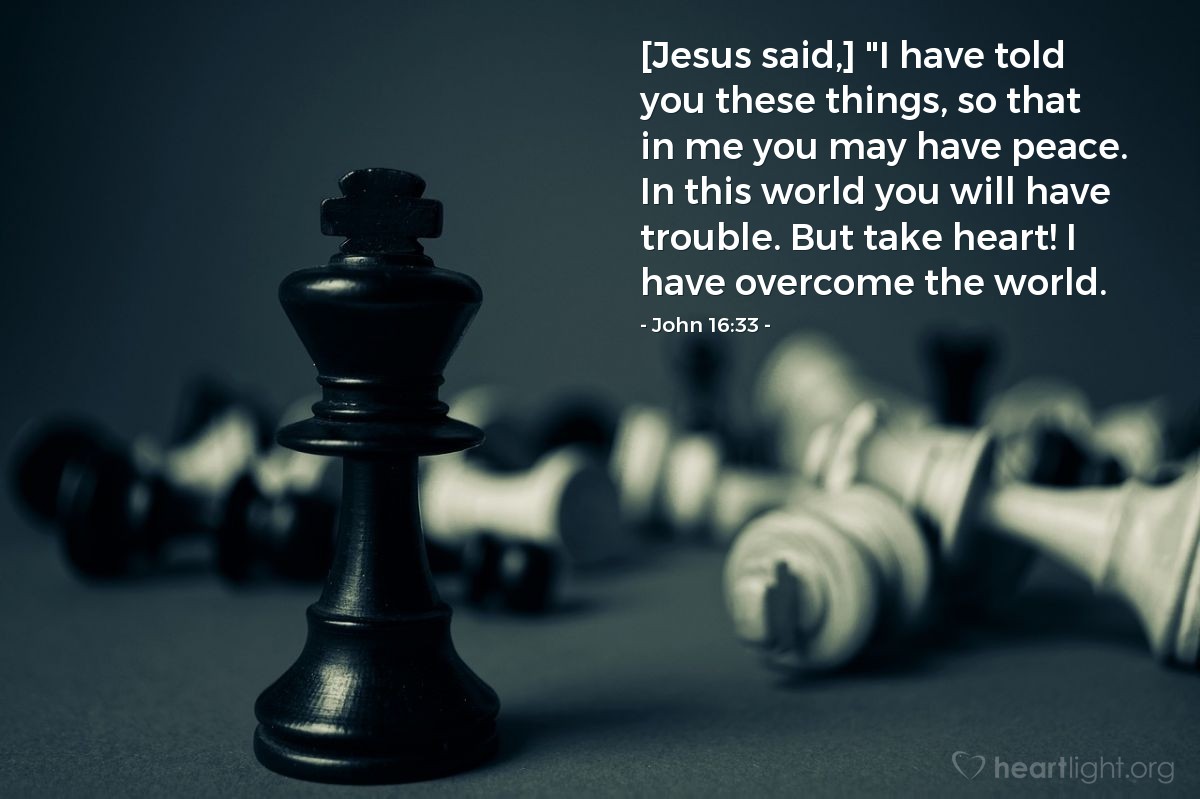 Thoughts on Today's Verse…
This world is a place of struggle. Yes, we can live above the struggle for awhile. We can find a way to simply ignore or re-label the struggle for a time. But in the end, the struggle will find us. But in the midst of struggle, we can remind ourselves that our victory is secure. Jesus has won! We will share in his great triumph. In case you didn't know, the final outcome is already determined and Christians "win big" through Jesus. And this victory is a forever win!
My Prayer…
Thank you, God, for giving me the victory through Jesus Christ my Lord. I greet the future with anticipation because I know each day brings me closer to you and the glorious future you have planned for all of your children. Until then, I pray that I may never lose sight of that victory and yearn for the day of its arrival! In the name of Jesus, the triumphant Rider on the white horse, I pray. Amen.
Alfred Delp
How many of us, in our good-hearted way, have ridden past the stable on the high horse of our opinions and convictions, leaving the Child behind, not realizing he was there? How many of us have stood up for what we believed, even in defiance, but were not awake to the fact that we were riding past a miracle – the miracle of life and love?
Source: When the Time Was Fulfilled
God spoke through an ass ( donkey ) once to one of His prophets and then an argument started between them. I believe the prophet missed something important. Read the message today to learn more.
Arguing with an Ass
Yahweh opened the mouth of the donkey, and she said to Balaam, 'What have I done to you, that you have struck me these three times?' Balaam said to the donkey, 'Because you have mocked me, I wish there were a sword in my hand, for now I would have killed you.' The donkey said to Balaam, 'Am I not your donkey, on which you have ridden all your life long until today? Was I ever in the habit of doing so to you?' He said, 'No.' Numbers 22:28 WEB
Balaam was riding his donkey down the road one day when it suddenly sat down under him and would not get back up. Balaam became angry and started to beat it with his staff, then the donkey started talking to him. That was when their disagreement started, and Balaam found himself arguing with an ass. He overlooked the fact that it was an intelligent donkey, very articulate, and that it was trying to save his life.
We have all had people in our lives that have suddenly became very annoying for an unknown reason. The Lord sometimes uses the strangest people, or apparently even animals to speak to us. These will get under your skin and reveal the real you that you try and hide, but it comes out with a little coaxing, or prodding.
Don't start arguing with an ass today. Don't let them incite you. It is quite possible that God is using this to show you what is really inside of you. It is always something in you that causes you to become upset, not them. You have a trigger and they simply found the switch. When you resist the temptation to flare up, it will become easier. Just like sandpaper, the ass is there to help polish you up and knock off those rough edges.
Prayer: Heavenly Father help me deal with the things in my life. Cleanse me from the bad attitudes and help me control my emotions. Make me stable and secure in who I am in You. Help me see the big picture and know that this tiny incident is nothing to be upset about, in the name of Jesus Christ I pray.
Bible Fun Fact: God was a whistler (Isaiah 5:26 and 7:18).
 'Extravagant Gifts'
Note from Jesus
Dear Friend,
Can you remember your Christmas gifts from last year? … five years ago? … ten years ago? You probably don't remember most of your gifts over the years, unless you thought they were extravagant gifts or were gifts with some special connection to the giver.
There were three gifts — gold, frankincense, and myrrh — that were given to Me at My birth by the magi. These gifts have been remembered throughout the centuries. They were extravagant gifts — because of their value, because of the great effort required for the magi to bring them, and because they were presented with heartfelt worship.
Toward the end of My earthly ministry, I was given another extravagant gift to prepare Me for My suffering — a woman came into the house of Simon and anointed My head with expensive and precious ointment. She was criticized for the waste of her extravagance. But her gift was not wasted! Her gift is still precious to Me.
The gifts of the magi and the woman are responses to God's most extravagant gift — sending Me to redeem them!
Verses to Live
The magi's extravagant gifts were given at My birth:
The wise men left Herod's chambers and went on their way. The star they had first seen in the East reappeared — a miracle that, of course, overjoyed and enraptured the wise men. The star led them to the house where Jesus lay; and as soon as the wise men arrived, they saw Him with His mother Mary, and they bowed down and worshiped Him. They unpacked their satchels and gave Jesus gifts of gold, frankincense, and myrrh.
(Matthew 2:9-11)
The woman's extravagant gift was given at the end of My ministry, preparing Me for My burial:
The Passover and the Feast of Unleavened Bread were two days away. The Jewish leaders — the chief priests and the scribes — gathered to discuss how they might secretly arrest Jesus and kill Him.

Jewish Leaders:

We can't do it during the festivals. It might create an uproar.

While Jesus was eating dinner in Bethany at the house of Simon the leper, a woman came into the house carrying an alabaster flask filled with a precious, sweet-smelling ointment made from spikenard. She came to Jesus, broke the jar, and gently poured out the perfume onto His head.

Some of those around the table were troubled by this and grumbled to each other.

Dinner Guests:

Why did she waste this precious ointment? We could have sold this ointment for almost a year's wages, and the money could have gone to the poor!

Their private concerns turned to public criticism against her.

Jesus:

Leave her alone. Why are you attacking her? She has done a good thing. The poor will always be with you, and you can show kindness to them whenever you want. But I won't always be with you. She has done what she could for Me — she has come to anoint My body and prepare it for burial. Believe Me when I tell you that this act of hers will be told in her honor as long as there are people who tell the good news.
All true giving should be in response to God's gracious gifts — especially His greatest gift — given to you!
Praise God for this incredible, unbelievable, indescribable gift.
 (2 Corinthians 9:15)
Response in Prayer
Thank You God for Your extravagant gift of Jesus. May my life reflect Your generosity in the way I treat others and share the gifts You have shared with me. In Jesus' name. Amen.