Daily Prayer for August 23
Therefore, my brothers and sisters, make every effort to confirm your calling and election. For if you do these things, you will never stumble, and you will receive a rich welcome into the eternal kingdom of our Lord and Savior Jesus Christ. 2 Peter 1:10–11, NIV
Lord our God, we thank you that you have given us an entrance into the eternal kingdom of our Lord and Savior Jesus Christ. We thank you that you have already begun to give us new vision, that already many things are being transformed, so that we may go gladly and confidently on our way with hope for whatever is still unsolved. May all this live in our hearts and fill us with thanks to you. We want to be courageous and keep in sight what still needs to be changed. Then we can take part as workers in your vineyard. May the light you have given us continue to shine in us and burn ever more brightly, as you have promised. Amen.
Daily Dig
In your inbox every morning
Christ says: "Which of these three, do you think, proved neighbor to the man who fell among the robbers?" The Pharisee answers correctly, "The one who showed mercy to him" (Luke 10:36). This means that by doing your duty you easily discover who your neighbor is.… He towards whom I have a duty is my neighbor, and when I fulfill my duty, I prove that I am a neighbor. Christ does not speak about recognizing our neighbor but about being a neighbor yourself, about proving yourself to be a neighbor, something the Samaritan showed by his compassion. Choosing a lover, finding a friend, yes that is a long, hard job, but your neighbor is easy to recognize, easy to find – if you yourself will only recognize your duty and be a neighbor.
Source: Provocations
   ~~~Dion Todd
Fire and Ice
Ahab told Jezebel all that Elijah had done, and how he had killed all the prophets with the sword. Then Jezebel sent a messenger to Elijah, saying, 'So let the gods do to me, and more also, if I don't make your life as the life of one of them by tomorrow about this time!' When he saw that, he arose, and ran for his life, and came to Beersheba, which belongs to Judah, and left his servant there. But he himself went a day's journey into the wilderness, and came and sat down under a juniper tree. Then he requested for himself that he might die, and said, 'It is enough. Now, O Yahweh, take away my life; for I am not better than my fathers.' 1 Kings 19:1'4 WEB

Elijah had a major breakthrough in his life on top of Mount Carmel when he won a showdown with 850 false prophets. God had confirmed Elijah's words and ministry by raining fire from heaven. Then Elijah prayed and brought rain, ending a three and a half year drought (James 5:17). He had outrun a chariot while on foot in a sixteen mile race to town (1 Kings 18:46). This was certainly a high point in Elijah's life. He was the man of the hour living in a season of major breakthrough, walking in power. It seemed that he could do no wrong. Yea, things were going great.

Right behind Elijah's victory came sudden and massive fear and discouragement. Elijah ran for his life. He ran far into the wilderness, sat down under a juniper tree, and prayed that he might die. Elijah was completely drained, tired, and burnt out. He lost his appetite and was consumed with self-pity. The man of God was now in a gloomy, dark place in his life. He had gone from hot as fire, to as cold as ice, from feeling like a hero, to feeling like a zero.

The Lord asked him: 'What are you doing here Elijah?' After Elijah carefully explained his circumstance, and how he felt like it was only him against the entire nation of Israel, the Lord clarified things and gave him a new task. Elijah had needed direction, so the Lord gave him a fresh vision, and a renewed hope.

Anyone that has walked with the Lord a while has had something go differently than they planned. You don't always get what you want, the way you want, when you want it. Be assured that every time that you fall down, give up, and pray to die, God is going to say 'What are you doing here again? Get up. There is still work to do.' So today, if you are ready to give up, hide under a bush and sleep, have hope. It's not over yet.

Sometimes the greatest defeats follow amazing breakthroughs. When that happens, get somewhere quiet, pray, and get a fresh vision from God for what is coming next. Your journey is not over until you stop getting up.

Prayer: Heavenly Father please give me a fresh vision for my life. Renew my hope. Take away the doom and gloom and help me focus on knowing You. In the name of Jesus Christ I pray. Amen!
Bible Fun Fact: (KJV) There are 602,585 words in the Old Testament.
Share today's verse

What Jesus Did!

 'Finally, the Son'

[Jesus continued the story:] "The owner then sent another servant, but [the tenants] insulted him and beat him over the head. The next servant he sent was killed. Others he sent were either beaten or killed, until there was only one left — his son whom he loved dearly. The owner finally sent him, thinking, 'Surely they will respect my son.'"

 
Key Thought
As this story of Jesus unfolds, we begin to get the picture. The owner of the vineyard (God) had sent servant after servant (all God's prophets), and they had been abused, battered, and even killed. So surely, if the owner (God) sent his dearly loved son (God's Son, Jesus), he would be respected and loved by the farmers (the Israelites). But we know the way this story ends, don't we? The Son is killed by those who want to maintain control of the vineyard. The Son wasn't respected but rejected. Suddenly, this story of Jesus is filled with emotion and with a strong warning. For those of us who know the end of the story, we can only be in awe of the love of God and fall on our knees aghast at the short-sided brutality of petty religious leaders. God spare us from such as these. God forbid that we would ever be one of these petty servants!
Today's Prayer
O Father, my heart breaks at the thought of your gift of love being so rejected and abused. Forgive us for our petty, selfish, and brutal ways, and use the sacrifice of your Son to touch hearts around the world. In Jesus' name. Amen.
Related Scripture Readings
Daily Wisdom: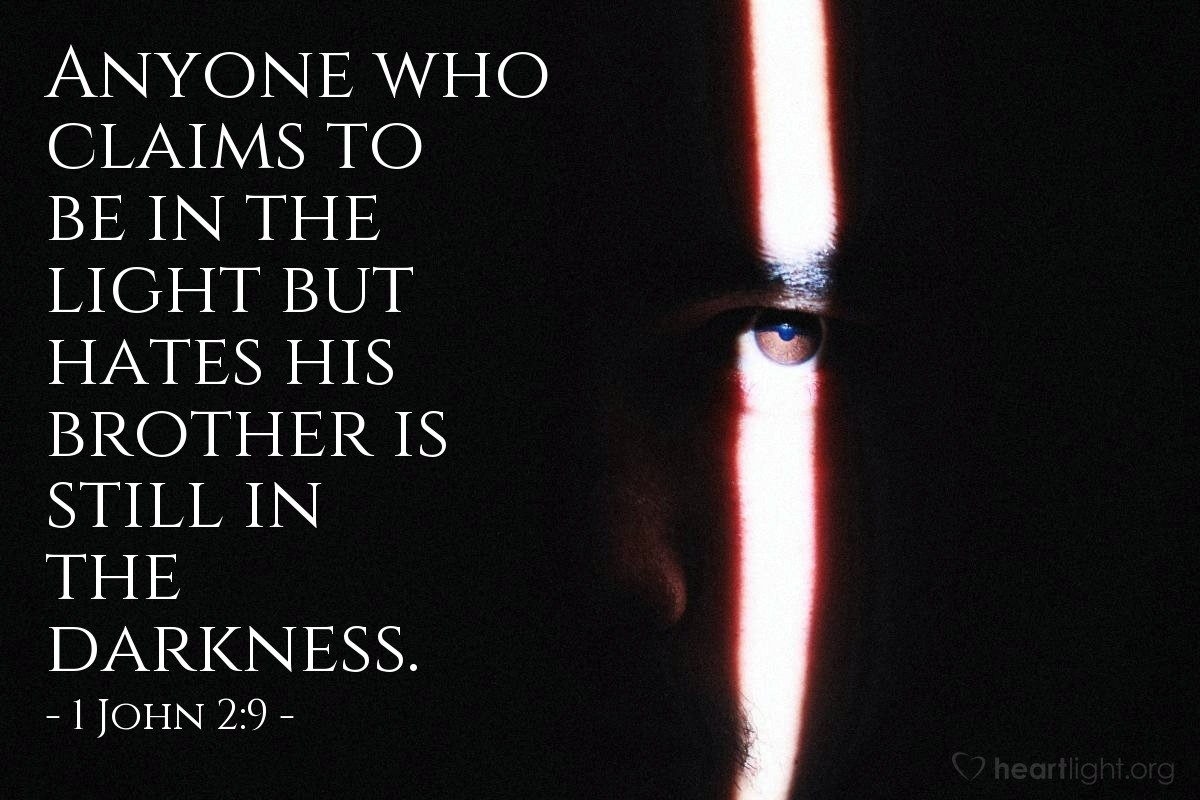 Passion for Praise: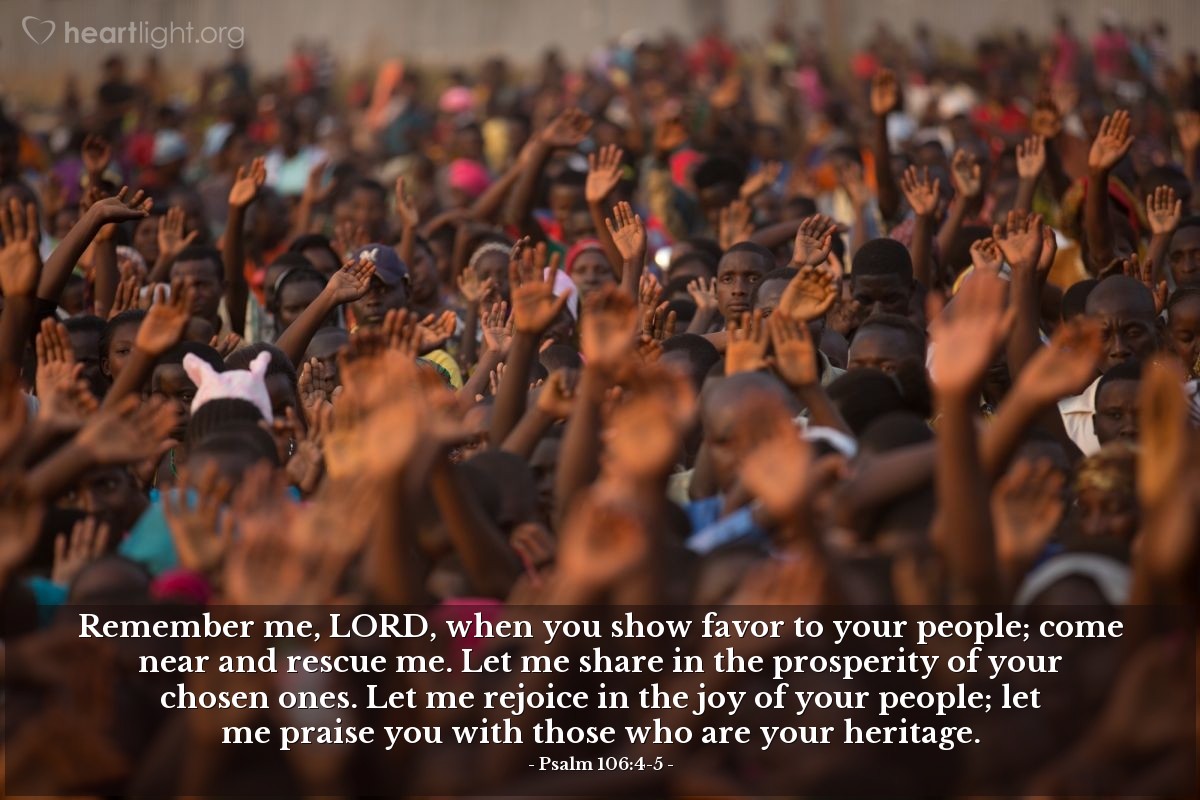 A Year with Jesus:

 'Caring for the Family of Believers'
Note from Jesus
Dear Child of the Father,
You live in an interconnected world more than any other human beings in the history of planet earth. You can travel quickly by air, sea, and land. You can speak to people on the other side of your planet by phone or over the internet. You can rally people for great causes through social networking, special funding tools, and circles of online friends. For you, the world is an interconnected place. So I will share with you a great disappointment that I have: those of you who have much seem so reluctant to share it with your brothers and sisters who have so little. Please remember what My apostle John said so many years ago:
We know what true love looks like because of Jesus. He gave His life for us, and He calls us to give our lives for our brothers and sisters.

If a person owns the kinds of things we need to make it in the world but refuses to share with those in need, is it even possible that God's love lives in him? My little children, don't just talk about love as an idea or a theory. Make it your true way of life, and live in the pattern of gracious love.
(1 John 3:16-18)
One problem is that you have not put in the effort you should to learn about the needs of others. Unfortunately, your preachers, elders, pastors, and other leaders have not been as diligent as they should in informing you of the needs that exist. They also have not been as diligent as they should be in calling you to share with and care for your brothers and sisters who are in need in your own area and in other parts of the world. But today, I want you to know that I have called you to share My message and care for others!
You have brothers and sisters who are enduring great atrocities because of their faith. They have been tortured, beheaded, crucified, mutilated, sold into sexual slavery, raped, and imprisoned. Help them. Use your governmental system to cry out for justice and protection. Research organizations that help those in My church who are persecuted.
In addition, well-trained and passionate evangelists and church planters have opportunities to take My message to many places all over the world. Support these messengers. You can encourage and build up churches in other areas and in other nations when you go on vacation or travel for business, so don't forget to assemble with believers when you travel. Bless them and encourage them by sharing your offering with their congregation. Go on mission and service trips. Connect with other churches wherever you go and give them encouragement and financial support. You have brothers and sisters who are hungry and who need medical care. Support programs and people that are ministering to these needs and get involved yourself.
When you see the elaborate and comfortable places rich Christians have built for themselves, I want you to remember two things. First, I want you to think about your poor and suffering brothers and sisters in other places and how monies that have gone into buildings could have been used to bless them. Second, while some of these buildings can be marvelous tools of outreach, I want to remind you that every building will one day be nothing more than rubble. However, every lost person who is saved and every brother and sister in need who is helped is eternal. Each is someone who will share with you in My glory. Think about these things and invest wisely in growing My kingdom!
My earliest followers were generous with each other and offered hands-on care to each other. Today the final reading from Paul's letter you call 1 Corinthians is among the passages below. As you read these verses, let them remind you of the generosity of the early Christians. I want you to let the Holy Spirit touch your heart with great generosity for those in need in your own spiritual family — both those who are geographically near and those who live in places far from you.
Verses to Live
Your verses today come from several places in the New Testament. The first verses are from Galatians and relate to Paul's meeting with key leaders in Jerusalem. Those leaders recognized his ministry to Gentiles but requested that he and his fellow missionaries help the poor in the Jerusalem church. The other passages show Paul responding to this request and encouraging Gentile churches to participate. The last passage, from a later letter to the Corinthians, holds up the Macedonian churches as an example to the Corinthian church and to you: be generous, excel in the grace of giving to the needs of your brothers and sisters in Christ. This kind of generosity offers tangible love to those in need who are part of your spiritual family.
As a result of a revelation, I returned to Jerusalem 14 years later; and this time Barnabas and Titus accompanied me. When I arrived, I shared the exact gospel that I preach to the outsiders. I first shared God's truth privately with those who were people of influence and leadership because I thought if they did not embrace the freedom of my good news, then any work I had done for Jesus here and any in the past would be spoiled.
…
When James, Cephas (whom you know as Peter), and John — three men purported to be pillars among the Jewish believers — saw that God's favor was upon me to fulfill this calling, they welcomed and endorsed both Barnabas and me. They agreed that our ministries would work as two hands, theirs advancing the mission of God among the Jews and ours toward the outsider nations, all with the same message of redemption. In parting, they requested we always remember to care for the poor among us, which was something I was eager to do.
(Galatians 2:1-2; Galatians 2:9-10)

During that year, some prophets came north from Jerusalem to Antioch. A prophet named Agabus stood in a meeting and made a prediction by the Holy Spirit: there would be an expansive, terrible famine in the whole region during the reign of Claudius. In anticipation of the famine, the disciples determined to give an amount proportionate to their financial ability and create a relief fund for all the believers in Judea. They sent Barnabas and Saul 

[Paul]

 to carry this fund to the elders in Jerusalem.
(Acts 11:27-30)

Through all this upheaval, God's message spread to new frontiers and attracted more and more people. Meanwhile, the time Barnabas and Saul 

[Paul]

 spent in Jerusalem came to an end, and they reported back to Antioch, bringing along John, who was also called Mark.
(Acts 12:24-25)

Now I call you, just as I did the churches gathering in Galatia, to collect funds to support God's people in Jerusalem. On Sunday, the first day of the week, I want each of you to set aside an amount, as God has blessed you, so the funds will be collected by the time I come. When I get there, I will send those you recommend by your own letters to carry your generous and gracious donation to Jerusalem. If you think it seems appropriate for me to travel with them, then we'll go together.
(1 Corinthians 16:1-4)

Now, brothers and sisters, let me tell you about the amazing gift of God's grace that's happening throughout the churches in Macedonia. Even in the face of severe anguish and hard times, their elation and poverty have overflowed into a wealth of generosity. I watched as they willingly gave what they could afford and then went beyond to give even more. They came to us on their own, begging to take part in this work of grace to support the poor saints in Judea. We were so overwhelmed — none of us expected their reaction — that they truly turned their lives over to the Lord and then gave themselves to support us in our work as we answer the call of God. That's why we asked Titus to finish what he started among you regarding this gracious work of charity. Just as you are rich in everything — in faith and speech, in knowledge and all sincerity, and in the love we have shown among you — now I ask you to invest richly in this gracious work too. I am not going to command you, but I am going to offer you the chance to prove your love genuine in the same way others have done. You know the grace that has come to us through our Lord Jesus the Anointed. He set aside His infinite riches and was born into the lowest circumstance so that you may gain great riches through His humble poverty. Listen, it's been a year since we called your attention to this opportunity to demonstrate God's grace, so here's my advice: pull together your resources and finish what you started.
(2 Corinthians 8:1-11)
Response in Prayer
Father, open my heart to the needs of my brothers and sisters who need help. Please help me find ways to bless them. Help me find ways to invest in their needs so that my monies will not be wasted or squandered. Please help me to give wisely so that my gifts actually bring help. Use me to empower others to know of the needs of our spiritual family both near and far. I ask for the Holy Spirit to partner with me in giving me a generous heart. In Jesus' name, I pray. Amen.


Wonder Where Christ Is
in Our COVID Crisis?
SEVEN WAYS TO GET AT A GOOD ANSWER
Many of us have asked this question more than once in these past months during the tragic outcomes of the COVID-19 pandemic: Where is the Lord Jesus Christ in this historic, catastrophic moment?
In other words: How engaged is our Savior with this crisis? Or is he? If he is, then how should I expect him to respond? What should I be looking for?
What practical difference does it make to call Jesus the Lord of all as the disease rages across the land? How is his dominion relevant to the suffering and grieving going on all around us? 
The fact is that our answers to such questions ultimately shape our vision of who he is—as well as our passion for him, our ability to trust in him, our desire to adore him, and the depth of our daily walk with him.
In this blog post, I'd like to share with you how I've been processing these questions over the past few weeks as, like you, I've had to try to make sense of this unprecedented pandemic.
Here are SEVEN WAYS to come at these questions that have helped me gain a fresh perspective on what the supremacy of Christ truly means—not only for a nation in the midst of a crisis but for each of our lives. 
Where we come down on these few key issues can lead us into a more joyful embrace of Jesus' lordship over everything—in spite of COVID-19. Maybe even because of COVID-19.
The right questions make all the difference!
 
Ephesians 4 tells us Jesus ascended to the throne of heaven precisely so that "he might fill the whole universe." Right now, he is "filling" it—with his authority, his presence, his activity, and his supremacy.
But what does that look like, especially when millions are falling sick to a stealth virus that has already killed over 167,000 Americans and seriously damaged the health of tens of thousands more—with no end in sight?
Many of us find ourselves gripped by fear. As Jesuit leader James Martin put it recently in America magazine:
The sheer horror of this fast-moving infection is coupled with the almost physical shock from its sudden onset. As a priest, I have heard an avalanche of feelings the last month: panic, fear, anger, sadness, confusion and despair. Even the most religious people ask me: Why is this happening? Where is Jesus in all of this?
Father Martin goes on to answer his own question by saying: 
The most honest answer is we don't know. But we do know that in the final analysis, JESUS is the answer.
Essentially, this Christian leader calls on us to believe in who our Savior is even though we don't fully grasp his ways at this hour.
We can be sure of this one thing: According to Scripture (cf. Hebrews 2 and 4), Jesus' engagement at this moment with a nation of people, young and old, slammed by this deadly disease—with all the physical, emotional, and economic trauma it brings—is carried out with profound understanding and empathy for what we're going through because he has faced it all in the days of his earthly ministry. Furthermore, he knows precisely what it will take to bring us out of this nightmare.
Thus, the best approach isn't "WHERE is Jesus in our national tragedy?" The best approach is "HOW is Jesus involved in our national tragedy?"
More specifically, we should ask, "HOW is Jesus supreme as we see the future of our physical and economic health on the line? HOW does he manifest his reign in the midst of great fears? What should I be looking for?"
My last blog post asked a question that actually sets the stage for this discussion: "Is Jesus our PUPPET MASTER, or is he our CHESS MASTER?" If you did not have an opportunity to read it, you might want to start there before reading what I share below.
I take you further in this post than the last one. Here I offer a series of seven questions that all believers need to ask and answer in order to probe the "how" issue of Jesus' reign.
Note: These are really seven different ways to raise the same issue and pursue the final answer.
Furthermore, I suggest you pause at the end of each section to ask yourself three additional questions that encourage a more personal application:
On this question, how would you describe to others what you sense about who Jesus is and what Jesus is up to in the face of our current COVID crisis?
Practically speaking, how might the position you take on the issue change your outlook on the pandemic as well as shape your approach to helping others deal with it?
More importantly, how will your answers shape your worship of Jesus and your daily walk with him as Redeemer Lord over all of life?
 
Remember: There are no easy resolutions, as Father Martin admits. But each of these questions definitely will serve to sharpen your view of Christ, your relationship to him, and your walk with him through the dark wilderness of COVID-19.
I present them in no order of importance.
(1) Do Jesus' attributes shape and define how he reigns?
 
When it comes to Jesus' attributes as God's Son, the whole Church agrees that our King is both just and justifier, sovereign and servant, great and gracious, regal and respectful, omnipotent and omnibenevolent.
The question is this: How do these wonderfully diverse qualities shape his reign? Or do they?
In Islam, the Koran teaches that Allah's attributes flow out of his sovereignty— they are defined and shaped by Allah's absolute and total control of everything.
Should we interpret the reign of Christ in similar terms? 
Or does Jesus' sovereignty flow out of, is tempered by, and becomes responsive to his eternal, innate attributes—such as love and holiness, righteousness and mercy, steadfastness and "servant-heartedness," compassion and justness? 
In other words, do you see the exercise of his sovereignty defined and shaped by the nature of the person he is? Do you expect the qualities of his personhood to govern how he expresses his reign? Is this a time to rediscover more of who Jesus is as we watch and learn by how we see him at work during COVID-19?
(2) Did Jesus sovereignly prescribe this pandemic?
Or did he foresee it and sovereignly respond?
 
Based on Scripture, some Christians say Jesus' kingship requires that he must foreknow everything that will happen before it comes to pass because all human decisions, actions, and experiences—including all pandemics—have been predetermined from eternity in the councils of Heaven.
Based on Scripture, however, other Christians conclude that it is more appropriate to say that as Lord of the universe, Christ accurately and perfectly anticipates all things that will happen—at every moment and in every place, including financial panics and global pandemics—before they take place.
Then, he sovereignly and effectively responds to each development as it unfolds, ensuring that the outcome of each act—including a pandemic—ultimately fulfills Heaven's councils.
(3) Is Jesus in his reign reactive or proactive
in dealing with COVID-19?
 
Generally, Christians agree that, at the very least, nothing in this universe happens "by chance," that is, outside of the complete awareness, sovereign permission, and full engagement (one way or another) of King Jesus.
Generally, Christians also declare that the Lord Jesus is an active ruler—that there is an orderly, purposeful advancing of his kingdom and his work of redemption, day in and day out.
Where Christians have become divided on this topic relates to the following two key questions:
(1) To what degree does Christ's reign over us become proactive so that everything starts and ends by his initiative alone—including the emergence, the course, and the defeat of deadly diseases?
On the other hand, (2) to what degree is his reign more reactive? That is, at times he may choose to work with and through our decisions and actions, reacting to the path we have freely chosen and then adjusting his actions so that all things ultimately fit into where he was already headed, what he was already doing, and how he finally gains the greatest glory.
In terms of COVID, for example, considering the variety of national approaches to the pandemic around the world and the major contrasts in effectiveness from country to country, we wonder how the reigning Savior is involved in all of these developments.
Is he directly, actively responsible—is he proactive—for the spectrum of health outcomes worldwide? Or is he more involved reactively—by responding to, at times counteracting, human frailty and folly, to bring about God's very best in the midst of the battle?
(4) Is God's Son controlling the pandemic?
Or is he in control of the pandemic?
All Christians agree that in the thick of everything—including pandemics—our Lord Jesus remains in control. But does his being in control mean that at all times, in all places, with all peoples, he is actually controlling all that's going on? What's the difference? Words matter. Let's look.
Certain "theological camps" of sincere believers teach that Christ's headship means that at this very moment, he controls the universe, including every activity of every person as well as every movement and endeavor among earth's peoples—all for the fulfillment of God's plan for the ages.
Other "camps" of committed Jesus followers believe it is more appropriate, and more biblically accurate, to say Christ manages a divinely-orchestrated process—one that has been advancing throughout human history and among the nations, ensuring that ultimately everything will turn out right for the perfect accomplishment of God's eternal purposes in and for his dear Son.
To ask it another way: As Jesus reigns "from sea to shining sea," how much of what is happening with the raging virus in our land is he directing? On the other hand, how much of it is he simply permitting—allowing surges to come and go based on human decisions and actions?
Can Jesus be "omni-potent" without being "omni-controlling"? In other words, can Christ's supremacy manifest itself as forceful and flexible—both at the same time?
(5) Is Jesus' authority over our national health nightmare static or dynamic?
 
Does Scripture characterize Christ's forcefully increasing dominion as basically static—that is, everything is predetermined all along the way, like a published novel where every detail of every page in the story has already been set in place?
Or does the Bible suggest that often his kingship is more dynamic—meaning that God leaves room for variations and surprises along the way as Jesus' reign interacts with people's free choices and actions, even while, at the same time, he brings God's "Master Blueprint" for the ages to its completion, especially during a time of plague?
(6) What does the Bible mean when it teaches that Jesus has all power in heaven and earth?
 
Biblical Christians recognize our ascended and reigning Messiah is "all-powerful." We also agree this means that, at the very least, he is the embodiment of divine omnipotence in the universe, whenever and however he chooses to exercise it.
Where the debate inside the Church arises is on this point: Does being all-powerful also mean he is constantly exercising all his power, in all places, with all peoples, and at every moment?
Or are there times when his reign could seem more passive—when he appears to stand back and release those who reject his presence, purposes, and promises to move toward the tragic outcome of their own decisions?
Are there times when he is not exercising his undiminished power, but allowing people to reap what they sow—that itself being a demonstration of dominion—even during a national health emergency?
(7) As COVID-19 steals thousands of lives, is Jesus truly actively challenging evil today?
 
We might ask this: How much evil in the world is ordained by the ruling Son, if any? How much evil simply is permitted for a brief season, for vital reasons, and with blessed outcomes when seen within the councils of the living God?
How much is evil and disease—including the spread of COVID—being contained by our Victor, though we don't see most of his ways of going about doing this?
How much is he actively opposing the destructive forces in our world right now, on a variety of fronts—seen and unseen, viral and vicious?
In what ways does Scripture portray our Savior on the throne aggressively warring against every malevolent force, demonic and human, that is working to destroy his creation and oppose his kingdom purposes?
On the other hand, how much evil and suffering in the world currently is due to collateral damage resulting from an age-old cosmic battle in which our King is confronting a tenaciously perverse Predator, engaged in ongoing mortal combat (mortal for Satan, that is!)?
Once again, I encourage you to reflect on each of these seven sections you've just read in light of these three questions that follow, contemplating how your responses personally impact how you see, seek, and serve our Lord Jesus Christ. 
On this question, how would you describe to others what you sense about who Jesus is and what Jesus is up to in the face of our current COVID crisis?
Practically speaking, how might the position you take on the issue change your outlook on the pandemic as well as shape your approach to helping others deal with it?
More importantly, how will your answers shape your worship of Jesus and your daily walk with him as Redeemer Lord over all of life?
CONCLUSION:
Which outlooks on Jesus' reign today
bring him the greatest glory?
 
Some Christians believe Christ is most fully exalted by his ability to enforce his will, uncontested—to impose his ways upon the course of everything and every life.
Other Christians believe his majesty is more wonderfully manifested by how he effectively redeems people rather than dominates them—by how he wholly reclaims, restores, renews, and redeploys saved sinners to give themselves freely to serve his kingdom agenda.
This perspective would apply not only in a season of deadly pandemics marching across the land but also in a season full of Christ Awakening movements saturating people with the power of the gospel (which many praying Christians believe is on the horizon for our nation).
Putting all these questions together, I think it makes the most sense to view and value the supremacy of Christ with these seven conclusions—each of which defines where Christ is in the COVID crisis and how his reign is displayed:
Jesus' eternal attributes define the distinctives of his reign—even during this pandemic.
His power is absolute but exercised for the purpose of revealing the wonders of his heart and his kingdom purposes—even during this pandemic.
He foreknows that what he has ordained will be accomplished one way or another, in total fulfillment of all of God's purposes and promises—even during this pandemic.
His reign is dynamic. He is creatively responding to all that is going on in our world to bring everything out exactly where he intends it to end—even during this pandemic.
His reign is very proactive as he reacts to how things are developing in our nation, moving hearts and plans in his direction to ultimately accomplish what he has designed and what he deserves—even during this pandemic.
He doesn't need to be controlling—that is, micromanaging—every motive or movement of the human race because he never loses control of all that's unfolding—even during this pandemic.
In his supremacy, Jesus is totally engaged in his strategic battle with the forces of evil and darkness to bring all that oppose him to final defeat, dispelled once and for all—even during this pandemic.
So then, what about you? Where do you come out? Where and how do you see Christ at work during the COVID crisis? In what ways have you witnessed the majesty of his supremacy in your life during these challenging times for our nation?
Let me share with you more about the wondrous reign of Christ today—from the book of Revelation. Set aside 30 minutes, sit back and relax, and listen here to my CHRIST TODAY Podcast, episode #111, titled "Behold the Lamb of God!"
---
About the Author
Over the past 40 years, David Bryant has been defined by many as a "messenger of hope" and a "Christ proclaimer" to the Church throughout the world. Formerly a minister-at-large with the InterVarsity Christian Fellowship, president of Concerts of Prayer International (COPI), and chairman of America's National Prayer Committee, David now provides leadership to ChristNow.com and Proclaim Hope!, whose mission is to foster and serve Christ-awakening movements. Order his widely read books at DavidBryantBooks.com. Enjoy his regular CHRIST TODAY podcast.
Partisans of the Prince of Peace
In 1977, Oscar Romero was appointed archbishop of San Salvador. At the time, El Salvador was a nation in violent upheaval: El Salvador was sharply divided between rich and poor, and left-wing guerrilla groups, supported by the Soviet Union and by other Soviet-bloc countries, staged incursions against the right-wing junta in charge, which was supported by the Carter administration in the United States; in response, the government carried out kidnappings and assassinations on a large scale. Romero saw both the leftist groups and the government as his children to shepherd. He spoke to all, commanding conversion to Christ and a repentance and forgiveness based on acknowledgment of truth. He was murdered as he was saying Mass by agents of the state police. The following is drawn from The Scandal of Redemption and from The Violence of Love, two Plough books of selections from his homilies and writings.
We want peace, but not the peace of violence and of cemeteries, not peace imposed or extorted. We want peace that is the fruit of justice, peace that is the fruit of obedience to God.
We are not planting discord with these. We are simply crying out to the God who is weeping, to the God who hears the laments of his people because there is so much violence, to the God who feels the distress of his campesinos who cannot sleep in their homes because they must spend their nights in flight. God hears the wailing of the children who cry out for their parents who have disappeared: Where are they?
There is tremendous anticipation, sisters and brothers. The call to conversion has awakened many hearts that were asleep in sin, like the people in Zebulun and Nephtali. These people thought that the church was meddling in politics and other areas where she had no business. Now they have finally understood that we are simply preaching the kingdom of God, which means pointing out sin in any human situation even when the sin is found in political and economic situations. The church must be the voice of Christ; she must declare, "Be converted, for the kingdom of God is at hand" (Matt 4:17).
Those who want to enter this kingdom must draw close to God by being converted and repenting of their sins. This has been the cry of the church in these recent times: conversion. Therefore, sisters and brothers, be converted! I am the first to need conversion. We all need conversion, for as the Apocalypse says, "The righteous must still do right, and the holy still be holy" (Rev. 22:11). Naturally, those who are in sin must be restored to God's grace and renounce all forms of injustice and selfishness and violence. Let us become friends of God, for God has no part in sin.
There can be no freedom as long as there is sin in the heart. What's the use of changing structures? What's the use of violence and armed force if the motivation is hatred and the purpose is to buttress those in power or else to overthrow them and then create new tyrannies? What we seek in Christ is true freedom, the freedom that transforms the heart, the freedom the risen Christ announces to us today, "Seek what is above" (Col. 3:1). Don't view earthly freedom and the oppression of this unjust system in El Salvador just by looking down from the rooftops. Look on high!
That doesn't mean accepting the situation, because Christians also know how to struggle. Indeed, they know that their struggle is more forceful and valiant when it is inspired by this Christ who knew how to do more than turn the other cheek and let himself be nailed to a cross. Even submitting to crucifixion, he has redeemed the world and sung the definitive hymn of victory, the victory that cannot be used for other ends but benefits those who, like Christ, are seeking the true liberation of human beings. This liberation is incomprehensible without the risen Christ, and it's what I want for you, dear sisters and brothers, especially those of you who have such great social awareness and refuse to tolerate the injustices in our country. It's wonderful that God has given you this keen sensibility, and if you have a political calling, then blessed be God! Cultivate it well, and be careful not to lose that vocation. Don't replace that social and political sensitivity with hatred, vengeance, and earthly violence.
Those who preach and inspire the various forms of earthly liberation do not have to be ideologues, much less atheists who are without God and without Christ. The one who most inspires the liberation of our country and of humanity is the one and only liberator, the risen Christ. Christ is the one who proclaims this morning the true victory over all the oppressive forces of the earth. This Christ who now reigns in the glory of the Father can challenge the might of Pontius Pilate and the Roman Empire; he can defy the fanaticism of the spiritual leaders of Israel, the priests who have perverted the meaning of religion. By his resurrection Christ offers all the liberators of earth this challenge: "You will not free people! The only liberation that endures is that which breaks the chains on the human heart, the chains of sin and selfishness." Christ is the one who has left the grave empty and has broken through the bars of death and hell, and now he invites all men and women to die happily so that they also, at the hour of the universal resurrection, can defy the tombs of our cemeteries, saying, "Death, where is your victory?" (1 Cor. 15:55)
Everything else dies, everything else is sin, everything else is hatred and violence, everything else is bloodshed and murder and kidnapping. None of that is liberation. All that is buried among the old things that Christ leaves behind to give us the new, true life which only true Christians can experience. Let us hope that the fanatics of violence and terrorism, as well as those who think repression and force are going to fix the situation, learn that those are not the ways of the Lord. Rather, the ways of the Lord are love and respect and obeying the law of the Lord; they are the humble ways of Christ. Christ is the one who grants true liberation to those who want to accept it. Christ is indeed the key to the revelation of God.
Dear young people given to violence and vice, you who have already lost your faith in love and think that love can solve nothing, here is the proof that love alone solves everything. If Christ had wanted to impose his redemption through armed force or through fire and violence, he would have achieved nothing. That would have been useless; there would be only more hatred and wickedness. But going straight to the heart of redemption, Christ tells us on this night, "This is my commandment: as I have loved you, so you also should love one another." And he says more: "So that you may see that these are not simply words, stay with me tonight when I will sweat blood as I observe the evil of humankind and the pain of my own sufferings! And tomorrow you will see me carrying the cross like a silent lamb and dying on Calvary. Be assured that I bear no resentment toward anybody. From the depth of my soul I will cry out, 'Father, forgive them, they know not what they do.'" Let us reflect, sisters and brothers, on this personified gesture of love. And when we are tempted to act with vengeance, resentment, cruelty, or selfishness, let us not consider the sad example of people who hate one another. Rather let us raise our eyes toward the love that becomes lamb, that becomes food, that becomes Passover, that becomes covenant.
Isaiah presents us with a beautiful panorama (Isa. 60:1–6). Darkness covers the earth, confusion reigns in the world where God has not shed his light. Then in Jerusalem the people behold a light, not a light coming from outside, but rather a God who becomes incarnate in Jerusalem a light that illuminates the paths of history and the world. Along these roads illuminated by God travel all the world's peoples, bringing their tribute so as form one single kingdom, the kingdom of God…. He did not create different races and peoples so that they would be confounded by their diversity of languages and unable to understand one another, nor did he create social diversity so as to marginalize some people while others lived well. What God wanted was to make the whole world a great community.
There is no longer distinction between Jew and Gentile (Gal. 3:28). There is no longer a privileged people and a marginalized people. All of us are coheirs in the mystery of Christ. The inheritance of God our Father is for all of us who are sisters and brothers. Christ, the elder brother and heir of all the promises, makes us his sisters and brothers; he makes us "coheirs," a word invented by Saint Paul…. In Christ all human beings are called to this wealth of God's kingdom. We are members of the same body.
God did not make us to live dispersed and separated. We need one another. The head can never tell the feet, "I don't need you." The hands cannot tell the heart it's unnecessary, nor can the heart say that to the other members. All the members, each in its proper functions, are members of the living body (1 Cor. 12:26).
Christ is already building this kingdom. We human beings are not going to do this by ourselves. We have heard the beautiful description of Isaiah when he refers to Christ our Lord: "A child is born to us; a son is given to us; upon his shoulders dominion rests. They name him Wonder-Counselor, God-Hero, Father-Forever, Prince of Peace. His dominion is vast and forever peaceful, from David's throne, and over his kingdom, which he confirms and sustains by judgment and justice" (Isa. 9:6–7).
In our days the church has been given the responsibility to criticize and analyze the kingdoms of earth and bring people to an awareness that they are still lacking in justice and peace and effectiveness. Only when Christ, the true king announced by God, becomes truly the king of all hearts will the reign that God desires become a reality. The ideal king did not appear on the throne of David until that night when the angels sang the words of the prophet: "For a child is born, and upon his shoulders is the reign of peace and justice and love."
Back to school prayers – It's one of the best ways you can prepare your children each year as they head back to school. And praying Scripture over them is one of the most powerful ways to pray. In this pandemic year of challenges, whether your kids study online or in the classroom, here are five back to school prayers you can pray for your kids and grandkids:
* Back to School Prayers for Peace (Isaiah 26:3; Philippians 4:6-7; Romans 5:1).
Lord, I pray that my kids (grandkids) will experience the peace of God this year that exceeds all understanding. Help them not to worry about things they cannot control, but guard their hearts and minds and keep them trusting in You.
Lord, may they not only enjoy the peace of God, but peace with God. I pray they will develop a spirit of gratitude and thanksgiving as they look to You daily for their needs, and that You will give them the capacity for joy that bubbles up from Your peace.
* Back to School Prayers for Protection (2 Thessalonians 3:3; Psalm 46:1; John 17:15; Psalm 91)
Lord, I pray Your emotional, physical, and spiritual protection over my kids (grandkids). Keep evil far from them, and help them to trust You as their refuge and strength. Guard their minds from harmful instruction, and grant them discernment to recognize truth.
Make them strong and courageous in the presence of danger, recognizing that You have overcome and will set right all injustice and wrong one day. Help them to find rest in Your shadow, as they live in the spiritual shelter You provide for them. Let them know that the only safe place is in Jesus, and that their home on earth is only temporary.
* Back to School Prayers for Purity (Psalm 51:10; Mathew 5:8; 1 Timothy 1:5; 1 Corinthians 10:13; Psalm 19:14)
Lord, I pray that You will create in my kids (grandkids) a clean heart and that You would constantly renew a right spirit within them, keeping their thoughts and actions pure and motivated by love. Guard them from temptation, and let them know You are always faithful to give them a way out and help to endure. May the words of their mouths and the meditations of their hearts always please you and edify others.
 * Back to School Prayers for Passion (Psalm 42:1; Matthew 22:37-39; John 13:34-35)
Lord, I pray that my kids (grandkids) will develop a passion for the things of God. Create in them a hunger and thirst for You and Your Word. May they love You with all of their heart, soul, and mind. Give them compassionate and generous hearts to love others as much as You love them.
I pray they will always work and study with excellence, but that You will help them desire a servant spirit of greatness, rather than a worldly lust for success. May they fall in love with Jesus over and over again.
Lord, I pray that our kids (grandkids) will develop an eternal perspective and purpose, not an earthly one.  Help them to see life–and every challenge–through Your eyes, eager and unafraid to share with others the good news of Jesus wherever they go.
I pray that they will set their minds on things above, not just what's going on here, and that they will be rooted and grounded in Your love. Help them to understand how much You Love them, and that Your love surpasses all the head knowledge they will acquire in school. I pray they will be filled up with You from morning 'til night.
Other Prayers for Your Kids
These are only sample prayers, and hopefully easy ones to remember. They are by no means exhaustive. Find your own Scripture promise or principle and pray those things daily for your kids or grandkids. But don't confine your praying to the first few weeks of school.
Your children and grandchildren need your prayers all year long–as long as you or they live. Prayer is the best protection you can give your children or grandchildren! When we pray Scripture, God listens! And we can always know those prayers are in His will.
You might also like this blog post I wrote: A Prayer for Parents, Grandparents, and Their Children.
*I like to share these Back to School Prayers often with my readers, so they can keep a reminder to pray every year.
It's Your Turn
What about you? What do you pray for your kids and grandkids as they go back to school? Will you commit to pray for them earnestly this year? I love to hear from readers. You can always write me through my contact page. Just fill out the basic name and address info, and then the email will come to me. I will never share your name or info with anyone without your permission.
Share with Others
Trump says he spoke to God about economy, believes God will help him rebuild it again
President Donald Trump revealed he spoke to God about the economy amid the coronavirus pandemic and God told him He's going to have him rebuild "the greatest economy in the history of the world" again.
Speaking at a small rally that attracted several hundred supporters in Mankato, Minnesota, Monday, Trump branded presumptive Democratic presidential nominee Joe Biden as a "puppet of left-wing extremists" who would destroy the American way of life by "trying to erase our borders, eliminate our police, indoctrinate our children, vilify our heroes" and "take away our energy."
If Biden were to be elected, he would "replace American freedom with left-wing fascism," Trump added. 
The president hailed his pre-pandemic economic record which reflected a strong stock market, wage growth of about a 3% average and low unemployment as "nothing short of an economic miracle."
With the COVID-19 pandemic, the U.S. economy suffered its biggest blow since the Great Depression in the second quarter as consumer and business spending plummeted, the World Economic Forum noted. Gross domestic product dipped at a 32.9% annualized rate last quarter, "the deepest decline in output since the government started keeping records in 1947," the WEC said.
"What we have achieved together and what we're doing together is nothing short of an economic miracle and now we're doing it again," Trump told his supporters. "We built the greatest economy in the history of the world and now I have to do it again."
He then revealed the conversation he had with God about the economic crisis.
"You know what that is? That's right. That's God testing me," Trump explained. "He said, You know, you did it once. And I said, 'Did I do a great job, God? I'm the only one who could do it.' He said, 'That you shouldn't say. Now we're going to have you do it again.' I said, 'OK. I agree. You got me.' But I did it once. And now I'm doing it again. And you see the kind of numbers that we're putting up. They're unbelievable. Best job numbers ever. Three months, more jobs in the last three months than ever before."
Humor…