Daily Prayer for June 7
Lord, you have been our dwelling place throughout all generations. Before the mountains were born or you brought forth the earth and the world, from everlasting to everlasting you are God. Psalm 90:1–2, NIV
Lord our God, our refuge forever, bless us who have gathered in your presence and who turn to you in all distress, not only in our personal need but also in the distress of the nations and peoples of the whole world. Grant that we may be your children, with a simple faith that gives us strength to go on working even when life is bitterly hard. We thank you for giving us so much grace, for helping us and never forsaking us, so that again and again we can find joy and can glorify and praise you, our Father. May your name be praised from heaven above and among us here below. May your name be praised by all people throughout the world, and may everyone on earth acknowledge you and receive all that they need from you. Amen.
Your Daily Dig
Eberhard Arnold
Difficulties should not depress or divert us. The cause that has gripped us is so great that the small weaknesses of individuals cannot destroy it. Therefore I ask you only one thing: do not be so worried about yourself. Free yourself from all your plans and aims. They occupy you far too much. Surrender yourself to the sun, the rain, and the wind, as do the flowers and the birds. Surrender yourself to God. Wish for nothing but one thing: that his will be done, that his kingdom come, and that his nature be revealed. Then all will be well.

Prophetic Vision: Angelic Armies Will Be Dispatched Over US
It's not a surprise that with this global pandemic, we are seeing resistance throughout the nation as Americans watch the media's portrayals of patriots as being extreme. I was given a glimpse into the spirit behind this movement; some of it was good and some of it was not.
But mostly, I saw righteous anger. I saw the strength of our forefathers emerge. I saw a reconnecting of patriotism. I saw fear, hurt, surprise and a fight.
I was then reminded why my family came to the United States. Suddenly, a wind passed by me, and I knew the Spirit of the Almighty was near. I heard this from our Lord: "Be strong and of good courage, I have overcome the world." Then two Scriptures shot into my mind:
—"Be strong and of a good courage. Fear not, nor be afraid of them, for the Lord your God, it is He who goes with you. He will not fail you, nor forsake you" (Deut. 31:6).
—"I have told you these things so that in Me you may have peace. In the world you will have tribulation. But be of good cheer. I have overcome the world" (John 16:33).
Angelic Army Dispatching
As these Scriptures flooded my mind, I was caught up in a vision. I saw a huge army of angelic beings dispatched from the throne of power. They were under direct orders from the King.
"May the word of my lord the king provide rest. For like the angel of God, my lord the king discerns good from evil. May the Lord your God be with you" (2 Sam. 14:17).
I knew when the King commands, obedience follows without challenge. In awe, I watched the portals over America open, and more dispatching from the throne occurred—multitudes … yes, a myriad of angelic forces came through the atmosphere with great power, focus and speed.
I whispered this Scripture, "My help comes from the LORD, who made heaven and earth" (Ps. 121:2). Then I heard clearly, "I am dispatching these beings for such a time as this. I will send this guard. They are being strategically placed. They will linger just a while. They will be used to awaken the church first, then the lost to the original intent of the nation. Yes, first to the believer, then to the unbeliever."
"I can do this," says the Lord. "Each angel will bear a banner over a region. It will not be a banner of surrender; it will be the banner of original intent over that region [study your region]. Then, I will send a new movement—a movement like that of long ago when the clergy removed their robes and took up the fight to obtain a free world.
To Arms!
"I am calling you to arms! Arm yourself with the living Word of the Lord. Do not let it become void in your spirit," says the Lord. "As you can see, I am giving you a directive. The Word in your mouth will be the greatest weapon against the surge of attacks against the nation of America. Decree from truth, passion and compassion. This will disarm many enemies. Use it.
"Remember, angelic beings are sent to assist you and report back to Me. You must act on the Word," says the Lord.
"Then I saw another angel flying in the midst of heaven, having the eternal gospel to preach to those who dwell on the earth, to every nation and tribe and tongue and people" (Rev. 14:6).
The Lord says, "Yes, you cry for revival, you cry for an awakening, but cry for Me! I tell you now, I am revival. I am awakening. I have not changed."
"For I am the Lord, I do not change" (Mal. 3:6a).
I was being completely undone in this presence, fearful I might disrupt His presence in sharing with me the heart of the King, when suddenly, the wind passed me again. I looked to my left, out the window, and there I saw a soldier coming to the door. As I went to go to the door, I then realized he was not a visitor, he was a guard—a guard assigned to my home. For how long I do not know, but he arrived (and he is still here).
A sword of silver and a shield of gold stood in front of him. I felt a sigh come out of my being. I realized I was not the only one to have a supernatural guard assigned to me, and I rejoiced at the presence at the door.
Again, our Lord spoke, saying the words from Isaiah 41:10: "Do not fear, for I am with you; do not be dismayed, for I am your God. I will strengthen you, I will help you, yes, I will uphold you with My righteous right hand."
As this Scripture bellowed over my soul, I knew God was strengthening and realigning us for the original intent and purpose of our nation, and I knew we were being called personally, collectively and globally to be a part of this awakening of our Founding Fathers, who were the forerunners of the fight for a nation.
My prayer this day is that God bless you and keep you. May the glory of God overtake you. May the heavenly hosts surround you. And may you enact your spirit to defend the right of freedom.
Dr. Theresa Phillips is an international speaker, author, recording artist and business owner. She is the host of Global Prophetic Live Web TV, and is the developer of Glory Oils and Redeem and Renew Skin Solutions. Dr. Theresa is an educator and author of kingdom principles, releasing many into positions of leadership in the "Seven Mountain" spheres of influence. In her 27 years of Ministry, Theresa has authored 22 books and released a number of short articles and prophetic words. She is impassioned to help others develop their own destinies!
Knee on the Neck or Knee at the Throne?
The Miami Police Answer!
A police officer callously snuffed out the life of George Floyd, who was a dedicated, growing Christian. That became the spark for the fire now raging. As one columnist put it, the state of race relations in our country had already turned America into a "tinderbox."
The tinderbox exploded!
The map below indicates what transpired just last week: red dots mark cities where demonstrations took place; yellow shows where the National Guard was deployed.
The video images of mass gatherings full of anger and pathos—along with fires and destruction and looting—reveal a lot about the true "soul" of America. Our culture is profoundly, deeply wounded by 400 years of the systematic, dehumanizing abuse of one race by another.
The brutality in Minneapolis simply poured red-hot salt into that wound, making the pain no longer bearable—especially after the disproportionate physical and economic devastations within the Black community these past months because of the coronavirus pandemic.
Ultimately, it all came down to a knee.
A white man placed his knee on the neck of a black man already handcuffed, rendering him defenseless, helpless, panic-stricken, then unconscious, and finally lifeless. That inexplicable, inexcusable action became a metonymy—when one thing ends up being a part of but also representing something much larger.
In other words, a neck pinned by a knee—and Floyd's cries of "I can't breathe"—pictured what countless African Americans have been experiencing across our land for centuries, on every level of life.
Suffering many forms of injustice, racism, poverty, and oppression, Blacks in America have striven for, but failed to secure, a consistent, thorough enfranchisement in our national creed that "all men are created equal and endowed by their Creator with certain inalienable rights . . . ." This was the appeal of the Civil Rights dream of the last century—a dream that remains elusive for many.
And so, the outrage broke forth. The anger spilled over. The grief and agony of generations would not be contained any longer.
Except that in one city, riots were replaced by repentance.
What happened there last week points us toward the most promising solution to what many define as "America's original sin."
The kneeling that brings the healing
Most news outlets did not report what happened this past Sunday. So, let me fill you in.
There was another kneeling that took place. A kneeling full of life and truth, pointing toward justice and hope. A kneeling that sprang from repentance.
Believe it or not, on May 31, police officers from different departments with the Miami-Dade Chiefs of Police Association, in an act of solidarity with protesters and their cause for justice, publicly knelt down before both the demonstrators and all of heaven to openly express, on behalf of cops everywhere, their regret and repentance for how badly and unjustly many law enforcers have treated African Americans historically. While bowing down, they asked for forgiveness.
Then after someone led the group in prayer, others in the gathering offered up their prayers as well. It was a holy moment. It was a healing moment.
In their dramatic statement, everyone involved was taking a practical, proactive stand against racism and injustice—doing so in the most powerful, most effective, most transformative way any of us could ever share.
They intentionally brought the reigning Christ into the equation!
They were "re-enacting," we might say, the climax of God's plan for all creation when justice will prevail thoroughly and universally—when everything will be made right and whole and be healed forever.
We read about this in Philippians 2 (emphasis added):
God exalted Jesus to the highest place
and gave him the name that is above every name,
that at the name of Jesus
every knee will bow,
in heaven and on earth and under the earth, and
every tongue will acknowledge
that Jesus Christ is Lord,
to the glory of God the Father.
Whether the Miami police force realized it that day or not, they were reaching into that glorious future that awaits all who belong to Christ, and they were incorporating a significant measure of it—an approximation of it—in the present.
Their act was a picture of surrender to the lordship of Christ, as all of us will do when Jesus is visibly revealed in the future. Their act was inviting his decisive intervention in the present into the increasing upheavals in Miami and in other cities from coast to coast.
They portrayed what it looks like to lay before the Lord Jesus the current crisis, to confess our inability to adequately tackle the unremitting racial prejudice and strife and oppression that infects so many Americans. They were acknowledging that the resolution lies in him alone. They were appealing for his deliverance from the bitter fruits of hundreds of years of brutal slavery—"America's original sin."
What if last week this "re-enactment" had taken place in all the cities and communities where demonstrators gathered? How different might things be this week?
Knees at the Throne—the total opposite of knees on a neck—is the most vital step Christians can take for our nation right now.
Only God's glorious Son, our sovereign Savior, can purge the national sin of racism, bringing forth a spirit of repentance and forgiveness, filling the soul of America with the healing power of his risen, ascended, victorious life, and applying the reign and the justice of God to every expression of our hatred and division.
Looking to the future, America—and especially the Church in America—is left with two possible outcomes. Which will it be?
More knees on the neck or more knees at the Throne?
Scientists worldwide may be feverishly looking for a vaccine for COVID-19. But to effectively secure the overall health of our nation, the far greater challenge we face is this: Will we ever discover the cure for the deadly plague of racism? This goes way beyond physical health. This is all about spiritual health!
For many of us, we're convinced that the most critical cure lies in a mighty, Spirit-driven nationwide awakening to Christ for ALL he is today. A host of Jesus' followers needs to rediscover the supreme glory and goodness found in our Redeemer King. In turn, they need to infect the whole of society with the gospel—with the life-redeeming, culture-changing fruits of the gospel.
Through such an awakening, black and white Christians will find new ways to engage with one another, maybe for the first time, by "knees at the Throne"—reproducing in our relationships right now what will be utterly unavoidable in the Consummation.
We must start living today as if we were already in the final fulfillment of Philippians 2, when EVERY knee will be bending and EVERY tongue proclaiming the same allegiance to Jesus—when all that divides us today will have passed away, replaced with one truly holy, happy, society that goes on forever.
"One holy, happy society"—that is what 18th-century Puritans defined as the ultimate result of revival. They actually experienced such a Christ-focused season from time to time. It is the hope for such a breakthrough today—but "on steroids," we might say—that has caused multitudes of Christians across America to pray persistently for decades for a nationwide Christ Awakening.
For without a doubt, it will be such kneeling that will bring about that kind of healing!
After all, the Jesus destined to prevail as Lord of all at the end is the same Jesus ready to take direct action as Lord with us at this very moment—to do so with all authority, all power, all fullness of grace and love—in his matchless role as the reconciler of all things, in heaven and on earth, "making peace by his blood poured down from the cross" (Colossians 1).
Surely, in this time of national strife, our call must go out far and wide:
Take a knee! Take a knee! Take a knee!
Will you join me?
To learn more of all that the reign of Christ is ready to bring to Christians in America today, listen to David's CHRIST TODAY Podcast, Episode 19 (30 minutes): "Jesus' Fourfold, Irreversible Revolution." Listen here.
By Rebecca Barlow Jordan 
Everyone has an opinion today on what will help their country heal–especially when division, disaster, or election time rolls around. There are many things you can do to help. However, the most important thing you can do to bring healing is to pray for your country:
PRAY for Your Country to Heal
1. Pray for God to Heal Your Relationship with Him
Pray for your own relationship with God. What is it based on? Sacrifice? Good deeds? When do you approach God in prayer? In crisis, or every day? An intimate, praying relationship with God is based on one thing: God's grace gift: Jesus's death on the cross–the payment for our own sin–and His resurrection (Ephesians 2:8-9).
It is a gift, but until we admit we are helpless without Him and until we receive that payment for our own sinful lives, willing to turn around and go in a new direction toward Him, we have no relationship–and no praying grounds ("Yet to all who did receive him, to those who believed in his name, he gave the right to become children of God," John 1:12, NIV; "If I had cherished sin in my heart, the Lord would not have listened," Psalm 66:18, NIV).
If we want to help our country heal, we need to be on praying ground–and that's based on relationship–made possible through repentance and redemption. In his book, My Utmost for His Highest, Oswald Chambers said, "God does not hear us because we pray earnestly–He hears us solely on the basis of redemption." He added, "Prayer is not simply getting things from God–that is only the most elementary kind of prayer. Prayer is coming into perfect fellowship and oneness with God."¹
We cannot form a personal relationship with God, the perfect Creator of the Universe, by trying to earn our way to heaven. Jesus said:
"I am the way and the truth and the life. No one comes to the Father except through me," (John 14:6 NIV). 
He wants none to perish, and His love is open to all who will accept the relationship He offers.
2. Pray for God to Bring Renewal
For those of us who call ourselves "Christ-ones" or followers of Jesus, first we can pray for a renewal of our relationship. The familiar passage in 2 Chronicles 7:14 NIV says:
"If my people, who are called by my name, will humble themselves and pray and seek my face and turn from their wicked ways, then I will hear from heaven, and I will forgive their sin and will heal their land." "Wicked" sounds rather…wicked, don't you think? How could that apply to those who are called by His name? His followers?
Because God doesn't classify "sin." It's all "wicked" to Him. Those words–and God's promises–still apply today, just as they did centuries ago in Solomon's time. It's easy for any of us to allow self-interests, pride, or misplaced priorities to pull as away from the God who wants us to be light and salt–and healing to our world.
If our hearts are blinded by prejudice, immorality, or dishonesty, we can hinder God's work. If we are more concerned with our own rights than our right relationship with Jesus and our fellowman, we cannot contribute to our country's healing. Humility–humbling ourselves–is the opposite of selfish pride. And the Bible is clear that a prideful country (and its inhabitants) will fall.
Twisting God's Word to suit our own agendas and ignoring God's moral standards will only end in chaos and deceit. Our real enemies are not those who plot and terrorize to destroy our country or us. Satan is the one who is behind every wrong thinking pattern, every false teaching, and all "wicked" behavior.
He is the one who instigates revenge instead of restoration. Satan is the enemy who stirs up hatred and division. He is the one out to destroy every family and every leader–especially those who confess to be Christ followers.
Pray for a renewal of your own relationship with Jesus. Seek His face and ask Him to show you anything in your heart that has replaced Him or your love for Him–anything that needs changing or rearranging.
What follows repentance and renewal? God says He will forgive and heal our land–our country.
3. Pray for a Return To God
The principle of Revelation 3:4-5 (NLT) is the same for a country, a church, or even a marriage:
"

You don't love me or each other as you did at first!

 

Look how far you have fallen! Turn back to me and do the works you did at first. If you don't repent, I will come and remove your lampstand from its place." 
Pray for Your Country to Return to Godly Principles and Leadership
Pray for a return of your country to the godly principles God gave to us in His Word. The Bible is still the best-selling book for all time. Why? Because it still holds the food that feeds empty lives, and it still teaches the truth that destroys ugly lies. It provides healing for broken hearts, and it offers life to those who are dying without hope. The Bible holds not just the key to heaven, but the key to victorious living on earth: peace in the midst of chaos, joy in the midst of pain, and love in the midst of hate.
Pray for God to raise up godly leaders in your country, and to wake up those who are unconsciously straying from godliness. Ask God to turn the hearts of all those in authority back to Himself. Pray for them to lead their country by loving godly example, based on biblical values and principles.
Pray for Wisdom and Godly Counselors
Ask the Lord to provide godly counselors who will surround the head lawmakers and leaders of your nation. Pray for His protection over those leaders and their families, that they will seek the truth that can set nations free. Ask Him to give them wisdom to influence every decision. Pray for your nation to return to God. Pray for revival.
Ask God to Open Blind Eyes
History has proved repeatedly what happens to the nation who ignores and shuts out the God who created them and has loved them since the beginning of time. Pray that God will remove the blinders from the eyes of those who cannot see the truth, and for an openness and hunger to hear the solutions that can truly heal a country and its people ("Blessed is the nation whose God is the Lord," Psalm 33:12, NIV). Pray for Truth to be revealed. God–and His truth–never change. 
Do what God's people–those who are called by His name–must do: pray. Pray for relationship, renewal, return, and true revival. Ask God for fairness, forgiveness, grace, and mercy to thrive. Then pray for justice, kindness, generosity, and love to permeate every decision. Ask the Lord to bring unity, understanding, wisdom, and peace to every heart.
Pray for fathers who have left their first love for Jesus to take their place in leading their families back to God. Ask God to help families humble themselves and reconnect with God. Pray for marriages to return to their first love. Also pray for children to respect and honor parents, and for parents to love their children. Strong families and strong marriages based on God's Word make a strong nation.
We are all alike, and we are all precious creations by God with value and worth. God created all of us in His own image. But we also are all descendants of Adam. We are all stained with sin, and we all need God's healing. We all need Jesus.
"No one is good—except God alone" (Mark 10:18 NIV).
We Are All Broken and Need Restoration
We are all broken, and there's only One Who can restore us. What He did, He did because of love:
For everyone has sinned; we all fall short of God's glorious standard.

 

Yet God, in his grace, freely makes us right in his sight. He did this through Christ Jesus when he freed us from the penalty for our sins.

 For God presented Jesus as the sacrifice for sin. People are made right with God when they believe that Jesus sacrificed his life, shedding his blood (Romans 3:23-25 NLT) 
"This is how much God loved the world: He gave his Son, his one and only Son. And this is why: so that no one need be destroyed; by believing in him, anyone can have a whole and lasting life. God didn't go to all the trouble of sending his Son merely to point an accusing finger, telling the world how bad it was. He came to help, to put the world right again. Anyone who trusts in him is acquitted; anyone who refuses to trust him has long since been under the death sentence without knowing it. And why? Because of that person's failure to believe in the one-of-a-kind Son of God when introduced to him" (John 3:16-18 MSG).
Helpless But Not Hopeless
My heart breaks when I see pain, brokenness, hatred, and division. When you hurt; I hurt. When my country hurts, I grieve too. And sometimes I feel so helpless, but never hopeless.
Sin will always look for a place to find a permanent home. It can deceive, disappoint, and bring destruction. God will use many to bring change and healing. But His universal instructions to all who are called by His name–to all who bear the name of Christ: with humility and brokenness over our own sin, PRAY.
What Can You Do?
What can you do? Be faithful in your commitment to Jesus every day in whatever way He asks you. Then listen more, and seek true understanding. Watch for opportunities to love more and criticize less. Walk humbly and treat others fairly. But most of all, pray. Pray for healing, and pray for yourself. Remember to pray for others, and especially for your country. While others may regard prayer as unimportant or as a last resort, God considers it as the most important. Prayer is active, and it is godly action. Therefore, pray as if your life and your country's healing depend on it.
Because it does.
¹Oswald Chambers, My Utmost for His Highest, Edited by James Reimann (Grand Rapids, MI: Discovery House), 1992.
*This is a revised blog post of one I wrote several years ago. In another blog, I shared a simple prayer we can pray for our country.
It's Your Turn
Are you willing to pray for your country? Will you set aside a time each day to pray specifically for the healing of your country? You can always write me through my contact page and fill out the basic name and address info; then the email will come to me. Your name or info will never be shared with anyone without your permission.
Share This Post with Others
The Rawness of the World
Richard Schiffman
The Perseids
Shards of interstellar flak,
some smaller than a human eyeball.
Too many shooting stars to wish on.
Soon the moon will rise to smudge
their tracks, then day will break
to end the game. How many streak
above our sleep, unheeded? I'll check
my dreams for traces – sudden flashes
when an eyeball vanished
in the radiance of its own seeing.
The Rest Is Silence
It's not the wind that cries
nor trees when they are ripped at by the wind,
but only the tree that's slow to bend.
Sorrows are not what happens,
but what holds against what happens.
Speech is the resistance
of the larynx to the body's wind.
Words are the forts we build
to keep the rawness of the world at bay.
The rest is silence.

Unstoppable!

 'God Opened the Door for Breaking Down Barriers!'

So [Peter and Cornelius] talked together and went inside, where many others were assembled.

Peter told them, "You know it is against our laws for a Jewish man to enter a Gentile home like this or to associate with you. But God has shown me that I should no longer think of anyone as impure or unclean. So I came without objection as soon as I was sent for. Now tell me why you sent for me."

— Acts 10:27-29 NLT
Key Thought
Breaking down barriers between Jews and Gentiles was an enormous task in Peter's day. However, breaking down barriers had been revealed as God's plan since he first called Abraham centuries earlier (
Genesis 12:1-3
). Cornelius was
 the perfect test case
 of a Gentile coming to Christ. So, through Peter's vision, angels, the guidance of the Holy Spirit, and Cornelius' messengers, God opened the door for Peter to go to Cornelius. Let's commit to pray for open doors — open for us to go and for hearts to be ready to hear — so we can better share the Good News of Jesus, today.
Today's Prayer
Dear Father, please open my heart and my eyes to the people around me who are seeking to know Jesus. Open the doors of their hearts to receive the message I long to share with them. Please, dear Father, send your Spirit afresh in my time so that I can be your instrument to take Jesus' grace to those who do not know him. I ask this in Jesus' name. Amen.
Related Scripture Readings
Daily Wisdom: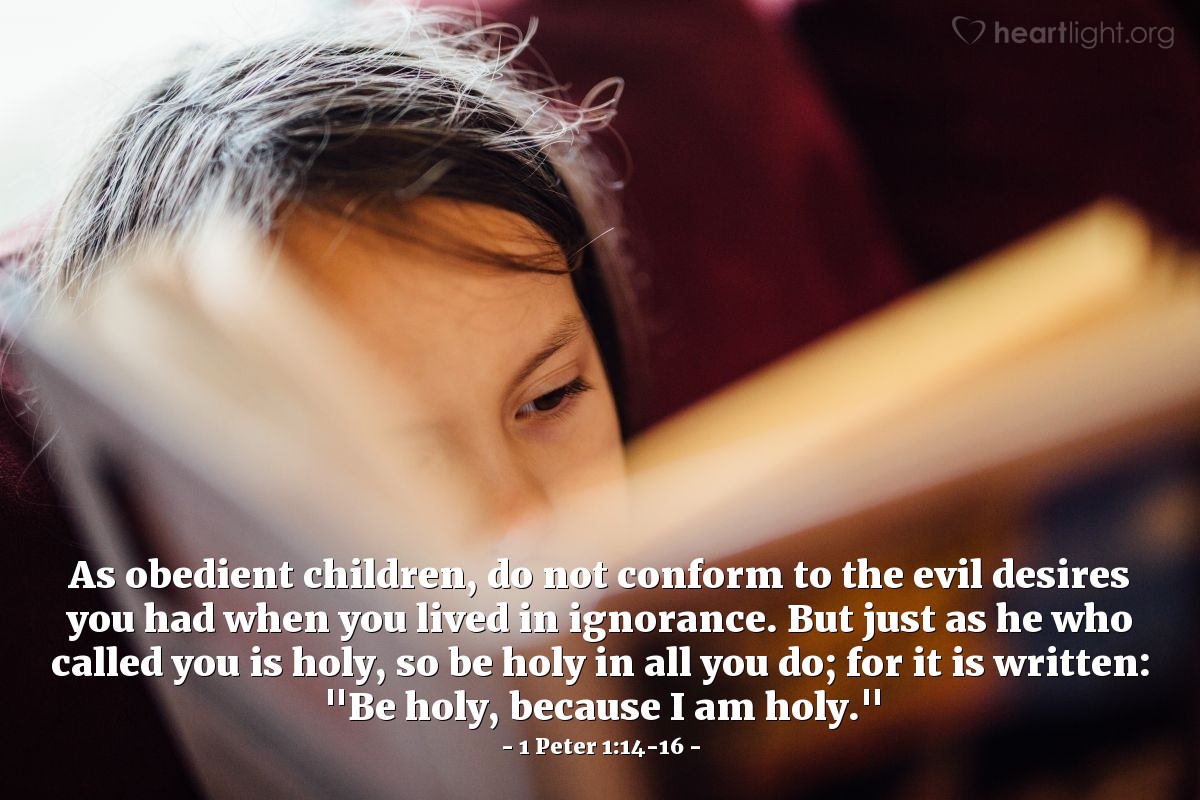 Passion for Praise: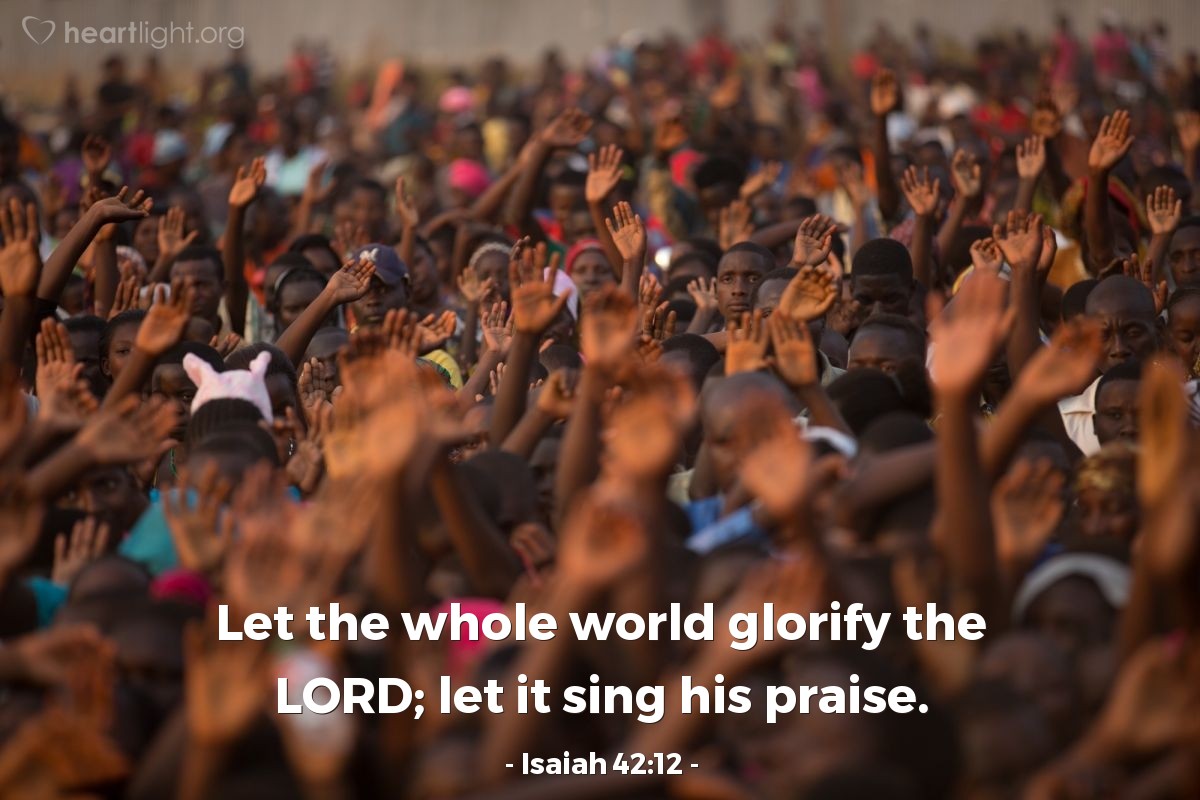 Spiritual Warfare:

 'Guiding You to Eternity'

God's Power for Our Battles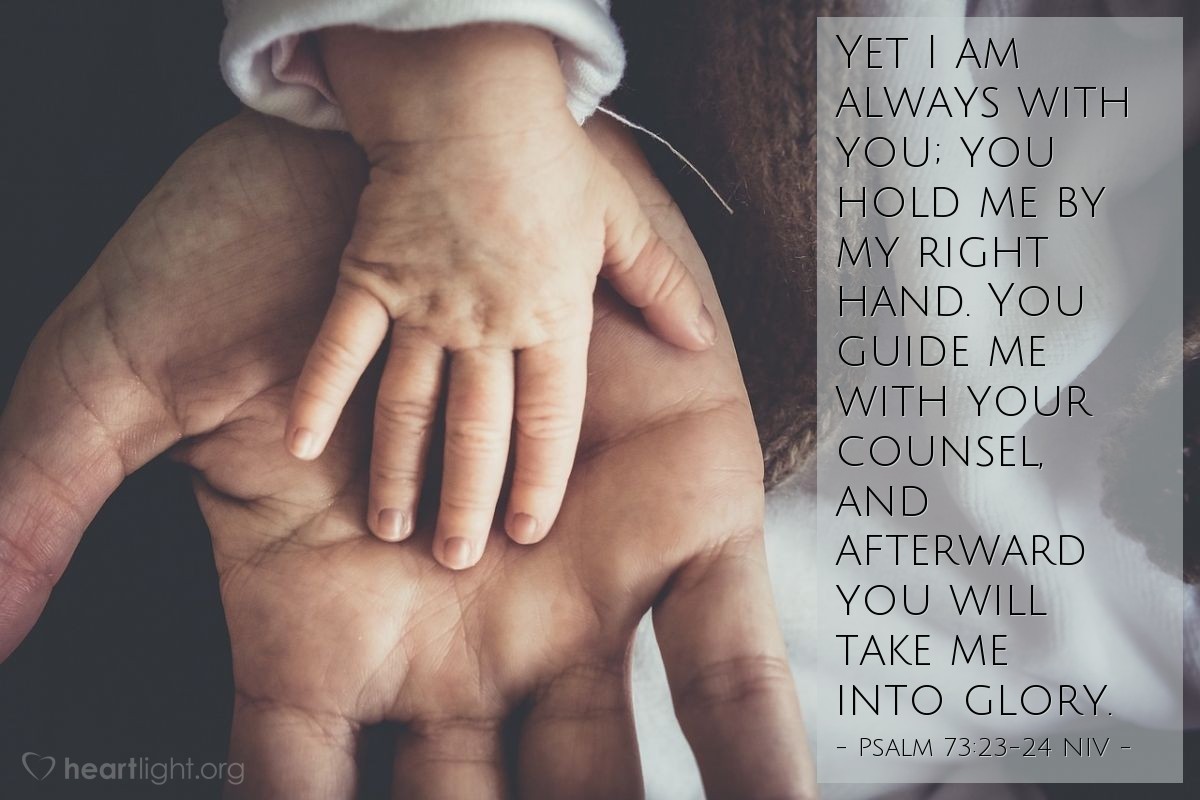 A Year with Jesus:

 ''Through the Power at Work in Us''
Note from Jesus
Dear Disciples,
I love My disciples to praise the Father! Look at Paul's beautiful prayer in the verses below. He not only praises the Father, but he also asks for the Father's help. In particular, this great church-planter and disciple-maker prays for the strengthening of the brothers and sisters he loves. He does not pray for generic strength, but for the Holy Spirit's empowered strength:
Father, out of Your honorable and glorious riches, strengthen Your people. Fill their souls with the power of Your Spirit…
The result of this prayer for strength should make your hearts beat a little faster. While the glory for the great things that the Holy Spirit does will go to God, the people through whom the Spirit works will be folks just like you, My disciples. Notice something else that Paul prays:
Now to the God Who can do so many awe-inspiring things, immeasurable things, things greater than we ever could ask or imagine through the power at work in us…
God can and will do "awe-inspiring things" and He will do "things greater than we could ask or imagine." Now notice carefully how God will do these things: through the Holy Spirit, His "power that is at work in us"!
So here are several things to ponder, and then take appropriate action:
Pray frequently for God to strengthen specific brothers and sisters in Christ through the Holy Spirit.
Pray regularly that their work inspired by the Spirit will bring God glory.
Pray passionately that these brothers and sisters will be used by God to accomplish — and that they get to experience — many "awe-inspiring things" done through them by the Spirit.
Paul prayed these things for the brothers and sisters who received his letter called Ephesians. You should pray these things regularly for each other. Imagine releasing the power that comes from Us — Father, Son, and Spirit — into the lives of people you love. Think about all the people in your spiritual family who need Our comfort, strength, and grace. I want you to invite the Holy Spirit to move mightily through you, your fellowship, your congregation, your home gatherings, and your small groups. Pray that you and your fellow Christians bring the Father glory and bring My grace to those around you. As you see this grace released, rejoice in the glory of Our grace and power for you!
Verses to Live
Paul's letter to the Ephesians is full of great bursts of praise and prayer. Today's verses are an example that comes in the middle of Paul's letter. It is part of what holds the whole message of the letter together. I want you to read through this prayer several times. Take time to write it out in your own words. Now begin to pray it for specific people. Let them know that you are praying it for them. Then give thanks when you see the Spirit at work in them!
So I [Paul] ask you not to become discouraged because I am jailed for speaking out on your behalf. In fact, my suffering is something that brings you glory.

It is for this reason that I bow my knees before the Father, after Whom all families in heaven above and on earth below receive their names, and pray:

Father, out of Your honorable and glorious riches, strengthen Your people. Fill their souls with the power of Your Spirit so that through faith the Anointed One will reside in their hearts. May love be the rich soil where their lives take root. May it be the bedrock where their lives are founded so that together with all of Your people they will have the power to understand that the love of the Anointed is infinitely long, wide, high, and deep, surpassing everything anyone previously experienced. God, may Your fullness flood through their entire beings.

Now to the God Who can do so many awe-inspiring things, immeasurable things, things greater than we ever could ask or imagine through the power at work in us, to Him be all glory in the church and in Jesus the Anointed from this generation to the next, forever and ever. Amen.
(Ephesians 3:13-21)
Response in Prayer
Father in heaven, please forgive me. I have spent too much time not expecting You to do any great things through me and others like me. I pray that as I read about the early church and the work of the Spirit over the next several weeks that You will help me to expect more. Help me to believe that the same Spirit Who empowered the early church will empower us today. Please strengthen us. Please strengthen me. Please strengthen those close to Me. Strengthen us with the power of Your Holy Spirit. Father, I do not pray this for us to receive glory, but so that others might believe and that You will receive the glory that is due You. In Jesus' name, I pray. Amen.
Illustration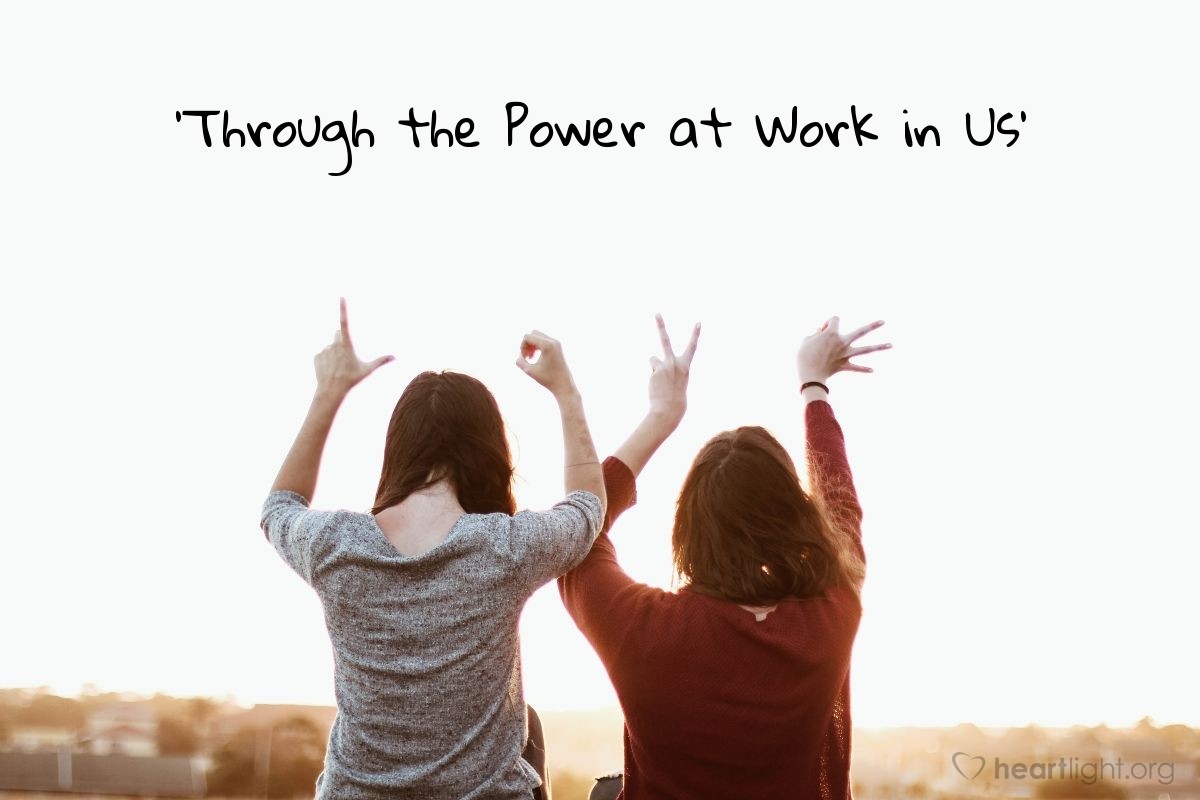 ~~~Dion Todd
Heavy Metal
Without faith it is impossible to be well pleasing to him, for he who comes to God must believe that he exists, and that he is a rewarder of those who seek him. Hebrews 11:6 WEB
God rewards those that diligently seek Him. The writer of Hebrews wrote these words and then spoke of Noah, Abraham, Isaac, Jacob, Sarah, Moses, Joseph and many more. These were people of faith, and the blessing of God followed them. They each suffered many trials and faced fearful circumstances, but they all overcame because God rewards those who seek Him.
The good seeds that you plant will always come up. We are living today what we planted years before, both the good seed, and the bad. Paul wrote, "Don't be deceived. God is not mocked, for whatever a man sows, that will he also reap." (Galatians 6:7). There is always a harvest.
In my own life, I spent years seriously seeking God, attending Bible College, studying and listening to the Bible 24/7, fasting for weeks, and giving above my 10% tithe. I was very zealous for the Lord, Jesus was my passion, the most important Person in my life. Then suddenly in one year's time, my business burned to the ground, my Dad passed away, and I went through a long, messy divorce. Much like Job, the life I had known disintegrated.
I had to start my life over with nothing at thirty-seven with my Dad gone, my business gone, and divorced. Worn out, depressed and tired, I quit going to church, and for the first time in my life, stopped praying at all. Yet the blessings of God continued in my life. The seeds that I had planted long ago, were still coming up. I could share testimony after testimony where a total mess, turned out to be a great blessing in disguise, but I will just share one.
The day came when I needed a truck to haul things in. I had recently met Sylvia and she had a 1996 Chevrolet Impala, white with a red pin stripe, tinted windows, 5.7L V8, 700R4 transmission, 373 differential, dual exhaust. There is a reason for the details:
1) For a season in my life, I was a mechanic.
2) I want you to know how detailed God is in His blessings. He goes above and beyond.
3) I did not pray over any of this, or at all during this time and I had not attended church in several years.
I thought to myself that it would be great to have a matching car and truck under the carport one day, sort of a his and hers. I daydreamed that it would be nice if the truck was a short wheel base with an extended cab, with an aluminum toolbox, rails, a bed liner, and a frame hitch to pull heavy things with, and I had about 6k to spend on it. In short, that would take a miracle, but a man can dream. All of these were just desires, and I was prepared to take whatever I could get.
The first car lot that I went to had a gray Chevy pickup about that year, without the extended cab. It was pretty plain and they were asking 11k for it, way out of my range. It looked like I would have to lower my expectations by a good bit.
The next lot that I went to, there sat a 1997 Chevy Silverado fully loaded with the gauge package, electric seats, windows, and doors, extended cab, short wheel base, white with a red pinstripe, tinted windows, 5.7L Vortec, 700R4 transmission, 373 differential, dual exhaust, aluminum toolbox, chrome rails, bed liner, and frame hitch with the towing package. They were asking $6,900. I offered them $5,900 but they refused, so I left them my number in case they changed their mind. They called me the following morning and accepted my offer.
As I write this, that truck sits under our carport. We have had it over a decade now and He blessed me with it even when I was not seeking Him. The good seeds that you have planted will continue to come up in your life. It is like a good investment. Also when God blesses you, He is able to go above and beyond your expectations. He does reward those that diligently seek Him.
You may face trials in your life, but they will pass, and you will overcome. Stay the course, keep the faith. When you fall down, get back up and take another step, for it is not over yet. This is a marathon, not a sprint. Keep sowing those good seeds. The end of a thing can be better than the beginning. What you have lost, can be replaced with better, and your best days are still in front of you.
Prayer: Heavenly Father, thank You for being with me this day. Help me see through Your eyes. Please give me grace, help me make the right decisions, fill my life with Your presence. Today I seek Your face, in the name of Jesus Christ I pray.
Bible Fun Fact: The word Bible comes from the Greek word for"papyrus plant" (biblos), since the leaves of that plant were used for paper.
NATIONAL CANCER SURVIVOR'S DAY
Observed annually on the first Sunday in June, National Cancer Survivor's Day has been set aside to "demonstrate that life after a cancer diagnosis can be a reality."
The day is a way for survivors to share their journey and offer hope and inspiration to those who have been newly diagnosed. Cancer survivors know the emotions and challenges associated with receiving a cancer diagnosis. They also know where the resources and support are for newly diagnosed cancer patients. The day encourages a celebration for survivors and their families. The day also offers a wellspring of support and outreach to cancer patients everywhere.
HOW TO OBSERVE #CancerSurvivorsDay #NCSD2020
Each year, communities, hospitals and support groups host events and celebrations around the United States honoring cancer survivors. Events may include parades, carnivals, art exhibits, contests, and testimonies. President George W. Bush and the National Cancer Institute director each included a commencement at the 2008 celebration. Attend an event or organize one to show your support. Other ways to celebrate include:
Post a photo on social media showing your support for cancer survivors.
Share your story, journey of cancer survivorship.
Use #CancerSurvivorsDay or #NCSD2020 to post on social media.
My Thoughts…
Well, this past week has been one of chaos, confusion, and senseless acts.  People are protesting one bad action by committing other bad actions and this, to me, makes no sense at all!  Their list of "demands" further tickles me…..a Grocery Store. a Police Captain ( who had nothing at all to do with the first bad action) voluntarily stepping down??  Why?  First, why the Grocery Store?  So they could go back to the days of segregation again?  Oh yes, I remember those days……I grew up in them……maybe we should turn back the clock!  I have nothing against their race……but I do hold it against them for destroying property this past week and thinking that this will change anything…..and what needs to be changed anyway?  It is a statistical fact that, since 2017, over 2300 WHITE people were killed by cops, and only less than 1300 BLACK people in that same time period….so what are they protesting?  Do they really think that they are treated any worse than white people?  And anyhow, they are making a mockery of George Floyd's murder with their violent destruction……instead, they should be mourning the evil that exists in the world, the evil that caused that policeman to mercilessly kill that man and the others who stood idly by as he did his evil deed……
Besides, everyone knows that there is a force behind the protests……a force with an agenda……to get rid of President Trump, the first good President we've had in awhile…..So, stop the protests and start praying…….pray that the Democrats don't get back in, because then our country will have no good future…….
Humor….
Sensible???