Daily Prayer for May 31
As for you, see that what you have heard from the beginning remains in you. If it does, you also will remain in the Son and in the Father. And this is what he promised us – eternal life. 1 John 2:24–25, NIV
Lord our God, we want to find our joy in you and in all your promises to us. For you have promised that in the midst of all the pain and sorrow, you are preparing what pleases you and serves your honor in every heart. May we experience in our lives the fulfillment of many of your promises, so that again and again we can go forward joyfully, rising above difficult times and situations. Have mercy on us and protect us in your strength. Amen.
 Daily Dig for May 31
Mother Teresa
Peace and war start within one's own home. If we really want peace for the world, let us start by loving one another within our families. Sometimes it is hard for us to smile at one another. It is often difficult for the husband to smile at his wife or for the wife to smile at her husband. In order for love to be genuine, it has to be above all, a love for our neighbor. We must love those who are nearest to us, in our own family. From there, love spreads toward whoever may need us. It is easy to love those who live far away. It is not always easy to love those who live right next to us. It is easier to offer a dish of rice to meet the hunger of a needy person than to comfort the loneliness and the anguish of someone in our own home who does not feel loved.
10 Things You Should Know About Pentecost Sunday
By Jennifer Riley, Christian Post Reporter
Pentecost Sunday falls this year on May 19. But many people, including Christians, may not know why the day is special or what is celebrated. Unlike Easter and Christmas, when colorful eggs, Easter bunnies, Christmas trees and Santa Claus are harbingers of the upcoming Christian holidays, there are no such social markers by secular society ahead of Pentecost. For those who need a quick and basic understanding of what Pentecost Sunday is, below is listed 10 things you should know about the holiday.
1. Pentecost Sunday marks the day when the Holy Spirit descended upon the Apostles.
2. Pentecost Sunday occurs 50 days after Easter.
3. The Bible records the Pentecost in Acts 2:1-13.
4. Pentecost comes 10 days after the Ascension of Jesus Christ.
5. Pentecost is also known as "the birthday of the Church".
6. Pentecost fulfills Jesus' promise to send the "Counselor" and "Spirit of Truth" in John 16-5-15.
7. Pentecost launches the large-scale spreading of the Gospel after Jesus' ascension. Acts 2:41 records that after Peter spoke to the crowd after receiving the Holy Spirit, some 3,000 people were baptized.
8. The Pentecostal movement derives its name from the New Testament event in Acts 2.
9. Jews also celebrate Pentecost, but not for the same reason as Christians. The celebration by Jews of Pentecost is to observe God giving the Ten Commandments on Mount Sinai 50 days after the Exodus. The Pentecost in Jewish tradition takes place 50 days after Passover.
10. In Western Churches, Pentecost is usually represented with the color red, which symbolizes the fire of the Holy Spirit.
Pentecost
Acts 2: 1-21
When the day of Pentecost had come, they were all together in one place.  And suddenly from heaven there came a sound like the rush of a violent wind and it filled the entire house where they were sitting.  Divided tongues, as of fire, appeared among them and a tongue rested on each of them.  All of them were filled with the Holy Spirit and began to speak in other languages as the spirit gave them ability.
Now there were devout Jews from every nation under heaven living in Jerusalem. And at this sound the crowd gathered and was bewildered because each one heard them speaking in the native language of each.  Amazed and astonished, they asked, "Are not all these who are speaking Galileans?  And how is it that we hear, each of us, in our own native language?  Parthians, Medes, Elamites, and residents of Mesopotamia, Judea and Cappadocia, Pontus and Asia, Phrygia and Pamphylia, Egypt and parts of Libya belonging to Cyrene, and visitors from Rome, both Jews and proselytes, Cretans and Arabs, in our own languages we hear them speaking about God's deed of power."  All were amazed and perplexed, saying to one another, "What does this mean?"  But others sneered and said, "They are filled with new wine."
But Peter, standing with the eleven, raised his voice and addressed them "Men of Judea and all who live in Jerusalem,  let this be known to you, and listen to what I say.  Indeed these are not drunk, as you suppose, for it is only nine o'clock in the morning.  No, this is what was spoken through the prophet Joel:
'In the last days it will be, God declares that I will pour out my spirit upon all flesh, and your sons and your daughters shall prophesy, and your young men shall see visions, and your old men shall dream dreams.  Even upon my slaves, both men and women, in those days I will pour out my spirit; and they shall prophesy.  And I will show portents in the heaven above and signs on the earth below, blood and fire, and smoky mist. The sun shall be turned to darkness and the moon to blood, before the coming of the Lord's great and glorious day.  Then everyone who calls on the name of the Lord shall be saved.'
Birthday Gifts
Introduction

Happy Birthday Church!  Pentecost is the birthday of the Church and today we read of an amazing party that happened 2,000 years ago when the Holy Spirit came down and anointed the apostles with power.  More than 3,000 people were saved that day and the church began as a movement on this earth for the first time.  Life has never been the same since.
Like any good birthday party there were presents…gifts from God. The good thing about these birthday gifts is that they are the gifts that keep on giving.  These gifts are still ours today as we continue the ministry of the Church of Jesus Christ in the world.
So what are the gifts?  It can be best explained in the acronym: P-O-W-E-R!
Birthday Gifts

P – Prayers answered

On the Day of Pentecost, the promise that Jesus made was fulfilled. Jesus instructed the apostles and the believers to wait in Jerusalem for the power of the Holy Spirit.  He said "This is what you have heard from me.  For John baptized with water, but you will be baptized with the Holy Spirit not many days from now." He told them to wait and pray.
Still today, God answers our prayers.  God promises us goodness and mercy.  The Lord promises never to leave us or forsake us.  Jesus promised that if we seek the kingdom and God's righteousness first, all the things we need will be added to us.
God kept his promise to give the apostles the Holy Spirit on Pentecost, but it took a while.  They prayed for 40 days. They might have wondered if it was really going to happen.  Jesus had left and waiting is hard.  God's promises are often slow in coming to us as well but we need to trust that the timing is always right.
Right now you might be praying about COVID-19 and asking God to end this terrible epidemic and loss of life, suffering, economic hardship, isolation and stress.  I was hoping we would be back to church by Easter, and then by Mother's Day and now I am wondering if it might be the fall. We need to pray.  Keep praying and praying.  God always hears our prayers and answers at just the right time.
Keep praying and do not lose heart or give up.  As we wait God has time to shape us and mold us into God's image and prepares the way for new opportunities.
God is teaching the church right now to do new things, to learn new technology, to appreciate the hard work of many we have taken for granted, to hear the cry of the poor and speak for justice, to pay attention to the environment, to listen to the hearts of people we have been too busy to engage.  Keep praying church! God is going to answer.
God is faithful. God is good.
O – Other languages

What an amazing gift this was!  These men from Galilee began talking in languages they did not know and they never had to go to class to learn them.  I wish I had that gift when I was struggling in Spanish class in 8th grade.
God gave this gift so that the people could understand about Jesus Christ and the salvation that he came to bring the world.  This gift was for everyone, not just the Jews.  God was going public with this!
Still today, God wants the Good News of Jesus Christ proclaimed to all people, nations and ethnicities.  We need to strive to communicate it any way we can, be it spoken languages, or sign language, or twitter or YouTube, and the most important language of all: Love.
When you speak love it doesn't matter if you understand a foreign language.  It communicates GOD in capital letters.
I thank God for a woman in Philadelphia who is working with the Deaf Community during this pandemic. Many Deaf people in the city are left out of the communication loop about what is happening and she is everywhere explaining the latest news in sign language.  She has also invented a face-mask with a plastic insert that allows people who are hard of hearing to lip-read someone wearing a mask.  She interpreters her pastor's sermon on Facebook so Deaf people all over, even in other states and countries can understand the preached word.  This is love, love in sign language.
Who can you speak love to and thus spread the birthday gift of "other languages" to the world?
W – Witness

On Pentecost the apostles not only received the gift of other languages, they were witnesses to their experiences.
They told the many people who were in Jerusalem about the works of Jesus Christ in their life and they referenced it back to the teachings of Scripture found in the prophet Joel.
Your personal witness is the most powerful thing you've got when it comes to growing your church and helping people receive Christ as their savior.  If we would all do more of that, every pew in the country would be full every Sunday.
But we are fearful sometimes, we don't want to offend, we think we don't know how to share our faith or we think it is the preacher's job.
Simply tell people what Jesus has done for you.  That is why advertisers spend millions of dollars producing TV ads with people telling their real life stories in order to sell their products.  We want a witness of what that product will do for us.
There is a website called "Angie's List" that gives consumer reviews on doctors, lawyers and other professionals.  People want to know what regular people like them think of these businesses before they go to them for help.
Witnessing for Christ means telling what Christ has done for you personally.  One of the best parts of staying at home is that I get to hear preachers from all over the conference on Facebook and YouTube.  There are some great preachers out there.  I appreciate so much the witness of our pastors about what God is doing in their churches and in their lives at this time.  It encourages my faith.  And pastors are reporting to me that there have been conversions and people renewing their commitment to Christ because of their witness.
But you don't have to be the preacher to do that. Just shared your story with someone you meet at the food store at 6 am in the morning or any one the Lord lays on your heart.  Who can you witness to?
E – Empowerment

Empowerment goes along with witness.  Prior to the day of Pentecost the apostles were a group of fearful men.  They hid in a locked room, without a stay-at-home order, expecting at any time to be arrested or even killed for being a follower of Jesus.  Peter denied Jesus and all of them fled on the night of his arrest.  Very few were at the cross to be with him as he died. This was a demoralized group but they started to pray and things began to look up.
After this long time of prayer, the Holy Spirit showed up in wind and flame and gave them power to forget their fears and get in front of the crowds. They not only received the gift of other languages but they were empowered with gifted preaching skills so convincing that 3,000 joined the church at the end of the day.
Still today, God empowers us with spiritual gifts to do the work of ministry: preaching, teaching, prophetic gifts, healing, helps, administration, giving and many more.
If you are a Christian you have been gifted with skills from God's very own Holy Spirit to do the work of ministry.  Every one of you is a minister.
I just read about a 10-year old girl named Britney Sadete, who is a member of a UM Church in Harare, Zimbabwe.  She has the gift of music and just before the global pandemic hit she recorded her first solo vocal album.  It has gone viral (100,000 hits on YouTube) giving hope and encouragement to people in her country during this difficult time.  What a gift!
What is your spiritual gift? Where can you be using your gifts more for the Lord for the work of the Lord?
R – Rejection

The final gift might not seem like a gift at all: "R" stands for rejection.  At the speaking of tongues some people laughed at the disciples and said they were drunk.  They looked at the holiness of God and called it something profane. They rejected the message that was being proclaimed.
Still today people are dismissing the power of the gospel as untrue, weak, ineffective or worse yet as mean and judgmental. There will always be critics and they are a gift to us in that we always need to be ready to give an answer for the hope inside of us.  We need to always be on our best behavior as people are watching.
When you face trials or criticisms or rejection for your faith, remember that Jesus faced even more suffering and rejection than we will ever know.  A disciple must expect to suffer but we are not alone.  Christ is with us and upholds us with an overcoming spirit.
Conclusion
I hope that you continue your vibrant ministries! May you celebrate the many gifts of the Holy Spirit not just on Pentecost but every day of the year! We are gifted with: answered prayer, other languages, witnessing opportunities, empowering gifts of the Spirit and even a bit of rejection to keep us humble and keep us walking in the path where Jesus walked.
God bless you all!!
Pentecost Sunday: The power of the Spirit
"Pentecost, from Old and New Testaments" by Augustin Hirschvogel, 1548 (Metropolitan Museum of Art)
The nightmare of COVID-19, a global pandemic which none of us has ever experienced in any of our lifetimes, has wreaked havoc on so many lives. Everywhere the same sign on businesses appears: "closed." The worldwide internet has never before had so much traffic with school lessons, meetings and work sessions all online. People everywhere continue to connect online with loved ones, business partners, friends and acquaintances. International leaders try to work together; worldwide corporations in the public sector answer the clarion call for masks, ventilators and hospital beds. For once, the world's people have tried to unite in the common efforts of care and concern as death tolls rise amid fears that have cut right into our cores, leaving us to wonder what life will be like once COVID-19 ceases to dominate the face of the Earth.
COVID-19 has created gaping holes in the fabric of human life, regardless of race, creed, economic and ethnic background, orientation, gender or class. Now a spirit of compassion, generosity, ingenuity, hospitality and creativity bonds the human species together, making us realize that despite our diversity, we are all one in this common global pandemic experience.
This "oneness," however, experienced through this horrific pandemic is an invitation for the human community to reach deep within itself to discover what truly binds us one to another. Certainly, the bond is not COVID-19 but rather, the Spirit of the divine poured into all creation, all life, all people. This Sunday's readings shine a light on what truly joins us together as a gifted people. For Christians, Pentecost needs to be more than a liturgical feast; it is to be a way of life. Truly, all people are one in the One together and with the rest of creation, and that is the evangelizing word that Christians are called not only to proclaim but also to live out. Without this realization that we are all one, there can be no lasting peace which is the gift that Christ offers and waits for it to come to fruition.
Pentecost is the Greek name for the Israelite feast of Weeks and is the second of Israel's three classical pilgrim feasts: Unleavened Bread/Passover, Weeks and Booths. Pentecost was originally an agricultural feast that celebrated the end of the grain harvest. Later it became associated with the giving of the law at Sinai. For Christians, Pentecost became known as the "birthday of the church." An earlier story in Genesis 11 describes a group of people scattered all over the Earth and speaking in different languages that none of them could understand. Here a group of Galileans are gathered in one place. They receive the gift of the Spirit; their language is diversified; and they proclaim the powerful deeds of the divine. Diversification becomes the source for understanding and the impetus for drawing people together. Diversity, rooted in the gift of the Spirit, becomes the foundation for unity.
The responsorial psalm contains an invitation to celebrate the power of the Spirit. This Spirit is not only part of the creative process but also imbued in all creation. If humans were to embrace fully the power and the gift of the Spirit, then every living being would be experiencing renewal and fecundity, the planet would be healing, and violence would cease.
The excerpt from 1 Corinthians is a stark reminder that diversity originates with the divine, who is fully manifested in such diversity. The excerpt also sounds the trumpet against religious, ethnic and class discrimination. At the heart of all life is the Spirit, the gift already given, that has the power to draw all together into the One. Discrimination, isolation, alienation and separation indicate how out of touch we are spiritually and how deep our spiritual crisis truly is, especially among the hegemonic powers of our day.
Finally, the Gospel reminds us that the Spirit, in the form of the resurrected Christ, has the power to permeate locked doors. The gift of Easter and Pentecost, the gift of the Christ, is peace, which is a gift of the Spirit. Peace, the hope of all creation, is the gift given, now waiting for humanity to bring it to fruition.
In sum, catastrophic events often unite people and can bring out the best in them. No event, however, has the power to be as life sustaining and as life altering as the Spirit of which we have all been given to drink.
[Carol J. Dempsey is a Dominican Sister of Caldwell, New Jersey, and professor of biblical studies at the University of Portland, Oregon.]
Pentecost Sunday around the world in 2020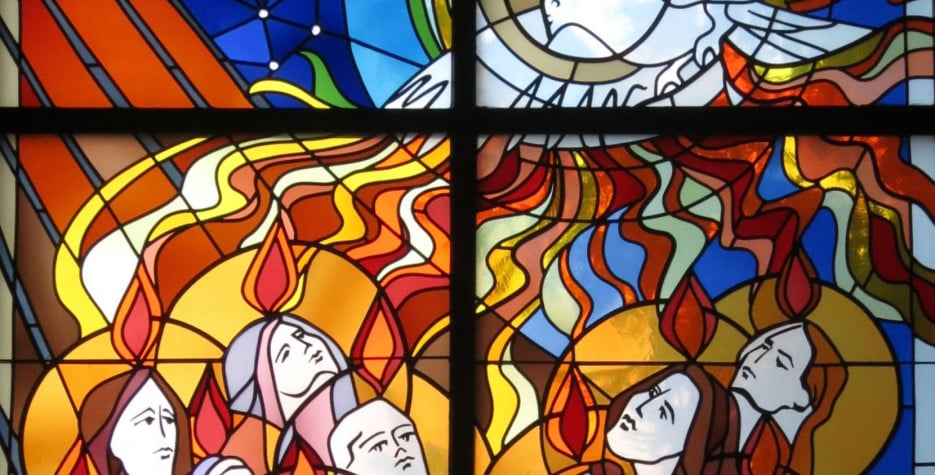 When is Pentecost Sunday?
Pentecost, also known as Whit Sunday or Whitsunday, is observed on the seventh Sunday after Easter and 10 days after Ascension. The name comes from the Greek word "pentekoste" which means fiftieth as Pentecost Sunday takes place on the 50th day of Easter.
As the date is based on Easter, this day is a moveable feast. The earliest day that Pentecost Sunday can fall is May 10th (as in 1818) and the latest possible date is June 13th (next in 2038).
It marks the end of the Easter cycle, that began 90 days ago with Ash Wednesday at the start of Lent.
Why is it called Pentecost Sunday?
This Christian holy day commemorates the coming of the Holy Spirit in the form of flames to the Apostles and other followers of Jesus Christ, as recorded in the New Testament in Acts 2:1–31, the fifth book of the New Testament of the Bible.
The Holy Spirit allowed the apostles to speak in other languages, and they started preaching the word of Jesus to the Jews who were in Jerusalem for the feast of Shavuot (also known as the Feast of Weeks or Pentecost – in this case, meaning seven weeks since Passover).
Many Christians recognise the Descent of the Holy Spirit as the birth of the Church.
In the United Kingdom, Pentecost is known as Whitsunday. The name "Whitsunday" is generally attributed to the white garments formerly worn by the candidates for baptism on this feast.
In Germany, Pentecost is called "Pfingsten" and often coincides with the beginning of many outdoor and springtime activities.
Orthodox Pentecost Sunday
As the date of Orthodox Easter is usually different to the date in the Western Church, so to the date of Orthodox Pentecost Sunday, also known as Holy Spirit Sunday, will differ.
           ~~~Dion Todd
We are put here for such a time as this, and when we connect withGod, we will find our true purpose. Nehemiah lived in a time when hisfathers had dropped the ball and destroyed their nation, but he manned up,took a stand and they began to reverse the damage done by their fathers.Here is a word today for those praying for our nation and our people.
My Generation
However you are just in all that is come on us; for you have dealt truly, but we have done wickedly; neither have our kings, our princes, our priests, nor our fathers, kept your law, nor listened to your commandments and your testimonies with which you did testify against them. For they have not served you in their kingdom, and in your great goodness that you gave them, and in the large and fat land which you gave before them, neither turned they from their wicked works.' (Nehemiah 9:33 WEB).
Nehemiah grew up in the school of hard knocks. He was a servant living as an exile in a foreign country. While Jerusalem, the capital city of his country and the home of his father's, had been burned and looted. It was a very dark time for Israel and it appeared hopeless. What difference could one man make when such a powerful nation had destroyed his country and carried them off to be servants?
Then just as Esther was put in a position of influence for 'such a time as this' (Esther 4:14), Nehemiah was placed as the cupbearer to the king of the foreign land. Nehemiah was deeply moved for Jerusalem, and he begged God to give him favor. He prayed: 'Lord, I beg you, let now your ear be attentive to the prayer of your servant, and to the prayer of your servants, who delight to fear your name; and please prosper your servant this day, and grant him mercy in the sight of this man.' (Nehemiah 1:11).
Nehemiah's prayer was answered. The king took notice, and he told Nehemiah to return and rebuild the wall of Jerusalem. He even provided the materials for it. Nehemiah was in the right position, he had the right influence, and he was given the favor to accomplish that task. It was a bad job that no one else wanted. It was dangerous, and he was under constant threat and ridicule. When they began to rebuild the wall, one person had to work, while another held a spear as they waited for the impending attack, but in a record 52 days, the wall around Jerusalem was completed and everyone knew that God was behind it.
Nehemiah and those with him acknowledged that their fathers had messed up. They had been rebellious and not followed the Lord, but instead chased after other gods. That is why their country was overrun and they were all taken away into exile. This younger generation repented, they fasted, and they began to seek God earnestly.
Nehemiah prayed and reminded God of His own words to Moses: 'Remember, I beg you, the word that you commanded your servant Moses, saying, If you trespass, I will scatter you abroad among the peoples: but if you return to me, and keep my commandments and do them, though your outcasts were in the uttermost part of the heavens, yet will I gather them from there, and will bring them to the place that I have chosen, to cause my name to dwell there.' (Nehemiah 1:7'9).
Nehemiah and all those who were with him wrote a covenant and sealed it in Nehemiah 10:1. Then God blessed them, restored them, protected them, and they completed their work of rebuilding the wall.
Nehemiah lived in a time when his fathers had dropped the ball and destroyed their nation, but he manned up, took a stand and said: 'Not on my watch.' They began to reverse the damage done by their fathers. They rebuilt the wall that had been torn down. They were the generation that began the restoration of Israel.
We are put here for such a time as this, and when we connect with God, we will find our true purpose. Let us follow the example of Nehemiah and take a stand for God, even when everyone else around us has forsaken Him. Let us be the generation that seeks God like no other, the generation that begins the restoration.
Prayer: Heavenly Father I thank You for today, for where I am, and for all that You have blessed me with. You are an Awesome God and there is none like You. I get excited at the things that You do. Show Your power in my life. Lead me, teach me and help me take a stand for you, in the name of Jesus Christ I pray.
Bible Fun Fact: Lydia was a saleswoman and sold purple material(Acts 16:14).

Unstoppable!

 'Prayer Opens Us to the Direction and Mission of God'

The next day as Cornelius's messengers were nearing the town, Peter went up on the flat roof to pray. It was about noon…
Key Thought
The apostles knew that a devoted prayer life was essential to their leadership of Jesus' unstoppable movement of grace and faith. They would not be distracted from prayer and the ministry of the message of Jesus in the early days of the church. They prayed before selecting a replacement for Judas (
Acts 1:21-26
). The need for the apostles to have more time for prayer was part of the reason for selecting the seven men to serve the Greek-speaking widows, and the apostles prayed for the men when they were selected (
Acts 6:4-6
). Barnabas and Paul were worshiping and fasting when God sent them out on his mission (
Acts 13:1-3
). Prayer was the gift that opened the windows of heaven for the power of the Holy Spirit to be released (
Acts 4:31
). And Peter's afternoon prayer in today's verse was the doorway for God to enter Peter's world and invite him to lead the church into the whole world, not just the Jewish world. What doors remain closed to us today because we don't pray?
Today's Prayer
Forgive us, dear Lord, for not praying with passion and not hungering to be in your in presence. Awaken my heart to prayer, I ask, in Jesus' name. Amen.
Related Scripture Readings
Daily Wisdom: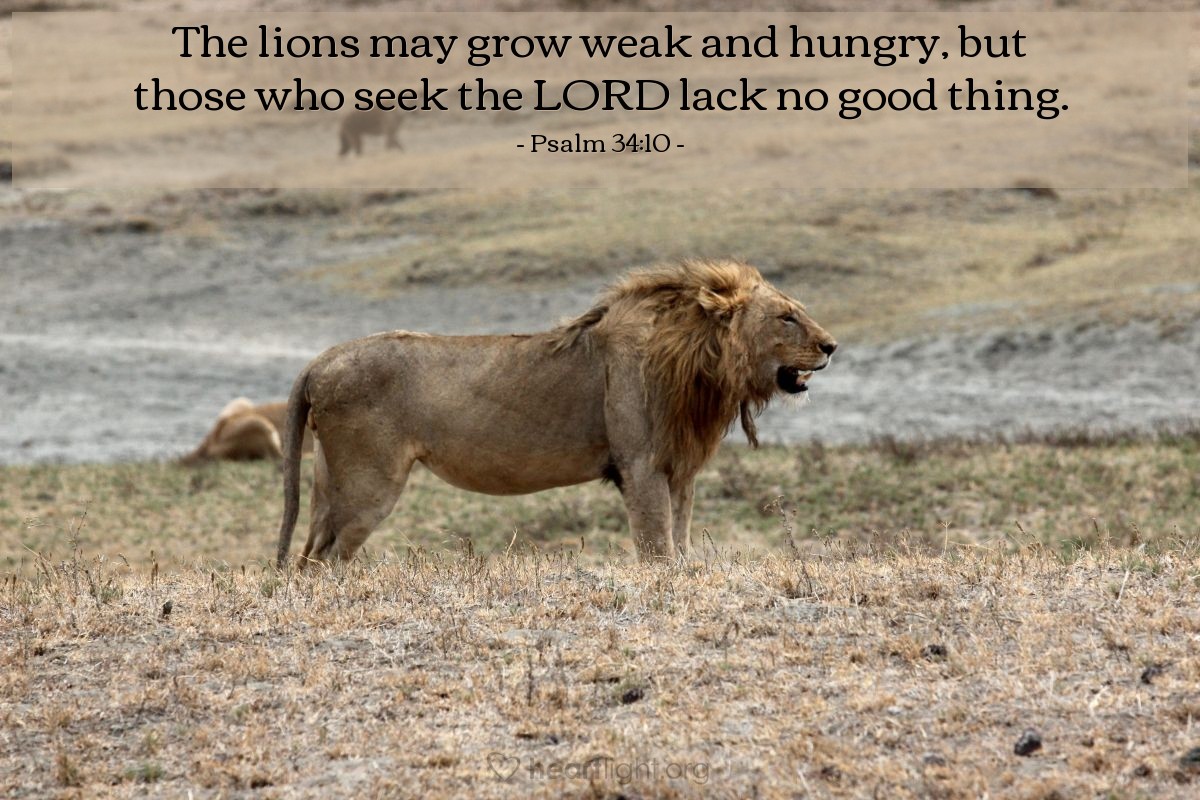 Passion for Praise:

 'You Give Great Victories'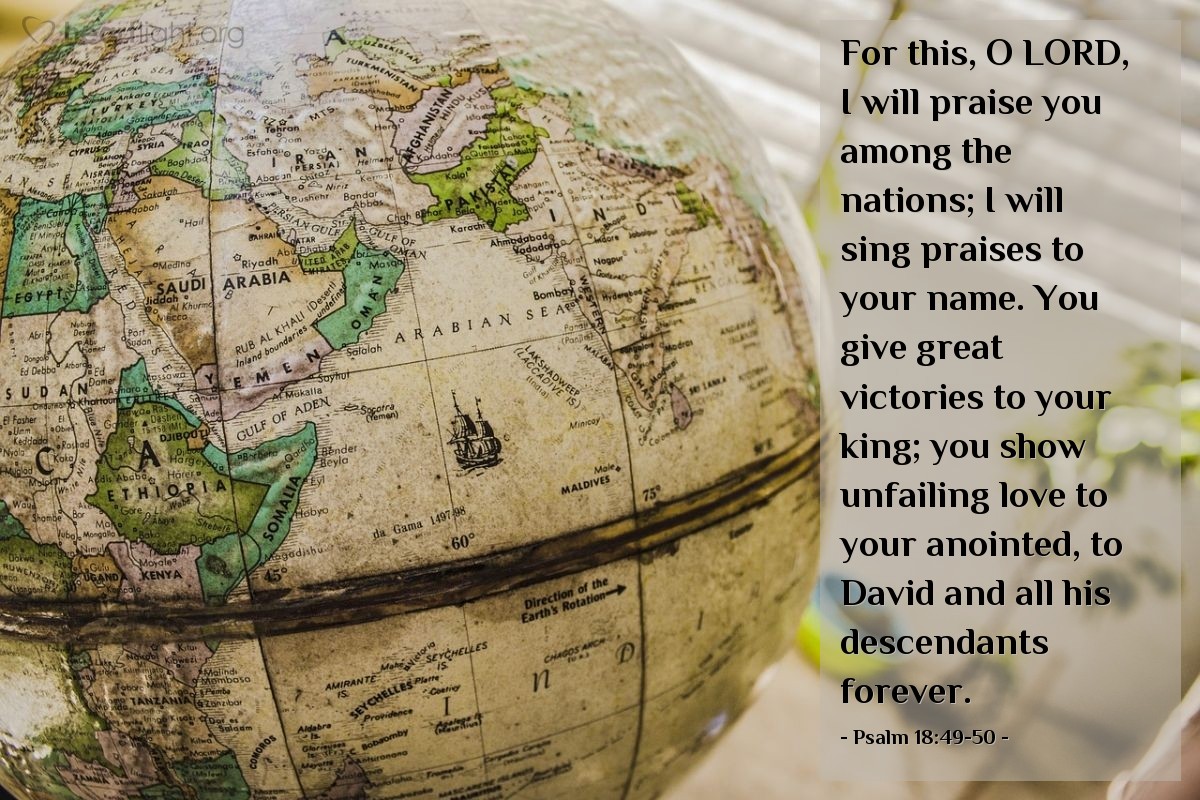 Spiritual Warfare:

 'Don't Focus on Wealth — It Will Disappear'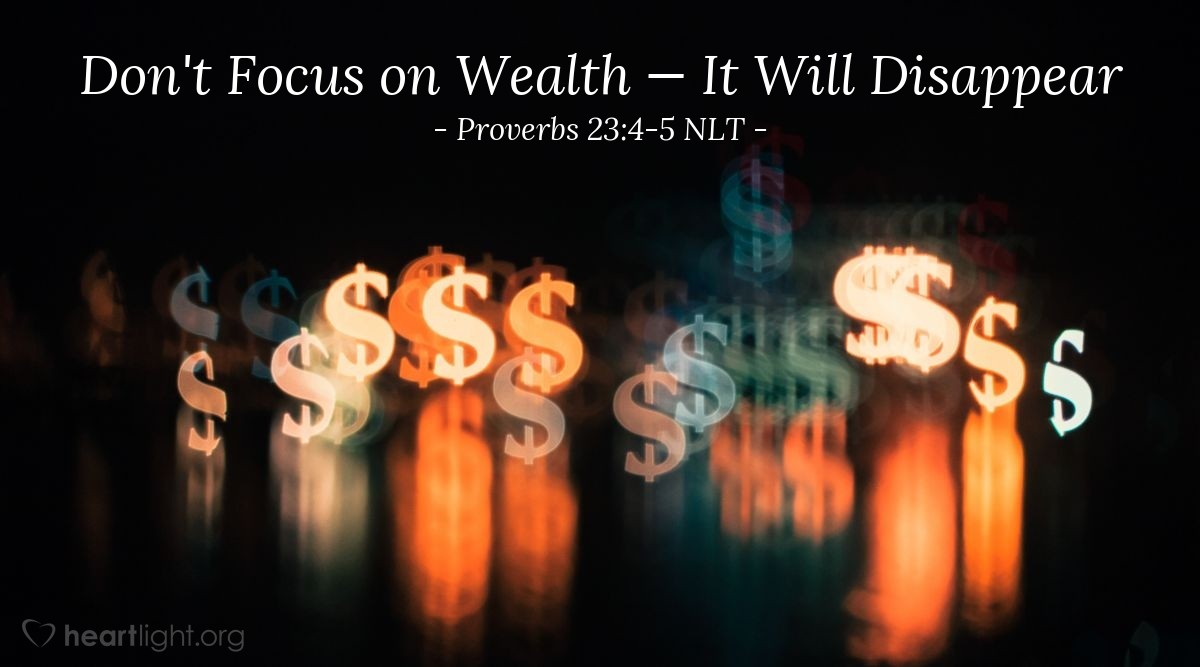 A Year with Jesus:

 'Pentecost!'
Note from Jesus
Dear Disciple,
A new era began after My resurrection. On the day of Pentecost, I poured out the Holy Spirit first on My closest disciples. Then I poured out the Holy Spirit upon all those who responded to their message (Acts 2:38-39; Titus 3:3-5). The pouring out of the Spirit upon My disciples was done loudly and with no small disturbance. The apostles spoke about Me. People from many countries heard the message in their own languages. Yes, there were some skeptics — as there always are. Undeniably, something dramatic was happening. The words spoken by Peter and the apostles were powerful, but there was something more than convincing words touching the hearts of the people. My life, death, and resurrection were proclaimed. Conviction swept through the crowd like wildfire. Their yearning hearts cried out for relief from their rejection of the Messiah, their Lord and Savior — Me.
Peter let the crowd at Pentecost know that the same Spirit Who propelled this message past their defenses and brought conviction to their hearts was now available to them if they repented and were baptized. And many were immersed that day based on their faith in Me and turning their lives around to follow Me! Luke, the writer of Acts, described it this way:
Whoever made a place for his [Peter's] message in their hearts received the baptism; in fact, that day alone, about 3,000 people joined the disciples.
The movement of the Spirit in My disciples had begun and would sweep across the Mediterranean area in about thirty years. And you, My dear disciple, are a part of that movement that began at Pentecost. You are part of a movement centered on My death, burial, and resurrection. This gospel is proclaimed by people filled with the Holy Spirit. These people are built into a spiritual family that reflects my righteous character and gracious compassion. You can see that Luke emphasized all of this in his telling of the Pentecost story.
Please know that I long to do in your day what happened in that time long ago. Come! Believe! Ask for the Spirit's power to be at work in you, among your spiritual family, and with your efforts to bring the kingdom of God to the lost world around you.
Verses to Live
These verses talk about the birth of the new era of the Holy Spirit. Read through them a couple of times and then ask yourself if you have responded to the call of My gospel the way those early disciples did. Then open yourself to the work of the Holy Spirit in your day. I long to reanimate My people with grace and power. Don't let the power of Pentecost, the Holy Spirit, be dead in your day!
When the holy day of Pentecost came 50 days after Passover, they [the disciples] were gathered together in one place.

Picture yourself among the disciples:

A sound roars from the sky without warning, the roar of a violent wind, and the whole house where you are gathered reverberates with the sound. Then a flame appears, dividing into smaller flames and spreading from one person to the next. All the people present are filled with the Holy Spirit and begin speaking in languages they've never spoken, as the Spirit empowers them.

Because of the holy festival, there are devout Jews staying as pilgrims in Jerusalem from every nation under the sun. They hear the sound, and a crowd gathers. They are amazed because each of them can hear the group speaking in their native languages. They are shocked and amazed by this.

Pilgrims:

Just a minute. Aren't all of these people Galileans? How in the world do we all hear our native languages being spoken? Look — there are Parthians here, and Medes, Elamites, Mesopotamians, and Judeans, residents of Cappadocia, Pontus, and Asia, Phrygians and Pamphylians, Egyptians and Libyans from Cyrene, Romans including both Jews by birth and converts, Cretans, and Arabs. We're each, in our own languages, hearing these people talk about God's powerful deeds.

Their amazement becomes confusion as they wonder:

Pilgrims:

What does this mean?

Skeptics:

It doesn't mean anything. They're all drunk on some fresh wine!
As the twelve stood together, Peter shouted to the crowd:

Peter:

Men of Judea and all who are staying here in Jerusalem, listen. I want you to understand: these people aren't drunk as you may think. Look, it's only nine o'clock in the morning! No, this isn't drunkenness; this is the fulfillment of the prophecy of Joel. Hear what God says!

In the last days, I will offer My Spirit to humanity as a libation. Your children will boldly speak the word of the Lord. Young warriors will see visions, and your elders will dream dreams. Yes, in those days I shall offer My Spirit to all servants, both male and female, and they will boldly speak My word.

…

Everyone in Israel should now realize with certainty what God has done: God has made Jesus both Lord and Anointed King — this same Jesus Whom you crucified.

When the people heard this, their hearts were pierced; and they said to Peter and his fellow apostles:

Pilgrims:

Our brothers, what should we do?

Peter:

Reconsider your lives; change your direction. Participate in the ceremonial washing of baptism in the name of Jesus God's Anointed, the Liberating King. Then your sins will be forgiven, and the gift of the Holy Spirit will be yours. For the promise of the Spirit is for you, for your children, for all people — even those considered outsiders and outcasts — the Lord our God invites everyone to come to Him.

Peter was pleading and offering many logical reasons to believe. Whoever made a place for his message in their hearts received the baptism; in fact, that day alone, about 3,000 people joined the disciples.
(Acts 2:1-18; Acts 2:36-41)
Response in Prayer
Almighty God, do in our day what we heard that happened in bygone days. I long to see Your name glorified, Jesus' grace received, and the Holy Spirit's power bring thousands to salvation. I ask this in Jesus' name. Amen.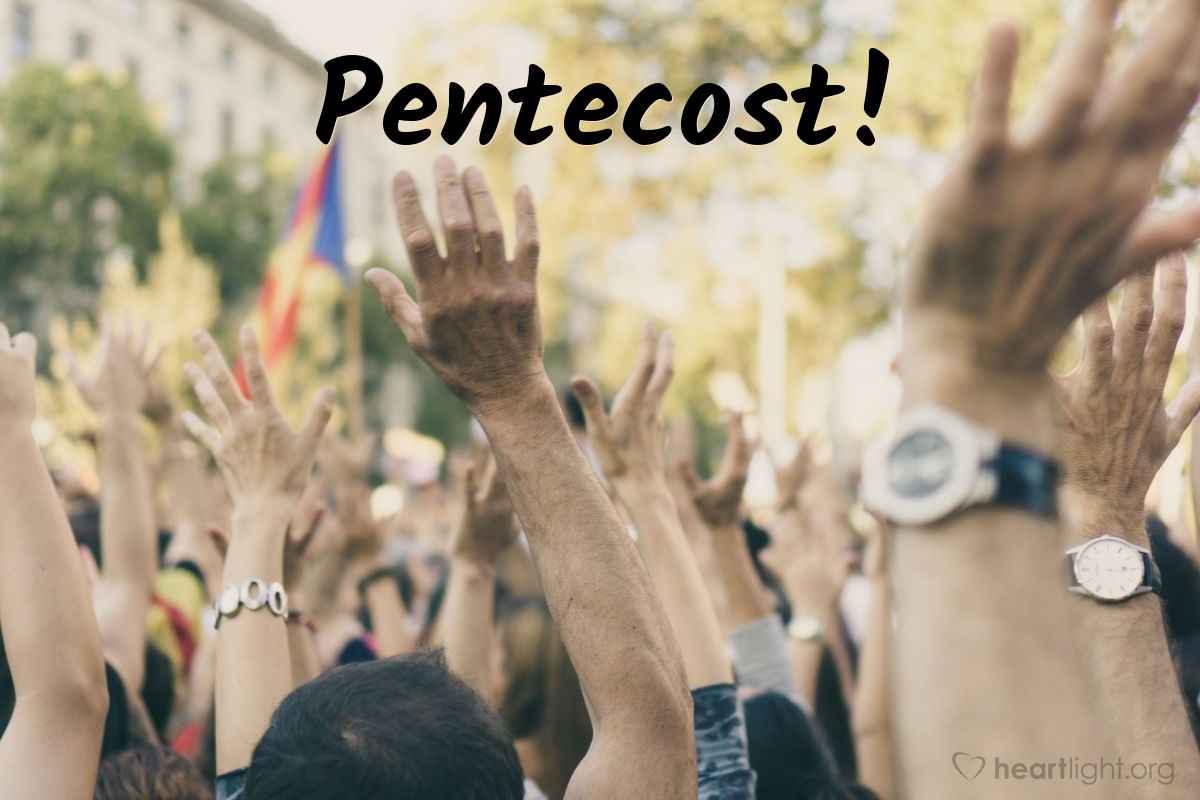 Let's Scale the Heights of Christ's Supremacy Together!
Jesus is good and kind.
Jesus loves me.
Jesus died for my sins.
ALL TRUE!
BUT DON'T STOP THERE!
——————————
Go HIGHER into the limitless realms of the
GLORY and MAJESTY and SUPREMACY of
our LORD and KING Jesus Christ!
Together, let's go to the mountaintop!
The CHRIST NOW Community is a place
for us to build in each other our vision of
the supremacy of Christ and our
devotion to him
. . . and then to "infect" our churches
and communities with his supremacy!
A crisis as such we've been presently in can make one bitter or better, more carnal or more consecrated, more earthly, worldly and temporal minded or more heavenly and eternally minded.
Question: Are you closer to Jesus now than you were before this pandemic? Is He more real to you? Is the reality of His kingdom more important to you now?
Personally, I really enjoy watching sports, but I can honestly tell you that I haven't missed them during this favorite sports season of mine when there are usually exciting rounds of playoffs and a new season of baseball beginning. The Lord is doing a deep work in many hearts during this pandemic. The reality of Christ's invisible kingdom is coming to the forefront of many believers' hearts and lives.
This is one gigantic difference between the early church and today's church.
" About that time King Herod extended his hands to harm certain ones from the church. He killed James the brother of John with the sword. Seeing that it pleased the Jews, he proceeded further to arrest Peter also" (Acts 12:1-3a).
"The very night when Herod would have brought him out, Peter was sleeping" (Acts 12:6a).
Question: Would you be able to sleep the night before your execution? Peter did. Some could say it was the gift of faith in operation, but I also believe Jesus was so real to Peter, he didn't care if he died and departed to be with Him. He was missing his Master.
The post-Resurrection appearances of Jesus to His disciples made them know He was alive and no longer hindered by time and space as He went back and forth from heaven and to earth and then back to heaven.
"When He had spoken these things, while they looked, He was taken up. And a cloud received Him from their sight. While they looked intently toward heaven as He ascended, suddenly two men stood by them in white garments. They said, 'Men of Galilee, why stand looking toward heaven? This same Jesus, who was taken up from you to heaven, will come in like manner as you saw Him go into heaven'" (Acts 1:9-11).
This is the same reality we've got to come to as believers in Jesus. When Jesus rose from the dead, the disciples witnessed the power of an endless and indestructible life. It forever changed them to fully pursue Christ and His kingdom, and be no longer bound to this world and all its enticements, entanglements and allurements. This is the same journey of transformation we must be on.
Jesus as God the Son had no beginning and no end, just like eternity. Hungry and thirsty believers can access eternity through Christ who went before us as a forerunner behind the veil. How exciting!
"We have this hope as a sure and steadfast anchor of the soul, which enters the Inner Place behind the veil. This is where Jesus has entered for us as a forerunner, since He has become the everlasting High Priest in the order of Melchizedek" (Heb. 6:19-20).
You see, in the same way the first Adam closed the door to the paradise of Eden, Jesus opened it again when the veil was rent in two.
"Now it [was about the sixth hour, and there was darkness over all the earth until the ninth hour. Then the sun was [darkened, and the veil of the temple was torn in two" (Luke 23:44-45).
It's amazing that the penitent thief went into paradise with Jesus (v. 42-43). In a sense, Jesus opened the way to a new garden of Eden.
The post-Resurrection appearances of Jesus unveiled a mystery to His disciples, not only that Jesus was no longer dead, but that He was now alive with access to travel between heaven and earth, with zero limitations of time and space. Jesus was giving us a peek into the eternal future of the saints, who shall live and travel in both realms during the millennial age and in the future ages to come in a new heaven and new earth. Amazing!
To a measure, we can learn to live that way now in both the natural and spiritual world, because we are seated in heavenly places in Christ Jesus (Eph. 2:6). Hallelujah!
No Need to Fear Anything Now
And so we need not fear this pandemic or any other crisis that will come in these last days, and there will be many more, as Jesus foretold. Instead, let us focus on the transformation God wants to do in us to learn to live in two worlds—both the natural and the spiritual world. This is the privilege of those believers who are hungry and yearning to follow the pattern of Jesus, the Son of God, who lived in both worlds, even in His earth walk.
Jesus learned to walk in the now with His Father, and we must learn to do the same—to access the realm of eternity and not be limited by time and space. Jesus is in the now. He is the Great I Am, and is always speaking to us from the eternal now. We must not relegate Him to the future only, and we must not limit Him to what He was to His disciples in His earthly ministry. We are in a different time now in the final hours of the last days. Many spectacular manifestations are just on the horizon for us—divine appearances, angelic visitations, people being translated supernaturally from one geographical place to another as Philip, the evangelist was (Acts 8), great signs, wonders and marvels are about to happen. The glory of the latter house must be greater than the former house.
Let us not focus too much on last days crisis, plagues, pandemics, pestilences and so forth. Jesus said these things would come. Instead, let us keep eternity in our hearts and know that God is above time and space, and wants to speak and communicate with us from the eternal now. We can experience this kind of intimacy with Him all the time as we learn to cultivate the new garden of Eden in our hearts— acres and acres of it.
This is what it means to live our lives in Christ where we are seated in heavenly places.
May God give the reader understanding.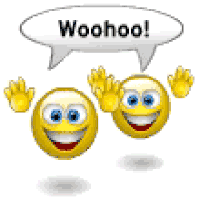 NATIONAL SMILE DAY
On May 31st, National Smile Day encourages everyone to wear their best smile!
The first recorded smile on record took place on 126 B.C. Okay, we made that up. But did you smile? Joking aside, we generate a smile when funny things happen or find pleasure in the things we do. Someone we love or enjoy spending time with may be the cause of a grin or beaming look of joy.
Smiles are powerful! They not only create engagement between two people but the more a person smiles, the healthier their brain can be. Smiling has a direct link to our brain and can help to reduce stress.
There is so much a smile can do. Just one smile can brighten someone's day. It can also improve your day. Smiles are infectious. A healthy smile can develop confidence and generate a new outlook on the world.
HOW TO OBSERVE #NationalSmileDay
Share your smile and how a smile improves your day.  Use #NationalSmileDay to share on social media.
NATIONAL SMILE DAY HISTORY
Dr. Tim Stirneman and Jim Wojdyla from Compassionate Dentalcare founded National Smile Day to share with the world what the power of a healthy smile can do.  Confidence, health, and quality of life aren't just for the person smiling.
Humor…