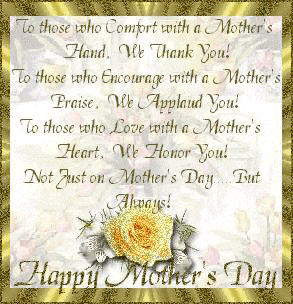 Oh, that salvation for Israel would come out of Zion! When the Lord restores his people, let Jacob rejoice and Israel be glad! Psalm 14:7, NIV
Lord our God, our Father in heaven, bless us who have become united in our hope in you and in our expectation of your help on this earth, where people live in all kinds of foolish ways. Bless your Word within us. Grant us your Holy Spirit to restore life and gladness to our hearts, even in grief and suffering. Grant this not only in the distress of the whole world, but also in our own lives as long as we remain on this earth. Let signs be seen on every hand that you help us and give us a strength we can rely on. You help us in all circumstances every day, every year, ever anew. For this we thank you and praise your name. Amen.
Daily Dig~~~
Johann Christoph Arnold
Thank God for mothers! Mothers provide the most powerful influence on a child's life, and are the most important role models for positive change in our society. When people are in trouble, or know that they are dying, the first person they think of is their mother. When children start going wrong ways a mother's prayer is powerful. Mothers remind us that there is a loving God above us who will take good care of everyone, especially children. Whenever a tragedy occurs – no matter where in the world this happens – you will always find mothers both weeping for the dead and bringing comfort and security to the living.
     ~~~Dion Todd
Relax
Humble yourselves, therefore, under the mighty hand of God so that at the proper time He may exalt you, casting all your anxieties on Him, because He cares for you. 1 Peter 5:6 ESV
Laying in bed and unable to sleep, another night passed by. So concerned about the next day, that I could not seem to end the current one. Yet when the following day arrived, everything took care of itself. Day after day, year after year, decade after decade, the pattern continues. Worry is for nothing, anxiety accomplishes nothing, and when the problem arrives, so does God's provision.
Stop striving to make something happen too soon, or in your own strength. When the time comes, it will be unstoppable and so easy that you will say, 'How can it be?'. I have worked at things so hard in my life that I became frustrated and gave up, then watched it come to pass without having to lifting a finger to help. Even my 'giving up' did not stop God's promises from coming to pass in my life. It is He who is faithful, not me.
Relax, stop striving, stop worrying and being so anxious about the future. Submit yourself to God, put Him first, delight in the Lord and all of these things will take care of themselves in the proper time. He cares for you and He gave you the dream that you carry inside. Relax, take it one step at a time. Love Him and let Him bring it to pass.
Prayer: Heavenly Father, I wait on You. I know that you have not forgotten me and I trust that You will take care of me, in the name of Jesus I pray.
Bible Fun Fact: Elijah was taken to heaven by a whirlwind (IIKings 2:11).

Unstoppable!

 'Blinded'

[Saul] fell to the ground and heard a voice saying to him, "Saul! Saul! Why are you persecuting me?"

"Who are you, lord?" Saul asked.

And the voice replied, "I am Jesus, the one you are persecuting! Now get up and go into the city, and you will be told what you must do."

The men with Saul stood speechless, for they heard the sound of someone's voice but saw no one! Saul picked himself up off the ground, but when he opened his eyes he was blind. So his companions led him by the hand to Damascus. He remained there blind for three days and did not eat or drink.

— Acts 9:4-9 NLT
Key Thought
Saul, whom we know later as the apostle Paul, was truly impacted by encountering the living Messiah, Jesus of Nazareth, on the road to Damascus. All of Saul's efforts in his recent years were wasted in terms of his objective of eradicating Christianity; his efforts were hostile to God and to God's plan to redeem the lost world. After encountering Jesus, Saul realized that he needed help in knowing the right way to go (
Acts 22:9-10
). He was blinded physically, as he had been metaphorically while persecuting Christians. He did not eat or drink for three days. He knew he needed a complete re-orientation for his life and was ready to wait for God to point him in the right direction. He knew he could not fix himself. Do I?
Today's Prayer
O God, I cannot order my priorities or live my life or make good use of this day, without your grace, Jesus' goodness, and the Holy Spirit's guidance. I offer my heart to you to be led by your Spirit as I seek to live for Jesus in my world — not just today, but every day. I long for your help to live your way. In Jesus' name, I ask for this help. Amen.
Related Scripture Readings
Daily Wisdom: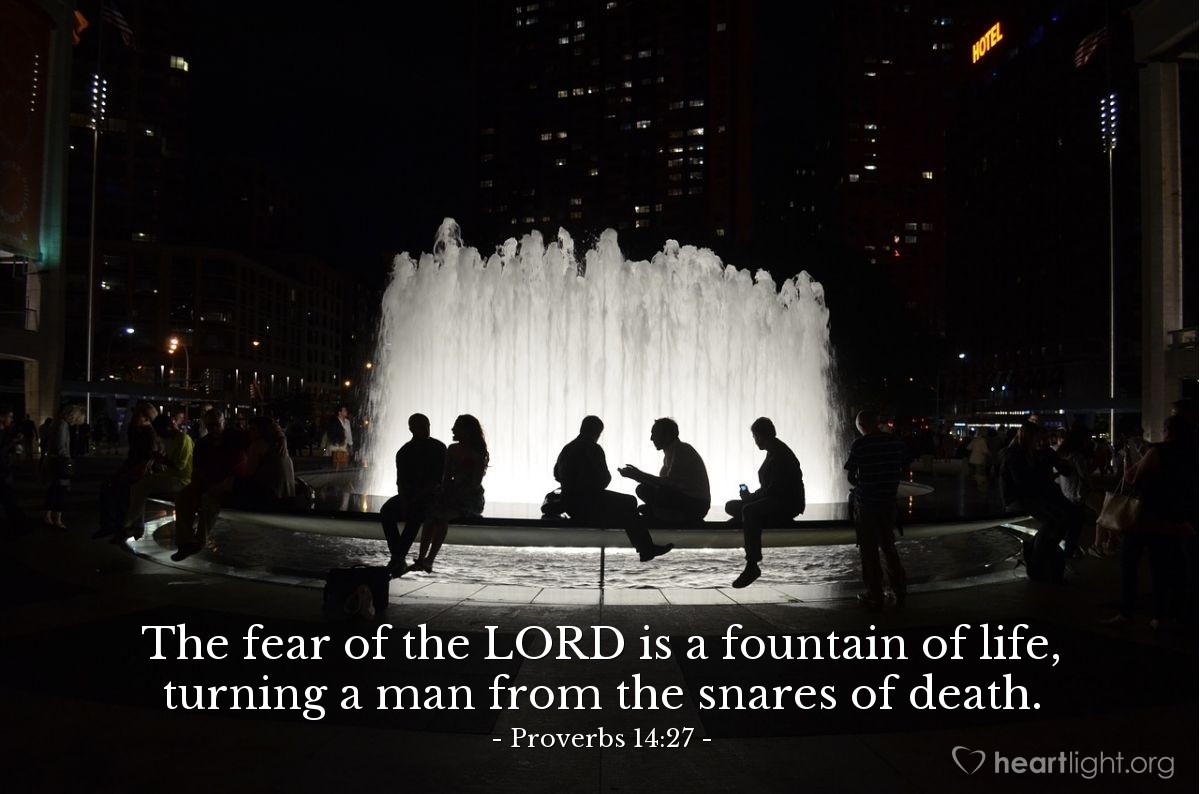 Passion for Praise:

 'Even Those Who Sail Distant Seas'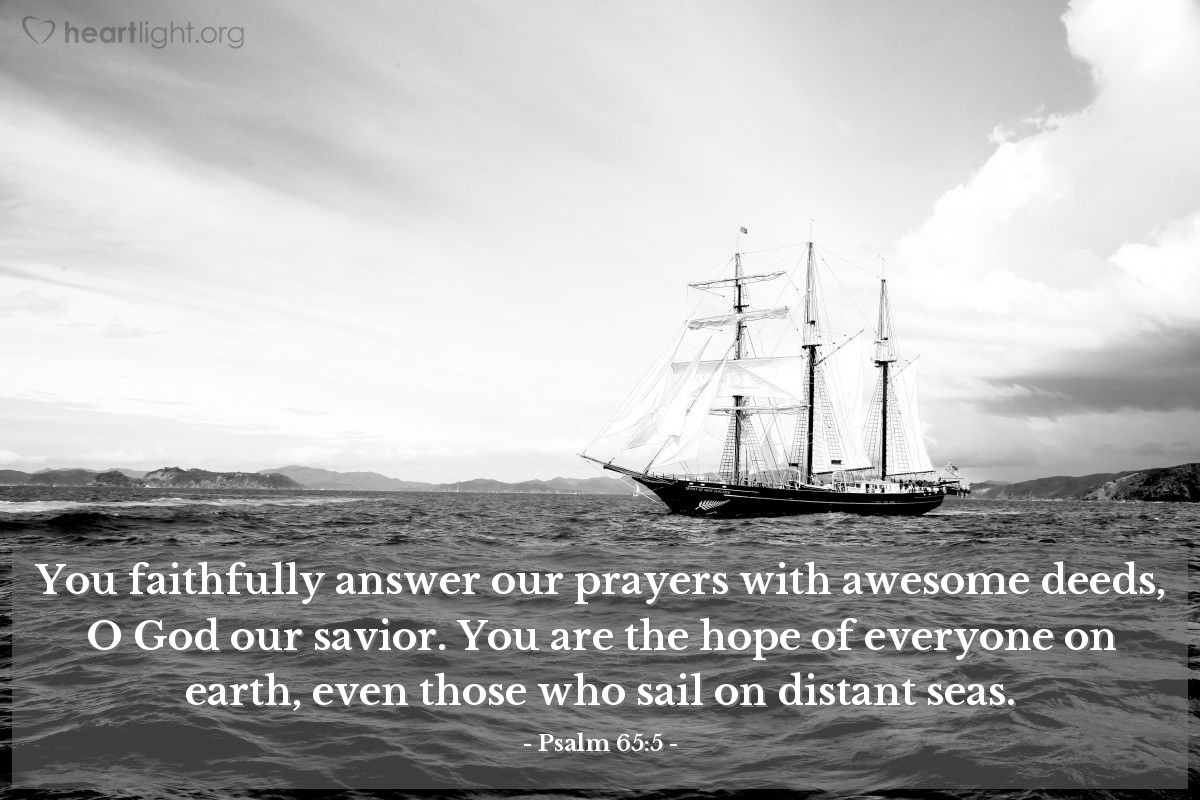 A Year with Jesus:

 'Immanuel: In Spiritual Family'
Note from Jesus
Dear Beloved,
I began yesterday to share with you the four Immanuel passages in the book of Matthew. Recall that Immanuel is the name given to Me in prophecy (Isaiah 7:14). Immanuel means "God with us." The first of the Immanuel sayings (Matthew 1:23) was spoken about Me. The remaining three were spoken by Me. I spoke these three Immanuel sayings as promises to My disciples. While these last three don't specifically use the name Immanuel, they emphasize that I AM with you when you:
Come together as authentic spiritual family (Matthew 18:20),
Compassionately care for "the least of these" (Matthew 25:40), and
Step outside the comfortability of your ethnicity and culture to make disciples and lead them to follow Me (Matthew 28:18-20).
In other words, I AM not just the One Who was raised from the dead never to die again, but I AM also alive and present with you. I want you to know how you can experience My presence in your life as My disciple.
Today, the verses below are focused on experiencing My presence and My influence on your life in a community as spiritual family (Hebrews 2:10-11). As Christians, you are not members of an organization, but you are part of My blood-bought family. You are brothers and sisters who share something more important than a physical bloodline or common DNA markers. The Holy Spirit, Our — Father, Son, and Spirit's — presence, is living in you making you spiritual family.
Family life can sometimes be messy and difficult. However, the Father has given you the power of the resurrection through the work of the Holy Spirit within you (Ephesians 1:17-20; Ephesians 3:14-21). This power can help you live together in love (Romans 5:5) as a true spiritual family. When you choose to live in the radical ways I am calling you to live as My family, you are living with Me. My presence is there with you and among you.
This lifestyle means that you will take special care with how you use your freedom. You will do your best not to cause a disciple to stumble and fall away. You will go directly to a person who offends you rather than gossiping about that person or trying to "get even" with that person. You will forgive any brother or sister who sins against you and asks forgiveness, and you will continue to forgive as long as that person asks for your forgiveness. You will notice and work to reclaim any of your brothers and sisters who have wandered away, have been overcome by sin, or have dropped out of the family.
Being with you as a member of My family is My promise to you. It is Matthew's second Immanuel saying. What I said reminds you that I AM present and can be experienced in your world as you live as genuine spiritual family:
For when two or three gather together in My name, I am there in the midst of them.
(Matthew 18:20)
Verses to Live
As you read My words in the verses below, remember that I AM calling you to live as My spiritual family. My teaching recognizes that this life together as a spiritual family can be messy. Everyone in My family is imperfect just as you are. However, you need each other to be what I've called you to be.
Around that same time, the disciples came to Jesus and questioned Him about the kingdom of heaven.

A Disciple:

In the kingdom of heaven, who is the greatest?

Jesus called over a little child. He put His hand on the top of the child's head.

Jesus:

This is the truth: unless you change and become like little children, you will never enter the kingdom of heaven. In that kingdom, the most humble who are most like this child are the greatest. And whoever welcomes a child, welcomes her in My name, welcomes Me. And do not lead astray one of the weak and friendless who believes in Me. If you do, it would be better for you to be dragged down with a millstone and drowned in the bottom of the sea.

Beware indeed of those in a world filled with obstacles and temptations that cause people to turn away from Me. Those temptations are woven into the fabric of a world not yet redeemed, but beware of anyone who lures righteous women and men off the narrow path. If your hand constantly grasps at the things of this world rather than serves the Kingdom — cut it off and throw it away. If your foot is always leading you to wander, then cut it off and throw it away; it is better for you to hobble, crippled, into the kingdom of life than to burn in hell with two hands and two feet. And if your eye always focuses on things that cause you to sin, then pull your eye out and throw it away. It is better for you to see the kingdom of life with one eye than to see the fires of hell with perfect sight.

Make sure that you do not look down on the little ones, on those who are further behind you on the path of righteousness. For I tell you: they are watched over by those most beloved messengers who are always in the company of My Father in heaven. [The Son of Man has come to save all those who are lost.] A shepherd in charge of 100 sheep notices that one of his sheep has gone astray. What do you think he should do? Should the shepherd leave the flock on the hills unguarded to search for the lost sheep? God's shepherd goes to look for that one lost sheep, and when he finds her, he is happier about her return than he is about the 99 who stayed put. Your Father in heaven does not want a single one of the tripped, waylaid, stumbling little ones to be lost.

This is what you do if one of your brothers or sisters sins against you: go to him, in private, and tell him just what you perceive the wrong to be. If he listens to you, you've won a brother. But sometimes he will not listen. And if he does not listen, go back, taking a friend or two friends with you (for, as we have learned in Deuteronomy, every matter of communal import should be testified to by two or three witnesses). Then, if your brother or sister still refuses to heed, you are to share what you know with the entire church; and if your brother or sister still refuses to listen to the entire church, you are to cast out your unrepentant sibling and consider him no different from outsiders and tax collectors.

Remember this: whatever you bind on earth will be bound in heaven, and whatever you loose on earth will be loosed in heaven. And this: if two or three of you come together as a community and discern clearly about anything, My Father in heaven will bless that discernment. For when two or three gather together in My name, I am there in the midst of them.

Peter:

Lord, when someone has sinned against me, how many times ought I forgive him? Once? Twice? As many as seven times?

Jesus:

You must forgive not seven times, but seventy times seven.
Response in Prayer
O Father, forgive me when I have not lived with my spiritual brothers and sisters in love as true family. I know that I have missed receiving Your blessing when I have allowed my own stubborn will and my own injured pride to overrule Your call for me to love my spiritual family as Jesus does. I'm asking You, dear Father, for the strengthening power of the Holy Spirit to help me as I commit myself to Your spiritual family. I trust that as I do, Jesus will be ever more real to me. I pray this in His name. Amen.
I posted this recently: "National prayer without national repentance is an abomination to God. In fact, it's the great national deception."
The Lord dropped something in my heart a few days ago that I want to submit to you.
Just as the plagues in Egypt were intended to cause Pharaoh to let God's people go, this plague is the first big sign (9/11 didn't do it) to stir the church, the nation and even the world toward humility, repentance and a wholehearted (very important word) turning to God.
This plague has altered our nation, but will it be temporary? Remember, Pharaoh reneged on his promises to let God's people go. He was not sincere. God is looking for sincerity in our repentance and service to Him.
I'm warning you that if there is insincere repentance and we return to life as usual, there is something else that will come on the heels of this virus that will alter life in America again. I wish it were not so, and I hope I'm wrong. The effects of another national crisis may last longer than this one. Depending on how the church and people respond to the second thing (I don't sense it will be another plague, but something else), there will be a third crisis that will change our nation for good, unless there is humility and heartfelt repentance.
Oh people, it's time to serve the Lord with holy fear and trembling. To those who've been genuinely born again, God is our Father who loves us with an everlasting love, but don't forget He is also a consuming fire, and it is a fearful thing to fall into His hands (Heb. 10:31). He loves even His enemies and desires to keep His hand of protection over our lives, families and nation, but we must cooperate with Him. He is patiently waiting for the precious fruit of the earth (James 5:7) and returning for a glorious church without spot or wrinkle. He loves His church and the world so much and desires His best for all, but we must submit to Him.
Let us repent and seek the Lord while He may be found.
Plagues in Egypt Were to Let God's People Go, But This Plague Is Much Different
It's for repentance.
Many in the church need to repent of:
Loving mammon more than God, which manifests in an unwillingness to surrender your life to God.
Lack of wholeheartedness and sincerity toward God, which manifests in a form of godliness that denies God's power to change you.
A heart of unbelief that God would never manifest His judgment or wrath.
Pray That God Might Grant Repentance and an Awakening to the World
I was hospitalized recently and surrounded daily and nightly by nice, kind, hard-working people, and I greatly appreciated each one of them—doctors, nurses, aides, therapists, cafeteria workers and custodians—but hearing their daily conversations, I heard nothing of thinking that this plague or virus could be a form of God's judgment against America or a wake-up call. In fact, I brought up the subject to test them, and some are totally oblivious to it. They'd rather pray for all of it to just go away, so they can return to their sinful, comfortable, materialistic lifestyles. That's how the world is, isn't it? But we, the body of Christ, are part of another kingdom, and judgment begins first with us, the household of God (1 Pet. 4:17). For this reason, there will be another severe crisis that will probably come. As we get closer to the return of Jesus, He said these things would be so anyway. They are going to happen.
Recently I heard a special report from Washington concerning the government's mockery of the church:
I saw a statistic that said 77% of Republicans don't care what the First Amendment to the Constitution says; they want their overlords to command churches to be closed. (Just imagine the Democrats' view). Remarkably, they don't feel that way about Walmart.
Jesus said, "Man shall not live by bread alone, but by every word that proceeds out of the mouth of God" (Matt. 4:4b).
America needs to believe again that the Bible is the Word of God.
America is under the judgment of God.
America's only hope is to come to sincere and wholehearted repentance from her sins.
Dear friends, never in America, at least in my lifetime, has there been such disrespect for churches and ministers, too. Judgment miracles must come for the church to regain the honor and respect of these pagan politicians. Think of Herod.
"On an appointed day, Herod, dressed in royal apparel, sat on his throne and gave a public speech to them. The mob shouted, 'It is the voice of a god, and not of a man!' Immediately an angel of the Lord struck him, because he did not give God the glory. And he was eaten by worms and died" (Acts 12:21-23). I am praying for these types of miracles to arrest the world and the backslidden church and regain their respect and reverence for God.
Some of us who are right with God and have gained authority in being in covenant with Him need to consider praying for these kinds of miracles—not out of vindictiveness or in a punitive way, but redemption, so honor and respect for God would be restored in the church and the world. Besides Herod's death, a great example of a judgment miracle would be when the apostle Paul commanded blindness to fall on a sorcerer who was opposing the gospel. God will deal strongly with all those who oppose the gospel in this hour.
"But Elymas the sorcerer (which is his name by interpretation) opposed them, trying to divert the proconsul from the faith. Then Saul, who also is called Paul, filled with the Holy Spirit, stared at him and said, 'You son of the devil, enemy of all righteousness, full of deceit and of all fraud, will you not cease perverting the right ways of the Lord? Now, look! The hand of the Lord is against you, and you shall be blind, not seeing the sun for a time'" (Acts 13:8-11a).
Then Jesus made this statement about the times we are living in:
"There will be signs in the sun and the moon and the stars; and on the earth distress of nations, with perplexity, the sea and the waves roaring; men fainting from fear and expectation of what is coming on the inhabited earth. For the powers of heaven will be shaken" (Luke 21:25-26).
So on the one hand, there will be judgment miracles, but on the other hand, there will be signs God will display in the heavens and the earth. We are only experiencing the beginning of birth pangs right now, but they will increase in frequency and magnitude, according to Jesus.
Is It Time for More Drastic Measures?
"Blow the trumpet in Zion, consecrate a fast, call a sacred assembly; gather the people, sanctify the congregation, assemble the elders, gather the children and nursing babes; let the bridegroom go out from his chamber, and the bride from her dressing room. Blow the ram's horn in Zion, consecrate a fast, call a sacred assembly. Gather the people, consecrate the congregation, assemble the elders, gather the children and those nursing at the breast; let the bridegroom leave his room and the bride her chamber. Between the temple porch and the altar, let the priests, ministers of the Lord, weep and say, 'Have pity upon Your people, and do not make Your heritage a disgrace, a mockery among the nations. Why should they say among the peoples, 'Where is their God?'" (Joel 2:15-17).
If we do this one simple thing, it can make a huge difference. Get right with God. It starts with you drawing a circle around yourself and humbling yourself before God. I hope you will do it sooner rather than later.
Our bookCleansing The Temple was concerning judgment in the church while The Tumultuous 2020s and Beyond is mainly concerning judgment in the world, although I still write much about judgment in the church. Please don't miss God during this time of judgment we are in.
Raising children in today's world is not easy. Every year our kids face difficult temptations and greater challenges than ever. As moms, we are not perfect parents. And we are not their only influence, though right now, it may seem that way. Some parents may feel like rubber bands during this threatening situation, stretched so tight they're about to break.
But God's presence goes with every mom and parent who seeks to honor Him in raising their children. He has given them the assignment of teaching children how to reverently fear and respect God, honoring the values in the Bible, His Word and precious love letter to us. Then they–and we–can choose to trust the God who created us all, as we ask for wisdom and affirm our desires to Him for our children's well being. Here are ten affirmations for raising children.
A Mother's Creed: Ten Affirmations for Raising Children
by
Rebecca Barlow Jordan
I will worry less about my children and trust God more.

I will commit them into the Lord's care.

I will love my children unconditionally, and let them know I do.

I will believe in them constantly, and encourage them often.

I will nurture my children in the truth of God's Word.

I will pray for them daily.

I will teach them responsibility for their own actions.

I will try to be an example of godliness and beauty, but I will be unafraid to let them see my faults.

I will give them generous doses of laughter, interspersed with fun.

I will release them when they are grown, but they will always be my own.   
Only with God's help can we do that!
Trust in the Lord with all your heart and lean not on your own understanding; in all your ways acknowledge him, and he will make your paths straight (Proverbs 3:5-6 NIV).  
My Personal Prayer for You
Heavenly Father,
As moms and parents we so need Your help in raising children the way that will honor You. When we're tired, You are our strength. You give us wisdom when we have none of our own. And You're always there, just when we need You the most. Bless every mom and parent who is raising children through this extremely difficult time, Lord. Hold our hands; hold our hearts; and teach us how to depend more on You every day. Show us how to build character and reflect Jesus to our kids so they can know and love You more. May every challenge that we face only draw us closer to You and Your purpose for our lives.
Day-votedly Yours,
Rebecca
Daffodils!
Our course Paul's First Letter to Corinth Pt. 2 opens in a few weeks.
Daffodils!
Even when the rest of the terrain looks brown, bleak, and a bit depressing, a daffodil comes up after a winter's rest in the ground. It is wonderful to see the green leaves. But the green foliage is really the promise of a flower of spring hope after winter's gloom. My wife and I planted over 100 daffodil bulbs last year not knowing whether the squirrels would relocate them or eat them. And, you never are guaranteed growth of a bulb as it depends on soil quality and moisture. But a few weeks ago we were greeted with glorious daffodil flowers. Bright cheery yellow to smile at even if there still may be a snowfall in the near future.
When you plant something, you never are guaranteed how it may fair. Sometimes the sheer delight is the result and is deeply satisfying. Other times, you wonder how all your hard work could have resulted in such a horrible 'crop' of plants. Sometimes thistles and weeds choke out your work. One thing you know, when you plant a garden: you will have to work at it to make sure you have the best possible outcome.
You Never Know…
I have taught New Testament courses at the graduate school level for over 35 years. It is a great joy. One thing you know at the beginning of each class: you have no idea what kind of 'soil' enters your classroom. Will these people really 'get' what you are trying to teach them? It is always a challenge at the beginning of a semester. Part of it is a test of my ability to create a transformative learning environment. But even if that is on great display, whether the students will be transformed is, to a great extent, dependent upon how much work they put into the course.
Studying Paul's First Epistle to Corinth is a great way to see how different people received the 'course of study' the Apostle Paul brought to Corinth when he spent approximately 18 months there. Paul's First Epistle to Corinth is, perhaps, my favorite course to teach. I served as a pastor for nearly 30 years while also teaching New Testament Studies for seminaries. I loved the amazing overlap between the concerns and (mis)understandings of the Corinthian believers with people from my own congregation. Paul's First Epistle to Corinth is always applicable in so many ways for the contemporary church.
For instance, Paul had to contend with different factions of groups within the Corinthian congregation. Each contingent thought that it had the insight and understanding to make sure the church was going in the right direction. So, when you look at the early chapters of Paul's first letter, you find that the congregation had split around leadership figures who seemed to epitomize what the groups stood for. Note what Paul wrote to the Corinthians at the beginning of his first epistle:
Now I must appeal to you, my brothers and sisters, through the name of King Jesus our Lord, that you should all be in agreement, and that there should be no divisions among you. Instead, you should be fully equipped with the same mind and the same opinion.

You see, my dear family, Chloe's people have put me in the picture about you—about the fact that you are having quarrels.What I'm talking about is this. Each one of you is saying, 'I'm with Paul!', 'I'm with Apollos!', 'I'm with Cephas!', 'I'm with the Messiah!'

Well! Has the Messiah been cut up into pieces? Was Paul crucified for you? Or were you baptized into Paul's name?!(1 Cor 1:10-13 KNT)
Later Paul writes:
When someone says 'I'm with Paul!', and someone else says 'I'm with Apollos!', are you not mere humans?So what d'you suppose Apollos actually is? What d'you think Paul is? I'll tell you: servants, through whom you came to faith, each one of you as the Lord gave the gift. I planted and Apollos watered, but it was God who gave the growth. It follows that the person who plants isn't anyone special, and the person who waters isn't anyone special; what matters is God who gives the growth. The person who plants and the person who waters are just the same, and each will receive his own reward according to his own work.We are God's fellow-workers, you see: you are God's farm, God's building. (1 Cor 3:4-9).
Teaching in Winter or Spring
In many ways, 'winter' had descended upon the Corinthian believers and the result was a measure of a bleak, barren landscape. Paul, in writing to these dear believers, needed them to see their roles as fellow-gardeners as well as the result of being 'planted' themselves. They were to be as stunning as daffodils in the beginning of spring. But they needed some tending. Paul's letter is like a pruning sheers for the attitudes and actions of the Corinthian believers in order that the result would become something beautiful.
Like students entering a classroom at the beginning of a term, the challenge for the teacher is to bring forth the beauty of new ways of thinking and acting. In the same way that my wife and I vigorously dug soil and planted hundreds of daffodil and tulip bulbs in hope of beauty, Paul did his work among the Corinthians.
Paul's First Epistle to Corinth is a fascinating look at the kind of flowers that resulted and the ways that Paul had to tend to the flock.
Studying Paul's First Letter to Corinth never disappoints. We see ourselves and our fellow believers as if in a mirror. The question becomes: Are we ready to change and be changed? The follow-up question then becomes: Are we willing to be used by God to change the landscape around us? Don't miss studying with Prof. N.T. Wright as he guides us through Paul's First Epistle to Corinth. Perhaps the result will be to see stunning daffodils emerging after the bleakness of spiritual winter.
The following two tabs change content below.
Humor—