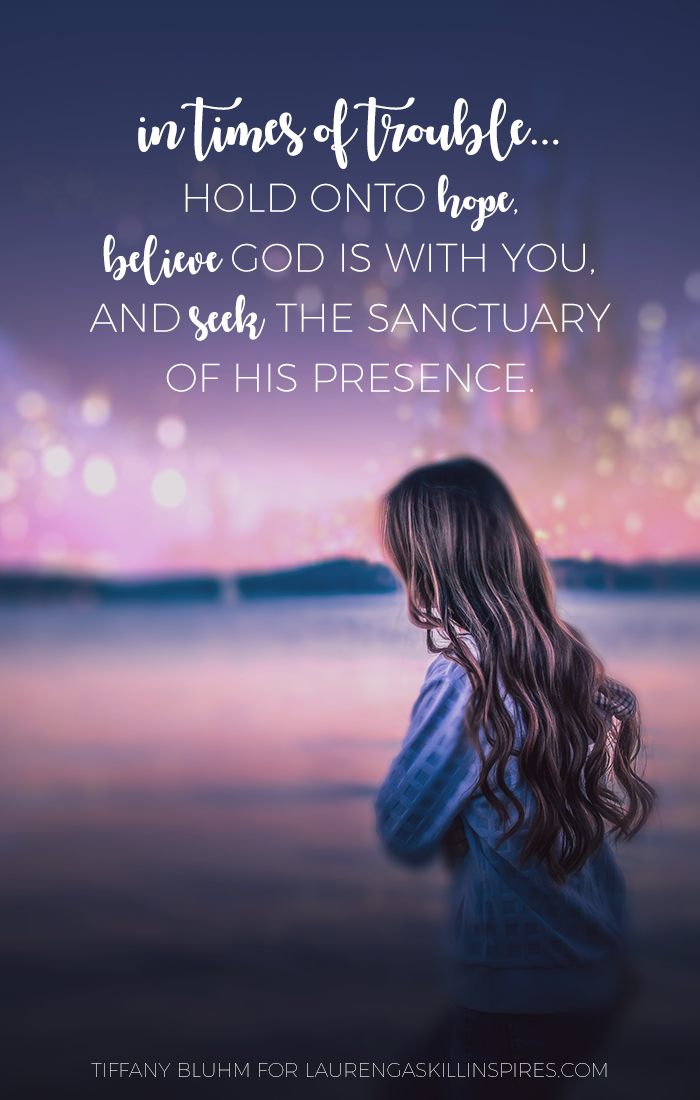 Fourth Sunday of Lent
Today we reflect on John 9:35–38.
I believe.
This simple two-word statement begins so many of life's treasured moments. When I was literally shaking as I left my mother's minivan, nervously ready to start high school, my mother calmly shared, "I believe in you, Matthew."
One of my favorite movie moments is from Miracle on 34th Street, when a young Natalie Wood repeats, "I believe, I believe…," convincing herself Santa Claus exists.
At Church, "I believe," is ingrained in our profession of faith, and it was during the Sacrament of Confirmation that I made sure I meant these two powerful words. Often we are asked, "What do we believe?" Take three minutes to reaffirm the bigger question of "Do I believe?" and enjoy the graces of a resounding "yes" to God.
   ~~~Dion Todd
Throw Out The Bones
Rejoice always. Pray without ceasing. In everything give thanks, for this is the will of God in Christ Jesus toward you. Don't quench the Spirit. Don't despise prophesies. Test all things, and hold firmly that which is good. Abstain from every form of evil. 1 Thessalonians 5:16 WEB
While traveling through Milwaukee Wisconsin, we stopped at an old smokehouse restaurant and ordered some wood-smoked baby back ribs. They cooked them right over a wood fire and they were nothing short of amazing, but they were full of bones which we had to slowly pick through. It was so worth it, and years later I still remember eating there. We ate the meat, and threw out the bones.
In our church experience, I have heard great men of God say things that I did not understand, or really even agree with. I used to try and make it all fit somehow anyway, but that created a mess in my mind. In the end, I had to start over and only keep the simple things that I can understand, and let that slowly build. Albert Einstein said: 'If you can't explain it to a six year old, you don't understand it yourself.' When I hear something that doesn't seem to fit now, I put it on the shelf and think about it a while, and it may just get thrown out.
On the other hand, there have been sound biblical truths abused and now mentioning them is almost considered 'taboo.' Yet the truth will always be the truth. Our enemy loves to make our messages out of balance, too much or too little. He works to blacklist the blessings of God and to quietly erase them from our messages. In order to rob us of the blessings, he will make something that God intended for our good, look bad. Then what could have been a blessing, is turned into a curse.
'Give and it will be given to you (Luke 6:38)' will always work, regardless of how many charlatans have abused it in the past. By hiding this truth, and removing it from our messages, the enemy essentially hides the key to the cell door of poverty prison and keeps God's people locked inside. Many begin to agree with him and believe 'Keep it all for yourself and you will prosper.' Yet, that is not what Jesus told us. The truth has been reversed, and the blessing made into a curse (Malachi 3:9).
Another important truth that has been neglected is that we are not to 'quench' the Spirit of God. This essentially means 'Putting out the fire' and it is speaking of the Holy Spirit, not about people who may be speaking out of order. The Holy Spirit brings warmth and light to the Christian life ever since the day that He came on the Apostles as 'tongues of fire' (Acts 2:3, Matthew 3:11).
Paul especially singled out one spiritual gift with 'Do not despise prophecies' (1Thessalonians 5:20). When you enter a church that is spiritually dead, water has been thrown on the fire, and what you are left with is a cold, dead, religious experience. I know the hair on your neck is probably rising, but I am only writing what the New Testament teaches as the truth. We cannot treat the Bible like a buffet and silently drop the parts that our denomination disagrees with, or even reverse their meaning into 'Despise all prophecies.' The Holy Spirit is still alive today, the book of Acts is still as relevant as ever, and so is prophecy.
Be open to new things. Keep what is good, throw out the bad. None of us are as smart as all of us combined. None of us have the entire truth, only parts of it, but all together we make up the body of Christ. Do not try and keep what you do not yet understand. God is able to quicken His word and make it understandable, when He chooses to.
We are to test all things and keep what is good. We cannot ignore truth because someone abused it in the past. We cannot limit God to our church experience so far. Jesus did no mighty works in His hometown because of their unbelief, but He did miracles everywhere else (Matthew 14:57). What if we are like them?
Prayer: Heavenly Father I believe, help my unbelief. Lord do not pass me by but include me in what You are doing today. I want more of You in my life. Teach me what I need to know and fire me up God. Dry up the water that has been thrown on my life and make me a torch for You in the name of Jesus Christ I pray.
Bible Fun Fact: When they awoke Jesus in the boat and He calmed the sea, there was more than one boat! (Mark 4:36).

Unstoppable!

 'The Power and Importance of Delegation'

[The Twelve said,] "And so, brothers, select seven men who are well respected and are full of the Spirit and wisdom. We will give them this responsibility [for equitable distribution of food]."
Passion for Praise:

 'Sunrise to Sunset'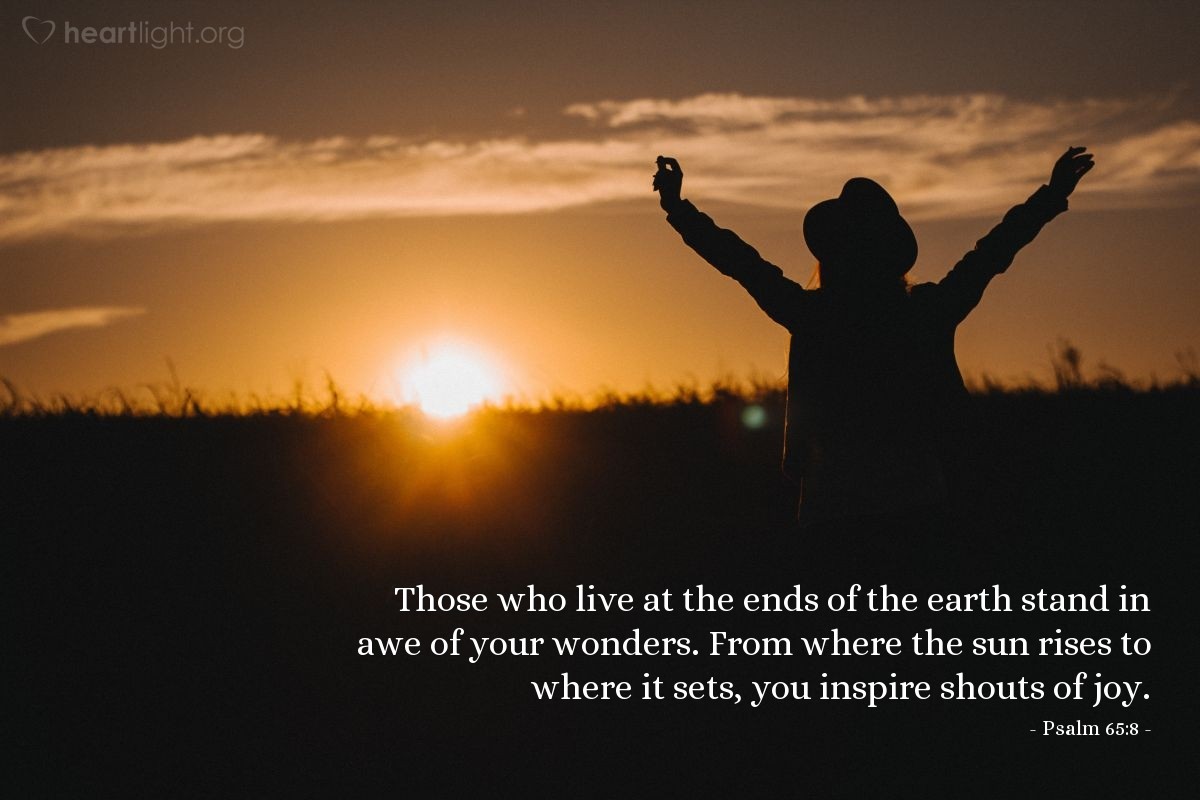 Daily Prayer for March 22
————————————————————
Christoph Friedrich Blumhardt
He predestined us for adoption to sonship through Jesus Christ, in accordance with his pleasure and will – to the praise of his glorious grace, which he has freely given us in the One he loves. Ephesians 1:5-6, NIV
Dear Father in heaven, grant that we may come to you as your children. Grant that we may come to your Spirit, that something of trust and perseverance may be born in us for our life on earth. May we always be loyal and full of hope, working and striving not only for what is earthly, but for the tasks that have been laid on us for your kingdom and its righteousness. Let new light shine out among us again and again. Let many understand when your voice is speaking to them, so that they may gain courage. Let your voice be heard so that the great gospel that makes us your children may be proclaimed to people of all circles. Amen.
TODAY'S DAILY DIG
A Prophetic Perspective on COVID-19
About two weeks ago, I was on a phone call with prophets from around the world concerning the coronavirus. Cindy Jacobs called us together to prophesy into the issue and to pray.
You have to understand, none of this came as a surprise. Chuck Pierce, who is the covering for Awakening House of Prayer, prophesied about this coming last September.
At the beginning of the Hebraic year 5780 he prophesied we would face "a massive plague-like invasion that would test us until Passover" and that "nations would come into turmoil until that time."
The Lord showed me the enemy engineered something to bring fear to the nations and disrupt economies around the world, and that this would not be the last such commotion. This is not the first time we've seen a deadly virus and it won't be the last time. As a matter of fact, we will see more of this as time goes on.
Watch my video teaching for a prophetic perspective and encouragement. While we must obey the government, we do not want to respond to news out of fear.
This Week: Prayers for protection
Care, Pray, Trust, Obey
Christian fatherhood and leadership in the time of coronavirus
Aaron M. Renn
MARCH 19, 2020
Saint Patrick's Breastplate
Plough Music Series
MARCH 13, 2017
Covering the Cover: Faith & Politics
Rosalind Stevenson
MARCH 16, 2020
By Rebecca Barlow Jordan on Mar 19, 2020 08:00 am
During this challenging coronavirus outbreak, is anxiety, stress, or fear holding you hostage and keeping you from rest? Do you feel burdens pressing in that seem too heavy to bear? When stressful thoughts pull you in the wrong direction, and you're struggling to find balance, the following prayer might express your thoughts and help you find relief and freedom:
Lord Jesus, the stresses in my life often reach a dangerous proportion—or so it seems. My body, mind, and spirit struggle to keep up physically, mentally, and yes, spiritually. Some days anxiety stalks me like a deceitful predator, and the temptation to worry draws me in. I know better, but some days the challenges outweigh the truths buried inside. My trust in You fades into the background, giving fear and concerns permission to discourage me.
In those moments of apprehension, help me remember that I belong to You, and that You are not the author of fear or anxiety, but the giver of love and a sound mind. Teach me Your ways to respond to problems by giving thanks in them. Your Word assures me that You are always there with me.
You Are the Blessed Controller
You are the Blessed Controller of all things, and nothing escapes Your attention in my life. You have given me every tool and spiritual blessing to fight against those things that try to steal my peace. You've promised that when I'm stressed and burdens are trying to weigh me down, I can come to You. You will give me sweet rest!
Whether the anxiety stems from potential illness, work, parenting, finances, physical issues, or even world conditions, You are there, Lord, to shoulder the weight. Teach me to recognize the stressful trials as tools for you to shape me and rearrange me. Through those difficult times, You will teach me patience, enlarge my faith, and help me see things I couldn't see earlier—if I will only let You. When I'm clueless as to what to do, Lord, I want to turn to you first, not last.
I Want to Trust You More
Forgive me for trying to handle things on my own, Lord. The need to be in control sometimes gets a stronghold on my life. That only makes things worse. I want to trust You more and see things from Your perspective, not my own. No one makes me feel uptight, angry, or stressed, and no one forces me to react negatively. I choose to respond according to my beliefs—or lack of them.
Do I believe You are in control? You created all things and hold all things in Your Hand. Do I believe You are truly good? When an anxious thought creeps in, help me to stop and relax, to take that thought captive, and to turn apprehension into a calm prayer for deliverance. Revamp my belief system, Lord. Show me a new way to handle life according to Your Way.
Turn Stress Into Lessons for Growth and Trust
No matter what issues I am dealing with; no matter how big the problems or situations, I'm laying them all at Your feet today. Turn these potentials for stress into lessons for growth and trust. When I can't see any possible solutions, I choose to believe that You are working things out for my good—in Your own time. Show me what to do, or what not to do. As I focus on You, remembering Your promises and Your words, I believe You will fill me with a peace that is beyond all understanding.
Help Us to Pray and Encourage Others
In times of crisis that affect others as well as my own life or family, help me to remember to pray for others, and to do what I can with the resources you have given me, to help encourage others not to fear, but to trust in You. Lord, You are our Refuge and Strength in all times of trouble.
Draw us close to you and each other even when we have to distance ourselves from one another to protect against things like disease. Through prayer, through calls, through cards, and through social technology, You have give us many ways to stay connected. May we do our part so that no one feels alone or forgotten.
Is Anxiety Holding You Hostage?
It's Your Turn
What about you? Is anxiety, stress, or fear holding you hostage? What is causing you to feel anxious? How has God and His Word ministered to you in times of anxiety?  I love to hear from readers. You can always write me through my contact page. Just fill out the basic name and address info, and then the email will come to me. Your name or info will never be shared with anyone without your permission.
Share This Post with Others
Using only the share buttons here, my website, or from my Facebook profile page, please feel free to share about my website or this blog post with others in your social media circles so we can work together in encouraging others toward intimacy with God. If you haven't signed up for my weekly posts and newsletter updates, I hope you'll do so soon. I think you'll enjoy the complimentary ebook that you'll receive when you sign up. Also, if you are visual like me, you can join me and follow my boards on Pinterest.
THAT'S MY KING
For many years I have enjoyed and been blessed by the following text. I will share it with you in the hope you also will be edified and equally blessed as I have been. This minister passed away April 4, 2000 but these words will continue.
That's My King! Do You Know Him?" by S.M. Lockridge 
Pastor of Calvary Baptist Church, San Diego, CA 
The Bible says my King is a seven-way king.
He's the King of the Jews; that's a racial king.
He's the King of Israel; that's a national King.
He's the King of Righteousness.
He's the King of the Ages.
He's the King of Heaven.
He's the King of Glory.
He's the King of Kings, and He's the Lord of Lords.
That's my King.
Well, I wonder, do you know Him?
David said, "The Heavens declare the glory of God and the firmament shows His handiwork." 
My King is a sovereign King.
No means of measure can define His limitless love.
No far seeing telescope can bring into visibility the coastline of His shoreless supply.
No barrier can hinder Him from pouring out His blessings.
He's enduringly strong.
He's entirely sincere.
He's eternally steadfast.
He's immortally graceful.
He's imperially powerful.
He's impartially merciful.
Do you know Him?
He's the greatest phenomenon that ever crossed the horizon of this world.
He's God's Son.
He's a sinner's Savior.
He's the centerpiece of civilization.
He stands in the solitude of Himself.
He's awesome.
He's unique.
He's unparalleled.
He's unprecedented.
He's the loftiest idea in literature.
He's the highest personality in philosophy.
He's the supreme problem in higher criticism.
He's the fundamental doctrine of true theology.
He's the cardinal necessity of spiritual religion.
He's the miracle of the age.
He's the superlative of everything good that you choose to call Him.
He's the only one qualified to be an all sufficient Savior.
I wonder if you know Him today?
He supplies strength for the weak.
He's available for the tempted and the tried.
He sympathizes and He saves.
He strengthens and sustains.
He guards and He guides.
He heals the sick.
He cleanses lepers.
He forgives sinners.
He discharges debtors.
He delivers captives.
He defends the feeble.
He blesses the young.
He serves the unfortunate.
He regards the aged.
He rewards the diligent.
And He beautifies the meek.
I wonder if you know Him?
Well, my King is the King.
He's the key to knowledge.
He's the wellspring to wisdom.
He's the doorway of deliverance.
He's the pathway of peace.
He's the roadway of righteousness.
He's the highway of holiness.
He's the gateway of glory.
Do you know Him? Well!
His office is manifold.
His promise is sure.
His light is matchless.
His goodness is limitless.
His mercy is everlasting.
His love never changes.
His Word is enough.
His grace is sufficient.
His reign is righteous.
And His yoke is easy, and his burden is light.
I wish I could describe Him to you, but He's indescribable.
He's incomprehensible.
He's invincible.
He's irresistible.
You can't get Him out of your mind.
You can't get Him off of your hand.
You can't out live Him, and you can't live without Him.
The Pharisees couldn't stand Him, but they found out they couldn't stop Him.
Pilate couldn't find any fault in Him. The witnesses couldn't get their testimonies to agree.
Herod couldn't kill Him.
Death couldn't handle Him,
And the grave couldn't hold Him.
Yea! That's my King, Father.
Yours is the Kingdom, and the Power, and the Glory, Forever and ever, and ever, and ever, and ever.
How long is that?
And when you get through with all the forevers, then, AMEN and AMEN!

Robert Turnage
Humor—