Third Sunday of Lent
Today we reflect on Romans 5:1.
What have I learned about God through my relationship with Jesus?
Jesus took time to be alone in prayer to spend time with his Father. Time with his Father helped Jesus to forgive his enemies and to know what God wanted him to do. Jesus models for me how to have a relationship with God and how to root my entire life in God.
I, too, must take time alone in prayer to spend with God. Time with God in prayer allows me to learn God's will for me, to learn to forgive, and to learn how to accept God's will. Jesus shows me that tending my relationship with God is how I find peace.
The following reflection is based on John 4:5–42.
Reflection
Why did the Samaritan woman come to draw water at noon, the hottest time of the day?
What are the places in my life where I am embarrassed, where I avoid interaction with others?
What are the noonday wells of my life?
Imagine yourself as the woman in this passage. Jesus approaches you and tries to reveal his thirst to you—perhaps his thirst for intimacy with you—but you put him off. You are not worthy. It won't work. When he offers to satisfy your thirst, you put him off. You are convinced he can't satisfy your needs, at least not at this well and without a bucket.
Ask: How do I put Jesus off, with excuses, problems, or barriers? Examples might include saying, "I don't have time," "I haven't done this before," "My stuff is too complicated," or "I don't know how to find you in this mess."
When Jesus shows the woman that he knows her, she comes to understand she is in the presence of someone special—perhaps the One she has thirsted for all her life.
Do I let Jesus show me that he knows and understands me?
The grace will come when I see that I have been at the well a long time and have long been thirsty. When I can name the new thirst, the Water that now satisfies that thirst, I can overcome my remaining resistance to trust. When I see that Jesus reveals himself to me by revealing me to myself, thereby showing me my need for him as Savior, I will rejoice and tell the whole world, too.
Lenten Spring Cleaning
Most years, as I make my way to the Ash Wednesday service, it's bitterly cold outside, and the hope of spring seems distant. With Easter a bit later this year, I was surprised to look out my window on Ash Wednesday to see the signs of spring quietly beginning its slow advance on winter. This little change shifts my perspective, and I begin to think about Lent in the context of spring rather than winter.
We associate springtime with clean-up and getting ready to enjoy the warm, sun-kissed days of summer. Spring can be hard work—raking up the old leaves and yard debris left exposed by the melting snow, going through the house clearing out what we don't need anymore to donate to those who need it more, clearing our wardrobe of clothes that don't fit anymore. Some of us even begin to put extra work into preparing our bodies for summer fashions.
When put in that context, spring and Lent fit quite nicely together. While we might be busy starting to work on those spring clean-up things, we can also do our Lenten spring clean-up preparing for Easter. As the snow slowly melts, it exposes the dead roots and leaves—the things that only add to the messiness of our lives and prevent our souls from blooming. We can take some time during Lent to take a hard look at what those things might be and rake them up. We can rid our wardrobes of any jealousy, selfishness, and anger we may have worn a little too often this past year. We can take some time to ponder the gifts God has given us in abundance to find new ways of sharing those gifts with those who might benefit from them.
Yes, as the sun extends its daily vigil in the sky just a little longer at this time of year, I begin to see more clearly the many ways in which my life will benefit from a good Lenten spring cleaning. I pray that the cleaning season brings us all to a joyful and beautiful Easter.
           ~~~Dion Todd
The Writing On The Wall
In the same hour, the fingers of a man's hand came out and wrote near the lamp stand on the plaster of the wall of the king's palace. The king saw the part of the hand that wrote. Then the king's face was changed in him, and his thoughts troubled him; and the joints of his thighs were loosened, and his knees struck one against another. Daniel 5:5 WEB
Belshazzar, the king of Babylon, threw a huge party for a thousand of his lords. He had the gold and silver vessels that were taken from the temple in Jerusalem by his father Nebuchadnezzar, brought out so that he and his friends could all drink from them. As they did, a hand appeared in the air and wrote a prophecy on the wall in a cryptic language. The king turned white, and his knees knocked together. He called all the wise men together to read the message, but they could not.
Then Daniel the Jewish exile was summoned, and he interpreted the writing. The writing meant: 'God has counted your kingdom and brought it to an end. You have been weighed on the scales, and found wanting. Your kingdom has been divided and given to the Medes and Persians.' The city was overrun that night and the king of the party was killed. Daniel lived, prospered, and was promoted under the new leadership.
There were two men in this story. There was a godless king who seemingly had everything, but lost it in a moment. The other was an exile who faithfully served God, and continued to prosper in all that he did, even when the kingdom changed hands.
Seek God now. Many will try and wait until the very last minute, but in this king's story, he was too late. God is long suffering, but there came a time when He shut the door of the ark Himself and those who were on the outside stayed out there (Genesis 7:16). There will again be a time when the door will be shut (Matthew 25:10). Don't wait until the writing is on the wall to begin a relationship with God. Choose Him now, for we are all one heartbeat from meeting Him.
Prayer: Heavenly Father, I thank You for Your mercy and ask that You forgive me of the things that I have done wrong in my life. Wash me and I will be clean. Set me free and I will be free indeed. I choose You. Come into my heart and guide me from this day forth, in the name of Jesus Christ I pray.
Bible Fun Fact: Ruth was King David's great grandmother (Ruth4:17).

Unstoppable!

 'The Power Behind the Witnesses'

[Continuing before the council which was threatening him, Peter said,] "The God of our ancestors raised Jesus from the dead after you killed him by hanging him on a cross. Then God put him in the place of honor at his right hand as Prince and Savior. He did this so the people of Israel would repent of their sins and be forgiven. We are witnesses of these things and so is the Holy Spirit, who is given by God to those who obey him."
Key Thought
Peter wanted his adversaries to know something very clearly. They could threaten him, they could persecute him, and they could even kill him and other witnesses to the resurrection of Jesus. They could not, however, stop the Holy Spirit. The Holy Spirit is one with the Father and Son as God (
Romans 8:11
; 
Ephesians 2:22
; 
2 Corinthians 3:17-18
) and is, therefore, eternal and all-powerful. The work of the Spirit in Jesus' disciples could not and cannot be stopped. Even when the adversaries of Jesus martyred the eyewitnesses to the Lord's resurrection, the Spirit — whom Jesus poured into the hearts of everyone who came to him in faith and baptism — would inspire future disciples and inform them of Jesus' resurrection. The testimony about Jesus' resurrection is, and forever will be, unstoppable!
Today's Prayer
Spirit of the living God, breathe your power into my life, your witness to Jesus' resurrection into my faith, and your peace into my fear. I want to be a living testimony to the power of the resurrected Jesus. Please help me live into that commitment today and every day. Through the powerful name of Jesus, and for the sake of his gospel, I pray. Amen.
Related Scripture Readings
Daily Wisdom: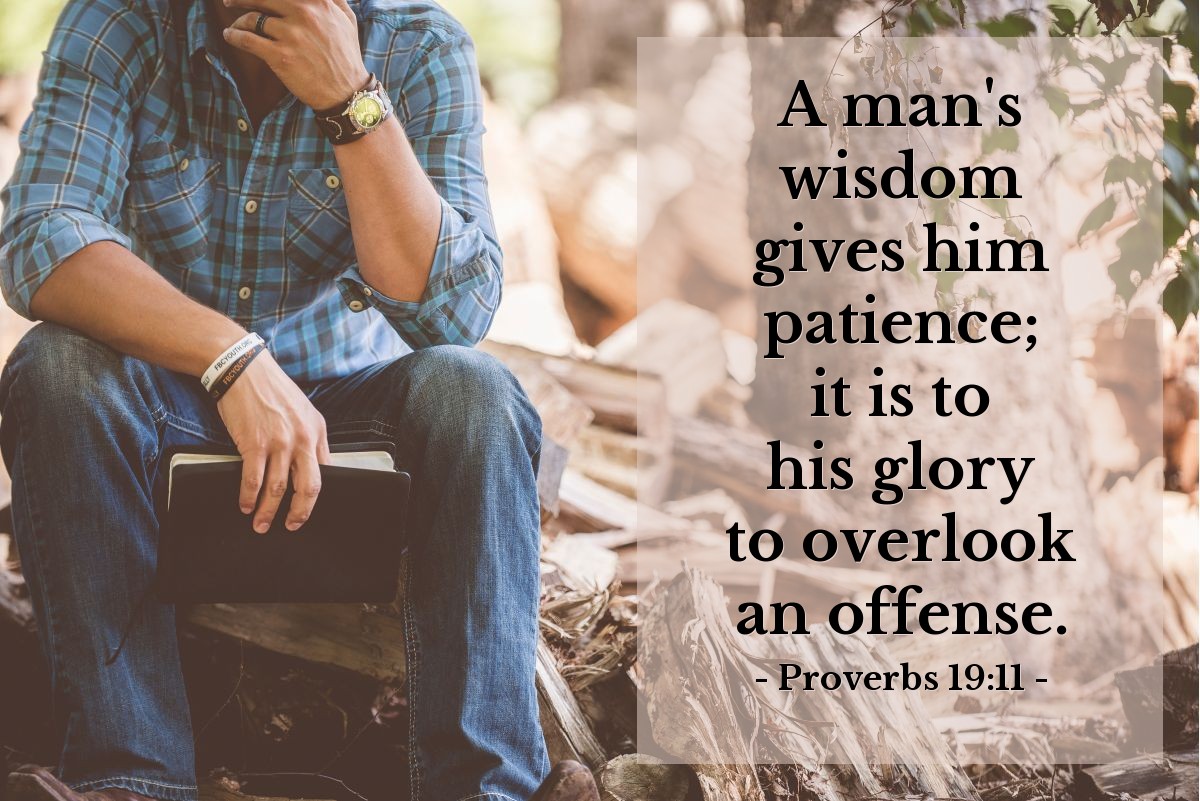 Passion for Praise:

 'My Victory Comes from Him'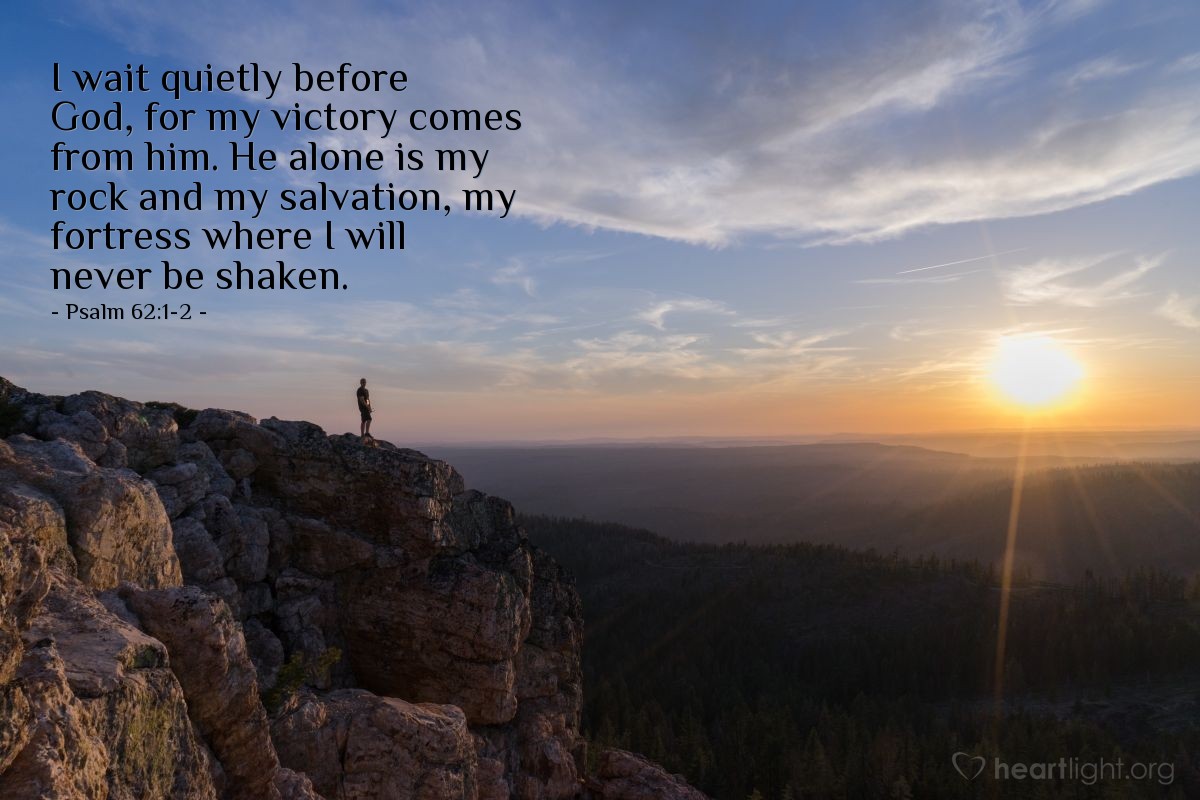 Spiritual Warfare:

 'God Protects All Who Persevere in Obedience'

Because you have obeyed my command to persevere, I will protect you from the great time of testing that will come upon the whole world to test those who belong to this world. I am coming soon. Hold on to what you have, so that no one will take away your crown.
Today's Prayer
Lord, some days it feels like I can't hold on; it seems like I'm slipping away from You in spite of my heart's desire to trust and obey. I often let the cares of this present world overcome my desire to do good and be faithful. Forgive me, Lord, and help me to persevere. Help me to last even though it seems like I can't; help me to keep going when it feels impossible; help me to look up when the world has got me down. You are my only hope, Lord. In Jesus' Name, Amen.
Been there, done that.
There is a difference between "precaution" and "panic." I have to admit, what is going on here in the U.S. (I am talking about the closings and shutdowns) is a first for me.  I have been through all kinds of things in my short 60-year old life:
Floods
Tornados
Bankruptcy
Rape
Losing a child (he was my grandson and it was a  fire in our home – both devastating.)
I have learned that "there will always be something" that can shake me or those I love.  I have also learned not to panic.  This is a big deal in times like these.
PRECAUTION:
I am lucky (Or maybe just from a great gene pool) to have a pretty good immune system.
Already went through bad flu that managed to hook into an allergic reaction that sent me to the E.R. after three days of it just progressing.  NOT the norm for me.  I still blame this part on a damn wasp that stung me on my face by my right eye in 2017.  This is not (on anyone) a dense tissue area, so when I swelled from the sting, I blew up like a balloon just on the right side of my face.  The E.R. doc tried hard to get me to say I got beat up (still find it funny).  When I went to the E.R. this time, it was the same doctor.  The difference this time is my whole head blew up.  The odd part is my throat never swells, and I don't have a hard time breathing or swallowing.  I just blow up like a balloon and get a nasty fever.  This time around, it felt like hives all over my head – weirdo me.
GET INFORMED AND DON'T GO INSANE.
I have been watching the news, reading articles, and researching information, since the beginning of the year.  The most recent one that broke things down, and was beneficial, was this one:
Is it allergies, the flu or the coronavirus? How to tell the difference
By AJ Willingham, CNN
Updated 4:21 PM ET, Thu March 12, 2020
The big difference in plain English:
(note: This is right from the Mayo Clinic)
PLEASE DON'T FORGET ABOUT NORMAL ALLERGIES!
Yes, I do have allergies now (didn't seem to be a problem when I was younger), so every year, I keep my over-the-counter allergy meds handy because I never know when I will be hit.  We own a small farm in a rural area of Colorado, so I am out in the gardens most every day.  Some days I come in beautiful, other days I am a mess. (Personally, I have generic sinus meds – thank you, Dad, for the crappy sinuses – and Benadryl for the lousy allergy days.).
The Basics You Need To Understand And Follow:
Try to avoid the gathering of people. Now, this is easier out here for us than it is for those we love in the city (Denver, etc.).  The biggest gatherings I go to will be grocery shopping at Walmart.  I HATE TO SHOP (as a rule), so I usually go early in the day.  The best part of doing this is that:

There is hardly anyone at the store.
Major cleaning and restocking usually happen overnight.
I like to go on Friday early morning because our local store gets its primary delivery on Thursdays. Most things I am looking for should be available and less handled.

Wash your hands – wash your hands – wash your hands!! I just can not stress this one enough.
If you are sick – STAY HOME! I wish I could say this is just common sense, but I know better here in the U.S.  I can't tell you how many (including myself, sad to say) people I know that try to tough it out and go into work when they are ill.  I am elderly (boohoo, going to be 61 this April – argh!) and disabled now, but I was a workaholic.  I would go into work no matter how sick I felt.  Unless I was physically throwing up, I toughed it out – IDIOT ME! I'm going to blame it on my parents.  They grew up with the attitude of "you work to the best of your ability" because you are getting good pay for honest work.  That was then, this is now (sad to say), and times have changed in this regard.  I know dozens of businesses that are desperate to hire people, but the employees don't come.
Don't be stupid! It is sad I have to put this one in here, but we are all only human.  As humans, we are prone to do stupid mistakes – all the time!  I am a victim of this basic.  I think that sometimes I do not take enough precautions.  Yesterday I went to Walmart, mostly because we are out of critter foods and it is cheapest there.  I did pick up a few more food things, and, of course, I went for hand sanitizer.  Notice I said that I "went" for hand sanitizer – did not get it because everything in the store that had to do with any kind of sanitizing was gone.  Did you also notice I did not say "more" hand sanitizer? Typically, we do not use the stuff.
We believe that under normal conditions it does more harm than good.  The human body MUST build a robust immune system to help fight in times like these.  Part of building that immunity is contact with other people and things.  If you are continually sanitizing yourself, how can your immune system build up?  It just doesn't have a chance to get stronger to fight these nasty-uglies.  Choosing to do so does provide the annual cold, and sometimes the flu (No, I do not get the shot.  I did it twice, and both times I developed a worse sickness than without the shot.  I know it does not happen like this for everyone, but it does for me.).  Some years I can go the whole year without any illnesses at all (love those!).
All-in-all, we just need to stop all the panic
You can also check me out at:  https://helbergfarmstories.com/ for fun stories from our farm.
Christ vs. the Coronavirus
Six ways to join in the victory of this grand standoff
What a drama this pandemic is becoming!
Just this week, the entire nation of Italy was quarantined. Just today, Chancellor Angela Merkel told the German people that they project 70% of the population will be infected. Already across the planet, the virus has killed (as of the morning of March 11) more than 4000 and infected over 100,000 (that we know of—since ramping up mass testing in many countries, most of all in the USA, has been sluggish, at best).
Just this week officials have projected that as many as 150 million Americans will come down with the disease. Major events—entertainment, sporting, political—are being canceled left and right.
The 1918 plague of the Spanish flu that brought death to millions worldwide had a fatality rate of 2.5 percent. Compare that to the 3.4 percent fatality rate for the coronavirus, according to the World Health Organization.
As Jesus followers, we know our Savior is fully in charge of the affairs of the nations. Whether reported in the press or not, the real drama taking place before our eyes is "Christ vs. the Coronavirus." And we know who is destined to win!
Interesting fact: "Corona" literally means "crown"! In other words, what's at work here is the Crown of Life himself confronting the "crown (corona) of death."
So, how can believers fully share in the certain victory that is ours in the current face-off between the Sovereign and the scourge? How can we respond to this moment in ways that exhibit how our "life is hidden with Christ in God" (Colossians 3)? After all, we know that long before this current emergency unfolded, we already had been transferred to live in the everlasting Kingdom of God's beloved Son (Colossians 1).
Here I offer you six helpful suggestions that can turn this time of stress and uncertainty into a season for you to go further and get stronger in your walk with Jesus.
1. Break forth into praise
Let it be said again that there's absolutely no doubt who the "winner" in this hour will be. With Jesus, already "death has been swallowed up in victory" (1 Corinthians 15).
For the sake of all of us, the reigning Redeemer has been "seated at God's right hand in the heavenly realms, far above all rule and authority, power and dominion, and every name that is invoked, not only in the present age but also in the one to come. And God has placed all things under his feet [and that includes every virus that has ever existed!] . . . Christ fills everything in every way" (Ephesians 1, adapted).
So, in the face of all the unnerving statistics and tragic accounts that might weigh you down, turn your face toward heaven and celebrate not only the victory that is sure but even more the Victor who comes this very day to
proclaim good news to the poor . . . to bind up the brokenhearted . . . to proclaim freedom for the captives . . . to comfort all who mourn, and provide for those who grieve—to bestow on them a crown of beauty instead of ashes, the oil of joy instead of mourning, and a garment of praise instead of a spirit of despair. (Isaiah 61)
And pray that right now many other Americans will be able to discover and experience his saving power in new ways and then join you in your praises.
2. Beat back all fear
Yes, there is every reason to take all of this very seriously. Before the pandemic passes, millions will be sickened, and many will die. At the same time, the financial foundations of the global economy are being shaken.
But there is no room for fear in the life of any believer who has a full view of the spectacular supremacy of God's Son today. Drink in these promises:
"Do not be afraid. I am the First and the Last. I am the Living One; I was dead, and now look, I am alive for ever and ever! And I hold the keys of death and Hades" (Revelation 1).

Since the children have flesh and blood, he too shared in their humanity so that by his death he might break the power of him who holds the power of death—that is, the devil—and free those who all their lives were held in slavery by their fear of death (Hebrews 2).
Fear has no home with those whose home resides at the throne of heaven.
3. Be ruthlessly practical
At the same time, we need to be realistic—we are still flesh and blood, and that means any one of us could get the virus and suffer the consequences.
However, modern science provides us excellent advice. If we follow it, we will be significantly protected. Remember, all medical wisdom was implanted in creation as our Lord Jesus fully intended because "the Word was God. He was with God in the beginning. Through him all things were made; without him nothing was made that has been made" (John 1). To follow the doctor's advice is to follow the creative genius of our Savior.
The National Association of Evangelicals has just shared on Facebook a post which says, "The CDC now has a webpage dedicated to helping faith and community leaders plan, prepare and respond to coronavirus: Resources for Community- and Faith-Based Leaders." You should check it out!
4. Bring every sickness to Christ the healer
If the virus reaches your doorstep and you or loved ones become ill, remember that "Jesus Christ is the same yesterday, today, and forever" (Hebrews 13). He who healed multitudes during his earthly ministry has not changed—either in terms of his compassion or his power.
Let these verses, fulfilled by—and filled full of—the Lamb upon the throne, guide you in how you talk with the Father about your need for God's restoration:
Praise the LORD, my soul, and forget not all his benefits—who forgives all your sins and heals all your diseases, who redeems your life from the pit and crowns you with love and compassion (Psalm 103, now fully ours in Christ Jesus).

But if Christ is in you, then even though your body is subject to death because of sin, the Spirit gives life because of righteousness. And if the Spirit of him who raised Jesus from the dead is living in you, he who raised Christ from the dead will also give life to your mortal bodies because of his Spirit who lives in you (Romans 8).

By his power God raised the Lord from the dead, and he will raise us also. Do you not know that your bodies are members of Christ himself? (1 Corinthians 6).
Even your body is a member of Christ. Have you ever thought of that? So, in some sense, what happens to your body is happening to Jesus too. For sure, the healer cares.
5. Bear witness to those around you
Because you know who the King of Glory is—the one who calls us to "take heart" because he has "overcome the world" for all of us (John 16)—we have a wonderful hope to offer those who may be trembling before the coronavirus threat. Therefore, we need to assume the outlook of Paul in Colossians 4 and pray for ourselves the way Paul wanted believers to pray for him:
Devote yourselves to prayer, being watchful and thankful. And pray for us, too, that God may open a door for our message, so that we may proclaim the mystery of Christ, for which I am in chains. Pray that I may proclaim it clearly, as I should. Be wise in the way you act toward outsiders; make the most of every opportunity.
"Make the most of every opportunity" could be paraphrased like this: "Exploit this crisis moment in the life of your friends and neighbors by sharing with them the very truths captured in this short blog post—maybe even sending a copy of it to them."
6. Break out the blessings waiting at ChristNow.com.
OK, let's imagine that you end up under a 14-day quarantine with the virus. Or maybe (as has happened near me in the city of New Rochelle, New York) your whole community gets shut down, with everyone working from home. Maybe eventually there will be corporation-wide, statewide, even nationwide, quarantines. Maybe as it has taken place in Italy over the last three weeks, you aren't even allowed to congregate in a Sunday worship service.
What does that mean for you? Here's what I think: It means a new season of spiritual blessings! Why do I say that?
It means you've got lots of extra time on your hands that you might use to enrich your relationship with the Lord Jesus Christ!
For example: The time you usually spend on your daily commute. The days you set aside for that Caribbean cruise. The morning hours you normally spend at church every Sunday. The evening you planned to attend the theater or a concert or a political rally.
Now, what an opportunity this presents you! You can choose to invest those freed-up hours in refreshing your walk with Christ—as you spend those hours seeking to "grow in the grace and knowledge of our Lord and Savior Jesus Christ" (2 Peter 3).
So where should you begin? Good news: ChristNow.com exists precisely for such a time as this! There's nothing like it anywhere else in the digital world. And it is all free to you—a rich reservoir of all kinds of resources and social media designed to take you further with Christ than you have ever gone before.
And it will never be quarantined! Furthermore, it can serve you wherever you may be quarantined—doing so right on your laptop, tablet, or cell phone.
ChristNow.com stands ready to help you turn a quarantine from others into quality time with Jesus!
Come visit us! Let's share together in the "victory" that Christ gives us over the coronavirus!
---
About the Author
Over the past 40 years, David Bryant has been defined by many as a "messenger of hope" and a "Christ proclaimer" to the Church throughout the world. Formerly a minister-at-large with the InterVarsity Christian Fellowship, president of Concerts of Prayer International (COPI), and chairman of America's National Prayer Committee, David now provides leadership to ChristNow.com and Proclaim Hope!, whose mission is to foster and serve Christ-awakening movements. Order his widely read books at DavidBryantBooks.com. Enjoy his regular CHRIST TODAY podcast.
By Publisher on Mar 11, 2020 05:04 pm
This month on March 24 we celebrate the beginning of the Jewish sacred year.
The Lord Himself specified that the sacred year would begin in the Spring at the time of the Exodus (Exodus 12:2). In Egypt the New Year had begun in mid July when the bright star Sirius rose in conjunction with the annual flooding of the Nile. By moving the New Year to the beginning of Spring God wasn't just differentiating His people from the Egyptians, He was restoring the year to its ancient parameters.
Even before the Flood of Noah, Enoch's calendar begins with the Spring Equinox. This calendar is contained in the Book of Enoch, which was quoted in the New Testament and is a part of the Ethiopian Church Bible. There is strong evidence that portions of the book may have actually originated with Enoch, including the fact that his astronomical observations come from an area far north of the Holy Land, perhaps from the Black Sea which scientists admit was "recently" flooded under salt water and could have been Noah's home. In addition, Enoch's calendar was made by observing the Sun's position on the horizon, a method which was used in such ancient structures as Stonehenge and New Granage, but not in the historical near East. For more information on Enoch we recommend Dr. Randy Delp's book The Impact of the Book of Encoh on Christianity and other Religions.
After the flood Noah's descendants settled in Mesopotamia, where the vast majority of the calendars adopted a Springtime new year. Enoch had named his first month Temmani, linguistically similar to Temennu, the Babylonian name for the constellation Taurus (The Bull). Taurus was, in fact, the constellation of the Spring Equinox in Enoch's time and after the Flood in ancient Mesopotamia. The preeminent place of Taurus the Bull was recognized in many aspects of Middle Eastern pagan religion and life. An echo comes from the Hebrew alphabet, where the first letter is a bull pictograph. More interestingly, our first letter "A" resembles the Hyades star cluster which houses Aldebaran (The Governor), and which is the "eye" of the bull Taurus.
At the time Abraham was called in 2091 BC, the precession of the Equinoxes moved the Spring Equinox into the constellation Aries (The Ram). This movement of the sign into the season of Spring is a part of the Prophetic Calendar (Genesis 1:14) and marked the beginning of the formation of a nation and a family to bring Christ, the Seed of Woman (Genesis 3:15) to Earth. It is no coincidence that Abraham, who was promised that his Seed would be the Seed of Woman (Genesis 15:5 and 22:18), was prevented from sacrificing his son and a ram, symbolic of Christ, was sacrificed in his place (Genesis 22:13).
Two years before Jesus was born, in 7BC, the prophetic calendar had moved the constellation Pisces (The Fish) into Springtime. Pisces is a picture of two fishes, representing the Jews and Gentiles, united to form the Church. Jesus came to establish His Church and, after His resurrection in the first month of Spring in 30 AD, the Church was born at Pentecost. We are still living in the age of the Church.
In the year 2121 the Prophetic Calendar will bring the constellation Aquarius (The Water Pourer) into the Spring season. The date can be changed if God makes a simple change in the precession of the Equinoxes, and no one knows the day or the hour. Still, like the Wise Men who watched for the signs of Christ's advent, we should watch for the signs in the Sun, Moon, and Stars which Jesus said would lead to His Second Coming  (Luke 21:25). For more information take a free download of our book The Stars of His Coming at https://bit.ly/StarBook .
So tonight after sunset look to the West and see if you can find the now upside down "A" in the eye of Taurus. Tell someone about the ancient Springs which promised the coming of the Seed of Woman and the Church. And don't forget to mention the Spring promising the Second Coming.
Your Weekly Inspiration
Do Deceased Loved Ones Watch Over Us?
A biblical scholar separates fact from fiction regarding God's heavenly hosts.
by Diana Aydin
A dream, realer than real, in which a beloved relative, who passed away years earlier, suddenly appears. The heavenly sign, in the midst of a tough day, that could've only come from your mother up above. Or, a voice, seemingly from out of the blue, that sounds just like your deceased grandfather.
Some of the most miraculous and angelic encounters involve the dead offering some guidance, comfort, protection or a message from beyond. This begs the question: do our loved ones become angels—or more specifically, our guardian angels—when they die?
It's a popular notion, one that pops up over and over again in popular culture, from books to movies where the deceased reappear to those they love on earth. So what's truth and what's fiction? Guideposts.org talked to Dr. Charity Virkler Kayembe, who has a doctorate in biblical studies and is the author of Everyday Angels, to find out.
Guideposts.org: There are many miraculous stories out there about people who receive signs from their deceased loved ones. But can the dead become angels?
Dr. Charity Virkler Kayembe: Obviously, we all want comfort after a loved one dies, and we want someone from heaven to be watching over us. But that's God—He's the one watching over us with His heavenly host, a.k.a. His angels. The angels, though, are not our deceased relatives. They're a different, separate order of beings. The Book of Revelation gives us a picture of heaven—there are angels there, but there are also people. And we know that we are created in God's image, whereas angels are not. That right there shows us we are different; so the spirits of our loved ones do live on after death, but not as angels.
GP.org: Who are our guardian angels then?
Kayembe: God takes into account exactly who we are and matches us up to the angels who will bring emotional equilibrium and balance to our lives. I always say they're like the best version of your very best friend. They are spirit beings. Hebrews 1:14 says that angels are 'ministering spirits sent to serve those who will inherit salvation.' Again, that's a distinct order of beings that God created before people. That's another reason we don't turn into angels—they were here first.
GP.org: If we don't become angels when we die, what will we do in heaven?
Kayembe:  Scripture doesn't really talk about what work we'll be doing; the one job that's clear is that we will be worshipping God. Whatever we end up doing, though, I think it'll be great.
GP.org: A lot of people receive mystical signs from beyond. If their loved ones aren't behind it, who is?
Kayembe: Let's give the credit to God. Every good and perfect gift—including angels—comes from above, from the Father of life. So if you do receive a sign or experience synchronicity, it very well could be from your guardian angel watching out for you.
GP.org: Why would God send us a message using something we associate with a deceased relative, say, your mother's favorite flower? Is he simply speaking to us in a language we'll understand?
Kayembe: Well, absolutely! God knows every single thing about us. The hairs on your head are numbered. He knows what's going to be the most impactful, significant symbol for us and He wants to encourage and bless us. So, yes, He would use your mother's favorite flower, or whatever it is, just to let you know that He's with you, He's watching over you, and He hasn't forgotten you.
GP.org: Research shows that people who are dying often have dreams or visions where a deceased friend or relative appears. Why do you think that is?
Kayembe: I believe God wants to comfort us in that time of transition and doesn't want death to be a fearful thing. It's not necessarily a dead relative visiting. Rather, if you're about to die and are afraid, God may show you a glimpse of the other side—your friends or family in heaven—in order to give you a sense of joy and peace.
GP.org: What about deceased relatives who appear in dreams? Are they actually visiting us or is something else going on?
Kayembe: Dreams are bridges to the supernatural and are usually symbolic. If a deceased relative comes to you in a dream, I would interpret that person as a symbol, the same way I would interpret a living person in a dream as a symbol. So, for example, if your grandmother was very wise and appears in a dream, I wouldn't say it's your grandmother herself. Instead, she may represent the wisdom God wants to give you in a situation.
GP.org: What does it reveal about God that he would send us messages in this manner, i.e. using loved ones who have passed away?
Kayembe: God is such a loving, affectionate, compassionate Father—more than we could ever imagine. He will do everything he can just to encourage us at a specific time of need. He knows what will bring us the most comfort in that moment.
Humor…