Daily Prayer for 

February 23
After this I looked, and there before me was a great multitude that no one could count, from every nation, tribe, people and language, standing before the throne and before the Lamb. They were wearing white robes and were holding palm branches in their hands. And they cried out in a loud voice: "Salvation belongs to our God, who sits on the throne, and to the Lamb." Revelation 7:9-10, NIV
Lord God, we turn to you, praying that your kingdom may come. May your Jerusalem really come on earth, with all those blessed ones who are allowed to gather around Jesus Christ through forgiveness of sins and the resurrection. Come with your light into our time so that sins may be forgiven and people may find salvation. Remember those in great distress. Come with your help to those struggling with sin or death, for help can come from you alone. Nothing can help us except your fatherly love in Jesus Christ. Praised be your name! Amen.
Inge Scholl
It is more difficult to stand up for a worthy cause when there is no general enthusiasm and thus no obligation; when, in short, one risks one's life on one's own. Perhaps genuine heroism lies in deciding to stubbornly defend the everyday and the immediate, after having been bombarded with so much oratory about great deeds.
Source: Seeking Peace
The Hope at Hand:
The Ultimate Answer to Our Prayers Is Drawing Near
Part 1 of 2 Parts
Note: This blog post is adapted from a message I gave in late January to 300 leaders at the 30th annual, 48-hour Pastors' Prayer Summit in New York City. However, its heart cry and its hopeful projections relate not only to God's people in metro New York but to the Body of Christ nationwide. That means what I share here is also about YOU and your immediate future, wherever you live.
I've divided the blog post into two parts. Part 1 is below. Part 2 will come out in a couple of days. —David Bryant
---
Kairos. A time of decisive action. A moment for divine intervention. This blog post is about kairos.
The backstory: Nearly thirty years ago, I moved with my family to metro New York. I came for one reason. I was convinced that the Spirit of God was raising up an urban prayer movement here that would lead to a regionwide Christ Awakening movement. I believed that God intended for this miracle to become "a joy, a praise, and a renown before the whole earth" (Jeremiah 33:9)—for the greater glory of Christ, the revitalization of his Church, and the advancement of the Kingdom. And I was determined to join in this kairos adventure.
Over the decades, I've shared with leaders around the world, in many streams of the Church, that the level of Christ-ward dynamics manifested among believers in metro New York represents what may be the most spiritually significant development in any major city on the globe.
This claim is based on a wealth of evidence, such as:
Hundreds of Concerts of Prayer events facilitated across the city and region in the past three decades
Hosts of unified mission initiatives that have sprung up in answer to our prayers—such as various citywide evangelistic outreaches, including two Billy Graham Crusades and two Luis Palau Festivals
The launching of Movement Day focused on urban renewal and mission, now being reproduced in hundreds of cities worldwide
The Jesus Week phenomenon, which over the past three years has been uniting hundreds of churches to work together to directly reach over three million New Yorkers with the gospel
Various united initiatives to serve the poor, the forgotten, the oppressed—both in the region as well as in other nations
A visible vitality of many existing congregations, from small storefront churches to some as large as 20,000 members
The acceleration of church plants in the various boroughs of New York City and across the region in northern Jersey, Long Island, and Connecticut
A rich diversity of denominations, ethnicities, races, and languages working together in all of these efforts (and many others)—all for the cause of Christ
This list of dynamics brings me to the main focus of my blog post: The truth is that I write this post believing it is the most important one I've delivered since ChristNow.com began.
I would even dare to call it "prophetic."
Its message concerns what I'm convinced will be the ultimate answer and impact to come out of the annual prayer initiatives in New York City.
But far more, I'm writing about what's impending in response to the larger, historic, thirty-year, national prayer movement—as throughout the Body of Christ, hundreds of thousands have sought God's face together for the spiritual revolution our nation so desperately needs right now.
Thank you for allowing me to bare my heart to you in this two-part blog post.
Let me begin with two shocking statements.
Shocking Statement # 1: In the next ten years, either there will be a greater exalting of Christ among us, or there will be an increasing apostasy.
To say it another way, in the face of an unprecedented convergence of incredible onslaughts on our very way of life in this nation, our generation of Christians will experience one of two outcomes by the end of the next decade: Either there will be heightened focus in our churches on the greatness of Christ, or there will be a lot fewer churches.
Taking a cue from Jesus' parable of the soils, if the current field of Jesus followers fails to extend their roots further and deeper into the person and purposes and power and kingdom of God's Son and the wonders of his spectacular supremacy, then the crises facing our people will cause many to harden or wilt away or choke regarding the things of Christ. In other words, we will see apostasy.
In fact, this decline is already in full swing, as I'll report in just a moment.
Shocking Statement # 2: Far too many Christian leaders today are currently in danger of being sued for spiritual malpractice.
What I mean is this: In view of the apocalyptic-type challenges confronting believers in the next ten years, Christian leaders must give top priority to refortifying their congregations and ministries with a fresh, bold, comprehensive vision of, engagement with, and passion for God's Son in all his fullness, and for the fulfillment of his kingdom purposes for this generation.
Otherwise, overwhelmed by an avalanche of adversities, a grievous falling away from Christ will become inevitable. But we leaders will be held accountable most of all before the Throne of Heaven for this avoidable tragedy.
The warning to Israel's ineffective shepherds in Ezekiel 3:16-19 might prove equally applicable to many of today's Christian leaders in the gospel age. God said:
Son of man, I have appointed you as a watchman for Israel. Whenever you receive a message from me, warn people immediately. If I warn the wicked, saying, "You are under the penalty of death," but you fail to deliver the warning, they will die in their sins. But I will hold you responsible for their deaths.
When you read that, it sounds like nothing short of spiritual malpractice, don't you think?
Now, let me list a few unnerving developments
behind these two shocking statements.
The list below—not written in order of importance because all the points are important—is just a start. I have a much longer list on file.
But note this: These foreboding trends are currently descending upon us with a ferocity that analysts agree we've never seen before.
And note, too: Every one of these developments directly impinges upon the fulfillment of God's purposes in Christ for his people, the impact of the gospel of Christ upon our nation and, above all, the vitality of advance of the Kingdom of Christ in this generation.
Therefore, the acceleration of these sobering trends should give all of us pause. Examples:
Intense immigration pressures from an excessive volume of desperate asylum seekers worldwide—with more to come
Trillions of dollars in national deficits and debt—which keep growing exponentially
Increasing income inequality, creating an ever-widening gap between rich and poor
Unrelenting, undiminished youth violence in many of our urban centers, as well as in suburban public squares and public schools from coast to coast
Unsustainable increased prison populations at all levels—local, state, federal
The opiate epidemic which annually is killing tens of thousands of Americans
A rise in human trafficking nationally and worldwide—such as slavery and prostitution
The rapid spread of online pornography, with our young people as the major target, exacerbating the mass sexualization of our culture
Intensifying battles over abortion reminiscent of the abolition struggle 200 years ago that led to the American Civil War
Ongoing, wholesale infrastructure decay, now requiring trillions of new dollars to simply restore what has been lost
Increase in cyberwarfare seen in the vulnerable state of evolving national cybersecurity, most immediately in our electoral process
Workforce unpreparedness to serve the multiplication of new technologies, leaving many critical jobs unfilled because of under-trained candidates
Pervasive racism causing an increase in segregated communities along with the rise of nativism and White Nationalism
The growing menace of worldwide pandemics in a global community, particularly as deadly antibiotic-resistant organisms flourish more and more
America's unending, intractable wars that continue to drain blood and treasure, bringing loss and disabilities to thousands of American homes
The rise of a new nuclear arms race with the ever-present and growing potential of permanently wiping out whole civilizations
In addition, we must not overlook the prevailing, all-consuming, partisan political warfare—both local and national—that portends to tear apart irreversibly the very fabric of American society.
Nor can we ignore the rising fears based on nightmare scenarios from most in the scientific community regarding catastrophic disasters over the next ten years due to intensifying climate disruptions, much of it already unfolding in countries worldwide, with predictable economic and social upheavals.
But here's the worst news of all: Like a tsunami, all of these plagues are converging upon our generation simultaneously.
Did you catch that? They are coming at us all at the same time. Leaving little time to react. Little time to catch our breath. With no place to hide.
Nothing of the magnitude of this developing draconian drama has previously played out before the human race. But here we are.
As a result, we may be reaching a tipping point that can become a breaking point—from which we may never recover.
Is the Church—is your church—adequately prepared
for the simultaneous impact of the growing crises just ahead?
As these ominous trends intensify, Christians must take stock of our situation.
What is the current moral and spiritual condition of the Church in America? How healthy is the Body of Christ in this nation? Are our people ready to survive such an hour—and, more to the point, are we sufficiently equipped to thrive for Christ in the midst of what we might call "The Coming Great Shaking"?
Be warned: The evidence is building that we may not be!
Here are a few of the red warning lights flashing, drawn from nationally respected observers:
Gallup reported last year that churches are disappearing across the land; those that remain have had a precipitous drop in church attendance, from 70% to 50% in just the past two decades.
Based on national surveys, we find that a significant number of people who have dropped out of the Christian orbit say the reason they did so was because of spiritual burnout—too much demanded of them in the Christian walk with too little spiritual feeding to keep them going.
This past November, research at Barna Associates documented that 80-90% of evangelicals confessed to their fear of initiating spiritual conversations with anyone, believer or non-believer.
Barna metrics also found a significant drop in engagement with Scripture among evangelicals. A full 96% today, it has been concluded, could properly be defined as "biblically illiterate."
The front pages of our papers feature the unmasking of clergy sexual abuse, not only among Catholics but also increasingly within the evangelical domain.
Another study concluded that on any given Sunday, as many as 40% of the men sitting in our pews are struggling with addiction to pornography.
A major analysis by the Southern Baptists, the largest Protestant denomination, found that around 80% of pastors today say that persistent melancholy is their hardest struggle in the ministry—that is, their sense of despair that nothing they are doing is making any lasting difference.
This parallels the discovery of Dr. Ray Bakke, a foremost evangelical urbanologist, after conducting 300 citywide convocations around the world, including many in the USA. He concluded that the greatest barrier to reaching our cities for Christ is the "spirit of hopelessness" inside our churches.
I could go on. However, I'm sure you get the idea.
But first, we must grapple with the GREATEST crisis of all.
After nearly four decades of traveling into every sector of the Body of Christ across our nation and in many other lands—listening to and learning from God's people as my priority—I have concluded that the greatest crisis of all is none of the above. None of these global threats. None of these other spiritual deficiencies among God's people.
Our greatest crisis is what I've come to call the "crisis of Christology."
I see it among Christians everywhere I go—and too often among their leaders, as well. The magnitude of this crisis is, I suggest, the primary reason that God raised up the concerted prayer movement nationwide. He's been calling us to confront this crisis first of all by seeking his face.
This "crisis of Christology" is a sobering, pervasive, tragic shortfall in how God's people today see, seek, savor, and speak of God's Son, the Lord Jesus Christ, in terms of who he is, where he's headed, what he's doing, and what his reign is all about.
It comes down to a failure of vision—a failure to grasp the full extent of the height, width, depth, and length of the supremacy of God's Son today—with all of its implications for every facet of Christian discipleship and community and mission.
Consider the deadly consequences if believers fail to see Jesus for all he is. What if instead, we remain more concerned about Jesus providing us comfort, prosperity, and fulfilling our dreams than we are in living our lives for the redeeming reign of the Savior, whose saving purposes often bring his followers into hardship and persecution, forcing us out of self-satisfaction and personal security.
If we're so preoccupied with ourselves now, how will we possibly find the will or courage to stand for Christ when facing real persecution in the future?
Thankfully, I'm not alone in sounding this alarm. Others are beginning to speak up about this most deadly of all crises. Listen to a few of them:
Reformed theologian Michael Horton titled his book on the evangelical movement Christless Christianity. In it, he states that our churches are overtaken with (his phrase) "therapeutic, moralistic deism" with Christ on the fringes. In essence, Horton believes that in many ways, we have become "Christless."
Biblical scholar J. I. Packer illustrates it this way: In the evangelical movement today, he says, Jesus has become like Humpty Dumpty. He's fallen off the wall and broken into a hundred pieces. Each of us has a piece of him. But very few of us are striving to put all the pieces back together.
Shortly before he died, Chuck Colson wrote that in the evangelical movement today, the church functions as the retail outlet, the members have become the consumers, and Jesus serves as the product.
In his last book before his death in 2011, world-renowned Christian statesman John Stott nailed our condition by writing in his introduction to The Radical Disciple: "We have become puny Christians because we have created a puny Christ." Adding: "We need above all a fresh and true vision of Jesus Christ—not the least in his absolute supremacy. Where should we be but on our faces before him?"
Widely known Mosaic founder and effective Los Angeles church planter, Erwin McManus, writes in his book The Unstoppable Church: "The diminishing influence of the American Church on American society is not simply because fewer people are going to church. Rather, fewer people are going to church because of the diminishing influence of CHRIST on the church itself."
Here's one finding my own research uncovered: I've attended many conferences on prayer, revival, discipleship, the Christian life, and/or theological debates during which I rarely hear the name of Jesus mentioned during the main sessions of the conference, let alone in discussions at refreshment breaks—except to conclude a prayer. Too often, even the lyrics of songs used in times of worship do not lift up Jesus. This is such a regular heartbreak to me—among all streams of Christians—that I have to assume it must be virtually embedded in the evangelical DNA.
But why not do some research yourself? Circulate among the people in your church for the next three Sunday mornings, listening to what they are talking about with one another. Observe the emphasis in times of worship. Take notes during the sermon. Ask another friend or two to do the same. Next, all of you meet to compare notes. You'll be shocked at how rarely the name of Jesus ever comes up among believers on a Sunday morning—when one would expect that Jesus would be the main topic!
Then, recall what Jesus declared in Matthew 12: The mouth reveals what already fills the heart. This should suggest that for a significant majority of God's people, and often their leaders, the stunning truths about King Jesus simply are not FILLING our hearts—nor, therefore, our conversations.
So what can we do about this—this greatest crisis of all? How can we turn this around before it is too late—before we are overtaken by all the other crises set to envelop us in the 2020s?
Part 2 of 2 Parts
Note: In this second installment, I want to show you the way out of the nightmare scenario we explored in Part 1. The good news is that there is a way to reverse the "crisis of Christology" and prepare God's people to not only survive but also THRIVE for the glory of Jesus in the midst of "The Coming Great Shaking." Most of all, I want to help you understand, anticipate, and get ready for the nationwide Christ Awakening movement just ahead of us.
If you want to read Part 1, you can find it here.
Clearly, in light of "The Coming Great Shaking"
much more of the wonders of Christ must FILL our hearts.
Over the years, I've come to realize that a multitude of Christians literally cannot last three minutes talking about who Jesus IS—not about what he's done for them but about who he actually is at this very moment, reigning at the Father's right hand.
We know far too little about him. We know him far too little.
Consequently, twenty years ago, I began developing a whole new way to help believers lay hold of what I call a "consequential Christology"—a vision of the greatness and glory of Christ so thrilling it carries life-altering consequences that can prepare Christians not only to survive but also to thrive in the midst of the looming battles in the 2020s.
I've hammered out this schema in more than 600 pages of my latest book, Christ Is NOW!, and also in a credit-bearing Master of Arts course in ministry leadership for Pillar College in Newark, New Jersey.
I believe the wonders of who Christ is today can be distilled into seven little prepositions: who Christ is TO us, FOR us, OVER us, BEFORE us, WITHIN us, THROUGH us, and UPON us.
In my class at Pillar, we spend four hours on each one of these seven facets of a "consequential Christology." For now, let me simply highlight each. As I do, ask yourself: In any sense, does this overview represent the kind of vision most of God's people are feasting upon on any regular basis?
Who Christ is TO us—that is, his personhood, his deity, his intimacy with the Trinity, the claims of his names, and as our identity and destiny
Who Christ is FOR us—summed up in his four-fold, irreversible revolution: the invasion of his incarnation, the mission of his crucifixion, the re-creation of his resurrection, and the coronation of his ascension
Who Christ is OVER us—as he reigns over creation, world history, global rulers, earth's peoples, the dark powers, and the building of the Church
Who Christ is BEFORE us—as right now, he goes ahead of us in four ways simultaneously: into the future, into the heavens, into God's promises, and into the world
Who Christ is WITHIN us—as he lives out his risen, ascended life in us, both individually, and even more so, corporately
Who Christ is THROUGH us—as he extends his reign and ministry from here to the ends of the earth, reaching out through us individually and, even more so, corporately
Who Christ is UPON us—as he comes upon his people now to revive, intensify, deepen, and accelerate all we already are experiencing of him, and then in the day when he comes upon the entire cosmos in his glorious, victorious, and visible return
So, let me ask you again: How many Jesus followers do you know who are living daily in the reality of anything close to these exciting dimensions of the living Christ and what his supremacy means for them?
In fact, how many of us leaders in the Body of Christ are regularly, as a way of life, seeking and savoring more and more of the majestic truths about the person, purposes, and promises of the reigning Redeemer to whom we belong, heart and soul and strength?
Next, consider this: How important do we think it is for us to return to and reclaim a much more magnificent view of the Master in order to be refortified and newly empowered to triumph in the midst of the sobering, unprecedented—perilous, even volatile—trials awaiting us?
Now, dream with me: What might it look like, if despite the gathering storm, the Spirit of God reclaimed and awakened thousands and thousands of Christians in our nation who become increasingly passionate for bringing greater glory to the Lord Jesus Christ?
What might it look like if the Father concentrated all the united prayers we've offered for decades in the national prayer movement and brought them back down upon us right now, but doing so "exceedingly, abundantly above and beyond all we ever dared to ask or think" up to this point? (Ephesians 3:16-21)
And what if, in this hour of mounting crises, for the sake of a whole generation and for his kingdom, the living God unleashed among the Body of Christ in America a coast-to-coast, wholesale awakening to the glory and greatness, to the worth and wonder, to the majesty and supremacy of the Lord Jesus Christ—the King who ascended on high specifically to fill God's people, to fill our land, and ultimately fill the whole universe with his sovereignty, his glory and his activity (Ephesians 4:9-10)?
Final questions:
WHAT IF at this moment we are standing on the threshold of such a "kairos" season?
WHAT IF in America, the unparalleled grace of divine intervention and spiritual revolution in the Lord Jesus Christ is the hope that's at hand—the hope waiting for us right now?
Just ahead: a "Great Christ Awakening" as
God's answer to a "Great National Shaking"
Instead of being hijacked by multiple crises enveloping us in overwhelming waves of spiritual anxiety, despair, paralysis, powerlessness, fatigue, and finally, retreat, what if God were to offer us a marvelous alternative?
In other words, what if his offer were to take us into a profound recovery of wholeness as God's people by restoring to us the whole vision of the whole Christ—by saturating us with the person and presence and power of Christ, by mobilizing us to join together to advance the purposes of Christ despite the impending "Great Shaking"?
More specifically: What if God has already set before us the gift of a Christ Awakening—if only we will welcome it?
Well, he has! And we can!
I call it "the hope at hand"—a new horizon, the sunrise of "kairos."
His offer involves nothing less than bringing our churches and us into a fresh realization of the extraordinary transformation promised in 2 Corinthians 4:6.
In my view, this verse is the most relevant one in the entire Bible for us who are standing at the crossroads of the future. Here—in one simple sentence—is the breakthrough we've been seeking throughout all these decades of united prayer. It proclaims:
For God, who said, "Let light shine out of darkness,"
made his light shine in our hearts
to give us the light of the knowledge of God's glory
displayed in the face of Christ.
I want to show you how this one verse outlines five astounding transactions involved in what I would call a genuine, God-given "Christ Awakening" experience.
What this verse teaches is related not only to what can happen with the unconverted, but it also contains the promise of what can explode time and time again after we come to Christ—doing so in far deeper, more profound ways than when we first believed—for individual Christians, or for a congregation, or for a whole generation. We find in 2 Corinthians 4:6 that:
This awakening penetrates to the heart level—that is, to the depths of our affections.
This awakening unfolds with the full force of the original creation of the universe.
This awakening also unfolds with the full force of the final consummation—the day when not only hearts but also the whole earth will be "covered with the knowledge of the glory of the Lord as the waters cover the sea" (Habakkuk 2:14).
This awakening is all about how God's glory is encountered today through the person of the living Christ—the "anointed one"—raised up to reign as Lord of all.
This awakening transpires as God's Spirit engages us with God's Son today on such richly intimate terms that it becomes for us like seeing our Lord Jesus directly, face-to-face.
Let me be clear: At this critical juncture in Church history, only the dynamic, divinely orchestrated, wide-ranging, life-changing revolution of 2 Corinthians 4:6 will do!
This hope is extended to all of God's people throughout the nation. Our Father is ready to reignite his people with an awakening to the matchless, splendorous sovereignty of his dear Son, summoning us to pursue anew Jesus' righteous, radiant reign streaming forth from his very being.
Therefore, I must reiterate:
Nothing less than the miracle of 2 Corinthians 4:6 will ever prove sufficient for the building and bracing of God's people to stand firm, to stand strong, to stand bold—to stand for Christ, to stand for the gospel, to stand for his saving mission to neighbors and nations—and to stand full of faith as we confront a myriad of existential threats.
How about you? Do you believe such a Spirit-driven Christ Awakening adventure is possible?
Let me press you further: Do you believe such a transformational inbreaking is at hand? If so, are you sure you are ready for the glorious disruptions it will bring to all of us? Are you eager for it?
At hand? Remember that Jesus came preaching that the "Kingdom of God is at hand." The Greek for "at hand" can mean "bearing down on top of you"—like the clouds of a summer thunderstorm hovering before the rains break loose.
With that backdrop, let me rephrase my last question:
Do you believe, right now, that a Christ Awakening is bearing down on top of you, your church, your city, your region, our nation—in answer to all our years of prayer for nothing less? Is our long-anticipated kairos hour finally "at hand"?
I close this blog post
by laying my prophetic vision at your feet.
At the outset, in Part 1, I told you I think this is the most important message I have ever given to God's people since ChristNow.com began—by a blog post or in any other way. And now you see why.
It's because, with all my heart—and with vast amounts of hard evidence to back me up, as you've seen—I DO believe this wonderous Christ Awakening IS "at hand"—to fulfill our years of seeking it together all across the Body of Christ. God has not forgotten a single one of those prayers.
All that remains, all that is needed right now, is for every Christian leader and every believer to couple the enormous treasury of intercession we've laid at the Throne with an unwavering commitment to saturate ourselves and those we love and serve with more of who Jesus is to us, for us, over us, before us, within us, through us, and upon us—with more of the matchless, magnificent majesty of the reigning Son of God.
If you are in any position of spiritual influence—such as a pastor, worship leader, Bible study teacher, campus worker, mission facilitator, and especially if you are a parent—you and I must make this commitment to saturation with the supremacy of Christ the top priority for ourselves and those we teach and lead.
We can do so with confidence, relying on this principle:
Scripture teaches that "Faith comes by hearing when what is heard is the message about the Christ" (Romans 10:17). In turn, we know it is by faith and faith alone that any past Heaven-sent Christ Awakening movement has come to the Church.
Therefore, the most strategic ministry any of us could have today is this: to pour into our fellow believers more and more and more of the Lord Jesus Christ.
That, incidentally, is why ChristNow.com and ChristNowOnLine were raised up by God—to thoroughly equip you with an extraordinary array of free resources and social media ministry.
One alert, however: The flipside of this marvelous hope carries a warning. As I said in Part 1, in the next ten years, I predict there will be either more of Christ exalted among our people OR far fewer people in Christ among us. This should sober all of us.
Sensing the urgency of our times, therefore, I close this post urging all of us to carefully heed this admonition.
May our churches never have to hear the heartbreaking pronouncement of Jesus over a previous, indifferent, unrevived generation of God's people when he cried out: "How often I would have gathered you to myself, but you refused. So now your house is left to you desolate" (Luke 13).
Desolate!
To conclude: What is Jesus saying to US? In the two parts of this blog post, I've set before you a "prophetic vision" that can be summed up in a paraphrase of Jesus' core preaching—a four-point outline distilled from Mark 1:15. Personally, this is what I hear him saying to us right now:
The time for you to experience
a mighty awakening to my supremacy is fulfilled.
Kairos!
The inbreaking of this God-given revolution for my glory
is bearing down upon you.
Kairos!
So, turn from anything that will keep you from fully entering into it—
and come into more of me.
Kairos!
I invite you to believe and proclaim this extraordinary hope
to fellow believers throughout the Church
because it is—because I am—drawing near.
Kairos!
---
If you would like to download an edition of "The Hope at Hand" blog post that combines Parts 1 and 2 into one document in order to share David's entire message with friends as well as people in your Christian fellowship, you can do so here.
---
About the Author
Over the past 40 years, David Bryant has been defined by many as a "messenger of hope" and a "Christ proclaimer" to the Church throughout the world. Formerly a minister-at-large with the InterVarsity Christian Fellowship, president of Concerts of Prayer International (COPI), and chairman of America's National Prayer Committee, David now provides leadership to ChristNow.com and Proclaim Hope!, whose mission is to foster and serve Christ-awakening movements. Order his widely read books at DavidBryantBooks.com.
City of Bones, City of Graces
FEBRUARY 17, 2020
The city stinks. This city, that city, every city everywhere: They reek of sour urine, old vomit, rotting food, the slow tidal surge of human excrement down in the sewers.
Want an image of the metropolis? A depiction of the thing in itself? Think of a night scene, like a cityscape in a photorealist painting, where a thin, scabrous rat scrabbles up from a storm drain to gnaw at a dead pigeon in the gutter. The abandoned warehouses, the smog-stained brick, make a dark canyon of the street, and trash skitters along the filthy sidewalk. High above, an illuminated billboard advertises diamonds, as worn by an elegant, near-orgasmic woman in a blue dress. Another brightly lit sign urges passersby – in a clumsy, overexcited red font – to call a shyster lawyer and sue someone. There's even a picture of the lawyer on the sign. He wears a yellow tie and smirks.
London, Los Angeles, Lahore: the place hardly matters. All urban spaces have that deep ineradicable stench of so many people so close together. They all decay. They foster the commerce of dishonesty. They breed disease. Peel back the centuries of cracked pavements. The subways, sewers, and rusted steam pipes. The stained soil crushed beneath the city's unnatural weight. And even then we would not discover the enchanted whisper of beginning, the fresh green breast of a new world. Peel back the city to the time of its foundation. Peel back the corpses piled on corpses, the generations of violence. Peel it back to the bare ground of origin, and all we would find is the first grave of a founding murder. The city is built on death, all the way down. A city of bones.
There's another city, too, of course. Or, at least, another way to see it: The city is the place of flowers, cut carnations and roses in buckets at the corner grocery. The city is the place of parks and tree-lined boulevards and flags waving over paved streets. The place of awnings and marble vestibules. The place of manners, for that matter: No civilization exists without the civitas. No urbanity without the urban. Nothing politic without the polis.
Want a counter image of a metropolitan world? Imagine, maybe, breakfasting on croissants and café au lait, "Early in the morning / Of a lovely summer day," to quote the poet Robert Hillyer:
They were hosing the hot pavement
With a dash of flashing spray
And a smell of summer showers
When the dust is drenched away,
Under greenery like scenery,
Rue François Premier.
Or imagine being in a cityscape painting. Strolling, say, under an umbrella in Gustave Caillebotte's Paris Street, Rainy Day. Or something in a softer focus, like Claude Monet's Houses of Parliament, Sunset. For that matter, something harder edged, like Marc Chagall's Paris through the Window.
The city is home to museums, symphonies, ballet, and opera – all the civilized arts that exist only thanks to public munificence. The virtue of generosity proves difficult for the rich: acts of charity are generous only when they come with sacrifice, and the truly wealthy sacrifice little even when they give much. But Aristotle gives us another name for the good act of making grand gifts. He calls it the virtue of munificence: donations to public life so large that only the wealthy can undertake them. And the city is the place where munificence can flower.
The great cities are neither vile stinkpots nor enchanted gardens.
The place of bustle and beauty. The location of charity and civilization. A land of fountains. The home for vast swaths of the laughter and joy of human interaction. The city is the woman leaning against the man on the park bench on a summer's weekend morning. The city is the Salvation Army Santa who rings his bell and laughs as the Christmas snow flitters down. The city is the people streaming by who smile and push a dollar bill into his red kettle. The city is the schoolgirl in the navy-blue tam who ducks behind a tree to hide from her dog, then relents and darts out to scoop the anxious dachshund up into a hug. A city of small graces.
Of course, no one has ever truly lived in either of these, the City of Bones or the City of Graces. We experience only some strange amalgam of them both: corruption and decency, malice and benevolence, side by side. The great cities are neither vile stinkpots nor enchanted gardens. Not completely. They are only beautiful failures and corrupt successes.
Even the city besieged by warfare has its redeeming virtues. Even the most glittering utopia has its hidden sins.
Wicked Sodom and Gomorrah seem to manifest the deep truth about cities – until, suddenly, they don't.
Where does the city come from? Economics is often invoked to explain the birth of cities in ancient times, and fair enough: the city has proved to be the greatest economic engine the world has ever known. But when human beings first gave up nomadic life, it was not because they understood the financial advantages of collected reservoirs of capital and the monetary effects of the division of labor. Even the word economics shows its late origin: Derived from oikonomia, the ancient Greek word for managing a household, economics became a term for the king's budget, the management of the royal household, and thereby grew in late medieval times to mean the financial management of the nation.
In The Ancient City (1864), the historian Fustel de Coulanges makes the case that the birth of the city is literally from the grave. Coulanges argues that nomadic peoples tended to bury their dead in particular spots. And that gradually led to temples near the tombs, then marketplaces near the temples, then houses near the marketplaces.
Then of course there is political theory, civilization as refuge from Thomas Hobbes's nasty, brutish state of nature. In anthropology, René Girard points out that mythology almost always places death at the birth of civilization. Perhaps the city was born from fear about our own deaths. Or perhaps the city was born from grief at the death of others. Either way, the city begins with death.
In the Bible, the first city is founded by Cain, the first murderer. From there on, Scripture radiates a steady mistrust of cities – a constant sense that cities are defined by the temptations they offer, the occasions they provide for sin. Prophets come from the desert and the pastures; corruption comes from the city. Even in the Holy Land, the Ark of the Covenant rests in the country camp of Shiloh, rather than in the conquered cities. Wicked Sodom and Gomorrah seem to manifest the deep truth about cities – until, suddenly, they don't. The Psalms, and then the prophets after David, offer a different vision of the city. Its name is Jerusalem.
This is how Saint Augustine reads civic history in The City of God. "Cain (signifying 'possession'), the founder of the earthly city, and his son Enoch (meaning 'dedication'), in whose name it was founded, indicate that this city is earthly both in its beginning and in its end – a city in which nothing more is hoped for than can be seen in this world." Augustine points out how Genesis specifies the professions of the line of Cain: six generations on, there is Jabal, "the father of such as dwell in tents, and of such as have cattle"; Jubal, "the father of all such as handle the harp and organ"; Tubal-Cain, "an instructor of every artificer in brass and iron"; and Naamah, whose name means beauty or pleasure.
These brothers are described as founding the skills necessary for city life, and their sister helps establish the temptations of the city – including (according to rabbinical interpretations) her beautiful songs for worshiping idols. What follows is the brief poem, the "Song of the Sword," that their father, Lamech, sings:
Hear my voice; ye wives of Lamech,
hearken unto my speech:
for I have slain a man to my wounding,
and a young man to my hurt.
If Cain shall be avenged sevenfold,
truly Lamech seventy and sevenfold.
(Gen. 4:23–24)
The origin in violence was signaled when Cain established the first city, and the continuing violence was declared in Lamech's "Song of the Sword." The City of Bones is built on murder, all the way down.
But then David brings the Ark into Jerusalem, and the Bible begins to tell a counter story. Before David, the Bible contrasted the sinful violence of the city with the peace of Eden, the idyllic world of innocence in the garden. After David, the Bible tends to contrast the violence and corruption of the actual city – such as Babylon and Nineveh – with the peace of the ideal city.
Isaiah famously promises that when God judges among the nations, the people of earth "shall beat their swords into plowshares, and their spears into pruning hooks: nation shall not lift up sword against nation, neither shall they learn war anymore" (Isa. 2:2–4). But that prophecy comes immediately after the assurance that "out of Zion shall go forth the law, and the word of the Lord from Jerusalem" – a peace that can derive only from a holy city, not a city of death. And even then, it is only promised "in the last days" – an apocalyptic ideal of the city, not its reality even in the actual present city of Jerusalem.
Augustine argues that this is a vision of the City of God, which stands over against the City of Man. We must live in one city: the polis, with its civic structures struggling to constrain the constant threat of escalating violence. But we are called to the other city: the idea of the New Jerusalem, which develops from the prophesies of Ezekiel through the Book of Revelation.
The Bible begins with a garden and ends with a city, as Jacques Ellul and others after him have noted. In The Meaning of the City (1951), Ellul argues that God's plan develops through sacred history along this trajectory. Ellul himself was suspicious of actual cities, seeing urban life as a constraint on human freedom and autonomy. But he recognizes the apocalyptic picture of Revelation as an important departure from other ancient religions: the Bible does not promise a return to idyllic beginnings. In place of the first innocence of the Garden of Eden, we have the second innocence of the New Jerusalem, where "there shall be no more curse" (Rev. 22:3–4). This "great city, the holy Jerusalem, descending out of heaven from God" promises an end to the emotions of death – both anxiety at our own deaths and grief at the deaths of others: "And God shall wipe away all tears from their eyes; and there shall be no more death, neither sorrow, nor crying, neither shall there be any more pain: for the former things are passed away" (Rev. 21:4–18).
How to understand human cities against this prophetic ideal?
Oh, we've pictured the city righteously destroyed, like Sodom and Gomorrah. Nathanael West's 1939 novel about hateful Los Angeles, The Day of the Locust, ends with a picture of the city burning: the dry Santa Ana winds pulling out all the moisture from the wooden bungalows till they are nothing but kindling for the great cleansing fire. We've even pictured the city as deserving a destruction that never quite comes, as though God had abandoned even his wrath against us. The billboard, advertising an optometrist, that looms above the valley of ashes in The Great Gatsby, for example: "Above the grey land and the spasms of bleak dust which drift endlessly over it, you perceive, after a moment, the eyes of Doctor T. J. Eckleburg."
But in the vision of a city not founded on murder, we may spy a path to redemption for the actual cities in which we dwell. It is precisely our call to the not-yet-come City of God that allows us to work for the bettering of the City of Man. William Blake, taking in the "dark Satanic Mills" of industrial England, imagines the apocalypse restoring nature and holiness to the troubled earth, and commits himself: "I will not cease from Mental Fight, / Nor shall my sword sleep in my hand: / Till we have built Jerusalem, / In England's green & pleasant Land."
Yet even the desire to perfect the earthly city can result in a reenacting of the sin of Cain. An extreme example is the Taiping Rebellion – the bloodiest human conflict outside the world wars – which captured Nanking in 1853, and renamed it "New Jerusalem."
In New York, the herds of yellow taxis stampede down Fifth Avenue to Washington Square, on through the switchback ravines of Greenwich Village, and on to the canyons of Wall Street. Across the ocean, similar herds stream through London. Krakow may be all the way around the world from Salvador da Bahia, but in both the Polish royal town and the Brazilian colonial city, you can walk among the old high Catholic buildings – proving that all we need to have block after block of surviving Baroque architecture is a city that was wealthy at the right moment and too poor in later centuries to tear it down and build something new. Even with all their differences, cities mirror other cities' traits and features.
Ankara, Brasília, Versailles, and Las Vegas, for example. Each as different as can be, but they share something strange: a disquieting uniformity in the eras of their architecture, the result of being built all at once. Rome, Ezra Pound once complained, is the only city run like a museum. But every Mediterranean city sometimes feels that way. Every city on a coast, Albert Camus once pointed out, turns either its back or its face to the sea. Charleston and Miami are American cities with their bright faces to the water. Tacoma and New York are cities that have turned inward, pushing their dark warehouses near the ocean.
Yet even the desire to perfect the earthly city can result in a reenacting of the sin of Cain.
I remember sitting once, late at night, in a diner in South San Francisco, reading Ron Hansen's 1996 novel, Atticus. The fog pulsed by the windows in waves. The airplanes at the nearby airport roared every few moments. The coffee was the old American standard of percolator-burned pale brown swill. And the novel – ah, yes, the novel. In his Prodigal Son–framed tale of a modern rancher and his missing son, Hansen built an elaborate symbol from a sundog, that odd atmospheric phenomenon in which a small second sun seems to float around 22 degrees off to the left or right of the actual sun. In Atticus, the sundog seemed to symbolize the relation of fathers and sons, and the strangeness of the physical world, and maybe even the Eucharist.
Could there be a rich symbol like that for the city?
Down in its inward essence, the city is vile. Up at its true ideal, the city is noble. We've only experienced the mixed middle thing: a little bit cursed, a little bit blessed. An occasion of sin and an opportunity for charity. A stain of ugliness and a flash of beauty.
A human thing, in other words – laden with the guilt of Cain, but straining toward the New Jerusalem.
Faithfulness is at the core of God's character. Here are six truths about God's character that can change your life if you believe and act upon them:
1. God's Love Is Unfailing
"I have loved you, my people, with an everlasting love. With unfailing love, I have drawn you to myself" (Jeremiah 31:3, NLT).
There's nothing you can do to destroy God's love for you. It's neither diminished nor increased by your actions. If you had been the only one who needed salvation, Jesus would still have died for you. (See John 3:16) God's love never fails.
2. God's Character Is Unchangeable
Every good and perfect gift is from above, coming down from the Father of the heavenly lights. who does not change like shifting shadows (James 1:17, NIV).
Shadows move and shift with the sun. But God, who created and controls the sun does not change. He is not a shadow, but the real deal. All other relationships will change and even leave, but God never will. (See Hebrews 13:5, NIV)
3. God's Power Is Unlimited
"For nothing will be impossible with God" (Luke 1:37, NASB).
God loves the word impossible. But He usually chooses to use impossible feats when it will cause others to know He is God–and it will bring Him glory. It's not an ego thing; it's a miraculous, truly amazing act of grace. God has nothing to prove. No one can defeat it; no one can explain it, no one can contain it. God's power has no boundaries. Where we think, "No way!" God says, "Yes, My Way!"
4.  God's Forgiveness Is Unsearchable
You will cast all our sins into the depths of the sea (Micah 7:19, NKJV).
We can look for them diligently. We can remind God of them repeatedly. But we won't find our sins once God has forgiven them. No submarine can plummet the ocean's depths and uncover them. No diver can bring them to the surface. Our sins–and God's forgiveness–are unsearchable and completely mystifying. His forgiveness is complete.
5. God's Promises Are Unending
Understand, therefore, that the LORD your God is indeed God. He is the faithful God who keeps his covenant for a thousand generations and lavishes his unfailing love on those who love him and obey his commands (Deuteronomy 7:9, NLT).
Faithfulness is at the core of God's character. His promises don't depend on His whims or moods. God is as good as His Word. In fact, He is the Word. You won't find security like that in any relationship or in any bank account. His promises–and God's faithfulness –never ends.
6. God's Sovereignty Is Unexplainable.
Have you ever come on anything quite like this extravagant generosity of God, this deep, deep wisdom? It's way over our heads. We'll never figure it out (Romans 11:33, MSG).
God is the Blessed Controller. That means we are not. To the believer, that's both unnerving and comforting. Sovereignty makes God boss, not us. But it means we don't have to worry about things out of our control–because those same things are under His control. I can rest, even when I don't understand what or why certain things are happening to me or around me. God's sovereignty and wisdom is unexplainable, because His ways are truly not our ways. Knowing that makes trusting Him imperative.
Unconditional love, unchangeable character, unlimited power, unsearchable forgiveness, unending promises, and unexplainable sovereignty. I don't know what those truths about God do for you. But they are extremely encouraging and life-changing to me. The Psalmist best describes my feelings in Psalms 73:25-26 (NIV):
Whom have in heaven but You? And there is none on earth that I desire besides you. My flesh and my heart fail; But God is the strength of my heart and my portion forever (NKJV).
My Personal Prayer for You
Lord, no words can describe Your character. No adequate praise has ever been offered to fully honor all You are and have been to us. Fill us with these truths until our lives overflow with their life-changing power. Teach us; change us; help us to know You more deeply, to trust You  more implicitly, and to love you more completely.
Day-votedly Yours,
Rebecca
On a personal note: I believe in these truths. God truly is faithful to the core. The more you draw close to Him, the more you'll discover why these truths about God's character really can change your life. They've sure changed mine!
It's Your Turn
Which truths about God's character mean the most to you? Which are the most life-changing? I'd love to hear from you anytime. You can always write me through my contact page. Just fill out the basic name and address info, and then the e-mail will come to me. Your name or info will never be shared with anyone without your permission.
Prophetic Word: 'I Will Clean Out the Deep State'
We are in the middle of a reformation. Make no mistake, this is as critical a moment in the history of America as the Revolutionary War.
We are in the midst of a spiritual awakening in our country initiated by a changing of the guard.
In the Old Testament when a new king rose up, it was an opportunity for reformation. And so it was for America when Donald Trump was elected president. At that time, I said to the Lord, "If this man gets in office, it will be a miracle. And I will take it as an indicator that the age of apostasy in our land is over and we are in a new era for America."
That is exactly what transpired. It is no different than in the days of David when he defeated Goliath in ancient Israel. Goliath (the Deep State) is once again being defeated and we need to remember that once a "Goliath" is taken out, it is time for the troops to storm the adversary.
Last year, I had the opportunity to stand in the Rotunda Room of the Capitol Building with a group of pastors. We were given the privilege to pray for several of our senators and representatives as they were headed to the Floor to vote on pending legislation. As members of the ekklesia, we reached out our hands to pray for our government leaders.
As we did, the Lord spoke to me, "This is my form of government when the church joins with government." It was a moment orchestrated by the Lord. As we prayed together, we appropriated the atoning blood of Jesus over all three branches of government from the Mayflower Compact and coast to coast. That is what He has called us to do in this hour.
But there was more. He also said to me, "I will not only reform the government, but I will clean out the Deep State."
We need to understand the power of the blood of Jesus. For when the blood is properly appropriated, it will do more than redeem our soul. It can bring revival and reform our government.
Some may read that and say, "That is an issue of the state, not for the church." Well, Jesus is Lord of both the church and the state. We need to remember the government rests on His shoulders.
The transformation that is underway in our government seemed impossible just four years ago. But we are now in a day in which it is no longer unseemly to speak the Word of God in the chambers of government. For years it had been pushed out in the pursuit of multicultural, pluralistic acceptance of an anti-biblical agenda. But there is no denying that the principles of the Bible are in the very foundation of our Constitution.
We were floundering as a nation. We had become so accustomed to the "giants" living in our land that we had simply adjusted and learned to tolerate them and live with them. That all shifted when Donald Trump stepped into the presidency.
Prior to that we had lost ground. We had lost many of our civil and religious liberties as activist, liberal judges rode roughshod over the will of the people. America did not want Roe v. Wade, or Obergefell v. Hodges. Those were agendas pushed upon our nation.
It was no accident that the former president left 140 judge seats open. They were so certain that Hillary was going to win that they left 140 judicial seats vacant for her to fill. However, over the last three years under President Trump, he has appointed 191 conservative judges to fill vacancies. It has changed the entire landscape and future of our nation.
As "City Elders," we are bringing leaders into the gates of our counties by:
Vetting – We are working together with OPAC to vet candidates running for office through a City Elders questionnaire.
Vote – How can we say we are praying for change and for revival and then sit at home during an election? It is our duty and moral obligation to not only pray, but to act and vote.
Voice – We are helping to mobilize people to stand up and speak out. We encourage qualified members of the ekklesia to rise up and run for office. There are people sitting in our congregations right now, some who are retired or close to retirement age and are more qualified than those currently running for office.
If a candidate doesn't believe in God, how can they think justly or with mercy? We can no longer stand for our political offices to be used as a stepping stone to personal power or political advantage. We must become a voice in this hour.
If the New Hampshire Caucus is a reflection of the upcoming election, then we have a momentum that we need to press into with prayer and action. In that caucus, Trump received double the number of votes of any former incumbent president. We are poised to take the land. This could be the greatest landslide victory in the history of the United States if we do our part. That is our role as City Elders and the ekklesia in this hour.
For additional information or to become a part of City Elders, visit cityelders.com.
Jesse Leon Rodgers is the founder and president of City Elders, a reformation model of city and state governance that trains up and empowers Christian elders how to govern the gates of the city spiritually, politically and economically. He is the chairman of the Oklahoma Watchmen on the Wall Network, the pastor's network of the Family Research Council, Washington, D.C.
Karen Hardin is a freelance writer and literary agent. For more information, go to: karenhardin.com or prioritypr.org.
State of the Union Address Proves Christians Need to Reelect Donald Trump
Morning, February 23
I will never leave thee. Hebrews (13:5)
No promise is of private interpretation. Whatever God has said to any one saint, he has said to all. When he opens a well for one, it is that all may drink. When he openeth a granary-door to give out food, there may be some one starving man who is the occasion of its being opened, but all hungry saints may come and feed too. Whether he gave the word to Abraham or to Moses, matters not, O believer; he has given it to thee as one of the covenanted seed. There is not a high blessing too lofty for thee, nor a wide mercy too extensive for thee. Lift up now thine eyes to the north and to the south, to the east and to the west, for all this is thine. Climb to Pisgah's top, and view the utmost limit of the divine promise, for the land is all thine own. There is not a brook of living water of which thou mayst not drink. If the land floweth with milk and honey, eat the honey and drink the milk, for both are thine. Be thou bold to believe, for he hath said, "I will never leave thee, nor forsake thee."In this promise, God gives to his people everything. "I will never leave thee." Then no attribute of God can cease to be engaged for us. Is he mighty? He will show himself strong on the behalf of them that trust him. Is he love? Then with lovingkindness will he have mercy upon us. Whatever attributes may compose the character of Deity, every one of them to its fullest extent shall be engaged on our side. To put everything in one, there is nothing you can want, there is nothing you can ask for, there is nothing you can need in time or in eternity, there is nothing living, nothing dying, there is nothing in this world, nothing in the next world, there is nothing now, nothing at the resurrection-morning, nothing in heaven which is not contained in this text–"I will never leave thee, nor forsake thee."
~~~Charles H. Spurgeon
Verse of the Day—
Sunday, February 23, 2020
"[Jesus] was handed over to you by God's set purpose and foreknowledge; and you, with the help of wicked men, put him to death by nailing him to the cross."
—Acts 2:23
Thoughts on Today's Verse…
When we think of the Cross, two words we must never associate with it are the words "tragic accident." Peter makes very clear that two separate streams of power converged at the cross. Evil had its way and brought the Son of God to the Cross. God had his plan and he allowed the cross to happen to redeem us. The Cross was no accident. What hell had intended as our ultimate defeat, God used to bring us redemption and triumph. The best and worst of all things collided. Of course the Cross wasn't the ultimate answer in this battle; the empty tomb and the resurrected Lord are. We are the victorious recipients of this grace, paid at such an agonizing cost, administered in such a cruel manner by our greatest adversary, and secured by Jesus' triumph over the grave.
My Prayer…
Holy God, thank you for having a plan in place that insures that my sins can be forgiven and my future with you is secured. Thank you for paying the price for that plan to work. Thank you for triumphing over the wickedness of hell and the work of evil people. I love you so much for all you are and all you have done for me. In Jesus' name I pray. Amen.
       —Dion Todd
People on the outside can look fine, well dressed with a smile. While inside, they can be as dead as the dust. I have been there. Here is the word for today:
The Living Dead
You were made alive when you were dead in transgressions and sins, in which you once walked according to the course of this world, according to the prince of the powers of the air, the spirit who now works in the children of disobedience; among whom we also all once lived in the lust of our flesh, doing the desires of the flesh and of the mind, and were by nature children of wrath, even as the rest. But God, being rich in mercy, for his great love with which he loved us, even when we were dead through our trespasses, made us alive together with Christ (by grace you have been saved)' Ephesians 2:1 WEB
Another night, another party, we were always playing a gig somewhere in the band that I was in. We played music about six nights a week, and sometimes twice a day on the weekends. At first it was a lot of fun, but eventually it became just another job filled with very late hours and heavy amplifiers.
We often had the same people that would come to hear us and eventually I knew every couple on the dance floor, and what song they were going to dance to. Though I was always on stage, and looked the life of the party, I felt pretty empty. There was something was missing in my life.
One night while playing on stage, the Holy Spirit came into the bar and changed my life. In a flash, in the middle of playing a song and without missing a chord, my priorities were transformed. He gave me a third person view of my current life, and then what He had to offer.
I was living dead. I finished the set, put up my bass, went home and into my bedroom, laid on the floor and poured my heart out to God. That was a Saturday night, and He was calling. The next morning, I got up and went to a near by church. I have never been the same. I found what was missing, or more accurately, He found me.
You can live while dead and empty inside, but you do not have to. Jesus resurrected the dead and gave them life. He can resurrect the spirit inside of you and relight that fire that has gone out. It is never too late to get a fresh start and be revived. The joy and the fire can be restored. The emptiness can be filled. You do not have to be the living dead.
Prayer: Heavenly Father I thank You for taking care of me and bringing me this far. Please forgive me of my sins, give me a clear vision, and help me become the person that You created me to be, in the name of Jesus Christ I pray.
Bible Fun Fact: The daughter of Jairus was 12 years old when Jesus brought her back to life (Lk 8:42).

Unstoppable!

 'Disturbed'

While Peter and John were speaking to the people, they were confronted by the priests, the captain of the Temple guard, and some of the Sadducees. These leaders were very disturbed that Peter and John were teaching the people that through Jesus there is a resurrection of the dead. They arrested them and, since it was already evening, put them in jail until morning. But many of the people who heard their message believed it, so the number of men who believed now totaled about 5,000.
Key Thought
Our verses today remind us that there are two very distinct reactions to the message about Jesus. Some are disturbed by the message of Jesus while others are delighted with it. Many of the same leaders responsible for Jesus' crucifixion were disturbed that his followers proclaimed Jesus and his resurrection. Those leaders arrested and imprisoned Peter and John for their proclamation of Jesus' message. The leaders wanted to be rid of Jesus and his movement. They thought they had snuffed it out completely with Jesus' death. These hostile leaders had yet to learn that nothing could stop the Good News of Jesus and his resurrection! He was alive and at work in his passionate people — and still is. His message, his promises, his power, and his resurrection made their work UNSTOPPABLE!
Today's Prayer
O Father, thank you for the example and testimony of Jesus' early disciples. I know that many in the world choose not to believe. They reject the message of Jesus' resurrection and his unique role as Savior. However, I believe that Jesus is your Son and that for his life on this earth, he was conceived by the Holy Spirit in the womb of Mary, lived a life in human flesh like me, did amazing things for your glory to show love to those who were broken, gave his life on the cross for my sins, and rose from the dead to conquer death for all who believe in him. Thank you, Father. Thank you! Amen.
Related Scripture Readings
Passion for Praise:

 'So Ready to Forgive'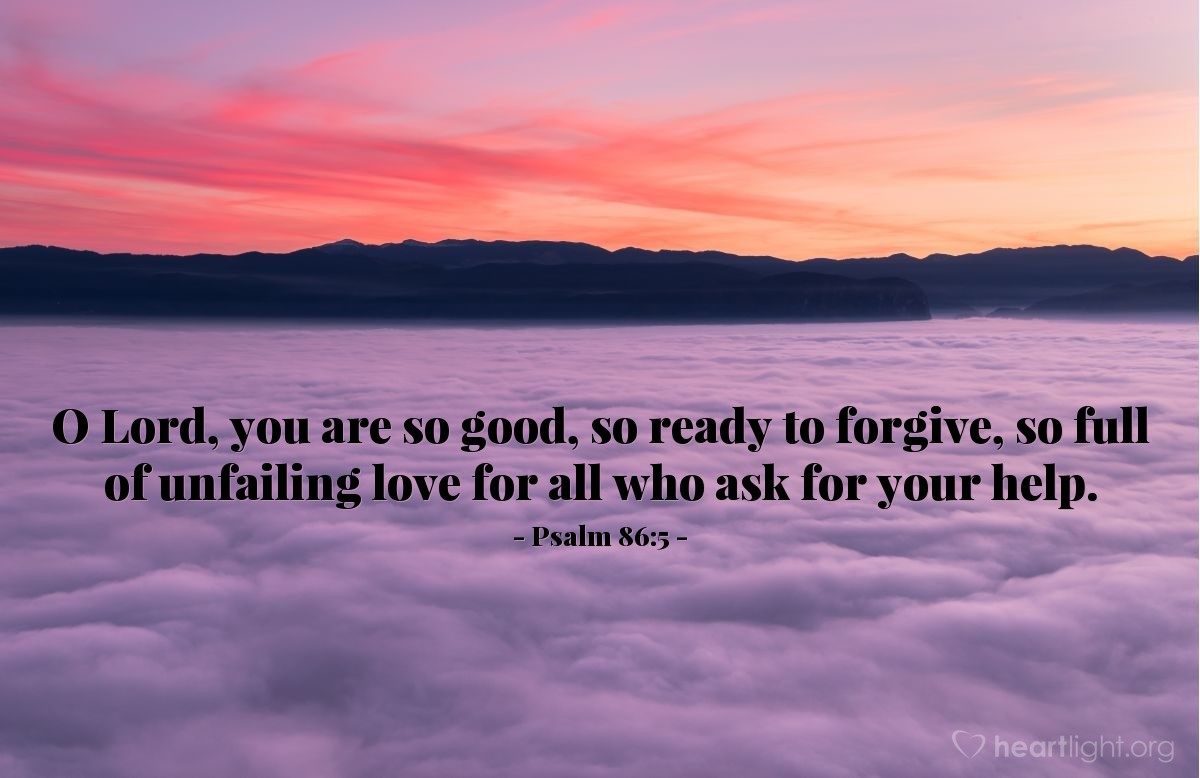 This month, I have a few birthdays to celebrate:  my beautiful granddaughter, Mariah, was on the 21st;  my lovely daughter-in-law is on the 27th, of course, mine is the 28th, and my "little" big sis, Jeanie, is a leap-year gal, on the 29th she will be 17 (lol)!!!  So, a full month………..oh, how time flies!
Humor….
Getting old…