Daily Prayer for January 19
But you are our Father, though Abraham does not know us or Israel acknowledge us; you, O Lord, are our Father, our Redeemer from of old is your name. Isaiah 63:16, NIV
Lord God, we thank you as we look back to the times throughout the ages when your servants lifted a voice to witness that you are our Father, that you lead the peoples to their true goal. However long it may take, we thank you for allowing us to be part of this witness. We thank you that so much love and goodness still shine into our time as a light to the nations. Watch over us. May your Spirit grow stronger and stronger within us. Bring the redemption proclaimed by your servants, and let your light dawn over all lands to the honor of your name. Amen.
Else Schubert-Christaller
When you see wicked people living in lust and happiness while godly ones live in poverty and pain, let your trust in God be great and humble. Who are you, that you should have the impudence to know the ways of the One, or search the paths of the Incomprehensible? It is enough that you know what is required for your own righteousness. So be silent before God's righteousness, which is far beyond your grasp.
Source: Judische Legenden, 1929
Verse of the Day~~~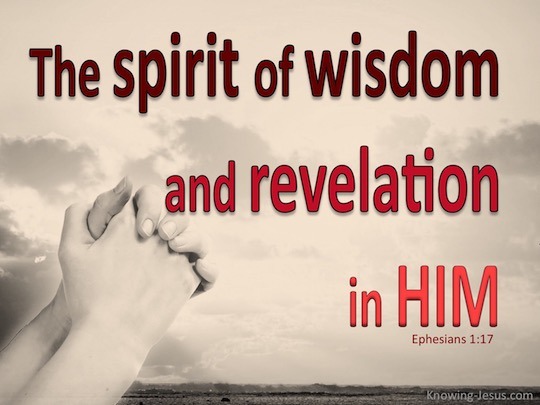 I pray … also that the eyes of your heart may be enlightened in order that you may know … his incomparably great power for us who believe. That power is like the working of his mighty strength, which he exerted in Christ when he raised him from the dead…
—Ephesians 1:17-20
Thoughts on Today's Verse…
I still don't understand resurrection. I get the concept. I believe God did raise Jesus. Every once in a while, I experience that power through the Spirit's work in my life strengthening me for ministry, helping me love others in tough situations, comforting me when I'm broken, giving me insight when I study the Word, and strengthening me in the face of temptation. I am humbled, thrilled, and left longing for more. I want others I love to experience this awesome power. I'm sure it's the same with you. So let's join together today, thousands of us all around world, and let's pray for God to empower those closest to us to discover his power and to do great things through his Spirit who lives in them.
My Prayer…
Loving God, Almighty Father, please empower me today to live for you in glorious and wonderful ways. But Father, I don't just pray that I may do this, please empower those that I love to live for you. (Add the specific names of folks you want God to bless in this way.) May we all know that the power in us tore away the bars of death that held Jesus captive. May we experience this transforming power and use it to your glory. In Jesus' name. Amen.
Devotional  ~~~ Charles H. Spurgeon
Evening, January 19
Then opened he their understanding, that they might understand the Scriptures. Luke (24:45)
He whom we viewed last evening as opening Scripture, we here perceive opening the understanding. In the first work he has many fellow-labourers, but in the second he stands alone; many can bring the Scriptures to the mind, but the Lord alone can prepare the mind to receive the Scriptures. Our Lord Jesus differs from all other teachers; they reach the ear, but he instructs the heart; they deal with the outward letter, but he imparts an inward taste for the truth, by which we perceive its savour and spirit. The most unlearned of men become ripe scholars in the school of grace when the Lord Jesus by his Holy Spirit unfolds the mysteries of the kingdom to them, and grants the divine anointing by which they are enabled to behold the invisible. Happy are we if we have had our understandings cleared and strengthened by the Master! How many men of profound learning are ignorant of eternal things! They know the killing letter of revelation, but its killing spirit they cannot discern; they have a veil upon their hearts which the eyes of carnal reason cannot penetrate. Such was our case a little time ago; we who now see were once utterly blind; truth was to us as beauty in the dark, a thing unnoticed and neglected. Had it not been for the love of Jesus we should have remained to this moment in utter ignorance, for without his gracious opening of our understanding, we could no more have attained to spiritual knowledge than an infant can climb the Pyramids, or an ostrich fly up to the stars. Jesus' College is the only one in which God's truth can be really learned; other schools may teach us what is to be believed, but Christ's alone can show us how to believe it. Let us sit at the feet of Jesus, and by earnest prayer call in his blessed aid that our dull wits may grow brighter, and our feeble understandings may receive heavenly things.

What Jesus Did!

 'Gone in an Instant'

After Jesus left the synagogue with James and John, they went to Simon and Andrew's home. Now Simon's mother-in-law was sick in bed with a high fever. They told Jesus about her right away. So he went to her bedside, took her by the hand, and helped her sit up. Then the fever left her, and she prepared a meal for them.
Key Thought
Jesus left no doubt in his power over illness; he saw the illness and cured it. It was gone in an instant. With the touch of Jesus' hand and the power of his grace, Peter's mother-in-law went from bedridden to healthy hostess preparing a meal. As impressive as this kind of miracle is, think about the change that same grace makes in our spiritual lives. Salvation is a great miracle in each life God's grace and Jesus' love touch. Our sin is gone in an instant. Our future is changed for the better in an instant. Our hopes are raised in an instant. While our lives as disciples are progressions of transformation to become more like Christ, our outlook and purpose are changed in an instant. Such is the power, love, and grace of our Lord!
Today's Prayer
Father in heaven, thank you for the life-changing power of your grace demonstrated to me in the sacrifice of Jesus and the work of your Holy Spirit. In Jesus' name, I pray. Amen.
Related Scripture Readings
Unstoppable!

 'The Pentecost Everything Changed'

On the day of Pentecost all the believers were meeting together in one place.
Key Thought
The Jewish people had celebrated Pentecost each year for centuries. However, as 
Acts 2
 shows us, this Pentecost changed everything! The Holy Spirit inspired and empowered the apostles to preach the Good News about Jesus. Those who responded to the message were baptized, forgiven, and filled with the Spirit. People from all over that part of the world became part of Jesus' family. The Spirit launched a new movement that would change the world and all of history. We cannot overestimate the significance of this Pentecost and the power of the Holy Spirit, who made it special!
Today's Prayer
Almighty God, I recognize that you have worked throughout human history. I see your power at work as Jesus poured out the Spirit on that unique Pentecost. I also believe that Jesus poured out the Spirit on me when I confessed Jesus and put him on as my Lord in baptism. Please open my eyes to see the significance of my own personal Pentecost. Thank you for the gift of your presence in me through the Holy Spirit. I offer my life to be used and infused by the Spirit. In the name of Jesus, I dedicate myself to serve the cause of Christ, and in his name, I pray. Amen.
Related Scripture Readings
Daily Wisdom: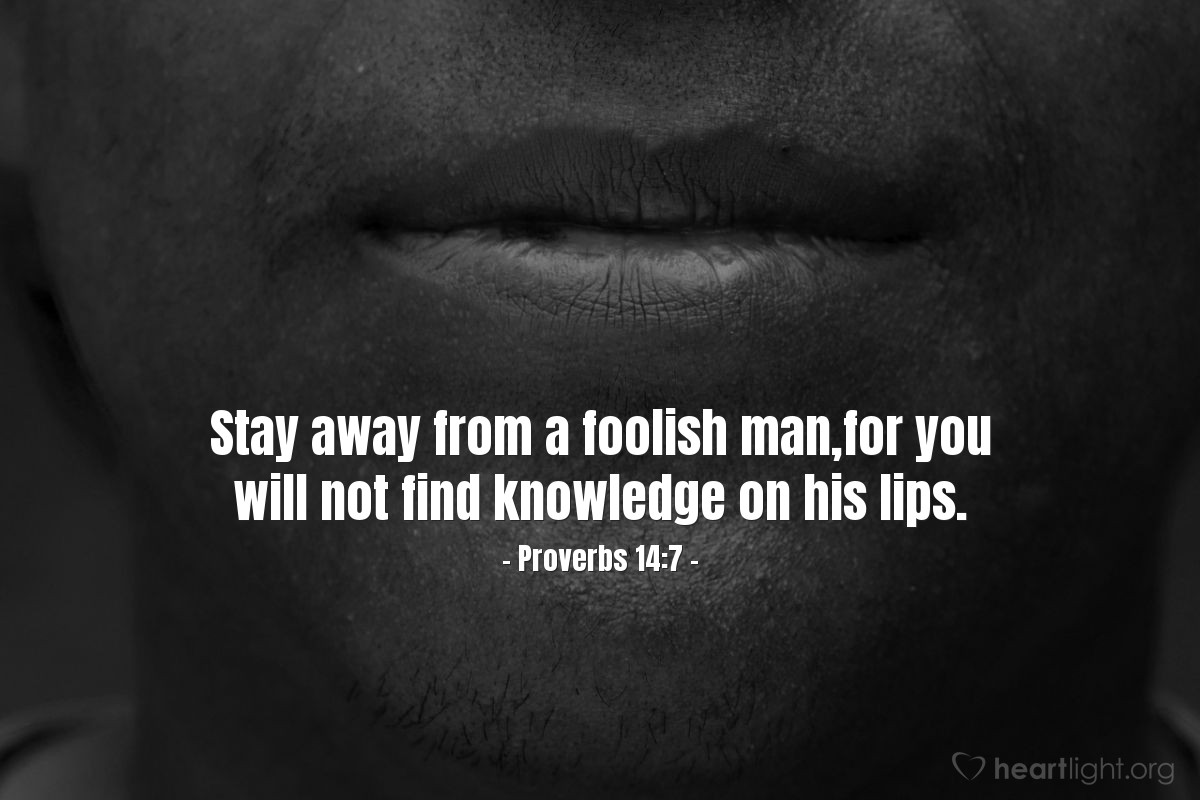 Passion for Praise:

 'Source of All Comfort'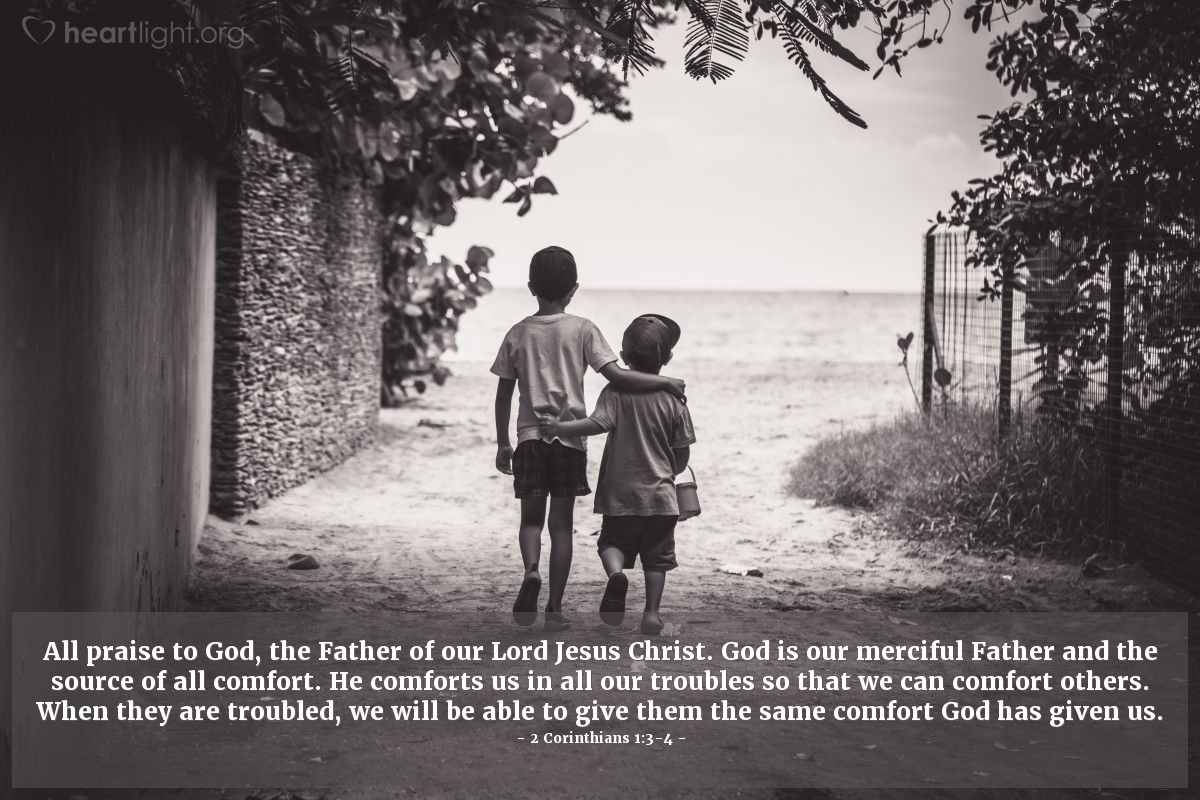 Spiritual Warfare:

 'Stand Strong in Faith to Defeat Satan'

God's Power for Our Battles

Control yourselves and be careful! The devil, your enemy, goes around like a roaring lion looking for someone to eat.Refuse to give in to him, by standing strong in your faith. You know that your Christian family all over the world is having the same kinds of suffering.
Today's Prayer
Lord, my covenant with You has made Satan my enemy. Deliver me from him and from all the evil schemes he has planned for my life. I know he's looking for a way to destroy me, Lord, so lead me far away from where he wants me to be. And when suffering in this life makes me feel all alone, remind me that Christians all over the world are suffering the same injustices that I am. Grant me endurance. In Jesus' Name, Amen.
A Year with Jesus:

 'Going Deeper than the Old Commands'
Note from Jesus
Dear Precious One,
Today's message is very important because many in your religious world turn grace into an excuse to do whatever they want rather than seeing it as a joyous reason to live for the Father. In My days on earth, some accused Me of being easy on sin and negligent on ritualistic obedience to the traditions. So it is important that you not only receive the teaching that you will read below but that you also pay close attention to the emphasis.
The words I say are hard words to obey. However, I want you to obey them — to put them into practice, to make them real in your daily life. I'm not giving you a few more rules to obey so that you can feel superior to others who are not as good at being religious. What I want is for your heart to yearn for God's righteous character as well as His gracious compassion.
There are two things I want you to realize as you read and take My words below to heart.
First, I speak with authority. My authority doesn't depend on human sources because I speak with divine authority. Moses and the prophets spoke for God, but I fulfilled the law and the prophets (Matthew 5:17). My words are more important than those from Moses and the prophets because I AM the Son of God (Hebrews 1:1-2)! My words matter eternally. My words must also matter to you and how you choose to live.
Second, I want your heart. I want you to move beyond surface obedience to My teaching. Keep asking this simple question: "Lord Jesus, what is the Father's intent for my heart and my behavior in this truth?" The Father and I have given you the Holy Spirit to help you hear My answer each day (John 14:23-27; Titus 3:3-7).
If you do this, you will be a true child of your Father — the Father of all grace and mercy for all those who seek to honor Him!
Verses to Live
I came to help you see through the vain rule-keeping approach to religion. I want you to look deep into the heart and the will of the Father. So you will notice that I stated what the existing teachings were in My day (the underlined portions below) and that I then intensified the meanings of those truths to point you to the heart of the Father (the portions in bold text).
Jesus:

Do not think that I have come to overturn or do away with the law or the words of our prophets. To the contrary: I have not come to overturn them but to fulfill them.

This, beloved, is the truth: until heaven and earth disappear, not one letter, not one pen stroke, will disappear from the sacred law — for everything, everything in the sacred law will be fulfilled and accomplished. Anyone who breaks even the smallest, most obscure commandment — not to mention teaches others to do the same — will be called small and obscure in the kingdom of heaven. Those who practice the law and teach others how to live the law will be called great in the kingdom of heaven. For I tell you this: you will not enter the kingdom of heaven unless your righteousness goes deeper than the Pharisees', even more righteous than the most learned learner of the law.

As you know, long ago God instructed Moses to tell His people, "Do not murder; those who murder will be judged and punished."But here is the even harder truth: anyone who is angry with his brother will be judged for his anger. Anyone who taunts his friend, speaks contemptuously toward him, or calls him "Loser" or "Fool" or "Scum," will have to answer to the high court. And anyone who calls his brother a fool may find himself in the fires of hell.

Therefore, if you are bringing an offering to God and you remember that your brother is angry at you or holds a grudge against you, then leave your gift before the altar, go to your brother, repent and forgive one another, be reconciled, and then return to the altar to offer your gift to God.

If someone sues you, settle things with him quickly. Talk to him as you are walking to court; otherwise, he may turn matters over to the judge, and the judge may turn you over to an officer, and you may land in jail. I tell you this: you will not emerge from prison until you have paid your last penny.

As you know, long ago God forbade His people to commit adultery. You may think you have abided by this Commandment, walked the straight and narrow, but I tell you this: any man who looks at a woman with lust has already committed adultery in his heart. If your right eye leads you into sin, gouge it out and throw it in the garbage — for better you lose one part of your body than march your entire body through the gates of sin and into hell. And if your right hand leads you into sin, cut it off and throw it away — for better you lose one part of your body than march your entire body through the gates of sin and into hell.

And here is something else: you have read in Deuteronomy that anyone who divorces his wife must do so fairly — he must give her the requisite certificate of divorce and send her on her way, free and unfettered. But I tell you this: unless your wife cheats on you, you must not divorce her, period. Nor are you to marry someone who has been married and divorces, for a divorced person who remarries commits adultery.

You know that God expects us to abide by the oaths we swear and the promises we make.But I tell you this: do not ever swear an oath. What is an oath? You cannot say, "I swear by heaven" — for heaven is not yours to swear by; it is God's throne. And you cannot say, "I swear by this good earth," for the earth is not yours to swear by; it is God's footstool. And you cannot say, "I swear by the holy city Jerusalem," for it is not yours to swear by; it is the city of God, the capital of the King of kings. You cannot even say that you swear by your own head, for God has dominion over your hands, your lips, your head. It is He Who determines if your hair be straight or curly, white or black; it is He Who rules over even this small scrap of creation. You need not swear an oath — any impulse to do so is of evil. Simply let your "yes" be "yes," and let your "no" be "no."

You know that Hebrew Scripture sets this standard of justice and punishment: take an eye for an eye and a tooth for a tooth.But I say this, don't fight against the one who is working evil against you. If someone strikes you on the right cheek, you are to turn and offer him your left cheek. If someone connives to get your shirt, give him your jacket as well. If someone forces you to walk with him for a mile, walk with him for two instead. If someone asks you for something, give it to him. If someone wants to borrow something from you, do not turn away.

You have been taught to love your neighbor and hate your enemy.But I tell you this: love your enemies. Pray for those who torment you and persecute you — in so doing, you become children of your Father in heaven. He, after all, loves each of us — good and evil, kind and cruel. He causes the sun to rise and shine on evil and good alike. He causes the rain to water the fields of the righteous and the fields of the sinner. It is easy to love those who love you — even a tax collector can love those who love him. And it is easy to greet your friends — even outsiders do that! But you are called to something higher: "Be perfect, as your Father in heaven is perfect."
Response in Prayer
O Father, give me the wisdom to always see Your grace and the courage to live Your will in the challenging truths I have heard from Jesus today. I long, dear Father, to have my heart shaped by Jesus' teaching and to have my heart conformed by the Holy Spirit to be like Your heart. Transform me, O Father, to You and to Your will. In Jesus' name, I pray. Amen.
   —Dion Todd
Quality Over Quantity
But you, when you pray, enter into your inner chamber, and having shut your door, pray to your Father who is in secret, and your Father who sees in secret will reward you openly. In praying, don't use vain repetitions, as the Gentiles do; for they think that they will be heard for their much speaking. Matthew 6:6 WEB
As the speaker walked up to the pulpit, I could feel the hair on the back of my neck rising. I just knew that he was going to call on me to pray in front of the whole church again. They always asked someone to open the service with prayer, and some people had long beautiful prayers. Not me. I avoided PDP as much as possible: Public displays of prayer.
As I came to know the Lord better I realized that fearing public prayer was not right, but making a performance out of it was not right either. God does not care if I have a stutter when I pray. Moses had a speech impediment and was still the chosen one. Jesus said, 'When you give, When you pray, When you fast' but you never do any of those things to impress others. If you do then you have your reward already, the praise of men.
It is not the quantity of prayer, but the quality. Leave the long beautiful public speeches to the politicians and when you really want to connect with God, get somewhere quiet, pray, and listen. Talk to Him as you would a friend. After all, He knows you better than anyone else and nothing that you do or say is in secret to begin with. He hears the way that you talk around your friends. He also reads your texts.
Also never, ever, ever, be ashamed of Jesus. When you get backed into a corner on your faith, that is when you need to take a stand and say: 'Yes, I love Jesus!' and not like Peter who said 'I do not know the Man.' Jesus said, 'For whoever will be ashamed of me and of my words, of him will the Son of Man be ashamed, when He comes in his glory, and the glory of the Father, and of the Holy Angels' (Luke 9:26).
James wrote, 'The effective, earnest prayer of a righteous man is powerfully effective. Elijah was a man with a nature like ours, and he prayed earnestly that it might not rain, and it didn't rain on the earth for three years and six months. He prayed again, and the sky gave rain, and the earth brought forth its fruit' (James 5:16'18).
Prayer is very powerful. We often have not, because we never asked God for it, so make your needs known to Him. Don't be afraid of praying, anywhere. God loves you and He wants to hear from you today.
Prayer: Heavenly Father I thank You for today. I want You to know that I welcome You to be a part of my life. Please guide me, teach me, mold me, I yield my will to You. In the name of Jesus Christ I pray.
Bible Fun Fact: Rehoboam, the son of Solomon had 88 children! (2Chr. 11:21).
God's Holy Fire:

 'Metamorphosis'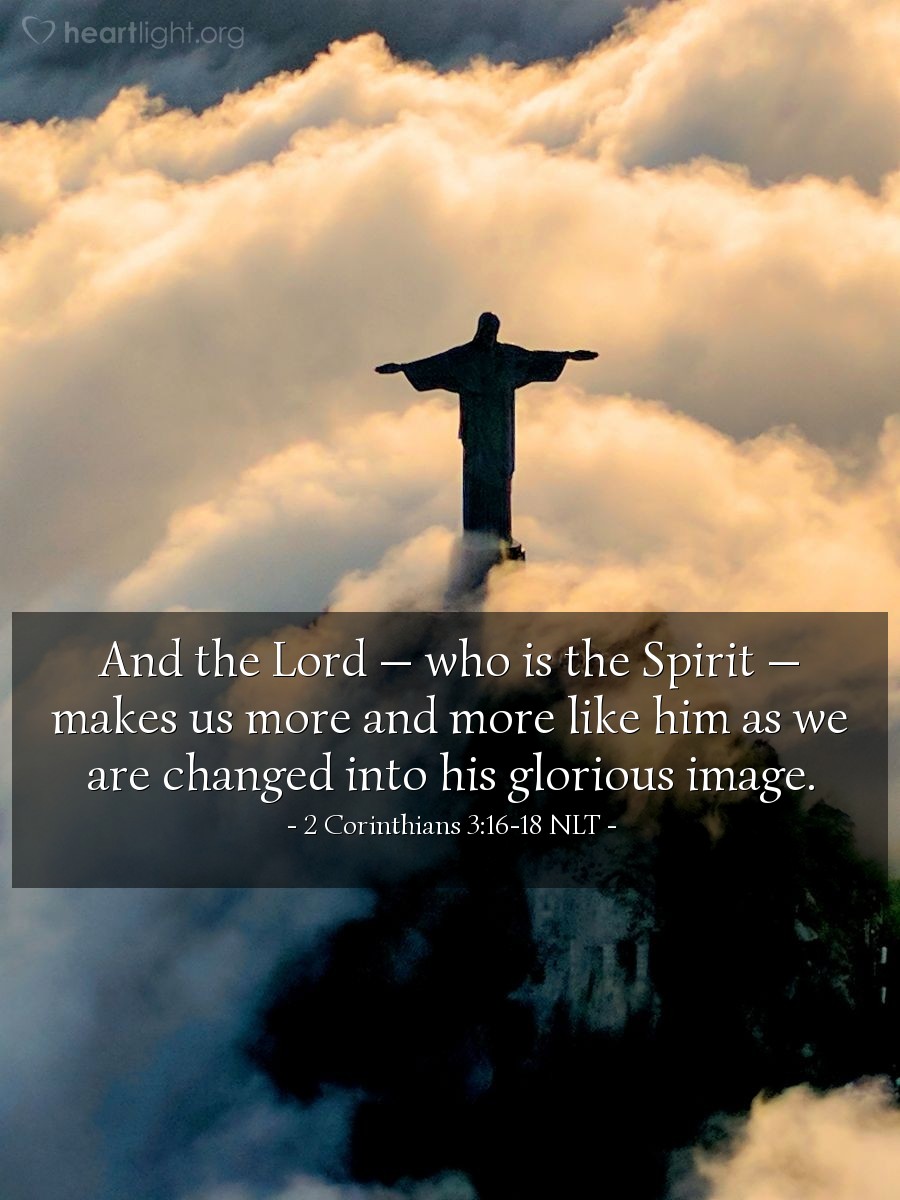 But whenever someone turns to the Lord, the veil is taken away [a veil like the metaphorical veil that kept the Jews from understanding the old covenant]. For the Lord is the Spirit, and wherever the Spirit of the Lord is, there is freedom. So all of us who have had that veil removed can see and reflect the glory of the Lord. And the Lord — who is the Spirit — makes us more and more like him as we are changed into his glorious image.— 2 Corinthians 3:16-18 NLT
No Fear Here!
How Being Alive in Christ Today
Can Free You From Anxieties About Tomorrow
A ChristNow.com Guest Blog Post
by Dr. Jeff Ebert
Happy New Year, everyone! It's 2020! We're a few days into it and so far, so good. No major catastrophes thus far. But what lies ahead? That's the problem, right? We're wondering and worrying about what lies ahead because we know by experience that tough things are coming.
That's life! Life is a series of problems mingled with accomplishments, and we hope the joys will outweigh the sorrows. How do we get ready for that? Since we know there will be rough roads ahead, how can we be spiritually proactive and prepare for the tough stuff beforehand so that we're ready to respond in the best way possible?
I think that's why some folks make New Year's resolutions—as a way of tackling some of the key issues in their lives ahead of time concerning health, relationships, finances, fitness, and so on. Make a goal and move toward it. That's a positive thing.
My Own Number One Heart Issue
So, a couple months ago, I asked myself: What is the number one issue for my heart that prevents me from really experiencing the abundant life that I know God wants me to have?
And that was so easy for me to answer. So easy. Anxiety.
Anxiety: Worrying about the future. Anticipating all the negatives. Getting stressed about what might happen.
In his book "Anxious for Nothing," Max Lucado defines anxiety this way:
An edginess, a dread. A cold wind that won't stop howling. It's not so much a storm as the certainty that one is coming. Airplanes fall out of the sky. Bull markets go bear. Terrorists terrorize. The other shoe will drop—it's just a matter of time. [Anxiety] is a low-grade fear [but] anxiety and fear are cousins, not twins. Fear sees a threat. Anxiety imagines one.
Did you get that? Anxiety imagines a threat. Anxiety is anticipating a negative future and feeling all the negative emotions ahead of time.
Anxiety is like meteor showers of "what ifs" that keep bouncing off your brain. Anxiety is a free-floating dread, and I know that feeling.
It usually hits me in the middle of the night. What if this happens? What if that happens? My mind gets on the hamster wheel of worry. Round and round it goes. Soon, my imagination kicks in, and then the negative possibilities seem endless. And I know you know that feeling, too.
I won't bore you with all of the statistics, but according to the National Institute of Mental Health, anxiety is one of the top mental health challenges facing our culture. Over fifty million people have diagnosable anxiety disorders, including panic attacks, phobias, and other things. Stress-related illnesses cost businesses over $300 billion a year in medical bills and lost productivity. Billions of dollars are spent on prescription medications.
Anxiety is everywhere. The Institute says, and I quote, "Anxiety disorders are the number one mental health problem . . . among women and are second only to alcohol and drug abuse among men." Their conclusion is that the United States is the most anxious nation in the world!
Can You Guess What's the
Most Popular Bible Verse for 2019?
But you know what? I didn't need the National Institute of Mental Health to tell me that. I figured it out another way: when I read what was announced as the most popular Bible verse for 2019.
The YouVersion Bible App is the most widely used app for people to read or listen to the Bible on their phone or tablet. They have over 400 million users worldwide and offer more than 2,000 different versions of the Bible in more than 1,350 languages. They can track what verses people search for or read the most.
And according to their data, the most popular verse in the Bible this past year was Philippians 4:6, which reads:
Don't be anxious about anything, but in every situation,
by prayer and petition, with thanksgiving
present your requests to God.
Don't be anxious about anything; instead, pray about everything. That's the most sought-after biblical advice for the year 2019.
And what is equally amazing is that data from the Kindle ebook reader showed that the most highlighted verse of the Bible on Kindle devices in 2019 was—you guessed it—Philippians 4:6. Don't be anxious about anything; instead, pray about everything.
Two different sources gave us exactly the same data! That should really tell us something.
What Does This Fact Tell Us?
First of all, you see that a lot of people are dealing with anxiety—it's not just me! It's not just you! If you struggle with anxious thoughts and worries, you are not alone. Christians and non-Christians alike struggle with the tensions and pressures that come from worrying over the "what-ifs" of life. So, you're not a bad person if you struggle with anxiety. You're normal. You're absolutely normal. If you ever thought that somehow you must be the only person on planet earth who struggles with anxious thoughts, you're not! It's a big club!
Even the people who don't look anxious probably are. They're just better at hiding it. That's often true of me. I know that with my personality, I am kind of like a duck swimming across a pond. On the surface, I can look calm and serene. No ruffled feathers. Smooth sailing. But under the surface, my little webbed feet are going a mile a minute! Right?
This is an "everybody issue." Everyone deals with anxiety at some level. So, if you wrestle with anxiety, you are not freakishly different! You are just like the rest of us. So, that's at least one less thing you need to worry about. (You're welcome!)
Jesus Followers Are Not Exempt
As Christians, we have to recognize that we, too, will find ourselves wrestling with all kinds of anxieties.
Just thumb through the pages of Scripture, and you'll see how often the people in those stories had to deal with their fears and phobias—Abraham, Moses, Joshua, Ruth, David, Esther, Mary, Peter—even Jesus. For example, in John 12, we see that Jesus, facing the imminence of the cross, confessed, "Now is my heart troubled."
Read through Scripture, and you'll see how often God came to his people with the message, "Don't be afraid." Do you know that "Fear not!" is actually the most repeated command in the Bible?
Dr. Lloyd Ogilvie wrote in his book "Facing the Future Without Fear" that there are 366 "fear nots" in the Bible, one for every day of the year, including leap year day! God doesn't want us to go a single day without hearing his word of comfort: "Fear not!"
So, though we are like everyone else on the planet when it comes to experiencing anxiety, we also have something special. We have access to God's grace through Christ by the indwelling presence of the Holy Spirit to help us deal with the worries and fears that lead us toward anxiety.
If we're going to get a handle on how to deal with our anxious thoughts, we must recognize the tools that we have from the Lord to help us—maybe not to eliminate anxiety altogether, but at least to shave it down to a manageable size so that it's not robbing us of our joy, our happiness, our sleep, or our health.
Two Truths to Set Us Free From Our Fears
Anxiety is all mental, so that's where we need to fight the battle—in our thoughts, in our minds. And we do that first and foremost by reminding ourselves of God's truth. Here are two eternal truths that we should remember to better prepare us to face our fears.
(1) In Christ, we are already fully accepted by God. If you've given your life to Christ, then you are already declared righteous in God's sight. Christ on the cross not only purchased forgiveness for your sin but also gave you his perfect righteousness. You are clothed—you are enveloped—by the righteousness of Christ so that when the Father looks at you now, he sees only the goodness and holiness of Christ surrounding you. And because of that, you are already accepted by him—and that's an eternal thing.
It's not about you holding on to Christ—no, salvation is all about Christ holding on to you. That means even in your darkest moments, when you might feel that you don't have the strength or courage to hold on to your faith, Christ has promised to hold on to you. And nothing can break his grip.
Severe anxiety can lead people to falsely believe that they are alone or abandoned by God, or that because they are so filled with fear, they are not worthy of God's loving care.
That's false. No matter what happens, no matter what you are worried about, no matter how far down the worry hole you've fallen, nothing can take you out of God's grace. That's the great promise the Apostle Paul articulates in Romans 8:38-39:
And I am convinced that nothing can ever separate us from God's love. Neither death nor life, neither angels nor demons, neither our fears for today nor our worries about tomorrow—not even the powers of hell can separate us from God's love. No power in the sky above or in the earth below—indeed, nothing in all creation will ever be able to separate us from the love of God that is revealed in Christ Jesus our Lord. (NLT, emphasis added)
Neither our fears for today nor our worries about tomorrow. Nothing is going to separate you from the Lord. Period.
That's what theologians call "the preservation of the saints." Saints—that includes you. "Saints" in the Bible means the people chosen by God—those called by him. And that's you, secured by his grace and his grace alone through Jesus Christ.
So, the first truth to tuck away in your brain is that you are fully accepted by God even with all the mess and sin in your life. Even with all your worries and fears. You are fully loved as God's adopted child. He cherishes you and wants you to be close to him.
(2) Because of the grace of Christ, you are being made new. Being made new: This both happened to you and is happening to you—simultaneously.
You were made new the moment Christ became Lord of your life. That's what I was just talking about. You were made new in God's eyes through the work of Christ. You are changed because of what Christ has done, and you are continuing to change as you grow in Christ right now.
I know it's a bit of a paradox, but you are in the ongoing process of spiritual growth by cooperating with—by working with—the Holy Spirit to become more and more like Christ.
This defines the sanctifying work of the Holy Spirit. It is a continuous process of change because we've all got a long way to go before we become like Jesus. There's lots of room for improvement for every one of us. And how we deal with anxiety is one of those growth areas.
Wherever you are now—and it's different for everyone—take the next step toward Christ. And since anxiety is such a huge problem area for most of us, let's work on taking your next step toward Christ and your life in him, whatever that may be.
Again, Max Lucado observes in Anxious for Nothing:
It is not God's will that you lead a life of perpetual anxiety. It is not his will that you face every day with dread and trepidation. He made you for more than a life of breath-stealing angst and mind-splitting worry. He has a new chapter for your life. And he is ready to write it.
Hang a Sign on Your Heart That Reads
"NO FEAR HERE!"
So, as you enter 2020, let me challenge you to begin your journey by memorizing the entire paragraph of Philippians 4:4-9.
Memorize it. Some of you maybe already have a practice of memorizing Scripture. Great! This will be easy for you. Others, I'm sure, have never memorized anything in the Bible. Well, this is a great place to start because the primary way to overcome anxiety with its fearful, future projections is to fill your mind with the truth of God's Word, and there is no better way to do that than to memorize Scripture.
Memorize these verses so that you can instantly bring them to mind—so you can bring this weapon into the battle that is going on in your head when you start to slip over the edge into your usual pattern of worry.
You've got to be able to interrupt the pattern that you have going on in your mind right then that leads your thoughts toward anxiety and fearful outcomes. The best way to do that is to inject God's positive promises into your thoughts and flip the script. Memorized Scripture is the very best tool you'll ever have to do just that.
Say and pray this passage at least once every day. Write it out on a notecard. Stick it in your pocket or tape it to your bathroom mirror—whatever works for you. But read it, rephrase it, reflect on it, chew on it, and let its truth fill your mind!
Why don't you read Philippians 4:4-9 out loud right here and now:
Rejoice in the Lord always. I will say it again: Rejoice! Let your gentleness be evident to all. The Lord is near. Do not be anxious about anything, but in every situation, by prayer and petition, with thanksgiving, present your requests to God. And the peace of God, which transcends all understanding, will guard your hearts and your minds in Christ Jesus. Finally, brothers and sisters, whatever is true, whatever is noble, whatever is right, whatever is pure, whatever is lovely, whatever is admirable—if anything is excellent or praiseworthy—think about such things. Whatever you have learned or received or heard from me or seen in me—put it into practice. And the God of peace will be with you.
Now keep that up as many days as possible. Own it. Make it yours. Use the truth of God to combat the false fears that come your way.
Peace in Christ: The Guaranteed Outcome
What a great promise at the end: The peace of God. The peace of God is with you, in you, around you, protecting your heart and mind through and in the reigning Son of God.
Christ's peace protects us from the onslaught of things that we could worry about.
For Christians and for non-Christians, the presence of anxiety in our lives is unavoidable. Still, it doesn't have to become a prison. It can be replaced with FREEDOM and PEACE!
In this regard, a closer relationship with Jesus isn't optional for us. It's essential!
As we learn about God's character and love and wisdom, it draws us closer to Christ. And as we grow closer to Jesus, he promises to guide us in the best way to live. Our relationship with the Lord can lead us to greater peace as he comes alongside us through the indwelling presence of the Holy Spirit.
One Other Practical Next Step
Here's a resource I'd recommend that you get. It's a booklet by Max Lucado entitled "Less Fret, More Faith." It's a very simple, short workbook that highlights some great antianxiety strategies to practice in your daily walk with the Lord Jesus Christ. It is available very inexpensively on Amazon.
Let's pray that 2020 is the year that we grow into the person Christ wants us to be through his life-changing love—so that there will be "no fear here!"
---
About the Author
Dr. Jeff Ebert has been the Senior Pastor of the New Providence Presbyterian Church in New Providence, NJ, near New York City since 1999. His passion is to make Jesus Christ relevant to real life through challenging preaching and creative leadership. Jeff earned an M. Div. from Gordon-Conwell Theological Seminary and a D. Min. from Columbia Theological Seminary. Prior to coming to New Jersey, Jeff was an associate pastor for congregations in Philadelphia and Cincinnati and also served eight years as an Area Director for Young Life. Jeff has a strong commitment to missions, and he travels internationally at least once a year. In his spare time, Jeff enjoys writing fiction and teaching Japanese martial arts. Jeff and his wife, Donna, have one son who works in Manhattan.
Beneath the Tree of Life
A Reading from Surprised by Scripture
T
he great vision
 of the New Jerusalem at the end of the Book of Revelation is a vision of ultimate beauty (
Rev. 21–22
). The word 
beauty 
doesn't occur much in the Bible, but the celebration of creation all the way from Genesis, through the Psalms and prophets, on into the Gospels and here in Revelation, should alert us to the fact that, though the ancient Jewish people did not theorize about beauty like the Greeks did (that's another story, and a fascinating one, though not for today), they knew a great deal about it and poured their rich aesthetic sensibility not only into poetry but also into one building in particular: the temple in Jerusalem, whose legendary beauty inspired poets, musicians, and dancers alike. This is the temple where YHWH's glory is glimpsed, not as a retreat 
from 
the world but as a foretaste of what is promised 
for 
the whole world. In the great vision of John, the temple has disappeared because the whole city has become a temple; the point of the city is not that it is a place of retreat from a wicked world but that its new life is poured out into the whole world, to refresh and heal it. …
In passages like this we see, with the eye of the apocalyptic visionary, the astonishingly powerful beauty of God's new creation, beauty that should serve as an inspiration to artists and, through their work, to all of us as we seek to give birth to the life of the new creation within the old. The golden city, perfectly proportioned, equal in length and breadth and even, remarkably, height, has, says John, the glory of God and a radiance like a very rare jewel, like jasper, clear as crystal. The wall is built of jasper, while the city itself is pure gold, clear as glass. The foundations are adorned with jewels: jasper, sapphire, agate, emerald, onyx, cornelian, chrysolite, beryl, topaz, chrysoprase, jacinth, and amethyst. The twelve gates are twelve pearls, while the streets of the city are pure gold, transparent as glass. I confess that my knowledge of jewelry is so poor that I can't at once envisage those shining foundations, but I know that whoever wrote this passage delighted in them and wanted readers to do the same, relishing them one by one and in their glittering combination.
In the great vision of John, the temple has disappeared because the whole city has become a temple.
I know too that the idea of city streets paved with gold had nothing to do with fabulous wealth – pity the poor human race, when dazzling beauty is reduced to purely monetary function! – but rather with the most ravishing and wonderful beauty imaginable. This is the apocalyptic vision of the beauty of God. And it is given to us not so that in desiring to belong to that city we forget the present world and our obligations within it, but so that we will work to bring glimpses of that glory into the present world, in the peacemaking that anticipates the Isaianic vision of the wolf, the lamb, and the vegetarian lion; in the doing of justice that anticipates the final rule of the true Messiah; in the work of healing that springs from the water of life flowing from the city into the world around; and not least in the glorious art that gives birth to genuine beauty within a world full of ugliness, which bridges the gap between Isaiah's present and future visions, a world full of glory and a world to be filled yet more completely.
As an aid to this reflection, and to the vocations that follow from it, let me close with a truly remarkable example of the sort of thing I mean. In Revelation 22, the river of life flows from the city to irrigate the surrounding countryside, and on its banks grows the tree of life: not a single tree, as in Genesis, but many trees, now freely available, bearing fruit each month and with leaves for healing. This image of the tree of life and the radical and beautiful healing it promises has generated an extraordinary work of art, commissioned jointly by the British Museum and Christian Aid, and created by artists in Mozambique after the end of that country's long and bitter civil war.
The work is a sculpture of the tree of life. It stands nine or ten feet tall, with branches spreading nine or ten feet in all directions. In it and under its shade are birds and animals. And the whole thing – tree, creatures, and all – is made entirely from decommissioned weapons: bits and pieces of old AK-47s, bullets and machetes and all the horrible paraphernalia of war, most of them made in peaceful Western countries and exported to Mozambique so that the government aid given by the West to that poor country would flow back to our own industries. The point – and it is a stunningly beautiful object at several levels – is that this particular "Tree of Life" reflects the Isaianic promise that swords will be beaten into plowshares and spears into pruning hooks. The tree stands as a reminder both of the horror of the world, with its multiple human follies and tragedies, and of the hope of new creation. It has an immediate and powerful message for the people of Mozambique, who had forgotten how to hope, had forgotten that there might be such a thing as peace, as they are invited to sit under the tree and enjoy its fruit and its healing. But it is also a sign of what genuine art can be, taking a symbol from the original creation, building into it full recognition of horrors of the present world that by themselves would lead us to despair, and celebrating the promise for the new world, a world filled with God's glory as the waters cover the sea. It offers celebration without naïveté, sorrow without cynicism, and hope without sentimentality. Standing before it is like glimpsing an apocalyptic vision, a vision of the beauty of God.
Reflecting on this vision ought to inform and direct our thinking and action in many fields of inquiry and endeavor. But for the moment we might do well simply to pause in contemplation and gratitude. This is the vision of God's new heavens and new earth; within that vision, each of us has a particular calling – prophetic, artistic, political, theological, scientific, whatever it may be – by which God will call us to bring signs of that new world to birth within the old one, where vision is still limited and widows still weep.
---
Source: Surprised by Scripture (New York: HarperOne, 2014). Used by permission of the publisher.
Finding Balance
Seasons of life run their course, and no matter who we are or at what stage we're at, we often see balance as an impossibility.
You can focus on a project you love and not even miss eating, or you may procrastinate your unpleasant tasks and bow to the tyranny of the urgent. You can help others reach their dreams but never realize your own. Or you may even teach about intimacy with God but never spend time with Him yourself. Do any of those fit you?
We can usually find an excuse to fit every situation: It's the kids, my boss, my husband or wife.  It's my health, my editor, or my age in life. Believe me, I've offered my share of excuses along with you. But I long for this thing called balance, don't you?
Keeping Life in Balance
Keeping life balanced is not easy for anyone, but here are ten simple ways that help me daily. Maybe it will give you a good place to start: 
Spend some time alone with God—prayer, Bible study, meditation.

Encourage someone else by doing something nice for them–a loved one, neighbor, friend, or stranger.

Complete something that is necessary (not your favorite, but good for you).

Add a physical exercise—walking, aerobics, jogging, weight training.

Do something you enjoy.

Include a mental exercise—reading, writing, journaling, working a puzzle.

Learn something new—from a textbook, magazine, newspaper, blog.

Laugh out loud.

Record a blessing—give thanks, writing down if possible.

Give something away: a compliment, a gift, time, your testimony, a kind deed, money, or goods.
Try placing this list near your computer, on your desk, in the bathroom, or on the refrigerator—wherever you'll see it the most often.
Balance is a Discipline and a Grace
Sound too disciplined? In his book Freedom of Simplicity, (HarperOne, 1997), Richard Foster says that simplicity is both a discipline and a grace ("because it is given to us by God").
Adding balance to your day is similar. Surprisingly enough, these "simple ways" may not be so simple, but the more you work at it, like any discipline, the more you'll be giving a wise gift—to yourself—to God–and to others.
"Mark a life of discipline and live wisely; don't squander your precious life" (Proverbs 8:32, The Message).
*You might also enjoy this post I wrote, called Simple Words to Live By.
My Personal Prayer for You
Lord, you know and understand our struggle to find balance for our lives. Help us to put You first–in the center of our lives–so that we won't squander the precious life and gifts You offer to us. Give us boldness to try new things and to discover the joy and freedom of truly living simply, yet purposefully. We're tossing our excuses, donning discipline, and embracing You and the wisdom You so graciously promise to us. Thank You for Your constant help and faithfulness.
Day-votedly Yours,
Rebecca
It's Your Turn
Which of these simple ways are most challenging for you? What other ways do you add balance to your days? I'd love to hear from you anytime. You can always write me through my contact page. Just fill out the basic name and address info, and then the e-mail will come to me. Your name or info is not shared with anyone.
Share This Post with Others
Humor….