Daily Prayer for 

January 12
Dear Father in heaven, you let us see and feel your great goodness toward us. Grant us the inner help to be victorious in the Savior, rejoicing to be by his side with faith and loyalty, and with the strength of soul that frees us from all burdens by laying them in your hands. Hear us as together we pray to you. All we ask and long for, all our concerns down to the very smallest, we lay in your hands in the one great request that your name be glorified on earth as it is in heaven. Amen.

Oscar Romero
Christians must always nourish in their hearts the fullness of joy. Try to do that, sisters and brothers. I have tried it many times, and in the most bitter situations, when slander and persecution are at their worst, I have united myself intimately with Christ as my friend, and I have tasted a sweetness that all the joys of earth cannot give. It is the joy of God's intimacy, the profoundest joy the heart can experience, even when people don't understand you. Christ pronounced these words of joy on the tragic last night of his life, knowing that the next day even his disciples would abandon him. No doubt there was fullness of joy in the depths of Christ's soul even when he was ascending Calvary in the bitter agony of his passion, because he was doing the will of his Father and he felt that God was not abandoning him despite all appearances of abandonment. "I have told you this so that my joy may be in you and your joy may be complete".
Source: The Scandal of Redemption
Sunday, January 12, 2020
Blessed is the man who perseveres under trial, because when he has stood the test, he will receive the crown of life that God has promised to those who love him.
Thoughts on Today's Verse…
This beatitude comes from Jesus' brother. He had experienced it and not just taught it! James knew it was worth "hanging in" and "hanging on" when his faith was under attack. He affirmed that God loves us and that he has made incredible promises about what lies ahead for us. He knew that eventually our period of testing would be transformed into a time of great blessing. James wants us to know that God longs to bless us with life! After all, that's why he sent Jesus. (cf. John 10:10)
My Prayer…
Dear LORD and Father, thank you for all those times that you strengthened me when I was under attack and sustained me when I was weary and ready to quit. Write "perseverance" deep within my soul and give me a spirit of tenacity so that I might serve you no matter what the outward circumstances of my life may be. In the mighty name of Jesus I pray. Amen.
Devotions…Charles H. Spurgeon
Morning, January 12
Ye are Christ's. 1 Corinthians (3:23)
"Ye are Christ's." You are his by donation, for the Father gave you to the Son; his by his bloody purchase, for he counted down the price for your redemption; his by dedication, for you have consecrated yourself to him; his by relation, for you are named by his name, and made one of his brethren and joint-heirs. Labour practically to show the world that you are the servant, the friend, the bride of Jesus. When tempted to sin, reply, "I cannot do this great wickedness, for I am Christ's." Immortal principles forbid the friend of Christ to sin. When wealth is before you to be won by sin, say that you are Christ's, and touch it not. Are you exposed to difficulties and dangers? Stand fast in the evil day, remembering that you are Christ's. Are you placed where others are sitting down idly, doing nothing? Rise to the work with all your powers; and when the sweat stands upon your brow, and you are tempted to loiter, cry, "No, I cannot stop, for I am Christ's. If I were not purchased by blood, I might be like Issachar, crouching between two burdens; but I am Christ's, and cannot loiter." When the siren song of pleasure would tempt you from the path of right, reply, "Thy music cannot charm me; I am Christ's." When the cause of God invites thee, give thy goods and thyself away, for thou art Christ's. Never belie thy profession. Be thou ever one of those whose manners are Christian, whose speech is like the Nazarene, whose conduct and conversation are so redolent of heaven, that all who see you may know that you are the Saviour's, recognizing in you his features of love and his countenance of holiness. "I am a Roman!" was of old a reason for integrity; far more, then, let it be your argument for holiness, "I am Christ's!"
Devotional Reading
Man does not live by bread alone.
—Moses
Sometimes I Wince at the Weight of your Hand
Three poems about calling and obedience
Devon Balwit
My Measure
No better than a dog, I am
easily fooled and overruled, a slave
to my sack of gut, nose aquiver
with the season. Sometimes, I wince
at the weight of your hand; sometimes,
I importune into whatever cleft
comes closest. I am not the best exemplar
of my breed and can only hope myself
familiar enough to keep my place,
endearingly fond, so that while I stare
mournfully at the front door,
you summon me from the back.
Interview
Many called but few chosen, we eye each other,
clutching our brief-cased particulars.
Spit-shined, not much separates us but accidents
of hue and coiffure. A late-comer, I cradle
a thin dossier, so light my briefcase, hurled,
would hardly dent drywall. I hope it doesn't
come to that. Did they answer an advertisement,
or were they summoned like me, in a whisper
of red letters? Some, nonchalant or good
fakers, chat. I keep to myself, not sharing
the lingo. A single affright and I'd run.
Would something pursue, all eyes and wing-blur,
or would I exit to a squeak of shoes
across the vast antechamber's waxed solitude?
The Call
When the call comes, goodness,
what a clamor all around.
I can hardly hear, so I step out,
cupping a hand to my ear.
Come again? I say. The reply
is faint. I proceed, assuming
I'll understand as I go. Not
a solicitor, this someone
seems to know me. I strain
until static drowns
our connection. Perhaps,
he'll try later.
Boy with a Dog by Pablo Picasso, 1905
   ~~~Dion Todd
A Gift for God
If I were hungry, I would not tell you, for the world is mine, and all that is in it. Will I eat the meat of bulls, or drink the blood of goats? Offer to God the sacrifice of thanksgiving. Pay your vows to the Most High. Call on me in the day of trouble. I will deliver you, and you will honor me.' Psalms 50:12 WEB
God owns the entire universe, above and below, seen and unseen. Some people think that the devil will own hell and rule there. Not so. The devil will be imprisoned there just like anyone else who rejects Jesus Christ. In fact, he was why it was built, and he will just be another inmate.
God owns the cattle on a thousand hills, the money in our pocket came from Him, as well as the shirt on our back. What can we give God that He does not already have? Praise and thanksgiving from our heart. A thankful heart goes a long, long way with God.
So simple in theory, yet so difficult in practice. Stump your toe or smack your thumb with a hammer and see what tries to come out of you. 'God thank you for not letting me break it' would be a good response, yet sometimes I do something else.
Be thankful for what God has already given you. If you are reading this, you evidently are still breathing, so be thankful for that. Tell God 'Thank You for what you have already done for
me.' Praise is right along those lines. 'God, You are AWESOME! I could have never done that without You!' That is the gift that God does not have.
Prayer: Heavenly Father I thank You today for all that You have blessed me with. You have been good to me and I so appreciate it. Please draw me to You, teach me about You, make me stedfast, in the name of Jesus Christ I pray.
Bible Fun Fact: After his wife Sarah died Abraham married a lady named Keturah with whom he had 6 sons (Gen 25:1-4).
"20/20 in 2020"
The Most Important New Year's Resolution
Any Jesus Follower Could Ever Make
As we begin the decade of the 2020s, I want to share with you the same challenge I brought this New Year's Eve to 150 brothers in Christ who are currently inmates in a famous maximum-security prison. It set that company of Jesus followers on fire and gave them a whole new sense of purpose for the year ahead. It can do the same for you.
This blog post is about more than a New Year's RESOLUTION. It is about a New Year's REVOLUTION designed to transform your daily walk with Christ throughout this year—and for the rest of your life.
Jesus Is the Masterpiece.
Now He Wants to Be Your Light and Your Eyes Too.
To fully enjoy the magnificence of the portraits and landscapes in New York's Metropolitan Museum of Art, you need at least two resources. First, someone needs to turn on the lights. In the dark, all the paintings look the same because you can't even see them to start with!
But secondly, you need a good pair of eyes. Best of all, you need what optometrists refer to as "20/20 vision." If you have 20/120 or 20/160 vision, your ability to appreciate acclaimed works of art is greatly diminished. If you are totally blind, then your ability to enjoy these beautiful paintings is essentially eliminated. Standing in the lighted viewing room, you need eyes that can clearly explore every vivid detail of the masterpieces before you.
Similarly, we should regard our Lord Jesus in these three ways: (1) He himself is God's MASTERPIECE, meant to occupy our full attention. As well, (2) he is the LIGHT by which we are enabled to see the beauty of his glory. And (3) he also must give us the EYES we need to view him with precision, clarity, and full appreciation. Let's look at the three aspects of this analogy in more detail.
1. Jesus himself is God's grand MASTERPIECE. The Father has exalted his Son to be viewed and valued by all the saints, all the holy angels, and all of the cosmos.
"[I]n these last days, God has spoken to us by his Son, whom he appointed heir of all things, and through whom also he made the universe. The Son is the radiance of God's glory and the exact representation of his being, sustaining all things by his powerful word" (Hebrews 1, emphasis added).
Our Lord Jesus is sort of like all of the magnificent works of art of all the ages summed up into one spectacular person in the fullness of his supremacy.
One day, for sure, "every eye will see him" (Revelation 1). But the Father wants you and me to start gazing on him right now as we "fix our eyes on Jesus" (Hebrews 12).
2. At the same time, Jesus is the LIGHT the world needs in order to see him (as he said more than once).
To see him is to see God (John 14). To come to him is to bring everything else with us into the light (Ephesians 4). To walk with him in the light that he has become for us is to maintain constant fellowship with both the Father and the Son (1 John 1). As one gospel puts it:
In him [Jesus] was LIFE and that life was the LIGHT of humankind. And this light continues to shine in the darkness, but the darkness has never put it out (John 1, emphasis added).
Bottom line: Jesus is not only God's everlasting MASTERPIECE (and our everlasting Master, as a result) but also he offers to become for us the LIGHT that day by day makes visible to us, by God's Word and God's Spirit, all the wonders of who he really is today.
3. However, in equal measure, Jesus must become for us the NEW EYES we need to see what his light reveals of his spectacular supremacy. Let's dig deeper into this third metaphor.
God Is Ready to Give Anyone 20/20 Vision
Every year, I get an eye exam. In the past three years, however, my eye doctor has remarked that, to her surprise, my eyes are actually growing stronger, contrary to how it usually happens as we age! This fall, she suggested that I am so close to 20/20 eyesight that I really don't need to depend on my contact lenses anymore.
I have no explanation for this phenomenon apart from God's grace.
But this much I also know: If this kind of dramatic reversal can happen to the physical eyeballs of a mortal man, then surely it is no hard thing for God to restore for any Jesus follower a vision of their reigning Redeemer that is pure, clear, sharp, wide-open, and unimpeded.
Paul knew this. That is why he offered this prayer for new eyes for the Ephesian congregation—a prayer that applies to all Christians at all times, including you:
I keep asking that the God of our Lord Jesus Christ, the glorious Father, may give you the Spirit of wisdom and revelation, so that you may know him better. I pray that the eyes of your heart may be enlightened in order that you may know the hope to which he has called you, the riches of his glorious inheritance in his holy people, and his incomparably great power for us who believe (Ephesians 1, emphasis added).
So, how is it with the "eyes of your heart" right now?
Scripture is clear all the way through the Bible that Paul's prayer for us to have a stronger vision for Jesus' glory has been God's desire for his people from the beginning. He wants that for you. Consider these few examples:
God forced Jacob to wrestle all night with him (Genesis 32). But afterward, Jacob called the spot "Peniel" (which in Hebrew means "The Face of God") because Jacob said he had finally seen God in a new way, like being face-to-face with him. That is precisely why God initiated the match in the first place.
Moses found renewed strength to lead a rebellious nation through their wilderness wanderings after Moses cried out for help. God answered by giving him new eyes to see his presence and his glory (Exodus 34).
Full of fear about the future when the 50-year reign of Uzziah came to an end, Isaiah suddenly had portrayed before him the majesty of the true King, high and lifted up. With those new eyes, he offered himself to serve God at any cost, without fear (Isaiah 6).
For Job, new eyes were given him out of a lengthy season of great suffering. But in the end, Job declares in chapter 42 that it was worth it all because out of his agony, he gained new eyes to "see" God, not just "hear" about God.
Jesus: Heaven's Supreme Optometrist
But God's primary and ultimate strategy for giving his people 20/20 vision of his glory is to make JESUS not only our healer but also the one who becomes the actual new eyes we so desperately need. Today, in much greater ways, Jesus wants to fulfill and fill full in our lives all of the accounts of God giving new eyes to the Old Testament believers.
Jesus is the same yesterday and today and forever (Hebrews 13). In John 9, after healing a physically blind man, he proclaimed he had come so that "those who are blind might see." It's no different today. In his inaugural address that launched his public ministry, Jesus said the Spirit of God had empowered him to "give sight to the blind," not just physically but spiritually (Luke 4).
Think of how the risen Savior ministered to the two disciples heading to Emmaus on the first Easter evening. In their seven-mile walk, he filled them with biblical teachings about the wonders of who he is so that their hearts were on fire. Then he gave them new eyes internally so that their external eyes were "opened," and they "recognized him." He wants to do the same for all of us today.
In fact, Jesus' heart is set on the ultimate "new eyes in our hearts" that we'll receive when he returns in glorious triumph to reign openly and forever. As he faced the cross, this was the burden of his prayer in the upper room when he asked the Father:
Father, I want those you have given me to be with me where I am, and to see my glory, the glory you have given me because you loved me before the creation of the world (John 17, emphasis added).
That prayer will be fulfilled! Here's your destiny in the new heaven and earth:
The throne of God and of the Lamb will be in the city, and his servants will serve him. They will SEE his face, and his name will be on their foreheads. There will be no more night. They will not need the light of a lamp or the light of the sun, for the Lord God will give them light. And they will reign forever and ever (Revelation 22, emphasis added).
Giving us new eyes to see clearly what his light reveals—this remains Jesus' passion for us.
This was the great need of the Christians who gathered in first-century Laodicea (Revelation 3). Smugly, they had concluded that they enjoyed perfect spiritual eyesight. But Jesus told them that actually they were totally blind when it came to grasping who he really is and what he is all about. That's why their Savior advised them to "buy from me eye salve to put on your eyes so that you may see." He promised that as they opened their doors to him once again, this loving "Optometrist" would "come in and dine" with them, face-to-face, eye-to-eye.
So, Why Not Get Yourself Some King Jesus Glasses?
As I describe in my latest book, CHRIST IS NOW!, we ALL need the larger, sharper, more thrilling outlook that comes through wearing "King Jesus Glasses." Here's a part of what I wrote there:
Let's talk vision.

The fact is that the time is long overdue for the Church to set itself about the task of recovering a thoroughgoing King Jesus-sized vision.

It's time we get ourselves refitted with the eyewear many of us have misplaced, often inadvertently. Or maybe no one ever gave us the right pair of glasses in the first place.

I'm talking about our very own "King Jesus Glasses"—spiritual spectacles to correct the all too prevalent shortsightedness that keeps many believers from seeing more clearly our Royal Redeemer for who he really is: high and lifted up; seated at the helm of the universe; ruling triumphantly at this very moment from the center of God's throne; Head of the Church; Lord and Master of all who trust in him.

Once you get hold of a pair of King Jesus Glasses, however, it changes the way you look at everything!

These glasses are a unique pair of invisible bifocals designed to equip Christ followers to view reality (including ministry) in two essential directions at the same time.

First, these sacred lenses serve to provide an uncommonly lofty view of our Lord Jesus himself, helping Christians survey with greater clarity all he embodies as the unparalleled, unrivaled King of kings.

But, concurrently as bifocals, they are designed to equip us to see all the rest of life through the wonders of the lordship of Jesus—interpreting the world around us, and more specifically the entire Christian life, based on how the ascended Son of God is manifesting himself daily as mediatory monarch over every aspect of who we are and what we're about.
Steps You Can Take in A.D. 2020
to Gain a Christ-Focused 20/20 Vision
For starters:
1. Give yourself an "eye exam." Do it this way: Take just five minutes to write down everything you can list about who Jesus is
TO you (how you see him as the person of God's Son)
FOR you (how you see his saving work for you from Incarnation to Ascension)
OVER you (where you see the impact of his kingdom reign)
BEFORE you (where you see him leading you)
WITHIN you (what you see him doing to transform you)
THROUGH you (how you see him minister to others by using you)
UPON you (where you see him taking you deeper and further in your walk with him)
OK, your five minutes are up! Look at what's written on your paper so far. You may be slightly shocked at how meager the list is. This initial "exam" convinces most of us how much more of the glory of Christ we all still need to discover and explore.
Taking stock of our condition is the best first step toward getting new, Christ-focused eyesight.
Next, ask yourself: Where and how would I like to begin to improve and enlarge my vision of Christ?
2. Seek and speak daily. This is what I mean by this step: Every day, commit yourself to SEEK from God's Word one fresh, exciting insight about Jesus (foreshadowed in the Old Testament or fully expressed in the New Testament). Then SPEAK it to others—on a phone call, by email, in conversation, by text or tweet.
Those two actions combined—seek and speak—when completed daily, will sharpen your own vision of Christ very quickly. Guaranteed!
3. Prepare for a total eye transplant. That's the most promising step you can take. Why? Because this is precisely what the Holy Spirit has come to give all of God's people—to transplant "Heaven-crafted eyeballs" into our hearts that are able to behold the living, reigning Christ so that the glories of who Jesus is today fill your vision as a way of life.
Pray out Paul's heart cry in Philippians 3 before God's throne: "Oh, that I may know him!" Make this request part of your regular prayer agenda.
Get your daily prayer life in step with Paul's request in Ephesians 1. Pray that the eyes of your heart would be enlightened in order that you might know the hope to which he has called you, the riches of his glorious inheritance in his holy people, and his incomparably great power for us who believe.
Reflect on and then pray every day for one week the words of the well-known Scottish hymn, sung around the world:
Be Thou my vision, O Lord of my heart.
Naught be all else to me, save that Thou art.
Thou my best thought by day or by night,
Waking or sleeping, Thy presence my light.
Don't Make a Resolution.
Instead, Unleash a Revolution!
If you embrace the motto "20/20 in 2020," this will become nothing short of revolutionary in your life over the next 12 months.
Wait until you compare the way you see Jesus on January 1, 2021, versus how you saw him January 1, 2020. You'll be astonished at how radically your walk with him has been transformed!
To that end, right now, take another 90 seconds to view this inspiring video clip. It's all about getting King Jesus Glasses. Let it begin the launching of a Christward revolution in 2020 in your life.
Then, write down on an index card the simple motto below—as your goal and your passion for the coming year. Place it where you'll see it every day, such as in your Bible or on your bathroom mirror. Share the motto with your family or friends, explaining why it is so meaningful for you, maybe in an email or text. Day by day, keep declaring:
"20/20 in 2020!"
As we walk with King Jesus throughout the next twelve months, may we grow to "see him more clearly, love him more dearly, and follow him more nearly, day by day" (Richard, Bishop of Chichester, 1253).
---
About the Author
Over the past 40 years, David Bryant has been defined by many as a "messenger of hope" and a "Christ proclaimer" to the Church throughout the world. Formerly a minister-at-large with the InterVarsity Christian Fellowship, president of Concerts of Prayer International (COPI), and chairman of America's National Prayer Committee, David now provides leadership to ChristNow.com and Proclaim Hope!, whose mission is to foster and serve Christ-awakening movements. Order his widely read books at DavidBryantBooks.com.

What Jesus Did!

 'The Near Kingdom'

Later on, after John was arrested, Jesus went into Galilee, where he preached God's Good News. "The time promised by God has come at last!" he announced. "The Kingdom of God is near! Repent of your sins and believe the Good News!"
Key Thought
Mark wanted us to see that Jesus' baptism by John, Jesus' temptations in the wilderness, and John's arrest led to the beginning of Jesus' ministry. Jesus went to Galilee, the place of ministry in Mark's Gospel. He began to preach "God's Good News" about the nearness of God's Kingdom. This nearness of the Kingdom and this presentation of Good News mean people must respond by turning away from their sins. God's will must reign in our hearts if we are to receive this Kingdom. God's Good News must call us from our sin if we are to experience the power of this Kingdom in our own lives. So the question comes to you and to me: Have I welcomed the Good News and turned from my sins?
Today's Prayer
Holy and righteous Father, God of mercy and grace, I believe that your Son has brought me your Good News. I believe you want to have the power of your Kingdom reign in my heart and be seen in the fruit of righteousness produced in my life. I gladly offer you my heart, soul, strength, and mind to show you my love for you and for others and show you my desire to honor you. In Jesus' name. Amen.
Related Scripture Readings
Unstoppable!

 'Now What?'

[After Jesus' ascension,] the apostles returned to Jerusalem from the Mount of Olives, a distance of half a mile. When they arrived, they went to the upstairs room of the house where they were staying.
Key Thought
Luke's succinct description reminds me of the line of Joe Friday of "Dragnet" fame many years ago: "Just the facts, ma'am!" Luke appears to be laying down the simple facts of what happened. We know, however, that the apostles had seen their Lord raised from the dead and ascend back into the heavens. Then, they grasped the significance of the angels' question (
Acts 1:11
), and they obeyed what their Savior had commanded them to do (
Acts 1:4
). They went back to Jerusalem to wait spiritually in prayer, listening, and anticipating. Their simple obedience should be a reminder that obedience leads to the release of God's power.
Today's Prayer
LORD, you are worthy of all of my devotion and obedience because you are eternal, all-powerful, pre-existent, and beyond anything my mind can comprehend. I thank you that, even though it was your right to demand my obedience, you chose first to extend your grace and then called me to obey. Thank you for this mercy. Thank you for showing me your love and your desire to have a relationship with me as your child. I willingly offer you my obedience in response to your love. Forgive me when my obedience is incomplete. Forgive me when I don't immediately obey. I pray that the Holy Spirit will continue the work of transforming me to be like Jesus so that I do only what you, my loving Father, desire. Amen.
Related Scripture Readings
Daily Wisdom: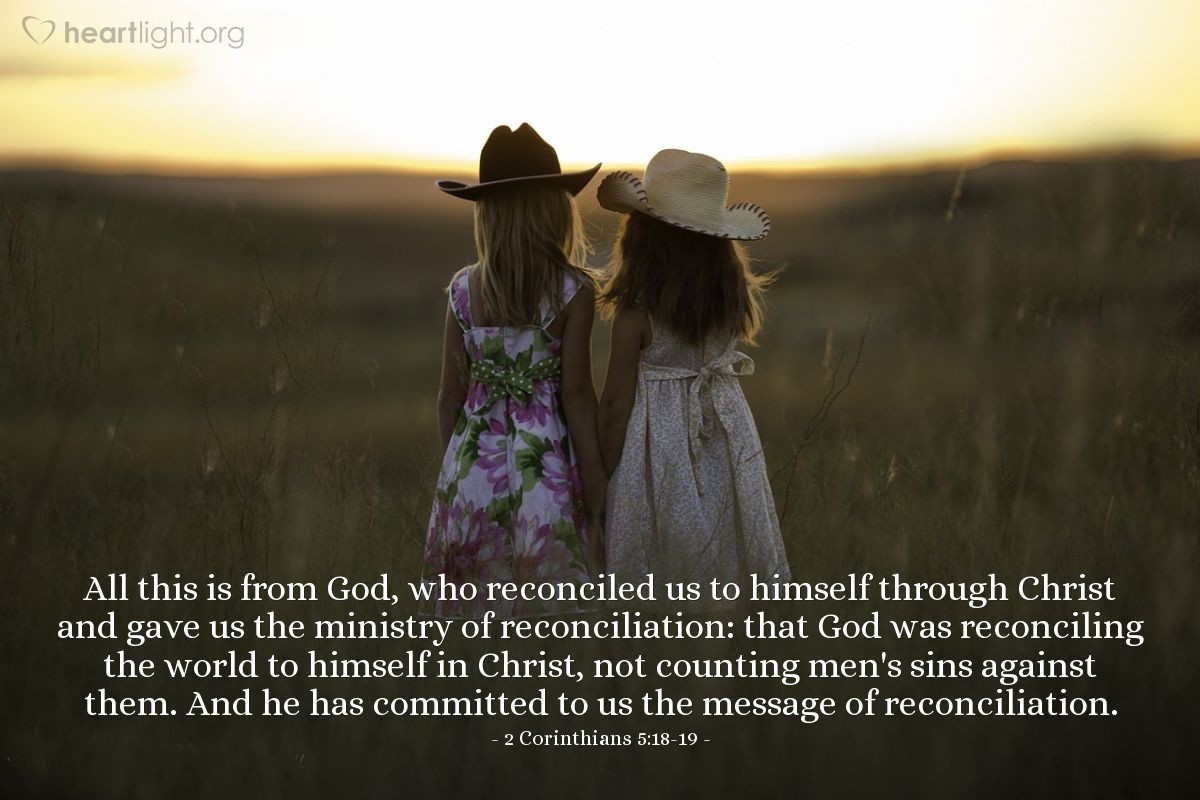 Passion for Praise:

 'A New Song to Sing'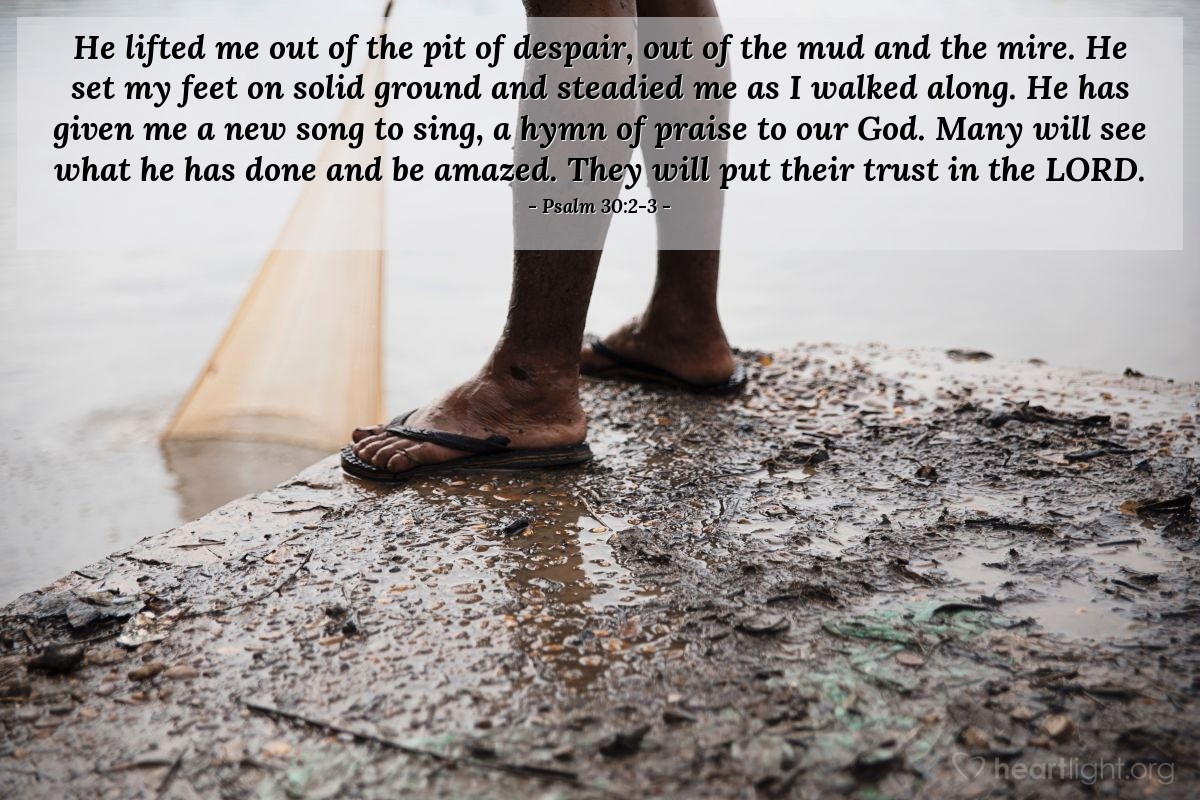 Spiritual Warfare:

 'God Can Protect Your Home & Possessions'

God's Power for Our Battles

Satan answered the Lord, "Haven't you given Job a reason to fear God?Haven't you put a protective fence around him, his home, and everything he has?You have blessed everything he does. His cattle have spread out over the land."

Lord, help me to be more like Job. You put a wall of protection around him, his family, and his property, and You were also the source of his prosperity. I pray for that same hedge of protection for my family and my property. Help me to use my life, resources, talents, and position to lead others closer to You and bring You glory. Use me — like you did Job — as a source of great encouragement to those in my sphere of influence. In Jesus' name, Amen.
A Year with Jesus:

 'Savior of the World'
Note from Jesus
Dear Beloved,
You receive these notes because you love Me and want to walk with Me in your daily life. So I want to remind you of something very important. When you take the time to value someone, especially someone whom others discard and disregard as unimportant, I can do amazing things with that person. I AM the Savior of the world. But for the world to know that I AM the Savior of the world, each person needs to know that I came for her or for him!
My conversation with the woman at the well in Samaria led to many others in her village coming to faith in Me. Her painful story was known to the people of the village. Despite the villagers' view of this woman's past and their rejection of her, she still had influence with them after her interaction with Me. When I valued her personally, specifically both listening and speaking to her heart, she realized Who I AM. Then she shared this truth with everyone. The result? Many came to Me to find out for sure if I AM Who she thought Me to be. Then, after visiting with Me and hearing My teaching, they concluded that I AM indeed "the Savior of the world"!
Please be open to the people around you. Speak to them. Value them by asking questions about their lives. Listen carefully to their answers. Gently lead them to meet Me. You don't have to convince them to believe. You don't need to twist their arms so that they will listen. Value each one of them as a person the Father deeply loves. Invite each of them to "come and see" Who I AM. The kind of person you are and the way that you value each person you meet will open the door for each one to come and meet Me.
Verses to Live
So here is the amazing result of the woman at the well learning My true identity and finding hope for her life:
The woman went back to the town, leaving her water pot behind. She stopped men and women on the streets and told them about what had happened.

Woman:

I met a stranger Who knew everything about me. Come and see for yourselves; can He be the Anointed One?

A crowd came out of the city and approached Jesus.
(John 4:28-30)

Many Samaritans from the village believed in Jesus because the woman had said:

He told me everything I ever did!

When they came out to see Him, they begged Him to stay in their village. So He stayed for two days, long enough for many more to hear His message and believe. Then they said to the woman:

Now we believe, not just because of what you told us, but because we have heard Him ourselves. Now we know that He is indeed the Savior of the world.
Response in Prayer
Gracious God, open my eyes to the people who are around me each day but whom I do not notice and do not take the time to value. I want to value people so that I can invite them to "come and see" Who Jesus is. I pray this in Jesus' name. Amen.
Humor~~~
Politics…