Daily Prayer for 

December 29
Praise the Lord. Give thanks to the Lord, for he is good; his love endures forever. Psalm 106:1, NIV

Dear Father in heaven, whose might is over all the earth, we thank you for all the love you show us. We also thank you for everything that seems hard, but which you change into help and strength. We want to thank you in life and in death, in joy and in sorrow, for you are the great and mighty God, who calls us to life again and again, who leads us to fuller life. You have given us great love in Jesus Christ, our Savior. He shall always be before our eyes and remain in our hearts. Through him we can cry out in joy, "Abba, dear Father!" Amen.
Ignatius
Our God, Jesus the Christ, was conceived by Mary, of the seed of David and yet of the Holy Spirit, according to God's plan of salvation. He was born and baptized so that through his suffering he would purify the water.…From that time on every evil spell was exposed, all bonds of evil vanished, and ignorance was removed. The ancient kingdom was shattered. God revealed himself in human form to bring the newness of eternal life! Now began that which had been prepared by God. From now on everything came into motion, from now on the destruction of death was taken in hand. (Letter to the Ephesians, before AD 120)
Source: Letter to the Ephesians, as quoted in The Early Christians in Their Own Words
Share 
today

's verse

What Jesus Did!

 'Recognized in the Breaking of the Bread'

By this time [Jesus and the two disciples] were nearing Emmaus and the end of their journey. Jesus acted as if he were going on, but they begged him, "Stay the night with us, since it is getting late." So he went home with them. As they sat down to eat, he took the bread and blessed it. Then he broke it and gave it to them. Suddenly, their eyes were opened, and they recognized him. And at that moment he disappeared! They said to each other, "Didn't our hearts burn within us as he talked with us on the road and explained the Scriptures to us?" And within the hour they were on their way back to Jerusalem. There they found the eleven disciples and the others who had gathered with them, who said, "The Lord has really risen! He appeared to Peter." Then the two from Emmaus told their story of how Jesus had appeared to them as they were walking along the road, and how they had recognized him as he was breaking the bread.
Key Thought
Every meal is sacred when Christians gather to share it. When we share the Lord's Supper, we are most certainly to recognize the presence of the Lord with us. The meal in today's verses, however, is a reminder that even the most common times of table fellowship are sacred and precious moments of Jesus' presence. When we eat together, let's never let a single meal pass without our conscious realization and recognition of the Lord's being with us.
Today's Prayer
Holy Father, thank you for making meals sacred moments with your Son. Forgive me for trivializing mealtime with my brothers and sisters in Christ. I confess that I get so busy and rushed that I often miss the opportunity to welcome the Savior into our fellowship. In Jesus' name, I pray. Amen.
Related Scripture Readings
Daily Wisdom: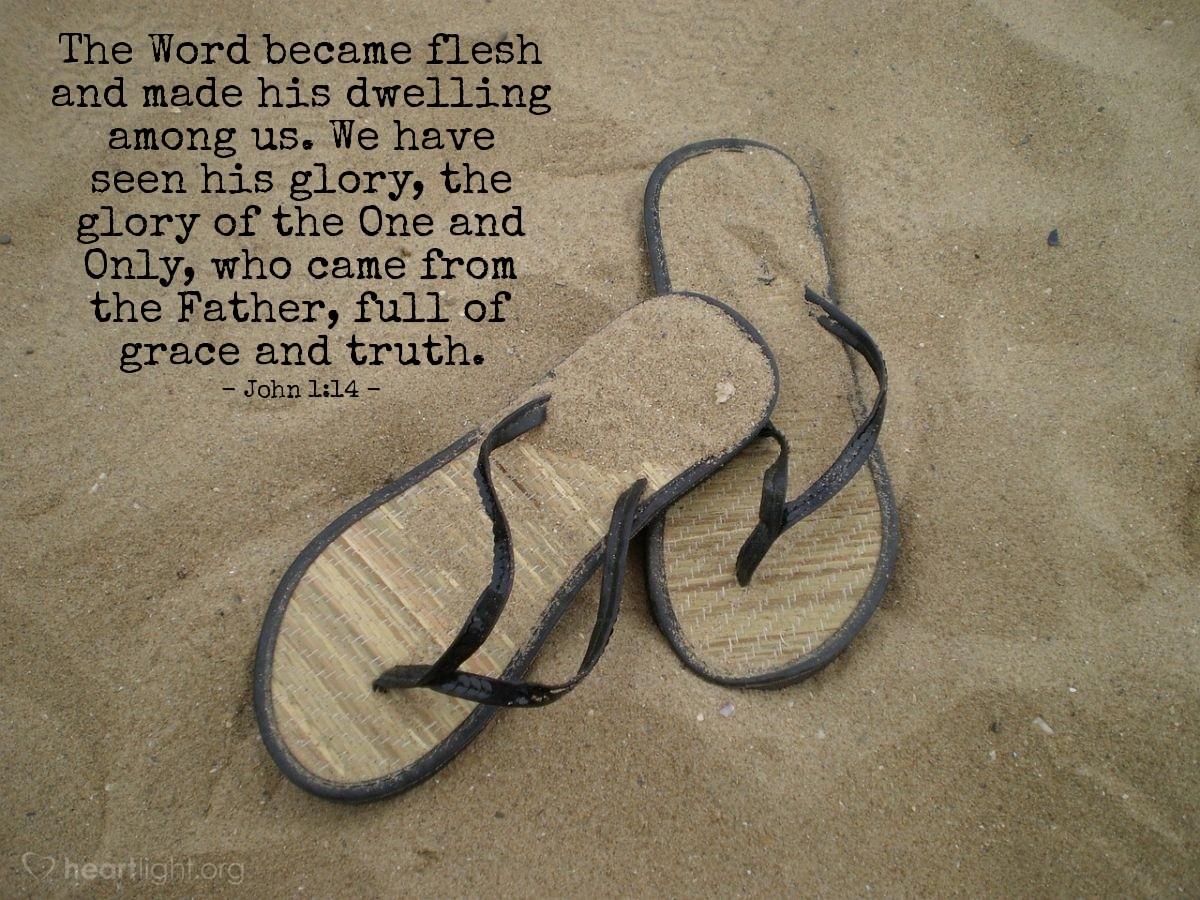 Passion for Praise:

 'At All Times'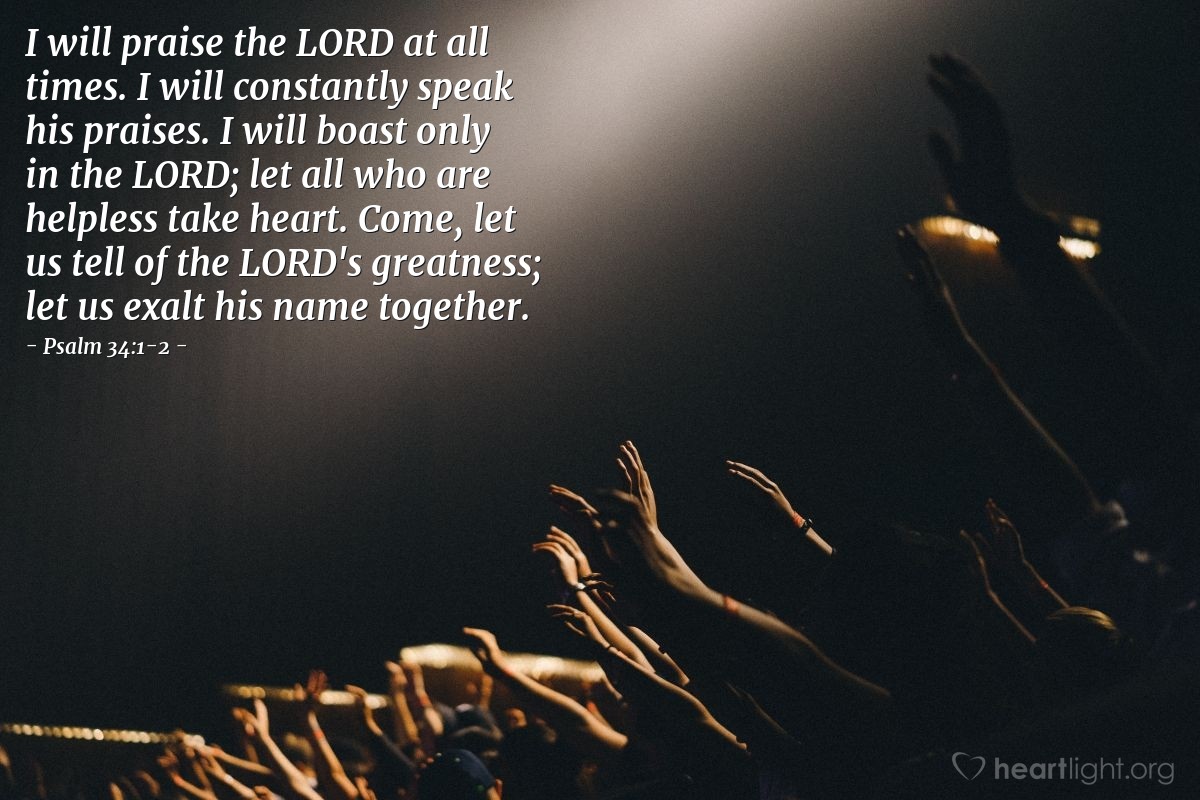 Spiritual Warfare:

 'Jesus Suffered so We Could Go Home with Him'

God's Power for Our Battles

So also Jesus suffered and died outside the city gates to make his people holy by means of his own blood. So let us go out to him, outside the camp, and bear the disgrace he bore. For this world is not our permanent home; we are looking forward to a home yet to come.

Lord, thank You. You suffered so we could eventually be able to be in heaven with You. You bled and died to make us holy, and without You, we don't stand a chance. When we see the pain and death all around us, we long for a better place, Lord, and we know that's just what You have in mind for us. May that day come soon. In Jesus' Name, Amen.
A Year with Jesus:

 'Faithful Servants Pave the Way'
Note from Jesus
Dear Servant of the LORD,
If you take the time to look at the grand story of grace in the Bible, you will notice servants of the LORD playing important roles all along the way. A few of these servants were big characters with big personalities playing big parts in the grand drama of the Bible. However, the vast majority of God's servants were bit players and role players, many of them unnamed. But each one was crucial to the story!
I want to remind you of a few of them. In fact, you might want to do some research on them if you don't recognize their names. Folks like Seth and Isaac, who do not have a lot written about them, but were hugely important in God's unfolding promises. There was Jael, a brave and clever wife who killed Israel's greatest threat. You meet three mighty men of David who brought him water from the well by the gate at Bethlehem at one of the lowest points in his life. There was Mordecai for Esther. Then there was Jehosheba who saved Joash and preserved the line of David and preserved God's promise of the Messiah. Along the way you meet an unnamed boy who provided his fish and bread that I used to feed a crowd. There was Andrew, the apostle who was in his brother Peter's shadow, but who always seemed to be the one to get people to Me. There were folks like Dorcas, Lydia, and Phoebe, who served others and blessed My early churches. There were special folks like Onesiphorus, who blessed the apostle Paul.
There were, of course, many others. I mention these just to make this one point: Behind any great movement of God, there are unnamed, yet essential, servants paving the way. We — Father, Son, and Spirit — know each person that goes with each name. We will not forget their work for the kingdom of God or the sacrifices they made.
So before you read about a few of the special servants from the story of My birth, I want to remind you of something very important. There is nothing that you do to serve others in My name that will be forgotten. In My kingdom, the greatest has always been — and always will be — a servant.
Verses to Live
Two precious people are introduced to the joy of a child after years of faithful service. Their names are Zacharias and Elizabeth.
To understand the life of Jesus, I must first give you some background history, events that occurred when Herod ruled Judea for the Roman Empire. Zacharias was serving as a priest in the temple in Jerusalem those days as his fathers had before him. He was a member of the priestly division of Abijah (a grandson of Aaron who innovated temple practices), and his wife, Elizabeth, was of the priestly lineage of Aaron, Moses' brother. They were good and just people in God's sight, walking with integrity in the Lord's ways and laws. Yet they had this sadness. Due to Elizabeth's infertility, they were childless, and at this time, they were both quite old — well past normal childbearing years.
(Luke 1:5-7)
My mother, Mary, was a precious young virgin who was challenged with the seemingly impossible and committed herself to be God's servant regardless of the cost.
Six months later in Nazareth, a city in the rural province of Galilee, the heavenly messenger Gabriel made another appearance. This time the messenger was sent by God to meet with a virgin named Mary, who was engaged to a man named Joseph, a descendant of King David himself. The messenger entered her home.

Messenger:

Greetings! You are favored, and the Lord is with you! Among all women on the earth, you have been blessed.

Mary (deciding in her heart):

Here I am, the Lord's humble servant. As you have said, let it be done to me.
Two older servants of the LORD, Simeon and Anna, proclaimed the meaning of My birth as they met Me in the Temple.
While fulfilling these sacred obligations [the dedication of Jesus and a sacrifice] at the temple, they [Joseph and Mary] encountered a man in Jerusalem named Simeon. He was a just and pious man, anticipating the liberation of Israel from her troubles. He was a man in touch with the Holy Spirit. The Holy Spirit had revealed to Simeon that he would not die before he had seen the Lord's Anointed One. The Spirit had led him to the temple that day, and there he saw the child Jesus in the arms of His parents, who were fulfilling their sacred obligations. Simeon took Jesus into his arms and blessed God.

Simeon:

Now, Lord and King, You can let me, Your humble servant, die in peace. You promised me that I would see with my own eyes what I'm seeing now: Your freedom, raised up in the presence of all peoples.

At that very moment, an elderly woman named Anna stepped forward. Anna was a prophetess, the daughter of Phanuel, of the tribe of Asher. She had been married for seven years before her husband died and a widow to her current age of 84 years. She was deeply devoted to the Lord, constantly in the temple, fasting and praying. When she approached Mary, Joseph, and Jesus, she began speaking out thanks to God, and she continued spreading the word about Jesus to all those who shared her hope for the rescue of Jerusalem.
(Luke 2:36-38 )
These are just a few of the precious and faithful servants who paved the way for My coming to you!
Response in Prayer
O Father, I sometimes feel that no one notices the kind things I try to do for them — this feels especially true with those closest to me and whom I love most dearly. I know that I am selfish to feel this way. So I am thankful for the reminder about those who served You in the past. These examples remind me that I don't need the applause of others if I know I've blessed them, brought You joy, and paved the way for Jesus to touch their hearts. O dear Father, please be honored in my service to others and open my eyes to see how I can serve others more fully in Jesus' name. Amen.
Morning & Evening:

 Morning Devo, Dec. 29th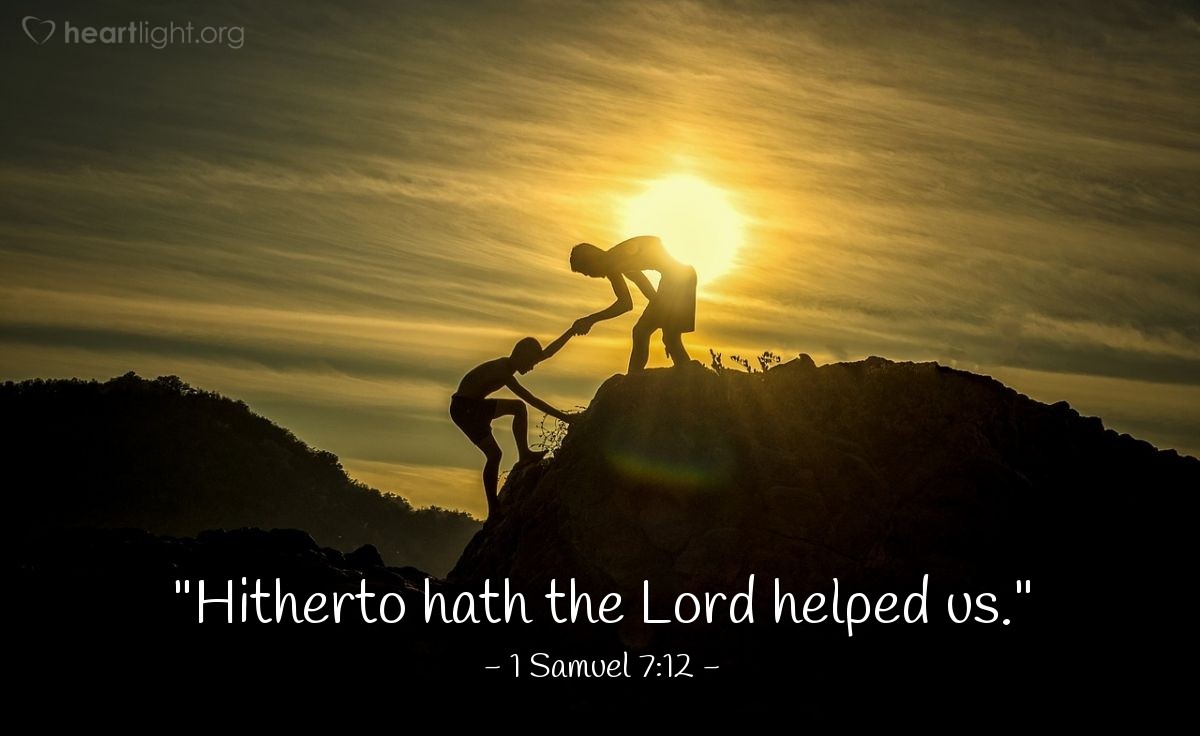 Morning Thought
The word "hitherto" seems like a hand pointing in the direction of the past. Twenty years or seventy, and yet, "hitherto the Lord hath helped!" Through poverty, through wealth, through sickness, through health, at home, abroad, on the land, on the sea, in honour, in dishonour, in perplexity, in joy, in trial, in triumph, in prayer, in temptation, "hitherto hath the Lord helped us!" We delight to look down a long avenue of trees. It is delightful to gaze from end to end of the long vista, a sort of verdant temple, with its branching pillars and its arches of leaves; even so look down the long aisles of your years, at the green boughs of mercy overhead, and the strong pillars of lovingkindness and faithfulness which bear up your joys. Are there no birds in yonder branches singing? Surely there must be many, and they all sing of mercy received "hitherto."But the word also points forward. For when a man gets up to a certain mark and writes "hitherto," he is not yet at the end, there is still a distance to be traversed. More trials, more joys; more temptations, more triumphs; more prayers, more answers; more toils, more strength; more fights, more victories; and then come sickness, old age, disease, death. Is it over now? No! there is more yet-awakening in Jesus' likeness, thrones, harps, songs, psalms, white raiment, the face of Jesus, the society of saints, the glory of God, the fulness of eternity, the infinity of bliss. O be of good courage, believer, and with grateful confidence raise thy "Ebenezer," for-
He who hath helped thee hitherto
Will help thee all thy journey through.
When read in heaven's light how glorious and marvellous a prospect will thy "hitherto" unfold to thy grateful eye!
     —Dion Todd
Recover All
Then David and the people who were with him lifted up their voice and wept, until they had no more power to weep. David's two wives were taken captive, Ahinoam the Jezreelitess, and Abigail the wife of Nabal the Carmelite. David was greatly distressed; for the people spoke of stoning him, because the soul of all the people was grieved, every man for his sons and for his daughters: but David strengthened himself in Yahweh his God. 1 Samuel 30:3 WEB
When David and his men returned home, they found their village had been burned to the ground and their families and belongings had been taken away by the Amalekites. The men with David were so upset that they talked about stoning him to death. When David was alone with everyone against him, he encouraged himself in the Lord his God. David regained his strength by focusing on the Lord for a while. That was more than enough, and within seventy-two hours, David had recovered all.
There are times when God allows us to go through things instead of around them. I don't claim to know why, but when we come out of the other side we are better, stronger people, and we have a testimony to go with it. My Dad grew up during the Great Depression, and there is hardly a generation that turned out better. Hard times make strong people that don't begin to whine when the slightest thing goes wrong.
No matter what you are going through, stick with God and it is going to work out for the best. Later you will look back and see that no matter what you have been through, you are still here. God can make the bad, work out for your own good. If you act like David, stick to God, think positive, believe His word, you will recover all that you have lost, and then some.
Today, if you feel down, defeated, and it seems that the world has turned against you, there is still hope. God is more than enough, and when He is for you, who can stand against you? As He becomes bigger in your life, your problems will become smaller. Rekindle that flame within you by recalling what God has already done in your life. He is still the God that created the universe, and you will come through this just as David.
Prayer: Heavenly Father please draw my heart to You like never before. Put a fresh fire within me and fill me with Your zeal. Fire me up God! Help me shake off the things that hold me back, to focus on You, and to become steadfast, in the name of Jesus Christ I pray.
Bible Fun Fact: David had a praise team of 4000 men (1 Chr 23:5).
15 Habits to Get Rid of in 2020-Dr. Christiana Stephen
Hello Moms,
I hope everything is going well with you and yours? 2019 has been a wonderful year. With it's ups and downs. Somehow we are here and still standing tall. This means GOD is not through with us yet.
It is 48 hours to 2020 and I thought to drop this note for someone who might need it so badly. Someone who feels down at this point. I need you to be proud of yourself for how you handled this year. I don't know about you but I fought so many silent battles with the help of God. I wiped my own tears and pat myself in the back for doing something so powerful and that's not GIVING UP.
To be here today, means we share something in common- not GIVING UP.
Before you move into 2020, here are the things to get rid off.
Bad Energy
Toxic People
Fake friends
Bad Habits
Self-doubts
Self Sabotage
Grudges
Kill your habit of comparing yourself with everyone.
Kill your habit of creating excuses
Kill your habit of making sure everything is perfect.
Kill your habit of complaining.
Kill your habit of wasting time with negative people
Kill your habit of saying yes to EVERYONE & EVERYTHING, some people deserve an outright NO
Procrastination
Habits that waste your time
It's been a Great 2019, Thanks for ALL your support and Love. I truly appreciate YOU.
Did you enjoy reading this article?…
Kindly follow my food page and fashion page on
Instagram– @50_amazingmoms and @de_ceemds.
You can join me on Youtube as well-  https://www.youtube.com/channel/UC8x2Ae7teaNE-uoYc6XhNUQ
Feel Free to be part of my community…together we can make it count…
Comment! Like! Share! Follow! You Matter to Me…
For Moms By Moms

December 29
Finally, brethren, whatsoever things are true, whatsoever things are honest, whatsoever things are just, whatsoever things are pure, whatsoever things are lovely, whatsoever things are of good report,–think on these things.–PHIL. iv. 8.
As he thinketh in his heart, so is he.–PROV. xxiii. 7.
Still may Thy sweet mercy spread
A shady arm above my head,
About my paths; so shall I find
The fair centre of my mind
Thy temple, and those lovely walls
Bright ever with a beam that falls
Fresh from the pure glance of Thine eye,
Lighting to eternity.
CRASHAW.
Make yourselves nests of pleasant thoughts. None of us yet know, for none of us have been taught in early youth, what fairy palaces we may build of beautiful thought–proof against all adversity. Bright fancies, satisfied memories, noble histories, faithful sayings, treasure–houses of precious and restful thoughts, which care cannot disturb, nor pain make gloomy, nor poverty take away from us,–houses built without hands, for our souls to live in.
J. RUSKIN.
Will You Make the Choice? – From His Heart – Week of December 29, 2019
WILL YOU MAKE THE CHOICE?
"Though the fig tree should not blossom, and there be no fruit on the vines, though the yield of the olive should fail, and the fields produce no food, though the flock should be cut off from the fold, and there be no cattle in the stalls, yet I will exult in the LORD, I will rejoice in
the God of my salvation." 
Habakkuk 3:17-18
On Thursday, December 7, I went under the knife for a total hip replacement.  Although I felt I was too young to have this much arthritis in my hip, the x-rays did not lie… nor did the pain.  As I quietly dreaded this major surgery (anytime the bone saw is utilized, it is a major surgery!), I was determined to be a blessing to every doctor, nurse, orderly, and physical therapist.  Regardless of the pain or discomfort, I was going to choose to rejoice, give thanks, and trust God to make something good from something totally unwanted.
As of this writing, I am one week post-op.  I am progressing nicely, and should be off the morphine drip any day now (just kidding).  Many people have been praying for me to have a full and speedy recovery… and God has been gracious to answer those prayers.
IT'S ALWAYS SOMETHING
As I reflect on things in my life right now, my current trial is my right hip.  However, next month it will undoubtedly be something else.  Life is just that way.  All of us are either entering a trial, in the midst of a trial, or just coming through a trial.  Trials are part of the human experience.  They are inescapable and unavoidable.  Jesus said that we would have trials and tribulations in this world (John 16:33).  But in every challenge we face, the Lord says, "My child, trust Me and rejoice."
Habakkuk 3:17 paints a bleak and dismal financial picture for any agrarian society.  The crops failed miserably.  The flocks and herds are gone, and food is scarce.  What is left to do?  Get bitter, cynical, sour, and fatalistic?  Throw in the towel on life?  Curse God and die?  NO!  The right response when the bottom drops out is to "exult in the Lord" and "rejoice in the God of my salvation!"
Did you notice that Habakkuk said, "I will…" in verse 18?  Rejoicing is not an issue of the emotions, it is an issue of the will.  I don't have to feel joyful to rejoice.  I don't have to feel thankful to give thanks.  The successful Christian life is not led by your feelings, it is led by your faith.  When you and I choose to praise the Lord regardless of the circumstances, God is glorified and people notice.
The greatest witnesses for Jesus Christ are not those who are rejoicing in the Lord while on the mountain top.  They are those who are rejoicing in the Lord while facing the valley of the shadow of death.  Nothing gets an unbeliever's attention faster than a grateful, praising Christian still trusting Jesus even though plagued with the worst of trials.  While circumstances change frequently, God never does.  Our focus must always be HIM!  Come what may, you and I can rejoice in Him… in His unfailing love, His wonderful presence, and His constant faithfulness.  No trial or tribulation can alter who He is to us.
THE CHOICE IS YOURS
I don't know what difficulties you are facing today.  No doubt, many are facing trials far worse than I have ever faced.  Whether your trials are mild or severe, the question is always the same:  Will you choose to rejoice in Jesus, the One who is over every test and trial?  Will you look to Him and trust Him, no matter what?
One of my favorite verses is found in Revelation 2:10 where Jesus said, "Be faithful until death, and I will give you the crown of life."  To be sure, life does not always turn out the way we want it to.  All of us face detours, dead-ends, and dry holes on the road to heaven.  There are many things we face in life that we cannot control.  But, we do control our response to circumstances.  We can make the choice to be faithful, grateful, and thankful, until the day we die.
Love,
Pastor Jeff Schreve,
From His Heart Ministries
---
Dr. Jeff Schreve believes that no matter how badly you may have messed up in life, God still loves you and has a wonderful plan just for you. From His Heart provides real truth, love and hope on over 700 radio stations each day, in 182 countries each week on TV, and is always available online.  Pastor Jeff takes no income from this ministry. All donations go to furthering the broadcast outreach. As a listener/viewer supported ministry, we thank you for joining with us to help speak the truth in love to a lost and hurting world. Go to www.fromhisheart.org for more information.
Humor…
Old Year Out, New Year In…..Let's Get Personal…………….
Well, so another year is ending.  It seems like just yesterday that the world was getting ready for "Y2K" and here it is, 20 years later!  So, now to recap the past year—-
So, the best thing to happen in my life this last year was that Duane's Mom is now once again my friend….thank You, Lord!  She is like my very own Mom so that's what I call her.  I still miss my real Mom but the pain isn't as bad.  
Duane's case is still dragging on with no end in sight yet.  We grow more and more discouraged…..
The family here is in disarray and all because of one member, who thinks he should be the King himself.  I have forgiven him for the awful way he treated us but I would never trust him again.  Honestly, I think it's the crap he smokes!
Now, New Year's Resolutions……..I have just one, not that I don't need more…lol!  My resolution is to try to be nicer……kinder…..gentler…..more patient…..oh, I need to add one more thing:  to NEVER forget that God is on MY side!
And so, that's all…..God bless you all!