Advent Season
When is Advent? Advent begins four Sundays before Christmas:  December 1, 2019.
Advent is a holy season in the Christian calendar. It is the beginning of the liturgical calendar. It is a very special time, as Christians wait and prepare for the coming of the Lord, Jesus whose birth we celebrate on Christmas. While Santa Claus' arrival is a big big event, we must remember Jesus' birth on earth is much bigger, and the real cause for Christmas.
In the early days of the church, Advent was a time of prayer and confession. Today, Advent is more a time of preparation and expectation of the coming of the Lord.
The Advent Wreath is an important symbol of Advent of the season. It usually sits on the dinner table and is a constant reminder of the holy season. The wreath is of German origin and consists for an evergreen wreath, and four Advent candles. Three candles are purple and one is pink.
The lighting tradition– On the fourth Sunday before Christmas (the first Sunday of Advent), the first Advent candle is lit at dinner and a short prayer is said. The first candle is lit each night along with a short prayer. On the second Sunday  of Advent, a second purple candle is lit. On the third Sunday the pink candle is lit. Finally on the fourth Sunday of Advent, just a few days before the birth of Christ, the final purple candle is lit.
The Advent Wreath's Meaning:
The Advent wreath is made up of two basic parts: the wreath itself and the candles.
The wreath is made of evergreen, either real or artificial. It s circular shape represents eternity, for it has no beginning and no end. The evergreen was chosen as it symbolizes growth and everlasting life.
There are four candles, three purple and one pink.  They represent the four weeks of preparation. As another candle is it each week, we are reminded of  the growing light of Christ's presence.
The meaning of the candles is as follows:
First Purple candle: represents hope.
Second Purple Candle: stands for love.
Third, pink candle: represents joy.
Fourth purple candle: is a symbol of peace.
Did you know? The third Sunday of Advent when the pink candle is lit is referred to as "Joyful Sunday?"
Welcome to December! How the year has flown by! We're so excited to present the final Cause of the Month for 2019: OurCalling. In case you missed it, each month, InspireMore chooses a deserving nonprofit to support. OurCalling is on the "frontline of the battle to cure homelessness" in Dallas, Texas. Learn more here! 
"It is in your hands to create a better world for all who live in it."
– Nelson Mandela
Picture of the Day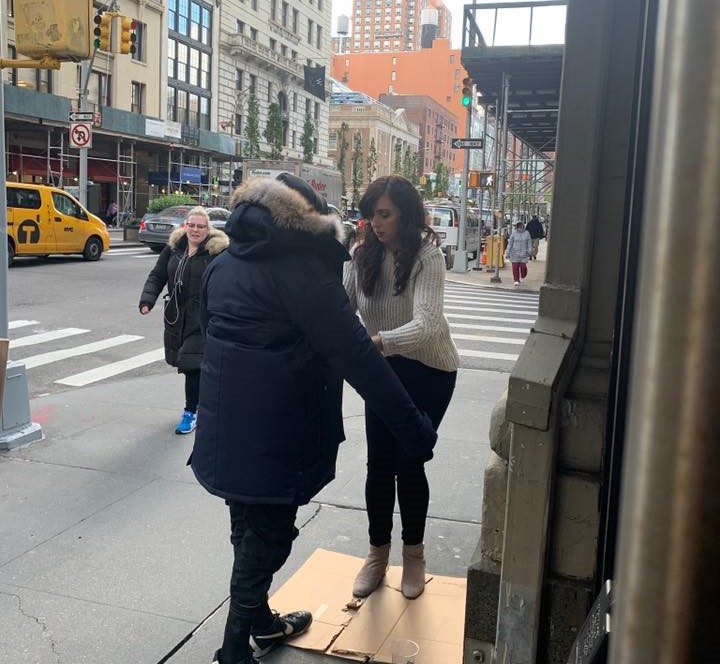 Ken Giddon, owner of Rothman's in NYC, posted the above photo on Facebook with a heartwarming caption. "A gentleman that we do not recognize walks into our NYC store at 10 a.m.," he wrote. "Quickly buys himself a coat to wear over his suit. He then asks for the warmest coat that we have, which we provide. He puts a few hundred dollars in the coat pocket and asks us to give it to the homeless guy out front. He says, 'I can come in here and buy whatever I need when I need it. He cannot.'
Daily Prayer for 

December 2
The Lord has done it this very day; let us rejoice today and be glad. Lord, save us! Lord, grant us success! Blessed is he who comes in the name of the Lord. From the house of the Lord we bless you. Psalm 118:24-26, NIV
Lord God, our hearts are full of praise and thanks for your promise. You comfort and help us with this promise every day, enabling us to hold true through all distress. Remember us in these times, and let the cry, "Hosanna," arise often in our hearts. Let a bright light shine out now as you once let it shine around the Lord Jesus, showing him as King and Savior. Protect us and bless us. Bless our land and all those appointed to govern. May your Spirit be with them so that they may carry out your will. For your will must be done and shall surely happen. In this we trust, and in this we hope. We praise you, O Lord our God. Hosanna! Hosanna in the highest! Amen.

Jörg Zink
We humans contribute to the world's gloom, like dark shadows on a dark landscape.…But now this man from Nazareth comes to us and invites us to mirror God's image, and shows us how. He says: you too can become light, as God is light. What is all around you is not hell, but rather a world waiting to be filled with hope and faith. This world is your home as surely as the God who created and wrought it is love. You may not believe it, but you can love this world. It is a place of God. It has a purpose. Its beauty is not a delusion. You can lead a meaningful life in it.
Source: "Doors to the Feast"
  —Dion Todd
Today I want to talk about the choice that each person has to make when Jesus calls us them. We read about the disciples and apostles that followed Jesus and assume that this was set in stone, meant to be, that they automatically followed Him, but they were each given a choice. Some people chose not to. Jesus called some fishermen in Matthew chapter 4:18:
Now as Jesus was walking by the Sea of Galilee, He saw two brothers, Simon who was called Peter, and Andrew his brother, casting a net into the sea; for they were fishermen. And He said to them, "Follow Me, and I will make you fishers of men." Immediately they left their nets and followed Him. Going on from there He saw two other brothers, James the son of Zebedee, and John his brother, in the boat with Zebedee their father, mending their nets; and He called them. Immediately they left the boat and their father, and followed Him. Matthew 4:18–22 NASB
Peter and Andrew were brothers. James and John were brothers. They were partners in fishing and working near the village of Capernaum. When Jesus called them, they all left their nets and boats behind and they followed Him. They all became very involved in the ministry of Jesus and after extensive training, were named as apostles. Several of the twelve apostles lived near Capernaum. Later, Jesus called others to follow Him, Luke 9:59:
And He said to another, "Follow Me." But he said, "Lord, permit me first to go and bury my father." But He said to him, "Allow the dead to bury their own dead; but as for you, go and proclaim everywhere the kingdom of God." (Luke 9:59–60 NASB). 
Jesus told this man to follow Him, but he wanted to stay home until his father passed away, then follow Him. If the man's father had been dead, then he would have been at home making arrangements for the burial, and not there listening to Jesus. He told him basically: "Let the spiritually dead bury the physically dead." Continuing on:
Another also said, "I will follow You, Lord; but first permit me to say good-bye to those at home." But Jesus said to him, "No one, after putting his hand to the plow and looking back, is fit for the kingdom of God." (Luke 9:61–62 NASB). 
This one wanted to return home and say good-byes, which was a perfectly legitimate request. Elisha had asked the same. Jesus basically told him the call must come first. That no one looking back at the comforts that he was leaving behind would do well following Him. There would be times of persecution, tribulations, fasting, and many other discomforts ahead.
Levi the tax collector, who was later called Matthew and wrote the gospel according to Matthew, was sitting at a tax collector booth in Capernaum when Jesus called him. Tax collecting was a nasty business. The Romans had invaded Israel and were forcing the Jews to pay them taxes. Some taxes were incredibly inflated. There was a cart tax that charged an amount for each wheel, a poll tax that everyone paid just because you were alive, taxes for using the roads, and for docking in the harbors.
Taxes were collected using a method called tax farming where the Romans assessed a tax value to a province, and then auctioned the right to collect it to the highest bidder. The tax collector then had the right to stop anyone on the road in that province, go through their goods, and demand payment for whatever they felt like collecting from them. If the people could not pay the tax, then they would offer to loan them the money at an exorbitant interest rate. It was a dirty business and because it was often Jews collecting the taxes for the Romans, they were considered traitors to the nation and the most hated people in Israel. That is why you see references like: "this man eats with tax collectors and sinners!"
Yet Jesus saw something in Matthew sitting behind that tax collector booth beyond the surface. He saw who he could become if given the chance. He saw the apostle Matthew inside of him. So He called him to follow in Luke 5:27:
After that He went out and noticed a tax collector named Levi sitting in the tax booth, and He said to him, "Follow Me." And he left everything behind, and got up and began to follow Him. (Luke 5:27–28 NASB). 
Tax collecting was a lucrative business and Matthew was probably the wealthiest apostle. He left everything behind, made no excuses, just stood up and followed Jesus. Then he gave his own going-away party, and probably introduced all his friends to Jesus. He was offered a new life, a fresh start, and he took it. He broke from the past, and unlike Peter and the others who could return to their fishing, Matthew would not be able to return to his position very easily if following Jesus didn't work out. He chose Jesus, went on to become an apostle, and later he wrote the gospel of Matthew. How many others would have, could have, should have, but were too busy?
There was a rich man that came to Jesus and asked Him what he needed to do spiritually in Luke 18:22:
When Jesus heard this, He said to him, "One thing you still lack; sell all that you possess and distribute it to the poor, and you shall have treasure in heaven; and come, follow Me." But when he had heard these things, he became very sad, for he was extremely rich. And Jesus looked at him and said, "How hard it is for those who are wealthy to enter the kingdom of God! (Luke 18:22–24 NASB). 
Once again the price was too great for the one that heard "Follow Me." This man could not part with his wealth. It was not having the wealth that was a problem, it was his inability to part with it. Basically if the Lord tells you to give, then you must. The call must come first, not your possessions. Trust the Lord, put Him first, and He will take care of you.
God has a plan for each of us, but some are too busy today doing something that they think is more important. Jesus called people from all walks of life to follow Him. Some did, others chose not to. Each had their own reason. Each made their choice.
Matthew the tax collector came from the lowest of the low, an outcast who was banned from even entering a Jewish synagogue, and Jesus made him into a great apostle because he chose yes. Each of us have the same choice to make.
You can pray this with me if you like:
Prayer: Heavenly Father, I choose to follow You and I want to experience all that You have for me. Please give me a fresh start, a clear vision, and guide me from this day forth. Jesus come and be a part of my life today, be my Lord and Savior, in Your name I pray. Amen.
Bible Fun Fact: Moses was just over three months old when Pharaoh's daughter found him in a basket. (Acts 7:20-21)
Share 
today

's verse

What Jesus Did!

 'Just as Jesus Said'

Now the Festival of Unleavened Bread arrived, when the Passover lamb is sacrificed. Jesus sent Peter and John ahead and said, "Go and prepare the Passover meal, so we can eat it together." "Where do you want us to prepare it?" they asked him. He replied, "As soon as you enter Jerusalem, a man carrying a pitcher of water will meet you. Follow him. At the house he enters, say to the owner, 'The Teacher asks: Where is the guest room where I can eat the Passover meal with my disciples?' He will take you upstairs to a large room that is already set up. That is where you should prepare our meal." They went off to the city and found everything just as Jesus had said, and they prepared the Passover meal there.
Key Thought
While we may have as many questions about this passage as there are answers, one thing is certain: When Jesus speaks, his disciples obey, and they find things to be just as Jesus said. So how are you doing in focusing on the Lord and his words? Why not rev up your commitment to read through each of the Gospels at least once as Christmas approaches? Ask the Father to help you not only to hear his truth revealed by Jesus, but also to obey it!
Today's Prayer
Father, thank you that Jesus' words are sure and certain. Be with me as I seek to know your Son better, obey his words more completely, and reflect his character more perfectly. In Jesus' name. Amen.
Related Scripture Readings
Daily Wisdom: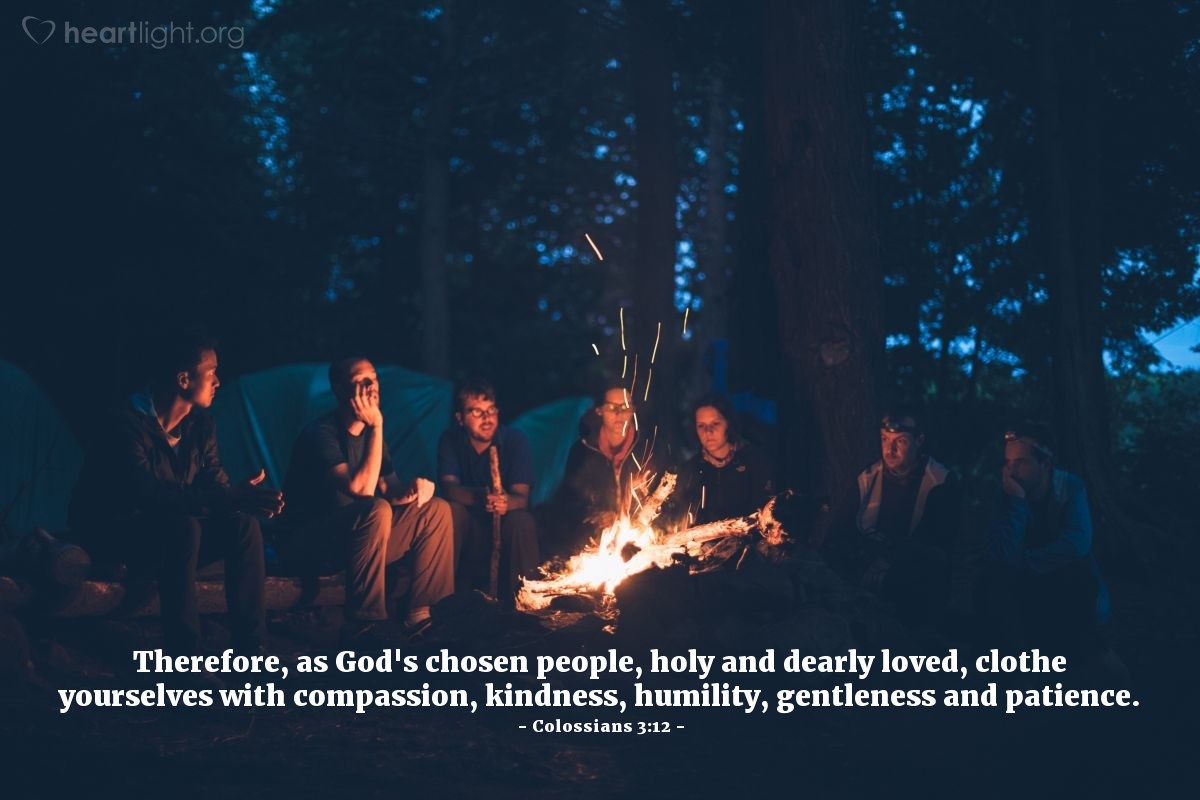 Passion for Praise:

 'Each Day Proclaim the Good News'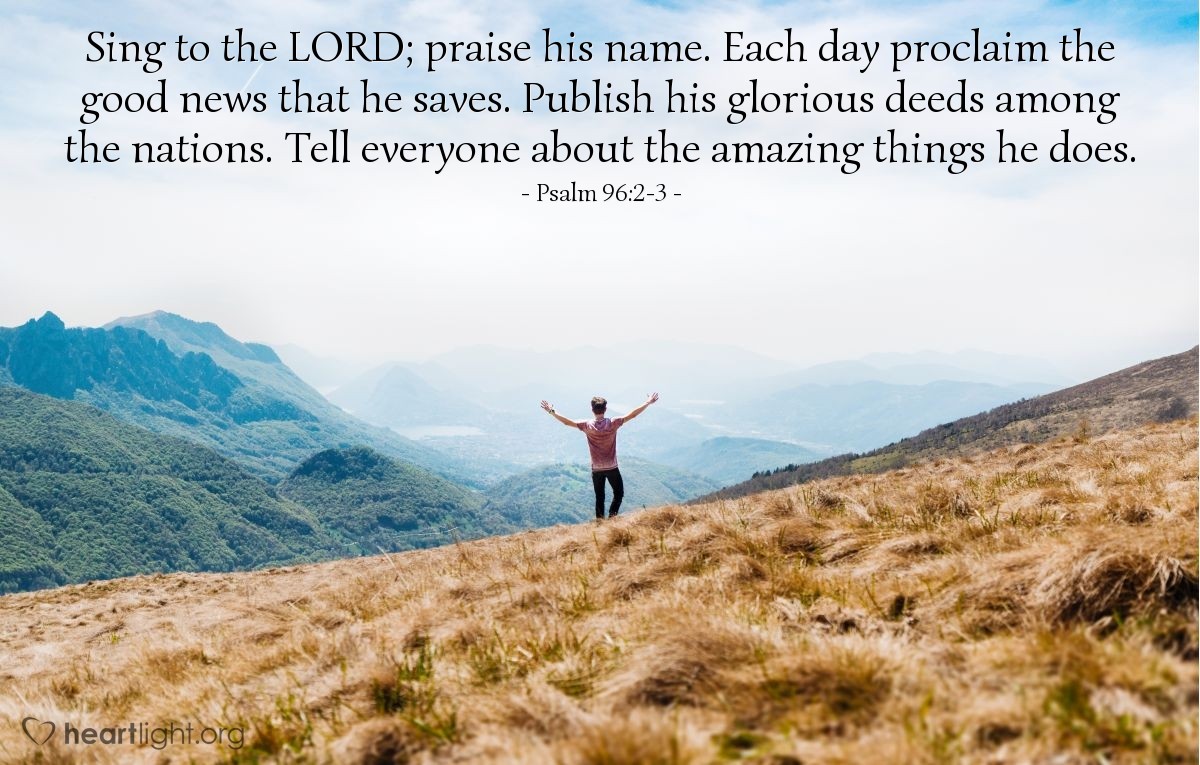 Spiritual Warfare:

 'Living with Jesus Requires that We Suffer'

God's Power for Our Battles

The same Spirit agrees with our spirit, that we are God's children. But if we are children, we are also heirs. We are God's heirs and fellow heirs with Christ,if we really suffer with him so that we can also be glorified with him.I believe that the present suffering is nothing compared to the coming glory that is going to be revealed to us.

Lord, some—even some CHRISTIAN LEADERS—have taught that we will only become Christians, then nothing bad will happen to us; we will never suffer. Forgive me for even considering this as possible in light of the Scriptures. Remind me that when I suffer I am connecting to Jesus in a spiritual way that confirms I am Your heir; a co-heir with Jesus Christ. Thank You for accepting me into the family. In Jesus' Name, Amen.
A Year with Jesus:

 'My Mother's Situation Proves Joseph's Faith'
Note from Jesus
Dear Disciple,
I know most of you hate tests! Some of those tests are medical tests which can be terrifying. Some tests are necessary to get you into universities or special programs and I know you can feel anxiety as you face them. Other tests are required to receive licenses or to achieve professional certifications, and these can cause great stress in your lives. I hear your prayers and recognize your anxieties and stress over these tests. I know the long hours you've put into preparing for some types of tests. I care about you and these tests that you face.
Other tests are life tests. They have to do with tough times in your lives, times that are hard, painful, and discouraging. They may involve a time of illness, hardship, persecution, marriage problems, family upheaval, job difficulties, loneliness, grief, or a host of other painful experiences. I care about you having to face these kinds of tests, too! Many of these tests come because you live in a broken world.
Some periods of testing invade your lives because other people do evil things or make unwise choices. Sometimes, times of testing come because Satan wants to discourage you and lead you to doubt My love and grace. Sometimes, testing comes because of your unwise or sinful choices. Bottom line: The fallout from times of testing can blow into your world and wreak havoc in your lives.
So please, know two things about your times of testing:
I will never leave you or forsake you (Romans 8:32-39; Hebrews 13:5). I came to earth and shared in times of testing, facing many of the same kinds of challenges that you face so I can help you when you are tested (Hebrews 2:14-18).
You can grow stronger, develop character, and have the compassion to share with others by faithfully living through your times of testing (James 1:2-4; 2 Corinthians 1:3-4).
One of the things I most appreciated about Joseph, who served as My earthly father, was that he faced an incredibly difficult test and proved himself faithful. He had shown himself to be completely committed to being a man of God. He had lived in purity so he could honorably marry a woman who had saved herself for him.
Joseph was committed legally to marry a young woman named Mary, My mother — this is sometimes called betrothal, something much more binding than modern engagement. Then, she told him that she was pregnant by the miraculous work of the Holy Spirit. After that, she disappeared and went away to be with her cousin Elizabeth for several months. What was Joseph supposed to think? How could he understand My mother's pregnancy? He thought that there was only one way for her to be carrying a baby: she had betrayed him sexually. There was no other way, except…
Joseph believed what My mother told him. Joseph believed what the angel told him. Joseph believed that I — the Messiah, the Son of God — was conceived by the miraculous work of the Holy Spirit. He believed that My mother was not only pure and faithful to him but also that both of them together were chosen to parent their Savior, Christ the Lord — Me.
Incredibly, Joseph accepted this truth by faith. He knew he would be tested all the days of his life for his faith. People would talk behind his back. People would say he wasn't My father and that My mother had "stepped out" on him and been unfaithful to him. He chose to accept this ridicule and he also accepted taking care of Me with all of the associated risks, hardships, and impenetrable mysteries. Joseph passed all these tests and helped Me be ready when My time came to serve.
So here's my message for you today: You never know who will be blessed — even saved — by the character and compassion you show while you go through your tests!
I know this may seem hard to believe. So remember Joseph. Please remember that My situation on earth depended — and your faith depends — on Joseph's faithfulness.
Also remember this: Someone is watching and depending upon you to pass your test! Hang in despite the hardship… keep your faith despite the pain… I'm with you and won't ever forsake you… and your testing will not be wasted. Your character and your compassion will be blessings to others — some of whom you will never know till you share in eternal glory with them.
When you remember Me, please remember these truths!
Verses to Live
Here are some Scriptures I want you to think about as you face your tests and remember Joseph's test. The first one comes from my half-brother James, who with the Spirit's help learned the lesson about tests from Joseph, too! The second comes from Matthew. He tells the story of my birth and the struggle of Joseph very clearly and simply. The third set of verses comes from Luke's gospel. Luke shares the story of My conception with a little bit different focus from Matthew's account. Notice how the wonder and amazement of Luke's story pairs beautifully with the testing Joseph faced as recorded in Matthew's story. When you recognize the challenges that Joseph faced in taking My mother as his wife, you have to recognize that both My mother and Joseph were people of amazing faith!
Don't run from tests and hardships, brothers and sisters. As difficult as they are, you will ultimately find joy in them; if you embrace them, your faith will blossom under pressure and teach you true patience as you endure. And true patience brought on by endurance will equip you to complete the long journey and cross the finish line — mature, complete, and wanting nothing.
 (James 1:2-4)

So here, finally, is the story of the birth of Jesus the Anointed (it is quite a remarkable story):

Mary was engaged to marry Joseph, son of David. They hadn't married. And yet, some time well before their wedding date, Mary learned that she was pregnant by the Holy Spirit. Joseph, because he was kind and upstanding and honorable, wanted to spare Mary shame. He did not wish to cause her more embarrassment than necessary.

Now when Joseph had decided to act on his instincts, a messenger of the Lord came to him in a dream.

Messenger of the Lord:

Joseph, son of David, do not be afraid to wed Mary and bring her into your home and family as your wife. She did not sneak off and sleep with someone else — rather, she conceived the baby she now carries through the miraculous wonderworking of the Holy Spirit. She will have a son, and you will name Him Jesus, which means "the Lord saves," because this Jesus is the person Who will save all of His people from sin.

Joseph woke up from his dream and did exactly what the messenger had told him to do: he married Mary and brought her into his home as his wife (though he did not consummate their marriage until after her son was born). And when the baby was born, Joseph named Him Jesus, Savior.

Years and years ago, Isaiah, a prophet of Israel, foretold the story of Mary, Joseph, and Jesus:

A virgin will conceive and bear a Son,
and His name will be Immanuel

(which is a Hebrew name that means "God with us").
(Matthew 1:18-25)

Six months later in Nazareth, a city in the rural province of Galilee, the heavenly messenger Gabriel made another appearance. This time the messenger was sent by God to meet with a virgin named Mary, who was engaged to a man named Joseph, a descendant of King David himself. The messenger entered her home.

Messenger:

Greetings! You are favored, and the Lord is with you! Among all women on the earth, you have been blessed.

The heavenly messenger's words baffled Mary, and she wondered what type of greeting this was.

Messenger:

Mary, don't be afraid. You have found favor with God. Listen, you are going to become pregnant. You will have a son, and you must name Him "Savior," or Jesus. Jesus will become the greatest among men. He will be known as the Son of the Highest God. God will give Him the throne of His ancestor David, and He will reign over the covenant family of Jacob forever.
Response in Prayer
Holy God, thank You! Thank You for making Jesus' story so much a part of the world I know. Thank You for using real people like Joseph and Mary to show us that being faithful in times of great testing brings great blessings. Help me, dear Father, in my times of testing. Please use my struggles to bless others and to help them through their difficult times so that they can find faith and hope in You. In the name of my Brother and Savior, Jesus, I pray. Amen.
Embrace the Advent season as a sacred space from the ease of your e-mail inbox. Sacred Advent is a daily e-mail prayer break during a busy season.
Each day invites you to slow down for a moment of reflection inspired by the rich Scripture and traditions of Advent. The series features the words of Vinita Hampton Wright, Amy Welborn, the Irish Jesuits, and more. The messages also include suggestions for further exploration of Advent themes through additional online articles and prayers.
Sacred Advent will make this Advent a season filled with sacred moments.
Monday, 
December 2
Today's reflection is excerpted from 2020: A Book of Grace-Filled Days by Amy Welborn.
On that day,/ the branch of the LORD will be luster and glory.
—Isaiah 4:2
How often do we walk into a room and wonder, Wait a minute, what is it I came for? Why am I here? What was I looking for? As Advent begins, we also walk into a room—the room of the rest of our lives that begins anew every day—and we're invited to ask those same questions. And in the very season of Advent itself, we hear the answer. What or whom are we waiting for? The Lord who created us and calls us forward, that's who. Sometimes waiting can be frustrating and seem like a waste of time—until something important comes along. When we know for whom we are waiting—and the promise of glory he holds—that changes everything.
Explore Advent
Read The Word in Advent, Cycle A by Barbara Lee.

In the Church, it is Advent, season of hope and joyful expectation. In the world, it is December, season of shopping, parties, crowds, and all kinds of pressures. How do we cross over? Is there any way to imagine, let alone experience, the trust in God's promise to send the Messiah? How do we hear God's promise above all the noise?

One way to overcome the internal and external background noise assailing our ears is to listen to the Word of God. Listening is counterintuitive, even countercultural. That's the point.

St. Ignatius of Loyola taught that God speaks to us in our deepest feelings and desires. One way of exploring those feelings is praying with the readings for the Sundays of Advent, Cycle A, which are some of the richest in the entire Bible.

At the beginning of Advent, Matthew gets our attention with an image of the Messiah as the Son of Man coming at the end of time (Matthew 24:37–44). Later in the month, the prophet Isaiah in explicit terms predicts the coming of the Messiah in time: "The virgin will conceive and give birth to a son, and will call him Immanuel" (Isaiah 7:14). But during most of the season, there are readings that invite us to experience the longing for the coming of Christ into our hearts.

Isaiah predicts that people will beat their swords into plowshares; that lambs and small children will be safe among wolves and vipers; and that the blind shall see, the deaf hear, the lame walk, and the mute sing for joy (Isaiah 2:4, 11:6–8, 35:5–6). The implication that these promises will be fulfilled in Jesus is made explicit in the Gospel for the Third Sunday of Advent: "The blind receive their sight, the lame walk, the lepers are cleansed, the deaf hear, the dead are raised, and the poor have good news brought to them" (Matthew 11:5). These readings, with their vivid imagery and powerful emotion, lend themselves especially well to imaginative prayer, a way of reading Scripture less with our eyes and ears and more with our hearts.

Consider the vivid scene in Matthew 3:1–12, which we hear on the Second Sunday of Advent. Can you visualize John the Baptist, dressed in animal skins, thin and muscular from living in the desert, subsisting on "locusts and wild honey," with long, untended hair and beard, and a light in his eyes reflecting the passion within? He was evidently a charismatic preacher, since he attracted great crowds. What does his voice sound like? Can you imagine yourself one of the crowd lining up to be baptized in the Jordan River? Can you acknowledge your sins? How do you feel after coming out of the water? Or do you identify with one of the skeptical Pharisees? What grace do you need this Advent?

In another example, consider the metaphors that the prophet Isaiah piles one upon another: flowers blooming in abundance, the land ringing with joyful song, water abounding in the desert, the weak made strong, the sick and the suffering made whole, and seeing "the glory of the LORD, the majesty of our God." (Isaiah 35:1–6a, 10, First Reading for the Third Sunday of Advent). Can you visualize each of these images? What do they symbolize? As Christians, we believe that the longed-for Messiah comes not as the ruler of an earthly kingdom, but as the Savior of all humankind, promising not earthly conquest but eternal life. Are there elements of Isaiah's prophecies that still remain to be fulfilled? What is our role in realizing these promises?

Our Advent liturgies invite us to look forward to Christmas as the coming of Christ at a particular time in history; the Second Coming of Christ at the end of time; and above all, the coming of Christ in our own hearts. The Word of God is alive in our hearts as we listen and reflect imaginatively.

"And the Word became flesh and lived among us." (John 1:14)

---
Sunday, 
December 1


First Sunday of Advent

In these Advent days, what brings us up God's holy mountain? Reflect with an Arts & Faith video for this First Sunday of Advent.
Explore Advent
One year during Advent, our parish priest invited us to write down on a slip of paper a word that named something that is keeping us from getting closer to God. He suggested it might be a fear, a resentment, or an attitude that shuts us off from the love God so wants to give. We were to fold the paper over a few times, grasp it tightly in one hand, and make a fist around it while he began to preach on the Scripture readings.
After a minute, my hand began to ache. At two minutes, my hand grew numb. At three minutes, the hand started shaking uncontrollably. He told us to open our hands. I found how hard it was to do that. After grasping the piece of paper so tightly, my hand had stiffened and seemed to have a mind of its own.
I can't remember what else he said that day, but I have never forgotten that lesson. Hold on to a resentment, fear, or bad attitude long enough and you will become paralyzed.
As I begin Advent every year now, I start with the realization that I need to let go of any and all spiritual impediments I'm hanging onto. Advent is a time of receiving. It's hard to receive if your hands are clasped shut. So I begin Advent once again with this prayer: Holy Spirit of God, open my hands, my eyes, my ears, all my senses, and all of my heart so I will be ready to receive your Advent blessings.
And then I sit there in the Advent darkness, my hands open before me, waiting on God.
---
Blessing and Prayers for Advent Wreath
Description:
During the Advent season families should spend time together preparing for the approaching celebration of the birth of Christ. An Advent wreath can be a great focal point for family prayers and holiday celebrations.
An Advent wreath is a wreath of laurel, spruce or similar foliage with four candles that are lighted successively in the weeks of Advent to symbolize the light that the birth of Christ brought into the world. Traditionally three of the candles are purple, the color of kings and of penance. A rose-colored candle is used to mark the Third Sunday of Advent as a time to rejoice over the closeness of Christmas and the coming of Christ.
Children love the beauty of the simple traditional ceremony. Lighting candles in an Advent Wreath is a simple way to start a tradition of family worship in the home. Those who participate will cherish the experience all their lives.
Prayer:
Each day your family should gather around the Advent wreath, generally before the evening meal. The proper number of candles are then lighted and a prayer is said.
BLESSING OF THE ADVENT WREATH
It starts at the evening meal on the Saturday before the first Sunday in Advent with the blessing of the wreath. (The head of the household is the one designated to say the prayers, following which various members of his family light the candles. If the group is not a family, then a leader may be selected to say the prayers and others appointed to light the candles.) The following prayer can be used.
Leader: Our help is in the name of the Lord.
All: Who made heaven and earth.
Leader: O God, by whose Word all things are sanctified, pour forth Your blessing upon this wreath and grant that we who use it may prepare our hearts for the coming of Christ and may receive from You abundant graces. We ask this through Christ our Lord.
All: Amen.
The wreath would then be sprinkled with water. Then follows the prayer which is said before the evening meal each night of the first week in Advent.
FIRST WEEK 

The following prayer should be repeated each day during the first week. After the prayer, the family's youngest child lights the first purple candle. (Family members can also take turns lighting and blowing out the candles on each night.)
Leader: O Lord, stir up Thy might, we beg Thee, and come, That by Thy protection we may deserve to be rescued from the threatening dangers of our sins and saved by Thy deliverance. Through Christ our Lord.
All: Amen.
The candle is allowed to burn during evening meals for the first week.
SECOND WEEK 

The prayer that follows is to be repeated each day of the second week. After the prayer, the oldest child lights the first and second purple candles.
Leader: O Lord, stir up our hearts that we may prepare for Thy only begotten Son, that through His coming we may be made worthy to serve Thee with pure minds. Through Christ our Lord.
All: Amen.
The two candles are allowed to burn during the evening meals of the second week.
THIRD WEEK 

The joyful Sunday in Advent (known as "Gaudete") is represented by rose (or pink) instead of the penitential purple color. Each night during the third week the mother of the family lights the pink, as well as the two previously burned purple candles, after the following prayer has been said.
Leader: O Lord, we beg Thee, incline Thy ear to our prayers and enlighten the darkness of our minds by the grace of Thy visitation. Through Christ our Lord.
All: Amen.
The three candles are allowed to burn during the evening meals of the third week.
FOURTH WEEK 

The prayer that follows is to be repeated each day of the fourth week. After the prayer, the father lights all four candles.
Leader: O Lord, stir up Thy power, we pray Thee, and come; and with great might help us, that with the help of Thy Grace, Thy merciful forgiveness may hasten what our sins impede. Through Christ our Lord.
All: Amen.
The four candles are allowed to burn during the evening meals of the fourth week.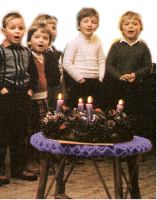 After the fourth week, the penitential season of Advent is over and the time to rejoice is at hand. The Advent wreath is transformed into a Christmas wreath. Ribbon and candles are replaced with red ribbon and long red or white tapers (to be lighted at breakfast on Christmas morning) and, if desired, other festive decorations can be added.
In addition to having an Advent wreath as part of your family's Christmas celebration, create your own Advent calendar of actions you and your family can take each day to bring you closer to Christ. Write the schedule activities on a calendar that is prominently posted. These activities could include donating toys to a drive for needy children, bringing used clothing to a collection for homeless people, volunteering at a soup kitchen, reading a Christmas poem or story aloud, attending Mass together or placing a crèche in your home.
First Week
All-powerful God, increase our strength of will for doing good that Christ may find an eager welcome at his coming and call us to his side in the kingdom of heaven, where he lives and reigns with you and the Holy Spirit one God, forever and ever.
~AMEN.
Humor~~~~
Momma…
Politics…
Cartoon from Ken Catalino
And so the Advent season has begun…again!  I was late to light my first candle in my dvent wreath, but I do hope God doesn't mind and will forgive me.  I feel so sad in this season, because od the strife and chaos happening in the family.  One member has either gone crazy or is letting pent-up emotions put crazy ideas into his head.  All I can do is pray for the people being affected…..that no harm comes to them…….I love them all so!  Well, have a safe week!!