Daily Prayer for 

November 17
What answer shall be given to the envoys of that nation? "The Lord has established Zion, and in her his afflicted people will find refuge." Isaiah 14:32, NIV

Lord our God, you are our refuge. We wait for you, for your purpose will never fail and your promise will be fulfilled. This we may firmly believe, and from this we may draw strength every day. Even when our life brings sorrow, we do not want to grieve. We want to hope and believe and endure until your day comes. Your kingdom will come on earth, and in the meantime you are watching over your people. In the midst of the world's daily affairs there will be people who hope in you, who belong to you, and who are firmly rooted in the grace of Jesus Christ until the time is fulfilled. Amen.

Blaise Pascal
We do not grow tired of eating and sleeping day after day, because hunger and fatigue return; without them, we should be bored. It would be the same without hunger for spiritual things; we should be bored.
Source: Pensées, as quoted in A Third Testament
A Love Stronger than Fear
Amid a volatile mix of disease, war, and religious extremism in the Horn of Africa, what difference could one woman make? Annalena Tonelli stayed anyway – and found a way to beat history's deadliest disease.
Ibrahim, a three-year-old Somali boy, suffered from both malnutrition and spinal tuberculosis. Policemen had found him in the desert in northeastern Kenya, dying of hunger. He clung to anyone willing to hold him and pressed his head against that person's chest. Annalena Tonelli, an Italian working as a teacher in Wajir, Kenya, took him home from the hospital; she wanted to keep him close through the nights too, so he wouldn't die alone.
When Annalena first stretched Ibrahim out on a bed, he pulled her down to lie beside him and rested his head over her heart. "Who knows how much he has suffered. Now he just wants comfort, peace, and the security of a mother's heartbeat," she remarked to another caregiver.
Life was harsh in the 1970s in Wajir, a remote region populated primarily by Somalis. A UNICEF survey declared the water unfit for human consumption. Lions attacked isolated nomads and snakebites were common. Temp-eratures soared to 105 degrees Fahrenheit and there was no electricity. Rain, on the rare occasions when it did fall, could lead to catastrophic flooding. The hospital lacked sufficient staff, equipment, and supplies. Tuberculosis, malaria, typhoid, cholera, and dengue fever raged.
Annalena moved to Wajir in 1970 to teach, but during a cholera epidemic her work shifted to caring for sick children like Ibrahim. Eventually, she turned all her attention to treating tuberculosis, an infectious disease that carried a powerful stigma among Somalis (and still does). People wouldn't use the word tuberculosis and insisted they only had a cough. If a community found out a member had TB, the sick person was often ostracized or even abandoned. Many would rather die than be labeled with the diagnosis.
In the developed world, many still assume that TB no longer exists. Dr. Paul Farmer, who battled TB in Haiti, put it bluntly: "The 'forgotten plague' was forgotten because it ceased to bother the wealthy." That only began to change in 2016 when cases increased in the United States for the first time in decades, and in the following year, when drug-resistant TB started killing people in Minnesota. Around the same time, South Korea announced new laws requiring that every citizen be tested twice in his or her lifetime. Media reports contained elements of shock that this Victorian-era disease was still among us.
Dr. Onkar Sahota, chair of London's Health Committee, said in 2015, "We think TB is a disease of developing countries or of days gone by, but TB is a disease of today. It certainly was a disease of yesterday and we need to make sure it isn't a disease of tomorrow."
Annalena hadn't known much about tuberculosis when she moved to Kenya, but since her youth she had been drawn to the sick, the poor, and the outcast. In her hometown of Forlí, Italy, she had founded an organization called the Committee to Fight World Hunger. But to her, that hadn't been enough. She discovered a slum known as Casermone, and started spending more and more time there. She took children from Casermone to medical appointments, paid school fees, and even clipped their toenails. The phone at her house would ring, someone would demand wood or coal, and off Annalena would rush.
She urged her friends and siblings to join her and they would, drawn in by her persuasive charisma. One friend, Maria Teresa, became Annalena's lifelong partner in her vision to serve. When later asked what inspired Annalena, who was raised Catholic and had a deep love for Jesus, Maria Teresa said, "Gandhi, Gandhi, Gandhi." She added, "She learned from Gandhi that to love one must willingly and deliberately strip away self and restrict one's own needs." Annalena referred to the Indian independence leader as her "second gospel."
During the early 1960s, while Annalena was reading Gandhi, there were also radical shifts in Italian Catholicism. The Second Vatican Council encouraged dialogue with other religions and challenged lay people to live out missionary vocations both locally and globally. Believers wouldn't have to become nuns or priests, or even work under the auspices of the church, to serve the poor or play a meaningful role in the spiritual life of their communities. This suited Annalena's independent streak, as did the renewed emphasis on social action as a valid form of the vocation to mission. Her experiences in Casermone led her to search for a place where she could live and serve among the poor for the rest of her life. Inspired by a friend, Pina Ziani, who worked among lepers in east Africa, Annalena settled on Kenya. Pina helped her secure a teaching contract and Annalena left Italy in 1969.
The ways of service are infinite and left to the imagination. Let us not wait to be instructed in how to serve.
"The poor are waiting for us," Annalena said in one of her few public statements. "The ways of service are infinite and left to the imagination. Let us not wait to be instructed in how to serve. We invent and we live the new heavens and the new earth each day of our lives. If we don't love, God remains without an epiphany. We are the visible sign of his presence and we make him alive in this infernal world where it seems that he is not. We make him alive each time we stop next to a wounded person."
Once in Kenya, Annalena became independent from the limitations and structures of the Catholic Church. Yet she knew she needed a supportive community around her. Soon Maria Teresa and five other women had joined her. They prayed and read scripture together in the mornings and spent their days caring for the sick. They built a physiotherapy facility and called it the Farah Center, or Center of Joy.
Maria Teresa and the other women provided therapy for those with disabilities caused by polio and other childhood diseases. Annalena was consistently drawn to the poorest and most outcast. At that time, due to the lack of medical care, superstitions, and stigma, this meant her focus turned to Somali nomads with tuberculosis.
One young woman, her name lost to sand and history, was typical of those she served. The woman had suffered polio and now hovered near death from tuberculosis. Annalena sat by her side in the final hours of her life. Though they couldn't communicate in any shared spoken language, Annalena said she and this woman understood one another.
The woman's legs were limp, thin as sticks, her body so emaciated it was frightening – a rice sack filled with bones. But her face was filled with expression, an awareness. According to the dictates of her clan, she wore the black veil of a married woman, dignified in its modesty. Even though she was now divorced, she still bore the pride of a woman who had been married, once chosen.
She asked Annalena, with hand gestures and her eyes, to spend the coming night in the room with her. The woman coughed incessantly. Annalena sat beside her. Here was one of "God's sparrows" – one of Annalena's favorite terms for describing the sick – falling to the ground, known by her Creator and neglected by her people.
Annalena grew drowsy, the heat pushing her head down toward her chest, urging her to sleep. She prayed to keep herself awake. The heat and fever weakened the sick woman. Annalena wrote that she "loved her with an infinite tenderness." Even that love couldn't keep Annalena's eyes open for the nightlong vigil.
When her head drooped and her body collapsed in sleep, the woman took the dirty pillow from behind her own head and offered it to Annalena. Annalena didn't refuse, though the pillow was full of infection.
Around five o'clock in the morning, Annalena woke, took the woman's hand, and smiled at her. "Maybe at the end of my life I can say that all I did was pass through this world, holding the hand of the dying, smiling tenderly," she said later. The light of the kerosene lamp illuminated the woman's face. She fought to speak. "God is … in the name of God, gracious, merciful … go!" And she died.
"These people must have an extraordinary reward in heaven," Annalena wrote, "because they have suffered so darkly on earth."
Despite the infected pillow and ongoing close contact with the sick, Annalena rarely got sick. Occasionally she battled malaria or exhaustion, but she never tested positive for tuberculosis. At Wajir's hospital, Annalena started to oversee TB medication. Friends in Italy sent her books and articles about TB control and combination therapy. She traveled to Spain, then London, to take medical courses. She learned about a recent experimental exploration of short-course therapy, which could theoretically cut the time of care from eighteen months to six. Given its 33 percent success rate, she felt, it shouldn't be difficult to do even a little better. Treatment was simple and straightforward but had to be followed with precision: patients had to take the right pills at the right time.
That, Annalena believed, was something she could make sure would happen.
The trouble was getting nomads to stay in one place long enough for the cure to take hold. Eighteen months? Impossible. But six months? Maybe, just maybe, for a good reason, a nomad could be convinced to stay. But not in a hospital, beneath a roof, or inside the prison of four cement walls. Not without their animals or families. Not without some sense of autonomy, dignity, and productivity.
If the right context of care could be created, the right combination of medicine and relationship established, a nomad might stay. Annalena had been in Wajir long enough to know what Somalis valued most highly: Islam, community, and independence.
Her idea was to invite nomads to the prop-erty around the Farah Center, where they could build their huts on her land. They could bring some of their animals and a family member or two. She would have them sign an agreement that they would not leave until their six months of treatment were completed and their sputum test came back negative. She would oversee every single pill dosage and provide meals. She planned to build a mosque and a school. She would create jobs for patients. Above all, she would know them: their names, their families, their stories. She would listen to their voices and hold their hands and kiss their cheeks, even while they exhaled tuberculosis bacteria. She would tend their wounds and their hearts.
Before Kenya could actively promote the new short-course treatment, the country needed to run a trial, to make sure patients were actually cured and that the treatment wouldn't contribute to drug resistance. In April 1976, Annalena proposed to the Kenyan Ministry of Health that she manage a tuberculosis control test project in Wajir. She received permission to launch her project, with funding from the World Health Organization and the United Nations High Commissioner for Refugees.
In naming her new project, Annalena was careful not to use the word tuberculosis – she never would in her centers. Instead she named it the Bismillah Manyatta, the Village in the Name of God.
The sick came with their camels and the canvasses, ropes, and bent sticks for building their huts. Soon dozens were scattered across the sand near the Farah Center. There was no real wall, so beyond a small row of trees and a welcome sign, huts expanded outward as more and more people were drawn to the village.
Patients signed an agreement to stay at the center; in fact, they had to designate a relative who could chase them down if they left early.
Each patient was started on the new short-course therapy. Somalis presented so sick and at such late stages of TB that their dosages had to be adjusted almost weekly as they gained weight from the therapy and the nutritious diet provided. Once the huts were built, people had slightly more motivation to stay put, but still Annalena had to enforce compliance. Patients signed an agreement to stay at the center; in fact, they had to designate a relative who could chase them down if they left early.
Beyond this one promise, Annalena put pressure for compliance on herself, rather than on the patient. Part of her task involved directly overseeing the administration of the medications, down to the actual ingestion and swallowing of them. Annalena kept meticulous records and direct observation became central to her treatment.
People lined up at a table where she set out their pills and small cups of water or the orange drink she despised as too sweet, and her stack of medical charts. One by one, they swallowed the medicine. If someone was too sick to come to the table, she visited their hut. Sometimes she placed the pill on their tongues. She managed these pills around the clock, on a four-hour rotation.
TB pills were large and hard to swallow. If someone refused, Annalena sat with them until they swallowed the medicine. If someone vomited, she brought a glass of water, sometimes a slice of cake to settle the stomach.
"I was with them every day," she said. "I served them on my knees. I was beside them when they were getting worse and did not have anybody to take care of them, to look them in the eyes, to give them strength." Over her thirty-four years in the Horn of Africa, Annalena would achieve a remarkable 93 percent cure rate.
She found the work was both invigorating and exhausting. A Muslim elder in Wajir donated land so Annalena could build a hermitage, a place of retreat where she could be spiritually rested and renewed. She dreamed of spending a year in the hermitage, but a backlog of work heaped up on her desk. She had so many guests at the Manyatta that she read her Bible and prayed at five o'clock in the morning to avoid interruption. New patients, old patients, hungry children, everyone wanted to see her or ask her for something. Maria Teresa called it a "lacerating dichotomy between silence and the sick. The poor called her back from the hermitage, back to their hell, but she knew it was God who took her to the poor and the poor who took her to God."
People who sensed death's nearness turned their beds to face Mecca, then called for Annalena.
She tried to only go to the hermitage when she was sure no one was about to die. People who could sense death's nearness turned their beds to face Mecca, then called for Annalena. "They wanted one hand held by the sheikh and one hand held by Annalena," Maria Teresa told me. "The sheikh prayed the Koran and Annalena prayed silently, and together they accompanied the person to the door of eternity. So interesting, that a pure Muslim would want an infidel."
Annalena remained in Wajir until 1985, when her role in exposing a massacre jeopardized her safety and ability to continue. The Kenyan government kicked her out and refused to renew her visa. She moved to Somalia, where she established more tuberculosis treatment centers. Again, she found herself caught up in violence, this time the civil war. She moved to the relatively stable and peaceful region of Somaliland, northern Somalia, and continued her work with the sick.
Most people loved her, but some grew resentful of her presence: a foreigner, a Christian, and a humanitarian whose work drew attention to the weaknesses of the medical care system and local prejudices. In 2003, Annalena won the prestigious Nansen Refugee Award, which increased her profile in Somalia and internationally.
On October 5, 2003, after three decades of serving Somalis with TB and AIDS, Annalena was gunned down by Islamic extremists as she made the evening rounds of her patients in the TB hospital she had founded in Borama, Somaliland.
I was living a few blocks away when Annalena was murdered, having moved to Somaliland in early 2003 with my husband and two children. My husband had taken a job at Amoud University in Borama. Though I never met Annalena, learning about her changed how I wanted to live my life.
The hermitage still stands in Wajir. It is a plain, simple structure; a patch of dirt surrounded by a wall, two small rooms, and a two-story tower with a terrace. Weeds have grown and scraps of garbage pile up in the corners. The Kenyan nuns who work in the Farah Center sometimes come here to pray, but not often. The iron rungs leading to the tower remain firmly implanted in the wall. Retracing Annalena's footsteps, I scramble up them and perch on the ledge, gazing out over Wajir.
When Annalena stood here, she saw an expanse of open desert and the occasional acacia tree. The town has grown since then and my view is hampered by houses and buildings. Minarets puncture the sky. Camels lumber over dirt trails through town, led by young herders with sticks slung over their shoulders. The wells once on the outskirts of Wajir are now in the center. Where marabou storks once stepped between camels and nomads at the watering holes, truckers use generators to pump water and wash their vehicles.
Behind me, across the dirt road, is the Bismillah Manyatta, still used to house and treat nomads with tuberculosis. Inside the hermitage, down below, is a well with an inscription, "My soul is thirsty for God, the God of my life." Here, in this place provided by a Muslim for use by Christians, surrounded by stark desert beauty and the vibrant life of a growing town, I feel the possibility of peace, of a world not torn asunder by hatred, fear, and isolationism. I understand why Annalena lingered here.
---
This article is adapted from Stronger Than Death: How Annalena Tonelli Defied Terror and Tuberculosis in the Horn of Africa
      —Dion Todd
Most of us have been challenged by problems in life that have seemed insurmountable: unexpected bills, health surprises, and more. If you struggled with worry and fear at these times, read today's message for a blessing.
The Final Countdown
Remember the former things of old: for I am God, and there is none else; I am God, and there is none like me; declaring the end from the beginning, and from ancient times things that are not yet done; saying, My counsel shall stand, and I will do all my pleasure; Isaiah 46:9 WEB
During a sci-fi night at our house, we watched some heroes frantically trying to disarm a bomb that was quickly counting down to zero. 10, 9, 8, 7, it looked like certain death for our friends, but suddenly the timer stopped at one. Then I thought, 'Ah, it always stops at one!' All of the drama, fear, and panic was a waste of energy, though exciting while it was happening.
We often wrestle with things like this in our mind, silently. Even while others are talking to us, we will be mulling over the pending disaster that we just know is coming and is right around the corner. God is the only one that sees your end from the beginning. He knows what is coming and how to prepare you for it.
So many times in my life, I have worried about what was coming. I could see the timer counting down to the deadline and the closer that it got, the more nervous that I became. Every single time, God came through. The timer never got to zero, and most of the time it turned out to be a lot of worry for nothing.
Once after being out of work for several months, when we could no longer pay the utilities, we were packing to move out of our home. On that Tuesday morning He spoke to me. By the end of the week I had the best job that I ever had, and someone suddenly stepped in and paid all of our bills for the month. Once again, the countdown never reached zero.
That fear that we carry in the back of our mind, the one that will destroy everything that we know, is not gonna happen. Though it looks terrifying and there appears to be no way to avoid it, the timer will stop at one. It will never happen. It will not take place. God will defuse the situation. Don't give up yet, and don't trade your faith for fear, for He will come through before the countdown reaches zero.
Prayer: Heavenly Father I pray that you bring a peace over my mind today. Touch me with Your presence and let me know that I am not alone. I look to You for protection and provision. Please remember me today Lord, in the name of Jesus Christ I pray.
Bible Fun Fact: Only two nuts are mentioned by name in the Bible: almonds and pistachios.

What Jesus Did!

 'They Got Mad!'

Jesus looked at them and said, "Then what does this Scripture mean? 'The stone that the builders rejected has now become the cornerstone.' Everyone who stumbles over that stone will be broken to pieces, and it will crush anyone it falls on." The teachers of religious law and the leading priests wanted to arrest Jesus immediately because they realized he was telling the story against them — they were the wicked farmers. But they were afraid of the people's reaction.
Key Thought
There are three ways to respond when Jesus speaks the truth about your sin. First, you can ignore it and pretend it doesn't apply to you. Second, you can do what the religious leaders did here: You can become enraged at the truth and try to get rid of the truth-teller. Third, you can be convicted in your heart and change your life. While the events in which we face these three choices are not as significant as what was happening with Jesus in Jerusalem, they do happen to us. So what are we going to do with the truth about our sin?
Today's Prayer
Father, when I hear the truth, please convict my heart and help me change my life. I don't want to ignore or rationalize my sin away. I don't want to let Satan harden my heart to the truth. Help me be convicted of my sin and commit to living your truth no matter the personal cost to me. In Jesus' name. Amen.
Related Scripture Readings
Daily Wisdom: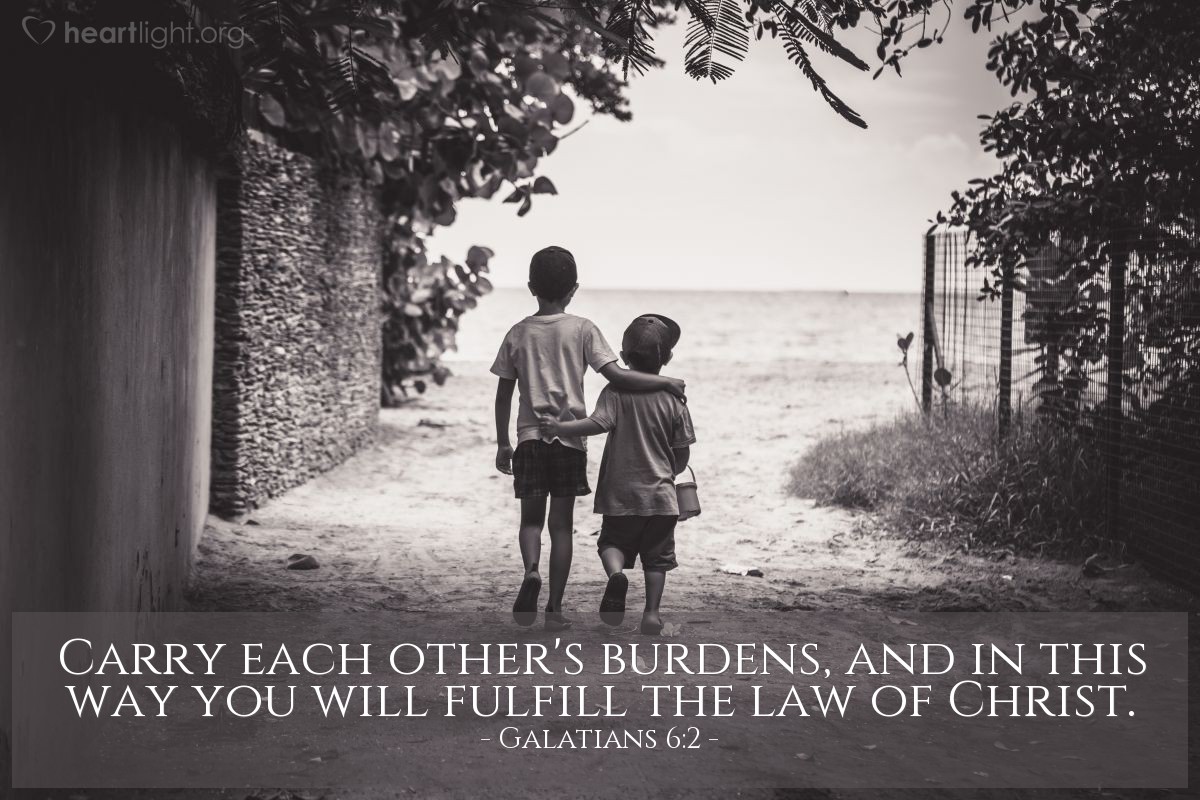 Passion for Praise:

 'Kneeling, Facing God'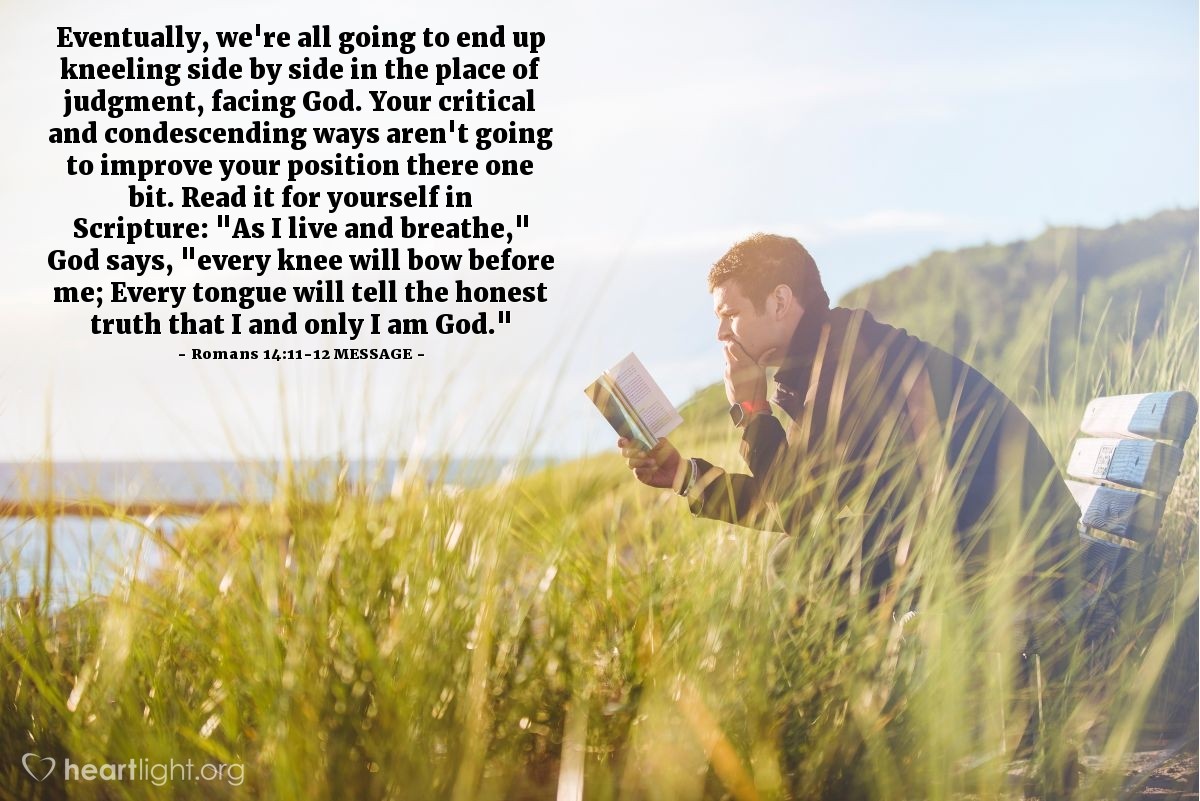 Spiritual Warfare:

 'Make the Choice to Serve God Faithfully'

God's Power for Our Battles

So now, revere the Lord. Serve him honestly and faithfully.Put aside the gods that your ancestors served beyond the Euphrates and in Egypt and serve the Lord. But if it seems wrong in your opinion to serve the Lord, then choose today whom you will serve. Choose the gods whom your ancestors served beyond the Euphrates or the gods of the Amorites in whose land you live. But my family and I will serve the Lord.
A Year with Jesus:

 'The Foundation'
Note from Jesus
Dear Disciple,
The foundation for everything you hold dear as a Christian and as My disciple is this one fundamental truth: I came as God, in human flesh, Jesus the Christ, the Anointed One, the Son of the only true and living God. Peter confessed something very similar to this at a vital turning point in My ministry and in his life (Matthew 16:16).
Over the centuries, many have tried to make Me less than God come in human flesh, but for Me to be the Son of the Father meant no less than this. When I identified Myself as the Father's Son, My Jewish opponents wanted to kill Me for "making himself [Myself] equal with God" (John 5:16-18 NLT). To come as the Son of God meant, and still means, that I was God in human flesh. I was God come in human flesh from conception through the cross to the resurrection and the ascension!
People have speculated trying to determine someone specific who is the evil antiChrist. However, John reminded My disciples that they needed to be seriously concerned about those among them who were obviously antiChrists: the many religious people who were (and still are) trying to separate My identity from the Father. They want to make Me less than God in human flesh. Some even claim that I was a created being — that I was not always in existence and not really God. These false doctrines and notions undermine the power of My cross (1 Corinthians 1:17-18; Colossians 2:15; Philippians 2:5-11). They discount the incredible grace of My full humanity in My incarnation (John 1:1-18). They dispute what it means for Me to be the true, living, and complete Word and Message of God (Hebrews 1:1-3). I was with the Father at creation. Not only did I make all things, but I continue to hold them together by My will and power (John 1:1-3; Colossians 1:15-19).
I sent you the anointing, the Holy Spirit, to be with you. The Spirit will guide you into all truth so that you will not be led astray by the antiChrists in your day (John 16:12-15). You don't need to fear these false teachers; just test the spirit of these teachers to see if they bring the truth about Me (1 John 4:1-6). If they do not, don't associate with them. Those who do not hold to My genuine identity undermine Who I AM and what I did to bring you salvation.
If you hold to My true identity, if you believe in Me as Peter did, you can rest assured of this one certainty: you can be sure of your salvation!
Verses to Live
What follows is a collection of John's strong words about the antiChrists who seek to undermine My identity. They existed in the early days of My church, and they exist in your day. Please know this: you must heed John's words of warning, but not in fear. Trust in the Holy Spirit Whom I poured out on you when you were born into the Father's family (
John 16:5-11
; 
Titus 3:3-7
). The Spirit is your anointing, your assurance that you have the truth and that you belong to the Father. So believe in Me and trust what I say to you: your anointing will guide you into all truth and will confirm what John says about Me!
My children, this is the final hour. You have heard that the antiChrist, the greatest enemy to His kingdom, is coming, but in fact, many antiChrists are already here. This development tells us how late it really is. A group has left us, but they were not part of our family. If they were truly our brothers and sisters, they would have remained for the duration with us. When they left, they made it ever so obvious that they were not part of us.

You have been given an anointing, a special touch from the Holy One. You know the truth. I am not writing to you because you do not know the truth, but because you do know it. You know that no lie belongs to the truth. The liar is the one who says, "Jesus is not really the Anointed One." This is the antiChrist, the one denying both the Father and the Son. Anyone who denies the Son does not know the Father. The one affirming the Son enjoys an intimate relationship with the Father as well.

Let the good news, the story you have heard from the beginning of your journey, live in and take hold of you. If that happens and you focus on the good news, then you will always remain in a relationship with the Son and the Father. This is what He promised us: eternal life.

I also am writing to warn you about some who are attempting to deceive you. You have an anointing. You received it from Him, and His anointing remains on you. You do not need any other teacher. But as His anointing instructs you in all the essentials (all the truth uncontaminated by darkness and lies), it teaches you this: "Remain connected to Him."
(1 John 2:18-27)

There is a sure way for us to know that we belong to the truth. Even though our inner thoughts may condemn us with storms of guilt and constant reminders of our failures, we can know in our hearts that in His presence God Himself is greater than any accusation. He knows all things. My loved ones, if our hearts cannot condemn us, then we can stand with confidence before God. Whatever we may ask, we receive it from Him because we follow His commands and take the path that pleases Him. His command is clear: believe in the name of His Son, Jesus the Anointed, and love one another as He commanded. The one who follows His teaching and walks this path lives in an intimate relationship with God. How do we know that He lives in us? By the gift of His Spirit.
(1 John 3:19-24)

Any person who drifts away and fails to live in the teachings of the Anointed One, our Liberating King, does not have God. But the person who lives in this teaching will have both the Father and the Son. If any person comes to you with a teaching that does not align with the true message of Jesus, do not welcome that person into your house or greet him as you would a true brother. Anyone who welcomes this person has become a partner in advancing his wicked agenda.
(2 John 1:9-11)

My loved ones, I warn you: do not trust every spirit. Instead, examine them carefully to determine if they come from God, because the corrupt world is filled with the voices of many false prophets. Here is how you know God's Spirit: if a spirit affirms the truth that Jesus the Anointed, our Liberating King, has come in human flesh, then that spirit is from God. If a spirit does not affirm the true nature of Jesus the Anointed, then that spirit does not come from God and is, in fact, the spirit of the antiChrist. You have heard about its coming; in fact it is already active in the world. My children, you have come from God and have conquered these spirits because the One Who lives within you is greater than the one in this world. But they are of this world, and they articulate the views of the corrupt world, which the world understands. We come from God, and those who know God hear us. Whoever is not from God will not listen to us. This is the way we discern the difference between the spirit of truth and the spirit of deception.
(1 John 4:1-6)

How can we be sure that He truly lives in us and that we truly live in Him? By one fact: He has given us His Spirit. We have watched what God has done, and we stand ready to provide eyewitness testimonies to the reality that the Father sent the Son to be the Savior of the world. If anyone unites with our confession that Jesus is God's own Son, then God truly lives in that person and that person lives in God. We have experienced and we have entrusted our lives to the love of God in us.
(1 John 4:13-16)

Everyone who trusts Jesus as the long-awaited Anointed One is a child of God, and everyone who loves the Father cannot help but love the child fathered by Him. Then how do we know if we truly love God's children? We love them if we love God and keep His commands. You see, to love God means that we keep His commands, and His commands don't weigh us down. Everything that has been fathered by God overcomes the corrupt world. This is the victory that has conquered the world: our faith.

Who is the person conquering the world? It is the one who truly trusts that Jesus is the Son of God, that Jesus the Anointed is the One Who came by water and blood — not by the water only, but by the water and the blood.

The Spirit of God testifies to this truth because the Spirit is the truth. So there are three testifying witnesses: the Spirit, the water, and the blood. All three are in total agreement. If we accept the testimonies of people, then we must realize the testimony of God is greater than that of any person. God certified the truth about His own Son. Anyone who trusts the Son of God has this truthful testimony at the core of his being. Anyone who does not trust God calls God a liar because he ignores God's truthful testimony regarding His own Son. And this is the truth: God has given us the gift of eternal life, and this life is in His Son. If you have the Son, you have eternal life. If you do not have the Son of God, you are not acquainted with true life.

I am writing all of this to you who have entrusted your lives to the Son of God — so you will realize eternal life already is yours. We live in the bold confidence that God hears our voices when we ask for things that fit His plan. And if we have no doubt that He hears our voices, we can be assured that He moves in response to our call.
(1 John 5:1-15)
Response in Prayer
Father, I don't claim to comprehend all that it means for Jesus to be fully divine and fully human, to be Son of God and Son of a woman. But, dear Father, I do believe it even though I don't fully understand it. I recognize that this truth is part of Your divine grace to share our humanity as one of us to redeem us and bring us to Yourself. So thank You for Jesus, my Savior, my Lord, and Your Son. Thank You for the Son of God Who walked among us and was God with us. I am astounded by both Your unfathomable love and this gracious mystery that has made me Your child. In Jesus' mighty name, I praise and thank You. Amen.
kindredkg

grace
How to Respond to Correction from Other Believers
I was confronted not long ago by a fellow Believer.
She questioned my actions in a situation and then gave me Scripture references to back up her words. She wasn't mean, or spiteful in any way, but of course it still hurt.
This wasn't the first time this has happened. In fact, over the course of my life as a Christian there have been multiple times when I have been confronted. It's a good thing, one of the best parts of being in community, but also one of the very hardest. It's painful to have your faults (real or imagined) pointed out to you.
And yet, we are instructed in Scripture to do this. Matthew 18:15 tells us to go to the brother who sins against us. Galatians 6:1 reminds us to restore, with gentleness, anyone who is caught in transgressions. 2 Timothy 3:16 explains that all Scripture is useful for teaching, reproof, and correction. Luke 17:3 says that if your brother sins, rebuke him, and if he repents, forgive him. Ephesians 4:15 is a reminder to speak the truth in love, so we can grow up into Christ.
There is no doubt that in the community of believers, we are told to be in deep relationship with each other, which requires conversations that are specific not only to praising the way the Lord is using our brothers and sisters, but also to rebuking or correcting when there is an issue.
While I learned early in my walk with the Lord that this was good and to accept it with humbleness, there were some parts of how to deal with confrontation in a healthy way that I didn't understand for many years. 
Here are four truths about confrontation that have transformed how I respond:
1. Displaying humbleness in confrontation does not mean you have to agree that the other person is correct in their assessment.
When I was in college I had a professor who confronted me about sharing my decision to fast and how that was in contrary to Scripture (Matthew 6:1). For years I carried guilt over that conversation. Eventually, the Lord revealed to me that I wasn't able to free myself from the guilt, no matter how many times I repented, because there wasn't anything for me to have guilt for! I hadn't shared about fasting to praise myself or to be seen as righteous. I had mentioned it because I was talking about my excitement over writing a paper on the passages in Isaiah 58 that talk about true fasting. My focus in the conversation was on what I wanted to learn and grow in, not any kind of boasting.
Looking back, what I didn't understand at that time was that the opposite of defensiveness and pride (our natural human response to confrontation) is not agreement, it is humbleness.
Displaying humbleness means:
Listening to the correction with a respectful attitude.
Offering grace to the person speaking.
Having a willingness to learn.
These three things can, but do not necessarily, have to include agreement with the person confronting.
2. God is ultimately our Judge, and He alone knows our hearts.
Accepting correction from someone does not mean applying their judgment of the situation to your life. Confrontation is a gift that is meant to reveal your heart and your position toward God. Sometimes it will reveal you to be face-to-face with the Father, as you should be, and other times it will reveal that your back is turned to Him in a specific area.
Think of it this way: I'm visiting you and I feel like the water at your house is a little off. I love you and I want you to be healthy so I purchase a water filter and gift it to you.
Now, you can do any number of things with this filter. You can be offended that I didn't like your water and throw the gift back in my face. You can argue with me about the merits of your water and why I'm wrong. You can decide that I'm only giving you this because I want to judge you and make you feel bad.
Or, you can accept the gift, even if you feel hurt that I didn't like your water, and choose to show grace and respect because I cared enough to take the time to bring you this gift.
But don't just rush home and install the filter. Because my judgment of the situation may, or may not, be accurate.
Instead, get your water tested. If the filter is needed, apply it! If not, you can return the filter gently, explaining that the water was tested and is fine, or simply set it on a shelf in case you need it at another point, or haul it out with the trash later.
This illustration is pretty self-explanatory but let me spell it out for a second… God is our water tester. He is the ultimate Judge on our heart's condition. We know His requirements from Scripture but it is His Spirit in us that testifies to our true state. If we are in Christ, then we know if we are hiding from Him or facing Him.
Confrontation in the Body is our revealer. Whether the judgment from our brother or sister is correct, or incorrect, our job is to allow the Spirit to test our hearts and see our condition for what it is so we can be transformed more into the likeness of Jesus.
So by all means, if your water tests off, apply the filter! I have been in this position many times and I am so thankful for the way my heart has been healed, little by little, as I have dealt with underlying sin patterns and bad habits. I know there will be many more times in the future and all I can say is Praise the Lord that He is faithful.
3. Sometimes God uses a rebuke in one area to open our eyes to an issue somewhere else.
The confrontation that I mentioned at the beginning of this post was about the content of one of my books. The person felt that something I included was not acceptable for a follower of Jesus.
When I took this to the Lord (and my husband, because sometimes we need help to discern when our emotions are involved!) I felt released from any guilt. I still took the time to study and meditate on the verses given to me (how can you go wrong if you're spending time in the Word, right?) and became more and more convinced that what I had chosen was the right course of action.
But something else happened while I was studying those verses. A truth was revealed to me that showed an issue in my heart that did need to be corrected.
Even though this confrontation was painful, and even though I ultimately disagreed with the person, I am still so thankful they were faithful to give me this gift. If they hadn't, I would have continued in a destructive pattern in my life in this other area. As it was, my heart was revealed and an area that was wounding me is now being worked on.
4. Every confrontation will bring emotions that will take time to process.
When I was a younger believer, I had this idea in my head that if I was mature in Christ then I would be able to accept confrontation without experiencing hurt.
I mean, if I was doing something wrong and someone confronted me, obviously I should be able to acknowledge the wrong, accept responsibility, and change–without feeling anything.
(Sometimes spelling out a belief in words helps us acknowledge the ridiculousness of it, eh?)
My belief in this area was actually this twisted idea that maybe someday I could get to a place where I could avoid pain. As my husband would say, "I hate to break it to ya, honey, but that ain't gonna happen."
I will probably cry every single time someone points out a fault of mine. Which, quite honestly, could be a lot because I have a lot of them. Add in the times when people will misunderstand and whew, that's a whole lot of tears.
But it's okay. I'm a human being and I have emotions and I will always need a little time to process them. And tears, for me, will probably always be a part of that experience.
Don't be afraid to acknowledge your emotions. God didn't give us these instructions because He wanted us to become robots that just compute new information and move on…Instead, we are to be the iron that sharpens iron. We are being shaped into His image and the process will sometimes be painful, but also good.
Facing correction will always bring out emotional responses. It's okay. We don't need to allow our emotions to control us, but they will still be a part of us. Give yourself some grace as you process them.
What are some things that you have learned about accepting correction from the Body of Christ?
Natasha lives with her husband and two children on a farm in Northern New York. She homeschools the kiddos, blogs, and writes books. 
Pain Redeemed
 tells the story of her journey through infertility, 
Counting Grains of Sand
 tells of how God built her family from splintered pieces, and 
WordSnacks
 is devotional encouragement for every day.
Understanding Redemption

  Someone asked me recently, "Why didn't God simply forgive Adam and Eve after they transgressed in the garden?" I told them I did not know if God forgave them or not, but if He did, it did not change the result of what they had done. Even if God forgave Adam and Eve, sin would still have dominion over them; Satan would still be the God of this world; their children would still be 
"conceived in sin"
 and 
"shapen in iniquity;"
 Psalms 51:5 and the death sentence (condemnation) would still hang over the head of every person from that day forward. Maybe they were forgiven, but what they needed was redemption.
Forgiveness is not redemption. Forgiveness deals with your past. Redemption is the act of recovering something that was lost.  To understand redemption, there are four questions we must answer.
1. WHAT WAS LOST? We are what was lost. Adam's transgression sold all humanity into the bondage of sin and Satan. The prophet spoke of this saying, "For thus saith the LORD, Ye have sold yourselves for nought; and ye shall be redeemed without money." Isaiah 52:3 The apostle Paul confirms this when he speaks of trying to please God by the Law before he came to Christ. He said,  "…but I am carnal, sold under sin." Romans 7:14 In Adam, we were all "sold under sin" into the kingdom of darkness Colossians 1:13 from which we could never redeem ourselves.
2. WHO WAS IT LOST TO? We were lost to God. He created mankind in his image and for his glory. Mankind was to be a flesh and blood manifestation of the invisible God. In Adam's transgression, we lost the image of God and took on the image of the serpent. John wrote, "He that committeth sin is of the devil; for the devil sinneth from the beginning" and "In this the children of God are manifest, and the children of the devil: whosoever doeth not righteousness is not of God…" I John 3:8, 10 When Jesus said He came "…to seek and to save that which was lost," he is speaking of us as being lost to God. Our redemption restores to God that which was lost to him. John wrote, "And they sung a new song, saying, Thou art worthy to take the book, and to open the seals thereof: for thou wast slain, and hast redeemed us to God by thy blood out of every kindred, and tongue, and people, and nation…" Revelation 5:9 In redemption, the image and glory of God is restored upon those who are restored to God. Romans 8:29-30  As He was in Christ, so now in the redeemed, God is once again "manifested in the flesh." I Timothy 3:16
 3. WHO TOOK POSSESSION OF WHAT WAS LOST? Sin and Satan became the lords over all humanity. They became possessors of what belonged to God. Just as God sent Moses to deliver Israel from slavery in Egypt, God sent his own Son to deliver us from slavery in sin. Jesus said, "Whosoever committeth sin is the servant (slave) of sin." John 8:34 Redemption delivers us from that bondage. Paul wrote that Christ "…gave himself for us, that he might redeem us from all iniquity, and purify unto himself a peculiar people, zealous of good works." Titus 2:14 Notice that Christ redeemed us "from all iniquity," and "unto himself." This is why the angel told Joseph "thou shalt call his name JESUS: for he shall save his people from their sins." Matthew 1:21 Calvary was not about paying a debt for sin. It was about delivering us from sin itself.
4. WHAT DOES IT TAKE TO RESTORE WHAT WAS LOST TO THE ONE IT WAS LOST TO?  The final part of understanding redemption is to recognize what was required to redeem that which was lost. This is called the "ransom." It is the cost of redemption. The scripture is clear that Christ "…gave himself a ransom for all…" I Timothy 2:6 A ransom does not necessarily speak of a payment to someone, but it does always speaks of what it cost to redeem something. In World War II, millions of Allied soldiers died on the battlefield fighting the Nazis. Their blood was the ransom required to deliver the world from Hitler's tyranny. Even so, the blood of Christ was the ransom required to destroy Satan and deliver us from all sin and iniquity. It was not paid to anyone. His death was the great cost it took to destroy Satan! No one has to be a slave to sin or Satan any longer, because Christ shed his blood to make us free. We are redeemed! "Let the redeemed of the LORD say so, whom he hath redeemed from the hand of the enemy;" Psalms 107:2
Finally, there is a mistranslation in the KJV and some other versions of the Bible which blind many people to the truth of redemption. When the apostle tells us "In whom we have redemption through his blood, the forgiveness of sins…" Ephesians 1:7, Colossians 1:14, the word he used that was translated as "forgiveness" is the Greek word "aphesis" which actually means "freedom." "Aphesis" is the word Jesus used for both "deliverance" and "liberty" when he read the prophecy "The Spirit of the Lord is upon me, because he hath anointed me to preach the gospel to the poor; he hath sent me to heal the brokenhearted, to preach deliverance to the captives, and recovering of sight to the blind, to set at liberty them that are bruised, To preach the acceptable year of the Lord." Luke 4:18-19 "Aphesis" always means freedom. "We have redemption through his blood, the freedom from sins…"  Jesus came not to only forgive sins, but to redeem from sin and restore us to God.
God Bless,
Pastor Keith Surface
Calvary Outreach Ministries
Prophecy: 2 Sets of Christians Are About to Cross Over Into a New Season
The other day while I was driving in my car, Holy Spirit spoke to me and said, "Momentum is building again."
I've sensed over the past few weeks that many people in the body of Christ have seen areas in their lives where it's seemed like their progress has stalled and their strength has weakened. There's been a complete reliance upon the Lord regarding obstacles in the roadway of their destinies, where assigned adversity has afforded the people of God new levels of faith and a new resilience for the long haul. Where many believers have found themselves growing weary with the pace of their race, I saw the Lord sending times of refreshing to restore discouragement, hope deferred and unexpected delay.
Who Is Crossing Over?
Holy Spirit showed me two sets of people in the body of Christ who were preparing to cross over into their new season. There was one group of people who God had opened new doors of access to because they were ready and prepared to go to next-level assignments in their authority, gifting and anointing. Then there was a second set of people who were being refined in the fire for carrying new power, new realms of glory and a greater measure of faith to heal the sick, set the captives free and walk in new dimensions of miracles, signs and wonders like never before.
Both groups of people endured the threshing floor of preparation for carrying the fresh oil needed at this hour. These ones paid the price, endured the cost and surrendered their all while passing through the narrow place of transition. The mountaintop has positioned you, and the valley floor has anointed you.
I hear the Spirit of God say, "It's not by might nor by power but by My Spirit that these ones have been raised up and brought to the forefront at this time. Make no mistake about it, I have chosen the time and the season where the momentum of their days would meet with the fruit being manifested through the fulfillment of My promises. This is not an hour to shrink back and despair. This is an hour of new power to be demonstrated through My servants, the prophets."
Convergence: Where the Training Ground of the Past Meets Destiny
There's a convergence happening in the body of Christ at this hour where our training ground from the past has positioned us for what we were created and formed to do by the hand of God from conception. A merging of where many have been and where it's been prophesied that many are going is creating an atmosphere conducive to the winds of momentum, ushering the saints of God into higher and weightier realms of glory.
I see a thrust of God-ordained promises beginning to explode in the spiritual realm to lift the saints of God into kairos moments orchestrated by the hand of the Lord.
The Lilies of the Field
The other morning I heard the Spirit of God say, "Watch Me move amongst the lilies of the field to array My sovereignty upon you in all its splendor."
The lilies of the field are mentioned in Matthew 6:28 as a place where the glory of God dwells without effort or striving. When the sovereignty of God comes upon us, His supreme power, authority and attributes rain down and rule in our midst.
Ride with the Wind!
We are entering realms of glory as sons and daughters of God to blow the lid off any other move of God that's come before us. The Spirit of God is roaming the earth and marking the pure in heart who are spotless and blameless in the eyes of Father.
While the church is being purged of perversion, sin and gross compromise, a remnant of Holy Ghost glory-carrying, authority-wielding vessels of power is beginning to emerge for such a time as this!
A new momentum is building at this hour! Ride with the wind! God has positioned you for such a time as this.
"See, I will do a new thing, now it shall spring forth; shall you not be aware of it?" (Isa. 43:19a).
Holly Watson is a prophetic voice throughout the body of Christ, called to share the Father's heart to His church. Her passion is to equip the saints of God to be kingdom-minded and prepared. The prophetic word through Holly's blog, Kingdom Revelations, is read across the nation and around the world. She resides with her husband and family in Southern California.
Who's Really in Charge Here?
Is It the Donkey, the Elephant, or the Lamb?
Starting Wednesday morning, the House of Representatives opens to the public the inquiry hearings on the potential impeachment of President Trump, aired gavel to gavel on all major networks.
Will you be watching along with a hundred million other Americans?
Commentators, historians, political and social scientists—as well as the average citizen—agree on this (even if we can't agree on anything else): As we enter into these serious deliberations this week, we find our nation to be more divided, more polarized, more entrenched and inflexible, more paralyzed domestically and internationally than at any time since the great Civil War.
It appears we've moved beyond simply being "partisan" to being "tribal"—tribes identified as Democrats vs. Republicans, liberals vs. conservatives, big government vs. small government, coastal elites vs. the flyover states, white collar vs. blue collar, red states vs. blue states, Trumpers vs. Never Trumpers.
On and on, the shattering of our society continues. Battle lines appear permanently locked in everywhere.
With what is shaping up to be possibly the most hotly-contested and consequential presidential election in our nation's history—in the face of dire warnings that the very fabric of our society is being ripped asunder, that our major institutions are being stressed to a breaking point, that our culture as a whole is in an ethical and moral freefall—we would do well to ask ourselves some crucial questions. And many Americans are doing just that.
Questions Every American Should Ask:
At this collision of convictions and cultures, who's really in charge here?
Who's able to rescue us from our deepening, deadly nightmare?
Who's positioned to start the healing process we so desperately need at every level?
But as Christians, there are follow-up questions we should be asking.
Additional Questions Christians Must Ask:
As everything seems to be collapsing around us, where is Jesus Christ? How involved is he? Or is he involved at all?
Christ, who is titled the King of kings—is he truly supreme over the dynamics and destiny of this nation?
If so, has the time come for us to refuse to cast our lot with either the donkey (Democrats) or the elephant (Republicans) and instead to choose to turn wholeheartedly in total dependence on the ascended Lamb of God?
Do we dare to make Jesus, seated on the throne of heaven, our exclusive hero and our only hope for genuine recovery?
Is the World's Redeemer the one true answer to all the other questions everyone needs to be asking?
Such issues should occupy our full attention right now. Here's how I would approach them.
First of All:
How Much of What We're Witnessing Involves
the Judgments of the Lamb?
I'm convinced that many aspects of the disintegration around us—whether in our communities, in our politics, in our climate, in our infrastructure decay; whether by natural disasters, by gun violence, by ethical scandals on every side, by spiritual famine in the land—show signs that they are fundamentally the judgments of the Lord of Glory.
On the one hand, for sure somewhere in the mix of all of this, it's clear that our nation is under enemy invasion from the principalities and powers and rulers of the domains of darkness (see Eph. 2:1-3; Eph. 6:10-18; Rev. 12).
On the other hand, let's not forget that in God's dealings with the nation of Israel, he often used their enemies to further his judgments upon the generations that rebelled against his righteous ways. Even so today, though set on the destruction of our land, Satan's minions must perform the bidding of the One who is able to exploit them to help serve the fulfillment of his divine decrees concerning our land.
Clearly from Scripture, we also see God's judgments upon a nation arriving in the form of natural disasters and plagues (Noah's flood, Pharaoh's Egypt, locust swarms in Joel); international conflicts (from Edomites to Assyrians); through the confusion of social, religious, and political chaos (see the whole book of Jeremiah).
Hands Off!
But in the New Testament, the primary evidence of God's wrath upon the nations—upon our nation—is clearly laid out as involving something more troubling: God simply takes his hands off of us, letting us suffer the consequences of our rebellion. For example, we read:
What happened was this: People knew God perfectly well, but when they didn't treat him like God, refusing to worship him, they trivialized themselves into silliness and confusion so that there was neither sense nor direction left in their lives . . .


So, God said, in effect, "If that's what you want, that's what you get." It wasn't long before they were living in a pigpen . . .


Worse followed. Refusing to know God, they soon didn't know how to be human either . . . oh, how they paid for it—emptied of God and love, godless and loveless wretches.


Since they didn't bother to acknowledge God, God quit bothering them and let them run loose. And then all hell broke loose: rampant evil, grabbing and grasping, vicious backstabbing. They made life hell on earth with their envy, wanton killing, bickering, and cheating. (Romans 1, MSG, emphasis added)
Be honest with me: Doesn't that whole scene remind you a lot of what we're seeing all around us in America today?
The process described in Romans 1 reminds me of what we read in 2 Thessalonians 2 concerning what will precede the coming of the antichrist before the return of Christ. In principle, similar spiritual dynamics can play themselves out in preliminary forms in any generation—including our own—and come out looking like this:
Don't let anyone deceive you by any means whatsoever. That day will not come before there arises a definite rejection of God and the appearance of the lawless man . . . the product of all that leads to death . . .


You will probably also remember how I used to talk about a "restraining power" which would operate until the time should come for the emergence of this man. Evil is already insidiously at work, but its activities are restricted until what I have called the "restraining power" (of God) is removed. (PHILLIPS, emphasis added)
Again, let me ask you: Does it not feel to you these days that more and more the restraining hand of God is being removed from our land on every side? Does it not seem that we are currently reaping what we've sown as God gives us the freedom to pursue and embrace the works of the flesh in every arena of our lives? And the outcome is ultimately the way of death.
The Lamb of God Is in Charge.
That Means He's Our Only Way Out.
God raised him from death and set him on a throne in deep heaven,
in charge of running the universe, everything from galaxies to governments,
no name and no power exempt from his rule.
And not just for the time being, but forever.
He is in charge of it all,
has the final word on everything.
At the center of all this, Christ rules the church.
(Ephesians 1, The Message, emphasis added)
Therefore, I suggest, for Christians these questions listed above need to be answered at this critical hour in a way that forces us back to the LAMB OF GOD as our only way out of our long, intractable, national nightmare—that grows more ominous daily, especially as on this very day the House Judiciary Committee launches the public phase of its investigation into possible presidential wrongdoing.
Whatever your current position on the historic drama unfolding this week in Washington, DC, the fact is this: If you belong to God's Son, our Redeemer King, then you already know that the only exit from this intensifying horror show is found not in any political party's agenda or campaign nor in which candidates end up in office.
Ultimately, liberation from disintegration rests in the Lord Jesus Christ—"the name that is above every name in this age and in the age to come" (Eph. 1)–who is both Savior and Judge for all peoples, for all eternity.
As Jesus said, the Father has placed all judgment at his disposal forever (John 5). As we read in the poetic, apocalyptic language of Revelation 6 (emphasis added):
They cried to the mountains to crush them. "Fall on us," they pleaded, "and hide us from the face of the one sitting on the throne, and from the anger of the Lamb . . . who can survive it?"
Or again, in Revelation 19:
He was named Faithful and True . . . His eyes were like flames, and on his head were many crowns . . . In his mouth he held a sharp sword to strike down the nations; he ruled them with an iron grip . . . On his robe and thigh was written this title: "King of Kings and Lord of Lords." (emphasis added)
John summed up Jesus' supremacy best when he declared in Revelation 1 (emphasis added): "Jesus Christ is the Loyal Witness, Firstborn from the dead, Ruler of all earthly kings."
And that includes the leaders up on Capitol Hill meeting during these watershed weeks of testimonies.
But let's be sure we always proclaim them to be "SAVING judgments." That's because in all of the actions Jesus takes as he rules among the nations—even when he removes his restraints and allows people to taste the dregs of their own human depravity—his one desire even then is that by bringing a person or a whole nation to the end of their ingenuity and strength, they will be compelled to turn to him so he might extend his salvation to all who believe. That applies to our people as well as all others on planet earth.
Peter put it this way (2 Peter 3, emphasis added):
The Lord is being patient for your sake. He does not want anyone to be destroyed but wants everyone to repent. However, the day of the Lord will come as unexpectedly as a thief.
The overarching reality is that at this hour, primarily Christ employs his saving judgments to accelerate the spread and impact of his redeeming gospel. This is what inspires the multitudes in Revelation 5 to fall down and worship him, declaring that the "slain Lamb" is worthy to receive all glory and honor and dominion and blessing.
Let's Exult Again in Christ's Rightful Place—
Both in Our Lives and in Our Nation
In the months ahead, whatever the outcome of President Trump's impeachment proceedings, our nation will remain under the judgments of the Lamb of God—who alone can deliver us from their tragic afflictions.
As you know from all I have shared with you through ChristNow.com—as well as in my writings, such as my book Christ Is NOW! or on my podcast, Christ Today—I am convinced that the one great promise of deliverance by a spiritual and moral renovation of America lies in a sovereign work of God that I call a "nationwide Christ Awakening movement"—as God's Son becomes increasingly the central hope and passion of our life together as God's people and, as a result, increasingly for the country as a whole.
The Bible is unequivocal: Jesus alone is able to bring about the fulfillment of our national motto; he alone can make America become "one out of many" as he does so by bringing us together to himself (see Colossians 1:18-20).
However, this Christ Awakening miracle must begin among God's people, first of all.
As Peter reminds us:
For the time has come for judgment, and it must begin with God's household. And if judgment begins with us, what terrible fate awaits those who have never obeyed God's Good News? (1 Peter 4, emphasis added)
Remember how Jesus said to those in the church in Ephesus (and to all of us through them): "If you don't repent, I will come and remove your lampstand from its place among the churches." (Rev. 2)
Or again, to the church in Pergamum: "Repent of your sin, or I will come to you suddenly and fight against them with the sword of my mouth." (Rev. 2)
Or again, to the church at Thyatira: "All the churches will know that I am the one who searches out the thoughts and intentions of every person. And I will give to each of you whatever you deserve."
To what degree have Christians in America substituted human leaders for the Lord Jesus Christ in the midst of our political (and other) strivings and machinations?
To what extent have we failed to give Jesus the supremacy in all things—but instead turned to solutions the world offers (which are all failing us miserably right now)—and in that dereliction committed acts of idolatry?
Well, to that measure, we should stand in the fear of God—the fear that our light for Christ to the nation is being snuffed out; the fear that the sword of his living word is slaying us; the fear that the fiery penetration of his holy eyes will lay bare the shallowness of our affections for him and our obedience to him.
It's Time to Raise Up a New Kind of Repentance Praying
in Pursuit of a Nationwide Christ Awakening
The only hope for our nation at this crucial moment is that the Christians of our nation come back to the reigning Lamb and repent of all we have done to him and against him—especially by our neglect of him.
That is a kind of repentance praying most Christians have never even heard of, let alone experienced.
But truly it is the only recourse that we have in this desperate hour.
What would such prayers of repentance sound like? Let me close by offering some examples.
Maybe you'd like to make them your own prayers before you close this blog post.
Maybe you'd like to pass them along—pass this blog post along—to your Christian friends and ask them to join you in this kind of praying.
I believe the spiritual reclamation of our nation under the righteous reign of Christ depends on such deliberate, sincere, consistent prayers of repentance by hundreds of thousands of believers across our land. We must become broken over our sin before the slain Lamb on the throne—and then from now on, look to HIM ALONE!
Will you be one who bows before the Lord Jesus Christ in repentance and complete surrender? Will you persuade others to do the same?
As others try to impeach, will you strive to reach—to reach up to our victorious Sacrifice, King Jesus, and reach up for all the promises of God that are flowing from his throne in his name?
Dear Father, WE REPENT — individually and on behalf of all your people.
We repent . . . for how we have diminished your Son, regarding him more like a Christian mascot than the Monarch over our churches and our country, regarding him as the guarantee of our efforts to make our nation what we think it should look like.
We repent . . . for how we have manipulated your Son, coming to him only as far as we think we need to come in order to get him to do what we want him to do—that far and no more; often using him to advance our social and political agendas, claiming we are speaking in his name and representing his desires, but really just reshaping him to sound like the rest of our tribe.
We repent . . . for how we have hoarded your Son, seeking his blessings for ourselves, with little thought about bringing those blessings to others. We've assumed that he was there only for us. We've acted as if he were not Lord of neighbors and nations—or of our nation and of our life together in him.
We repent . . . for how we have resisted your Son, withholding our affections from him because we were afraid of what it would cost us to surrender our lives completely to him—and thus we have denied his supremacy, not only in our lives but also over everything and everyone else.
We repent . . . for how we've replaced your Son with creeds, programs, organizations, political parties, culture wars, and moral renewal campaigns—often performed in his name but without the consuming passion for his glory and the advance of his Kingdom at all times. We've failed to give him the preeminence he deserves as the Center and Circumference of everything, both for us and for all peoples.
We repent . . . for all the ways we have sinned against your Son, defaming his wonderful name among the peoples of our nation by how we have diminished him, manipulated him, hoarded him, resisted him, and replaced him.
O Lamb of God,
Forgive us! Cleanse us! Purify us!
O Lamb of God,
Resurrect us! Reconvert us! Restore us!
O Lamb of God,
Refill us! Recommission us!
Dear Lamb upon the throne,
by your incarnation, by your crucifixion,
by your resurrection, and by your ascension
we are yours forever!
About the Author
Over the past 40 years, David Bryant has been defined by many as a "messenger of hope" and a "Christ proclaimer" to the Church throughout the world. Formerly a minister-at-large with the InterVarsity Christian Fellowship, president of Concerts of Prayer International (COPI), and chairman of America's National Prayer Committee, David now provides leadership to ChristNow.com and Proclaim Hope!, whose mission is to foster and serve Christ-awakening movements. Order his widely read books at DavidBryantBooks.com.
Humor Time…….
For Better or For Worse
Dennis the Menace