Daily Prayer for 

October 27
We are hard pressed on every side, but not crushed; perplexed, but not in despair; persecuted, but not abandoned; struck down, but not destroyed. We always carry around in our body the death of Jesus, so that the life of Jesus may also be revealed in our body. 2 Corinthians 4:8–10, NIV
Lord God, we thank you for your voice even when it is stern and we must go through hardship and suffering. Your voice speaks to us, and in your voice we can be glad and victorious in our life on earth. Come into our lives. May each of us realize that all we have gone through has been for the good. Be God and Lord over the nations. Be a refuge for all people. Grant that the sin and distress of this terrible time may soon pass and that we may hear your words, "Be comforted. I will come soon. All these terrors must pass by. My will is being done. My name must be honored. My kingdom and my rule are coming. So take heart and at all times look to your God and Father in heaven." Amen.

Walt Whitman
This is what you shall do: Love the earth and the sun and the animals, despise riches, give alms to everyone that asks, stand up for the stupid and crazy, devote your income and labor to others, hate tyranny, and argue not concerning God.
Source: Leaves of Grass
Share 
today

's verse
    —Dion Todd
Crickets And Bill Collectors
My face is red with weeping. Deep darkness is on my eyelids. Although there is no violence in my hands, and my prayer is pure. Job 16:16 WEB
Bills steadily piled up at our house, with no income to pay them. I had just spent a couple of months of intensely seeking the Lord, praying with my face to the carpet for two hours a day, and soaking in His presence like a warm blanket. Then suddenly our business dried up, and as the months passed, I began to feel alone, and abandoned. When I tried to pray, I no longer got an answer. When I tried to worship, there was no presence. When we gave, we just had less. When we fasted, we were just hungry. I know that He will never leave you nor forsake you, but I could only hear crickets, and bill collectors.
During that season, I learned this: When a school teacher is teaching the class, they will answer any questions that you have. But when the test begins, there is silence in the classroom. The teacher won't give you the answers. You are supposed to use the knowledge that you recently learned to pass the test. The teacher is still there, but they do not speak until the test is over.
Job was a righteous man who went through a test. When everything fell apart, there was only silence. God showed up at the end of it and Job was restored. In my life, I went through a test. After several months of no work and intense pressure, we were packing to move out of our home. It ended abruptly and in twenty-four hours everything changed for us. The Lord put us into ministry, I became a pastor, and a friend stepped in and paid all of our bills for the month. The test was over, His presence returned, and like David and Job, we recovered all.
If all that you hear are crickets and bill collectors, know that this is just a test. Keep the faith, do not give up today. Keep praying, and try to stay positive. It will eventually pass and you will be taken to a new level. As Job sat there on the ground having lost everything, he probably did not see the blessings that were soon coming, for the Lord blessed the latter part of Job's life, more than the beginning (Job 42:12).
Prayer: Heavenly Father, I come to You and ask for mercy. Please bring the things that You have taught me back to my remembrance. Give me the grace to pass the tests that I face. Fulfill Your will in my life, in the name of Jesus Christ I pray.
Bible Fun Fact: There are no words that begin with x in the KJV Bible.

What Jesus Did!

 'The Danger of Riches'

When Jesus saw [that the rich man was sad when told he should surrender his wealth, Jesus] said, "How hard it is for the rich to enter the Kingdom of God! In fact, it is easier for a camel to go through the eye of a needle than for a rich person to enter the Kingdom of God!"
Key Thought
While material riches can be a great blessing and can be used to bless many in need and to do great things for the Kingdom, riches may also be a trap to us. The Gospel of Luke lets us hear Jesus teach repeatedly about the danger of riches. Jesus' point here is that riches can be an incredible danger to the heart of believers. This rich man was the living example of this danger. As the apostle Paul warned, greed and a desire for riches can become idolatry and destroy us (
Colossians 3:5-6
). Let's make sure that every area of our lives, including our use of material things, is yielded to the lordship of Jesus.
Today's Prayer
Father, thank you for your many material blessings. Help me use these blessings to your glory. I do not want anything to interfere with my total devotion to you. In Jesus' name. Amen.
Related Scripture Readings
Daily Wisdom: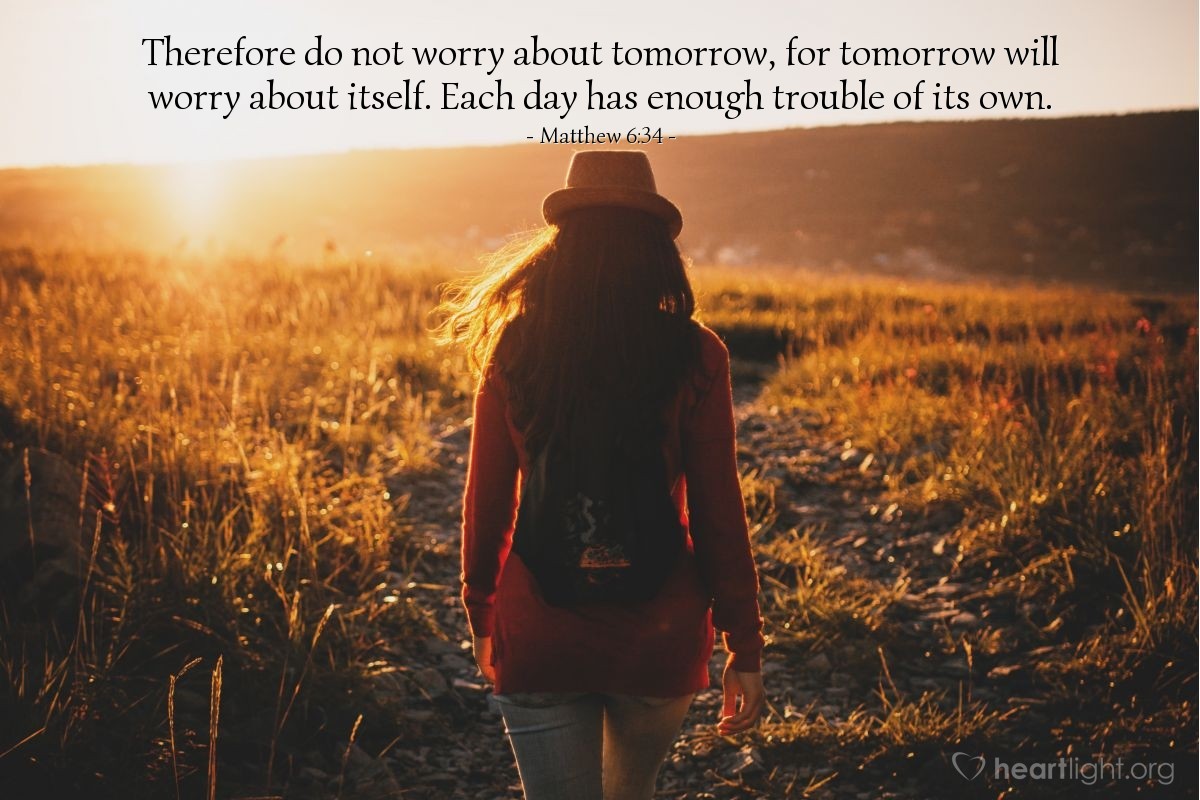 Passion for Praise:

 'Giving Me Victory'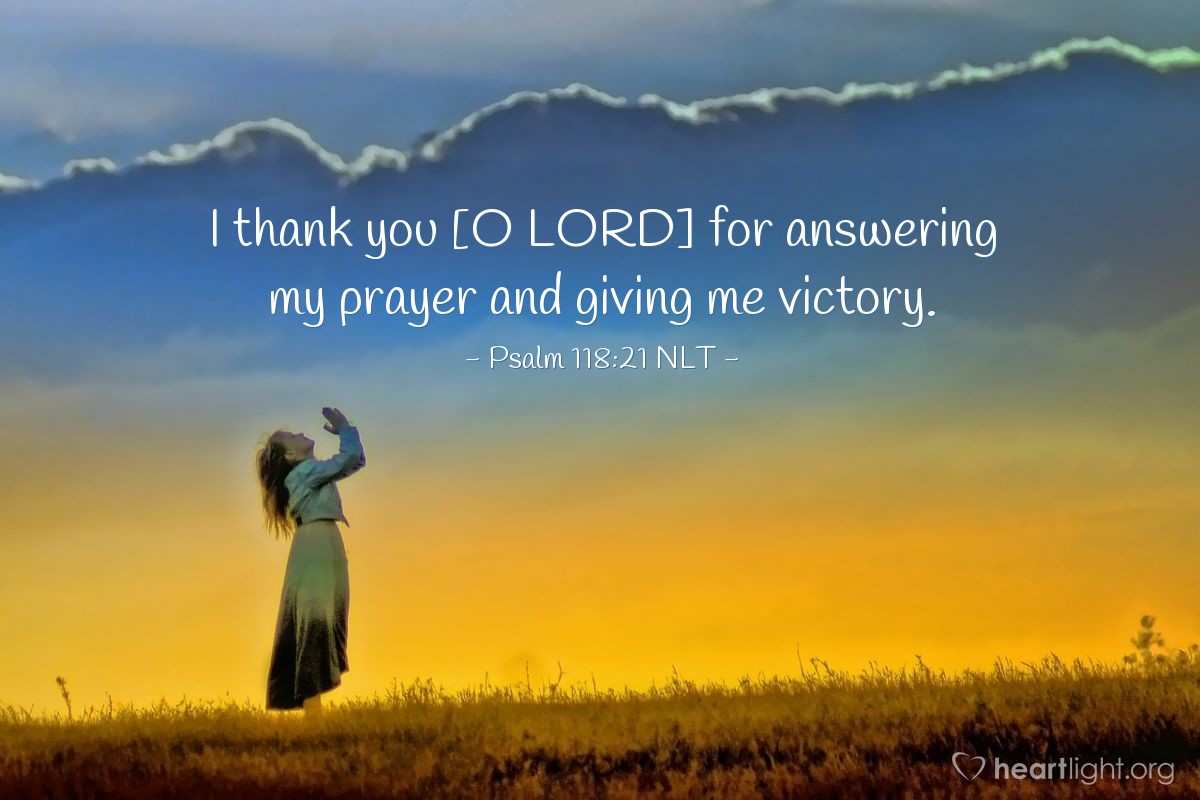 Spiritual Warfare:

 'Be Respectful, Regardless'

God's Power for Our Battles

Live as free people, but do not use your freedom as an excuse to do evil.Live as servants of God. Show respect for all people: Love the brothers and sisters of God's family, respect God, honor the king. Slaves, yield to the authority of your masters with all respect, not only those who are good and kind, but also those who are dishonest.
 Prayer
Lord, Satan has been quite successful as of late in getting us all angry and impatient with each other. It seems he has put his best workers in Hollywood and in government, and that strategy has worked well. Help us to show respect and love for each other; even if those who are in power are urging us to hate and slander. Help us to turn off our media and learn to love our neighbor all over again. In Jesus' Name, Amen.
A Year with Jesus:

 'Focus on What Is Core'
Note from Jesus
Dear Beloved,
I walked the streets and footpaths of Galilee, Samaria, and Judea two thousand years ago. I came as God incarnate and gave Myself as a sacrifice for your sins and everyone else's sin (1 John 2:1-2). The ultimate validation of Who I AM and of the efficacy of My sacrifice was My resurrection (Acts 13:26-33). Through the years, those who believe in Me and commit themselves to Me have come together to form My church. However, Satan has consistently used a tried and proven method to sabotage My disciples' work to build My church. The evil one gets people arguing about religious things that are not that important. If he can distract My followers with useless, foolish, and selfish arguments, he knows that they will lose their focus on the core truths of their faith. Paul's letters of 1 and 2 Timothy and Titus, as well as the letters of 2 Peter and Jude, speak directly to these problems. In today's verses from 1 Timothy and Titus, Paul addressed similar issues with Timothy who was in Ephesus and with Titus who was in Crete.
Paul spoke in lofty words about "God's family" to remind My leaders and those to whom they ministered that My church is precious. My church is not just a thing or an idea. The church is the blood-bought family of people who have the purpose of being My blessing and bringing My redemption to their lost world. However, to do the work of redemption, the people of My family have to remain focused on the core truths of the gospel. Without this focus, their fellowship can devolve into personality clashes. If this primary focus is lost or if there are arguments over inconsequential semi-religious issues, My people can be trapped by immorality in all of its forms.
In today's verses, you see Paul as he addressed the issues that were distracting My beloved disciples in Crete (where Titus ministered) and in Ephesus (where Timothy served). He pointed these disciples away from the distracting issues of false teaching, "worldly fables," and "sensual cravings and pleasures." Paul encouraged Timothy and Titus to point My beloved disciples in Crete and Ephesus in the direction of the core gospel and the life-change that true faith puts in place of the world's foolish and destructive counterfeit approaches to life. Notice that some of the core teachings involve the following subjects:
My identity as the Christ, Son of God, and Savior
God's promises about Me and My fulfillment of My mission on earth
The validation of My resurrection and return to glory
The proclamation of the gospel all over the world
The importance of godliness in all things
My return to completely redeem and save you
The Father's great grace, mercy, and loving-kindness toward you when you were living in sin
Your rebirth through faith and the power of the Holy Spirit
The significance of baptism
The importance of living a humble and holy life full of good deeds
Verses to Live
My beloved disciple, I want you to focus on the core things of your faith. To the delight of the evil one, many people want to distract you from these core things. You can always find a way to argue about religious ideas. Instead, stick to what is core. Refuse to get distracted by what is not essential, by false teaching, or by the lure of immorality. I called you to be salt in a world of decay and light in a world of darkness (
Matthew 5:13-16
). Paul urged Timothy and Titus to teach the people to whom they ministered to be the same!
I [Paul] am writing all this to you, hoping I can come to you before too long; but in case I am delayed, you will know how one ought to behave as a member of God's family — the assembly of the living God, the pillar and foundation that support the truth — and I think you will agree that the mystery of godliness is great:

He was revealed in the flesh,
proven right in the Spirit;

He was seen by the heavenly messengers,
preached to outsider nations.

He was believed in the world,
taken up to the heavens in glory.

But even so, the Spirit very clearly tells us that in the last times some will abandon the true faith because of their devotion to spirits sent to deceive and sabotage, and mistakenly they will end up following the doctrine of demons. They will be carried away through the hypocrisy of liars whose consciences have been branded with a red-hot iron, saying, "Don't marry. Don't eat such-and-such foods." But God created all these to be received with gratitude by people who hold fast to the faith and really comprehend the truth. For everything God made is good. That means nothing should be rejected as long as it's received with a grateful heart, for by God's word and prayer, it is made holy.

Place these truths before the brothers and sisters. If you do, you will be a good servant of Jesus the Anointed, raised and fed on words of true belief, trained in the good instruction you have so clearly followed. Reject worldly fables. Refuse old wives' tales. Instead, train yourself toward godliness. Although training your body has certain payoffs, godliness benefits all things — holding promise for life here and now and promise for the life that is coming. This statement is worthy of trust and our full acceptance. This is what we work so hard for! This is why we are constantly struggling: because we have an assured hope fixed upon a living God Who is the Savior of all humankind — especially all of us who believe.
(1 Timothy 3:14-16; 1 Timothy 4:1-10)

Be ready to do what is good and honorable. Don't tear down another person with your words. Instead, keep the peace, and be considerate. Be truly humble toward everyone because there was a time when we, too, were foolish, rebellious, and deceived — we were slaves to sensual cravings and pleasures; and we spent our lives being spiteful, envious, hated by many, and hating one another. But then something happened: God our Savior and His overpowering love and kindness for humankind entered our world; He came to save us. It's not that we earned it by doing good works or righteous deeds; He came because He is merciful. He brought us out of our old ways of living to a new beginning through the washing of regeneration; and He made us completely new through the Holy Spirit, Who was poured out in abundance through Jesus the Anointed, our Savior. All of this happened so that through His grace we would be accepted into God's covenant family and appointed to be His heirs, full of the hope that comes from knowing you have eternal life. This is a faithful statement of what we believe.
(Titus 3:1-8)
Response in Prayer
O Father, forgive me when I become distracted by the latest religious fad, by the newest debate about hard-to-understand things, or by the lure of immorality. There are times when each of these has tugged at my heart, distracted my mind, and muddied the clarity of my devotion. I believe that Jesus died for my sins. I believe that He was buried in a grave suffering the sting of mortality. I also believe that He rose from the dead victorious over sin, death, and hell for the lost people He came to save. Because of this, dear Father, I believe that my faith in Jesus and my participation with Him in His death, burial, and resurrection through baptism have given me the assurance of life forever with You. I believe that the Holy Spirit has given me a new birth into a new way of life because of Your grace. Thank You for Your mercy. Empower me, please dear Father, as I commit to living for You. I want my life to be full of good deeds to honor and thank You. You have done so much for me. I want to be Your salt and light in a world of decay and darkness. In Jesus' name, I pray. Amen.
In a recent interview with CNN's Don Lemon, former Texas Congressman Beto O'Rourke was asked if he thinks religious institutions like churches, charities and even colleges/universities should lose their tax-exempt status if they oppose same-sex marriage. Here's O'Rourke's response:
"Yes, there can be no reward, no benefit, no tax break, for anyone, or any institution, any organization in America that denies the full human rights and the full civil rights of every single one of us."
The writing is on the wall. Persecution of the church is coming and is already here. The spirit of antichrist and atheism is gaining momentum in our nation. The warning signs are in plain view for all churches and ministries to see. If it can happen in other nations it can happen here. America is not exempt. Could some within our shores soon be imprisoned or even killed for their faith?
Although O'Rourke said "any institution or organization" should have its tax-exempt status removed if it opposes gay marriage, Lemon's question originally only referenced "colleges, churches and charities." Lemon did not not include mosques in his original question. Islamists have killed gays. Yet Democrats love Islam. How utterly illogical and lunatic is that? America was founded on Christian faith and principles that gave us our freedom, but now these evil men desire to enslave us through their antichrist and anti-biblical laws.
There has also been some talk among some Democratic candidates about proposing a federal law that any church or ministry that taught publicly against the gay lifestyle or same-sex marriage would be stripped of its 501-C3 nonprofit status. Among other negative results from this, it would mean that people's tithes and offerings would not be tax-exempt; all special permits for bulk mailing would be revoked; all land, equipment and housing for ministers would fall under taxable laws; and in general, this would cause thousands of churches that are already in financial trouble to close its operations.
Their antichrist thinking is this: since same sex marriage is now law, everyone must obey the laws and support this issue. These despicable politicians are no longer hiding their belief that government should exercise control over religion, or should I say Christ and His true Church. They are of their father the devil: liars and murderers, haters of Christ and true Christians. They love their own like Islam and false religionists. That is why you never hear cases of discrimination being made against Islamic centers and mosques or Muslim businesses. Gays don't go to a Muslim bakery and ask for a gay wedding cake. Gays don't sue Muslims for discrimination. This world's system is only against Christ and His true Church.
Christ likened the last days before His return to the days of Noah and Lot. In Genesis 19 we see Sodom promoting abominations of old and young men having homosexual relations. Biblical commentaries tell us that when strangers came to the city of Sodom the men placed beds in the street, tying the strangers to the bed, and physically abusing them—thus the reason Lot requested that the two men (angels) not go outside the door of his house, as it would be dangerous. America has been doing the same for sometime now. Gay rights, gay pride, gay parades, gay marriage and every perverse thing are legal and celebrated.
Tax Exempt Status Is Not a Reward
Allow me to educate some of these ignorant politicians. The tax exempt non-profit status actually exists not for a reward, as these Democrats profess, but for humanitarian services to be granted to the poor, needy, and less fortunate. They are ignorant of their own laws and now want to use them to penalize true Christian non-profits thus punishing millions from receiving their services, because they somehow believe our faith and holy convictions, which are centuries and millenniums old, are discriminatory.
In actuality, they want to reward the 4% LGBTQ community and punish the Christian right to free speech and worship of God. It is now becoming culturally acceptable to discriminate and infringe on the deeply religious convictions of millions of Bible believers.
It Is Time for Faithful Disobedience
Beloved, it is time for faithful disobedience to antichrist laws that are under discussion and consideration by our own government.
When man's law contradicts divine law, the kingdom of God must follow the rules of heaven and not of men.
But Peter and the other apostles answered and said: "We ought to obey God rather than men" (Acts 5:29).
The Medes passed a law that men could not pray to any God in Babylon, but Daniel refused to follow it and prayed three times a day. Another law was passed to bow down before an idol or be burned in a furnace, and three Jewish young men refused to bow. Conviction and faith overruled human laws and agendas that were contrary to God's law.
"Be it known to you, O king, that we will not serve your gods, nor worship the golden image which you have set up" (Dan. 3:18b).
These God haters and evil champions of humanism are desiring to take away the religious freedom and personal convictions of millions of Americans and will use "rules of intimidation" to accomplish their goals. It is a demonic agenda. The true Christian faith and belief system is under assault, similar to how the Soviet Union arrested and killed Christians when they came under the rule of ungodly dictators.
These agents of Satan and evil men will wax worse and worse until Christ's coming. They want power and control that will lead to a progressive society totally void of God's laws and judgments. To them, the Bible is an outdated book that has no place in today's world. Last year, one state proposed to ban the Bible to counsel any person living the gay lifestyle.
Listen to me very carefully. We are coming to a showdown that we have never seen before in modern America, and as it was in the days of Elijah, Christians must decide now whose side they are on. We are coming into a time of faithful disobedience.
"How long will you stay between two opinions? If the Lord is God, follow Him, but if Baal, then follow him" (1 Kings 18:21b). 
Humor…
Aunty says….
Momma…
Maxine…
Misc……