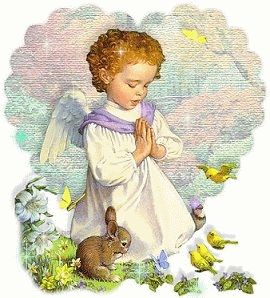 Daily Prayer for August 18
Yet I am always with you; you hold me by my right hand. You guide me with your counsel, and afterward you will take me into glory. Psalm 73:23–24, NIV
Thank you, great God and Father, for filling our hearts with trust so that we are of good hope, also for those who have not yet found trust. Thank you for giving us courage to face all the questions that arise in human life and for accepting us again and again when we come to you. You know what lies before us. You know the mountains that have to be moved. You know all the things that frustrate us and try to wear us out, and you will take them away. At last your light will shine into all the darkness. This certainty fills us with gladness and thanksgiving. In this faith we are determined to remain steadfast and to press on to victory. Amen.
Basil the Great
I ask, "How have you all this wealth?" For the care of the poor consumes wealth. When each one receives a little for one's needs, and when all owners distribute their means simultaneously for the care of the needy, no one will possess more than one's neighbor. Yet it is plain that you have very many lands. Whence all these? Undoubtedly you have subordinated the relief and comfort of many to your convenience. And so, the more you abound in your riches, the more you want in love.
Source: Ownership: Early Christian Teaching
—Dion Todd
Filthy Rags
But we are all as an unclean thing, and all our righteousnesses are as filthy rags; Isaiah 64:6 KJV
As the preacher looked over the congregation, pondering his next victim, I sank lower and lower in my chair. He always chose someone at random from the congregation to pray, so everyone tried to avoid making eye contact with him during this time. You would suddenly find everyone reading their Bible or the church bulletin.
When I was called on to pray, I just felt so unworthy, so unqualified, especially when asked to pray for others or in public. I looked down on myself and felt that if people knew me, they wouldn't be asking me to pray. I just felt that my prayers were weak, that others could do better, and I often could not properly get the words out because of over thinking what I was going to say.
Finally one day in frustration, I just confessed to the Lord that 'I am not worthy to do this so stop asking me.' To my amazement I heard 'That's right. You're not' and then this verse came to my remembrance in a very clear way. He made it very real to me. All our righteousness is as a filthy rag, literally in Hebrew, a menstrual cloth.
We all know this in our head, but I finally understood in my heart that it is not our religious performance, or our acts of 'righteousness' that makes us worthy to come to the Lord in prayer. It is the sacrifice of His Son Jesus that makes us worthy to pray. We stand before Him washed as white as snow by the blood of the Lord Jesus Christ, while our own 'righteousness' is as a menstrual cloth.
When you are called on to pray, step out boldly knowing that God has made you righteous through His Son Jesus Christ, and not by your own actions. You are only worthy, because He has made you worthy, and you were brought here for such a time as this. So pray it boldly like you mean it, and speak to Him like you would your Dad.
Prayer: Heavenly Father I thank You for sending Your Son Jesus to redeem us, to wipe away our sin. Now we can come boldly to You in prayer. I adore You and want to know You better. Please fill me with Your love and peace, shine Your light through me, in the name of Jesus Christ I pray.
Bible Fun Fact: Any grain offering made to the Lord had to have salt on it (Lev 2:13).
Call Waiting
Walking by the sea of Galilee, he saw two brothers: Simon, who is called Peter, and Andrew, his brother, casting a net into the sea; for they were fishermen. He said to them, 'Come after me, and I will make you fishers for men.' They immediately left their nets and followed him. Matthew 4:18 WEB
As Jesus walked along the sea shore, He saw Peter and his brother Andrew. He told them to follow Him and that He would make them 'fishers of men.' As they followed Him for the next few years, they became experienced and He taught them so that they could teach others. It was a long time before they were ready, but the day finally came and in chapter ten, Jesus sent them out on their first teaching mission:
'Jesus sent these twelve out, and charged them, saying, 'Don't go among the Gentiles, and don't enter into any city of the Samaritans. Rather, go to the lost sheep of the house of Israel. As you go, preach, saying, 'The Kingdom of Heaven is at hand!' Heal the sick, cleanse the lepers, and cast out demons. Freely you received, so freely give' (Matthew 10:5-8).
There is an amount of time between Jesus calling you, and Jesus sending you. How long is unknown to us and it varies person to person. This span of time varies throughout the Bible. David became king at thirty, while Moses started his ministry at eighty.
When I was around twenty years old, the Lord told me that I would teach His word and to prepare myself for ministry. I was so excited and went through Bible college, got ordained, then I waited. I was forty-five years old when the Lord finally put me in full time ministry, and I no longer even wanted it. Where I had once felt like I knew a lot, now I feel like I know nothing. As Paul wrote: 'Knowledge puffs up, but love builds up. But if anyone thinks that he knows anything, he doesn't yet know as he ought to know' (1 Corinthians 8:1'2 WEB). I can testify that this is true.
Do you feel that God has called you for something, but it has yet to come to pass? Do not give up hope yet for this is the normal course. God is faithful, but there is a training time between the calling and the sending.
Prayer: Heavenly Father I thank You for not forgetting about me. I know that Your eyes are on the sparrow and that You will also take care of me. I want all that You have for me on this earth. Please walk with me, talk with me, speak to me and through me, in the name of Jesus Christ I pray.
Bible Fun Fact: The book of John contains no parables.
Today's Verse, Illustrated…

What Jesus Did!

 'What Are You Living For?'

[Jesus said,] "Look at the lilies and how they grow. They don't work or make their clothing, yet Solomon in all his glory was not dressed as beautifully as they are. And if God cares so wonderfully for flowers that are here today and thrown into the fire tomorrow, he will certainly care for you. Why do you have so little faith? And don't be concerned about what to eat and what to drink. Don't worry about such things. These things dominate the thoughts of unbelievers all over the world, but your Father already knows your needs. Seek the Kingdom of God above all else, and he will give you everything you need. So don't be afraid, little flock. For it gives your Father great happiness to give you the Kingdom."
Key Thought
What's the bottom line in these words of Jesus? It is this: Don't be afraid to live for the Kingdom as your highest priority and your most pressing concern. God takes care of things much less important than us in a way far finer than we could provide for ourselves. We're more important to God than those things. So let's give the Father the joy of giving us the Kingdom by making it our strongest desire. Let him take care of the "little stuff" as we pursue the "Kingdom stuff."
Today's Prayer
Holy Father, give me a passion for your Kingdom and your righteousness. Make that passion burn inside me until your Kingdom becomes my highest call. I know that my worries about other things will be driven out by the proper passion for what you long to give me. In Jesus' name. Amen.
Related Scripture Readings
Daily Wisdom:

 1 Corinthians 1:18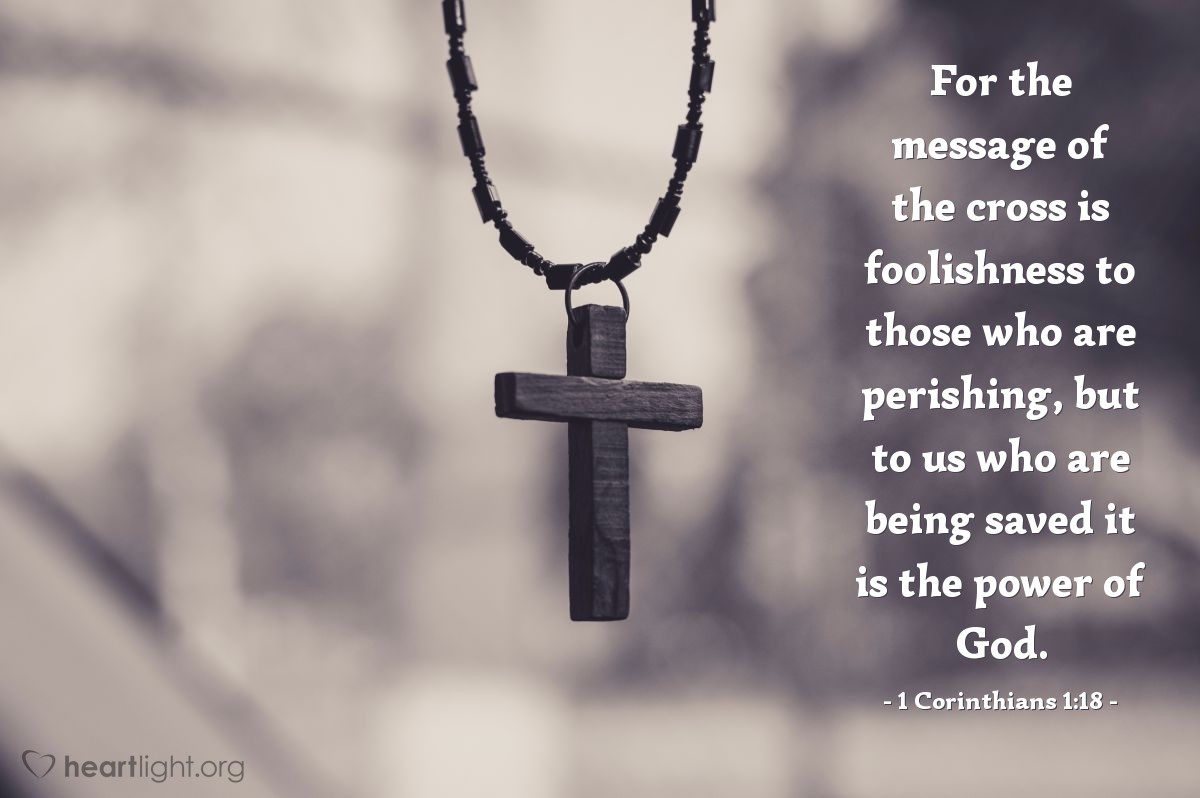 Passion for Praise:

 'From the Everlasting Past'
Spiritual Warfare:

 'God's People Know His Voice'

God's Power for Our Battles

But you do not believe Me [so you do not trust and follow Me] because you are not My sheep. The sheep that are My own hear My voice and listen to Me; I know them, and they follow Me.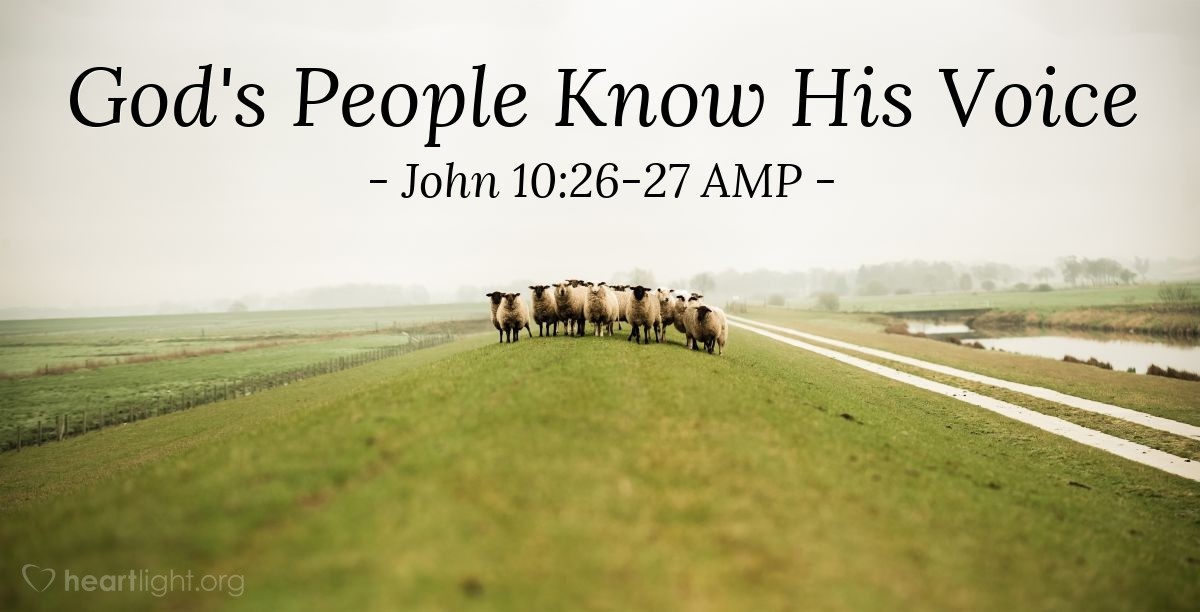 A Year with Jesus:

 'Beyond Magic: Supernatural!'
Note from Jesus
Dear Beloved,
On the night I was betrayed, I shared in what you call The Last Supper. I gathered with My closest disciples around a table to share the Passover meal. And I used this setting as the background to institute a regular meal for disciples to use to remember Me and to be joined together as My body. This meal became a centerpiece of early Christian gatherings on the first day of the week (Acts 20:7). This special meal is known to you by several names — The Supper, The Lord's Supper, Communion, Holy Communion, The Eucharist, and The Feast. No matter what you call this meal, it has been practiced by Christians from the beginning of My church.
From the beginning, My followers had a tendency to drift from My original intentions. I wanted them to share together in loving unity, to proclaim My story, to examine their hearts, to remember My death, to celebrate My resurrection, to give thanks for the gift I gave them, and to anticipate My return. Some looked at taking the bread and wine as almost magical. Some felt if they could just eat the bread and drink the wine in this special feast, then some supernatural power was at work in them to make them holy.
I warned about this misconception when I taught the crowds after I had fed the 5,000 and walked on the water to My disciples (see the second set of verses below). More than just eating My body and drinking My blood metaphorically in communion, they needed to eat Me — My "flesh." They needed to take My teaching, lifestyle, and love for others into their lives and let Me sustain them. I wanted My early disciples, and you today as My disciple, to realize that The Supper is not magical but transforming. I am present in The Supper to give you life through the sacrifice of My life. You must commit to taking Me in and letting Me reign over all your heart as your example, teacher, and Lord.
Paul (in the first set of verses) warns the Corinthians that there was nothing magical in communion. Instead, the meaning and significance of communion come from a disciple's faith to receive Me and his or her commitment to follow Me.
The Israelites shared in spiritual food and drink in the wilderness, but that supernatural food did not keep them from sinning or from being judged:
They [the Israelites] were all baptized into Moses in the cloud and in the sea. They all ate the same spiritual food and drank the same spiritual drink; for they drank from the spiritual rock that accompanied them, and that rock was Christ. Nevertheless, God was not pleased with most of them; their bodies were scattered in the wilderness.
(1 Corinthians 10:2-5 NIV)
The goal of My Supper is not to see who can eat the most magical food and drink the most supernatural drink! On the other hand, those who come to My Table committed to live for Me will find supernatural sustenance in My holy meal. So Paul warns the Corinthians not to think of The Supper as magical. My Supper is to be a supernatural meal that sustains those who seek to avoid idolatry, who care for each other in My church, who recognize My Supper as a recommitment to live for Me, and who not only give thanks for the Father's grace in sending Me but also share that grace with others.
Verses to Live
My resurrection from the dead has great power, yet simply taking the Lord's Supper won't do things for you. You must live by My wisdom and truth.
I [Paul] wouldn't want you to be ignorant of our history, brothers and sisters. Our ancestors [the Israelites] were once safeguarded under a miraculous cloud in the wilderness and brought safely through the sea. Enveloped in water by cloud and by sea, they were, you might say, ritually cleansed into Moses through baptism. Together they were sustained supernaturally: they all ate the same spiritual food, manna; and they all drank the same spiritual water, flowing from a spiritual rock that was always with them, for the rock was the Anointed One, our Liberating King. Despite all of this, they were punished in the wilderness because God was unhappy with most of them.

Look at what happened to them as an example; it's right there in the Scriptures so that we won't make the same mistakes and hunger after evil as they did. So here's my advice: don't degrade yourselves by worshiping anything less than the living God as some of them did. Remember it is written, "The people sat down to eat and drink and then rose up in dance and play." We must be careful not to engage in sexual sins as some of them did. In one day, 23,000 died because of sin. None of us must test the limits of the Lord's patience. Some of the Israelites did, and serpents bit them and killed them. You need to stop your groaning and whining. Remember the story. Some of them complained, and the messenger of death came for them and destroyed them. All these things happened for a reason: to sound a warning. They were written down and passed down to us to teach us. They were meant especially for us because the beginning of the end is happening in our time. So let even the most confident believers remember their examples and be very careful not to fall as some of them did.

Any temptation you face will be nothing new. But God is faithful, and He will not let you be tempted beyond what you can handle. But He always provides a way of escape so that you will be able to endure and keep moving forward. So then, my beloved friends, run from idolatry in any form. As wise as I know you are, understand clearly what I am saying and determine the right course of action. When we give thanks and share the cup of blessing, are we not sharing in the blood of the Anointed One? When we give thanks and break bread, are we not sharing in His body? Because there is one bread, we, though many, are also one body since we all share one bread. Look no further than Israel and the temple practices, and you'll see what I mean. Isn't it true that those who eat sacrificial foods are communing at the altar, sharing its benefits? So what does all this mean? I'm not suggesting that idol food itself has any special qualities or that an idol itself possesses any special powers, but I am saying that the outsiders' sacrifices are actually offered to demons, not to God. So if you feast upon this food, you are feasting with demons —I don't want you involved with demons! You can't hold the holy cup of the Lord in one hand and the cup of demons in the other. You can't share in the Lord's table while picking off the altar of demons. Are we trying to provoke the Lord Jesus? Do we think it's a good idea to stir up His jealousy? Do we have ridiculous delusions about matching or even surpassing His power?
(1 Corinthians 10:1-22)

Some of the Jews began to grumble quietly against Him [Jesus] because He said, "I am the bread that came down from heaven."

Crowd:

Isn't Jesus the son of Joseph? We know His parents! We know where He came from, so how can He claim to have "come down from heaven"?

Jesus:

Stop grumbling under your breaths. If the Father Who sent Me does not draw you, then there's no way you can come to Me. But I will resurrect everyone who does come on the last day. Among the prophets, it's written, "Everyone will be taught of God." So everyone who has heard and learned from the Father finds Me. No one has seen the Father, except the One sent from God. He has seen the Father. I am telling you the truth: the one who accepts these things has eternal life. I am the bread that gives life. Your fathers ate manna in the wilderness, and they died as you know. But there is another bread that comes from heaven; if you eat this bread, you will not die. I am the living bread that has come down from heaven to rescue those who eat it. Anyone who eats this bread will live forever. The bread that I will give breathes life into the cosmos. This bread is My flesh.

The low whispers of some of Jesus' detractors turned into an out-and-out debate.

Crowd:

What is He talking about? How is He able to give us His flesh to eat?

Jesus:

I tell you the truth; unless you eat the flesh of the Son of Man and drink His blood, you will not know life. If you eat My flesh and drink My blood, then you will have eternal life and I will raise you up at the end of time. My flesh and blood provide true nourishment. If you eat My flesh and drink My blood, you will abide in Me and I will abide in you. The Father of life Who sent Me has given life to Me; and as you eat My flesh, I will give life to you. This is bread that came down from heaven; I am not like the manna that your fathers ate and then died! If you eat this bread, your life will never end.

He spoke these words in the synagogue as part of His teaching mission in Capernaum. Many disciples heard what He said, and they had questions of their own.

Disciples:

How are we supposed to understand all of this? It is a hard teaching.

Jesus was aware that even His disciples were murmuring about this.

Jesus:

Has My teaching offended you? What if you were to see the Son of Man ascend to return to where He came from? The Spirit brings life. The flesh has nothing to offer. The words I have been teaching you are spirit and life, but some of you do not believe.

From the first day Jesus began to call disciples, He knew those who did not have genuine faith. He knew, too, who would betray Him.

Jesus:

This is why I have been telling you that no one comes to Me without the Father's blessing and guidance.

After hearing these teachings, many of His disciples walked away and no longer followed Jesus.

Jesus (to the twelve):

Do you want to walk away too?

Simon Peter:

Lord, if we were to go, whom would we follow? You speak the words that give everlasting life. We believe and recognize that You are the Holy One sent by God.
Response in Prayer
Father in heaven, Holy Communion is precious to me. But after reading what Paul wrote the Corinthians and what Jesus said in today's verses, I am convicted that I have sometimes approached The Supper as something mandatory and magical, not as a commitment to live for Jesus and not as a way to love my brothers and sisters as Jesus did. I pray for the Holy Spirit to transform me to be like Jesus. Father, please give me clarity of mind as I seek to live the righteous character and gracious compassion of Jesus with my brothers and sisters. In Jesus' name, I pray. Amen.
The Power and Presence of Sin   
The apostle Paul tells us, "…by one man (Adam) sin entered into the world…" Romans 5:12.When sin entered, where did it reside? Did it hide in a cave? Or is sin only present in Satan himself? The apostle goes on to say, "…by one man's disobedience many were made sinners…" Romans 5:19. Sin entered as a great pollutant that contaminated the heart and nature of fallen mankind. No one escaped its venom. From the first child of Adam who murdered his own brother, to the most "innocent" of persons in our day, all have sinned, Jesus Christ being the only exception to that absolute truth.
What gives sin such power? Even Jesus described it as a master that dominates people like a slave master. I believe sin to be the seed of rebellion (the lie) that Adam and Eve received into their heart and nature from the Serpent (Satan). It is as a single cell of cancer that never stops spreading. There is no cure until the whole is taken away. The power of sin is in its presence. Only where sin has no presence does it have no power.
Consider these two examples: One man has wrestled with lusts for years.  He has prayed, fasted, and taken every step possible to keep it subdued. There are many places he will not go, not because they are sinful places, but because the lusts within him so easily revives and begins to war in his thoughts and imaginations. So far this man has kept himself from fulfilling the unclean desires that are within. He has never committed an act of adultery or fornication, and does not partake of pornography. This man has power over the unclean lusts that lie within him, but it is a constant battle that never ceases. In the best of times the uncleanness seems to be dormant, but it is always ready to revive and roar.
Another man does not struggle with such things. He faces the same tests of living in this world with all the opportunities for sinful acts that are common to men.  He also does not commit adultery, fornication, or partake of pornography. In fact he never even desires or contemplates such things. It is just not in his heart to want or to do anything of that nature.
I cannot help but have respect for the first man. He lives every day in a battle with lusts, but he keeps himself from fulfilling the act of the sinful thing. His determination and fortitude is to be admired. Yet with all the power he exercises over the sin, he is not free from it. If at any time he lets down his guard he will fall into its darkness and shame.
You cannot rightfully claim that this second man has power over unclean lusts. In fact no one knows what course he would take if these things were actually in his heart. Would he be weak or would he be strong? He might fail on the first encounter. But this second man does not need strength to overcome uncleanness because it has no place in his heart. The truth is that no one needs power over sin if sin has no presence within them. Yes, as we are sent by the Holy Ghost we are given "…power to tread on serpents and scorpions, and over all the power of the enemy…" Luke 10:19, but this is power over things that withstand the work of God, not things that are within our own heart and nature.
Christ did not come to give us power over sin. He came to "take away the sin of the world." I John 3:5. His blood washes the contamination of sin out of his people. I John 1:7. When Jesus said "you shall find rest unto your souls" Matthew 11:29, he was promising the end of a warfare and not the beginning of a lifelong struggle. As long as you seek power over something that is in your heart or nature, you are setting yourself up for a battle that will never end. Jesus never said he would give you power over it. He said "If the Son therefore shall make you free, ye shall be free indeed." John 8:36. When Cornelius and those with him were filled with the Holy Ghost, God had already, in a moment of time, purified their hearts by faith. Acts 15:9. Sin had lost its presence in them!
"Hereafter I will not talk much with you: for the prince of this world cometh, and hath nothing in me." John 14:30
Quote of the Day
"With the new day comes new strengths and new thoughts."
– Eleanor Roosevelt
Humor…