Daily Prayer for 

August 11
How beautiful on the mountains are the feet of those who bring good news, who proclaim peace, who bring good tidings, who proclaim salvation, who say to Zion, "Your God reigns!" Listen! Your watchmen lift up their voices; together they shout for joy. When the Lord returns to Zion, they will see it with their own eyes. Isaiah 52:7–8, NIV
Lord our God, grant that we may be your watchmen, who can understand what you mean for our time. We thank you for all you have already done, for every change to the good among the nations. For the nations must bow to your will so that nothing happens unless accomplished by you. Judge us wherever necessary. Open our eyes to see where we are wrong and where something does not go according to your Spirit. Be with us and give us strength. Raise up more watchmen everywhere, in every place and in every home. Wherever something happens to move people's hearts, let the watchmen proclaim, "This comes from God. It does not matter how much we suffer. This comes from Jesus Christ, who suffered and died, but who rose again." Raise up such watchmen among young and old everywhere on earth, to the glory of your name. Let there be a people who go to meet you with shouts of joy and thanksgiving. Amen.
Christoph Friedrich Blumhardt
In all that happens, good or bad, Christ is present. So instead of resignation and worry, we should always trust that things will change, even if we have to go through hell first. For the purpose of life is Christ. God has promised to re-create heaven and earth and bring the whole world into the light of the Savior. "I am making everything new!" (Rev. 21:1–5). This is our hearts' deepest longing, that Christ reconciles the whole cosmos. He is the ruler over all, and his light will fill the entire universe.
Source: The Gospel of God's Reign
The Daily Word of Hope Devotional
—Dion Todd
Like Paul, we are to discipline our bodies and make it obey us, rather than following what it desires. Extremes are dangerous and we all need boundaries in our life. How do you maintain a healthy balance? If you have ever wondered, then this is for you. 
Too Much Happiness
Let your moderation be known unto all men. The Lord is at hand. Philippians 4:5 KJV
There are so many things in this life that God has given us to enjoy, and He does want us to have pleasure while we are here. Relationships, eating, drinking, work, health, exercise, hobbies, are all valuable pursuits. However, none of these are to become the end goal and sole focus of your life.
Anytime something becomes more important in your life than God, then the cart is getting in front of the horse. Before long your life will take on an unhealthy balance. Self-control is a fruit of the Spirit and it almost the opposite of addiction. Like Paul, we are to discipline our bodies and make it obey us, rather than following what it desires.
'But I discipline my body and keep it under control, lest after preaching to others I myself should be disqualified.' (1 Corinthians 9:27).
Jesus told a parable in Luke 12:21 about a man who hoarded wealth and the last verse was: "So is the one who lays up treasure for himself and is not rich toward God." The problem was the man was 'not rich toward God' not because he was wealthy. God wants you to have wealth, but not for wealth to have control you. God wants you to have food, but not for food to have control over you.
So put God first in your life. Involve Him in your work, in your relationships, in your hobbies, pray over your meals, and during your workouts. If you do this, then things will balance and He will show you when enough is enough. When He is invited into your life, He will take part in your activities and help you maintain a healthy balance. Moderation in all things, including moderation.
Prayer: Heavenly Father I thank You so much for all that You have given me. Please help me discipline my life and learn when to say no. Help me to know when enough is enough. Teach me Your way and give me a clear vision of the bigger picture. Make me steadfast, in the name of Jesus Christ I pray.
Bible Fun Fact: Lions killed people 3 times in the Bible (1 Kg 13:23-24)(1 Kg 20:35-36)(Dan 6:24).

What Jesus Did!

 'Beyond the Harsh Words, to Graciousness!'
[Jesus said,] "What is the price of five sparrows — two copper coins? Yet God does not forget a single one of them. And the very hairs on your head are all numbered. So don't be afraid; you are more valuable to God than a whole flock of sparrows." 
— 
Luke 12:6-7 NLT
Key Thought
Jesus' words in the previous sentences were strong; some would even say his words were harsh. Jesus reminded us, however, that God's desire is not to punish, harm, or bring retribution on us. His desire is to love and bless us. One clear example is simply to look in the created world and see how he has provided for all sorts of animals and birds because of his loving care. Long before anyone had ever heard of organizations like PETA or the Humane Society, God showed his love by giving each creature its space and place. Yet we are definitely more valuable than any animal or any other thing that God created. Jesus wants us to know how precious we are to God, so he taught this lesson in 
Luke 12
 and then went out and demonstrated it on the cross!
Today's Prayer
Father, thank you for knowing me, valuing me, and loving me. Most of all, dear Father, thank you for sending Jesus to show your great love for me. In Jesus' name, I offer my deepest thanks and praise. Amen.
Daily Wisdom: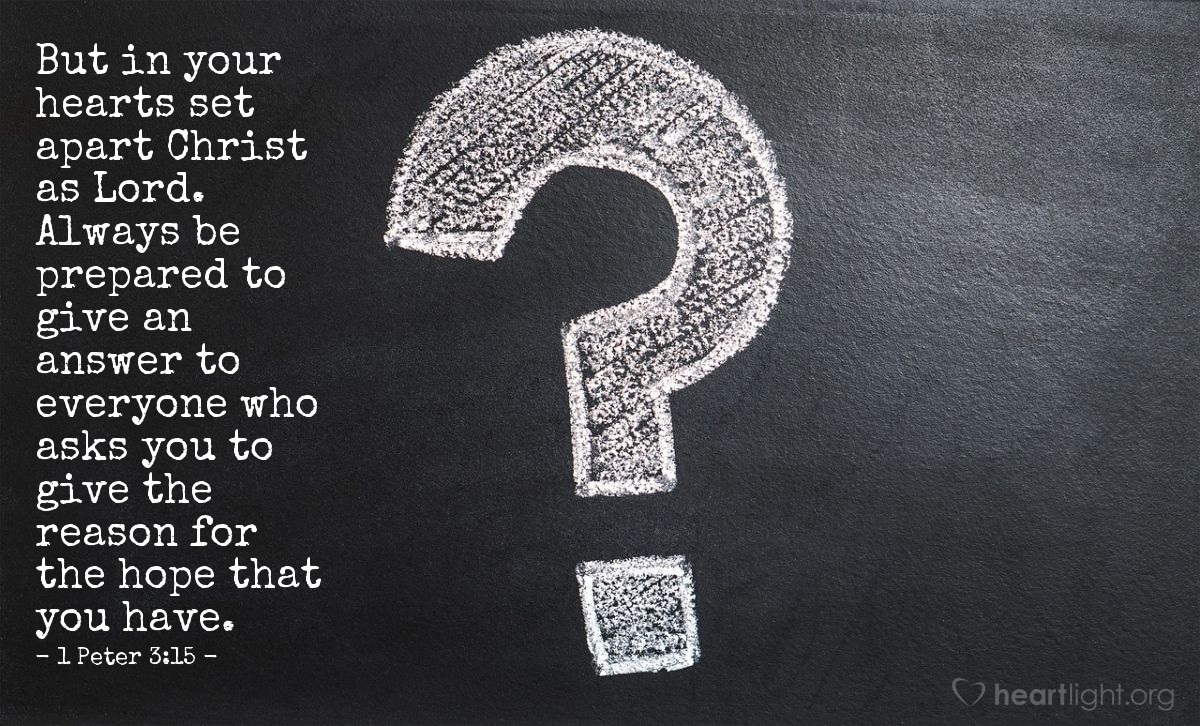 Today's Verse: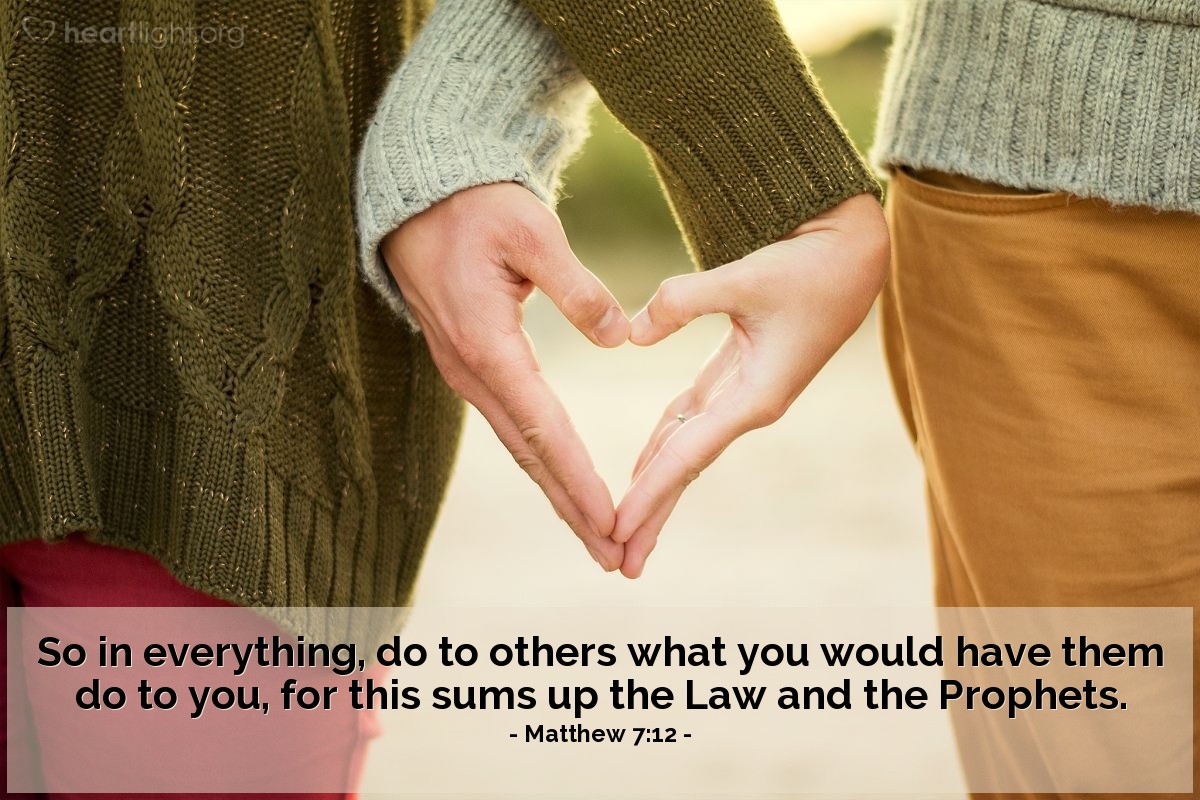 Thoughts on Today's Verse…
Ah! The "Golden Rule" is so straightforward, isn't it? Sometimes we make things, especially religious things, far too complicated and complex. I love the Bible because it is so often practical and plain when God deals with our behavior. You want to know how to treat someone? Then do for them what would be a blessing if it was done to you! If it wouldn't bless, encourage, build up, support, comfort, or help you, then don't do it to them. If it would hurt, wound, depress, spite, or discourage you, then don't do it to them. Treat others with the same dignity, kindness, love, respect, and tenderness with which you would like to be treated. Simple to understand; revolutionary to do!
My Prayer…
Almighty God, thank you for making some things so simple to understand. Please fill my heart with your love as I try to live the "Golden Rule" in my relationships. In the name of the Lord Jesus I pray. Amen.
A Year with Jesus:

 'Scour Away the Filth'
Note from Jesus
Dear Faithful Follower,
Even when Paul first worked with the Corinthians, he sought to help them turn from the unbridled immorality that was a part of their city's culture. This lifestyle change was a predictable challenge that My new disciples faced in most places (1 Thessalonians 1:8-10; 1 Thessalonians 4:1-12).
The grip of their immoral past was hard to break. Many activities in Corinth were tied to the worship of idols and the pervasive paganism of the city. The Corinthians encountered cultic prostitution at the pagan temples. Meat bought in their city market was first sacrificed to the idols before being available for sale. Pagan celebrations involving sexual immorality and drunkenness were connected to feasts and trade guild meetings. Pagan celebrations and sacrifices went with athletic contests and theater productions.
Paul tried to teach these new Christians that their lives were to be holy. Their lives were to be lived in total dedication to honor Us — Father, Son, and Spirit. This sense of holy purpose meant their bodies were sacred and should be used to glorify Us (1 Corinthians 6:18-20). Paul had repeatedly taught them, both when physically present and through letters, about their need to practice holiness in all things. This teaching meant getting away and staying far away from sexual immorality, idolatry, and paganism.
In Paul's letter that you know as 1 Corinthians, he referred to a previous letter to the Corinthian Christians and his earlier teaching about avoiding immorality (1 Corinthians 5:9). That previous teaching was very similar to what you find in a passage from 2 Corinthians included in the verses below. As you read these verses, try to think through the implications of Paul's teachings for you in your culture. How will you apply these teachings to your world so saturated in sexual immorality, false religions, greed, and materialism?
How are you going to live as My holy person in your immoral culture and influence that culture for good?
How are you going to influence your culture while not letting the bad parts of your culture influence you?
As you live and serve Me in the culture around you, what are the limits of Christian fellowship?
These are hard questions. Rather than answer these questions for you, I am asking you to wrestle with them as you follow Me. I want your heart to belong to Me. If your heart belongs to Me, you will work through these questions seeking to honor Me with a holy life that demonstrates My compassionate concern for the lost. Think through what Paul wrote and see how his teachings apply to you. When you read his teachings this way, you will have more empathy for the Corinthians. You will get a clearer understanding of the challenges they faced in their day if they obeyed Paul's teaching. You will also be better prepared to face similar challenges in your day.
Verses to Live
How are you going to impact your culture with My character and compassion without getting entangled and soiled with its immorality?
In the verses below, you find two readings from Paul's letters to the Corinthians. The first passage is one verse from 1 Corinthians and refers to what Paul taught in a previous letter that he wrote the Christians in Corinth. The second section is from 2 Corinthians and addresses the same matters as referenced in the first passage. The final short paragraph is Paul's exhortation to the people based on what he had written in the previous verses. This part is at the heart of what I want you to incorporate into your life.
In the letter I wrote to you previously, I made it clear that you are not to band together with those who have embraced immoral lives.
(1 Corinthians 5:9)

Don't develop partnerships with those who are not followers of Jesus' teachings. For what real connection can exist between righteousness and rebellion? How can light participate in darkness? What harmony can exist between the Anointed and Satan? Do the faithful and the faithless have anything in common? Can the temple of God find common ground with idols? Don't you see that we house the temple of the living God within us? Remember when He said,

"I will make My home with them and walk among them.
I will be their God,
and they will be My people.

"So then turn away from them,
turn away and leave without looking back," says the Lord.

"Stay away from anything unclean, anything impure,
and I will welcome you.

"And I will be for you as a father,
and you will be for Me as sons and daughters,"
says the Lord Almighty!

Because we have these promises, dearly loved ones, out of respect for God we should scour the filth from our flesh and spirit and move toward perfect beauty and holiness.
(2 Corinthians 6:14-18; 2 Corinthians 7:1)
Response in Prayer
Father, make me Yours completely. Set me apart from those who do not know You. I want to display Your grace to others and live Your holiness before them. May my whole spirit, soul, and body be kept free from any sort of sin as I await the glorious coming of My Lord and Savior Jesus, the Anointed. You, O God, are faithful. I know that You can be trusted to make this happen in me to Your glory. In Jesus' name, I pray. Amen.
This prayer is adapted from Paul's prayer for the Thessalonians in 1 Thessalonians 5:23-24.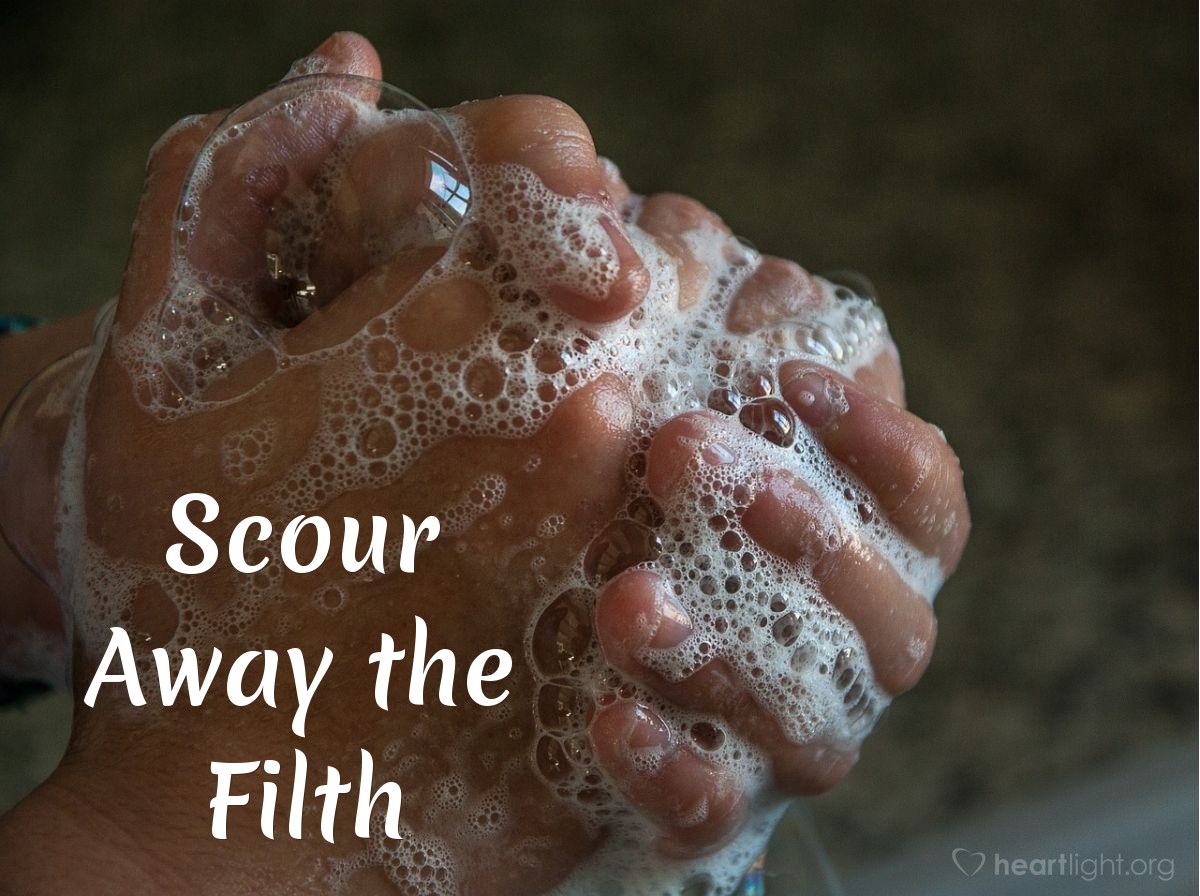 Sunday Humor…
God bless you all!!