Daily Prayer for 

August 4
As a prisoner for the Lord, then, I urge you to live a life worthy of the calling you have received. Be completely humble and gentle; be patient, bearing with one another in love. Make every effort to keep the unity of the Spirit through the bond of peace. Ephesians 4:1–3, NIV

Dear Father in heaven, we thank you for the blessings you give us on earth, for it is through your gifts and work, and through the work of your children, that we can believe and be saved. Protect us here in our household. Let us make allowances for one another in love and spare no effort to maintain unity in the Spirit through the bond of peace. Grant us new strength and new gifts whenever we need them on the path you have set for us. Grant that we may rejoice and trust in you until we reach the goal. Amen.
Joan Chittister
Prayer that is regular confounds both self-importance and the wiles of the world. It is so easy for good people to confuse their own work with the work of creation. It is so easy to come to believe that what we do is so much more important than what we are. It is so easy to simply get too busy to grow. It is so easy to commit ourselves to this century's demand for product and action until the product consumes us and the actions exhaust us, and we can no longer even remember why we set out to do them in the first place.
Source: Wisdom Distilled from the Daily
Verse of the Day, Illustrated
The Daily Word of Hope Devotional
—Dion Todd
God Called to the Man
They heard Yahweh God's voice walking in the garden in the cool of the day, and the man and his wife hid themselves from the presence of Yahweh God among the trees of the garden. Yahweh God called to the man, and said to him, 'Where are you?' Genesis 3:8 WEB
Adam walked with God in the garden of eden. Then the serpent talked Eve into disobeying the command of God so that she could have the knowledge of 'Good and Evil.' Since they already had the knowledge of good, they only lacked the knowledge of evil. The call of the dark side overcame them both. Then immediately after they disobeyed the Lord, the enemy brought shame and fear on them in order to drive them even further away. Adam and Eve hid in the trees from the presence of the Lord.
I find it comforting that the Almighty God, the Creator of heaven and earth, came down and called to Adam. He said to him 'Where are you?' God knew exactly where Adam was, even better than Adam did. Yet instead of pointing directly at him, God called to Adam and waited for him to answer. God gave Adam space, and called for him from a distance. He could just have easily struck Adam with a lightning bolt, or picked him up by his ear, but instead He waited for Adam to answer Him on his own. Where are you?
When you stumble, God will always call for you. You can run, but you can't hide from the presence of the Lord. The mistakes that you have made, He already knows about so there is nothing to hide from. Jesus has already paid for your sin, even the ones in your future. With a simple prayer, you can have a clean slate and be washed as white as snow. So don't try to cover up your mistakes. Instead, learn from them. His strength is made perfect in our weakness (2 Corinthians 12:9). Don't put on a church face for we are not fooling Him with our religious shenanigans. Just be real, be yourself, and talk to Him wherever you are without hiding from His presence.
Prayer: Heavenly Father I thank You today for Your mercy. I pray that You draw my heart to You and teach me to hear Your voice clearly. May Your will be done, in my life. In the name of Jesus Christ I pray.
Bible Fun Fact: Amen means basically "so be it."

Daily Wisdom:

 Galatians 5:16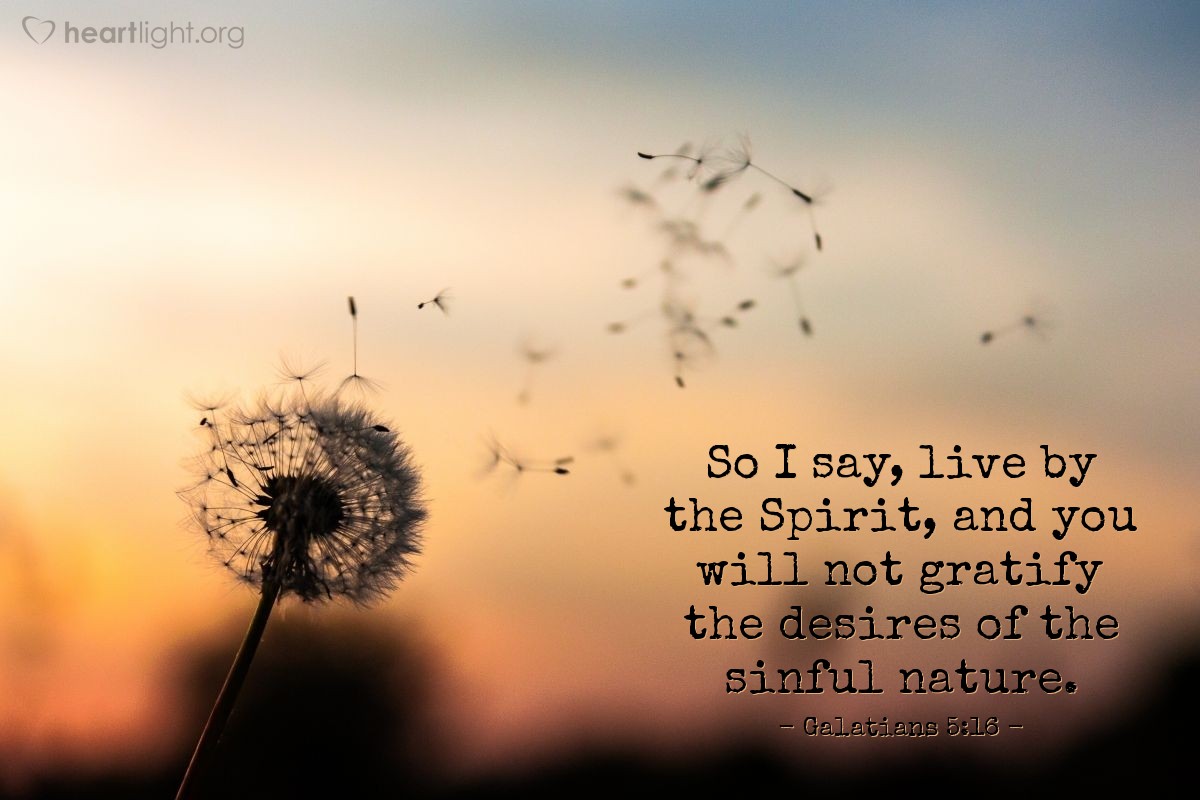 Passion for Praise:

 'Joyful!'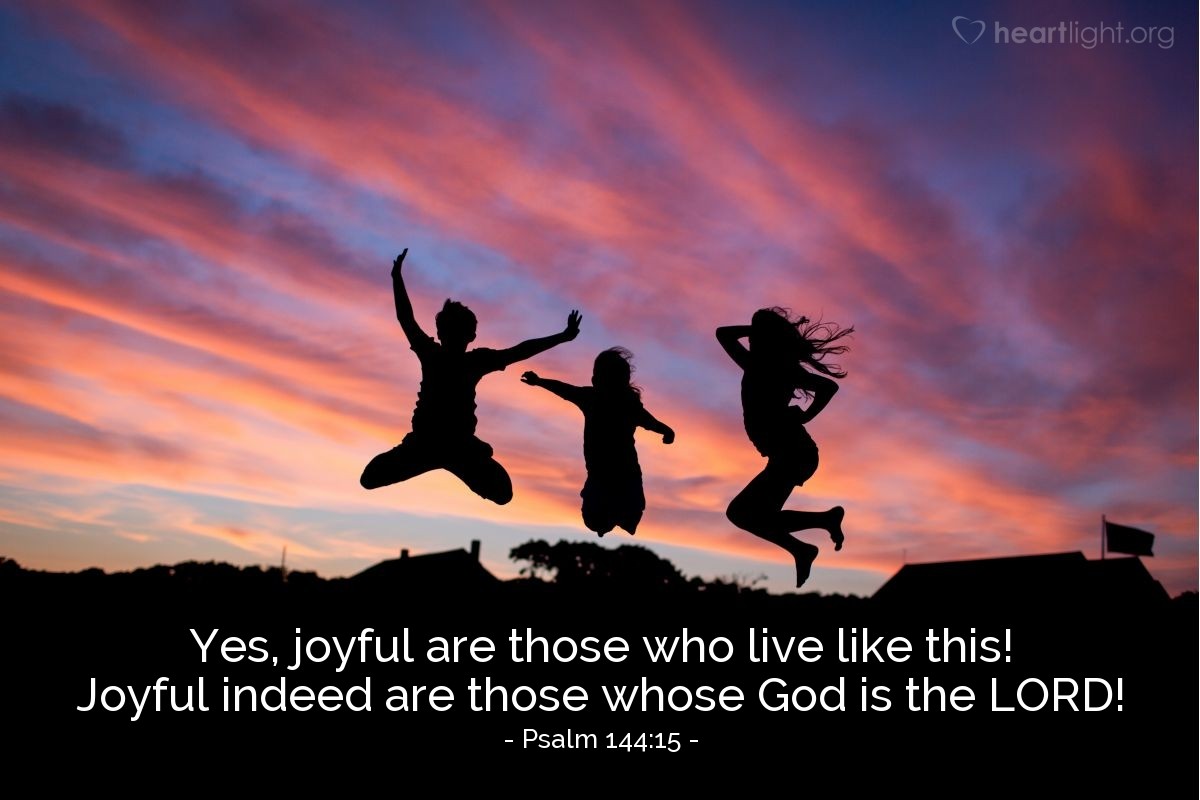 Spiritual Warfare:

 'Love God, Be Loyal, and Follow All His Directions'

God's Power for Our Battles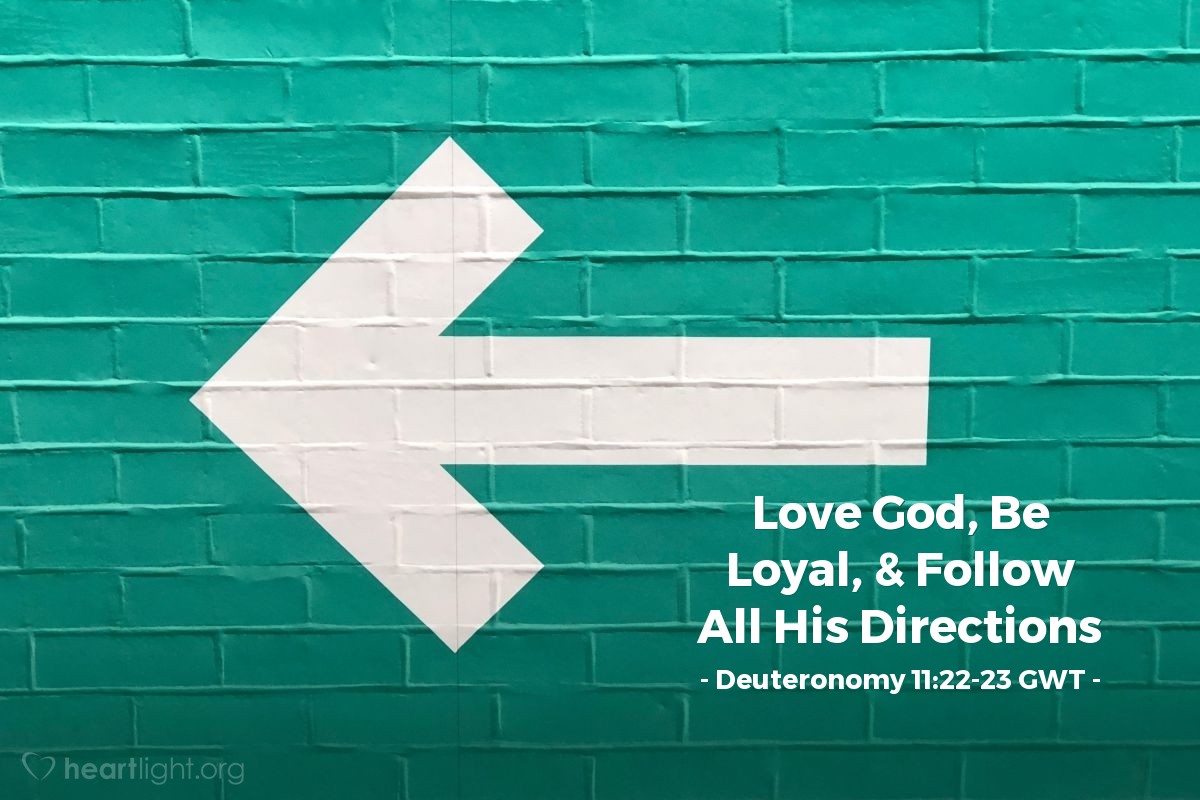 Today's Prayer
Lord, most of my life I have lived to please myself. But from here on, Lord, I want to live to please You. I love You above all else and all others. Teach me Your ways, Lord, and reveal Your plan for me as I read Your Word and try my best to follow all Your commands and instructions. Above all else, Lord, I want to be known as being loyal to You. And from now on I will trust You to make a way for me through this life. In Jesus' Name, Amen.
A Year with Jesus:

 'Stand Firm'
Note from Jesus
Dear Believer,
Paul was confident that he taught the truth I wanted the Thessalonians to know. He claimed the authority of an apostle, an emissary sent by Me, yet he ministered with the loving touch of a tender parent (1 Thessalonians 2:4-12) and a protective shepherd. Paul was aware that there were many who would steer these new disciples astray with false teaching or use persecution to try to intimidate these new believers so that they would abandon their faith. The Thessalonians faced both of these forms of the evil one's opposition to their faith, yet there were still faithful disciples there!
Paul lived in the same world as these disciples did. He also faced bitter opposition from false teachers, and he endured persecution from opponents to My message. So while he was confident in his authority as an apostle and teacher, he also recognized his own need for the prayer support of these new believers.
As Paul wrote to the Thessalonians a second time, the intensity of every issue was turned up a notch or two compared to when he wrote his first letter to them. Persecution was worse. False teaching was more apparent. Laziness and idleness among believers were worse. Paul's authority and motives were more deeply questioned. Questions about My coming in glory still remained. But Paul carried his loving and supportive tone throughout his second letter. His confidence was in Our — Father, Son, and Spirit's — work among these new believers. Paul was quick to affirm the good things these new disciples were doing even as he acknowledged the difficult things they were facing and the hurtful things they had done.
Underneath Paul's message, he pointed to three things he trusted:
His confidence in the message he preached and taught: "[A]ll you need to do now is stand firm and hold tight to the line of teachings we have passed on to you, whether in person or in a letter."
His confidence in the Father's work: "[T]he Lord is true to His promises; He will hold you up and guard you against the evil one. We do not doubt the Lord's intentions for you…"
His confidence in these new believers: "[W]e are confident that you are carrying out, and will continue to carry out, the commands we are sending your way."
As you look at the challenges to faith in your time, what is the basis of your confidence? How are you going to help encourage the faith of those new disciples around you and those whose faith is weak or beginning to fail? I want you to do more than see what Paul did to bless these new disciples; I want you to be looking for new or struggling disciples to encourage and bless!
Verses to Live
Feel the love and the longing Paul has for these new believers as he writes them. Paul fills this letter with words of assurance, challenge, comfort, and confidence.
We cannot help but thank God for you at all times, because from the beginning He handpicked you for salvation through the Spirit's sanctifying work and your belief in the truth. He called you to this when we shared our good news with you. Now you can take part in the glory of our Lord Jesus the Anointed, our Liberating King. So, brothers and sisters, all you need to do now is stand firm and hold tight to the line of teachings we have passed on to you, whether in person or in a letter.
(2 Thessalonians 2:13-15)

Brothers and sisters, having shared all this, let me ask you to pray for us. Pray that this message of the Lord will spread quickly and receive the praise and respect it deserves from others as it has with you. Pray also that we would all be rescued from the snares of harmful, wicked people — after all, not all people are believing. Still, the Lord is true to His promises; He will hold you up and guard you against the evil one. We do not doubt the Lord's intentions for you; we are confident that you are carrying out, and will continue to carry out, the commands we are sending your way.
(2 Thessalonians 3:1-4)
Response in Prayer
Father, I am touched by Paul's way of speaking to these new believers. I am reminded of several new believers that I need to encourage and support as they seek to grow in Jesus. Open my eyes to see new or struggling believers You want me to encourage and bless. Spirit, please give me the right attitude and the right words and demeanor to help them. I ask this in Jesus' name. Amen.
Illustration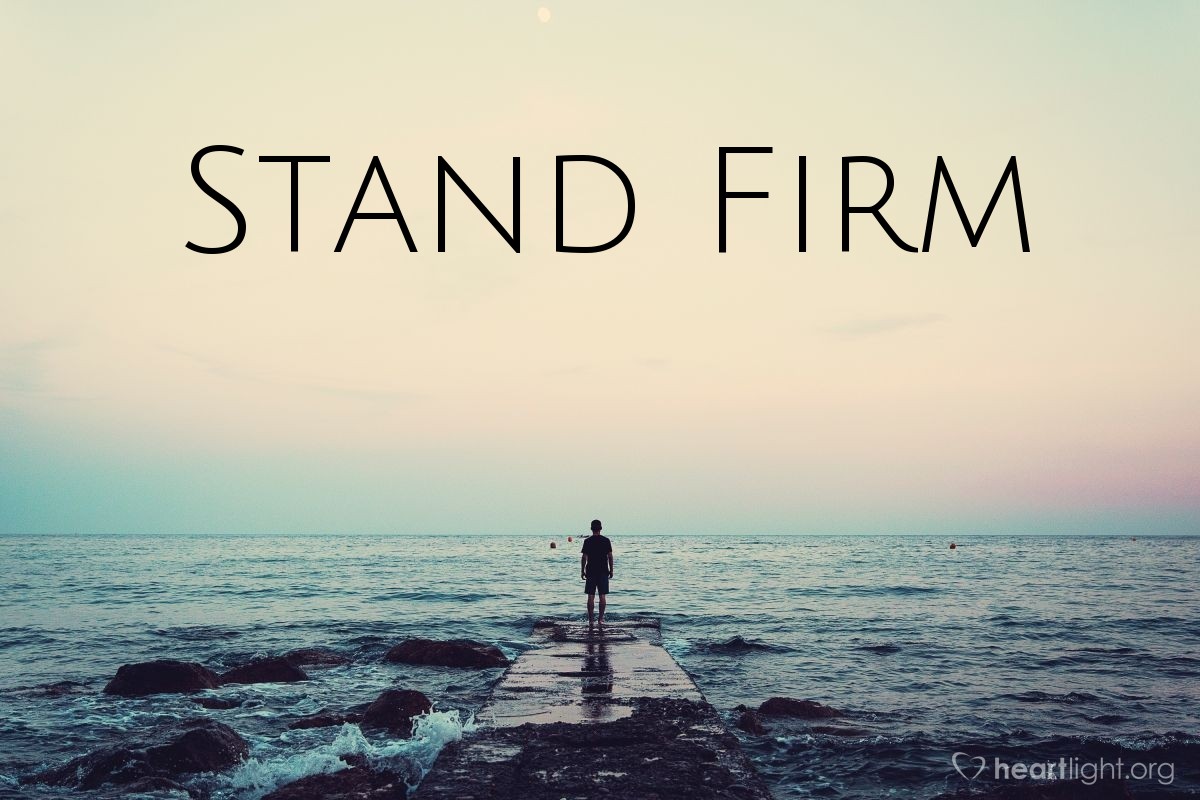 There are many things that will rob, steal and plunder our love and affection for the Lord Jesus. It is not just obvious sins and acts of carnality and disobedience which spoil us of the nearness of His presence, but it is also the good and acceptable things, which while having their proper place in the Christian life, have a tendency to make one devoid of the real mind of Christ. Such things as meetings, communions, baptisms, buildings, programs, doctrines, finances or other things that concern the church and ministry system, apart from the mind of Christ, will dry up the real heart of the Christian life. Often it's these very things that rob us of the hallowing intimacy which we are to experience with God's throne of grace and seat of mercy.
Here is the question we must ask ourselves in evaluating our love and devotion to God: What are we doing on the inside? Where, or toward what, are we directing our will and desire? That is what marks our life in relation to God. This Scripture gives us a sober warning:
"Dear children, keep away from anything that might take God's place in your hearts." (John 5:21, TLB)
We are admonished in Scripture to guard our hearts (Prov. 4:23), to seek God with our whole heart (Ps. 119:2), to sanctify the Lord in our hearts (1 Pet. 3:15), to return to our first love (Rev. 2:4-5), and to beware of being cheated in our relationship to Christ (Col. 2:8). There are a lot of things we can do in this life to gain success, wealth, prestige, a name and reputation, a church and a ministry, but there's nothing more fulfilling to the human heart than having an intimate, personal and growing relationship with the Lord Jesus.
Here is another reason why we must find time, especially as ministers, to get away with God.
Intimacy, the Cure for the Imitation of Men
"Therefore, knowing that they would come and take Him by force to make Him king, Jesus departed to a mountain by Himself alone" (John 6:15, MEV).
The world had no influence whatsoever on our high priest. He didn't need men to give Him authority. Publicity and popularity were never His goal.
More than once, Jesus warned others not to make Him known (Matt. 12:16). The moonlight, not the spotlight, was the highlight in Jesus' ministry. He spent many nights and early mornings alone in prayer.
The mountain was His preference. It was there that He secured the Father's presence. It was there that He made His choices while blocking out other voices. It was there where He was given new manna for each new day.
This is where Jesus received His authority.
Priests (ministers and saints), hearken! If you do not spend time with God alone, you will always be a clone. You will clone ministry ideas, visions and strategies from others. You will copy and imitate the gifts and graces of others. Your authority will only come from man. You will drink from someone else's well (anointing). You will steal someone else's word. You will be a spiritual schizophrenic.
Fresh manna every day will result in doing things God's way. Fresh bread bakes in the oven of fresh fellowship. You will always have hot bread (messages) for yourself and to serve the people.
Many of God's priests have not worn their garments well. They have neglected the lot and portion of their lives and ministries, who is the Lord Himself. Instead of the Spirit's incubation giving them fresh revelation, they allow insecurity and intimidation to produce a soulish imitation void of God's power. In making their own plans and choosing their own course, they invite a spirit of divorce to come between themselves and the Lord.
A glad reunion awaits them, if they would only turn to the Lord with all their hearts. Intimacy with God is the cure for the imitation of men.
Bert Farias' books are forerunners to personal holiness, the move of God and the return of the Lord. They also combat the departure from the faith and turning away from the truth we are seeing in our day. Cleansing the Temple is his most recent release. You can follow him personally on Facebook, his Facebook ministry page, orTwitter.
Prophetic Word: Everything Is About to Fall Into Place
Author Joe Dawson
The Spirit of the Lord spoke to me and said, "Everything is about to fall into place." I asked the Lord if He was speaking this to just me, or if this was a word for many other people. The Lord immediately spoke to me, and I knew this was a word for so many people in the body of Christ in this hour.
Many have been through years of difficult circumstances, faced roadblock after roadblock and withstood intense spiritual warfare. The delay you've been experiencing has left you weary, discouraged and wondering, God, when am I going to get my breakthrough?
My friends, this is your season! This is a season where everything is about to fall into place. As breakthrough comes and things are falling into place you will be able to look back and see what God was doing the whole time. Past seasons of trial, tribulation and delay will make sense in light of what God is about to do in your life!
Everything God has promised you is coming to pass, and everything you need to move forward toward your destiny is falling into place. God wants to move you forward in the season.
As He moves you forward, the delay that has kept you from your promises will be broken, and you will get take hold of what you have been believing for so many years! This is a season to advance. Go after all that God has called you to and draw near to Him in this season.
In this season, you will see all of those things that you never could figure out how it would happen will begin to fall into place. Make fresh decrees and declarations over all of the prophetic words God has given you.
When the apostles were in the upper room on the day of Pentecost, the Bible says that "Suddenly a sound like a mighty rushing wind came from heaven" (Acts 2:2a). They had been praying in the upper room for 10 days straight, but then their "suddenly" moment came, and everything changed in a moment!
It may feel like you've been stuck in the pit, hitting the same roadblocks and going around the same mountain for years, but those things you have been praying for are going to suddenly manifest in your life. Sudden solutions are coming to the situations you can't seem to figure out.
Breakthroughs are suddenly coming to those things you have been praying for. When you are in the perfect timing of God, what used to take you an hour will only take you 10 minutes. This is a season where things are falling into place, and things that have been difficult will suddenly come to pass.
The wind of God is going to hit what you have put your hands to, and delay will be broken off of your life! This is a season to advance with confidence because everything is falling into place!
Joe Joe Dawson is the founder and apostle of Roar Apostolic Network and Roar Church in Texarkana, Texas. Joe Joe is married to the love of his life, Autumn Dawson, and they have three children. The Dawsons teach a lifestyle of revival and awakening. Joe Joe is a visionary leader who empowers believers to accomplish the call that God has placed inside of them.
How Our Nightmares Can Reveal Godly Wisdom
Author Charity Virkler Kayembe
For God speaks once, yes twice, yet man does not perceive it. In a dream, in a vision of the night, when deep sleep falls upon men, in slumber on their beds, then He opens the ears of men, and seals their instruction, that He might turn aside man from his purpose, and conceal pride from man.
He keeps back his soul from the pit, and his life from perishing by the sword … Behold, God works all these things, twice, three times with man, to bring back his soul from the pit, to be enlightened with the light of the living (Job 33:14-18, 29-30).
At times, God has repeatedly warned me that something is dangerous, but I've been a little rebellious and didn't believe Him. I think, I've got this. I decide that maybe I can actually play with fire and not get burned.
So even though God keeps telling me, "Hey, don't spend too much time getting involved with this person. This path leads where you don't want to go!" Somehow, in my pride and selfishness, I think I know better and that I might be able to handle it just this one time.
In addition to spoken warnings during the day, God also gives me picture warnings at night. Dreams are much harder for me to ignore or deny—especially intense dreams, like nightmares.
Can God speak through them? Sure. He can. God will give me the same message: "Danger, watch out!" But the difference is, I'm living it. I am not just hearing Him say, "Going any farther down this road will lead to trouble and pain." Instead, I'm dreaming it. I am actually going down that road—or in my case, it was a river.
Whitewater Terror
In my dream, I'm being carried quickly down a violent river. I was not in a raft; I was all by myself, and I was being tossed about the whitewater from rapid to rapid. I was totally out of control and could do nothing about it. It was scary and dangerous, and I was terrified. My heart was pounding; my hands were shaking, and I knew it was going to end very badly.
I wake up. God says, "See, told you." I'm clearly distraught, and He calmly explains, "Well, if you would have listened to Me the first `0 times I told you in waking life, I wouldn't have had to scream it in your heart at night." Point taken.
Dreams are pictures that we live. We feel them. We can't tell the difference between something we are dreaming and something that happens in waking life. That is why we sometimes wake up with sweaty palms and racing hearts. For all our bodies know, we really did just live that experience.
Not only are our physical bodies influenced by dreams; our emotions are also fully engaged. God can even fast-forward and let us experience during our night visions the future consequences of the path we're considering taking. He does this as a blessing for us, to help make the message palpable so that we don't miss it and disobey. He wants us to get on His best path and stay on it, following His perfect plans.
Pictures evoke emotion, and emotion moves us to action. Experiencing emotion is an extraordinary benefit of dreams, and we should always be mindful of the feelings we have in them. Dreams exaggerate to get our attention. They will also reoccur if we ignore their messages to us.
Face the Fear
Another reason we may experience nightmares is because they are the cry of an unhealed heart asking us to apply the prayer ministries of inner healing and deliverance to the areas of need within us. The next example illustrates this and comes from one of our CLU students, Karyn Pearson.
Pre-Ministry Dream: "I had a frightening reoccurring dream for 30 years. The dream was always about me running and hiding from a man. Sometimes it was someone else who was running and trying to hide; however, by the time I woke up, the person running would have morphed into me."
Setting: "The dream changed after receiving prayer in waking life during a revival meeting at my church. The Lord ministered to me powerfully, and upon leaving the church, I knew I had been delivered from a spirit but didn't know which one—until my dream that night."
Post-Ministry Dream: "It started out the same way with someone chasing me; however, this time I turned around to face him and pointed to him, saying, 'No! I rebuke you in the name of Jesus.' I have not had that dream since!"
Action: "Running"
Emotion: "Intense fear"
Interpretation: "The dream was revealing the scream of my heart. I grew up in an alcoholic home with lots of fighting and violence. My father would physically beat my mother while he screamed at her. The Lord showed me that when the beatings would start, I would run for cover to escape him. This traumatic time opened a door in my life to the spirit of fear, which was often played out in this nightmare. However, after the Lord delivered me from fear the dreams completely stopped!"
Job Was Right
Praise God for His revelation through our dreams—even the "bad" ones. We want to remember that just because a dream is frightening doesn't mean it's not from God. When the Lord established His covenant with Abram, the Bible says that as deep sleep came upon the patriarch, "terror and a great darkness fell upon him" as well (Gen. 15:12). Likewise, when Jacob awoke from his dream of the heavenly ladder, he, too, was afraid (see Gen. 28:17). Obviously those dream encounters, scary as they may have been, were most certainly from God.
Job was right: While we are asleep in our beds God opens our ears and instructs us through our dreams at night to turn us back from the pit of destruction and to enlighten us with the light of life.
Charity Virkler Kayembe has a doctorate in biblical studies, is passionate about the sacred supernatural and writes about the unfolding adventure that is walking by the Spirit on her blog at GloryWaves.org. She has been featured on Sid Roth's It's Supernatural!,Cornerstone TV, Charisma magazine and The Elijah List. Charity is the co-author of four books, including Hearing God Through Your Dreams, Unleashing Healing Power Through Spirit-Born Emotions and Everyday Angels.
By Rebecca Barlow Jordan
What if I told you about one habit that can change your life in almost every area? What is one thing, one simple application, one decision–five words–that can make your life better?
This One Habit That Can Change Your Life Is No Secret
That one habit is really not a secret. David the Psalmist discovered and wrote about it in Psalm 56:3 NKJV: Whenever I am afraid, I will trust in You. David knew what it meant to be afraid, and he knew what it meant to trust God.
You guessed it. You spell the habit that can change your life,  T-R-U-S-T.
Can You Trust in Every Situation?
Recently I meditated on that verse and wondered, what if I applied that same habit to every problem and every negative emotion I encountered daily? What if I could learn to trust God in every situation?
We already know how human we are. So does God. He made us. But simply being aware of that one habit, of applying that one truth could help us win some daily battles. And we all know how those dailies lead up to weekly and monthly and yearly failures if we simply ignore and give in.
The Trust Challenge
So I'm giving you a "Trust Challenge." Make your own list of negative emotions or habits that need work, or areas in which you want to rely on God more. Then place an "I will trust (in God)" after it. Replace something negative with the positive habit of trusting. I've listed some examples below:
Whenever I'm afraid, I will trust in God.
Whenever I'm confused, I will trust in God.
Whenever I'm tired, I will trust in God.
Whenever I'm weak, I will trust in God
Whenever I'm lonely, I will trust in God.
Whenever I'm tempted, I will trust in God.
Whenever I'm angry, I will trust in God.
Whenever I'm discouraged, I will trust in God.
Whenever I'm disappointed, I will trust in God.
Whenever I'm hurting, I will trust in God.
Whenever I'm sick, I will trust in God.
Whenever I'm worried, I will trust in God.
Whenever I fail, I will trust in God.
I added that last one to help you whenever you blow it trying to trust. And you will. But keep trusting. God is faithful. He can be trusted. And He wants to help you.
This One Habit That Can Change Your Life Is a Positive Choice
We're not talking about positive thinking, but a personal commitment, a positive choice. This one habit that can change your life can bring a peaceful attitude and a sense of freedom in your spirit. Practice it often. You can't control your circumstances. You can't change other people.  And you can't change yourself. Only God can do that. But you can change your perspective, how you handle difficulties, and how you approach life. You can decide to trust the only One who can make sense out of anything and everything. Trust God. In everything. In every way. All the time. Simply TRUST. And let God do the rest.
It can change your life. He can change your life.
My Personal Prayer for You
Lord, we give in so easily to the difficulties that surround us. Worry or fear can easily overwhelm us, and lead us away from trusting You. Yet in Your wisdom and love, You have given us every reason to trust You. You hold the keys to life and happiness. In You we can find peace and courage to overcome any obstacle. Help us develop a trust in You at all times, because You never fail us!
Day-votedly Yours,
Rebecca
Your might also enjoy this post I wrote called, A Prayer for Peace Within.  
It's Your Turn
What about you? What situations make it hard for you to trust God? Will you accept the Trust Challenge today? I love to hear from readers. You can always write me through my contact page. Just fill out the basic name and address info, and then the email will come to me. We'll never share your name or info with anyone without your permission.
Share This Post with Others