Daily Prayer for 

July 21
My soul yearns, even faints, for the courts of the Lord; my heart and my flesh cry out for the living God. Even the sparrow has found a home, and the swallow a nest for herself, where she may have her young – a place near your altar, Lord Almighty, my King and my God. Blessed are those who dwell in your house; they are ever praising you. Psalm 84:2–4, NIV
Lord God, our souls long for you and for your glory, for the day when it shall be said, "All is accomplished! Now your kingdom comes. Now your day appears. When we look back on all that has happened to us, everything becomes clear." We thank you that we can live without fear, again and again refreshed and renewed, waiting for the good you give on earth. Show us the way we have to go. Grant your blessing in our hearts so that in need and death, in fear and distress, we may always have light and strength. You are our salvation, Lord our God. From you comes the salvation of our souls. We trust you today and every day. We praise your name, and in you we hope for the day you hold in readiness for the whole world, the day when light will dawn in every heart. Amen.
Anna Mow
The big obstacle to God's grace is bitterness. Some people complain because they are not blessed by God as others have been. They do not realize that in thinking of themselves, they open the door to bitterness and close it to God's grace. No matter what happens, we dare never be bitter or resentful.
Source: Two or Ninety Two
Today's Verse Illustrated…

Daily Wisdom: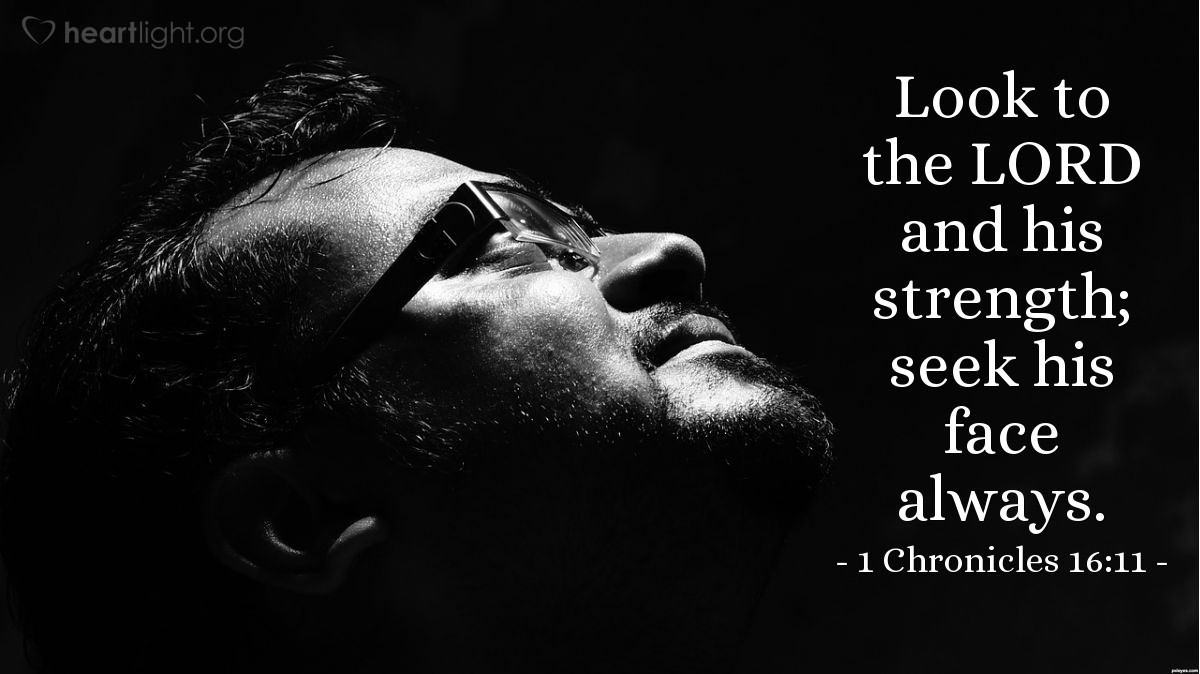 Passion for Praise:

 'You Alone are My Hope'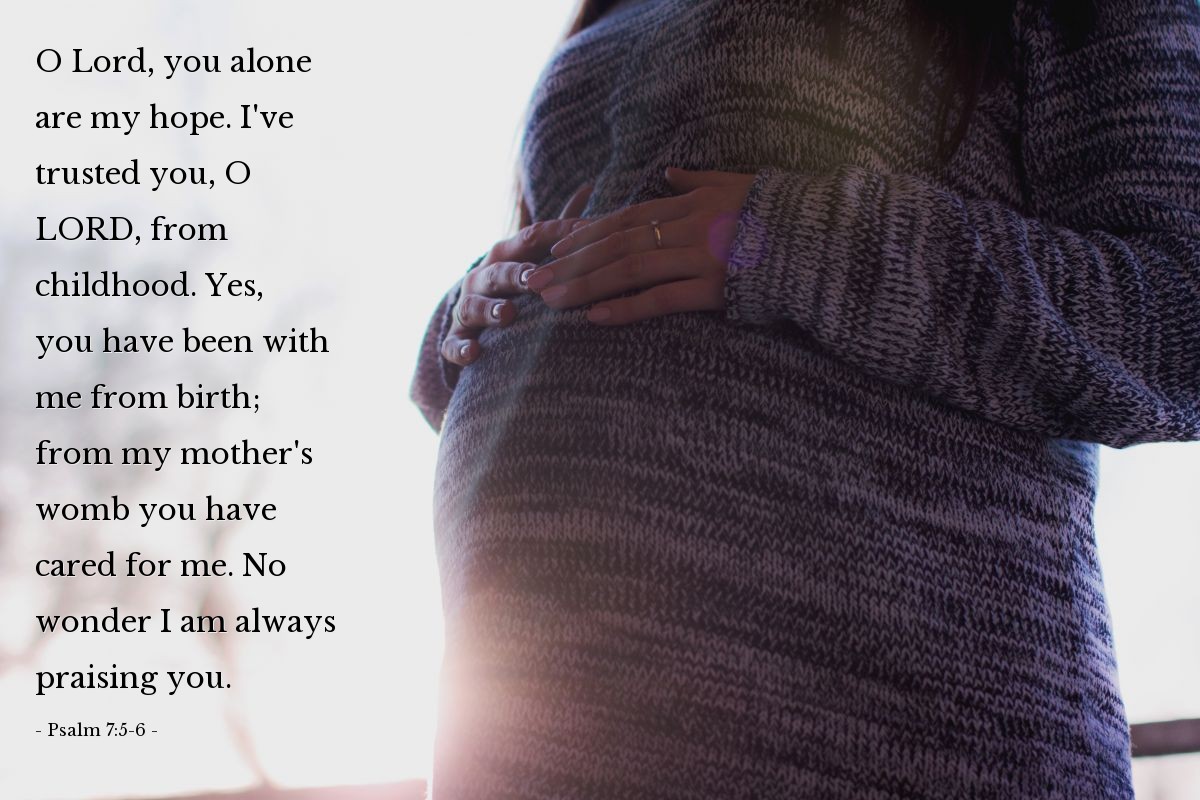 Spiritual Warfare:

 'Who Are You Trying to Please?'

God's Power for Our Battles

Lord, forgive me for focusing on my popularity with people instead of my work as a servant of Christ and of Your Kingdom. I confess that I've often neglected my duties as a Christian in order to win favor and approval of the people around me and this present world. I don't want to live like that anymore. Help me to seek to please You from here on, asking You each day about what I can do for the Kingdom, Lord, and grant me the courage to accomplish Your will for my life. In Jesus' Name, Amen.
Illustration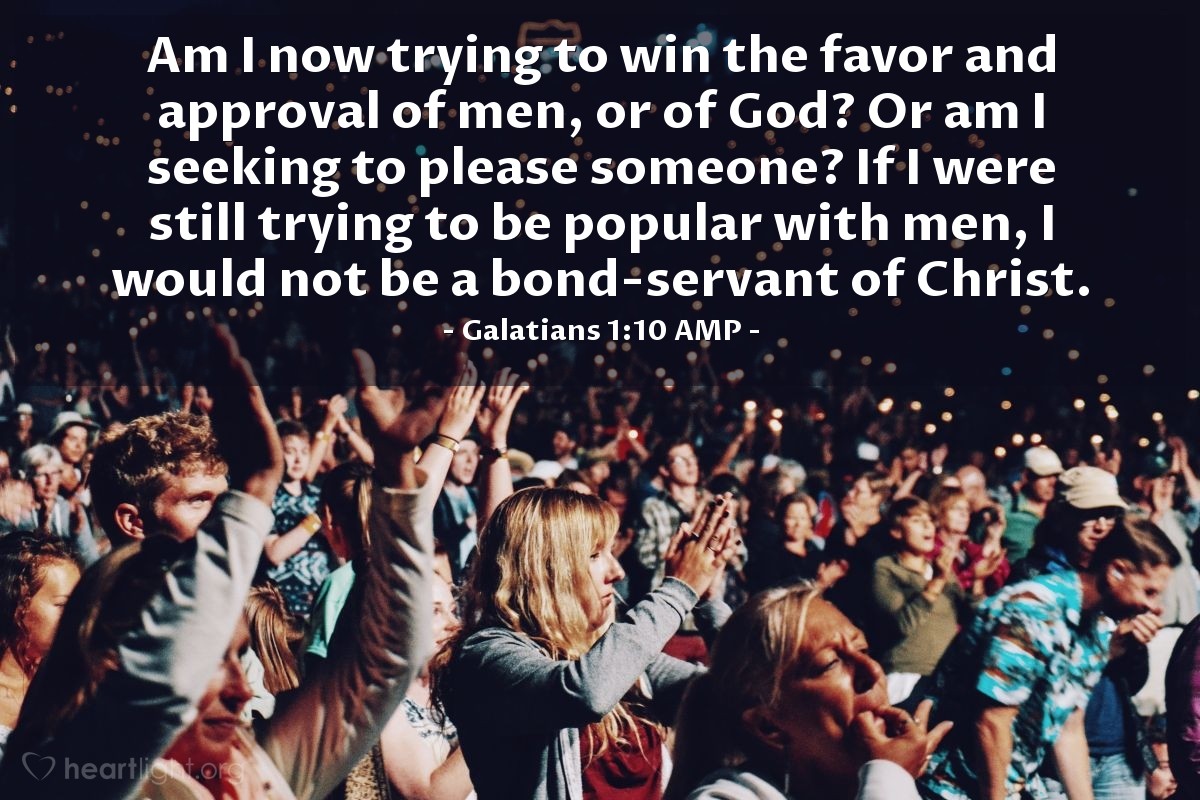 A Year with Jesus:

 'God's New Creation Counts for Everything'
Note from Jesus
Dear Faithful Friend,
I told My disciples in the last few hours before My crucifixion, "I don't call you servants any longer; servants don't know what the master is doing, but I have told you everything the Father has said to Me. I call you friends" (John 15:15). To some of My friends, I revealed deeper things in special revelation to give them the authority to teach the good news about Me in all of its simple truth. The apostle Paul was one of these special people. The Father revealed Me to Paul so that he could proclaim My story, share My grace, and bring My salvation to "outsider nations."
Paul didn't learn this message from any mortal (Galatians 1:11-17; Galatians 2:1-10). He didn't get the details of the gospel from the apostles or any other witnesses. In his letter to the Galatians, Paul was battling to preserve this authoritative message about the Father's grace. The Galatians were trying to add Jewish practices to the gospel — practices established in the law given to Moses and other practices added by tradition. Paul was right in adamantly declaring that any gospel that added requirements to the gospel of grace received through faith is really no gospel at all (Galatians 1:6-9).
Finding new life in Me and becoming a "new creation" come only from being "in" Me. Paul told the Corinthians:
Therefore, if anyone is in Christ, he is a new creation. The old has passed away; behold, the new has come.
(2 Corinthians 5:17 ESV)
Paul made it clear to the Galatians that this "new creation" happened through faith and was experienced in baptism. This new life could not come through any form of law-keeping or doings works of the law of Moses:
So in Christ Jesus you are all children of God through faith, for all of you who were baptized into Christ have clothed yourselves with Christ. There is neither Jew nor Gentile, neither slave nor free, nor is there male and female, for you are all one in Christ Jesus. If you belong to Christ, then you are Abraham's seed, and heirs according to the promise.
(Galatians 3:26-29 NIV)
During our continuing journey through the New Testament over the next few months, you will see time and again that people will try to add some additional requirement to My simple gospel. Thankfully, Paul never abandoned what the Father had revealed in him (Galatians 1:15-16): I AM the good news the world needs. I AM "the way, the truth, and the life. No one can come to the Father except through me" (John 14:6 NLT). So Paul reminded his Galatian brothers and sisters at both the beginning and the end of his letter that there is only one gospel, the one delivered to him from God about Me. Paul also reminded the Galatians that there is only one thing that ultimately matters: "God's new creation is what counts, and it counts for everything."
Verses to Live
As you read these seemingly unconnected passages from the beginning and the end of Galatians, remember what I said about one, simple, and transformational message. There is only one. That message finds its focus in Me. When I come into a person's life, I make everything new. This change is what matters!
Surely you are familiar with my personal history, with my dedication to the teachings and traditions of Judaism. I persecuted the church of God — in fact, I meant to destroy it. I excelled in the teachings of Judaism far above other Jewish leaders, and I was zealous to practice the ways of our ancestors. But God — Who set me apart even before birth and called me by His grace — chose, to His great delight, to reveal His Son in me so I could tell His story among the outsider nations. I didn't confer with anyone right away, nor did I go to those who were already emissaries in Jerusalem. I went straight to Arabia and later returned to Damascus.

After living this adventurous mission for three years, I made my way to Jerusalem and spent 15 days with Cephas, whom you know as Peter. But I didn't see any emissary other than James, our Lord's brother. (You can be certain that what I am offering you is an authentic account. Before God, it's the whole truth — I wouldn't lie.) Later I journeyed to Syria and Cilicia; and since I had spent so little time in Judea among the churches of the Anointed One, no one there could pick me out of a crowd. But stories of my call and mission preceded me: "The very man who wanted to kill us all is now preaching the faith he once labored to destroy." And so they praised God for the miracle He did in my life.
(Galatians 1:13-24)

The troublemakers who are putting pressure on you to be circumcised are trying to impress the flesh. They want to avoid the persecution that comes from preaching the cross of the Anointed One, the Liberating King. But even those who receive circumcision can't keep the law — although they think they can — and they hope to influence which way you go with your own skin so they can have bragging rights over your flesh.

May I never put anything above the cross of our Lord Jesus the Anointed. Through Him, the world has been crucified to me and I to this world. Let me be clear: circumcision won't save you — uncircumcision won't either for that matter — for both amount to nothing. God's new creation is what counts, and it counts for everything. May peace and mercy come to all of you who live by this rule and to the Israel of God.
(Galatians 6:12-16)
Response in Prayer
Father, forgive me for the times I've added requirements to the simple, pure, and powerful gospel about Jesus. Thank You that Your gospel is so simple, clear, and focused. Thank You for Jesus Who makes this message Your powerful and simple truth that brings new life. I thank You in Jesus' name. Amen.
Illustration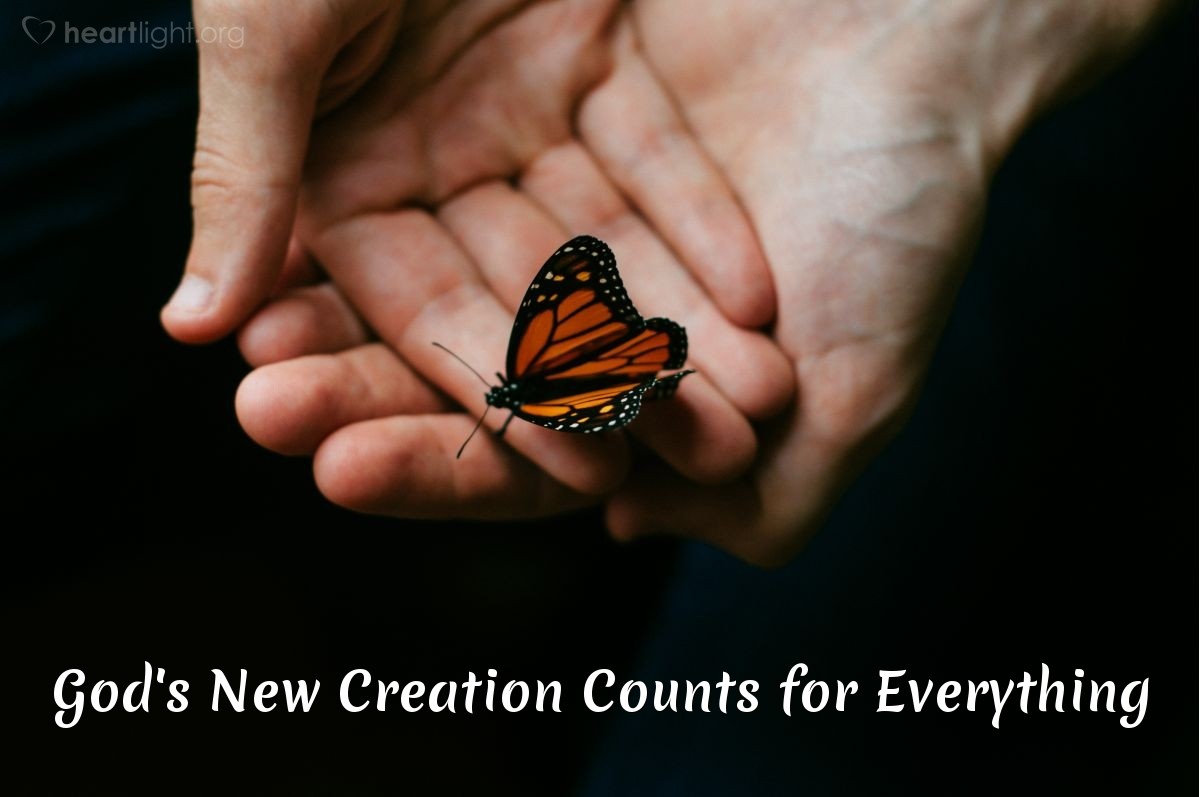 The Daily Word of Hope Devotional
—Dion Todd
A Wonderful Life
Count it all joy, my brothers, when you fall into various temptations, knowing that the testing of your faith produces endurance. Let endurance have its perfect work, that you may be perfect and complete, lacking in nothing. James 1:2 WEB
My Dad was born during the great depression in the early 1930s. They had no electricity or running water in the rural areas where he grew up. There was no refrigeration, so they had to carry blocks of ice from the ice house in order to keep things cool in a cellar. Money was scarce. No one in the area had a telephone, and the family shared an outhouse. They had none of what most of us take for granted…but they were happy.
It was a hard life, but there was an incredible generation of people that came out of that era. When times became hard, the people adapted and became tough. The other side of the coin is that like a child, when life becomes too easy, we tend to become spoiled, unthankful, and unhappy. Bored.
We often think that if we had such and such, then we would be happy. The reality is that seventy percent of the people that win the lottery, end badly. Many commit suicide, and their divorce rate is four times that of the national average. That doesn't sound that happy.
Many people are having it tough today and are going through so much just to live, but these trials will only make you better. You will become a wiser, stronger, better person when you come out the other side, and eventually you will. We need to learn to be content wherever we are like Paul wrote about in Philippians 4:12.
We watched a documentary recently on happiness and after a careful study, they found that your circumstances only account for ten percent of your total happiness level. After your basic needs were met like food, water, and shelter, adding more belongings made little difference. Possessions have diminishing returns. Their studies showed that people who lived in poverty in third world countries, were often happier than people living in a mansion in America.
It turns out that pursuing happiness directly, only made it more elusive. While things like helping others, resulted in a huge happiness boost. It is better to give than to receive. When people focused less on themselves and on their own needs, it actually caused them to be happier in life.
I felt that it went right along with scripture. Do unto others as you would have them do unto you. Give, and it will be given unto you. Pray for others, and your own circumstances will change. So seek the happiness of others, and your own happiness will improve.
When your faith is stretched, it will come back stronger. Just like you have to stress a muscle to make it grow, so does your faith. Don't get too stressed out in the hard times. Pace yourself. When you burn a candle at both ends, it will not last very long. Learn to be content where you are, for you already have a wonderful life.
Prayer: Heavenly Father I thank You today for the wonderful life that You have given me. I appreciate all that You have blessed me with. Please help me see through Your eyes and impress on me what really matters. Make what is important to You, important to me. In the name of Jesus Christ I pray.
Bible Fun Fact: Solomon had 700 wives and 300 concubines (1 Kg 11:3
Prophetic Word: God Is Releasing a New Measure to Break Off Your Limitations
The Lord has been speaking to me recently about a new measure. As I was in prayer, the Lord spoke to me about a new measure that He is releasing to individuals in the body of Christ.
I believe that this new measure is an opportunity for us to get rid of limitations we have placed on ourselves. This new measure is coming to break off any limitations we have placed on what God can do in us, our families, health, finances, ministries, businesses and lives! There is no limit or measure to what God can do and wants to do in every area of your life.
Recently, the Lord spoke to me about breaking the lack off the people in our ministry. I immediately knew that this was a charge not just for us but for the whole body of Christ. God wants His children to quit "just getting by." As people of God, we need to challenge the way we have thought about finances. God does not just want us to be blessed but for us to step out of lack and be a blessing to those around us and others in the kingdom of God.
We have placed limitations on ourselves to "just get by," but this new measure cannot come if we continue to think this way. You may have limited yourself before or become dull and stale, but it is time for a new measure. I don't know what old system or mindset you have been using to measure yourself or your life with, but there is a new measure! The new measure comes from the kingdom of God. There is no lack, sickness or failure in the kingdom of God.
When I was younger, I played softball with a traveling team. I was talking to a professional softball player one time, and he said, "Joe, what are you aiming for when you hit the ball?" I answered, "The fence." Then he said, "Joe, you do not need to be aiming for the fence. If you aim for the fence, you'll hit it just over or just before. See, the trees behind the fence?" I said, "Yes sir." He said, "Aim for the trees behind the fence."
What was this man teaching me? You can only go as far as you aim. There is no limit to what you can do as long as you don't limit yourself. It's time to aim higher than we ever have before. It's time to get out of our own way and step into the new measure. It's not time to swing for the fences, it's time to swing for the trees. It's time to live without any limitations and receive the new measure!
Joe Joe Dawson is the founder and apostle of Roar Apostolic network and Roach Church Texarkana. Joe Joe is a visionary leader who empowers believers to accomplish the call that God has placed inside of them. His heart is to see this nation awakened and for every individual to experience personal revival.
By Rebecca Barlow Jordan on Jul 18, 2019 08:00 am
How do you handle struggles in life? Should you deny them? What does God want you to do? How does He feel about them?

No matter what your struggles are in life or how difficult they may be, here are some promises from God's word to encourage you.
You have seen me tossing and turning through the night. You have collected all my tears and preserved them in your bottle! You have recorded every one in your book (Psalm 56:8 TLB).
This is why we work hard and continue to struggle, for our hope is in the living God, who is the Savior of all people and particularly of all believers (1 Timothy 4:10 NLT).
You are my refuge and my shield; your word is my source of hope (Psalm 119:114 NLT).
I focus on this one thing: Forgetting the past and looking forward to what lies ahead,

 I press on to reach the end of the race and receive the heavenly prize for which God, through Christ Jesus, is calling us (Philippians 3:13-14 NLT).
Keep looking up, because God has so much more encouragement to offer in His Word!
My Personal Prayer for You
Lord Jesus, You have told us to expect struggles in life, but thank you for your promises of comfort and encouragement. Help us to keep our eyes on You, trusting you for the strength and the help to come through each one with victory. You are indeed our refuge and strength, and with You all things are possible. Our eyes are looking upward and outward to the end of the race, because one day You will meet us there. Thank You for catching our tears, for holding us up, and for never leaving us. You are amazing, God!
Day-votedly Yours,
Rebecca
You might also like these posts I wrote called, When the Only Place We Can Look Is Up, and Finding Faith When You Are Struggling.
It's Your Turn
What about you? How do you handle struggles in life? Do you try to tough them out yourself, or do you lean on God and others for help? I love to hear from readers. You can always write me through my contact page. Just fill out the basic name and address info, and then the email will come to me. Your name or info will never be shared with anyone without your permission.
Share This Post with Others
Daily Humor
So Long!!  God bless!!!!