Daily Prayer for 

July 14
At that time I will answer the prayers of my people Israel. I will make rain fall on the earth, and the earth will produce grain and grapes and olives. I will establish my people in the land and make them prosper. I will show love to those who were called "Unloved," and to those who were called "Not-My-People" I will say, "You are my people," and they will answer, "You are our God." Hosea 2:21–23, TEV
Lord our God, kindle true light in our hearts and minds, that we may recognize what we are and become free of everything false and dishonest. Let this light of righteousness, this judgment, go through all nations, that people no longer use empty words when they talk of "mercy" and "truth." Grant that your mercy and your truth find the right soil and bear fruit. May they find soil prepared by you, for you judge us and make right what is wrong in our earthly life. We thank you that however painful many of our experiences are, we may still say, "Through how much need has not our merciful God spread out his wings to protect us!" Amen.
Christoph Friedrich Blumhardt
Now, more than ever, we must proclaim, "The Lord is at hand!" We are part of this, quietly and actively, through our faith and expectation. It is enough for us to know that God is weaving his design in the warp and weft of the world. His goal will be reached, not just for this or that person, but for everyone.
Source: Everyone Belongs to God
The Daily Word of Hope Devotional
—Dion Todd
The Black Sheep
Out of that terrible travail of soul, he'll see that it's worth it and be glad he did it. Through what he experienced, my righteous one, my servant, will make many 'righteous ones,' as he himself carries the burden of their sins. Therefore I'll reward him extravagantly' the best of everything, the highest honors'Because he looked death in the face and didn't flinch, because he embraced the company of the lowest. He took on his own shoulders the sin of the many, he took up the cause of all the black sheep. Isaiah 53:11 ESV
I grew up as the least of my family, who at the time was the least of another family. The youngest of thirteen kids and a stepchild on top of that. Every day, it was made clear that I did not belong there and never would.
Have you ever felt like the black sheep in the family? Made some mistakes, or maybe like me, you are the mistake and never able to get free of it? After enough pain we become closed off to the world.
Be encouraged. Jesus has friends in low places and He found me there. Jesus redeemed me, added me to His family and healed my heart. He took up the cause of troubled and hurting people and He will take your burden today if you will let Him.
Remember, today is the first day of the rest of your life. What you have been in the past is gone and you decide who you will be from this day forward. Remember that if you are a black sheep, your brightest days are still ahead of you!
Prayer: Heavenly Father, I believe that You are there for me. When the world looks the other way, You still look my way. Help me to see the world through Your eyes, in the name of Jesus I pray.
Bible Fun Fact: Manasseh was the longest reigning king at 55 years (2 Kg 21:1).

Today's Verse:

 1 Timothy 5:1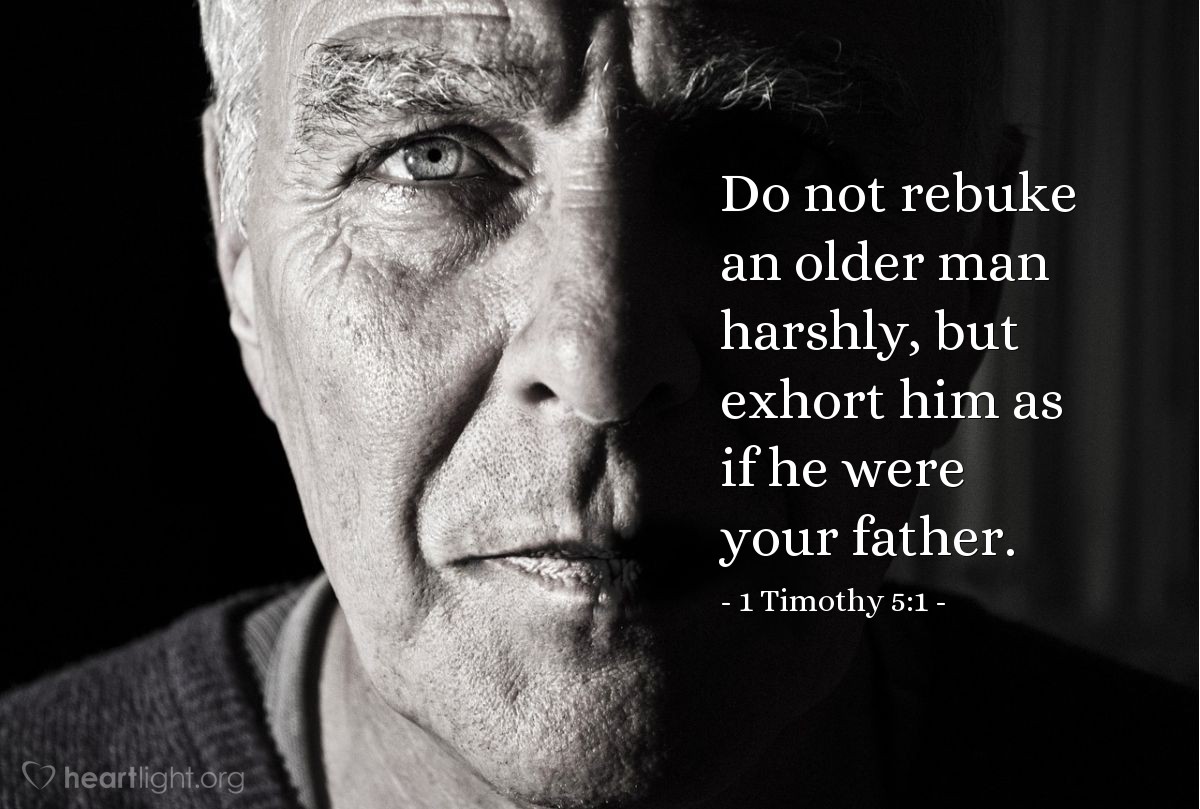 Thoughts on Today's Verse…
There is an eagerness, passion, and a clear sense of purpose that can go with being young — headstrong, untested, and rash is how some who are older might describe it. There is a surety with age because of tried and true methods proven over time — staid, predictable, and unmovable is how some who are younger might describe it. These differences can cause tension and conflict; yet both have something to be learned from the other. No matter how mistaken an older Christian may be, he or she should be treated with the respect that comes from a life proven in faith. But older Christians must also be willing to receive correction from a younger one, especially if it is done prayerfully by a young believer who has demonstrated his humility, love, and respect toward those who are older.
My Prayer…
O Eternal Father, God of my ancestors' history and the assurance of my future, please help me be a person of integrity, especially when I deal with those who are not of my age group. May I be respectful and careful with my tone as I speak with those who are older. May I be pliable and open to change when confronted with my errors by those who are younger. Most of all, Father, please lead those people into my life who will love me enough to forgive my errors and also love me enough to point them out to me and to help me grow beyond them. In Jesus' name I pray. Amen.
Passion for Praise:

 'All You Servants of the Lord'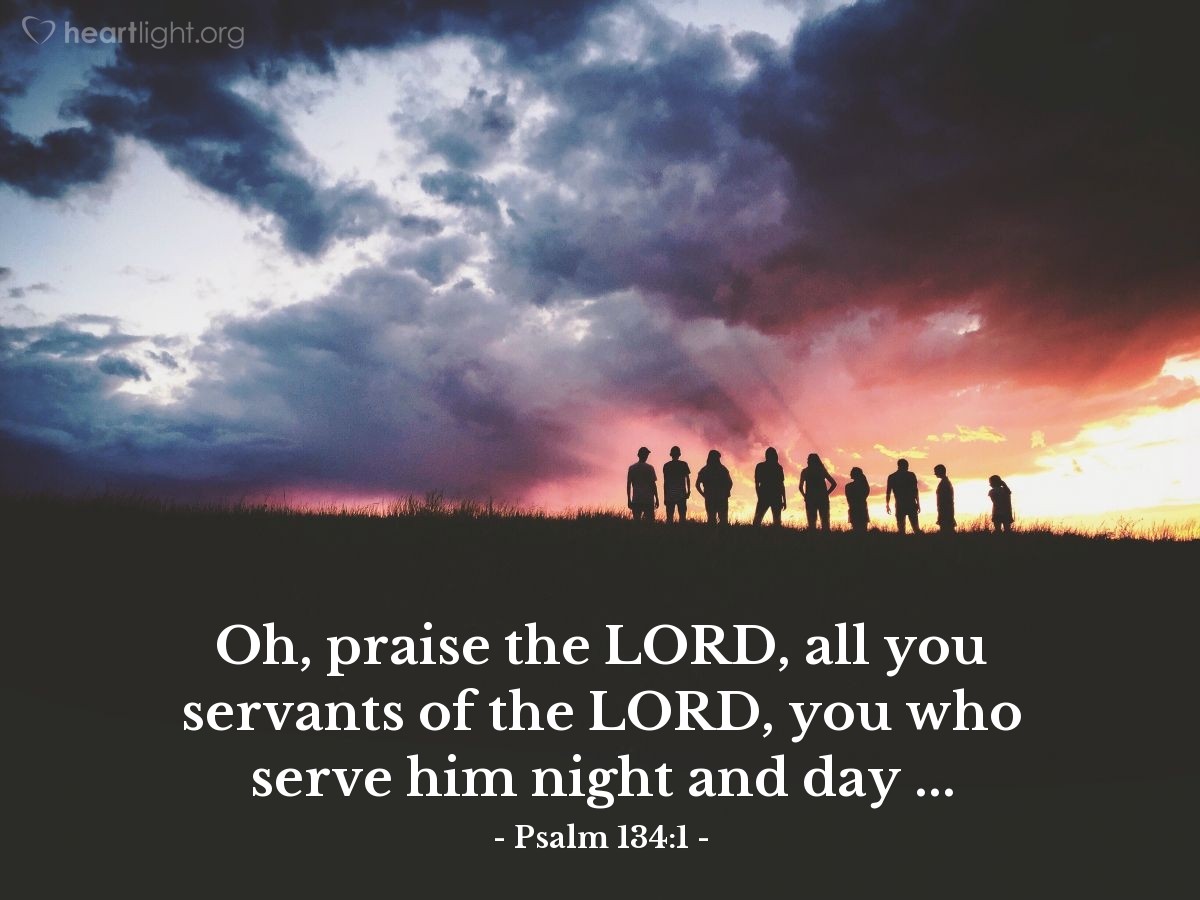 Spiritual Warfare:

 'God's Power Over Death for Us!'

God's Power for Our Battles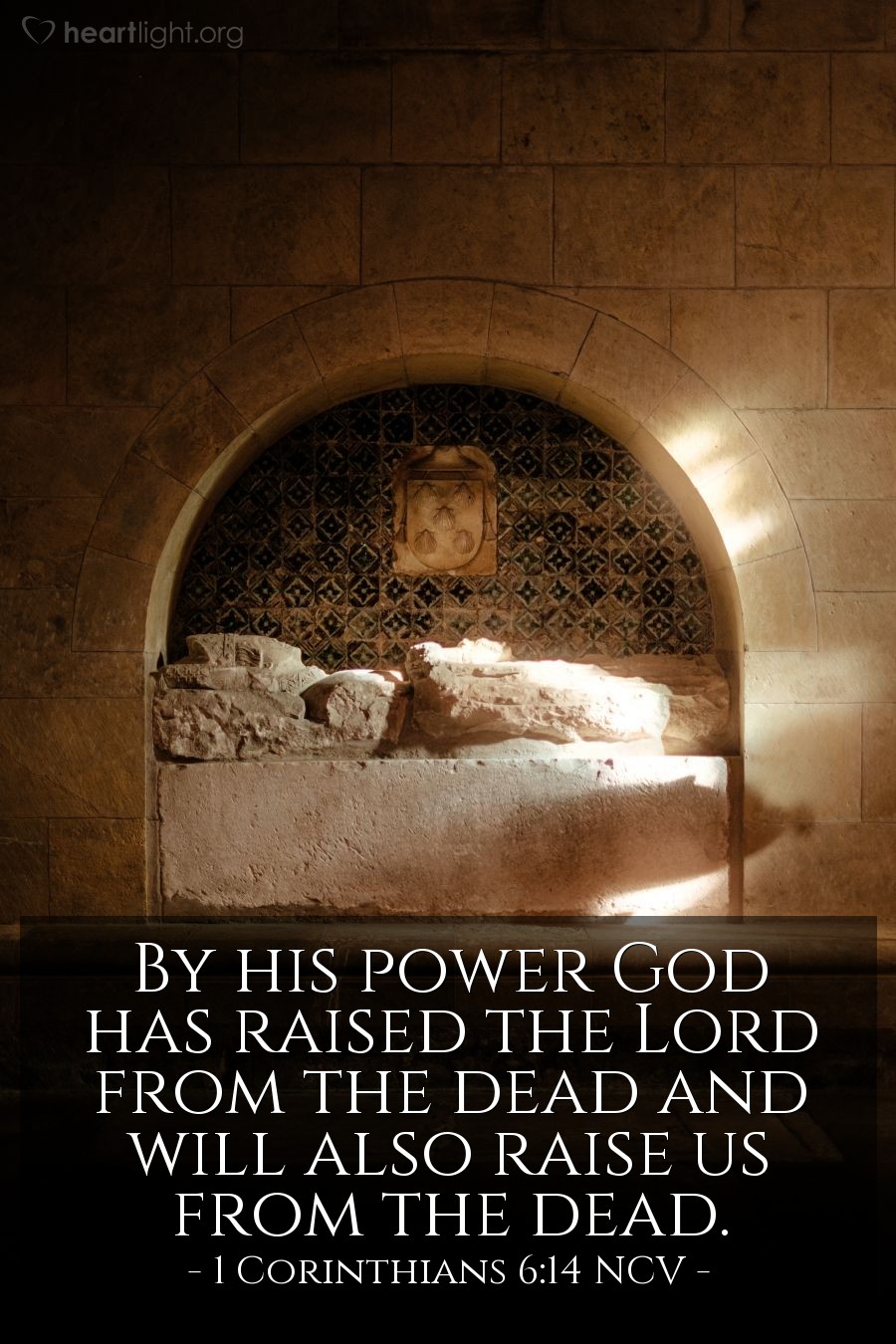 Today's Prayer
Lord God, I praise You as Creator and Lord of all the earth — even with the total power over death and the grave. When death threatens my own live, Lord, remind me that I need not fear it because You are the One with the ultimate power and control — even over death itself. Remind me that the last enemy to be destroyed and removed is death (1 Corinthians 15:26), and that death is not the end; but rather just a transition toward eternal life in heaven forever with You. In Jesus' Name, Amen.
A Year with Jesus:

 'A Clear Command'
Note from Jesus
Dear Lover of God,
During My earthly ministry, I was asked: "which commandment is the greatest?" (Matthew 22:36). Quoting Old Testament Scriptures, My reply was
"'You must love the Lord your God with all your heart, all your soul, and all your mind.' This is the first and greatest commandment. A second is equally important: 'Love your neighbor as yourself.'"
(Matthew 22:37-39 NLT)
In this two-part answer, it is essential to remember that the first part, loving God, is the basis for the second part, loving your neighbor. As John said,
We love because He [God] has first loved us. If someone claims, "I love God," but hates his brother or sister, then he is a liar. Anyone who does not love a brother or sister, whom he has seen, cannot possibly love God, whom he has never seen. He gave us a clear command, that all who love God must also love their brothers and sisters.
(1 John 4:19-21)
Sometimes theologians make things so much more complex than they really are. They did it in My day when I walked the streets of Galilee, Judea, and Samaria. Some still do it in your day. However, as John said, here's "a clear command":
"Love your neighbor as yourself"!
This command is what I want to emphasize today and what I want you to live in your life every day.
Arrogance, prejudice against the foreigners, bigotry toward other races, playing favorites based on earthly status, judging people by their appearances, murder, adultery, and covetousness can all be countered by a simple, yet profound, concept:
"Love your neighbor as yourself"!
This command is the Father's royal law. This order is the law that gives you freedom. This charge is the only debt you should ever owe anyone. Faithfully living this one principle satisfies the heart of the law as you live in relationship with others with the righteous character and gracious compassion of your Father in heaven!
Remembering this principle is important because I care deeply about how you talk to each other and how you talk about each other and how you interact with each other. How you treat those on the margins of your society matters deeply to Me. Whether you care for the widows, orphans, and foreigners among you reveals how closely your heart is aligned with My heart. How you treat the poor, hungry, imprisoned, sick, and those without shelter matters to Me immensely. I care so deeply about these things and these people that your treatment of them will be one of the ways you will be judged to be My disciples on the last day (Matthew 25:31-46).
So practice love and mercy! Give graciously to those in need. Speak blessings and not curses into the lives of those around you. The list could go on and on, but I don't need to get so specific. I want to remind you again of a clear command, pure and simple. Don't just know the words, but evaluate how you treat everyone by this standard:
"Love your neighbor as yourself"!
Verses to Live
As I've already emphasized, what I want you to understand from the following verses is really pretty simple: 
"Love your neighbor as yourself"!
 The Father said it in the law. I said it in My ministry. James and John taught it in their writings. The apostle Paul proclaimed it repeatedly in his letters. So quit quibbling over the details of Scripture. Live the heart of Your Savior. Reflect the character of your Father in heaven. Display the fruit the Spirit longs to bring into your life. Obey this clear command: 
"Love your neighbor as yourself"!
If you put yourself on a pedestal, thinking you have become a role model in all things religious, but you can't control your mouth, then think again. Your mouth exposes your heart, and your religion is useless. Real, true religion from God the Father's perspective is about caring for the orphans and widows who suffer needlessly and resisting the evil influence of the world.

My brothers and sisters, I know you've heard this before, but stop playing favorites! Do not try to blend the genuine faith of our glorious Lord Jesus, the Anointed One, with your silly pretentiousness. If an affluent gentleman enters your gathering wearing the finest clothes and priceless jewelry, don't trip over each other trying to welcome him. And if a penniless bum crawls in with his shabby clothes and a stench fills the room, don't look away or pretend you didn't notice — offer him a seat up front, next to you. If you tell the wealthy man, "Come sit by me; there's plenty of room," but tell the vagrant, "Oh, these seats are saved. Go over there," then you'll be judging God's children out of evil motives.

My dear brothers and sisters, listen: God has picked the poor of this world to become unfathomably rich in faith and ultimately to inherit the Kingdom, which He has pledged to those who love Him. By favoring the rich, you have mocked the poor. And, correct me if I'm wrong, but isn't it the rich who step on you while climbing the ladder of success? And isn't it the rich who take advantage of you and drag you into court? Aren't they the ones mocking the noble name of our God, the One calling us?

Remember His call, and live by the royal law found in Scripture: love others as you love yourself. You'll be doing very well if you can get this down.
(James 1:26-27; James 2:1-8)

Don't owe anyone anything, with the exception of love to one another — that is a debt which never ends because the person who loves others has fulfilled the law. The commands given to you in the Scriptures — do not commit adultery, do not murder, do not take what is not yours, do not covet — and any other command you have heard are summarized in God's instruction: "Love your neighbor as yourself." Does love hurt anyone? Absolutely not. In fact, love achieves everything the law requires.
(Romans 13:8-10)

For the whole law comes down to this one instruction: "Love your neighbor as yourself…"
(Galatians 5:14)

But if you show favoritism — paying attention to those who can help you in some way, while ignoring those who seem to need all the help — you'll be sinning and condemned by the law. For if a person could keep all of the laws and yet break just one; it would be like breaking them all. The same God Who said, "Do not commit adultery," also says, "Do not murder." If you break either of these commands, you're a lawbreaker, no matter how you look at it. So live your life in such a way that acknowledges that one day you will be judged. But the law that judges also gives freedom, although you can't expect to be shown mercy if you refuse to show mercy. But hear this: mercy always wins against judgment! Thank God!
(James 2:9-13)
Response in Prayer
O Father, open My heart to love others, especially those in need, as You have loved me. O Jesus, thank You for showing me this kind of love in action through Your earthly ministry. Holy Spirit, keep pouring love into my heart so that it overflows into the lives others. I commit to love my neighbor as I love myself. I ask for your help to live Your righteous character and holy compassion in Jesus' name. Amen.
No One Ever Said

No Problem

It's easy to read past Bible warnings about idolatry. Few of us worship graven images.

No one has ever visited me and asked for help with their idol-worship problem.

No one ever said, "I struggle with idolatry."

Pray for the the Holy Spirit to convict us of whatever it is that draws us away from the cross.

Blessings,
Dr. Steve Greene
Did You Ask Someone to Smile Today?

Smile for the Selfie

I've been so tempted to take selfie pictures on my vacation. Then I thought, Who would really care? Do my selfies add any value to the content I produce?

Nope.

While we live in the selfie generation, we aren't required to be of it.

Take pictures of others. Ask them to smile. It might be their first of the day.

Blessings,
Dr. Steve Greene
Chief of Sinners     
Why would the apostle Paul, a man who according to every scriptural record lived an impeccable and godly life, refer to himself as the chief of sinners? Is there a part of his life we know nothing about? Or (as some insist) did he have a secret besetting sin? Did he truly consider himself the worst of the worst, or was he just expressing false humility? When considering all the sinners he helped bring to Jesus Christ through his ministry, how could he still consider himself the chief?
When we look at the scriptural record of Paul the apostle, the idea that he had a secret or besetting sin is absurd. If he did, we should discard everything he wrote that we call scripture because his worst besetting sin would have been hypocrisy. Look at some of his words in reference to himself.
"For neither at any time used we flattering words, as ye know, nor a cloke of covetousness; God is witness: Nor of men sought we glory, neither of you, nor yet of others…" I Thessalonians 2:5-6
"Ye are witnesses, and God also, how holily and justly and unblameably we behaved ourselves among you that believe:" I Thessalonians 2:10
"But have renounced the hidden things of dishonesty, not walking in craftiness, nor handling the word of God deceitfully; but by manifestation of the truth commending ourselves to every man's conscience in the sight of God." II Corinthians 4:2
Paul manifested the gospel he preached in every way; in heart, in life, in action, and in the power of the Spirit. He was not a hypocrite. He preached what he believed; and what he believed was the secret of the godly and victorious life he lived. It was Christ living in him!
Before he came to Christ, all evidence is that he was a sincere and devoted man. In fact he did not commit sin, as he understood it to be. After becoming an apostle he referred to his life before his conversion to Jesus, saying, "…touching the righteousness which is in the law, (I was) blameless." Philippians 3:6. He was devoted to the Jewish faith, zealous of the Law, and highly regarded by others. Galatians 1:14. Even as an apostle, he reminded Peter that before believing in Jesus, they as Jews had not been sinners like the gentiles. Galatians 2:15. So what was it that caused this man to refer to himself as chief of sinners? To understand the truth sometimes we have to read more than just three words.
"And I thank Christ Jesus our Lord, who hath enabled me, for that he counted me faithful, putting me into the ministry; Who was before a blasphemer, and a persecutor, and injurious: but I obtained mercy, because I did it ignorantly in unbelief. And the grace of our Lord was exceeding abundant with faith and love which is in Christ Jesus. This is a faithful saying, and worthy of all acceptation, that Christ Jesus came into the world to save sinners; of whom I am chief." I Timothy 1:12-15
Paul's claim of being the chief of sinners is based upon what he did before he surrendered to Jesus Christ. Just two sentences prior to calling himself chief of sinners, he reminded us that he "…was before a blasphemer, and a persecutor, and injurious:"Even though he "did it ignorantly in unbelief" he still did not excuse himself. Paul told the believers at Corinth "For I am the least of the apostles, that am not meet to be called an apostle, because I persecuted the church of God." I Corinthians 15:9.
As Paul gave witness before King Agrippa, he had this to say: "…many of the saints did I shut up in prison, having received authority from the chief priests; and when they were put to death, I gave my voice against them. And I punished them oft in every synagogue, and compelled them to blaspheme; and being exceedingly mad against them, I persecuted them even unto strange cities." Acts 26:10-11. Paul never downplayed or whitewashed his horrible actions. He was open and honest about what he had done.
How could someone do such horrible things "ignorantly in unbelief"? The answer to that question is found in the Law of Moses. Under the Law it was commanded: "And he that blasphemeth the name of the LORD, he shall surely be put to death, and all the congregation shall certainly stone him…" Leviticus 24:16. When Paul (Saul of Tarsus) approved the stoning of Stephen, the charges were that Stephen "…ceaseth not to speak blasphemous words against this holy place, and the law…" Acts 6:13-14. Saul of Tarsus believed his persecution of the church was fulfilling the righteous judgement of God against blasphemers. As an apostle he would look back on his zeal for God under the Law saying, "…Concerning zeal, persecuting the church." Philippians 3:6.
Paul's words in the 7th chapter of Romans speak of his time of persecuting the church. As he gave himself to this mission of stopping the "blasphemers," something began to work in him. Hatred for these "blasphemers" took hold and began to consume him. The scripture says Saul was "breathing out threatenings and slaughter against the disciples of the Lord…" Acts 9:1. Yet they did not respond with hate; just as Stephen used his last breaths to pray "Lord, lay not this sin to their charge." Acts 7:60. Saul began to recognize that something was not right in his own heart, but when hatred and rage get a stronghold in you, it becomes the one in control. He said, "For that which I do I allow not: for what I would, that do I not; but what I hate, that do I." Romans 7:15. Saul knew he was out of control, but he could do nothing to stop the rage that rose up from within. This "Jesus hater" who had been so righteous in his own sight finally began to realize that he was the one who was "carnal, sold under sin." Romans 7:14.
When Paul surrendered to Jesus Christ, the grace of God washed the sin and hatred from his heart, life, and nature I Corinthians 15:10, but he never forgave himself for being a persecutor of the church. Can you imagine the effect on Paul, who suffered so much to reach the souls of men for Jesus Christ, when he considered those he had caused to be put to death for their faith in Jesus? Or what about those he had compelled to blaspheme the name of the Lord? Do you think Paul ever forgave himself for causing them to renounce their faith and damn their own souls? Paul's heart must have been broken over and over again when he remembered these things. The love of Jesus Christ and the souls of men meant more to Paul than even his own soul Romans 9:3, yet he had once done everything in his power to destroy both. You would never convince him that among a world full of sinners whom Christ came to save, he was not the chief of them all!
God Bless,
Pastor Keith Surface
Calvary Outreach Ministries
NATIONAL NUDE DAY
On July 14th, laundry is unnecessary. It's National Nude Day! Enjoy an air bath or explore the naturist movement.
National Nude Day is a way to keep cool on a hot, sticky summer day. Nudist groups around the world celebrate this holiday and take it quite seriously!  Nudists (also known as naturists) are not perverts, even though their desire to go "au natural" might be offensive to the conservative population!  Nudists are individuals who believe the human body is most beautiful in its natural state. Whether or not you agree with them, nudists encourage people to shed the restrictions of clothing and be natural.
Noted for enjoying the natural state, Benjamin Franklin would reportedly take air baths by the open window of his room allowing the fresh air to drift around his birthday suit.  The postmaster didn't invent the naturist movement, nor did it take any particular nation by storm. Its observance is firmly planted during the middle the summer months of the Farmer's Almanac for a good reason; the Northern Hemisphere doesn't mess around in January!
Some of the obvious benefits of the lifestyle include lighter luggage when traveling for vacation and as mentioned before, smaller loads of laundry. There are other benefits, too. Without the shields of clothing, the wrinkles and sagging that comes with time cannot be camouflaged. Acceptance becomes very real and normal and reassuring.
However, wearing sunblock is still advisable during any outdoor activities. Watch out for poison ivy, oak, and sumac. Roses do have thorns, among many other plants and animals. When recommended, wear protective gear. Skateboarding comes to mind.
Other related events taking place in July include International Skinny Dipping Day and International Nude Recreation Week.
HOW TO OBSERVE NATIONAL NUDE DAY
However you chose to celebrate this holiday, avoid breaking any Public Decency Laws. Learn about clothing optional resorts and privacy fencing.  Post on social media using #NationalNudeDay.
HISTORY OF NATIONAL NUDE DAY
The founder of National Nude Day is unknown. However, the holiday has origins in New Zealand
On a personal note…
My son, Steven, recently moved out of our home and in with a girl he met years ago.  They live about 80 miles away now and won't be able to visit much.  Though I miss him, I realize that he hasto make his own choices in life……so, I wish them luck and God's blessings!!
Humor Time…
Loony Toons…