Daily Prayer for 

May 19
I love you, Lord, my strength. The Lord is my rock, my fortress and my deliverer; my God is my rock, in whom I take refuge, my shield and the horn of my salvation, my stronghold. Psalm 18:1-2, NIV
Lord our God, we thank you that we have often felt you close to us. We thank you that you are near us and that you strengthen the weak. Remember us and give each one the help he needs to be true to his calling. Remember all humankind and grant that we may go forward in spirit and in truth. Give new light to the peoples who are still in great darkness. Let your kingdom and your reign be revealed and your name at last be honored by all. Amen.
Gerard Manley Hopkins
If we learn no more from a Gospel or a sermon on the Gospel than to know our Lord Jesus Christ better, to be prouder of him, and to love him more, we learn enough and we learn a precious lesson. He is the king to whom we are to be loyal and he is the general we are to obey. The man that says to himself as he walks: Christ is my king, Christ is my hero, I am at Christ's orders, I am his to command – that man is a child of light.
Source: The Gospel in Gerard Manley Hopkins
Verse of the Day
for Sunday, May 19, 2019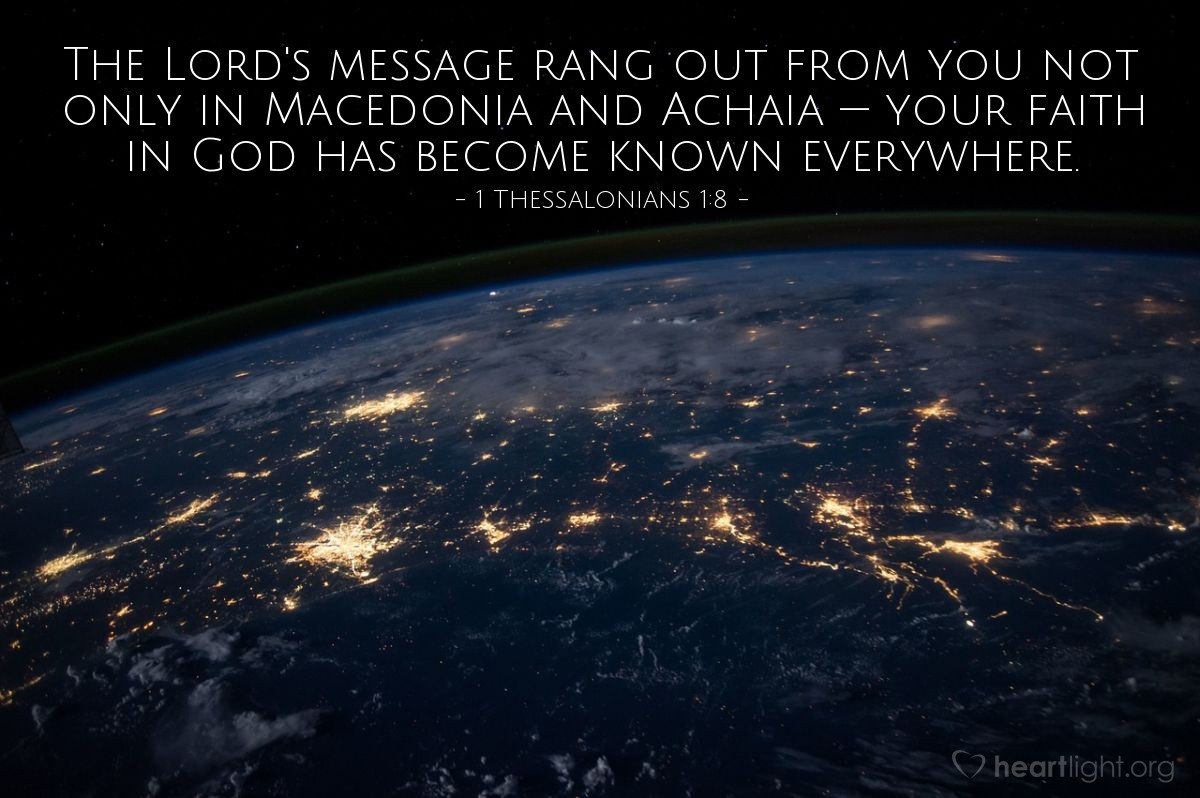 Thoughts on Today's Verse…
What kind of reputation does your church have? What is your dream for the congregation you attend? So many of us have such short-sighted goals for our churches. The church at Thessalonica was only a few months old and its reputation for sharing their faith had become known all over the Roman Empire. Now that's the kind of reputation I want the congregation I work with to have! How about you?
My Prayer…
O Lord God Almighty, please fill our congregation with the power of your Holy Spirit so that with sensitivity and courage we may share the good news of your grace in Jesus Christ. Please be with our missionaries, our ministers, and all of our members so that we may display and declare the Gospel of salvation to our friends, our neighbors, and people all over the world. In Jesus' name I pray. Amen.
The Daily Word of Hope Devotional
(1)
Hairy Pastors
But you, when you pray, enter into your inner room, and having shut your door, pray to your Father who is in secret, and your Father who sees in secret will reward you openly. In praying, don't use vain repetitions, as the Gentiles do; for they think that they will be heard for their much speaking. Matthew 6:6 WEB
My friend had no idea that the answer to his prayer was waiting for him just inside of the church door. I went to seminary with this brother who was praying for a wife. One night he poured out his heart to God and he prayed:
'Lord I'm lonely, I just want someone to hug me, to kiss me, to tell me that they love me.'
When he went to church that Sunday, the big hairy pastor met him at the door and hugged him, kissed him on the cheek, and told him that he loved him. My friend told me later that at that moment he thought: 'I need to be more specific in my prayers.'
The Lord had given him exactly what he had prayed for, but it was not delivered in the package that he had envisioned. He adjusted his prayers to include a wife, and soon a lovely young woman joined that church. They hit it right off and today they are married. His prayers were answered, both of them.
When you pray, tell the Lord exactly what you mean and be specific. It is a personal relationship that we have with Him. Don't assume that He already knows it, and because of that it will happen. God knows everything, but everything doesn't happen. You have a part in this, and you actually need to pray the words. That is why it is called praying. James said that we have not, because we ask not.
Many times I have prayed something very specific and saw God go even beyond the details in my prayer. Your prayers don't scare Him, for He is not just creative, He is the Creator. Yes He knows our needs before we ask Him, but I still saw the brother in this story being kissed by the pastor.
Prayer: Heavenly Father I thank You for hearing my prayers, and I am going to be more specific. Please build my faith and teach me what I need to know, in the name of Jesus Christ I pray.
(2)
The Mercedes
Behold, I will do a new thing. It springs out now. Don't you know it? I will even make a way in the wilderness, and rivers in the desert. Isaiah 43:19 WEB
A wealthy friend of mine once picked up his daughter's car to take it in for an oil change while she was at work. He stayed gone a really long time, and she began to be anxious and to worry about them both. He eventually returned driving the new Mercedes that he had bought her. The new car was much better than her old one, and her anxiety during the interim was all for nothing. Her car was just being upgraded.
Change is something that makes us uncomfortable and we often resist it, but in order for the new to come to pass, the old has to pass away. If you want a better car, or a better job, usually the old one has to go first. We would like the change to happen at once, like trading our car in for another on the same day, or starting another job on Monday.
In my experience though, God will clear out the old first, and then bring in the new. This can be scary and it will test your trust while you are living through it, but when it is done it will all make sense. Later when you are looking back on it, you will see that it could not have been planned any better.
Many times I have wondered 'Well, what am I going to do now?' but He managed to take care of me and eventually the next door would open up. What you have lost, is not gone. Think of it as being upgraded by your Father, and thank He for taking care of it.
Prayer: Heavenly Father I thank You so much for remembering me today. I need You more than ever. Please straighten out my thinking, speak to me and through me, and put me where I need to be. In the name of Jesus Christ I pray.
(3)
The Power Edge
For I also am a man placed under authority, having under myself soldiers. I tell this one, 'Go!' and he goes; and to another, 'Come!' and he comes; and to my servant, 'Do this,' and he does it.' When Jesus heard these things, he marveled at him, and turned and said to the multitude who followed him, 'I tell you, I have not found such great faith, no, not in Israel.' Those who were sent, returning to the house, found that the servant who had been sick was well. Luke 7:9 WEB
We once bought a huge computer server on eBay and had to pay over a hundred dollars in shipping charges. It was a Dell Power Edge R900 and it weighed 92 pounds. When I unpacked it and started it up, it immediately died with a processor failure. It had four quad core xeons and it appeared that one was bad. I tried everything that a technician would do during the day like reseating the processors and memory banks, reseting the bios, but it continued to die with the same processor failure each time.
I called the seller's tech support and they walked me through a few things over the phone, then decided that we would need to ship it back to them. When I got off the phone, I sat down and stared it frustrated, and dreading shipping the heavy thing back. Something in me said 'pray' so I laid hands on the computer and prayed over it a moment. I pressed the start button again and it worked perfectly. It is still in use today. Christians have their own power edge, praying in the name of Jesus.
While Jesus was on the way to the Centurion's house, they brought Him word that He did not have to come, but merely speak the word because the Centurion recognized the chain of command. He believed that if Jesus gave the command, that his servant would be healed just as if he told a soldier to do something and they did it.
Faith is the complete trust or confidence in someone or something. Jesus was amazed at this Centurion's great faith, but in His own hometown, He was amazed at their lack of faith (Mark 6:6). These are the only records of Jesus being amazed at something in scripture. Faith is the currency of heaven. When you pray, believe. True faith builds over time just like trust in a relationship. I find that our faith is built just as much in the work place as it is in church, for our God is super, natural.
Prayer: Heavenly Father please speak to me in a way that I understand and show Yourself mighty in my life. Please let me be a beacon of hope to those around me and to walk in Your power and anointing, right here, and right now, in the name of Jesus Christ I pray.
Bible Fun Facts: Shortest book in the Bible (by number of words): 3 John.
Longest chapter in the Bible: Psalm 119 (176 verses).
Number of times the word "God" appears in the Bible: 4,094.
Do you have the gift of "blurt?" Ever find yourself sticking your foot in your mouth?
Years ago we were keeping our two-year-old grandson, and we noticed he kept sticking his foot (sandal) in his mouth, biting his shoe, while riding in the car seat.
"Yuk!" I'd say. "Don't put your foot in your mouth!" I'd yank it out. Then he'd look at me with mischievous eyes and do it again.
Just a Curious Child
"No, Sweetie! Shooey! Yukky!" I didn't know what words to say to emphasize the meaning enough for a toddler to understand.
One time he decided to munch on the ground up gum mixed with black asphalt pebbles that clung to the bottom of his sandal. I guess he thought that might taste cool. "Shoe's dirty!" I'd take the sandal out and a few seconds later, the game would begin again.
Like other kids his age, our grandson was just a curious child. It was a game to him. As time passed, he discovered that's not the best thing to do. After all, shoes carry germs. And germs can play havoc with our health.
Encouraging Words Matter
We're not kids anymore, and as grownups we know better than to stick our foot in our mouths. But unfortunately we do it anyway. Yuk! When that happens to me, I jokingly refer to it as the "gift of blurt." But it's not always a laughing matter. Encouraging words matter. They make a difference to those who hear them.
You know what I'm talking about: words you spit out faster than you allow your brain (or the Holy Spirit) to edit them. We may utter an uncensored piece of truth, mixed with a gob of "grit." We say the wrong thing, the embarrassing thing, a hurtful thing, a thoughtless thing. And once we stick our foot in our mouth, the damage has been done. The germs are spread and they carry their "poison" to all who hear. Spiritually, it's extremely "unhealthy."
Exchange for God's Encouraging Words
Wholesome, encouraging words give grace to the hearer. It's time to grow up and stop putting a sooty foot in our mouths. Perhaps it would even be wise to remove our shoes in the presence of God and allow Him to put His words in our mouths instead.
Do not let any unwholesome word proceed from your mouth, but only such a word as is good for edification according to the need of the moment that it will give grace to those who hear (Ephesians 4:29 NIV).
RX for the Gift of "Blurt":
Encouraging Words that Bring Grace to the Hearer and Greatness to your Life or Business
"You may be right."

"I forgive you."

"I was wrong."

"God loves you, and so do I."

"Thank you so much. I appreciate you."

"It's my pleasure." (Chick-fil-a® has built a great business by training their personnel to emphasize these three simple words to every customer.)
My Personal Prayer for You
Lord Jesus, put Your words in our mouths so we can speak encouragement to others: words that can heal, edify, add value, and make a difference to others. Forgive us for the blurts we so often speak without thinking. Make the words of our mouths and the meditation of our hearts be sweet, filled with the power of Your Spirit. Someone needs a kind word, a helpful word, a patient word today. So before we open our mouths, help us to think and pray before we speak. Thank You for the encouragement in Your Word. Your words give the life and light we need so much. Because You give us unlimited, amazing grace, help us to offer that same grace to others as well.
Day-votedly Yours,
Rebecca
You might also enjoy this post I wrote called, Five Words that Can Change Your Life and the Lives of Others.  
It's Your Turn
What's your prescription for the gift of "blurt"? What humorous experiences have you had with the gift of "blurt"? What kind of words bring grace to you (and can spell greatness to the lives of others)? I'd love to hear from you anytime. You can always write me through my contact page. Just fill out the basic name and address info, and then the email will come to me. Your name or info will never be shared with anyone without your permission.
Share This Post with Others
Using only the share buttons here or from my Facebook profile page, please feel free to share about my website or this blog post with others in your social media circles so we can work together in encouraging others toward intimacy with God. If you haven't signed up for my weekly posts and newsletter updates, I hope you'll do so soon. I think you'll enjoy the complimentary ebook that you'll receive when you sign up. Also, if you are visual like me, you can join me and follow my boards on Pinterest.
kindredKGgrace
When Motherhood is Dark
For the third time in twenty minutes, I crept into the bedroom where my tiny son was napping. I stared at him, dark lashes against soft cheeks, little rosebud lips, petite fingers curled into a fist. Was he breathing? Of course he was… but I touched his back just to make sure. Then I touched him again, giving him a little shake so that he stirred. With a sigh of relief, I left the room, but I knew I'd be back. This constant hovering was more than just new-mama jitters: it was becoming an obsession.
When the anxiety reached the point of waking baby Declan even when I was holding him, having panic attacks when I was driving and couldn't stop to check on him, and I also started dealing with intense feelings of rage over tiny inconveniences, I came to grips with the knowledge I'd been dreading: I had postpartum depression and anxiety.
While many women give birth and recover with no issues, postpartum depression is not uncommon. It's a hard thing to talk about, as all depression is. At least for me, there was an additional level of shame associated with PPD: I had a beautiful, perfectly healthy baby and easy physical recovery, so I "should" have felt on top of the world! Instead, I was crying every day, furious with my husband and three-year-old daughter over literally nothing, and felt like I was completely alone in a black cave.
I knew something had to change. Crying out to God for help, I fought the blackness from every angle, and with every tool at my disposal.
Spirit
The root of some forms of depression is spiritual, but I don't believe that applies to postpartum depression, which is clearly caused by hormonal imbalances. However, any form of suffering has the potential to drive us toward or away from God, and I wanted to run to Him, to find comfort in His unchanging love, and to cling to Him when everything looked impossibly difficult. There were many days that I didn't have the mental focus to read my Bible (or, let's be honest, the time: I had a newborn, a three-year-old, no local family, and my husband was working nights). Thankfully, we live in a time when we have more ways to access the Word than ever before, so I often listened to an audio recording of the Bible, or when I needed someone to explain it, an Alistair Begg podcast.  When I couldn't form my thoughts into prayer, I borrowed from saints of old by using prayers from The Valley of Vision. I also listened to music that turned my heart to the truth that Jesus was still King, regardless of how I was feeling. Jason Gray's A Way to See in the Dark was precious to me.
Soul
With any kind of depression, the temptation to hide from the world is strong. It's so much easier to isolate yourself than make the tremendous effort to just get out of bed some days. But that behavior will only exacerbate the problem. I told my husband I would need his help, and that he should keep encouraging me to go outside, to do things, to spend time with friends. He took me to the botanical gardens, on hikes in the woods, on coffee dates, and on shopping excursions, with both kids in tow. We did music together. He ministered to me through countless little details to make me feel loved, and more importantly, he held me when I pushed him away. I remember him literally lifting my chin, forcing me to look into his eyes, and saying, "I'm here, I love you, and I'll never leave."
Body
Postpartum depression has its roots in hormonal imbalances, so addressing my body's needs was vital. I was able to avoid medication, but wouldn't hesitate to use it if my body hadn't responded to the herbs and supplements. I made sleep a priority, choosing to rest instead of clean or do laundry when the little ones were napping. I ate real, healthy food, and plenty of dark chocolate. I took walks nearly every day, even if I had to force myself to get outside. I let my mind rest, setting aside writing and counseling for a season so I could heal.
By the grace of God, I made it. He carried me through one of the darkest seasons of my life so far, and brought me to a new place of trust.
I share this story to encourage anyone who may be dealing with depression, especially mamas with postpartum depression. It's a hard road, but you don't have to walk it alone! God is able to deliver you.
Psalm 66 is my testimony:
Say to God, "How awesome are your deeds! … Bless our God, O peoples;
let the sound of his praise be heard, who has kept our soul among the living
and has not let our feet slip. 

For you, O God, have tested us;
you have tried us as silver is tried … we went through fire and through water;
yet you have brought us out to a place of abundance.

Come and hear, all you who fear God,
and I will tell what he has done for my soul … Blessed be God,
because he has not rejected my prayer
or removed his steadfast love from me!
To know or not to know…
I was shaking my head so much yesterday reading some of the comments on the day's post in the Princess Sassy Pants private facebook group that my tiara kept flying off! At the risk of having to permanently super glue my tiara on I'm going to share a little more of my experiences today.


Imagine a little cocktail napkin. Take it into your mind and to the best of your ability try to imagine this napkin in the middle of the incomprehensibly large known universe that now includes 150 billion galaxies. Yes, galaxies, and this is only the "known" universe. (Remember that the known universe a few hundred years ago was very small and included a world that was flat.)
The cocktail napkin represents what we think we know and think we are so sure of. The infinite space represents what there is to know…hmmm. When we think we are sure of what we know, our mind, that cocktail napkin, is closed so nothing new can enter. But when we question what we think we know recognizing that maybe we don't really know, or at the very least, don't know all there is to know, our mind becomes open allowing that infinite space to rush in.
The bible talks about becoming as a little child. A little child naturally knows she doesn't know, so she's open to asking those she trusts do know to help her to understand. She is humble and open. When I read anything of a spiritual nature, I try to become as that little child even if I've had hundreds of direct experiences before that time, I try to come to that moment fresh and open, recognizing that no matter how much I might have experienced, it is the tiniest fraction of what there is to see.
The beautiful thing is that that infinite wisdom lives in each of us and just patiently waits for us to allow the tiniest crack in the little box of our certainty for it to rush in like light streams through the tiniest crack. The best way I've found to allow that light in is through prayer.
What I call prayer is more what people might refer to as mediation. It is a conscious, deep listening. A listening and an openness to hearing what is true from the all-knowing indwelling wisdom. It is creating a space in the tiny napkin of our beliefs that allows light to enter rather than telling Infinitude our thoughts, opinions, and what we think we need. I might use words but only to help me to open my mind to receive the inner impartations, and to keep my focus on listening rather than mind wandering.
It is in this place of deep listening not knowing that miracles live. There is literally nothing that is impossible here. It is here that I have seen broken bones and burns healed instantaneously as well as other physical ailments. I've seen relationships that seemed beyond repair utterly transform. I've watched needed items "show up" as if from know where and deep financial issues healed…the list goes on and on. The Light shines in and reveals that what we see as problems or darkness is nothing because God, by whatever name, is Love and is in fact Everything…always has been and always will be. This is the healing and the miracle. The changed appearances are the "added things" or the natural effect of the Light.
There cannot be all light and darkness. There can't be more than everything nor can there be anything different from what is everything however much it can appear otherwise. This is what it means not to judge after appearances—not to judge, draw conclusions, or think we know anything based on how things appear to be, but rather allow the light to enter to teach us and show us through our actual experience what is really true beyond all appearances. That Light itself is the miracle that sets us free from all that we mistakenly think we know.
Politics….
Momma…
Aunty's word…