Daily Prayer
Jesus replied, "Anyone who loves me will obey my teaching. My Father will love them, and we will come to them and make our home with them." John 14:23, NIV
Lord our God, we thank you that we can be children of your Spirit. We thank you that because you have called us, we receive eternal gifts that enable us to stand firm even when many sorrows and burdens weigh us down. For you are our life, and in all the darkness, even that of death, you give us light and strength and joyful hope. Keep these alive in us. May an ever brighter light shine on all that you have already put into our hearts, on all that draws us daily to you. Amen.
Alice von Hildebrand
Motherhood is not only biological maternity. It is spiritual maternity. There are hundreds of people all around who are desperately looking for a mother. A number of people have come to me to tell me about their problems. I listen to them. And I love them. And I say very little. But they know that I care for them. In this sense, I have become their mother.
Source: Spiritual Motherhood
The Amazing Calling of Motherhood
By Trillia Newbell
The other morning I woke up while my children were still sleeping and began to pray. I started thinking about my identity. Who am I? As I settled into my prayer time, I began to rejoice at the thought that I am a mother. It is part of who I am. To my children, it is my name: Mom.
The modern mom doesn't always like to be identified as a mother. We have names and identities of much greater significance. Even the Christian mommy would prefer to keep her mom identity in check. "I am a Christian first and foremost," we might say, which is true and good. First and foremost, we are united to Christ. He has redeemed us and therefore our identities are wrapped up in his righteousness. But this doesn't mean we must deny the significance of being a mother.
Rather than shed the title of mother, we must see the true significance of this name. One great example of a mother's significance can be found in the biblical account of Timothy. Timothy was the son of a believing Jewish mother and an unbelieving Greek father (Acts 16:1–2). And we get some crucial information about his mother, Eunice.
Timothy was a young pastor and Paul's child in the faith (1 Tim. 1:2). Paul loved Timothy for his faithfulness to the sacred texts and for his friendship (2 Tim. 3:15, 10–11). When everyone abandoned Paul during his imprisonment in Rome, Timothy remained faithful to Paul through prayers and tears (2 Tim. 1:3–5). Paul was greatly affected by the ministry and love of his apprentice. And Paul attributes Timothy's faith and character to his mother's and his grandmother's faithful witness.
Paul references the legacy of these women in two places. First, we see their influence when Paul thanks God for Timothy and his faith. He reminds him that his sincere faith dwelt first in his grandmother Lois, and then his mother Eunice, and "now, I am sure, dwells in you as well" (2 Tim. 1:5). Later, Paul encourages Timothy to stay strong in the word, not being deceived under the persecution that surely comes from those who follow Christ (2 Tim. 3:12–14). Here again Paul reminds Timothy of the word that he learned and firmly believed from a young age, "from childhood" (2 Tim. 3:15).
Moms, Timothy's story is very significant. Eunice and Lois invested in Timothy to teach him about God. The gospel was passed on to Timothy and from Timothy to other generations. More importantly, Timothy now enjoys the benefits of being with Christ, forever.
God has called us, Moms, to train up our children in the way they should go (Prov. 22:6). This is Great Commission work. We don't need to shed our titles as moms, we leverage our titles for what they mean for the glory of Christ. We can embrace our roles without grumbling and with the full assurance of God's sovereign goodness. God promises that as we shine light into this world (and that includes into our kids) we will know that our labor was not in vain (Phil. 2:12–16).
On this side of heaven we may never know the significance of our mothering, but we know Lois's and Eunice's. As a result of their faithfulness to embrace their role in the life of one little boy named Timothy, generations of sinners have been saved.1
Heart Medicine
A cheerful heart makes good medicine, but a crushed spirit dries up the bones. Proverbs 17:22 WEB
Health tip: Don't worry. Be Happy. You can add years to your life, and health to your body by simply being joyful and happy. No one should be able to control your joy for it should come from the inside of you.
People, places, and things can cause problems, but how you react to it is completely under your power. You can choose to turn the other cheek, or to become angry and turn theirs. Yes, we have a part to play in our life, and regardless of what people may tell you today, you are responsible for your own actions.
There are so many attacks that come against us daily that it is easy to get discouraged. That is their purpose, but true happiness is not found in things, jobs, or success. It is not even in people. Your relationship with Jesus is what can bring an unshakable peace to your life.
Paul said that he had learned to be content in whatever his circumstances were (Philippians 4:11). Whether he had been beaten, shipwrecked, or in prison, Paul was content. He wrote much of the New Testament from behind prison walls. If he had not been imprisoned, he may not have had the time to do so.
Paul learned to detach his emotions from his circumstances and to be at peace. He focused on the invisible and the eternal (2 Corinthians 4:16). He found the will of God in every situation and kept close fellowship with Jesus. Nothing else was more important to him. We can behave the same way. The same grace and peace that Paul had then, is still available to us.
The Joy of the Lord is your strength. Remember when you were first saved how you felt so light, so happy, filled with joy? That is what happens when you lay your burdens down at the cross. Too often we pick them back up again and the heaviness returns. So pray and let God worry about it, then leave your baggage at the cross.
Prayer: Heavenly Father please send me grace and peace for my life. Help me to see past the circumstances and to learn to detach my emotions from my situation. Give me strength and guide me today, in the name of Jesus Christ I pray.
Bible Fun Fact: The middle verse in the Bible: Psalm 103:2-3.
Today's Verse…
kindredKGgrace
Guilt vs. Grace
Earlier this year I was struggling with guilt. I mean, really struggling.  Nearly every day there was some sort of failure in my life, something I wished I'd done better, some area I didn't measure up to my own standard.
I got impatient with my toddler.
I didn't keep the toys picked up.
I let the bathroom get dirty.
I was frustrated with my husband for no good reason.
All those things happen on a regular basis if you're a sinner (if you're not, please tell me how you're reading this from Heaven), but the key for Christians is to confess the sin, repent, and move on, walking in forgiveness.  I had the first parts down, but I couldn't move on.
I couldn't accept grace.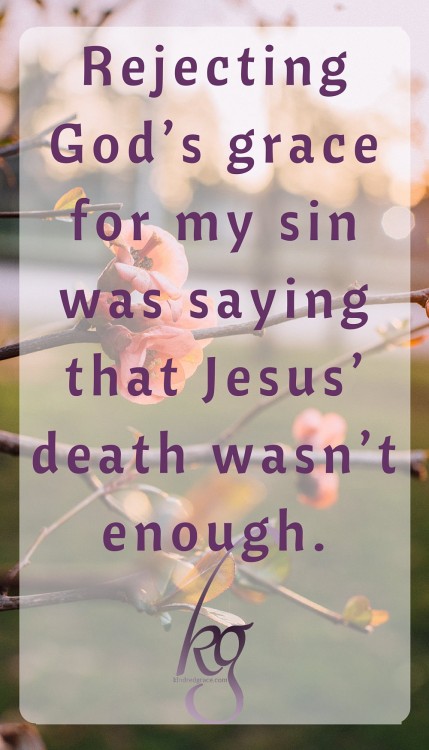 Guilt was definitely getting the upper hand in my life. A typical sequence went like this: Get frustrated with Evan for something he'd done (usually quite innocently, like accidentally waking up the baby). Respond wrongly, either verbally or mentally. Cool down, realize that regardless of what had happened, my heart was responding in sinful ways, and confess and repent. Spend the next several hours to few days "beating myself up" for being so stupid. How could I get mad over that? I'm a terrible wife! (Does anyone see the hidden pride here? I couldn't believe that I could sin!)
The guilt would snowball, as I then felt guilty for not accepting forgiveness and grace, for not moving on. And as evidenced by the list above, I felt guilt not only over actual sins, but lots of things that were really just my pride trying to sneak in the back door. A dirty bathroom is not a sin!
I spent a lot of time trying to get a handle on my out-of-control guilt. And finally, after months of wrestling, I had an epiphany:
I was despising the cross.
In the past, I'd associated that phrase with people who abused grace by continuing to live in sin (Romans 6:1-3), but my eyes were opened and I realized that to reject God's grace for my sin was to say that Jesus' death wasn't enough.
Friends, if you are caught in this trap, let me tell you: Jesus' death is enough! When He said "It is finished," He meant everything that you have ever done, and everything that you will ever do. Believe Him. Accept the grace. Walk in forgiveness.
It is finished.
Some Humor For Moms…
Other Humor…
Politics…
Momma…
Aunty Acid…