Daily Prayer for April 28
You make known to me the path of life; you will fill me with joy in your presence, with eternal pleasures at your right hand. Psalm 16:11, NIV
Dear Father in heaven, you show us the way of life; in your presence is fullness of joy, and at your right hand is delight forever. In your presence we want to rejoice together as your children, under your protection. May we become firm in every part of our life on earth. Grant that soon something of your kingdom, of your heaven, may encircle us like a blessing, enabling us to fight on in joy and exultation. We entrust ourselves to you, our faithful and loving God, and we thank you. Amen.
Dorothy Day
The mystery of the poor is this: That they are Jesus, and what you do for them you do for him. It is the only way we have of knowing and believing in our love. The mystery of poverty is that by sharing in it, making ourselves poor in giving to others, we increase our knowledge of and belief in love.
Source: Dorothy Day: Selected 
Verse of the Day
for Sunday, April 28, 2019
Religion that God our Father accepts as pure and faultless is this: to look after orphans and widows in their distress and to keep oneself from being polluted by the world.
Thoughts on Today's Verse…
Yesterday James reminded us how important our "talk" is. Today he reminds us about our walk. True religion is not all talk. We must live and love as Christ did. Caring for widows, orphans, and others that are forgotten and overlooked while we are keeping ourselves holy to God is what "Christ living" is all about.
My Prayer…
Loving God, give me eyes to see the people that need your blessing. Please lead me to the folks in our church, our neighborhood, and our work or school that feel forgotten and overlooked. Help me to not only see them, but to include them so they can know the love that you have for them! In Jesus' name I pray. Amen.
Grace Like Rain
For even as we have many members in one body, and all the members don't have the same function, so we, who are many, are one body in Christ, and individually members of one another, having gifts differing according to the grace that was given to us: if prophecy, let's prophesy according to the proportion of our faith; or service, let's give ourselves to service; or he who teaches, to his teaching; or he who exhorts, to his exhorting; he who gives, let him do it with generosity Romans 12:4 WEB
As we drove to the client's office, I was dreading what lay ahead. I just felt that the job that we were setting out to do was going to take all day because it involved a network of mix and match machines that I knew to be temperamental. They tended to work when they wanted. Computers can be funny like that. You can even have several identical machines, but each one will behave slightly different. This particular network had a mix of Novell, Dos, and Windows machines. They got along like a bag of cats.
Normally the job would have taken all day, but not this day. Within thirty minutes, I had fixed the computers and we were on the way home. The mountain of work had all seemed very easy, almost too easy'almost like they fixed themselves.
The grace of God was with us. Grace is the unmerited (unearned, undeserved) favor of God. Grace works like oil in an engine, it makes things go smoothly without friction. When the Lord told Paul: 'My grace is sufficient for thee (2 Corinthians 12:9)', He was not kidding. It truly is. If you have ever had something fast-tracked in your life, this was probably the grace of God. His unearned favor working in your life.
One Sunday night, the Lord spoke to me through the pastor's wife and told me that He wanted me to get my GED. The next Sunday when I came to church, I had it. What took my brother one year, took me one week. It was the grace of God, when you can do no wrong, when you mysteriously know all of the answers, to all of the questions. When there is a parking space waiting for you in front of the door.
When you have to face that thing that you dread, stop and pray for the Lord to come with you. Ask Him and He will give you the grace to do it. He delights when you invite Him to be a part of your life. That thing of dread can turn out to be fun, simple and easy.
Prayer: Heavenly Father please give me abundant grace to tackle the things that I have been putting off. Help me complete the things that I have dreaded doing and make it fun, simple, and easy. In the name of Jesus Christ I pray.
Bible Fun Fact: The word "Christian" only appears three times in the Bible (Acts 11:26, 26:28, 1 Peter 4:16).

with Jesus:

 'The Blessing of Believing'
Note from Jesus
Dear Seeker of Truth,
Believing in My resurrection is a real challenge. That's understandable. Having a friend who dies and then suddenly appears, offers for you to touch him, shows you his scars, eats bread with you, drinks wine with you, has a bit of fish with you, and then shares your company doesn't happen in your experience. But the most important purpose and meaning for your life hinge on your faith in My resurrection. Paul makes this clear when he says:
Now if we have told you about the Anointed One [Me, Christ] (how He has risen from the dead and appeared to us fully alive), then how can you stand there and say there is no such thing as resurrection from death? Friends, if there is no resurrection of the dead, then even the Anointed hasn't been raised; if that is so, then all our preaching has been for nothing and your faith in the message is worthless. And what's worse, all of us who have been preaching the gospel are now guilty of misrepresenting God because we have been spreading the news that He raised the Anointed One from the dead (which must be a lie if what you are saying about the dead not being raised is the truth).
(1 Corinthians 15:12-15)
Being My disciple hinges on your faith in My resurrection! Sooner or later, if you haven't already done so, you must take the huge step of faith and entrust your future to this reality that is outside your experience.
Helping you to believe in My resurrection is the reason why My interaction with Thomas is so important a week after My resurrection. (See the verses below for this story.) Thomas was not a bad guy. He was not trying to be difficult or problematic. He just wanted to know for sure. He just wanted to know for himself. He would not believe until he saw Me face-to-face and touched my scars. The confession and commitment of Thomas after seeing Me and being able to touch Me, are powerful:
You are the one True God and Lord of my life.
Thomas' confession and commitment are what I want from you concerning Me. Your problem is that I am not there for you to physically touch. That's why I promised you the special blessing that I did:
Thomas, you have faith because you have seen Me. Blessed are all those who never see Me and yet they still believe.
The apostle Peter knew your challenge to believe since you haven't seen Me. He taught and wrote to people who had never seen Me yet believed. He wrote to these disciples about the blessing of believing and the joy such faith brings:
Although you haven't seen Jesus, you still love Him. Although you don't yet see Him, you do believe in Him and celebrate with a joy that is glorious and beyond words. You are receiving the salvation of your souls as the result of your faith.
(1 Peter 1:8-9).
I want you to remember these blessings. I want you to remember these blessings every time you struggle with doubt. I want you to remember these blessings every time someone ridicules you for believing in Me and My resurrection. These blessings are yours because you believe! The Holy Spirit will help you strengthen your faith and have confidence that you can receive these blessings.
Here are a few of the many reasons to believe in My resurrection:
The eyewitnesses who wrote in the New Testament about My resurrection.
People like My own family, and especially My brother James, who did not believe that I was the Messiah and Son of God until seeing Me alive after My resurrection from the dead.
The change in the apostles from men who were scared and hiding to world-changing men of courage, many of whom were martyred for their faith in Me.
The experiences you have had of My presence in your life as you have served Me:
– the times just the right word came from someone else,
– the empowerment I've given you when you were on mission,
– the rich sense of My presence when you've served the needy, and
– the palpable sense of My presence as you've worshiped.
The testimony and resilience of My people over the centuries through oppression, martyrdom, and ostracism.
These are but a few reasons.
Verses to Live
Don't get so hung up on the reasons to believe that you miss the two truths I want you to hear in the verses below:
I know it is hard for many of you to believe — you're like Thomas and many others like him. Keep seeking Me and you will find Me.
There is a great blessing for you who find your way through doubt and come to faith in Me — for you who have never physically seen Me and yet still believe.
Please receive that blessing now as you read about Thomas, his struggle for faith, his incredible confession and commitment, and My blessing for you who believe in Me, yet have never seen Me!
All of the eleven were present with the exception of Thomas [that first Sunday evening after Jesus was raised from the dead]. He heard the accounts of each brother's interaction with the Lord.

The Other Disciples:

We have seen the Lord!

Thomas:

Until I see His hands, feel the wounds of the nails, and put my hand to His side, I won't believe what you are saying.

Eight days later, they gathered again behind locked doors; and Jesus reappeared. This time Thomas was with them.

Jesus:

May each one of you be at peace.

He drew close to Thomas.

Jesus:

Reach out and touch Me. See the punctures in My hands; reach out your hand, and put it to My side; leave behind your faithlessness, and believe.

Thomas (filled with emotion):

You are the one True God and Lord of my life.

Jesus:

Thomas, you have faith because you have seen Me. Blessed are all those who never see Me and yet they still believe.

Jesus performed many other wondrous signs that are not written in this book. These accounts are recorded so that you, too, might believe that Jesus is the Anointed, the Liberating King, the Son of God, because believing grants you the life He came to share.
(John 20:24-31)
Response in Prayer
Father in heaven, for many reasons, some of which I don't fully understand, I do truly believe that Jesus was raised from the dead. I ask, dear Father, that the Holy Spirit strengthen that faith and that the Spirit help me to be aware that Jesus is there for me even when I do not perceive His presence. I believe, but I want to believe fully. I long for the day when my faith becomes sight, but I also rejoice that I know this faith inspires my hope and gives me longing for the day I see Jesus face-to-face. Thank You for this hope, dear Father. I thank You in Jesus' name. Amen.
Illustration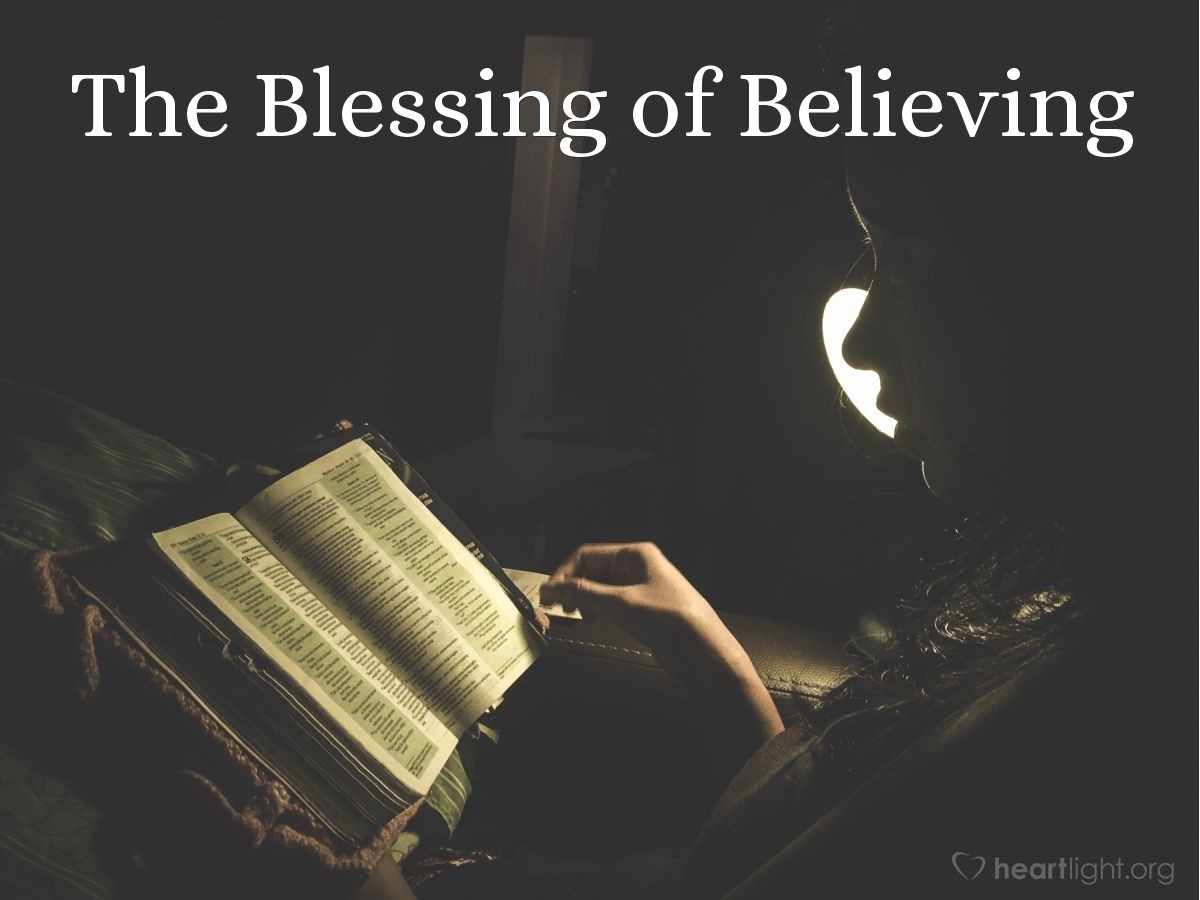 Passion for Praise:

 'He Does Not Ignore Their Cries'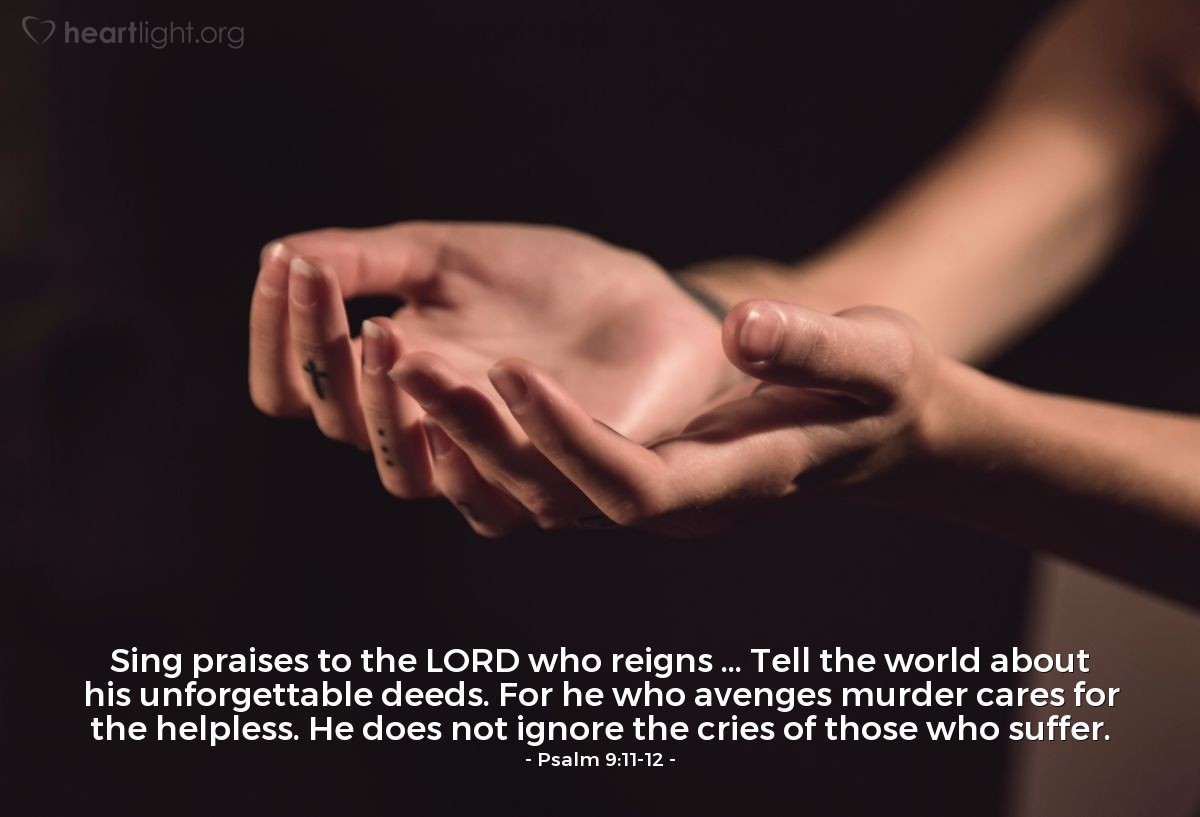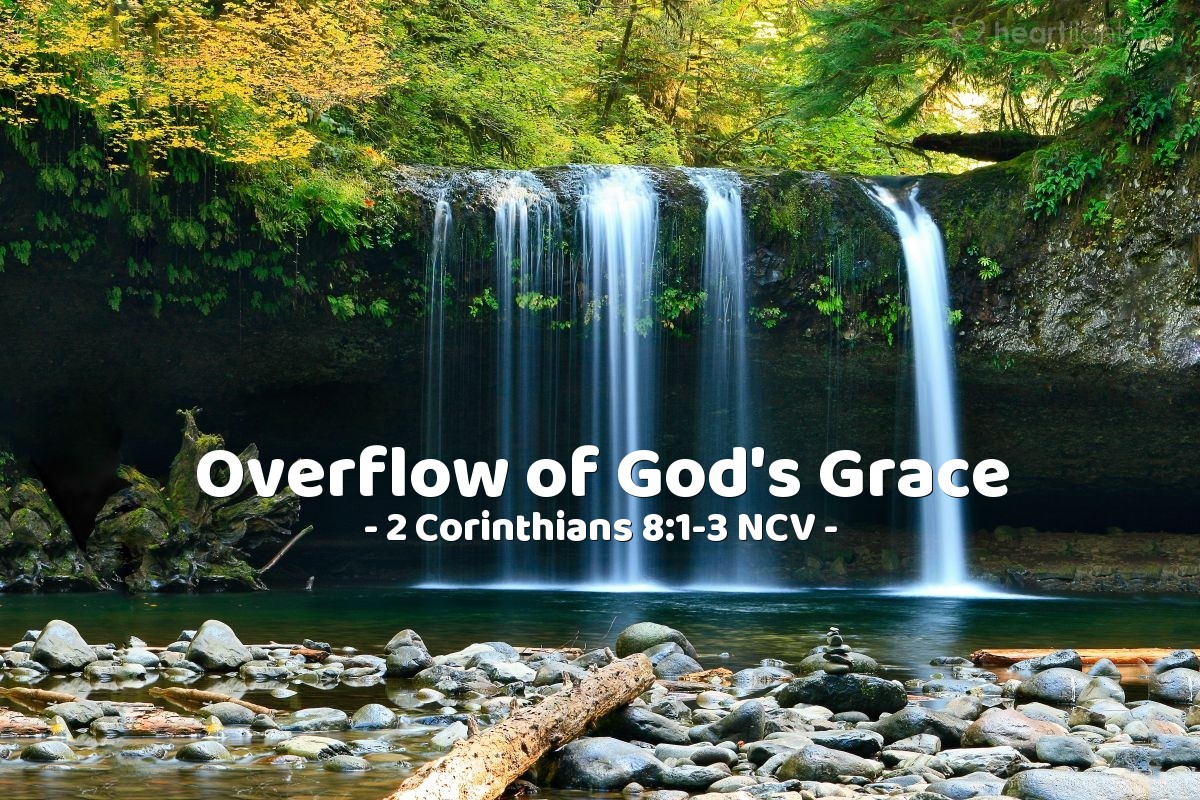 And now, brothers and sisters, we want you to know about the grace God gave the churches in Macedonia. They have been tested by great troubles, and they are very poor. But they gave much because of their great joy. I can tell you that they gave as much as they were able and even more than they could afford. No one told them to do it.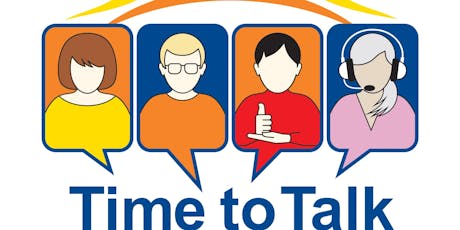 Well, the title I chose for this posting must have you all wondering…what reunion am I talking about?  Well, I'll describe it, briefly, for you now…..
Recently, I reunited, after more than a year's hiatus, with a woman whom I love dearly…in fact, I consider her my second Mom!  The reunion has been the best medicine for my soul!  Duane and I have visited with her each week over the past month now…..it has been so great!  I just want he to know that I love her and am so glad to have her as part of my life…..and, just for enlightenment—-
1 Peter 3:3-4…."Do not let your adorning be external—the braiding of hair and the putting on of gold jewelry, or the clothing you wear— but let your adorning be the hidden person of the heart with the imperishable beauty of a gentle and quiet spirit, which in God's sight is very precious."
I'll say no more……except that every person has their own beliefs, having been raised with these beliefs.  I was raised Catholic and we were taught that women should NEVER enter God's house without some sort of covering on their heads– a hat or a veil……Now, this same religion allows women to wear jeans to Church on Sunday!  One of many reasons that made me decide to leave that religion………..But, I guess if you take this verse literally, it really shouldn't matter what you wear, as long as you're not vain or proud……..
Aunty's Tidbit…
Momma…