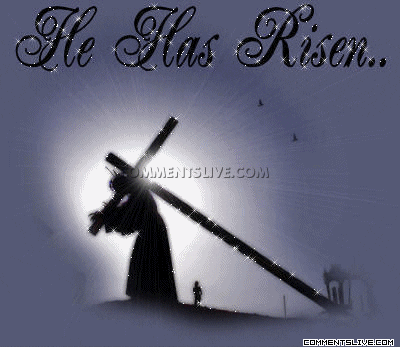 Daily Prayer for 

April 21
He ransoms me unharmed from the battle waged against me, even though many oppose me. Psalm 55:18, NIV
Dear Father in heaven, grant that we may come into your presence as your children. Give to us all that we need each day, so that we are no longer caught in the turmoil of life but can receive your peace. For you care for us as your children, and we are allowed to go confidently through all the troubles of these times because our way leads to you, the eternal Father in heaven. Keep us from going astray and from spending our efforts on what is temporal and cannot last. Let your light strengthen us in what is of heaven, in what is eternally true for our lives. Amen.
Martin Luther King Jr.
Easter comes out ringing in terms that we all hear if we seek to hear it, that the soul of man is immortal. Through the resurrection of Jesus Christ we have fit testimony that this earthly life is not the end, that death is just something of a turn in the road, that life moves down a continual moving river, and that death is just a little turn in the river, that this earthly life is merely an embryonic prelude to a new awakening, that death is not a period which ends this great sentence of life but a comma that punctuates it to more loftier significance. That is what it says. That is the meaning of Easter. That is the question that Easter answers – that death is not the end.
Source: "Questions That Easter Answers," sermon, Dexter Avenue Baptist Church, Montgomery, AL, April 21, 1957
Easter 
Sunday


The Resurrection of the Lord

Living Lent Daily concludes with the
celebration of the Resurrection of the Lord.
Scripture
"Then beginning with Moses and all the prophets, he interpreted to them the things about himself in all the scriptures."
Luke 24:27
Reflection
We can imagine the inner turmoil of the two disciples who were travelling to Emmaus that morning. A week earlier, they had witnessed the songs of praise for Jesus on Palm Sunday; they had seen Jesus debating with the religious authorities during the week. Along with the Apostles, they must have hoped that Jesus would finally reveal himself to all as the expected Messiah. But by the end of the week, this hope was displaced by despair as they witnessed the final indignity of Jesus' Crucifixion and Death.
The disciples must have been emotionally exhausted. They probably felt sorry for themselves, believing that they had been drawn in by Jesus and, in a way, betrayed by him for not fulfilling their ambitions.
Then they met a traveler on the road and were surprised that he did not know the news out of Jerusalem, how they had placed all their hopes in Jesus only to have them broken when the authorities arrested Jesus, tortured him, and crucified him. Finally, the disciples shared their bewilderment over the stories they heard from some of the women who told them Jesus' tomb was empty.
The stranger then instructed them about what they did not understand. He reviewed with them the teachings from the Scriptures. He reminded them of what Moses and all the prophets had taught about the Messiah: how he should suffer and then enter into his glory.
They came near a village and stopped for an evening meal. The stranger began to move on until the two disciples invited him to share their meal with them. The stranger stayed with them, and when he took the bread, said the blessing, broke it, and gave it to them, the disciples' eyes were opened and they recognized Jesus as the risen Lord. At that moment, Jesus disappeared and in amazement the disciples returned to Jerusalem to share their story.
Think of the dynamic of this story. After a time of initial conversion and hope, the disciples were disillusioned by what they thought was a failure on the part of Jesus. Then they met on the road the unrecognized Jesus, who took them more deeply into the Scriptures to teach them that their initial hopes were misdirected.
This exploration of the Scriptures also happens during the Easter Vigil. The celebration is enriched with the readings from the Old Testament. Knowing and understanding the Old Testament is an essential foundation for knowing and understanding Jesus. By exploring the Scriptures with the disciples, Jesus was preparing their hearts for what followed.
When the disciples were ready to stop for an evening meal, they invited Jesus to dine with them. This reflects Luke's central theme of hospitality: in welcoming others, we welcome Jesus. When we break bread and share with others, especially the poor, we are breaking bread with Jesus. The disciples would not have discovered Jesus' true identity if they had not welcomed him to share a meal.
So this sets Jesus' agenda for us. In reading and contemplating the Scriptures—both the Old and New Testaments—we learn the essential story of Salvation for all. In welcoming one another, especially those most in need, we welcome the risen Jesus Christ in our midst.
Rejoice in the Resurrection
Just like stained glass, our lives can only yield their true meaning if seen by God's divine light. This Easter, we celebrate anew the divine light of the Risen Christ emerging triumphant from the tomb. Let us rejoice in Christ's triumph!
Easter Action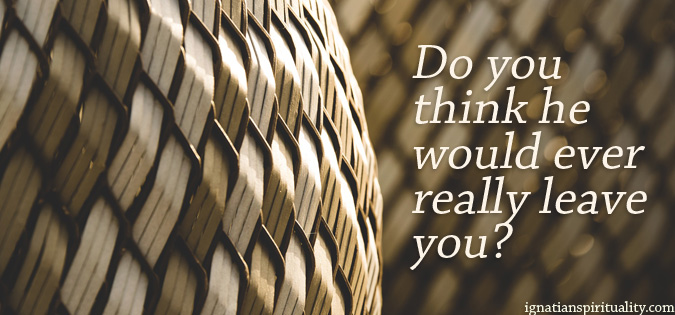 I was doing a very ordinary task: washing clothes for the Apostles. I was almost done, and the basket was very heavy.
"Can I help you with that?"
I turned to see who spoke, and a handsome stranger was smiling at me. Rather than speak to him, I simply handed him the basket since my shoulders ached and I was exhausted by the hot sun. Relieved of the burden, I suddenly recalled something Jesus once said: "My yoke is easy; my burden light."
"You're smiling at something," he said, and without thinking, I began speaking to the stranger, something proper women never do. For some reason, I felt at ease as we walked up the dirt path.
"I was remembering Jesus," I replied softly. "My burdens always felt lighter when he was around. I felt I could handle whatever life brought."
"Do you think he would ever really leave you?" the man asked. I pondered that silently. After a few moments, he probed, "Weren't you one of the women at the Cross, and again at the tomb?"
Had he seen me there? Yes, I was among the women who trekked close to 70 miles from Galilee to stay with him, following and offering what support we could. I watched him enter Jerusalem in a parade-like procession, and I danced.
I danced.
Many women stood at the Cross and later followed Joseph of Arimathea to the tomb. We collected some wildflowers along the way and placed them on Jesus' body before he was wrapped in the shroud. We saw how Jesus' body was placed. I felt protective and wanted to properly anoint Jesus' body after the Sabbath. It was a sober Sabbath: praying, consoling each other, and discussing which of Jesus' lessons held the most meaning for each of us. For me it was: "Love God. Love people."
"Do you think he would ever really leave you?" the stranger repeated.
I knew death was not the end. I remembered Easter's daybreak, the smell of the damp grasses, the sleepy sky, and the way my heart almost stopped when I saw those terrifying beings. They were larger than ordinary men, exuding strength nothing like the quaint picture I had of angels.
"They asked why we were looking for the living among the dead," I said, and as I heard myself say that aloud, a new thought occurred to me. "While I was wringing out the clothes, I was rehashing my past, as if I was going to find life in old mistakes. I've been searching for something life-giving among dead things." No wonder my shoulders ached.
"I love that about you," he said, smiling. "You listen to my promptings in your heart."
It was only then that I noticed that the hands holding my basket were those of someone crucified. A leap of shock and joy shot through my body. And when he said my name, I melted. "You took a terrible risk to stay with me at the Cross," he said. "You offered me the gift of accompaniment."
"I would do it again," I said.
"You will," he said with a loving smile, putting the basket down at the door. I turned to open it, and he was gone. But my heart felt lighter than a feather, my strength renewed. There are so many other stories… (John 21:25).
► Read Live as Easter People by Vinita Hampton Wright.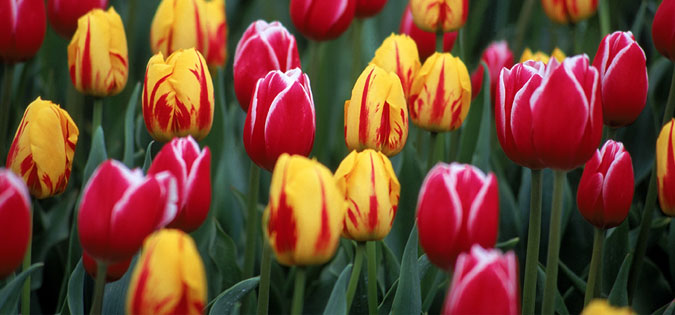 Easter has arrived! We made the long way through Lent; some of us journeyed through the liturgical marathon that is Holy Week, with its multiple services leading up to the Great Easter Vigil.
Now we dwell in the weeks prior to Pentecost. Yes, we keep looking forward to the next event in the Christian year. Jesus has risen from the dead; in the coming weeks, as we hear in the Gospel stories, he will appear to many people. Those who believe in him will understand that he has conquered death. Jesus will tell them that he's leaving again but will send the Advocate, the Holy Spirit. So those who love and follow him live in tension still; of course, they want him to stay, forever. What will happen when the Holy Spirit comes? They do not yet know the day it will happen. All they can do is stay together and pray and hope that Jesus' leaving will not be soon.
Even after the great Resurrection has occurred, we continue to live in paradox and tension. We believe Jesus rose from the dead and that we, too, will one day be resurrected. In the meantime, though . . . in the meantime, life continues and people suffer, and the answers we want don't come, and Jesus the Man-God is nowhere to be seen.
In the meantime, much of the world around us acts as if there is no Resurrection at all. Those of us who follow Jesus have to stick together. We need to pray and worship together, remind one another of this strange reality we call the Christian life. It makes sense only if we take Jesus at his word—if we believe that his life merges with ours and that we are forever changed.
And in the absence of Jesus who walked this earth centuries ago, what do we do?
We allow him to live through our bodies and voices, our thoughts and dreams, our arms and faces. We are the Body of Christ. This is not merely a nice metaphor; it speaks a reality by which we live as Easter people. Jesus now is with us, within us. He is also outside us, in others—we meet him especially in those who need our love, those we can feed, clothe, visit, heal, forgive, and love.
Easter is not magical. It is transcendent. Jesus is not somewhere else. Christ is everywhere—through him all creation holds together. He lives and breathes through his body, the Church.
So what does it mean to live as Easter people? It means we live as a people, all parts of Christ's Body working together toward a single purpose: love.
Prayer
We give thanks to you, O Lord, for you are good and your steadfast love endures forever.
By Rebecca Barlow Jordan on Apr 18, 2019 08:00 am
Are you searching for something to lift your spirits? Do you need assurance that life still holds promise? Are you wondering if you still matter? Whatever your need, may this Easter prayer of hope and encouragement touch you and usher in a new sense of God's love and presence:
Easter is a Day of Hope
Lord Jesus, Easter is not only Your Resurrection Day; this is a day of hope, joy, and victory. And our hearts are so desperate for encouragement. All around us lie the remains of broken lives, failed relationships, and fading dreams. Yet Easter reminds us that You already provided the hope we need and the answers for which we plead.
Easter is a Day to Celebrate You, Jesus
This is a special day to celebrate and worship You. How can we begin to say thank You for the price You paid, the sacrifice You made, and the life You gave to prove Your love to us?
Through Your death and Resurrection, You freed us from our prison walls of emptiness and hopelessness. Heaping all the sins of the world—all the anger, all the hatred, all the rebellion ever committed against Your Kingdom—all that upon Your back—You endured the weight we could not carry. You canceled our own spiritual death sentence, and You gave us life. No suffering compares to Your death on the Cross.
Into our darkness, You breathed light. Into our sorrow, You birthed joy. Into our loneliness, You gave comfort. And into our confusion, You brought hope. You opened the door of fellowship with God so that we can now come boldly into Your presence and receive the help we so desperately need: grace, pure and undeserved.
You Showed Us We Matter to You
Resurrection freedom, victory, purpose, and life—You brought it all to the doorstep of our hearts. And then You invited us to come, just as we are, and be forgiven and loved for eternity. Through Your death and resurrection You showed us we all matter to You—no matter who we are.
We Have No Words to Thank You
Jesus, we have no words worthy enough to offer, and our lives are but empty vessels waiting to be filled with You. We could never be enough or do enough to say thank you. But today, on this Easter Resurrection Day, we celebrate You; we celebrate Your victory over death; and we celebrate the hope and life You offer us as a result. We abandon ourselves to You, and we accept Your Lordship in our lives.
Your Invitation Is Open to All
Lord, for those still searching, help them find hope in You today. For the ones still discouraged, lift heavy burdens. For the many still in bondage from sinful habits or lifestyles, help them find deliverance and safety in Your arms. Your invitation is an open one: Come with repentance and faith—with a desire to be whole and complete in You. Come and receive; trust and believe.
You are faithful; You are good; and You are the One and Only Savior of the world. You came to show us the Father's love—and oh, how You did that so perfectly!
May Every Day Be Resurrection Day
Quiet our thoughts and keep our minds focused on You as we remember Your death and Resurrection this Easter—and every day. Then set our hearts to dancing as we embrace the joy of new life You offer to all who will come freely and ask. Fill us with Your presence today, Lord. Only in You can our needs be met. We offer this Easter prayer of hope and encouragement to you. Jesus, Son of God, we praise and celebrate You today! May every day be Resurrection Day in our hearts.
Day-votedly Yours,
Rebecca
He is not here; he has risen, just as he said. Come and see the place where he lay. Matthew 28:6 NIV
You might also enjoy these posts I wrote: Is Jesus Real? An Easter Prayer,Easter Is About Removing Stones, Good or Bad Friday? or last week's post on Palm Sunday – An Easter Meditation.
It's Your Turn
Do you need encouragement and hope this Easter? What is your Easter prayer? What does Easter mean to you? I'd love to hear from you anytime. You can always write me through my contact page. Just fill out the basic name and address info, and then the email will come to me. Your name or info will never be shared with anyone without your permission.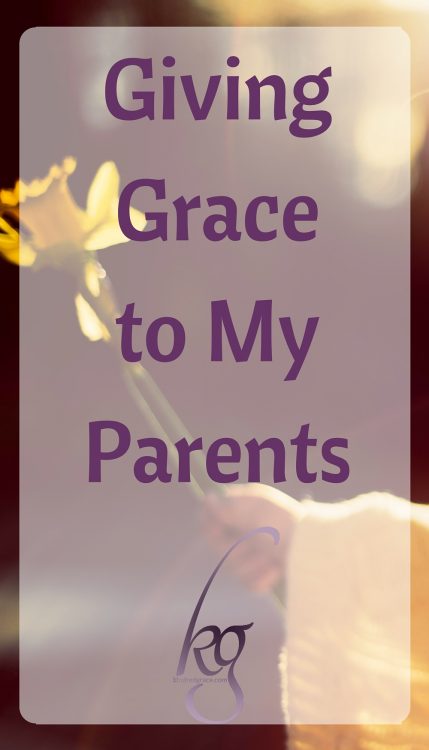 My parents were not perfect parents.
I am not a perfect parent.
Every day that I parent, I am humbled as I face my own failures.
Every day that I parent, I am more able to grant grace to my own parents for what I so often perceived as their failures.
I was raised in a very conservative home. Like many (if not all) of you, I don't agree with every decision my parents made. They made a lot of rules for our family. Some of those rules ended up having negative impacts on our family in the long-term. Many of their other decisions had benefits I greatly appreciate–now even more than I did then.
I didn't have terrible parents: they were (and are) great parents! But they are human, and therefore bound to make mistakes. As a parent now myself, I know I'm already (unwittingly) making decisions my children will someday have to forgive.
While I don't want to minimize the experiences of my peers who had truly abusive parents, I don't believe that was the case in most families, at least in my circles. By and large, my friends and I had parents who loved us and truly wanted to raise us well. They were often first-generation Christians, and certainly first-generation homeschoolers, and they were figuring it out as they went along. Were they sometimes reactionary, or operating out of fear of man? Yes. But the vast majority of their decisions were made in love, after a lot of prayer and conversation, and they truly wanted something better for their children.
I think that my generation does more harm than good by harping on the mistakes our parents made. If we want to be a generation of grace, then we must start by extending grace to those closest to us: our parents.
Sometimes it's hard to let go of hurts. There are things from years ago that I would like to hash out with my parents, and in my short-sightedness, I'd like an apology and an admission that I was right. But what purpose would that serve? Occasionally it is very important to get to the bottom of things, especially if they are current points of contention in your relationship. Being a peacemaker doesn't mean sweeping things under the rug.
However, to keep a running list of ways you've been hurt, as I'm sometimes tempted to do, is like tearing a scab off a healing wound. Perhaps time and distance from the incident really is enough. Maybe your current good relationship is worth not damaging over something that can't be changed anyway. I'm learning that often my need for "closure" is just my pride, wanting to be acknowledged that I was right. And that kind of pride doesn't need to be encouraged in my heart!
I need to give my parents the kind of grace they gave me as a child. I need to give my parents the kind of grace I hope my children will give me on a daily basis. Mom and Dad didn't get it all right.  I'm not getting it all right.  But as my friend Elisabeth says, being human is a messy business. We all need the kind of love that chooses to forgive and extend grace.
So how can we extend grace to our parents? Here are three ways I'm working on:
1. Appreciate the good in the way you were raised.
For most of us, there was a lot of good in the way we were raised. Focus on the good memories, the values that were instilled, the relationships that were forged. Try to see your parents' hearts behind the rules and restrictions. Remember that all kids think their parents messed up: it's universal because it's true! All of us are broken (Romans 3:23).
2. Honor your parents in your conversations about your past.
Honor your parents in the way you talk about them, whether talking to them directly or discussing them with others. There is a very heavy weight of responsibility as parents, and I know mine felt that keenly. I don't have to agree with everything they did to honor the position God put them in. There is no need to pretend they got it all right, but we're still commanded to respect them (Exodus 20:12).
3. Remember that ultimately it is God who is in charge of our lives, not outside influences.
No matter how misguided some of our parents' decisions were, they don't have the power to ruin our lives. I keep thinking of Joseph's testimony when confronting his brothers after the atrocious way they treated him. He said, "… do not be distressed or angry with yourselves because you sold me here, for God sent me here to preserve life… So it was not you who sent me here, but God." (Genesis 45:5-8)
What are some ways you've found to show grace to your parents?
Easter's Bible Art…the Verse for Today
The Third Day
Behold, there was a great earthquake, for an angel of the Lord descended from the sky, and came and rolled away the stone from the door, and sat on it. His appearance was like lightning, and his clothing white as snow. For fear of him, the guards shook, and became like dead men. The angel answered the women, 'Don't be afraid, for I know that you seek Jesus, who has been crucified. He is not here, for he has risen, just like he said. Come, see the place where the Lord was lying. Matthew 28:2 WEB
Ever since Adam and Eve disobeyed in the garden, mankind had been bound in sin with no way out of it. They had decided that maybe they knew what was best for them, and that God was holding something back. It was something they thought they really needed and wanted, the forbidden fruit. Too bad it was poisonous, and they both died from it later.
Their sinful rebellious nature was passed down through the generations and was only broken when Mary conceived by the Holy Spirit. Jesus went on to live a perfect, sinless life as a man. Just as one imperfect man started it, one Perfect Man finished it. It all changed on the third day when Jesus walked out of the tomb. The power of sin was broken and if satan would have known what was coming, they would have never crucified Jesus (1 Corinthians 2:8).
Jesus met all of God's requirements, lived a perfect life without sin, and then laid His life down for us at the cross. Through His sacrifice, mankind was restored to a right relationship with God. The veil in the temple was torn open making a way for us to come into the Holy of Holies, and all are welcome.
Stop looking down on yourself and look to Jesus. He knows your name. Do not set your value by what anyone on Earth thinks of you. Jesus gave His life to set you free. The price of that is immeasurable and He would have done it just for you. Everything changed on the third day.
Prayer: Heavenly Father I thank You sending Your Son Jesus to buy us back. Teach me the things that I need to know and let me see the world through Your eyes. Please walk with me and talk with me this day, in the name of Jesus Christ I pray.
with Jesus:

 'Welcome to Son Rise'
Note from Jesus
Dear Follower and Friend,
Let there be light. And light flashed into being.
 (Genesis 1:3)
Yes, I was there the very first time light drove away the darkness at creation. In fact, I AM the living Word Who brought creation into existence (John 1:1-5; Colossians 1:16). You shouldn't be surprised that I was there for the great rising of the sun on that Sunday after my crucifixion. Just as I, Jesus the Christ and Son of God, was slain as the Passover Lamb for the sins of the world, I triumphed over the grave to end death's hold over you. I AM the Lord of creation and I am the Lord of Resurrection Sunday.
You may call it Easter, yet for heaven's angels, that resurrection morning was Son Rise. This event is the great day of victory for each of you who has placed your faith in Me. The power of sin and death was defeated. Broken hearts with shattered dreams were suddenly jubilant. With Son Rise, they were joyously stitched together with unconquerable hope realizing that I AM forever victorious over the power of sin, hell, and the grave.
I know you will have hard days, dark days, that are too long and feel hopeless. So as you read the verses below, I want you to notice that Mary Magdalene twice calls Me her Lord even though she thinks that death still holds Me. So, on your days that are too long and feel hopeless, I want you to hang onto faith like Mary did. Call out to Me as your Lord. Trust Me as your Lord. Hang on to Me as Lord even when there appears to be no reason to keep holding onto faith in Me. Sooner or later, like for Mary, there will be Son Rise! That is the promise of Resurrection Sunday. That is the assurance that Mary Magdalene's example of faith can give you.
Rejoice today, but not just today. Every sunrise is a reminder that death cannot hold you when you are in My life-giving grip. Every cemetery sorrow is but a temporary parting for those touched by My grace. Remember this: the grave cannot hold those who have put their faith in Me as Lord. With Me, there is always the promise of Son Rise!
Verses to Live
Death is the horror that hell has used to enslave humanity. When you see the broken heart of My mother, Mary, as she watches Me die, please know I came to bring hope to such pain. When you see Peter devastated by his betrayal as I faced death, please know I came to remove such shame. When you see Mary Magdalene touched first by My powerful grace when I cast out the demons oppressing her and then confused and broken by My death, please know that I am Lord of life and of the assurance that hope triumphs over death. When you see the sunrise, remember Me and remember Son Rise. I bring light to darkness, hope to despair, healing to brokenness, and, most of all, life to death. Hear these words and remember, Son Rise!
Near the place He [Jesus] was crucified, there was a garden with a newly prepared tomb. Because it was the day of preparation, they [Joseph of Arimathea and Nicodemus] arranged to lay Jesus in this tomb so they could rest on the Sabbath.

Before the sun had risen on Sunday morning, Mary Magdalene made a trip to the tomb where His body was laid to rest. In the darkness, she discovered the covering had been rolled away. She darted out of the garden to find Simon Peter and the dearly loved disciple to deliver this startling news.

Mary Magdalene:

They have taken the body of our Lord, and we cannot find Him!

Together, they all departed for the tomb to see for themselves. They began to run, and Peter could not keep up. The beloved disciple arrived first but did not go in. There was no corpse in the tomb, only the linens and cloths He was wrapped in. When Simon Peter finally arrived, he went into the tomb and observed the same: the cloth that covered His face appeared to have been folded carefully and placed, not with the linen cloths, but to the side. After Peter pointed this out, the other disciple (who had arrived long before Peter) also entered the tomb; and based on what he saw, faith began to well up inside him! Before this moment, none of them understood the Scriptures and why He must be raised from the dead. Then they all went to their homes.

Mary, however, stood outside the tomb sobbing, crying, and kneeling at its entrance. As she cried, two heavenly messengers appeared before her sitting where Jesus' head and feet had been laid.

Heavenly Messengers:

Dear woman, why are you weeping?

Mary Magdalene:

They have taken away my Lord, and I cannot find Him.

After uttering these words, she turned around to see Jesus standing before her, but she did not recognize Him.

Jesus:

Dear woman, why are you sobbing? Who is it you are looking for?

She still had no idea Who it was before her. Thinking He was the gardener, she muttered:

Mary Magdalene:

Sir, if you are the one who carried Him away, then tell me where He is and I will retrieve Him.

Jesus:

Mary!

Mary Magdalene (turning to Jesus and speaking in Hebrew):

Rabboni, my Teacher!

Jesus:

Mary, you cannot hold Me. I must rise above this world to be with My Father, Who is also your Father; My God, Who is also your God. Go tell this to all My brothers.

Mary Magdalene obeyed and went directly to His disciples.

Mary Magdalene (announcing to the disciples):

I have seen the Lord…
Response in Prayer
Almighty God — so high and exalted, yet so near — I praise You and thank You for Your power, love, and grace. Thank You for Jesus, born of woman, clothed in mortality, moved by love to be crucified for my sins, entombed in death to share my mortality, and raised from death as my conquering Lord. I thank You that Jesus' future is now my future, His conquest over death is now my assured victory, and His glory is now my destination. Thank You for Son Rise! Thank You, in Jesus' name. Hallelujah! Amen.
Illustration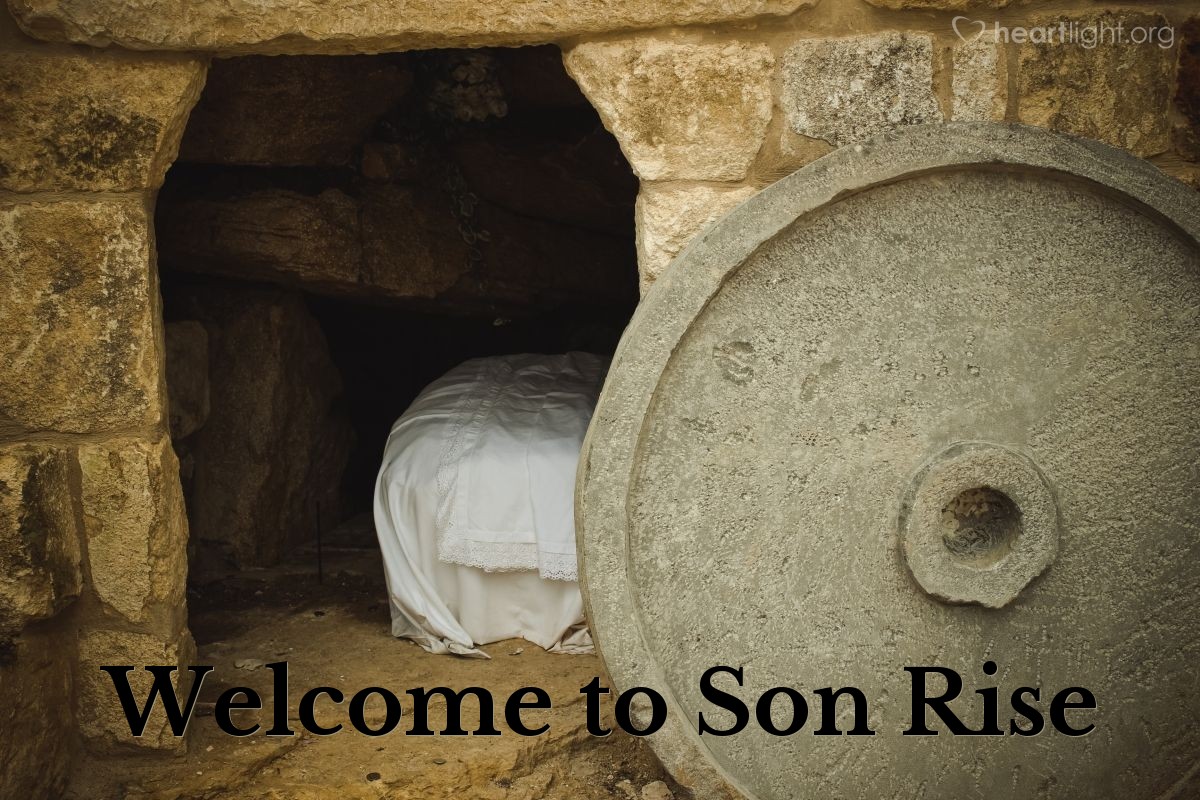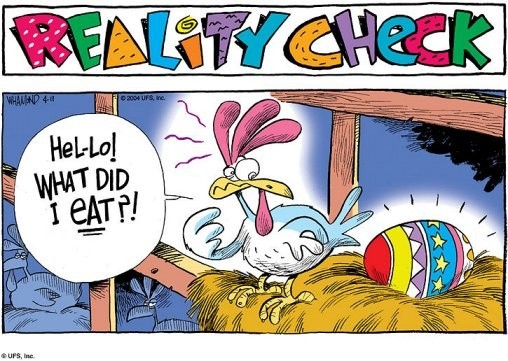 Momma…
Aunty's Tidbit…
April 21: The Misnomer about God's Will
Joshua 7:1–8:35; 2 Corinthians 10:1–8; Psalm 49:1–20
We often hear a great misnomer about following God's will. It usually sounds something like this: "God has commanded me to do x, so I'm going to go into x blindly without fear." A phrase like this has elements of great truth—faith should carry us. But it's missing a piece.
Sometimes God instructs us to follow Him quickly and blindly. When that's the case, we should certainly do it. However, His commands should almost always be combined with the abilities that He has given us, including logic and rationality. We have to find the balance. If we get too rational, it can be at the detriment of God's will; we can reason ourselves out of taking the risks God wants us to take.
Joshua, the leader of the Israelites after Moses, is a great example of proper behavior within God's will. He learned from Moses and led out of that strength and experience, but he was led by the Spirit (Deut 34:9–12). He also did the proper legwork, even though he knew that God had guaranteed success if he and the people were faithful.
We see a glimpse into this strategy in Josh 7:2–5, the battle of Ai. Joshua sent spies into enemy territory before invading it. He then paced the troops by sending only a small regiment at first (Josh 7:3). Despite his proper behavior, Joshua was unsuccessful because of the people's disobedience (Josh 7:1).
After this, we see the pain that Joshua felt as a result of the people's spiritual failures (Josh 7:6–9). Yahweh didn't allow for this to continue, though, because He was aware of the root cause of the problem; God called Joshua to find it and change it, so he did (Josh 7:10–26).
Joshua shows us what it means to follow God's will: receive a call, be trained, act out of wisdom and preparation, accept defeat when it comes, seek Yahweh's will again to fix it, and then confront the problem head on. The result: success (Josh 8:1–29). Following their victory, Joshua rededicated himself and those he led to Yahweh (Josh 8:30–35).
If we understood how to function within God's will, we would be much more successful for God. We would see great and miraculous things happen. And this understanding is not just reserved for the leader, but for all people.
What patterns of following God's will do you need to change? How have you misunderstood what it means to live for Him?
JOHN D. BARRY