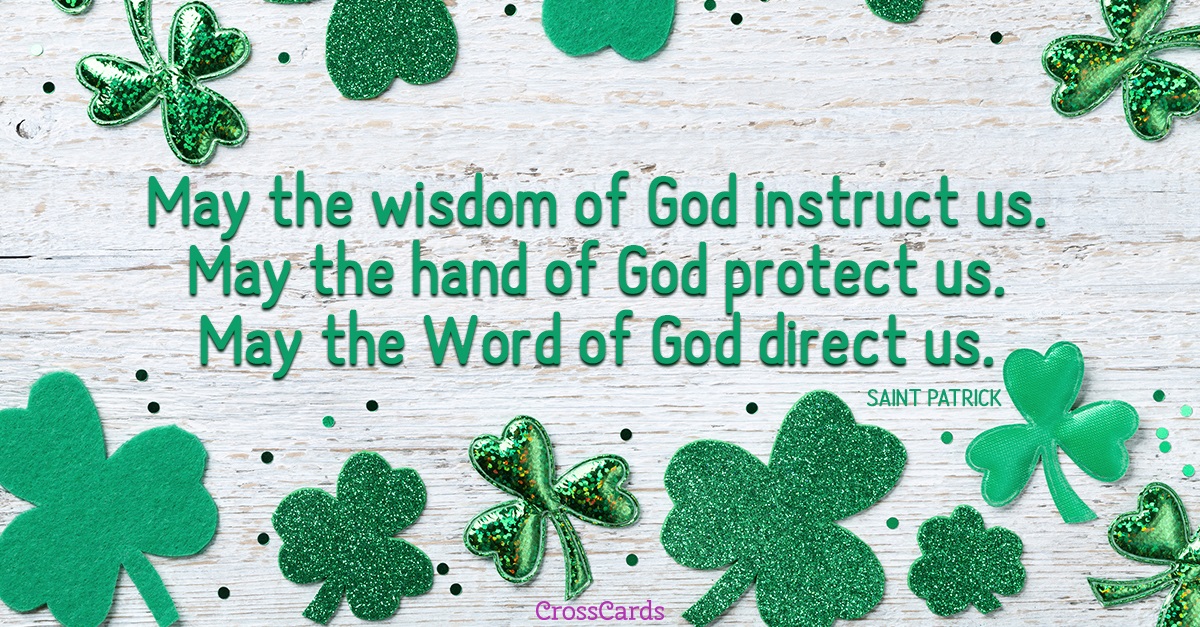 Daily Prayer for March 17
To the Jews who had believed him, Jesus said, "If you hold to my teaching, you are really my disciples. Then you will know the truth, and the truth will set you free." John 8:31–32, NIV
Dear Father in heaven, grant that we may come to you in the Spirit. Through your Spirit gather us and many others on earth around our Lord Jesus Christ, the great Savior of humankind. May our hearts become truly free because you deliver us from all bondage to our own natures and to the world around us. As free people may we be led safely through distress, fear, and want, through need and death. May we become happy children whom Jesus Christ has called to life, children who are not discouraged by the struggle but who fight joyfully for your kingdom until it can be revealed to all the world. Amen.
Emily Bronte
No Coward Soul Is Mine
No coward soul is mine
No trembler in the world's storm-troubled sphere
I see Heaven's glories shine
And Faith shines equal arming me from Fear
O God within my breast
Almighty ever-present Deity
Life, that in me hast rest,
As I Undying Life, have power in Thee
Vain are the thousand creeds
That move men's hearts, unutterably vain,
Worthless as withered weeds
Or idlest froth amid the boundless main
To waken doubt in one
Holding so fast by thy infinity,
So surely anchored on
The steadfast rock of Immortality.
With wide-embracing love
Thy spirit animates eternal years
Pervades and broods above,
Changes, sustains, dissolves, creates and rears
Though earth and moon were gone
And suns and universes ceased to be
And Thou wert left alone
Every Existence would exist in thee
There is not room for Death
Nor atom that his might could render void
Since thou art Being and Breath
And what thou art may never be destroyed.
Source: The Complete Poems of Emily Jane Bronte
Verse of the Day…illustrated
Second Sunday of Lent
Lent is a time when we open ourselves to God's transforming grace.
Scripture
"But our citizenship is in heaven, and it is from there that we are expecting a Savior, the Lord Jesus Christ."
Philippians 3:20
Reflection
In an interview with the program Witness for Salt and Light Television, Monsignor Dario Viganò, then director of Vatican television, told of the first moments of Pope Francis's papal ministry. Pope Francis came out of the Sistine Chapel and went to the Pauline Chapel with two cardinals accompanying him. His head was bowed down, as if the burden of the task that he had been elected to was weighing him down. In the Pauline Chapel, instead of going to a prearranged papal throne, he sat in the last pew, compelling the two cardinals to sit with him. He prayed in silence.
Msgr. Viganò says that when Pope Francis got up to go to meet the people, he was a different man. His head was no longer down. He looked straight ahead and was smiling. It was as if God had said to him personally, "Don't worry. I am here with you." Pope Francis had an experience of God's transforming mercy and grace. (Dario Viganò interview with Fr. Thomas Rosica. Witness, October 4, 2013)
In the third chapter of his letter to the Philippians, St. Paul calls on his brothers and sisters in faith to follow his example insofar as he is following Christ. Paul is critical of those who name themselves Christian, but follow their bellies with their minds on earthly things. As long as they act this way they will be closed to the transforming grace of Jesus Christ. Paul promises that for those who follow Christ, they will begin to experience in this world the joy and happiness that will be completed in the next.
Lenten Action
1.  ► Reflect on this Sunday's Gospel with Arts & Faith: Lent.
Lorenzo Lotto's Transfiguration of Christ is the central panel of a three-part altarpiece created for the church of Santa Maria di Castelnuovo in Recanati. This piece shows the influence of the great Renaissance painters and captures a moment in Lotto's transition as an artist. We see Renaissance proportion and balance, which will later give way to Mannerist exaggeration, elongation, and tension. In one way, this transition itself echoes the story of the Transfiguration, a moment of heavenly order and balance that will give way to the tension and disorder of the Passion after Christ and the disciples descend from the mountaintop.
We see this juxtaposition of balance and imbalance in the arrangement of figures in the scene. At the top of the image we see Christ flanked by Moses and Elijah, in a triangular composition oriented toward heaven's presence breaking in at the very top with God's vertical words, "This is my Son, my Chosen; listen to him." Heaven's light from above illuminates this scene, as the clouds and angels narrow in a reverse triangle leading to the figure of Christ.
In contrast, we see the three jumbled forms of Peter, James, and John against the dark hillside below. If the scene above conveys order and balance, then this one below conveys disorder and disarray, though not completely. Lotto's placement of heads, hands, and feet save the three Apostles from complete chaos by rooting the composition in a varied but intentional repetition of these forms. This slight emphasis on heads, hands, and feet is perhaps an allusion to the Passion to come, and to the foot-washing scene in which Peter offers all three of these for Jesus to wash. Heads, hands, and feet are symbols of discipleship: to believe, to serve, and to follow the way of Christ, in and through our imperfect, shaded, jumbled human existence.
While still in our jumbled and imperfect reality, focus on Christ is our clear way forward. Rather than condemning our mess, Christ meets us in it fully, leading us and the disciples from this mountaintop experience all the way to the cross. Entering our broken reality, Christ shows us that the cross and all that leads to it is real, but death does not have the final word. Listening to Christ as God commands, we find hope and joy in that mystery.
---
Commentary is by Daniella Zsupan-Jerome, assistant professor of liturgy, catechesis, and evangelization at Loyola University New Orleans.
2.  ► Read We Never Expected the Transfiguration by Loretta Pehanich.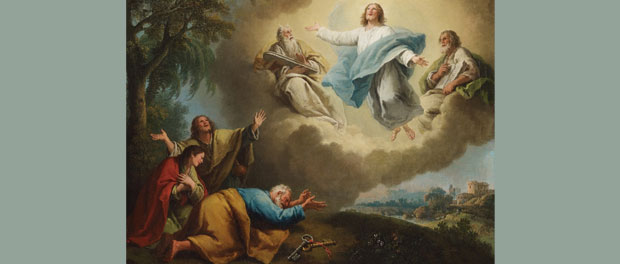 This story is inspired by Luke 9:28–36, the Transfiguration of Jesus.
Jesus casually invited three of us on a hike one warm, sunny day. I think Peter, James, and I are probably his closest buddies. Can you imagine what it felt like to be Jesus' best friend?
The hike turned out to be a steep one, but we were happy to go along. Wherever Jesus was headed, we were willing to follow.
But we never expected the Transfiguration. When I got up that morning, I never expected to be seeing Moses that afternoon. I was stunned.
What did it feel like to see Elijah talking to Jesus about Jesus' exodus? Exodus? Why did he use that word?
It would take me a long time to process that unexpected encounter.
And Jesus didn't want us chattering about this experience, so Peter, James, and I would whisper about it occasionally.
"Remember his clothes? They were so white it was blinding."
"What did it mean that God spoke from a cloud?"
"Did you feel the ground shake, or did I imagine that?"
"I wonder what they were talking about. I couldn't make out the words."
"I think there was some connection between that mountain and Mount Horeb."
After the Resurrection, we would tell the story of the Transfiguration again and again. And I am sure that others benefit from this retelling. That's how it is when you have an unexpected encounter with God; it must be remembered and shared for the benefit of others.
3.  ► Read How to Find Time in the Day for Lent
The fast pace of your life may seem to leave little time and energy for the traditional Lenten practices. But you can weave moments of spiritual awareness and service into even the busiest of schedules. The trick is to see Lenten practice as part of, rather than in addition to, each activity of your ordinary hectic day.
The three foundational practices of Lent are prayer, fasting, and almsgiving. Here's how to think about them in a new way:
Praying Daily
If you make a habit of saying a little prayer whenever someone irritates you, cuts you off in traffic, or makes life difficult; when someone does you a favor, you experience great and friendly service, or when something joyful happens to you—you will soon find yourself praying your way through the day. Try this simple practice and you will be observing the Catholic Church's call for greater prayer during the Lenten season. You will also find that this habit makes your life flow smoother, your self more centered, and your Spirit more aware of God's presence.
A Different Type of Fasting
There are many ways to fast. Why not fast from criticism, gossip, judging others, or passing on rumors? Why not abstain from unwarranted fear and anxiety? You can also tell that inner voice inside your head that criticizes you to abstain from eroding your ability to be the confident, blessed person God calls you to be. These are beautiful ways to observe the Lenten call to fasting and abstinence. In the book, Praying Lent, the authors offer suggestions on different ways to fast during Lent.
Give of Yourself
Daily life also offers countless opportunities to give of yourself to others (alms), and most don't involve dipping into your wallet. Give encouragement to the doubting, give a word of praise to the insecure, show kindness to someone who could use a friend, and offer a word of thanks to those whose service of others often goes unappreciated. Give the gift of your attention to someone who simply wants to be noticed. Tell your children stories about people whose values you admire when you gather at mealtime. Don't be stingy with your smiles—give them freely to everyone you meet. And most important, give your love to those close to you. Hug them, hold them, and tell them what they mean to you. In this way you open your heart to God and others.
So no matter how busy your are in life, with some greater awareness and new perspectives you can consciously pray, fast, and give of yourself this Lent—and you will be ready to celebrate when a joyful dawn breaks upon you Easter morning.
Prayer
You, O Lord, are the light of our salvation. Whom should we fear?
The Daily Word of Hope Devotional
The Lamp
Your word is a lamp to my feet, And a light for my path. Psalms 119:105 WEB
The old oil lamps that were used in biblical times had a small radius of light. They would light the path just a few feet ahead of you, and you could not see very far down the road. When traveling by night, you could see just enough to take the next step. When you did take that step, the circle of light moved with you, and then you could see a little farther. The entire journey was made like this, one step at a time.
I have heard it said that if you took a 'soon to be bride' into her new house and showed her all the dirty dishes that she would have to wash, the stack of dirty diapers that she would have to change, all the meals that she would have to prepare, and all the housework there would be to do, that she would run for the hills. So it is with us. God shows us just enough of the path for today. Tomorrow, He will show us what we need for that.
Jesus told us: 'Therefore don't be anxious for tomorrow, for tomorrow will be anxious for itself' (Matthew 6:34). When the problems show up, so will the answer. Don't worry about problems that do not even exist yet. You will only exhaust yourself.
Just because you are struggling with something does not mean that God is not with you. Even the Apostle Paul had his 'thorn.' Living a Christian life does not mean that we will not face trouble, but that God can be trusted to handle the trouble when it arrives.
So many times I have wanted to know what was farther down the road, what was coming, but God gives us enough light for today. I have always found that when tomorrow came, that He took care of that as well.
Prayer: Heavenly Father I thank You for lighting my path and the way that I should go. Let me walk in Your light all the days of my life and guide my steps. Please send me Your peace today and ease my mind and fears, in the name of Jesus Christ I pray.

with Jesus:

 'Can't You See the Urgency?'
Note from Jesus
Dear Friend,
You need to treat the issues of the kingdom with a sense of urgency. There is never a time to be complacent. As you read the verses below, you will see that I emphasized the need for a great sense of urgency.
For those who first heard My words in the verses below, there was going to be an important moment of decision. My rejection, crucifixion, and resurrection were going to lead to a moment of supreme decision for everyone. This moment of supreme decision for all who knew and heard Me was coming sooner than anyone wanted to recognize. This decision would tear families apart because some would wholly reject Me, considering Me a blasphemer and a troublemaker, while others would see Me as I AM — the Holy One of God sent to save them.
For you, this decision is one you must make continuously: What will you do with Me? Am I a liar and a lunatic or Lord? And if I am Lord, how then will you live differently from those around you? Yes, this is a decision of continuous urgency!
Verses to Live
While you don't face exactly the same scenario as these first hearers of My message, you are confronted with a challenge by the things I've said. You must feel a sense of urgency about where to invest your life. Your attachment to the world can easily lead you to live in apathy and approach important spiritual matters with complacency. So I'm challenging you today with passionate and serious language and strong images because you must decide what you are going to do with Me.
Jesus to His disciples:

This is serious business we're involved in. My mission is to send a purging fire on the earth! In fact, I can hardly wait to see the smoke rising. I have a kind of baptism to go through, and I can't relax until My mission is accomplished! Do you think I've come with a nice little message of peace? No way. Believe Me, My message will divide. It will divide a household of five into three against two or two against three. It will divide father against son and son against father; mother against daughter and daughter against mother; mother-in-law against daughter-in-law and daughter-in-law against mother-in-law.

(speaking to the crowd) You see a cloud arise from the sea in the west, and you can say, "Here comes a shower!" And you're right. Or you feel the hot wind blowing in from the desert in the south and you say, "It's going to be really hot!" And you're right. Listen, hypocrites! You can predict the weather by paying attention to the sky and the earth, but why can't you interpret the urgency of this present moment? Why don't you see it for yourselves?

Imagine you're being sued. You and your accuser are on your way to court. Wouldn't you do everything in your power to settle out of court before you stand before the magistrate? After all, he might drag you to stand before the judge, and the judge might hand you over to the police, and they might throw you in jail. Once you're in jail, it's too late: you're not going anywhere until you've paid in full.
Response in Prayer
Almighty God, I confess that I can become complacent, sometimes even apathetic, about my life as Jesus' disciple. There are so many things crowding into my heart for my attention. So today, I pray the prayer Moses offered many centuries ago: Lord, "teach us to number our days so that we may get a heart of wisdom."* I want to live every moment for Jesus with passion and courage. I don't want to waste any moments You give me and fritter away my life on what doesn't matter eternally. In Jesus' name, I pray. Amen.
* Psalm 90:12 ESV, from a psalm described as "A Prayer of Moses, the Man of God."
March 17: Letting Evil Burn
Numbers 19:1–20:13; 1 Corinthians 2:1–16; Psalm 18:13–30
"And Yahweh spoke to Moses and Aaron, saying … 'let them take to you a red heifer without a physical defect …. And you will give it to Eleazar the priest, and it will … be slaughtered in his presence. Then Eleazar the priest will take some of its blood on his finger and spatter it toward the mouth of the tent of assembly seven times. The heifer will be burned in his sight; its skin, its meat, and its blood, in addition to its offal, will burn' " (Num 19:1–4).
This passage is so strange and gruesome, it is clearly symbolic. The heifer represents the perfect, unblemished sacrifice—which takes care of some (not all) of the purification associated with things Yahweh deemed unclean for the purpose of teaching His people obedience, and some of the results of sin (Num 19:9).
Also, the heifer is burned because it has to be made into ashes. This beautiful creature becomes ashes. That's the cost of an impure life: good has to become worthless. The only way to purge impurities is to burn them away. Then what has been purified through fire (and then water) can be used (Num 19:9–10). The passage goes on to describe several uses associated with this practice (e.g., Num 19:11–13).
All of our lives include things that go against God's will, and these things must burn. We must let the Spirit work in us to empower us to remove them. And there's good news for this: Jesus has already done the great work of conquering sin in the world. There is no more need for the red heifer because Jesus' sacrifice (His death) paid for our problems. He wasn't the symbol of the sacrifice, like the heifer; He was the sacrifice itself.
God calls us to the great race of running toward Him—for Him—in honor of what Christ has done among us. So let's let the evil burn.
What is God calling you to burn?
JOHN D. BARRY