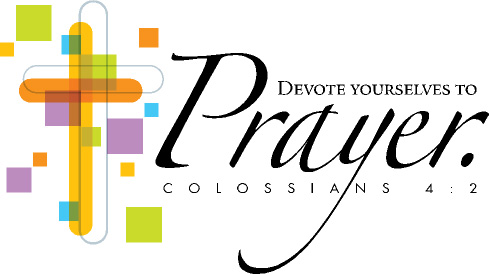 Daily Prayer for March 10
My word is like the snow and the rain that come down from the sky to water the earth. They make the crops grow and provide seed for planting and food to eat. So also will be the word that I speak – it will not fail to do what I plan for it; it will do everything I send it to do. Isaiah 55:10–11, TEV
Lord our God, light of the world and light of our human life, we thank you for sending your Word into our hearts. Your Word works within us and allows us to rejoice. Even if we often experience hard and bitter times here on earth, we can rejoice already, as the world shall rejoice when your will and your Word are fulfilled. Protect us, and keep us pure and free in spirit, that we may be your servants, that we may sometimes be allowed to say a little word in harmony with the great, powerful Word which you have sent into the world. Amen.
Today's Verse, Illustrated
Amy Carmichael
If I am soft to myself and slide comfortably into self-pity and self-sympathy, if I do not by the grace of God practice fortitude, then I know nothing of Calvary love. If I myself dominate myself, if my thoughts revolve round myself, if I am so occupied with myself I rarely have "a heart at leisure from itself," then I know nothing of Calvary love.…That which I know not, teach Thou me, O Lord, my God.
Source: Bread and Wine
Without Fear of Our Enemies 
"That's it!" the man said with tears in his eyes. "I live my life in fear that the things in my heart are going to take control of me. I have never before heard anyone say that I could be free from sin." The man who was speaking had been church for most of his life and was seeking to serve God with all the strength he could muster. Yet he lived his life in fear, continually struggling with the darkness that plagued his own heart. Would today be the day that he succumbed to the powers of darkness and sin?
I had just preached a message on how the blood of Christ purges our inner man from sin. Hebrews 10: 2, 22. The minister in the prior service had brought a tremendous message, but speaking of the epidemic of pornography involving people in the church, she said, "These people are in the church. These are the blood-bought!" As I took the pulpit later, I said, "In can be rightfully said that every person upon this earth is blood-boughtbecause of the fact that Jesus Christ died for all, but you can know that those who areblood-washed are clean!
After the service I was questioned by some people about the things I had spoken about being made free from sin. I referred to the prophecy spoken by Zachariah, the father of John the Baptist. He said, "Blessed be the Lord God of Israel; for he hath visited and redeemed his people, And hath raised up an horn of salvation for us …That he would grant unto us, that we being delivered out of the hand of our enemies might serve him without fear, In holiness and righteousness before him, all the days of our life." Luke 1:68-75. It was this promise of being able to serve God without fear that so took hold of the man standing before me.
To serve God without fear of our enemies is to know that the things which once possessed us, controlled us, tormented us, and destroyed us, are now destroyed through the blood of Christ. This is the fulfillment of Jesus' promise that "you shall find rest unto your souls." Matthew 11:29. If we abide in Christ where there "is no sin" I John 3:5, we have no need to fear that sin will "rise up and take control of us." If we know that Christ destroyed the devil and his works, then we know as we abide in Christ that sin has no place or power in our heart or life. Paul confirms these things, saying, "For sin shall not have dominion over you: for ye are not under the law, but under grace." Romans 6:14.
Years ago I visited a revival and listened to a preacher tell the people a dozen times, "The devil is going get you!" "You are going to fail! You are going to sin! It doesn't matter how long you walk this walk, the devil is going to get you!" No one who believes such a thing can serve God without fear of their enemies. Religious teachers so often fill our minds with the inevitability of being overcome by sin and Satan that you would think Christ was the one who was defeated at Calvary. Until you see and believe the absolute victory of Christ over sin and Satan, THE DEVIL WILL GET YOU! But if you can see Christ in all his victory, you will understand that you never again have to fear that sin or Satan "is going to get you" because you know that CHRIST IS GOING TO KEEP YOU!Jude 24.
It is strange that the modern church has taught us to fear Satan, but has cast away the fear of God. If you believe the way the gospel is often presented, you might come to the conclusion that Christ died so that we would no longer need to fear God. They say we cannot be touched by his wrath. He cannot see our sins us or judge us because of them, and we have a heavenly home assured that he cannot take away. It seems God is stuck with us, so why should we fear him? This ignores the words of the apostle who said, "It is a fearful thing to fall into the hands of the living God." Hebrews 10:31. The children of God are not "afraid of God" as they abide in Christ, but they understand that to neglect their walk with Christ is to bring themselves under the severity of God.  Paul confirms this saying,"For if God spared not the natural branches, take heed lest he also spare not thee.  Behold therefore the goodness and severity of God: on them which fell, severity; but toward thee, goodness, if thou continue in his goodness: otherwise thou also shalt be cut off." Romans 11:21-22.  You can live in the goodness of God, but have no doubt, if you neglect your walk with Christ, you can find yourself living under the severity of God  …and cut off!
Our complete redemption in Christ is such that you can live in his goodness and victory all the days of your life. There is nothing Satan can do about it as long as you simply abide in Christ. You need not fear the devil, and you need not fear sin. These things have no place in the children of God, and these have no power to take you by force. O child of God, you need to know and believe this truth of Christ, so that YOU being delivered out of the hand of YOUR enemies might serve him without fear, in holiness and righteousness before him, all the days of YOUR life.
The Waterfall
Deep calls to deep at the roar of your waterfalls; all your breakers and your waves have gone over me. Psalms 42:7 ESV
Moments before the water was still and quiet as they drifted down the stream. They were relaxed in the warm sunshine, not noticing the low roar coming. Suddenly, their lives flashed before their eyes and they began to panic as they realized they were quickly approaching a waterfall, and now it was too late to get off. Screaming loudly they went over the cliff, completely out of control, and splashed into a surprisingly tranquil pool below.
Have you ever had things going great but then suddenly you hear the waterfall coming? It is terrifying to see the end of your world coming at you and there is no way to get out of this boat.
Oddly enough, this is the way God usually brings promotion. What looks like the end of your world, is actually the beginning of a new era. The way up in the kingdom, is down. The greatest among you, will be your servant. Going over the cliff, is actually going up. Still it looks terrifying when it is coming at you and things will look better when you have gone through it.
If you hear the waterfall approaching, brace yourself for the ride of your life, but remember: this will work out for your good. To go to a new level you must go over this waterfall.
Prayer: Heavenly Father, I know that this will work out for my good. You will get me through this and I will come out a better person, in the name of Jesus I pray.
Bible Fun Fact: Old Testament books were scrolls, a strip of animal skin that was rolled up on two sticks.
First Sunday of Lent
Lent is a season when we are tested as we focus
more intensely on who God is calling us to be.
Scripture
Those who love me, I will deliver;
I will protect those who know my name.
Psalm 91:14
Reflection
Soon after the baptism of Jesus by John the Baptist, Jesus is led by the Holy Spirit into the wilderness where he fasts for 40 days. Note that this time of discipline and potential hardship was not the result of any fault on Jesus' part. This is a period not unknown by any of the great Christian mystics—after a period of consolation, there is a period of a "dark night" or "desolation" in which the commitment made in a period of joy is tested.
Weakened by hunger, Jesus is tempted by the Devil. The Devil offers three possibilities for Jesus. The first is to fulfill the basic need of hunger, to turn stones into bread. The second is to become the ruler of the world as payment for worship of the Devil. The third is to wow the world by leaping from the highest point in the city and being caught by angels for an easy landing on the ground. Jesus responds to each of the Devil's temptations by citing Scripture: one does not live by bread alone (Deuteronomy 8:3), God is not to be put to the test (Deuteronomy 6:16), and only God is to be worshipped (Deuteronomy 6:13).
The season of Lent is a period of testing for all Christians as we recognize that we are being called by the Holy Spirit to a deeper relationship with God and with others. This means that in following the disciplines recommended by the Church—the disciplines of prayer, fasting, and almsgiving—we learn to become more dependent on the grace of God and we keep ourselves focused on who he is calling us to be.
Lenten Action
► Read Following Jesus into the Desert by Loretta Pehanich.
Following Jesus into the Desert
After my baptism, I returned daily to the river and watched. When John said, "Behold the Lamb of God," we applauded. Some danced. Some jumped into the water and splashed each other like children.
People were so busy celebrating that they didn't notice Jesus head toward the desert. I wondered why he left and followed.
He walked for an hour and then stopped. I stayed back, hesitant to disturb him. He stood still, eyes closed, and tilted his neck so the sun could fall fully on his face. The hands at his sides slowly rose. I became self-conscious. Was I intruding? I went home.
Days passed, and I wondered about Jesus. No one had seen him. More days passed, and I decided to return to the desert. I don't know what I hoped to find.
Somehow my wanderings led me to Jesus, who sat with his chest to his knees. He looked thin and tired. His lips were dry and cracked. I stayed back. Had he been praying all this time? I can barely sit through a synagogue service. What self-discipline this man had! And what was he thinking about as he sat there? Did he love solitude so much? Or was he waiting for an answer that was slow in coming?
I wanted to imitate him, so I started praying at a distance. I became aware of stiff limbs before I realized that much time had passed. As I gazed at a full moon, I felt famished. I wanted the comfort of my own bed. What was I doing out here? Why didn't I leave?
A thought occurred to me: "Yours is a useless life. What you do doesn't amount to anything. You don't amount to anything."
I chewed on this idea for a moment. As fear mounted, Jesus turned. He knew I was there. My mind raced. A voice inside accused me: "You don't belong here. Leave. You are interfering."
I wanted to run. But Jesus' eyes contradicted my inclination. I stayed. It was then that I noticed Jesus sweating profusely. Was he going through a battle of his own? His hands were clenched in prayer, and I followed his example.
"God, I belong to you," I prayed. "I want to follow your plan, but I don't know what that is. Show me."
The image of the ill neighbor I care for flitted across my mind. Then I remembered my mother, who lives with us. I do matter, and it's a temptation to think I don't.
"Give me courage," I prayed. "Give me patience and a kind word when I am exhausted."
I closed my eyes. Peace overtook me. The next thing I knew, sun was warming my cheek. I had fallen asleep in the desert. As I stretched my stiff muscles, I looked around. Where was Jesus?
I began wandering and looking for him. Why was I seeking him? I should be home. I should be… I caught myself in this thought.
"Be kind to yourself. Test your thoughts."
I heard a voice and turned to see Jesus. "We've had a lot to think about out here, haven't we?" Jesus smiled. "Let's head back. We know what we need to do now."
As we walked together, he talked about his own temptations. And he invited me to talk about mine. When we reached my house, he thanked me. He thanked me!
"I know you'll accompany me again," he said. "Not into the desert, but into your busy life of service. This is love, my friend."
He turned up the road, and I went into my house to receive a puzzled look and a reminder that the roof needed fixing. "And your mother has been calling for you."
► Read Lent Lived After the Ashes.
I attended Ash Wednesday services on my lunch break one year, heading back to work afterward. Throughout the afternoon, as coworkers came by with questions or pages needing proofing, they would catch sight of my forehead and inevitably remark, "Oh, you're Catholic!"
True, I had not broadcast my religious affiliation far and wide at work. It was more a matter of respect for others; in a diverse newsroom, where all are required—and proud—to provide an unbiased account of events, we tread carefully on topics that might strike raw nerves.
At the same time, I don't think the revelation of my Catholicism really shocked anyone, either. I didn't live in obvious opposition to my faith. But it made me think: What do I do to demonstrate my beliefs? Should others know by my actions that I have at heart an unending connection to this religion into which I was born?
Ash Wednesday, with its conspicuous mark of faith, is atypical for Catholics. As we read in Matthew 6:16-18, we are not to mope or moan while fasting. We are to wash our faces and trust that God will see our good works, even those done in silence. We are to carry our crosses with courage and grace.
And we all have crosses, some more heavy than others. It may seem that your neighbor has it easy: She's always chipper, or his yard is neat and his car clean. But no one escapes trouble or sorrow entirely in this life. It may simply be that they have washed the ashes from their faces and bear their crosses in silence.
So what can you do this Lent to demonstrate your love for God and your willingness to share in the cross his Son carried for us? You can take up the crosses you encounter daily, and you can do so with faith, hope, and love.
One way is through the traditional Lenten practices of increased prayer, fasting, and giving to those in need. These practices can take on many unique forms in the course of even a busy day.
Think of 40 small steps you might take this Lent as you walk with Jesus on the road to Calvary. Add your shoulder under the cross—his cross, your own, and others'. Even more, try to do so with the trust that God sees your efforts, and that, paradoxically, there is no greater satisfaction or reward.
Taking Up the Cross in These 40 Days
Social scientists say it takes 28 days to change a habit. Lent asks us to change more than a habit. We're invited to change our priorities and the focus of our lives. Maybe that's why Lent takes a full 40 days and happens every year.
There are other reasons that our Lenten journey lasts 40 days. Throughout the Bible, the number 40 holds special meaning, indicating a span of time when significant events took place. It rained on Noah and his ark for 40 days and 40 nights. Moses spent 40 days and nights with God on Mount Sinai. The Hebrew people spent 40 years wandering in the desert upon their deliverance from slavery to the Promised Land. Jonah gave the city of Nineveh 40 days in which to repent. And Jesus fasted in the wilderness for 40 days and 40 nights.
Our time of preparation in Lent is akin to Jesus' preparation for his work. We spend 40 days fasting, praying, and giving. "By the solemn 40 days of Lent the Church unites herself each year to the mystery of Jesus in the desert," the Catechism of the Catholic Church says. We are called to live as representatives of Jesus today—even when the ashes have been washed away, even when no one is looking.
Prayer
O Lord, help us to be open to your grace to recognize the ways in which you rescue and honor us in times of trouble.
March 10: Jesus Christ (Meant to Be) the Superstar
Numbers 10:1–36; John 17:1–26; Psalm 10:1–18
Andrew Lloyd Webber's musical, Jesus Christ Superstar, is certainly incorrect (and rather heretical) in its portrayal of history, but it got one thing right: Jesus is meant to be the celebrity. He—no one else—is the Savior, the Christ, the Lord.
And that's why the celebrity pastor movement is quite frightening. I don't say this as a cynic, and it's not that I'm primarily concerned with how these teachers are marketed (although that, too, can be scary at times); I'm worried about the way they're received.
Certainly there are people who can be trusted more than others, and popularity is by no means a measurement of trustworthiness. But automatically agreeing with everything a teacher says puts the disciple in a bad position with the God they worship. It also puts the teacher in a position similar to an idol. Teachers who truly follow Christ would never desire such glory for themselves.
In the Gospel of John, we see Jesus glorified by the Father. Jesus was obedient to the Father, even to death, which is why He alone is worthy of our worship. "I have glorified you on earth by completing the work that you have given me to do. And now, Father, you glorify me at your side with the glory that I had at your side before the world existed" (John 17:4–5).
True teachers of the gospel want commitment—not to themselves, but to Christ and His cause. Jesus prayed: "Righteous Father, although the world does not know you, yet I have known you, and these men have come to know that you sent me. And I made known to them your name, and will make it known, in order that the love with which you loved me may be in them, and I may be in them" (John 17:26).
In what parts of your life is God asking you to make a statement similar to Paul's? What teachers are you adoring too much?
JOHN D. BARRY

with Jesus:

 'Unless'
Note from Jesus
Dear Searcher,
There is only one message that you must hear today. This message is the one truth on which your eternal destiny pivots. So rather than give you many words in My note to you today, I want to challenge you with this one, unalterable truth:
Unless you believe I am Who I have said I am, your sins will lead to your death.
My beloved disciple John wrote his story of Me, the Gospel of John, to help you truly believe and find life in Me (John 20:30-31). While I welcome you here each day on our journey through the New Testament, I encourage you to take some time this week to read John's whole story of Me. Read it at one sitting to get the whole story and come to fresh faith in Me. Do this to find the life that cannot be taken from you even when death comes to claim you.
Verses to Live
Notice especially what I say in the underlined paragraph near the end of the Scripture below. Notice what I say about Who I am and what My relationship is with the Father. Over the next several weeks, you will journey with Me to My crucifixion. All will appear to be lost. I will appear to be abandoned. Even when I AM lifted up on the cross, all will not be lost, and I will not be abandoned. I will be giving My life to ransom your life from sin (
2 Corinthians 5:21
). I will be doing what the Father has willed to redeem you at His exorbitant cost. I want to win your heart fully and help you know convincingly how deeply We love you. The power of sin to hold you and have you is real, but the power of My cross breaks the power of sin if you choose to believe!
Jesus (to the crowds):

I am leaving this place, and you will look for Me and die in your sin. For where I am going, you are unable to come.

Jews:

Is He suicidal? He keeps saying, "Where I am going, you are unable to come."

Jesus:

You originate from the earth below, and I have come from the heavens above. You are from this world, and I am not. That's why I told you that you will die here as a result of your sins. Unless you believe I am Who I have said I am, your sins will lead to your death.

Jews:

Who exactly are You?

Jesus:

From the beginning of My mission, I have been telling you Who I am. I have so much to say about you, so many judgments to render; but if you hear one thing, hear that the One Who sent Me is true, and all the things I have heard from Him I speak into the world.

The people had not understood that Jesus was teaching about the Father.

Jesus:

Whenever the day comes and you lift up the Son of Man, then you will know that I am He. It will be clear then that I am not acting alone, but that I am speaking the things I have learned directly from the Father. The One Who sent Me is with Me; He has not abandoned Me because I always do what pleases Him.

As Jesus was speaking, many in the crowd believed in Him.
(John 8:21-30)
Response in Prayer
O Father, thank You for Jesus — for His great love, for His costly obedience to Your will, for His redeeming sacrifice. I believe in Your love, dear Father. I believe in Jesus as Your Son and the greatest demonstration of Your love. I trust Jesus as my Savior, and I offer my heart to Jesus as my Lord. In His name, I confess and pray. Amen.
Daily Wisdom:

 Proverbs 9:9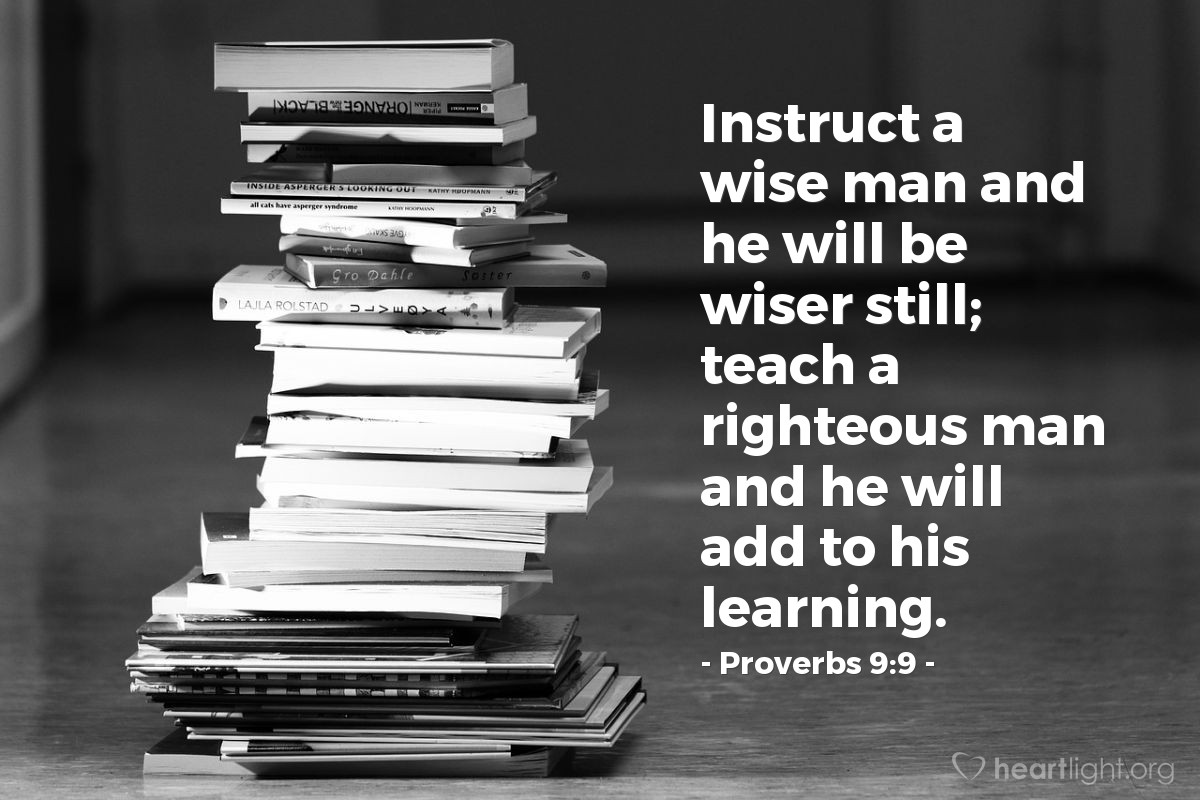 God Says We're Not Created Equal
Some Humor….