Daily Prayer for March 3
Then he said to them all: "Whoever wants to be my disciple must deny themselves and take up their cross daily and follow me. For whoever wants to save their life will lose it, but whoever loses their life for me will save it." Luke 9:23–24, NIV
Dear Father in heaven, you have sent us the Lord Jesus to bear our guilt and our misery. To this day we rejoice that he came, he who can free us from all evil. Teach us to understand the way of the Cross, the way Jesus went. Grant that we may always follow him, even if we also suffer and have a cross to bear. Then we can joyfully go the way he went to the glory of your name, O Father in heaven. We are your children whether we understand it or not. You protect and care for us, until your glory comes and everything is completed that was begun through Jesus Christ, the Savior of the world. Bless us in his Word, and help us to become his true followers. Amen.
He is the image of the invisible God, the firstborn over all creation. — Colossians 1:15
Thoughts on 
Today

's Verse….

If we had been alive when Jesus worked in the carpentry shop in Nazareth or walked along the Sea of Galilee near Capernaum, we could have said, "There goes God," and been right. The amazing reality of Jesus is that he was God among us. Matthew calls him Immanuel, "God with us." In Colossians 1, Paul pours out every superlative he can use to describe Jesus' preeminence over everything and everyone. He is God with a human face. He is the ruler, the transcendent one, who reigns above all creation. He is also our Savior and our sacrifice.
My Prayer…
Almighty God, why you should love us so much, I can't comprehend. We have rejected you, spurned you, ignored you, blasphemed you, and sought to place you on the periphery of our lives. Yet time and again, you are there to hear our cries and save us from ourselves. Forgive me, Father, for not reverencing you more. Forgive me for not recognizing the greatness of Jesus and the utter humility it took for him to sacrifice himself for me. But Father, thank you! Thank you for being patient, sacrificial, and long-suffering. Thank you, in Jesus' name. Amen.
Cruise Control
For I know the thoughts that I think toward you, says Yahweh, thoughts of peace, and not of evil, to give you hope in your latter end. You shall call on me, and you shall go and pray to me, and I will listen to you. You shall seek me, and find me, when you shall search for me with all your heart. Jeremiah 29:11 WEB
Have you ever gone into your prayer room thinking that you were right in step with the Lord, but came out in tears after seeing just how far off base you really were? I have, more than once. I call it Cruise Control.
When things begin to go smoothly in your life, everything is working like it should, your plans are coming together and your prayers have been answered, it becomes easy to grow complacent. To just drift and let the current carry you along. Of course you still pray, you still go through the motions, but your whole heart is not in it, and your mind is always somewhere else. As surely as you breathe, you eventually drift off course, as a car would drift off the road if you stop steering it. The sooner that you correct it, the better.
God is always welcoming us into His loving arms. He wants to be a part of our life and He is just a prayer away. So make some time for Him today. Ask the Lord to make what is important to Him, important to you. Intentionally seek out the Lord's presence as if you mean it. There is a great reward waiting for those that do. He promised that we would seek Him and find Him, when we search Him with all of our heart.
Prayer: Heavenly Father I seek You today. Please lead me into all that You have for me. Help me to see through Your eyes and make what is important to You, important to me. In the name of Jesus Christ I pray.
Bible Fun Fact: In ancient Israel, men sealed a deal by exchanging sandals (Ruth 4:7).
Søren Kierkegaard
Only a person of will can become a Christian; for only a person of will has a will that can be broken. But a person of will whose will is broken by God is a Christian. The stronger the natural will, the deeper the break can be and the better the Christian. This is what has been described by the expressive phrase: the new obedience. A Christian is a person of will who no longer wills his own will but with the passion of his crushed will – radically changed – wills another's will.
Source: Provocations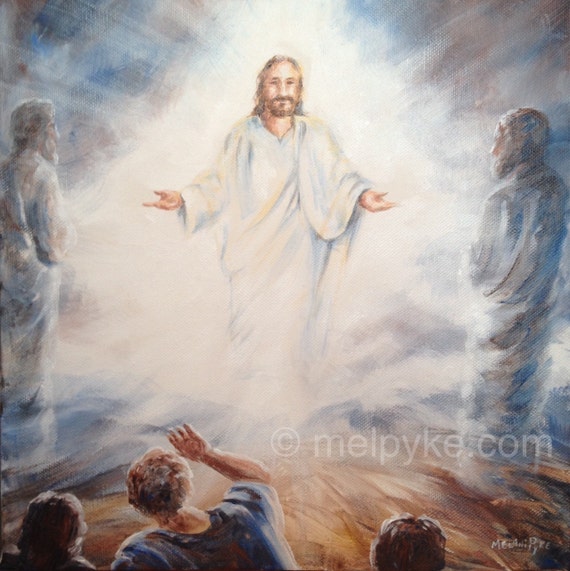 TRANSFIGURATION SUNDAY
Last Sunday After the Epiphany
YEAR C
Old Testament Exodus 34:29–35
Psalm Psalm 99
New Testament 2 Corinthians 3:12–4:2
Gospel Luke 9:28–36 (37–43)
Index of Readings
OLD TESTAMENT
Exodus 34:29–35
29 And it came to pass, when Moses came down from mount Sinai with the two tables of testimony in Moses' hand, when he came down from the mount, that Moses wist not that the skin of his face shone while he talked with him. 30 And when Aaron and all the children of Israel saw Moses, behold, the skin of his face shone; and they were afraid to come nigh him. 31 And Moses called unto them; and Aaron and all the rulers of the congregation returned unto him: and Moses talked with them. 32 And afterward all the children of Israel came nigh: and he gave them in commandment all that the LORD had spoken with him in mount Sinai. 33 And till Moses had done speaking with them, he put a vail on his face. 34 But when Moses went in before the LORD to speak with him, he took the vail off, until he came out. And he came out, and spake unto the children of Israel that which he was commanded. 35 And the children of Israel saw the face of Moses, that the skin of Moses' face shone: and Moses put the vail upon his face again, until he went in to speak with him.
PSALM
Psalm 99
Psalm 99
1 The LORD reigneth; let the people tremble:
He sitteth between the cherubims; let the earth be moved.
2 The LORD is great in Zion;
And he is high above all the people.
3 Let them praise thy great and terrible name;
For it is holy.
4 The king's strength also loveth judgment;
Thou dost establish equity,
Thou executest judgment and righteousness in Jacob.
5 Exalt ye the LORD our God,
And worship at his footstool;
For he is holy.
6 Moses and Aaron among his priests,
And Samuel among them that call upon his name;
They called upon the LORD, and he answered them.
7 He spake unto them in the cloudy pillar:
They kept his testimonies, and the ordinance that he gave them.
8 Thou answeredst them, O LORD our God:
Thou wast a God that forgavest them,
Though thou tookest vengeance of their inventions.
9 Exalt the LORD our God,
And worship at his holy hill;
For the LORD our God is holy.
NEW TESTAMENT
2 Corinthians 3:12–4:2
12 Seeing then that we have such hope, we use great plainness of speech: 13 And not as Moses, which put a vail over his face, that the children of Israel could not stedfastly look to the end of that which is abolished: 14 But their minds were blinded: for until this day remaineth the same vail untaken away in the reading of the old testament; which vail is done away in Christ. 15 But even unto this day, when Moses is read, the vail is upon their heart. 16 Nevertheless when it shall turn to the Lord, the vail shall be taken away. 17 Now the Lord is that Spirit: and where the Spirit of the Lord is, there is liberty. 18 But we all, with open face beholding as in a glass the glory of the Lord, are changed into the same image from glory to glory, even as by the Spirit of the Lord.
4 Therefore seeing we have this ministry, as we have received mercy, we faint not; 2 But have renounced the hidden things of dishonesty, not walking in craftiness, nor handling the word of God deceitfully; but by manifestation of the truth commending ourselves to every man's conscience in the sight of God.
GOSPEL
Luke 9:28–36 (37–43)
28 And it came to pass about an eight days after these sayings, he took Peter and John and James, and went up into a mountain to pray. 29 And as he prayed, the fashion of his countenance was altered, and his raiment was white and glistering. 30 And, behold, there talked with him two men, which were Moses and Elias: 31 Who appeared in glory, and spake of his decease which he should accomplish at Jerusalem. 32 But Peter and they that were with him were heavy with sleep: and when they were awake, they saw his glory, and the two men that stood with him. 33 And it came to pass, as they departed from him, Peter said unto Jesus, Master, it is good for us to be here: and let us make three tabernacles; one for thee, and one for Moses, and one for Elias: not knowing what he said. 34 While he thus spake, there came a cloud, and overshadowed them: and they feared as they entered into the cloud. 35 And there came a voice out of the cloud, saying, This is my beloved Son: hear him. 36 And when the voice was past, Jesus was found alone. And they kept it close, and told no man in those days any of those things which they had seen.
[
37 And it came to pass, that on the next day, when they were come down from the hill, much people met him. 38 And, behold, a man of the company cried out, saying, Master, I beseech thee, look upon my son: for he is mine only child. 39 And, lo, a spirit taketh him, and he suddenly crieth out; and it teareth him that he foameth again, and bruising him hardly departeth from him. 40 And I besought thy disciples to cast him out; and they could not. 41 And Jesus answering said, O faithless and perverse generation, how long shall I be with you, and suffer you? Bring thy son hither. 42 And as he was yet a coming, the devil threw him down, and tare him. And Jesus rebuked the unclean spirit, and healed the child, and delivered him again to his father.
43 And they were all amazed at the mighty power of God. But while they wondered every one at all things which Jesus did, he said unto his disciples,
]
March 3: It May Seem Bland
Numbers 3:1–39; John 12:1–19; Psalm 3–4
Let's just admit it: genealogies and lists, like the one in Num 3:1–39, are the most boring elements of the Bible. But they do something for us that other formats cannot—they give us a sense of history and lineage.
With a genealogy, we can do more than just trace people; we can map their relationships to others and to the events that happen through those relationships. We can also determine who was involved in those major events.
Genealogies and lists give us a small glimpse into God's providential work, even though we may not recognize them as such. God worked among the people in those lists. He chose to use them. They didn't deserve to be used by God in mighty ways, but they were. Some of the people in Num 3:1–39 were given seemingly insignificant tasks: "The responsibility of the sons of Merari was the supervision of the frames of the tabernacle, its bars, pillars, bases, and all its vessels and all its service," among other things (Num 3:36). If most of us were given this assignment, we would probably think it lame and ask for another. But the sons of Merari likely understood that anything God asks of us should be followed through with honor.
The people listed in Num 3:1–39 were likely selected because they believed they would see God's glory. God may ask us to do things that seem insignificant or crazy, but if we don't, we will miss out on seeing His glory.
What is God asking of you that seems insignificant or crazy?
JOHN D. BARRY

Jesus:

 'When Life Is Hard'
Note from Jesus
Dear Beloved,
There are times when life is very hard. Remember when I fed 5,000 people out of five loaves and two fish (Matthew 14:13-21)? The people were tired and hungry, the hour was late, and My disciples were not ready to handle the problem. So I want to remind you where I was emotionally before all of this started.
Herod had just killed My cousin and great forerunner, John the Baptist (Matthew 14:1-12). I felt both the personal loss of this great servant of God and also the burden of knowing that John's fate would soon be My own (Matthew 17:10-13). I was trying to get away to a quiet place and pray when the crowd found Me. Matthew sensitively describes My situation:
And so he [Herod] sent orders to the prison to have John beheaded, and there was his head, displayed on a platter, given first to Salome and then passed on to her mother.

John's disciples went to the prison, got John's body, and buried him. Then they went to tell Jesus.

When Jesus learned what had happened, He got on a boat and went away to spend some time in a private place. The crowds, of course, followed Jesus on foot from their cities. Though Jesus wanted solitude, when He saw the crowds, He had compassion on them, and He healed the sick and the lame.
(Matthew 14:10-14)
I share this because I want you to realize that I know about life being hard — about needing to grieve and regroup by being alone, yet not being allowed to have that time. So when your life caves in around you, please don't believe the lies of the enemy — that I don't care about your pain and that your pain doesn't matter to the Father. There will be times when you are tempted to feel that the devil's lie is true, but please remember the real truth. I know human anguish. I know it not just because I am God, but because I have been mortal, God Who is one of you. I know what it's like to face the storms of life and feel as if they are going to swallow you whole. That is why what happens next after feeding the 5,000 is so important for you to believe.
As I tried to be alone with the Father, I sent the disciples away. They left by boat, and soon they were overwhelmed by a storm. What I was facing emotionally, they were facing physically. So I went to be with them. In the middle of My raging emotional storm, I entered into their own battle with their storm.
While I was approaching them in the storm, Peter did what early Peter often did: he made a bit of a mess of things by presuming to do something the others would never dream of doing. But don't miss this truth: he did it! He walked on the water to Me until he became distracted by the storm. But in the roiling power of the storm, this seasoned fisherman — this man so familiar with survival in the sea and her storms — didn't try to save himself. Instead, Peter cried out to Me to save him and I rescued him.
So here's the deal. When you are going through your own storms, call out to Me. Welcome Me into the middle of your messes, trials, struggles, and storms. When you do, I will join you in them. You will never be alone (Hebrews 13:5-6). Even if My arrival seems to take forever, don't despair. I will come to you in the storm. You may not recognize My presence at first, but keep looking for me. I will be there. One way or another, I will get you to your true destination. You will find rest, hope, and peace for your soul.
Don't forget, I know what it's like to face the worst storms of life, and I will not abandon you to fight them alone.
Verses to Live
Please read this account of these important events in My life — taken from both Matthew's and John's records of these events. It is more than a story in the Bible; it may also be your story or the story of a friend. Remember, I won't abandon you in the storm. Look for Me when the storm seems most fierce, and you can't figure out how to go on — or even better, look for Me when you see the storm approaching and stay with Me.
Immediately [after feeding the 5,000] Jesus made the disciples get into the boat and go on to the other side of the sea while He dismissed the crowd. Then, after the crowd had gone, Jesus went up to a mountaintop alone (as He had intended from the start). As evening descended, He stood alone on the mountain, praying.

The boat was in the water, some distance from land, buffeted and pushed around by waves and wind. Deep in the night, when He had concluded His prayers, Jesus walked out on the water to His disciples in their boat.
(Matthew 14:22-25)

After rowing three or four miles through the stormy seas, they [the disciples] spotted Jesus approaching the boat walking mysteriously upon the deep waters that surrounded them. They panicked.

Jesus (to the disciples):

I AM the One. Don't be afraid.

Peter:

Lord, if it is really You, then command me to meet You on the water.

Jesus:

Indeed, come.

Peter stepped out of the boat onto the water and began walking toward Jesus. But when he remembered how strong the wind was, his courage caught in his throat and he began to sink.

Peter:

Master, save me!

Immediately Jesus reached for Peter and caught him.

Jesus:

O you of little faith. Why did you doubt and dance back and forth between following Me and heeding fear?

Then Jesus and Peter climbed in the boat together, and the wind became still.
(Matthew 14:28-32)

They welcomed Jesus aboard their small vessel; and when He stepped into the boat, the next thing they knew, they were ashore at their destination.
(John 6:21)

And the disciples worshiped Him.

Disciples:

Truly You are the Son of God.
Response in Prayer
O Father, give me courage in my storm to call out to Jesus. Give me courage in my weakness to find Jesus' strength in my storms so that I can welcome Him to me and can find peace, hope, and strength for my soul. In Jesus' name, I pray.