Daily Prayer for February 17
Sing to the Lord a new song, for he has done marvelous things; his right hand and his holy arm have worked salvation for him. The Lord has made his salvation known and revealed his righteousness to the nations. He has remembered his love and his faithfulness to Israel; all the ends of the earth have seen the salvation of our God. Psalm 98:1-3, NIV
Lord our God, we thank you from our hearts, from the bottom of our hearts, that you consider us worthy to work with you so that redemption may come to the world in Jesus Christ. Already today many are rejoicing in their Redeemer. They are full of hope and comfort because the end is approaching – that evening when your glory shall be revealed, when the whole world and all nations shall glorify you, O great God and Father in heaven. Come into our time, we pray. Help us, Lord our God. Day and night we look to you in the hope of beholding the time of your glory, in the hope of receiving the peace that is beyond all understanding and of finding redemption, the great redemption from heaven, through you, the God over all flesh. Amen.

Verse of the Day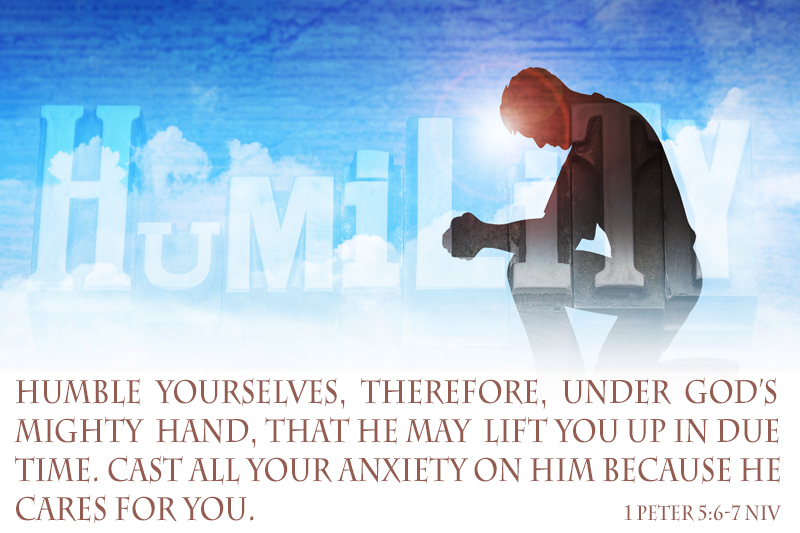 Thoughts on Today's Verse…
In a universe so incomparably vast, in a world so marvelously diverse, we can be paralyzed by our insignificance and impotence in the face of such staggering enormity. But in moments of simple faith, we can be calmed by our reverence and dependence on the Creator and Sustainer of such wonders and find great comfort that our lives are in his hands.
My Prayer…
Almighty and wondrous God, thank you for knowing me even though I can't begin to comprehend your glory. I need your love, care, protection, blessing, grace, forgiveness, and presence. Without you, I have nothing of lasting significance. Please be near. In Jesus' name I humbly ask. Amen.
Christoph Friedrich Blumhardt
To feel close to God is a great comfort. It is depressing to feel alone and forsaken, to think that we have been left to our own resources and must rely on our own strength. I would not want to live a single day without being able to feel that God's angels are around me, and around the whole world. I cannot live one day without believing that we are never alone.
Source: Now Is Eternity
I had an encounter with the Lord recently while pressing in through 40 days of new access for the year 2019. I had been using this time of consecration to gain a fresh prophetic perspective for the New Year, when I was pulled out of a dream through the stirring of the Spirit to see Jesus coming as one on the clouds with His magnificent power and gory. When my eyes first beheld the sight of our Savior appearing in all His splendor, I was overwhelmed with His love and the brilliance of His presence. Almost spontaneously, as His radiant smile stretched across the light of His countenance, I cried out, "Lord, is that you? How will we know you?"
He replied, 'Holly, time is short.' He then took me on a journey of understanding His heart for true restoration and redemption. And then He showed me how 2019 was a year of the comeback.
"Then they will see the Son of Man coming in clouds with great power and glory. Then He will send His angels and gather His elect from the four winds, from the farthest part of the earth to the farthest part of heaven" (Mark 13:26-27).
"Look, I am coming soon" (Rev. 22:7).
Get Spirit-filled content delivered right to your inbox! Click here to subscribe to our newsletter.
I share spiritual encounters with a reverential fear of the Lord. I understand the obedience of waiting on the Lord in prayer. I respectfully adhere to the accountability and the weighty responsibility for those entrusted with prophetic revelation at this hour. The Bible promises us a greater outpouring of the Spirit for the sons and daughters of God during the end times. Dreams, visions, supernatural visitations and the nine gifts of the Spirit are coming into full operation in the church at this hour. We are in the days where the fivefold office gifts are joining together in unity to function with an Ephesians 4 mandate like never before.
However, a clear exhortation is given to us in Jeremiah 23 about prophets prophesying visions of their own heart (Jer. 23:16-18). Scripture warns us of false prophets and the appearance of lying signs and wonders being evident in the last days. God also made it a priority to answer Job out of the whirlwind by asking him an important question. "Who is this who darkens counsel by words without knowledge?" (Job 38:2)? We must test all spiritual encounters to discern if they're from God or if their sourced from vain imaginations or demonic influences (Heb. 5:14). When the pure Word of the Lord is released through the mouth of a prophet of God; the Word of God does not return to Him void (Isa. 55:11).
"'In the last days it shall be,' says God, 'that I will pour out My Spirit on all flesh; your sons and your daughters shall prophesy, your young men shall see visions, and your old men shall dream dreams. Even on My menservants and maidservants I will pour out My Spirit in those days; and they shall prophesy. And I will show wonders in heaven above and signs on the earth below: blood, and fire, and vapor of smoke. The sun shall be turned into darkness, and the moon into blood, before that great and glorious day of the Lord comes" (Acts 2:17-20).
Set Your House in Order
In 2 Kings 20, Hezekiah was sick and near death when the Lord sent a message through the prophet Isaiah to tell Hezekiah to set his house in order, for he would surely die and not live. Hezekiah's response to his fateful news humbled him into a posture of intercession as he petitioned God to remember his just and contrite heart. Scripture says Hezekiah turned his face toward the wall (between the altar) and prayed to God for restoration and deliverance from his untimely death. Because Hezekiah wept at the altar of the Lord through humility and obedience, God saved Hezekiah's life and added 15 years to his lifespan.
The phrase "set your house in order" has been ringing in my heart since the beginning of the Hebrew New Year 5779. To set our house in order has a two-fold meaning. We are temples (houses) for the Holy Spirit to dwell in. Our churches, ministries, families, relationships, occupations and so forth are the houses the Lord has entrusted us with while serving as kingdom ambassadors on behalf of the body of Christ. Setting our house in order requires a time of repentance and a renewing of our heart, spirit, soul and body as we reconcile with our first love Jesus Christ as our kinsman Redeemer (Ruth 3:9, Job 19:25).
Setting our house in order is also a phrase where our affairs are set into new alignment per the will of the Father and His direction for our lives. A time of reorganization, reordering and restructuring accompanies setting our houses in order to prepare for new assignments, increase and promotion through the leading of Holy Spirit. A shedding of old ways while allowing room for a new wineskin creates an atmosphere of order for Holy Spirit to awaken a sleeping giant from her slumber. Where the church is compromising her ways through worldly influence and flesh- based performance; God is calling His bride to set our house in order by cleansing herself from all ungodliness!
The Spirit of the Lord is brooding over the earth searching for a place to revisit in all His power and glory. A greater outpouring of the Spirit of God is about to erupt like never before as churches across the land posture themselves through hunger, repentance and prayer. Jesus is seeking for a pure bride to come back to. He is calling us to a lifestyle of holiness, consecration and devotion. The earth is ripe to pull in an end-time harvest of new souls. Now is the time for redemption to sweep across the land and to set your house in order!
In those days Hezekiah became mortally ill. And Isaiah the prophet the son of Amoz came to him and said to him,
In those days Hezekiah became ill and was near death. The prophet Isaiah son of Amoz came to him, and said to him, "Thus says the Lord: Set your house in order, for you shall die and not live."

Then he turned his face toward the wall and prayed to the Lord, saying, "Please, O Lord, remember how I have walked before You faithfully and with an undivided heart and have done what is good in Your sight." And Hezekiah wept bitterly.

Now before Isaiah had come out of the middle courtyard, the word of the Lord came to him, saying, "Turn back and say to Hezekiah the leader of My people: Thus says the Lord, the God of David your father: I have heard your prayer; I have seen your tears. I will heal you. On the third day you shall go up to the house of the Lord (2 Kings 20:1-5).
"I will give them a heart to know Me, that I am the Lord; and they will be My people, and I will be their God, for they will return to Me with their whole heart" (Jer. 24:7).
A Year of the Comeback
Upon hearing the Lord say 2019 was a year of the comeback, the story of Lazarus in John 11 was quickened in my spirit. The resurrection power of the Holy Spirit swept through the tomb of Lazarus and provided us with one of the greatest comeback stories in biblical history. When Jesus cried out in a loud voice and called Lazarus to come forth from his grave, His mission was to demonstrate the glory of God upon the earth realm (John 11:40). Those who witnessed this miraculous move of God through the power of His Spirit, experienced a trajectory move towards their destiny in the blink of an eye. Where unbelief, doubt and a lack of faith invaded the hearts of those in attendance; resurrection life breathed new life into a spirit of sleep and slumber. The name "Lazarus" in Strong's dictionary means "whom God helps." This gives us a prophetic picture of the love of God for His church, and how the heart of the Father is to restore the church back to her intended purpose.
God chose an outcry, the appearance of His Son, and a kairos moment, to demonstrate the effects of heaven invading earth through a move of His divine order. What seemed delayed in the eyes of man through their dullness of understanding, was delivered through Jesus by His timely appearance and coming. God chose the hour and time to awaken Lazarus from His slumber (John 11:39). The Spirit of God moved, Lazarus came forth; and the rest of the story was recorded, in the books of biblical history.
The church is positioned for a comeback in 2019! As our cry reaches heaven's ears for a new move of power and glory, the spiritual realm is responding to the sound of the earths groaning. Hunger is a key component to a new move of the Holy Spirit. Jesus is looking for those whose hearts are fixed on Him through intimacy and unrelenting obedience! The Spirit of God says, "The time is short. Won't you adhere to My coming?"
"Did I not tell you that if you believed, you would see the glory of God?" (John 11:40).
"When He had said this, He cried out with a loud voice, 'Lazarus, come out!' He who was dead came out, his hands and feet wrapped with grave clothes, and his face wrapped with a cloth.
Jesus said to them, 'Unbind him, and let him go'" (John 11:43-44). 
Holly Watson is a prophetic voice with a passion to release the heart of the Father in a pure and uncompromising way. Her mandate is to awaken the bride of Christ to Her end-time identity while stirring this generation to step into her God-ordained purpose and calling. The Call upon Holly's life was awakened through being miraculously healed from a spirit of infirmity. KRGO, Ministries was birthed through a passion to raise up sons and daughters of God who embrace their true identity and calling in Christ. Holly and her husband, Frank, serve and minister throughout the body of Christ in the Southern California area and the surrounding regions. Visit krgo.org.
Last October, God spoke to me that in the month of February, He was going to swing wide the doors of opportunity. He specifically wanted His people to pass through January and the process of consecration and purification. I have been anticipating what is going to happen. I am already hearing reports that indeed doors are flinging wide everywhere! People are saying God is moving so much, and so many amazing things are happening.
In Joshua 3:5b, Joshua told the people, "Consecrate yourselves, for tomorrow the Lord will perform wondrous deeds among you."
Many have been faithful, and God is going to do amazing things. However, I do believe there is something to consider as we embark on the opportunities He is bringing in February: We must be aware to put Him first. Him first.
God does not want us to worship the idols of advancement, financial increase or amazing opportunities that are coming as a result of Him choosing to open the doors of heaven and pour out a blessing upon us.
Get Spirit-filled content delivered right to your inbox! Click here to subscribe to our newsletter.
One of the ways we can curtail our flesh in the midst of God's many blessings is not to forget Him in the area of giving ourselves over to Him. Often God will bless us. but then we make idols out of the blessing and forget all about Him. We must stay in a place of repentance and purity of heart. We must not become workaholics trying to steward all He has given us or ruminate so much on the blessing that we fail to take time to spend with Him. One of the ways we can prevent this is to do as Deuteronomy 8:16-20 says:
[God] fed you in the wilderness with manna, which your fathers did not know, that He might humble you and that He might prove you, to do good for you in the end. Otherwise, you may say in your heart, "My power and the might of my hand have gained me this wealth." But you must remember the Lord your God, for it is He who gives you the ability to get wealth, so that He may establish His covenant which He swore to your fathers, as it is today.

If you ever forget the Lord your God and go after other gods and serve them and worship them, then I testify against you today that you will surely perish. Just like the nations which the Lord will destroy before you, so shall you perish because you would not be obedient to the voice of the Lord your God.
The word "remember" in this passage is the Hebrew word zakar; it means "to mark, remember or be recognized."
If we want to keep our flesh in control during a blessing, we must learn to zakar the Lord or mark by bringing Him a firstfruit offering. This principle is often missed by people, but not by those who have tasted success and seen how it messes with the focus of the mind. It is easy to get caught up in the doing of life, work, family and ministry and all the fast-paced excitement of being used by God to expand the kingdom of God. But underneath every minister's heart—and we are all ministers of the gospel as we are called ambassadors of reconciliation (see 2 Cor. 5:20)—there should be a desire to run away with the King and not be bothered, but just to sit in His presence and soak in His beauty.
If this is not the true desire of our hearts, something may be wrong. I speak from my own chastisements from the Lord. When things begin to move rapidly for me, I must bring myself and my finances as an offering to keep my own heart in check. This is why the first of the year is so important is that it reveals where we get off- track, and we begin to serve what He has given us instead of bringing Him the offering He really wants, and that is our hearts.
This was the lesson He was teaching the Israelites in the desert. It was as though He said (and I paraphrase), "I can give you everything, but I want you to want Me first, and I know the heart of man is deceitful and prideful, and if it is not trained to be aware of its pitfalls, it will walk away from what is best, which is Me, God, to go after all the other things."
One of the ways I personally keep my heart straight is to remember I cannot operate in the ministry without doing it in the overflow. I need to be so connected to Him that who He is overflows into my entire soul. That is only accomplished through first honoring Him with my substance.
What is substance? In the Hebrew, it means "wealth," but it is a word that means "all of you," as in "enough." It comes from a root word which means ability, power, wealth, force, goods, might and strength.
Proverbs 3:9 tells us, "Honor the Lord with your substance, and with the first fruits of all your increase; so your barns will be filled with plenty, and your presses will burst out with new wine."
We as His people are called to honor Him. This word "honor" comes from the Hebrew "to glorify or make weighty." Why does He ask this? So that we will put Him first from the totality of our being, as in all of our time, talent, treasure and testimony. In doing this, we will mark Him first in our actions. He then asks us to even bless Him with the firstfruits of all the increase He brings us, just so we won't get focused on it. If we do this, He says we will operate in fullness in our spirit, soul and body, and we will break forth in new wine or new opportunities.
He is training us for reigning with Him, and it is not about looking to the outward but the inward first to give us all we need as we rest in Him and who He is. This will keep any person in a state of humility when they realize they must rely on God for everything, even when they fall into the riches of heaven. We will always need to be focused on Him, and even more so in our successes or victories.
He has developed the system so the more He blesses us, the more we find we need Him. And if we choose to connect ourselves more to the blessing, He will discipline us and bring us back to what is important, which is Him and Him alone.
Yes, the doors of opportunity are swinging wide open in February, but take heed, as this only means God is calling you to more of Him and even less of the opportunity He is blessing you with. Learn to steward the blessing well and remember Him with a firstfruit of yourself and all He has given you. This is surely the true way to bring Him honor and thanksgiving, and also to remain humble in this season of blessing. 
Dr. Candice Smithyman is the founder of Dream Mentors International, a biblical life counseling and coaching educational organization that teaches and trains educators and coaches in the specialty of life coaching. She is also founder of the Glory Road TV show, where she hosts weekly interviews that are seen on internet TV, Faith USA, Facebook and her YouTube channel. She is also the host of the Spirit Fuel TV show at spiritfuel.tv or spiritfuel.me. Her ministry website is available at candicesmithyman.com and dreammentors.org,where people can grow prophetically and receive biblical and transformational life coaching for every area of their life. She is also co-founder of Freedom Destiny Church in Orange Park, Florida.
(1)
The Pig Pen
I will get up and go to my father, and will tell him, 'Father, I have sinned against heaven, and in your sight. I am no more worthy to be called your son. Make me as one of your hired servants.' He arose, and came to his father. But while he was still far off, his father saw him, and was moved with compassion, and ran, and fell on his neck, and kissed him. Luke 15:18 WEB
The younger son in the story that Jesus told here, had really messed up his life and ran through all of his inheritance in wild living and prostitutes. When his money was all was gone, a famine set in and those who may have helped him, were no longer able to.
When he was starving, he got a job feeding pigs, which would have been repulsive to a Jew. Pigs (swine) were considered unclean under mosaic law. After growing up on a farm, I can confirm that. There is nothing quite like the smell of a hog pen, and they love to wallow in the mud.
While starving and living in a disgusting place, he came to his senses. Hardship has an amazing way of bringing us back to reality. He remembered that His father's hired servants had food to spare and he decided to humble himself and go back home. While he lived with his father, he lived in royalty. When he lived on his own, he lived in utter poverty.
The son put together a repentance speech: 'Father, I have sinned against heaven, and in your sight. I am no more worthy to be called your son. Make me as one of your hired servants' (Luke 15:18). Then he humbly went to meet his father, broke, barefoot, and hungry.
His father saw him coming up the road, was moved with compassion, and ran to his son, hugging and kissing him. While the son was still trying to explain how sorry and unworthy that he was, the father was already commanding the others to bring the best robe and put it on him, a ring on his finger, and shoes on his feet. He threw a great feast and celebrated having his son back home safe and sound. The father was very happy to have his son back with him.
Sometimes we stumble and feel like we are no longer worthy to talk to God. We feel that we have let Him down, once again. Then the enemy climbs on our back and rides us around like a pony, telling us how sorry that we are, and often he is right. We did it and there is no one to blame but us. We knew that it was wrong, but did it anyway.
Yet no matter what we have done in the past, we can humbly turn back to God and He will begin to restore us. He is not mad, but so happy to see us walking on His road. Too often we go about with our head down, having no idea who we really are in Christ, or how much we mean to Him. We are bound by our past and living exactly as the enemy wants us, broken and defeated, when it could be corrected in seconds.
If you ever find yourself broken, hungry, living in a disgusting place and it was completely your fault, remember that God's door is still open, and that He wants you back with Him. He promises us that He who believes in Jesus will never be put to shame. So shake that defeated mentality off and lift your head for you are a Child of the King, and you are always welcome in God's house.
Prayer: Heavenly Father I thank You for accepting me just as I am. Please restore me Lord and help me find my proper place in the body. Help me to know who I am in You. Restore my identity as Your child and lead me from this day forth, in the name of Jesus Christ I pray.
Bible Fun Fact: Moses was just over three months old when Pharaoh's daughter found him in a basket (Acts 7:20-21).
(2)
Circling The Mountain
Then we turned, and took our journey into the wilderness by the way to the Red Sea, as Yahweh spoke to me; and we encircled Mount Seir many days. Yahweh spoke to me, saying, 'You have encircled this mountain long enough. Turn northward.' Deuteronomy 2:1-3 WEB
The Israelites wandered forty years in the wilderness while God worked out some differences with them. Twice while they were circling a mountain, there came a point when it was time for them to move on.
God told them in Deuteronomy 1:6, 'You have lived long enough at this mountain. Turn and take your journey.' Again in Deuteronomy 2:1, 'You have encircled this mountain long enough. Turn northward.'
Many times we will huddle around a mountain in our life, circling it. We cannot move on because of __________. It affects everything that we do, and we cry out for God to help, but you cannot steer a parked car. It needs to be moving.
We meet people all the time that are trapped in a bad situation because they cannot let go of something. They are like a fish that is holding on to the hook with their lips and will not let it go. Eventually there comes a time when they get tired of circling that same mountain again and again while just growing older, and they make the change. It is just such a struggle to let it go.
If you want to see something different in your life, do something different. If you have been trying to make a peach cobbler for years, but it always comes out as apple, it is time to try a new recipe. Insanity is doing the same thing over and over again, but expecting different results. It may be time to stop circling this mountain.
Give God something to work with today. Leave the mountain behind you and do what you have been putting off. Turn and take your journey.
Prayer: Heavenly Father please give me a clear vision on how to change my life for the better. Help me overcome the obstacles that are holding me back. Set me free from this endless loop and help me break out, and break through, in the name of Jesus Christ I pray.
Bible Fun Fact: Anna was an 84-year-old prophetess who praised God for the baby Jesus at the Temple (Luke 2:36-38).

with Jesus:

 'Let the Light Shine!'
Note from Jesus
Dear Disciple,
While I was in the world, I was the "Light of the world" (John 9:5). I AM still the Light of the world (John 1:4-5; John 8:12), but now I am sending you to be My representative. You are to share the light you have received from Me and shine that light to all the world so everyone can see your good deeds and know that they come from your love for and loyalty to the Father.
You have probably known the message of the verses below for many years. So I want to challenge you to do more than just remember the words: I want you to demonstrate you believe them by putting them into practice in the places and with the people your life touches. The world is a dark place. Despite the shallow smiles you see around you, most people you meet each day need a touch of light — kindness and grace that you can give them in the Father's name.
Verses to Live
When you turn on the light each morning, let it be a reminder that others need the grace of God's light in their lives. Ask the Holy Spirit to open your heart to see the opportunities to bless others. Show the grace of the Father, live the values of Our kingdom, and help others find their way home to the Father through the light you shine on their paths. Let the light shine!
Jesus:

You, beloved, are the salt of the earth. But if salt becomes bland and loses its saltiness, can anything make it salty again? No. It is useless. It is tossed out, thrown away, or trampled.

And you, beloved, are the light of the world. A city built on a hilltop cannot be hidden.

Similarly it would be silly to light a lamp and then hide it under a bowl. When someone lights a lamp, she puts it on a table or a desk or a chair, and the light illumines the entire house. You are like that illuminating light. Let your light shine everywhere you go, that you may illumine creation, so men and women everywhere may see your good actions, may see creation at its fullest, may see your devotion to Me, and may turn and praise your Father in heaven because of it.
Response in Prayer
O Father, I promise to be open to the leading and nudging of the Holy Spirit as I shine your light to bless others. Give me graceful wisdom to know those who need Your light. Father, I do this, not for my glory or reputation or acceptance, but so that others can find their way to You. So please, use my light to Your glory! In Jesus' name, I pray. Amen.
Passion for Praise:

 'How Glorious is Our God'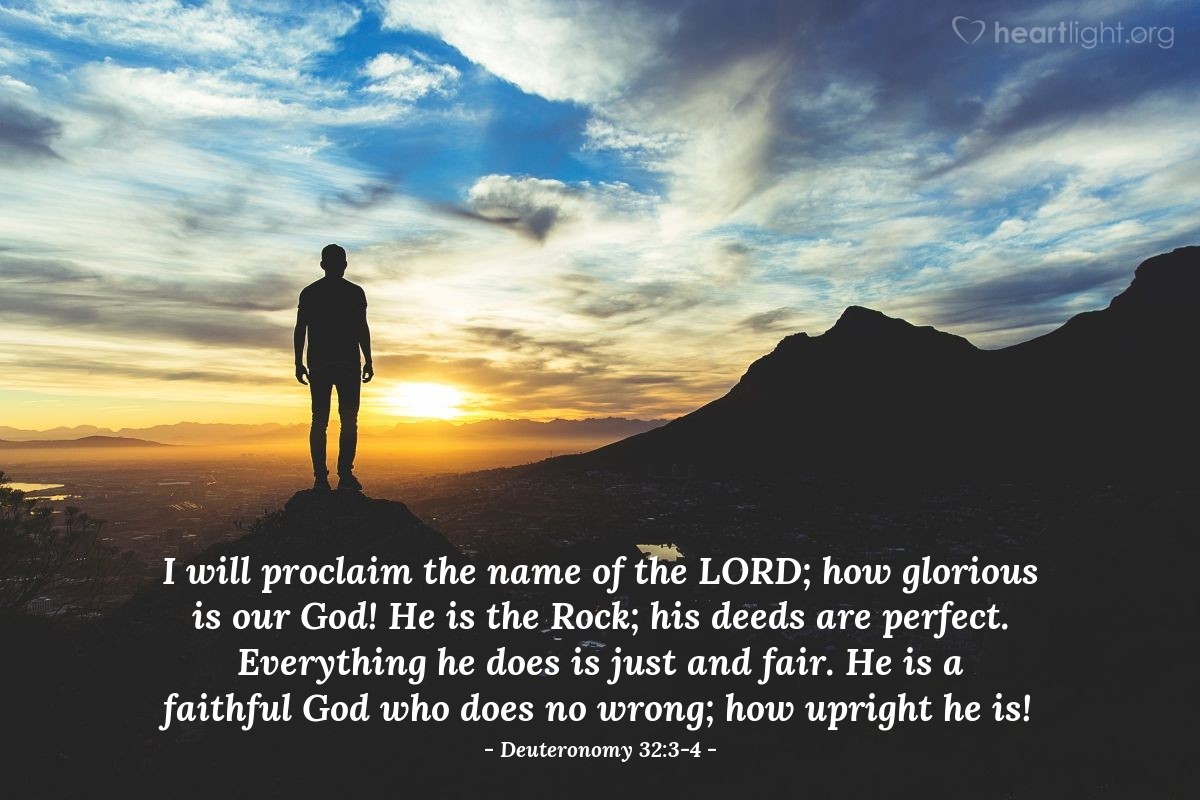 There are points in a spiritual battle when it looks as though the enemy has had the final word. It looks like you will not make it. He's laughing at you. People you thought were friends and loved ones are laughing too. Coworkers and neighbors are saying, "I thought you were saved. I thought you went to church. I thought you went to that prophetic church. I thought you prophesy. How can I be doing better than you?" They're smoking hundred-dollar Cuban cigars, and you're trying to scrape together enough money for bus fare. Tell them, "Don't worry. Hold on. It's not over yet. You go ahead and talk, laugh and think you have it made. Just wait, because I know God is about to do something in my life."
People may think your holy living is a waste of time. They may question where your God is. But what they don't know—and you may not readily discern it either—is that you as a covenant believer will only be drawn in closer to God as a result of their mocking and torment. What they don't understand—and you may be coming into this revelation right now—is that they are driving you to pursue even harder all that God has for you. Torment and oppression and your all-out hunger for the power of God to manifest in your life will drive you to a place of weeping, crying and desperation. We see this with Hannah (see 1 Sam. 1:1-20).
It wouldn't seem to make sense from a natural perspective, but sometimes your lowest place is your best place. When it looks as if nobody cares, nobody tries to help you, nobody looks out for you, and it's just you and God, that is sometimes one of the best places to be. When everything and everyone is out of the picture and it is just you and God, this is the place where He can give you your Samuel. This is the moment when He can release to you not just a son but a Samuel. Your prayers will be heard, and the answer you receive will be of such supernatural proportions that it will exceed your every imagination. You will get to the point where you surrender and say, "Now to Him who is able to do exceedingly abundantly beyond all that we ask or imagine" (Eph. 3:20a).
God is saying, "You are praying for one thing that is within your level of understanding, but I'm about to release something greater in your life, something prophetic that will not only affect you now but will go out and affect your generation and those to come."
Get Spirit-filled content delivered right to your inbox! Click here to subscribe to our newsletter.
God allows some of the hardship we face to drive up the intensity of our pursuit, the intensity of our prayers and the level of our faith and expectancy. God raises these levels because He wants to bring something out of us we never dreamed possible. Depending on people to be there for us when only God can make the difference will never work. There are some things man cannot do for us, and coming to this realization teaches us how to trust God. It teaches us how to draw near to Him.
This is the place of desperation I believe Hannah had come to, the place where her prayers no longer had words, the place where she was willing to do anything to receive what she needed from God. It is important that we dig deep into her process and examine the place of desperation she had come to and what was released into her life. Sometimes we just want answers to our problems or relief from our low place, but we don't want to go through what it takes to build the spiritual strength and maturity necessary to carry and then steward what we've prayed for.
This woman had no children, and she wanted a child more than anything. She kept praying and praying, and nothing changed. And this other woman kept mocking and mocking, and nothing changed. Hannah was shamed and ashamed. She felt hopeless, and then she became desperate. I believe this is when desperation becomes your friend.
No one likes to be desperate, but it seems as if God looks upon desperate people. The woman in Luke 8:43-48 with an issue of blood was desperate. She was bleeding, which according to Jewish law meant that she was unclean. Year after year, she had dealt with shame and rejection because of her condition. She was labeled and shunned by the community. She had no business being in a crowd, but she was so desperate after 12 years of hemorrhaging that she pressed through the crowd, touched the hem of Jesus' garment and was healed. Because of the low place she had been reduced to, she developed a strong desire to remain in that place no longer. She got desperate and made a move that placed her at the feet of Jesus.
The woman's desperation forced her out of hiding, and she was met with compassion and healing. She was released back into life with the peace of God imparted to her. No more wrestling with the rejection of unanswered prayer. No more shames. No more labeling. No more mocking. With her healing came more than she imagined.
Don't let people who don't know your story stop you from going after what you know God has promised. Imagine if Hannah would have listened to Peninnah and just given up, thinking it wasn't the will of God for her to have a child. What if she thought that was just the way things had to be, her waking up each day to affliction and mocking?
But God sees and hears, and when you call upon His name in your desperation, He will not turn away from you. He will not try to divert your attention to something else. He will not say that you have gone overboard or that you are overreacting. God will honor His promise to you.