Daily Prayer for 

February 3


————————————————————
Christoph Friedrich Blumhardt
So in Christ Jesus you are all children of God through faith, for all of you who were baptized into Christ have clothed yourselves with Christ. Galatians 3:26-27, NIV
Dear Father in heaven, we may come to you, for you have counted us as your children. Our hearts long to come to you, our God and Savior. May your Word bless us and restore us. Give us courageous hearts to bear the distress of our times. Let a light arise in our days so that people care about your will. Then the need on earth shall come to an end, your name shall be honored, and your will be done. Lord God, you alone are our help. Be merciful to us. Stretch out your hand so that all people may turn to you and to your commandments, and your will may be done on earth. Amen.
Verse of the Day—
Christoph Friedrich Blumhardt
If you rely on God's love, you will find yourself, so to speak, on a mountain. The higher up you go, the greater will be the horizon of your love. As you go up the mountain of the Lord, you will be astonished – the higher you go, the further your love will reach. Continue going up until you can love all people, as God loves the world.
Source: The Gospel of God's Reign
Fear will always be the opposite of faith. Unbelief will always be the opposite of believing. When the Lord has spoken to you, hang onto it and do not listen to the negative voices. Read today's message for a word that will stir your faith!
Do Not Be Afraid
While he still spoke, one from the ruler of the synagogue's house came, saying to him, 'Your daughter is dead. Don't trouble the Teacher.' But Jesus hearing it, answered him, 'Don't be afraid. Only believe, and she will be healed.' Luke 8:49 WEB
Jairus had a twelve-year-old daughter that was deathly sick and could not get out of bed. He came to Jesus, fell down at His feet, and begged Him to come and heal her. Jesus went with him, but while on the way, someone met them on the road and told them: 'Your daughter is dead.'
Jesus told him: 'Don't be afraid. Only believe, and she will be healed.' A short time later, his daughter was well. This had to be a very difficult test for Jairus, but afterwards he had a testimony and I am sure that it contained these words: 'Don't be afraid, just believe, and it will be well.'
There will always be those that will tell you things that are contrary to what God has told you. Fear will always be the opposite of faith. Unbelief will always be the opposite of believing. When the Lord has spoken to you, hang onto it and do not listen to the negative voices. Don't be afraid, just believe, and it will be well.
No matter what circumstance you face today, these words still hold eternal power that you can claim for your very own. Do not give into fear. Believe the word of God, and it will be well for you.
Prayer: Heavenly Father please help me to stand on Your word and grow my trust in You. Forgive me of my fears and my lack of trust in the past and show Yourself strong in my life. Speak to me in a way that I understand and send the Comforter to me today, in the name of Jesus Christ I pray.
Bible Fun Fact: The shortest chapter in the Bible is Psalm 117.

Daily Wisdom: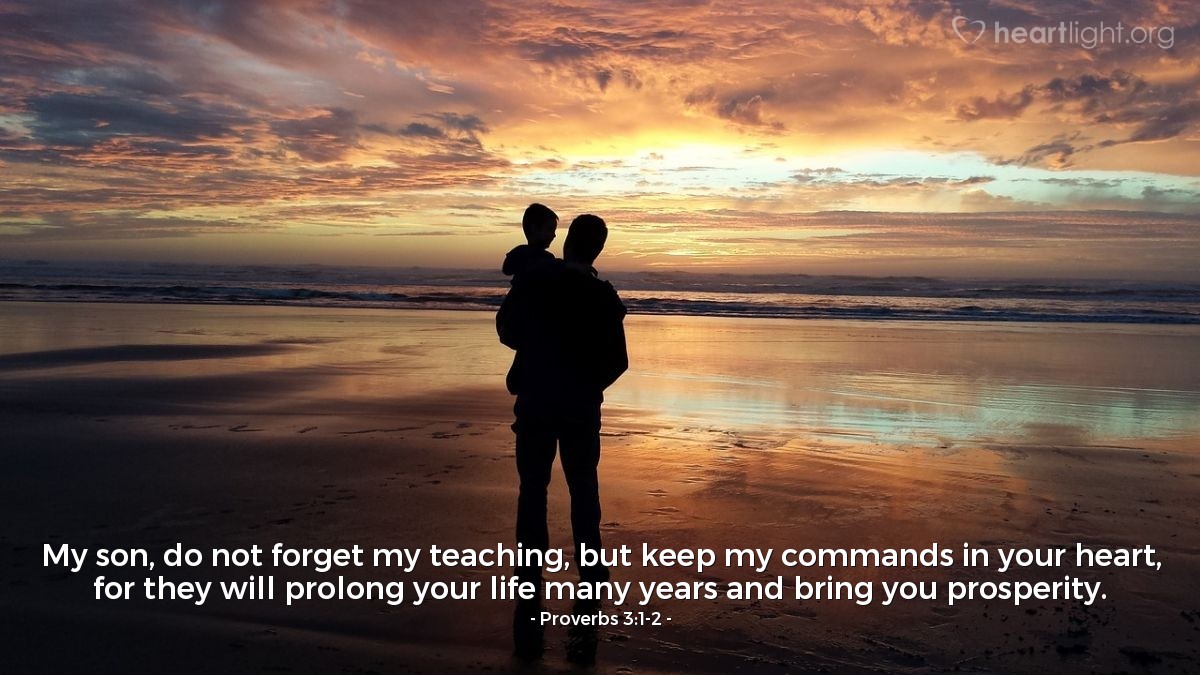 Passion for Praise:

 'With All My Heart'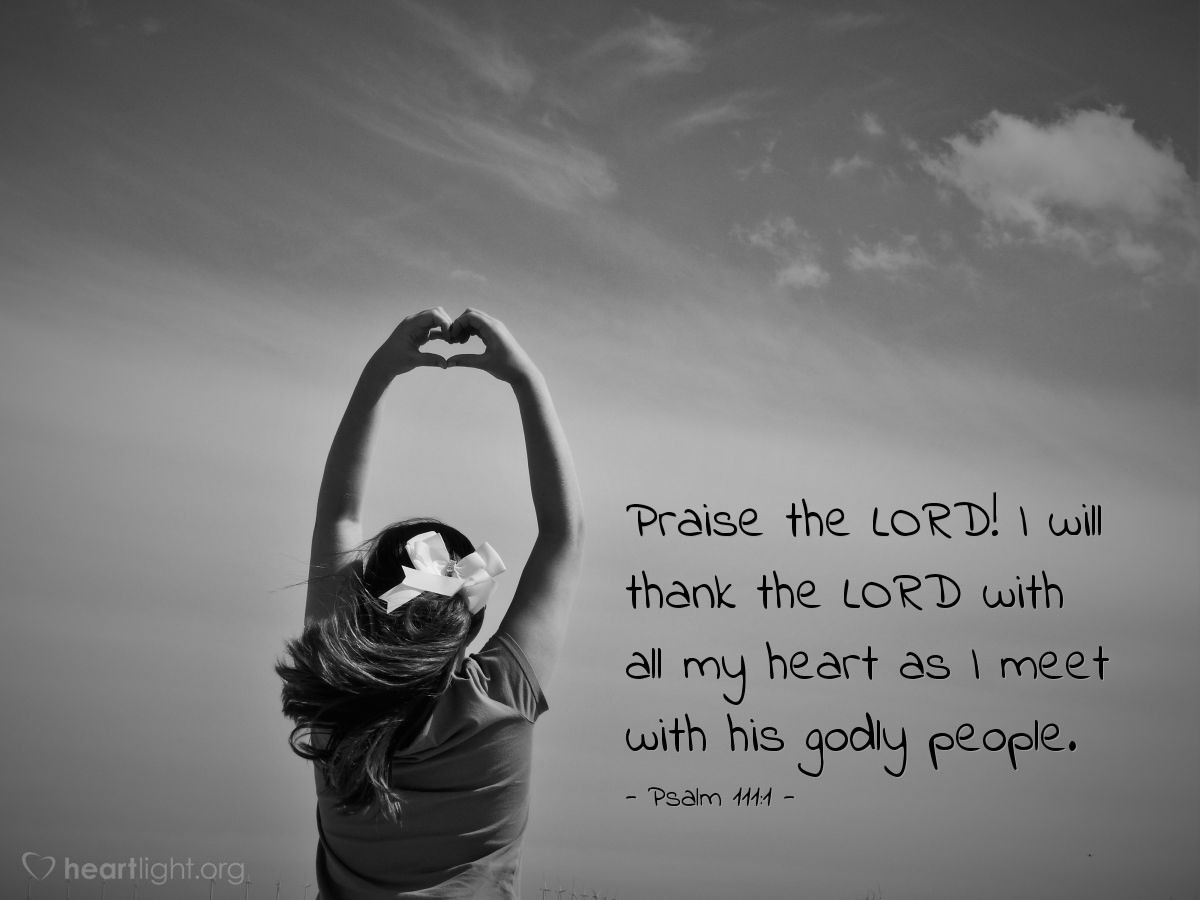 Spiritual Warfare:

 'God's Word Is a Weapon Against Evil'

God's Power for Our Battles

So then, take your stand! Fasten truth around your waist like a belt. Put on God's approval as your breastplate. … Also take salvation as your helmet and God's word as the sword that the Spirit supplies.
Today's Prayer
Lord, remind me of Your truth the instant I need it. Help me to make a habit of being in Your truth on a regular basis, so its principles become like second nature to me. And help me to act righteously in everything I do, so I can bring You great glory. Satan and his forces are out to get me. Enlarge my faith so that Your protection is big enough to cover me completely. Let it be wide enough and thick enough for me to win my battles for Your kingdom. In Jesus' Name, Amen.
'The Greatest Treasure'
Note from Jesus
Dear Beloved of the Father,
You are a child of God; so I want to open your heart to hear two incredible truths found below in two simple stories that I told long ago.
Truth One:
You are the Father's treasure! Yes, I know that is not normally how the two stories below are read, but I want you to think about it for a minute. There is a truth that you must not miss behind this understanding of these stories. The Father sent Me, His greatest gift, to pay the price to ransom you back to Us. You are Our treasure — Our discovered treasure and Our searched for treasure. I was the willing purchase price paid to buy you back from sin and death.
Truth Two:
The kingdom is the greatest treasure you can ever find. For some, it will seem like an accidental and great discovery as in the first story — almost like the treasure found them! The key, however, is that when you have "accidentally" discovered this treasure, then you should be willing to give up everything else to make it your own! Others, as in the second story, will find the treasure of the kingdom because they have longed to find it and have searched far and wide to find it. Again, the key is that having found it, they rejoice in giving up everything else to make this treasure of the kingdom their own!
Notice the truth that ties these two understandings together: true treasure is worth any price necessary. That is true with the ultimate price I paid in coming to redeem you. It is also true for the price you must be ready to pay for the kingdom if you are willing to follow Me!
Verses to Live
What is your greatest treasure? I made clear that you are My treasure when I left the Father's side and came to give My life to buy you out of slavery to sin and death and to reclaim you as a child of God. Will you choose to see My way, My kingdom, as your greatest treasure?
Jesus:

The kingdom of heaven is like a treasure that is hidden in a field. A crafty man found the treasure buried there and buried it again so no one would know where it was. Thrilled, he went off and sold everything he had, and then he came back and bought the field with the hidden treasure part of the bargain.

Or the kingdom of heaven is like a jeweler on the lookout for the finest pearls. When he found a pearl more beautiful and valuable than any jewel he had ever seen, the jeweler sold all he had and bought that pearl, his pearl of great price.
Response in Prayer
O Father, all I can think about in response to these stories is Your great love that sent Jesus to ransom me and Jesus' great love to come and pay the price for my sin. The words to the old hymn speak the emotions of my heart in response to this great love:
Love so amazing, so divine,
Demands my soul, my life, my all.*
May the lordship of Jesus and the kingdom of heaven rule my heart just as the sacrifice of Jesus has captured my heart and made me Your child. In Jesus' name, I pray. Amen.
---
* From Isaac Watts' hymn, "When I Survey the Wondrous Cross," 1707.
Doves are sensitive birds. At the slightest movement they fly away. They are symbolic of the Holy Spirit. Although similar, pigeons are distinctly different. While a dove is more sensitive and easier to shoo away, a pigeon walks in places with lots of people and lots of noise and is not as easily spooked.
Pigeon religion is a counterfeit spirit to the anointing of the Holy Spirit, which again is symbolic of the dove.
Looking briefly at some recent statistics, the two most unchurched areas in America are San Francisco at 60 percent and the Boston area, where we presently live, at 57 percent. The most dechurched areas are San Francisco (Bay Area) and Boston as well, at 47 percent and 46 percent respectively.
The difference between unchurched and dechurched is the difference between a sinner (unchurched) and a believer who is uncommitted to a local body (dechurched).
Get Spirit-filled content delivered right to your inbox! Click here to subscribe to our newsletter.
In comparing the entire East Coast with the West Coast, the East coast is only 5 percent more unchurched than the West Coast. However, the dechurched on the East Coast is significantly higher than the dechurched on the West Coast by a significant margin – nearly 80 percent more. This would imply that on the West Coast, believers are generally more committed to a local body and living in community. That was surprising to me.
EXAMPLES OF PIGEON RELIGION
Many of the Pentecostal/Charismatic churches on the East Coast are involved in the prophetic movement, but it's failing to add growth and stability. On the West Coast the Pentecostal/Charismatic church is caught up in a conglomeration of movements that are also failing to add long-term stability to this generation. Additionally, the seeker-sensitive movement is failing to make a significant spiritual impact in these regions.
I don't think it's an exaggeration to say that there are thousands of false prophets roaming our land. Aren't you growing a little tired of hearing about new mantles, double portions, debt cancellation anointings and breaker anointings? Not to mention the gross overemphasis on personal prophecy and prophetic ministry, the inordinate attention given to deliverance and demonic warfare, angelic activation, gold dust, heavenly portals, and atmosphere changes.
One ministry advertised itself by the blowing of the shofar, calling it a unique and distinct anointing that causes breakthroughs in cities and regions. Really? So all this ministry needs to do is blow the shofar and it will cause breakthroughs in entire regions? As one old minister of God used to say, I'd rather hear a donkey bray at midnight in a tin barn than to hear such foolishness. It's painful, actually, because so many young and even older untrained believers fall for this wacko version of Christianity. How do we expect to win the world with this nonsense? And have you ever noticed that most of the Christians who are enamored with such things live dysfunctional lives? The bane of every shepherd and ministry gift is when your preaching and teaching breeds such imbalanced and unstable people.
You cannot teach people to receive a revelation and personally prophecy to every individual. I remember going to a minister's breakfast one time and a young so-called prophet prophesying to me for about five minutes. None of what he said bore witness with my spirit. He was seeing "this" and seeing "that" and it wasn't accurate revelation he was receiving from the Spirit of God, but what I call visualization. He was just imagining things in his soul and speaking them out. If a person does that long enough, he'll give over to a familiar spirit, which is common in our day. You see, just because a revelation is true does not necessarily mean it is of God. Some prophets will receive a revelation by the Spirit on one occasion and then the next time they will be yielding to familiar spirits, which are demons that are familiar with the person being ministered to. These things happen as the Spirit wills, not as we will. The entire prophetic landscape has been contaminated with such and many people have been hurt and disillusioned.
Beware of pigeon religion. A casual observer will not be able to discern the difference. Some things are better caught than taught. One key is to associate with those who flow in the genuine move of the Holy Spirit. Years ago, in some old Pentecostal circles, when someone got up to prophesy in a congregation and he was clearly in the flesh, the people would "sit down" on him. In other words, they wouldn't respond to his fleshly prophecy. Would to God we had as much sense today.
True believers have an anointing that teaches them all things. Depend on Him to lead you and guide you and teach you.
"But the anointing which you have received from Him remains in you, and you do not need anyone to teach you. For as the same anointing teaches you concerning all things, and is truth, and is no lie, and just as it has taught you, remain in Him" (1 Jn. 2:27).
Learn to follow the dove, the Holy Spirit, who is the real Spirit of truth and not a pigeon.
It is time for those who have been trained in the real to pass on the move of God to the next generation. If we don't, it will be lost in the next generation.
"Therefore, brethren, we are debtors, not to the flesh, to live after the flesh."
As God's creatures, we are all debtors to Him: to obey Him with all our body, and soul, and strength. Having broken His commandments, as we all have, we are debtors to His justice, and we owe to Him a vast amount which we are not able to pay. But of the Christian it can be said that he does not owe God's justice anything, for Christ has paid the debt His people owed; for this reason the believer owes the more to love. I am a debtor to God's grace and forgiving mercy; but I am no debtor to His justice, for He will never accuse me of a debt already paid. Christ said, "It is finished!" and by that He meant, that whatever His people owed was wiped away for ever from the book of remembrance. Christ, to the uttermost, has satisfied divine justice; the account is settled; the handwriting is nailed to the cross; the receipt is given, and we are debtors to God's justice no longer. But then, because we are not debtors to our Lord in that sense, we become ten times more debtors to God than we should have been otherwise. Christian, pause and ponder for a moment. What a debtor thou art to divine sovereignty! How much thou owest to His disinterested love, for He gave His own Son that He might die for thee. Consider how much you owe to His forgiving grace, that after ten thousand affronts He loves you as infinitely as ever. Consider what you owe to His power; how He has raised you from your death in sin; how He has preserved your spiritual life; how He has kept you from falling; and how, though a thousand enemies have beset your path, you have been able to hold on your way. Consider what you owe to His immutability. Though you have changed a thousand times, He has not changed once. Thou art as deep in debt as thou canst be to every attribute of God. To God thou owest thyself, and all thou hast—yield thyself as a living sacrifice, it is but thy reasonable service.
February 3: Wisdom Can Quickly Become Folly
Exodus 7–8; John 1:35–51; Song of Solomon 1:8–14
What we need to hear and what we want to hear are rarely the same thing. Leaders who encourage honesty, allow for errors, and establish an environment of trust usually hear what they need to hear. A dictator, on the other hand, will never learn what they really need to know. People shield them or stay away from them; an environment of fear is only destructive. It's with this point in mind that the story of Moses, Aaron, and Pharaoh becomes even more intriguing.
Pharaoh surrounded himself with people who would tell him what he wanted to hear (Exod 7:22), not what he needed to hear: "You're oppressing the Hebrew people and they will rise up against you. And furthermore, we're afraid of their God and we can't really do what He can do. We're small-time dark magic; their God is the big time." Instead of speaking this truth, Pharaoh's advisors went on pretending and conjuring up cheap tricks.
Plague after plague hit Egypt, but Pharaoh's heart remained hard. And this is where we don't really know what happened: when God hardened Pharaoh's heart, was it already too difficult for Pharaoh to give in on his own accord? We don't know the answer, but we do know that God ended up making an example of his foolishness.
Even when water turns to blood, frogs appear everywhere—followed shortly by gnats and flies (Exod 7:14–8:32)—Pharaoh didn't listen. Instead of turning to Yahweh, he turned to the same sources: his gods, his belief that he is a god (common for Egyptians), and his ill-advised counselors. And that's the lesson: if you surround yourself with "yes" people, they will say yes, and you will be ignorant. You will lose, and you will end up on the wrong side of God.
Who do you turn to for advice? Are your friends, mentors, and church leaders more apt to tell you the truth or say something that makes you happy? If it's the latter, who can you turn to who will speak honestly to you about faith?
JOHN D. BARRY
NATIONAL THE DAY THE MUSIC DIED DAY
The Day the Music Died Day is always observed on February 3rd. This day we remember the unfortunate and untimely death of singers 22-year-old Buddy Holly, 17-year-old Richie Valens, and 28-year-old J. P. Richardson, aka: "The Big Bopper".  These three artists died in an airplane accident on February 3, 1959, near Clear Lake, Iowa. Their pilot, Roger Peterson, also perished in the crash.
The Day the Music Died was dubbed so by Don  McLean's song  "American Pie"
Buddy Holly's band was on tour and had played at the Surf Ballroom in Clear Lake.  They were headed to their next destination in Moorhead, Minnesota.  For this leg of their journey, they decided to take a charter plane rather than go with their tour bus. Richardson "The Big Bopper",  had swapped places with Waylon Jennings, taking the latter's place on the plane and Tommy Allsup had lost his place to Ritchie Valens in a coin toss.
Not long after takeoff, they were no longer able to be reached by radio, and they did not reach their destination. The aircraft was reported missing. The next day, the wreckage was found less than 6 miles northwest of the airport in a cornfield.  Poor weather conditions and pilot error were determined, during the investigation, to have been the cause of the pilot losing control of the plane.
This event has echoed through history for over 50 years.  Visitors still make the pilgrimage each year to Clear Lake, Iowa, the resort town about 110 miles north of Des Moines, as this was the point of their last concert before the fatal accident.
"The day the music died" is a line in the 1972 Don McLean hit "American Pie." McLean's song, which he wrote in the late 1960s and released in 1971, was in part inspired by the tragic event which took the lives of three great musicians and their pilot.
Following are lyrics from the song "American Pie"

But February made me shiver,
With every paper I'd deliver,
Bad news on the doorstep
I couldn't take one more step. 
I can't remember if I cried
When I read about his widowed bride
But something touched me deep inside,
The day the music died.
HOW TO OBSERVE
Listen to some of the music by Richie Valens, Buddy Holly or The Big Bopper.
Use #TheDayTheMusicDied to post on social media.
Visit these Tribute Pages:
Official Big Bopper on Instagram
The Ritchie Valens Facebook Page
Official Ritchie Valens on Instagram
HISTORY
Within our research, we were unable to find the origins of National the Day the Music Died.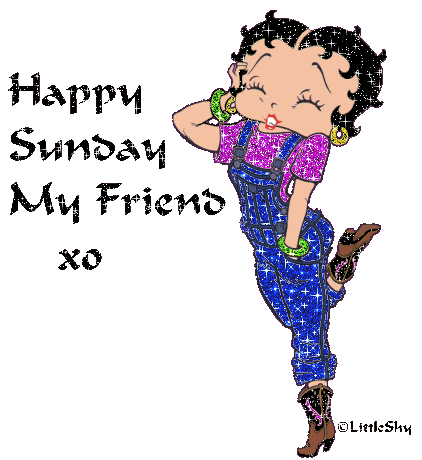 And now, some humor…….