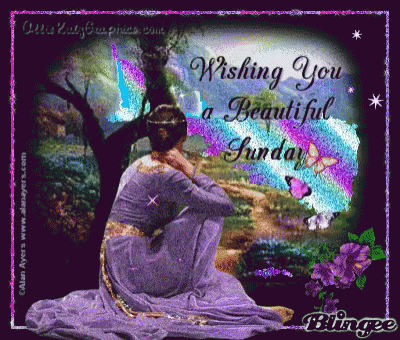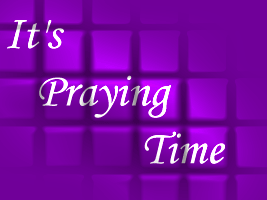 My prayer for you is that you may have still more love – a love that is full of knowledge and wise insight. I want you to be able always to recognize the highest and the best, and to live sincere and blameless lives until the day of Christ. I want to see your lives full of true goodness, produced by the power that Jesus Christ gives you to the praise and glory of God. Philippians 1:9–11, (Phillips)
Lord our God, we thank you for filling our hearts with such great trust. We thank you for all we are given in our lives, above all that we can come to know Jesus Christ. We thank you that over and over we can draw strength and life from his life. Praise to your name, for our life has a goal and we may find strength and certainty during our time on earth. You will reveal what we hope for, and even now you allow us to keep something of this goal before our eyes. We praise you that your name may become great in our midst and that again and again new life can well up from us, who are poor and weak. May your name be praised for setting this goal before us to strengthen us. Amen.
T. S. Eliot
We praise thee, O God, for thy glory
displayed in all the creatures of the earth,
In the snow, in the rain, in the wind, in the storm;
in all of thy creatures, both the hunters and the hunted…
They affirm thee in living;
all things affirm thee in living;
the bird in the air, both the hawk and the finch;
the beast on the earth, both the wolf and the lamb;…
Therefore man, whom thou hast made
to be conscious of thee,
must consciously praise thee,
in thought and in word and in deed.
Even with the hand to the broom,
the back bent in laying the fire,
the knee bent in cleaning the hearth…
The back bent under toil,
the knee bent under sin,
the hands to the face under fear,
the head bent under grief,
Even in us the voices of the seasons,
the snuffle of winter, the song of spring,
the drone of summer,
the voices of beasts and of birds,
praise thee.
Source: Murder in the Cathedral
today

's verse
The Wedding Day
I heard something like the voice of a great multitude, and like the voice of many waters, and like the voice of mighty thunders, saying, 'Hallelujah! For the Lord our God, the Almighty, reigns! Let us rejoice and be exceedingly glad, and let us give the glory to him. For the marriage of the Lamb has come, and his wife has made herself ready.' Revelation 19:6 WEB
I have a great wife and we have been through a lot together. Through famine and through abundance, through happy times, and through sad times, through sickness, and health. If there is one thing on earth that can set me off, it is for someone to say something bad about my wife. Instead of turning my other cheek, I want to turn theirs. I admit that I could use the Lord's help in this area.
The Lord cares even more about His bride. The bride of Christ is the Church, which is made up of His people, including You and me. Regardless of how you view yourself, God Almighty adores you, picked you, and is preparing you for a wedding day. When people put you down and point our your flaws, the Lord hears it. He knows you better than they do. Just because nothing immediately happens does not mean that it goes unnoticed. When all is said and done, and the curtain closes on our life, we will join Him in heaven forever.
Lift up your head today and smile, for you are loved, adored, and God Almighty Himself has chosen you to be a part of the bride of Christ. The work that He began within you will be completed, and your best days are still in front of you, because the wedding day is still to come.
Prayer: Heavenly Father I look forward to all that You have for me. I grant You permission to work in my life and to draw me closer to You. Guide me today and help me make the right decisions. Speak to me and through me, in the name of Jesus Christ I pray.
Bible Fun Fact: The hairs on your head are numbered (Matt. 10:30).

(1)
Daily Wisdom:

 Proverbs 27:1

"Boast not thyself of to morrow; for thou knowest not what a day may bring forth."

Matthew Henry's Concise Commentary


We know not what a day may bring forth. This does not forbid preparing for to-morrow, but presuming upon to-morrow. We must not put off the great work of conversion, that one thing needful. Pr 27:2. There may be occasion for us to justify ourselves, but not to praise ourselves. Pr 27:3-4. Those who have no command of their passions, sink under the load. Pr 27:5-6. Plain and faithful rebukes are better, not only than secret hatred, but than love which compliments in sin, to the hurt of the soul. Pr 27:7. The poor have a better relish of their enjoyments, and are often more thankful for them, than the rich. In like manner the proud and self-sufficient disdain the gospel; but those who hunger and thirst after righteousness, find comfort from the meanest book or sermon that testifies of Christ Jesus. Pr 27:8. Every man has his proper place in society, where he may be safe and comfortable. Pr 27:9-10. Depend not for relief upon a kinsman, merely for kindred's sake; apply to those who are at hand, and will help in need. But there is a Friend that sticketh closer than a brother, and let us place entire confidence in him. Pr 27:11. An affectionate parent urges his son to prudent conduct that should gladden his heart. The good conduct of Christians is the best answer to all who find fault with the gospel. Pr 27:12. Where there is temptation, if we thrust ourselves into it, there will be sin, and punishment will follow. Pr 27:13. An honest man may be made a beggar, but he is not honest that makes himself one. Pr 27:14. It is folly to be fond of being praised; it is a temptation to pride. Pr 27:15-16. The contentions of a neighbour may be like a sharp shower, troublesome for a time; the contentions of a wife are like constant rain. Pr 27:17. We are cautioned to take heed whom we converse with. And directed to have in view, in conversation, to make one another wiser and better. Pr 27:18. Though a calling be laborious and despised, yet those who keep to it, will find there is something to be got by it. God is a Master who has engaged to honour those who serve him faithfully. Pr 27:19. One corrupt heart is like another; so are sanctified hearts: the former bear the same image of the earthly, the latter the same image of the heavenly. Let us carefully watch our own hearts, comparing them with the word of God. Pr 27:20. Two things are here said to be never satisfied, death and sin. The appetites of the carnal mind for profit or pleasure are always desiring more. Those whose eyes are ever toward the Lord, are satisfied in him, and shall for ever be so. Pr 27:21. Silver and gold are tried by putting them into the furnace and fining-pot; so is a man tried by praising him. Pr 27:22. Some are so bad, that even severe methods do not answer the end; what remains but that they should be rejected? The new-creating power of God's grace alone is able to make a change. Pr 27:23-27. We ought to have some business to do in this world, and not to live in idleness, and not to meddle with what we do not understand. We must be diligent and take pains. Let us do what we can, still the world cannot be secured to us, therefore we must choose a more lasting portion; but by the blessing of God upon our honest labours, we may expect to enjoy as much of earthly blessings as is good for us.

(2)
Passion for Praise:

 'So Merciful, This God of Ours'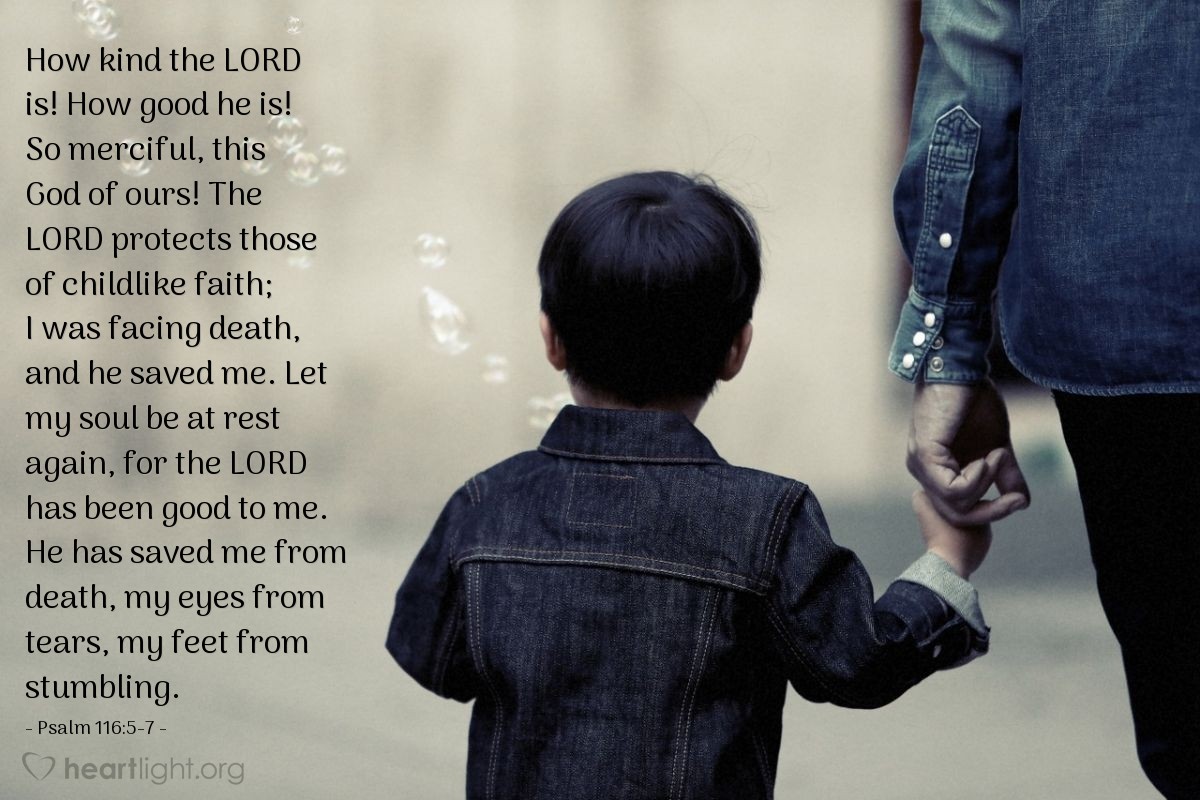 (3)
'For Some Folks, Miracles Aren't Enough!'
Note from Jesus
Dear Disciple,
My words in yesterday's Scripture (Luke 11:14-26) were hard. The folks I spoke them to didn't like them. So, they challenged Me to do another miracle for them to prove that I had a right to say the things I was saying.
Let's be real. If they wouldn't believe in Me for the exorcisms I performed or the miracles I had already done, they weren't going to believe in Me if I did a few more powerful acts to satisfy their curiosity and jump through a few more of their hoops! For many people in the crowd, miracles weren't enough. They simply didn't want to believe, so they wouldn't believe.
That's why I pointed them to a couple of stories from the Hebrew Scripture — you call it the Old Testament. These stories talk about two great figures (Jonah and Solomon) who captured the hearts of outsiders and pointed them to the truth and wisdom of God. I challenged those hearing Me to believe that I AM greater than either of these two heroes. The only sign I would give these skeptics was the sign of Jonah! If My life of ministry, miracles, teaching, and compassion and My death on the cross and resurrection wouldn't convince them, then nothing would.
Thankfully, if you read the story about the birth of My church on the Day of Pentecost (Acts 2:1-47), you will see that many people responded to the sign of My triumph over death and sin.
As one who has come to believe in Me, one who recognizes My triumph, I want to challenge you to trust that I AM the "One far greater than Jonah" and the "One greater and wiser than Solomon." I AM the wisdom and truth you must follow, believe, and obey, and you will find life in Me!
Verses to Live
Even after all the miracles I had already done, the religious leaders in the account below wanted more to prove I had the right to say what I said to them. Don't miss My point. I have the right! The real question is this: Do you have the heart to follow someone greater than all those other religious heroes you've heard about?
Scribes and Pharisees:

Teacher, we want to see some miraculous sign from You.

Jesus:

You wicked and promiscuous generation — you are looking for signs, are you? The only sign you will be given is the sign of the prophet Jonah. Jonah spent three days and three nights in the belly of a great fish, as the Son of Man will spend three days and three nights in the belly of the earth. One day, the people of Nineveh will rise up in judgment and will condemn your present generation — for the Ninevites turned from sin to God when they heard Jonah preach, and now One far greater than Jonah is here. The Queen of the South will also stand in judgment and condemn this generation — for she came from the ends of the earth to listen to Solomon's wisdom. And today One greater and wiser than Solomon is among you.
Response in Prayer
Lord Jesus, You are greater than Jonah and Solomon. You are superior to Moses and Elijah. The law and prophets find their meaning, their fulfillment, and their goal in You. You are the One I choose to hear and obey. Jesus, You are Lord. I choose You to be my Lord! To You, I offer my life and my all because You not only conquered death and the grave through Your resurrection, but You also won my heart and my allegiance! Amen.
This article is excerpted from Johann Christoph Arnold's book Why Forgive?  (2010).
After more than thirty years working with lepers in India, Gladys Staines, a nurse, and her husband Graham, a missionary, had seen plenty of death and dying. But nothing could have prepared her for the night in January 1999 when her husband and their two sons, Philip (10) and Timothy (6) failed to return home from a religious retreat – or for the day after, when news came that their bodies had been found in the family jeep, burned beyond recognition. Nor were the friends who stood with her that harrowing morning prepared for her response. According to a report in The New York Times:
Mrs. Staines shook with grief and, for a time, moved very slowly, as if struggling to part her way through the air. She seemed to be impaled in the middle of a thought, which finally, with quavering voice, she shared. "Whoever did this, we will forgive them," she said.
That sentiment – that example of her living faith – has been widely praised in India, a nation often rent with religion-based violence, most frequently between Hindu and Muslim. D. P. Wadhwa, a Supreme Court judge heading an inquiry into the deaths, and their link to a wider outbreak of anti-Christian attacks, commended Mrs. Staines. "By her conduct, she has put to shame, if they have any shame, not only the perpetrators of the crime but all those who directly or indirectly may have sympathy for them," he said.
Mrs. Staines… has decided to carry on her husband's work, running a home for leprosy patients here in Baripada, a dusty, traffic-clogged city in the eastern state of Orissa. And she will continue to tell people the "good news," as she confidently calls it, that … God is fair and just, and that divine purposes exist in all that goes on, even if those purposes are at times elusive.
"Whoever did this, we will forgive them."
Indeed, she has yet to fathom why God has taken her sons and husband. Questions leap into her mind – a tumble of thoughts – but she tries to set them aside rather than pursue answers. "I ask myself, do I dwell on the type of death they had? Were they killed first or burned alive? Am I angry? Am I not? I don't know. I cope by not allowing myself to do much thinking. At times I am overcome with sadness. They're not here. I can't play with my boys. Day by day, I start with the Bible, reading prayers. Previously, I could talk to my husband before going to bed. Now I talk to God, pour out my heart to Him, and He gives me the strength and wisdom to go on."
Of those who murdered her husband and boys, she went on, "I can forgive their deeds, but I cannot forgive their sins. Only Jesus can forgive their sins. And they will have to ask."
After the funeral, which was attended by thousands, Mrs. Staines and her 13-year-old daughter, Esther, the family's two survivors, faced the throng that had accompanied them to the cemetery and sang a favorite hymn. "Because He lives, I can face tomorrow," the words went. "Because He lives, all fear is gone."
Though unfathomable to many, Gladys Staines's understanding of forgiveness is not unheard of. It has been embraced by countless persecuted minorities throughout history, from the earliest Christian believers, to the Anabaptists of the radical Reformation, to our century's followers of Tolstoy, Gandhi, and Martin Luther King. It is probably best explained in this passage from King's book Strength to Love:
Probably no admonition of Jesus has been more difficult to follow than the command to love our enemies. Some people have sincerely felt that its actual practice is not possible. It is easy, they say, to love those who love you, but how can one love those who openly and insidiously seek to defeat you…?
Far from being the pious injunction of a Utopian dreamer, the command to love one's enemy is an absolute necessity for our survival. Love even for our enemies is the key to the solution of the problems of our world. Jesus is not an impractical idealist; he is the practical realist…
Returning hate for hate multiplies hate, adding deeper darkness to a night already devoid of stars. Darkness cannot drive out darkness; only light can do that. Hate cannot drive out hate; only love can do that. Hate multiplies hate, violence multiplies violence, and toughness multiplies toughness in a descending spiral of destruction…
Love is the only force capable of transforming an enemy into a friend. We never get rid of an enemy by meeting hate with hate; we get rid of an enemy by getting rid of enmity. By its very nature, hate destroys and tears down; by its very nature, love creates and builds up. Love transforms with redemptive power.
King's commitment to love as a political weapon grew out of his faith, but there was a good streak of pragmatism in his thinking as well. He knew that he and other African-Americans involved in the civil rights movement would have to live for decades to come with the same people they were now confronting. If they let their treatment embitter them, it would soon lead to violence, which would only lead to new cycles of repression and embitterment. Rather than breaking down the walls of racial hatred, it would build them higher. Only by forgiving their oppressors, King said, could African-Americans end the "descending spiral of destruction." Only forgiveness could bring about lasting change:
We must develop and maintain the capacity to forgive. Whoever is devoid of the power to forgive is devoid of the power to love. It is impossible even to begin the act of loving one's enemies without the prior acceptance of the necessity, over and over again, of forgiving those who inflict evil and injury upon us.
It is also necessary to realize that the forgiving act must always be initiated by the person who has been wronged, the victim of some great hurt, the recipient of some tortuous injustice, the absorber of some terrible act of oppression. The wrongdoer may request forgiveness. They may come to themselves, and like the prodigal son, move up some dusty road, their heart palpitating with the desire for forgiveness. But only the injured neighbor, the loving father back home, can really pour out the warm waters of forgiveness.
Forgiveness does not mean ignoring what has been done or putting a false label on an evil act. It means, rather, that the evil act no longer remains as a barrier to the relationship. Forgiveness is a catalyst creating the atmosphere necessary for a fresh start and a new beginning…
To our most bitter opponents we say: We shall match your capacity to inflict suffering by our capacity to endure suffering. We shall meet your physical force with soul force. Do to us what you will, and we shall continue to love you.
We cannot in all good conscience obey your unjust laws, because noncooperation with evil is as much a moral obligation as is cooperation with good. Throw us in jail, and we shall still love you. Send your hooded perpetrators of violence into our community at the midnight hour and beat us and leave us half dead, and we shall still love you. But be ye assured that we will wear you down by our capacity to suffer.
One day we shall win our freedom, but not only for ourselves. We shall so appeal to your heart and conscience that we shall win you in the process, and our victory will be a double victory.
May They All Be One
J. Heinrich Arnold
These thoughts on unity in the church were compiled from the talks and personal correspondence of Bruderhof pastor J. Heinrich Arnold after his death.
In Matthew 23:37 Jesus says, "How often have I wanted to gather you to me as a hen gathers her chicks, and you would not." This plea, along with the plea in Jesus' last prayer – "May they all be one, Father, even as I am one with thee" – is a decisive and constant challenge to us. It calls us to a way of complete brotherly love and oneness in Jesus, and it calls us to follow him in unity so that the world may recognize we are his disciples.
Nothing binds or unites people more deeply than having the same hope, the same faith, the same joy and expectation. It is very sad, therefore, when individual believers stand alone. There have always been people who had to stand alone on account of their faith – some of them in prison, for years. But where there is true expectation, people are usually drawn together; their common faith leads to community, and they can strengthen and encourage one another. Standing for God always has a unifying power. Let us pray that we may be gathered together with all those who live in expectation of him.
From a letter: Jesus' first commandment is to love God with all our heart, soul, and being, and then to love our neighbor as ourselves. In this individualistic age more than ever, a church of people committed to one another in such love and faithfulness is an absolute necessity. Jesus stresses the importance of love and absolute unity – unity such as he has with the Father – again and again. I do not think we have ever reached this ultimate state of unity, even in our holiest moments; only God knows. Yet we want to live as a witness to it. We cannot separate dedication to Jesus from dedication to our brothers and sisters.
From a letter: It is true that Jesus can be served anywhere. But what a special gift it is when through him two or three or more people become of one heart and one soul! This cannot be manufactured; it is a gift.
God does not contradict himself. He does not say to one, "Thou shalt go to war," and to another, "Thou shalt not go to war;" or to one, "Thou shalt be faithful in marriage," and to the other, "Thou art free to divorce." If we are open to the truth – if we listen to God in our hearts – we will find that he says the same thing to all, also in practical matters. We do not believe in the rule of a majority over a minority. We believe in the unanimity brought about by Christ, who wants to speak the same truth in every heart. This unity is a grace and a miracle we experience again and again. But if we are unfaithful to God and to each other, it can be taken from us.
The unity of all believers is the only criterion for truth. When true unity is lacking, charisma – the power of individual persons or personalities over others – takes its place. People listen in a human way to others merely because they are strong personalities or leaders. Charisma is not only the wrong foundation for community; it is altogether dangerous ground.
The attempt to reconcile different churches and confessions is without any doubt good. But true unity – the unity that breaks down all barriers – starts with repentance. When the Holy Spirit came down at Pentecost, people asked, "Brothers, what shall we do?" They were deeply struck in their hearts, and they repented for their sins and became of one heart and one soul. Unfortunately, in today's ecumenical movement barriers or fences often remain, and people shake hands over them. But we must testify to the possibility of true unity among men. It comes only through repentance and through personally facing Jesus – as man, as living spirit, and as Lord.
Jesus said more than once that a tree is recognized by its fruits. We must never forget this. All of us can see what kind of tree today's society is: its fruits are murder, injustice, impurity, unfaithfulness, and destruction.
What were the fruits Jesus wanted to see? The first fruit is unity. How else shall the world recognize his disciples? Jesus said, "May they all be one, Father, even as we are one."
Dangerous Unselfishness
With Dr. King in Haiti and America
Some years I celebrate my birthday on Martin Luther King Jr. Day. Though he was born on January 15, and I on January 19, depending on the year's calendar we might end up with kind words being said about both of us on the same day. This year, though, was not one of those times. The Monday of the King holiday fell on his actual birthday and mine followed, just as it should, four days later.
For nearly a decade now, my birthday has been rather complicated. On January 12, 2010, a 7.0 magnitude earthquake struck my native Haiti, nearly destroying most of the capital, Port-au-Prince, and a few other cities nearby. That earthquake killed a reported three hundred thousand people and left one and a half million homeless. Léogâne, the town where my mother, grandmother, and great-grandmother were born, was near the epicenter, and many people I knew there died.
Since the earthquake, January has been an agonizing month, though it begins gloriously with the commemoration of Haitian independence on January 1. On that day, in my family and many others, we drink a delicious squash soup, which was previously considered too luxurious for the enslaved and was consumed only by those who had enslaved us. On January 2 we celebrate Jours des Anciens or Jour des Aieux – Heroes and Ancestors Day – a day on which we honor those who came before, particularly the ones who fought and died for our independence.
When I was a girl, on Heroes and Ancestors Day, I and the other children in my family would dress in our finest clothes and visit our relatives, who would treat us to a piece of cake and a small dose of a bright red syrupy liqueur (likè) then hand us a few coins (zetrenn) which, after many such visits throughout the day, would end up in a windfall that would make us feel rich. January 6 was Les Rois – Three Kings Day or the Feast of the Epiphany – which honors the day the Magi arrived with their gifts for the baby Jesus. January 6 also meant the end of the Christmas season and a return to school or work. By then many people in Haiti would already be thinking about carnival, which would follow in a few weeks.
King's life and death are about our bearing witness to one another's survival.
January 12, like the King holiday, falls between those observances and my birthday, turning the first weeks of the first month of the year into a series of life-affirming celebrations mixed with commemorations of deaths. Both January 12 and 15 are days when I now stop to honor the dead. My cousin Maxo and his son Nono are the closest relatives of mine who died in the earthquake, but I also lost many friends as well as more distant family members. It might not seem fitting to put Maxo and Nono on the same plane as Dr. King – Maxo and Nono were not internationally known and they were killed by Mother Nature rather than men – but Dr. King's life and death and the King holiday are not just about him. King's life and death are also about the demise of thousands who came before him, his own heroes and ancestors, as well as those who fought alongside him, those whose blood also soak this land, which immigrants like me now call home.
The first King holiday was observed on January 20, 1986, the day after I turned seventeen. On that birthday, I went to church with my parents and three brothers, and afterwards we went to a Chinese restaurant for lunch. The following morning, in spite of it being the holiday, my mother went to her job at a handbag factory, while my father went to his as a freelance or "gypsy" cabdriver. My parents rarely had any time off, except on Sundays.
My brothers and I watched the first King holiday observances on television. There were marches in many cities around the United States. In Atlanta, after laying a wreath on Dr. King's grave with Coretta Scott King, ­then–Vice President George H. W. Bush attended services at Ebenezer Baptist Church, Dr. King's home church, alongside Bishop Desmond Tutu, who received the Martin Luther King Jr. Peace Prize for fighting apartheid in South Africa. Apartheid had not yet ended in South Africa and Nelson Mandela was still in jail.
"We are going to be free," Bishop Tutu declared. "We know we are going to be free. When we are free, we will remember who helped us to become free."
Dr. King was certainly one of those who wanted to see South Africa free. In a December 10, 1965 address at Hunter College, he said:
Africa has been depicted for more than a century as the home of black cannibals and ignorant primitives. Despite volumes of facts contraverting this picture, the stereotype persists in books, motion pictures, and other media of communication. Africa does have spectacular savages and brutes today, but they are not black. They are the sophisticated white rulers of South Africa who profess to be cultured, religious, and civilized, but whose conduct and philosophy stamp them unmistakably as modern-day barbarians.
In April of that same year, the United States had invaded the Dominican Republic over fears of communist expansion in the region. "We inundated that small nation with overwhelming force, shocking the world with our zealousness and naked power," Dr. King said of the invasion of Haiti's closest neighbor. "With respect to South Africa, however, our protest is so muted and peripheral it merely mildly disturbs the sensibilities of the segregationists, while our trade and investments substantially stimulate their economy to greater heights."
He called for the United States, the Soviet Union, Great Britain, France, Germany, Japan, and other nations to boycott South Africa: "No real national interest impels us to be cautious, gentle, or a good customer of a nation that offends the world's conscience."
The world's conscience, he seemed to suggest, should be offended by all types of injustice, no matter the victim nor the source. As he said in December 1965, "The struggle for freedom forms one long front crossing oceans and mountains."
I thought of those words on January 11 of this year, on the eve of the eighth anniversary of the catastrophic earthquake in Haiti. I might not have been thinking of that particular speech, had the president of the United States not been reported to have called El Salvador, Haiti, and countries in Africa "shithole countries." A few weeks before that, the president was reported to have said that all Haitians have AIDS and that forty thousand Nigerian visa recipients would never "go back to their huts" after seeing the United States. On a day when we were supposed to be mourning our dead, Haitians and Haitian-Americans found ourselves responding to the president on whatever platform was available to us – radio, television, newspapers, the streets, and social media.
On January 12, an earthquake commemoration procession starting in a square with a statue of the Haitian independence hero Toussaint L'Ouverture in Miami's Little Haiti neighborhood turned into a demonstration with Haitian men, women, and children decrying the president's alleged racist remarks. Haitian Ambassador Paul Altidor, who just weeks earlier had published an opinion piece in the New York Times titled "Our Country Deserves Your Respect, Not Your Pity," made several television appearances reminding American viewers that Haiti and the United States were the first two republics in the Western Hemisphere, that the two countries had strong historical ties, and that Haitian soldiers fought alongside American troops in the Revolutionary War. Ambassador Altidor also highlighted the contributions of Haitians and Haitian-Americans to today's America, as hotel workers, taxi drivers, teachers, politicians, artists, entrepreneurs, and medical and military personnel. He mentioned that the first non-Native American settler of Chicago, Jean Baptiste Point du Sable, was of Haitian descent. As was W. E. B. Du Bois, the African-American intellectual and founder of the NAACP. During an address at Carnegie Hall on February 23, 1968, on what would have been Du Bois's hundredth birthday, Dr. King called Du Bois "one of the most remarkable men of our time." "Dr. Du Bois was not only an intellectual giant exploring the frontiers of knowledge, he was in the first place a teacher," Dr. King said that night. "One idea he insistently taught was that black people have been kept in oppression and deprivation by a poisonous fog of lies that depicted them as inferior."
My uncle died shackled to a bed five days after arriving in the United States.
I happened to be at a conference with a group of writers and intellectuals from the Caribbean when the president's statement was reported, and a few of them thought that his words were too contemptible to merit a response. Other friends, who were not at the conference, thought it a complete waste of time to exalt Haiti's revolutionary past – including the fact that France's defeat during Haiti's battle for independence was what led to the Louisiana Purchase – or to laud Haiti's great visual art, music, and literature, arguing that it would neither lead the president to change his mind about Haiti nor prompt him to apologize. They thought it was useless to try to prove our humanity to someone who'd referred to white supremacists as "very fine people" while denigrating others whose only crime was being born in countries whose human and natural resources had, in many cases, been plundered by a string of colonizers, imperialists, and invaders, including the United States.
I did not plan to respond directly to the president. I felt that the ambassador had done that, along with many other prominent Haitians, Haitian-Americans, and Haiti-philes. I wanted to write something that my nieces and nephews who were US-born and had never been to Haiti, as well as my own two daughters, who have traveled to Haiti many times and hold their own version of Haiti within them, would have to counter what the president had allegedly said about their parents', grandparents', and great-grandparents' homeland.
I was also seeing how the president's remarks about Haiti formed part of a particularly sinister immigration policy. In November 2017, the Trump administration ended ­Temporary Protected Status for nearly sixty thousand Haitians, leaving them open to deportation as early as 2019. Soon after, a quarter of a million Salvadorans faced the same fate, all while the president was allegedly bemoaning the fact that the United States was not welcoming enough immigrants from Norway. A few days after the president's belittling remarks, the Department of Homeland Security announced that ­Haitians would no longer be eligible for H-2A and H-2B visas, which are available to low-skilled migrants, including seasonal agriculture workers. The president's views were not simply being expressed but were being acted upon.
I also wanted to respond because in October 2004, my eighty-one-year-old uncle Joseph, a cancer survivor who spoke with a voice box, died in immigration custody after fleeing Haiti following a brutal United Nations forces attack on his neighborhood. My uncle had a valid US visa, but Immigration and Customs Enforcement at Miami International Airport detained him after he requested asylum. They took away his medications and, as his health deteriorated, accused him of faking his illness. Eventually he was taken to a local hospital's prison ward, where he died shackled to a bed, five days after arriving in the United States.
Perhaps I am fooling myself, but I imagine: Is it possible that everyone my uncle encountered on the way to his death – from the United Nations forces who shot at his neighbors from the roof of his house, to the immigration officer who ordered that he be detained – is it possible that these people would have been empathetic, would have proved to be good Samaritans, if they had been more informed about both my uncle and his country? Perhaps then his life might have been saved.
This year, on the King holiday, the president's derogatory remarks were on many people's minds, including Dr. King's children.
"When a president insists that our nation needs more citizens from white states like Norway, I don't even think we need to spend any time talking about what it says and what it is," Dr. King's eldest son, Martin Luther King III, told the Associated Press.
"Our collective voice in this hour must always be louder than the one who sometimes does not reflect the legacy of my father," Dr. King's daughter, Reverend Bernice King, told the congregation at the Ebenezer Baptist Church.
That same day, thousands of Haitians marched. In New York, hundreds gathered for a rally in Times Square. In Miami, Haitians walked on the Martin Luther King Boulevard during the Martin Luther King Day parade, a festive pageant full of local dance troupes and high school marching bands that I have often attended with my family.
In West Palm Beach near Mar-a-Lago, where the president was spending the long weekend, about five hundred Haitian and Haitian-American demonstrators demanded an apology. According to the Florida Sun Sentinel, the organizer of the protest, a Haitian-American radio-show host named James Leger, said, "If Dr. Martin Luther King were alive today, he'd be here marching with us."
Putting America first means openly stepping on the bodies, souls, dignity, and dreams of others.
I don't know that Dr. King, if he were alive, would have had the energy to show up at every protest or march, but he most likely would not have remained silent in the face of such an insult to the continent of Africa and members of the African diaspora. This is also why I responded to those alleged remarks in two radio interviews and a lengthy Facebook post, denouncing what was said and exalting the virtues of the country of my birth and those of my heroes and ancestors.
My uncle Joseph who died shackled to a bed was, like Dr. King, a Baptist minister. My uncle was not world famous, but in Bel Air, the poor neighborhood where he lived for fifty years, he ran a church, a health clinic, and a school. He was born in Léogâne in 1923 when Haiti was, along with the Dominican Republic, under US control, and he also died under US control, as a prisoner of the Department of Homeland Security.
One of my uncle's favorite Bible stories was about the Good Samaritan. It is a story that appeals to a lot of preachers, both the less political ones and the more radical, because it is one of the best illustrations we have of the Golden Rule: to do unto others as you would have them do unto you. These days, America's golden rule – as stated by the current president – is to put America first. Perhaps this was always the case, but in my thirty-seven years of living in the United States, I have never heard it stated, implied, and flaunted as often and as clearly as now: that putting America first means openly stepping on the bodies, souls, dignity, and dreams of others. It has never been so clear to me that in the realm of immigration, it means having no qualms about separating spouses from each other, and children from their parents. Families are considered "chains"– as in "chain migration" – a term reminiscent of the slave trade, during which our ancestors were transported against their will from our mother continent to others, in, yes, chains.
When I think of my uncle and Dr. King together as two ministers I respect, I think of both their Good Samaritan sermons. My uncle, who died for lack of a Good Samaritan in his path, had often preached about this traveling stranger who was beaten, robbed, and then left for dead, a man who was first ignored by some passersby but who then was rescued by the compassionate Samaritan who took him to a safe place and paid for his shelter. My uncle used to stress that we should all be Good Samaritans because we are just as likely to be in the place of the traveling stranger, and if we act as if those who are considered outsiders, or have fallen on hard times and are in need of help, are vile, guilty, or underserving of empathy, then we have also reduced our own humanity. Dr. King's Good Samaritan sermon echoes my uncle's somewhat, but goes even further in a way that I find as radical as choosing to love under impossible circumstances.
I often return to this vision of empathy, sympathy, and compassion for one's neighbors and the courage it takes to not only declare ourselves our brothers' and sisters' keepers but to actually act with what Dr. King called "dangerous unselfishness."
Dr. King delivered his final version of the Good Samaritan sermon as part of his "I Have Been to the Mountaintop" speech in support of striking sanitation workers in Memphis, Tennessee, on April 3, 1968, the day before he died. This was a speech in which he also advocated for economic boycott and encouraged black people to support black-owned institutions and businesses.
"Be concerned about your brother," he urged. "You may not be on strike. But either we go up together, or we go down together."
In the Good Samaritan story, those who had not stopped to help the injured man might have been asking themselves a whole series of questions, Dr. King said.
They had found the traveler on a dangerous road. What was he doing there? Might he have been faking being hurt in order to trap them? The ones who did not stop to help might have asked themselves, "If I stop to help this man, what will happen to me?" But the Good Samaritan asked himself, "If I do not help this man, what will happen to him?"
It's hard to know exactly what will happen to the most vulnerable of immigrants now, the ones from the countries the president has disparaged, as well as those being shut out by the president's ban on refugees, particularly those from predominantly Muslim countries, and those who are already in the United States, the thousands who can no longer count on Temporary Protected Status, and the youth who were brought to the US by their parents as children, and whose DACA (Deferred Action for Childhood Arrivals) safeguards are in limbo. Let us not forget the eleven million undocumented immigrants who have been living in the shadows for so long that they might be too afraid to accept help from good Samaritans, for fear that they might be reported and deported.
As long as this assault of words and actions continues, we, like Dr. King and those who fought alongside him, might soon be put in the position of having to be dangerously unselfish and to offer even our bodies as sanctuary, especially as more local municipalities are turning undocumented people over to immigration officers. Or as men, women, and children are being dragged out of cars, buses, trains, or out of their own homes, or are being followed and seized while walking down the street. Will we find the courage to be the Good Samaritans who ask what will happen if we do not help? What will happen to them? But also, what will happen to us, and to our humanity?
January 27: Revenge Isn't Sweet
Genesis 42:29–43:34, Hebrews 5:11–7:28, Ecclesiastes 10:10–20
It's easy to revel in vigilante justice, be joyful in the irony of someone getting "what's coming to them," or feel satisfied when "bad Karma comes back around" to others. The colloquialisms around the subject alone demonstrate our infatuation with justice. Joseph is similarly impassioned; he schemes against his brothers who sold him into slavery. At the beginning of Gen 43, Joseph's brothers must go back to Egypt to request food from him—their younger brother, whom they do not recognize. Joseph waits for the youngest, Benjamin, to join them. What Joseph intends to do when he does, we're not told.
When Benjamin and the other brothers arrive, Joseph is either moved with empathy or chooses to act upon his original plan of revealing himself in front of all his brothers (Gen 43:16, 29). Joseph even helps them financially, signaling that he somehow still cares for them (Gen 44). Yet it doesn't seem that Joseph has forgiven them yet, because in Genesis 44, more evil schemes emerge.
The thought of others feeling the same kind of pain they have inflicted can cause us to feel remorse. But we're always aware of the choice; we can choose to fight our instincts. We can recognize that instead of lashing back, the best answer is turning the other cheek. This may be easy for some, but for others—especially those who have been deeply hurt—abandoning the urge to inflict injury will require spiritual strength, prayer, and self-control.
Whom do you currently desire to see hurt? How can you let that feeling go? How can God help you release the situation to Him?
JOHN D. BARRY