Daily Prayer for January 20
————————————————————
Christoph Friedrich Blumhardt
Fear not, for I am with you, be not dismayed, for I am your God; I will strengthen you, I will help you, I will uphold you with my victorious right hand. Isaiah 41:10, RSV
Dear Father in heaven, we thank you that you are our Father and that we may have you with us. We thank you that we can know you are leading us by your hand. Give us your Spirit of understanding so that we may always see your mighty and powerful hand guiding us on all our ways. Help us where we fall short. Help us, for we are weak and are often in situations where we cannot help ourselves. But you are strong. You give light to our hearts. Through the Savior, Jesus Christ, we can direct our lives cheerfully, joyfully, and patiently toward the great goal set before us your children, and before the whole world. Amen.
Howard Zinn
To be hopeful in bad times is not just foolishly romantic. It is based on the fact that human history is a history not only of cruelty, but also of compassion, sacrifice, courage, kindness. What we choose to emphasize in this complex history will determine our lives. If we see only the worst, it destroys our capacity to do something, if we remember those times and places – and there are so many – where people have behaved magnificently, this gives us the energy to act, and at least the possibility of sending this spinning top of a world in a different direction.
Source: You Can't Be Neutral on a Moving Train
SUNDAY, JANUARY 20, 2019 | EPIPHANY
SECOND SUNDAY AFTER THE EPIPHANY
YEAR C
Old Testament Isaiah 62:1–5
Psalm Psalm 36:5–10
New Testament 1 Corinthians 12:1–11
Gospel John 2:1–11
Index of Readings
OLD TESTAMENT
Isaiah 62:1–5
For Zion's sake will I not hold my peace,
And for Jerusalem's sake I will not rest,
Until the righteousness thereof go forth as brightness,
And the salvation thereof as a lamp that burneth.
2 And the Gentiles shall see thy righteousness,
And all kings thy glory:
And thou shalt be called by a new name,
Which the mouth of the LORD shall name.
3 Thou shalt also be a crown of glory in the hand of the LORD,
And a royal diadem in the hand of thy God.
4 Thou shalt no more be termed Forsaken;
Neither shall thy land any more be termed Desolate:
But thou shalt be called Hephzi-bah,
And thy land Beulah:
For the LORD delighteth in thee,
And thy land shall be married.
5 For as a young man marrieth a virgin,
So shall thy sons marry thee:
And as the bridegroom rejoiceth over the bride,
So shall thy God rejoice over thee.
PSALM
Psalm 36:5–10
5 Thy mercy, O LORD, is in the heavens;
And thy faithfulness reacheth unto the clouds.
6 Thy righteousness is like the great mountains;
Thy judgments are a great deep:
O LORD, thou preservest man and beast.
7 How excellent is thy lovingkindness, O God!
Therefore the children of men put their trust under the shadow of thy wings.
8 They shall be abundantly satisfied with the fatness of thy house;
And thou shalt make them drink of the river of thy pleasures.
9 For with thee is the fountain of life:
In thy light shall we see light.
10 O continue thy lovingkindness unto them that know thee;
And thy righteousness to the upright in heart.
NEW TESTAMENT
1 Corinthians 12:1–11
Now concerning spiritual gifts, brethren, I would not have you ignorant. 2 Ye know that ye were Gentiles, carried away unto these dumb idols, even as ye were led. 3 Wherefore I give you to understand, that no man speaking by the Spirit of God calleth Jesus accursed: and that no man can say that Jesus is the Lord, but by the Holy Ghost. 4 Now there are diversities of gifts, but the same Spirit. 5 And there are differences of administrations, but the same Lord. 6 And there are diversities of operations, but it is the same God which worketh all in all. 7 But the manifestation of the Spirit is given to every man to profit withal. 8 For to one is given by the Spirit the word of wisdom; to another the word of knowledge by the same Spirit; 9 To another faith by the same Spirit; to another the gifts of healing by the same Spirit; 10 To another the working of miracles; to another prophecy; to another discerning of spirits; to another divers kinds of tongues; to another the interpretation of tongues: 11 But all these worketh that one and the selfsame Spirit, dividing to every man severally as he will.
GOSPEL
John 2:1–11
And the third day there was a marriage in Cana of Galilee; and the mother of Jesus was there: 2 And both Jesus was called, and his disciples, to the marriage. 3 And when they wanted wine, the mother of Jesus saith unto him, They have no wine. 4 Jesus saith unto her, Woman, fwhat have I to do with thee? gmine hour is not yet come. 5 His mother saith unto the servants, Whatsoever he saith unto you, do it. 6 And there were set there six waterpots of stone, after the manner of the purifying of the Jews, containing two or three firkins apiece. 7 Jesus saith unto them, Fill the waterpots with water. And they filled them up to the brim. 8 And he saith unto them, Draw out now, and bear unto the governor of the feast. And they bare it. 9 When the ruler of the feast had tasted the water that was made wine, and knew not whence it was: (but the servants which drew the water knew;) the governor of the feast called the bridegroom, 10 And saith unto him, Every man at the beginning doth set forth good wine; and when men have well drunk, then that which is worse: but thou hast kept the good wine until now. 11 This beginning of miracles did Jesus in Cana of Galilee, and manifested forth his glory; and his disciples believed on him.
January 20: While You Are Waiting
Genesis 32–33; Matthew 24:29–25:13; Ecclesiastes 7:22–29
Jesus' instructions to His disciples about His return have inspired many to incorrectly predict His second coming. But if we read His parables, we find that they're not so focused on the future. Jesus prepares His disciples for His absence, and for the end times, because He wants them to be hopeful, expecting His return. He wants them to be ready and watchful. But He wants them to do all of these things by being fully engaged in the present, readying His kingdom.
Jesus' parable of the Wise and Wicked Servants demonstrates this attitude. While the faithful and wise servant provides for the master's household during his absence, the wicked servant uses the time flippantly: carousing and beating his fellow servants. When the master returns, the faithful servant is promoted for his service, and the wicked servant is punished. The parable presses the disciples to use their time wisely during Jesus' absence by doing the work they were called to do.
The same exhortation goes out to us. Will we act like lone Christians—content to live life disconnected from God's kingdom? Instead, we should be filled with hope, expectation, and overflowing with the good news. We should be willing to build up those around us, and attract those who have no hope.
As easy as it is to forget the eternal in our everyday lives, we can just as easily forget what God's work right now means for eternity. Being actively engaged in the present means spreading the good news, and being involved in His work—using our gifts to nurture His coming kingdom.
Are you busy and active in God's kingdom now? If not, what is keeping you from becoming so?
REBECCA VAN NOORD
" Wine is a mocker, strong drink is raging: and whosoever is deceived thereby is not wise."
v1 It seems hard to believe that men of the greatest abilities, as well as the ignorant, should render themselves fools and madmen, merely for the taste or excitement produced by strong liquors. Pr 20:2. How formidable kings are to those who provoke them! how much more foolish then is it to provoke the King of kings! Pr 20:3. To engage in quarrels is the greatest folly that can be. Yield, and even give up just demands, for peace' sake. Pr 20:4. He who labours and endures hardship in his seed-time for eternity, will be properly diligent as to his earthly business. Pr 20:5. Though many capable of giving wise counsel are silent, yet something may be drawn from them, which will reward those who obtain it. Pr 20:6. It is hard to find those that have done, and will do more good than they speak, or care to hear spoken of. Pr 20:7. A good man is not liable to uneasiness in contriving what he shall do, or in reflecting on what he has done, as those who walk in deceit. And his family fare better for his sake. Pr 20:8. If great men are good men, they may do much good, and prevent very much evil. Pr 20:9. Some can say, Through grace, we are cleaner than we have been; but it was the work of the Holy Spirit. Pr 20:10. See the various deceits men use, of which the love of money is the root. The Lord will not bless what is thus gotten. Pr 20:11. Parents should observe their children, that they may manage them accordingly. Pr 20:12. All our powers and faculties are from God, and are to be employed for him. Pr 20:13. Those that indulge themselves, may expect to want necessaries, which should have been gotten by honest labour. Pr 20:14. Men use arts to get a good bargain, and to buy cheap; whereas a man ought to be ashamed of a fraud and a lie. Pr 20:15. He that prefers true knowledge to riches, follows the ways of religion and happiness. If we really believed this truth, the word of God would be valued as it deserves, and the world would lose its tempting influence. Pr 20:16. Those ruin themselves who entangle themselves in rash suretiship. Also those who are in league with abandoned women. Place no confidence in either. Pr 20:17. Wealth gotten by fraud may be sweet, for the carnal mind takes pleasure in the success of wicked devices; but it will be bitter in the reflection. Pr 20:18. Especially we need advice in spiritual warfare. The word and Spirit of God are the best counsellors in every point. Pr 20:19. Those dearly buy their own praise, who put confidence in a man because he speaks fairly. Pr 20:20. An undutiful child will become very miserable. Never let him expect any peace or comfort. Pr 20:21. An estate suddenly raised, is often as suddenly ruined. Pr 20:22. Wait on the Lord, attend his pleasure, and he will protect thee. Pr 20:23. A bargain made by fraud will prove a losing bargain in the end. Pr 20:24. How can we form plans, and conduct business, independently of the Lord? Pr 20:25. The evasions men often use with their own consciences show how false and deceitful man is. Pr 20:26. Justice should crush the wicked, and separate them from the virtuous. Pr 20:27. The rational soul and conscience are as a lamp within us, which should be used in examining our dispositions and motives with the revealed will of God. Pr 20:28. Mercy and truth are the glories of God's throne. Pr 20:29. Both young and old have their advantages; and let neither despise or envy the other. Pr 20:30. Severe rebukes sometimes do a great deal of good. But such is the corruption of nature, that men are loth to be rebuked for their sins. If God uses severe afflictions, to purify our hearts and fit us for his service, we have cause to be very thankful.
Verse of the Day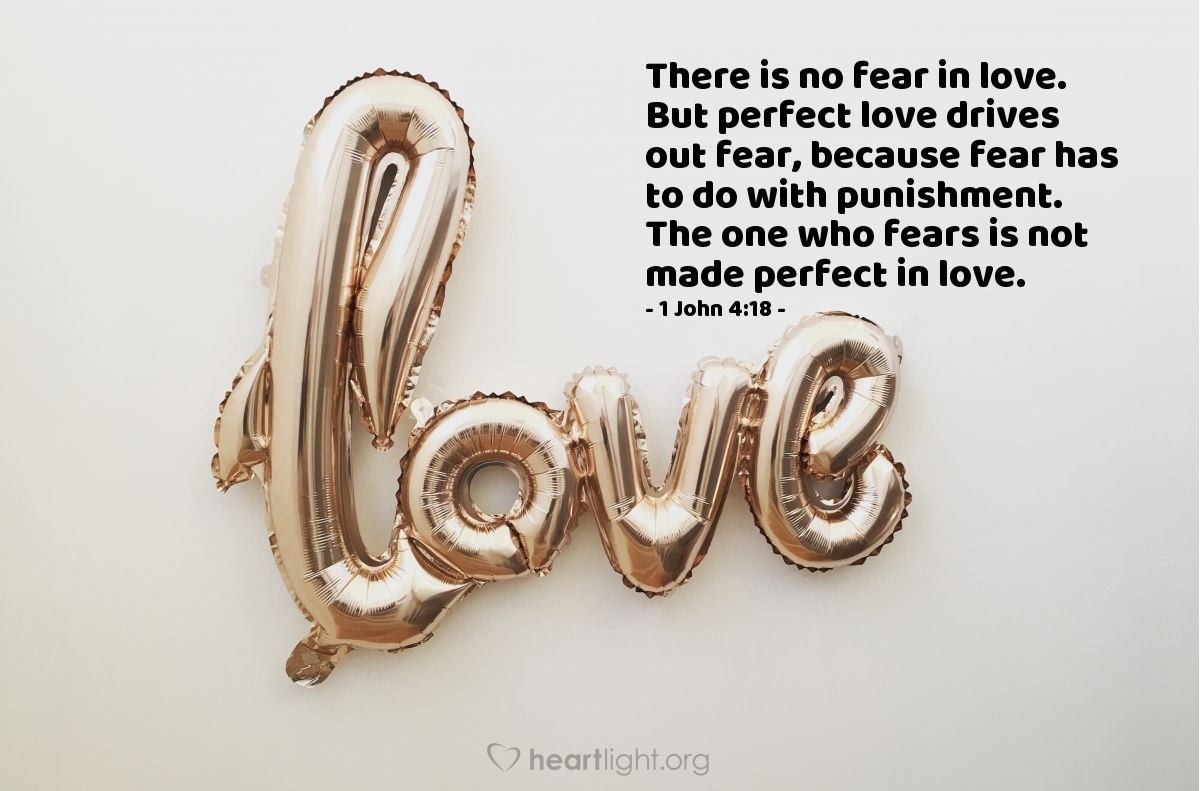 Thoughts on Today's Verse…
While I approach God with reverence and awe because he is the holy and majestic God, I don't have to fear his presence. Because of Jesus and the Holy Spirit, I know God is my Abba Father. He longs for me to draw near him. He has shown me his heart by sending Jesus. He has shown me his love by having Jesus die for me. If he loves me that much, then I can trust that his desire is to save and bless me. I don't have to fear his presence or his judgment. As his child, his love has driven fear from my heart and replaced it with love from his abiding presence, the Holy Spirit.
My Prayer…
Holy and Righteous Father, I thank you for your overwhelming love demonstrated to me in Jesus. I thank you for providing the atoning sacrifice for my sins and for adopting me into your family. Father, please cast all fear from my heart and help me walk confidently with you and for you, with character and purpose. In Jesus' name I pray. Amen.
Finishing the Job
"…being confident of this very thing, that he who began a good work in you will complete it until the day of Jesus Christ."   Philippians 1:6 WEB
It was late Saturday night and we were both exhausted. A simple job that should have taken us a couple of hours, had now taken a couple of days, but we had chosen to honor the price that we had originally quoted them. That is one of the perks of being self-employed. As the night wore on, it was just us, God, and a lot of hard work for they soon left us the keys to the office, and went home.
Sometimes doing the right thing hurts. That job cost us twice as much as we planned and took five times as long to complete, but we did it because it was the right thing to do. We are to do unto others, as we would have them do unto us.
You can measure someone's character, by what it takes for them to bail out of a commitment. Make your decisions intentionally, say what you mean, and mean what you say. Our God is not flippant in His decisions, and He does not waver. Jesus endured the cross for the joy that was set before Him (Hebrews 12:2). Sometimes we have to endure.
God who began a good work in you, will see it completely through to the end. Even when the cost is double, when it takes twice as long as planned, when things didn't turn out as expected, when it is just you, God, and a lot of hard work: He will still complete the job.
Prayer: Heavenly Father I thank You for all that You do for me. Please give me the grace to complete the things that I have promised others. Help me grow in character and always honor my word. Help me reflect Your presence on this earth in a positive way, in the name of Jesus Christ I pray.

What Jesus Did!

 'What Will This Child Be?'

Awe fell upon the whole neighborhood, and the news of what had happened [about baby John] spread throughout the Judean hills. Everyone who heard about it reflected on these events and asked, "What will this child turn out to be?" For the hand of the Lord was surely upon him in a special way.
Key Thought
Speculation about a newborn is nothing new. Parents, family, and friends have looked down on a sleeping newborn and wondered, "What will this child turn out to be?" It was natural that people had this question about John. However, they went beyond the normal speculation because they had reason to believe he was special. John was special because he was conceived in Elizabeth's old age. Also, Elizabeth's pregnancy occurred right after Zechariah had served in the Temple and lost his ability to speak. Then came the surprising name for the baby — John. And, finally, Zechariah's speech returned upon the baby being named. That's quite an amazing and unforgettable pregnancy and birth. The people's wonder and amazement came from recognizing that "the hand of the Lord was surely upon [John] in a special way." God was at work in John to do something spectacular. Just as with John, we need to remember that God is at work in each child, from the moment of conception, to do something spectacular. Let's commit to pray for and to bless each child that God puts into our circle of influence!
Today's Prayer
O glorious God, you alone are Creator of the universe and giver of life! Please use me to bless your precious children. Work in the hearts of our people so that we will value each child as you do. In Jesus' name. Amen.
Related Scripture Readings
Daily Wisdom:

 Proverbs 8:13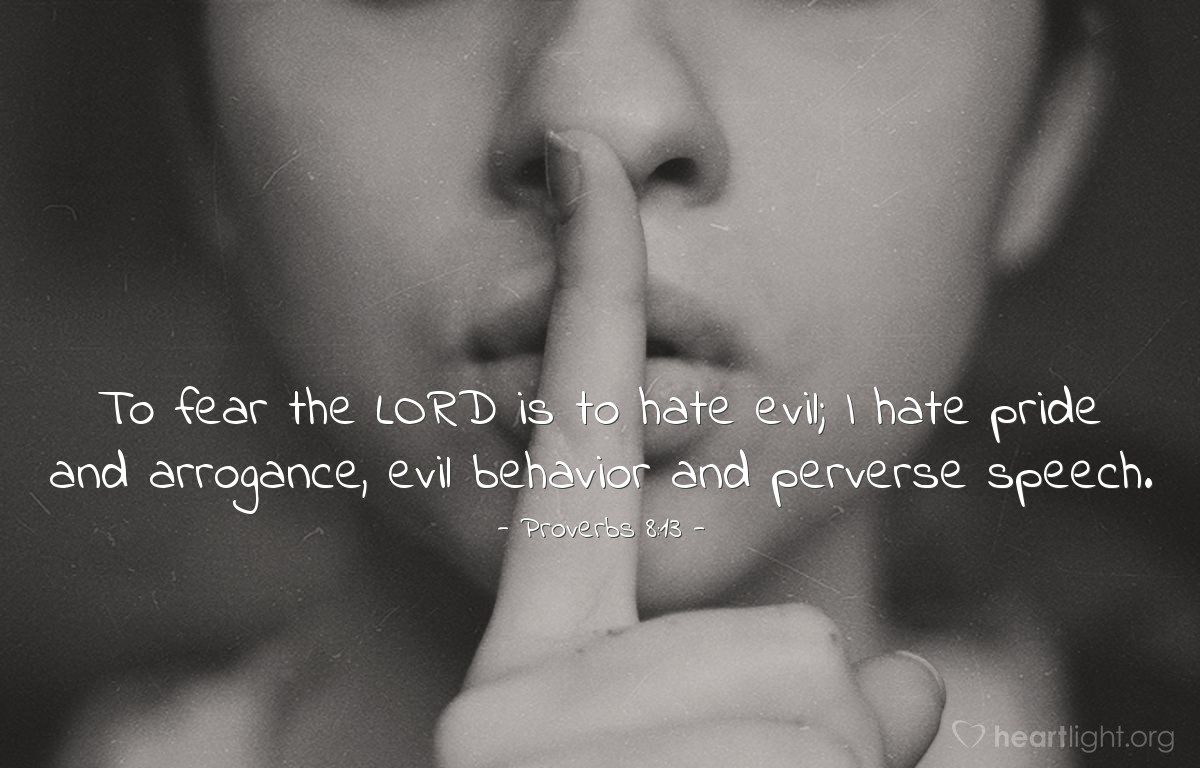 Passion for Praise:

 'My Youth is Renewed'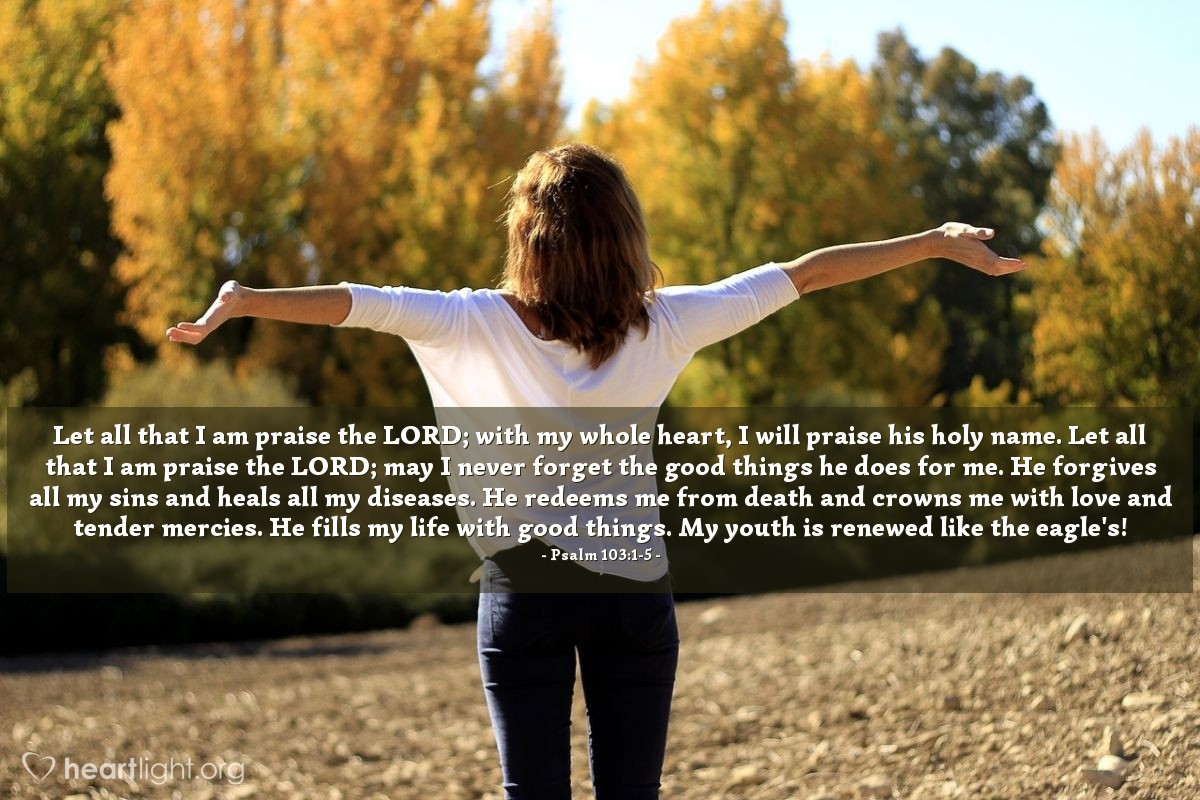 'Don't Be a Show-Off!'
Note from Jesus
Dear Disciple,
I have a question: Why are you doing spiritual things? Are you trying to impress someone and prove you are religious? Are you trying to honor the Father? For whom are you doing all your "spiritual stuff"?
Yes, I know that the last question is a bit abrupt. However, I want you to think through the question carefully. The Sermon on the Mount is challenging to understand. (You can find this teaching in Matthew chapters 5-7 in your Bible.) My teaching in the Sermon on the Mount is even more challenging to put it into practice. I know because this teaching reflects the life I chose to live as I sought to honor the Father! So my teaching today will ask you to examine why you do what you do for God and for others. What's your motivation for doing good things?
Here's the important point to notice. When you do good things for others to notice them, then you've already received your reward. When you do them to honor the Father, He sees even the secret things done to honor Him and will never forget those things. On top of that, your heart will begin to resonate with the Father's will and the Spirit will help conform your life to be like Mine.
We've all had enough of religious show-offs who talk about all the great things they have done for God. Just remember, the Father keeps track of the things that you do to honor Him but that most folks never know about.
I guess the question is really pretty simple: Do you want the applause of heaven or are you satisfied with a fleeting pat on the back at church?
Verses to Live
Faith without good deeds, spiritual service, and worship is simply talk. Also, doing religious things to be noticed by others so they will think you are special and holy is actually unholy. Please hear what I say in these words from My Sermon on the Mount!
Jesus:

But when you do these righteous acts, do not do them in front of spectators. Don't do them where you can be seen, let alone lauded, by others. If you do, you will have no reward from your Father in heaven. When you give to the poor, do not boast about it, announcing your donations with blaring trumpets as the play actors do. Do not brazenly give your charity in the synagogues and on the streets; indeed, do not give at all if you are giving because you want to be praised by your neighbors. Those people who give in order to reap praise have already received their reward. When you give to the needy, do it in secret — even your left hand should not know what your right hand is doing. Then your Father, Who sees in secret, will reward you.

Likewise, when you pray, do not be as hypocrites who love to pray loudly at synagogue or on street corners — their concern is to be seen by men. They have already earned their reward. When you pray, go into a private room, close the door, and pray unseen to your Father Who is unseen. Then your Father, Who sees in secret, will reward you. And when you pray, do not go on and on, excessively and strangely like the outsiders; they think their verbosity will let them be heard by their deities. Do not be like them. Your prayers need not be labored or lengthy or grandiose — for your Father knows what you need before you ever ask Him.

Your prayers, rather, should be simple, like this:

Our Father in heaven, let Your name remain holy.

Bring about Your kingdom. Manifest Your will here on earth,
as it is manifest in heaven.

Give us each day that day's bread — no more, no less —
and forgive us our debts as we forgive those who owe us something.

Lead us not into temptation, but deliver us from evil.

But let Your kingdom be, and let it be powerful and glorious forever. Amen.

If you forgive people when they sin against you, then your Father will forgive you when you sin against Him and when you sin against your neighbor. But if you do not forgive your neighbors' sins, your Father will not forgive your sins.

And when you fast, do not look miserable as the actors and hypocrites do when they are fasting — they walk around town putting on airs about their suffering and weakness, complaining about how hungry they are. So everyone will know they are fasting, they don't wash or anoint themselves with oil, pink their cheeks, or wear comfortable shoes. Those who show off their piety, they have already received their reward. When you fast, wash your face and beautify yourself with oil, so no one who looks at you will know about your discipline. Only your Father, Who is unseen, will see your fast. And your Father, Who sees in secret, will reward you.
Response in Prayer
Abba Father, the LORD God Almighty, please accept the things I do to Your glory. Help me guard my heart against doing them for the applause of others on earth. If You are pleased with what I do for others in Your name, give me satisfaction in knowing that You have seen those things. I want Your Name to be glorified and Your Kingdom to come in my life and through my efforts to Your glory! Through Jesus and with the intercession of the Holy Spirit, I pray. Amen.
NATIONAL CHEESE LOVER'S DAY
Don't feel bleu, throw a feta or act capricious. January 20th is a gouda day to kummin over and have some cheddar or asiago or fontina! It's National Cheese Lover's Day.
There is no firm evidence how cheese making was discovered, but legend tells us it was likely chance that the first cheese was created. Thousands of years ago, milk was transported and stored in sheep stomachs. Left to sit a few days the proteins would separate into curds and whey.
From there, preserving the solids with salt may have seemed a logical next step. Salt was a highly valued preservative in ancient times.
The earliest record of cheese making dates back to 5,500 BCE in what is now Poland.  Today there are over 1,400 varieties of cheese.
The basic principles behind making cheese are quite simple. Let the milk sour (or scientifically, coagulating the casein protein). Then separate the curds (solids) from the whey (liquid). The curds are then salted and left to age.
Bacteria, enzymes or fungi may be added at various stages. These along with the type of milk, temperature, time and moisture are all controlled to produced the desired taste, color and texture. Herbs and spices may also be added.
The nutritional value of cheese varies depending on the variety. Cottage and mozzarella cheese are at the lower end of fat and calories per serving while mascarpone and cream cheese pack it on. Marscapone makes desserts like tiramisu rich and creamy.
For cheese lovers who think one day is just not enough to celebrate cheese, National Day Calendar has you covered for the entire year. There are 18 other cheese specific holidays on the calendar from National Cheese Doodle Day (March 5) and National Grilled Cheese Sandwich Day (April 12) toCheese Souffle Day (May 18), National Cheese Day (June 4), National String Cheese Day (September 20) and Moldy Cheese Day (October 9).  Let's also not forget; cheese makes excellent desserts. National Cheesecake Day is July 30, and there are three other flavors on the calendar along withNational Cream Cheese Brownie Day just around the corner on February 10.
By celebrating National Goat Cheese Month in August, cheese lovers can celebrate 10 out of 12 months of the year.  The last two months of the year do not celebrate cheese specifically but cheese there will be!  National Nacho Day (November 6) just isn't the same without the queso.  On National Sangria Day (December 20), cheese lovers will enjoy serving a variety of cheeses with all their guests!
HOW TO OBSERVE
Enjoy some cheese with your lunch or as a snack.  Use #CheeseLoversDay to post on social media.
HISTORY
Within our research, we were unable to find the creator of National Cheese Lover's Day.