Daily Prayer for January 6
————————————————————
Christoph Friedrich Blumhardt
Now when Jesus was born in Bethlehem of Judea in the days of Herod the king, behold, wise men from the East came to Jerusalem, saying, "Where is he who has been born king of the Jews? For we have seen his star in the East, and have come to worship him." Matthew 2:1–2, RSV
Lord our God, we thank you that you have come to this earth. Let a light shine out again and again among those who hear your gospel, also among those with sincere hearts, whether or not they are Christians. May they come to know your light and receive salvation in Jesus Christ. May your light shine for us and may you appear to us ever more clearly. Remember all who call to you. Remember your people. May your people gather and become a light in your name, serving you wherever they go. Amen.
J. Heinrich Arnold
God said to Israel: "Pay heed to me and listen, and your souls will live!" It is tremendously important to be able to turn to God with one's whole being and to believe that he will speak. Everything depends on our asking him to speak to us. If we hear nothing from God for a long time, it may be because there is something between us and heaven – perhaps we lack love to our neighbor, or we are at odds with our spouse. If this is the case, our waiting is in vain.
Source: Discipleship
SUNDAY, JANUARY 6
The Epiphany of the Lord
The Presence of God
Dear Jesus, today I call on you, but not to ask for anything. I'd like only to dwell in your presence. May my heart respond to your love.
Freedom
God my creator, you gave me life and the gift of freedom. Through your love I exist in this world. May I never take the gift of life for granted. May I always respect others' right to life.
Consciousness
I ask how I am today. Am I particularly tired, stressed, or anxious? If any of these characteristics apply, can I try to let go of the concerns that disturb me?
The Word
The Word of God comes down to us through the Scriptures. May the Holy Spirit enlighten my mind and my heart to respond to the Gospel teachings.
Matthew 2:1–12
In the time of King Herod, after Jesus was born in Bethlehem of Judea, wise men from the East came to Jerusalem, asking, "Where is the child who has been born king of the Jews? For we observed his star at its rising, and have come to pay him homage." When King Herod heard this, he was frightened, and all Jerusalem with him; and calling together all the chief priests and scribes of the people, he inquired of them where the Messiah was to be born. They told him, "In Bethlehem of Judea; for so it has been written by the prophet:
'And you, Bethlehem, in the land of Judah,
are by no means least among the rulers of Judah;
for from you shall come a ruler
who is to shepherd my people Israel.'"
Then Herod secretly called for the wise men and learned from them the exact time when the star had appeared. Then he sent them to Bethlehem, saying, "Go and search diligently for the child; and when you have found him, bring me word so that I may also go and pay him homage." When they had heard the king, they set out; and there, ahead of them, went the star that they had seen at its rising, until it stopped over the place where the child was. When they saw that the star had stopped, they were overwhelmed with joy. On entering the house, they saw the child with Mary his mother; and they knelt down and paid him homage. Then, opening their treasure chests, they offered him gifts of gold, frankincense, and myrrh. And having been warned in a dream not to return to Herod, they left for their own country by another road.
The story told in today's Gospel is about people being called to follow their star to find the fullness of life only Jesus can give. "I came that they may have life, and have it abundantly" (John 10:10).
You may not have thought much about the nature of the star you follow. With a view to clarifying this, it may be worthwhile to ask yourself what you want for your children, your family, or your friends. Having done this, you might talk to Jesus about whether this is what he wants for you—if this is the star he wishes you to follow.
Conversation
I begin to talk with Jesus about the Scripture I have just read. What part of it strikes a chord in me? Perhaps the words of a friend—or some story I have heard recently—will rise to the surface in my consciousness. If so, does the story throw light on what the Scripture passage may be saying to me?
Conclusion
Glory be to the Father, and to the Son, and to the Holy Spirit,
As it was in the beginning, is now and ever shall be,
World without end. Amen.
Christmas Action
God speaks to us in many ways, including through the Sunday Scripture readings. The Sunday Connection provides useful background and activities to better understand the upcoming Sunday's Scripture readings, helping you to connect the Scripture to daily life in a meaningful way.
---
Epiphany of the Lord
Sunday, January 6, 2019
Gospel Reading
Matthew 2:1-12
The Magi seek out Jesus and do him homage.
Background on the Gospel Reading
The visit of the Magi occurs directly before the story of the Holy Family's flight into Egypt. Matthew's Gospel tells a version of Jesus' birth that is different than the one in Luke. Of the actual birth of Jesus, Matthew tells us little more than, "When Jesus was born in Bethlehem of Judea, in the days of King Herod . . . " The story of the census is found only in Luke's Gospel, but we hear about the visit of the Magi only in Matthew's Gospel.
We know little about the Magi. They come from the East and journey to Bethlehem, following an astrological sign, so we believe them to be astrologers. We assume that there were three Magi based upon the naming of their three gifts. The Gospel does not say how many Magi paid homage to Jesus. In Matthew's Gospel, they represent the Gentiles' search for a savior. Because the Magi represent the entire world, they also represent our search for Jesus.
We have come to consider the gifts they bring as a foreshadowing of Jesus' role in salvation. We believe the meaning of the gifts to be Christological. Gold is presented as representative of Jesus' kingship. Frankincense is a symbol of his divinity because priests burned the substance in the Temple. Myrrh, which was used to prepare the dead for burial, is offered in anticipation of Jesus' death.
The word Epiphany means "manifestation" or "showing forth." Historically several moments in Christ's early life and ministry have been celebrated as "epiphanies," including his birth in Bethlehem, the visit of the Magi, his baptism by John, and his first miracle at Cana.
Family Connection
The tradition of giving gifts at Christmas is thought by some to be rooted in the gift giving of the Magi. In many cultures, gifts are not exchanged at Christmas, but rather on the feast of the Epiphany. Whenever you exchange your Christmas gifts, take some time to reflect on this tradition of gift giving at Christmas. Think of the best gift you have received. What was it? What made it special? Was it the gift itself, the thought that went into it, or the person who gave it to you?
Read today's Gospel, Matthew 2:1-12. The gifts of the Magi—gold, frankincense, and myrrh—have come to be understood as symbols of Christ's royalty, divinity, and eventual suffering and death. They are special because in giving them, the Magi acknowledge who Jesus was to be: our Savior. We pray that we will acknowledge Jesus as Savior in all that we do and say. Conclude by singing together "We Three Kings."
►  Pray with the 3-Minute Retreat: Follow the Star.
Prepare yourself to enter the quiet of your heart by consciously relaxing. Breathe slowly. Bring yourself to a place of attentiveness to the Lord's presence.
Matthew 2:10–11
They were overjoyed at seeing the star, and on entering the house they saw the child with Mary his mother.
The Magi were on a quest. They were seeking something they couldn't quite define. They knew that what they sought was important and meaningful. They were compelled to continue. Upon completing their search, it became clear. How like the Magi are we! Seeking, searching, trusting, moving forward, at times doubtful, but compelled to keep looking, bringing all we have as a gift for Christ.
What star guides me toward the Lord?
What will I bring as a gift when I enter the house and see the child with his mother?
(Pray using your own words or the following prayer.)
Gracious God, make known to me my guiding star. Show me the path of that star, the path home to you.
Amen.
Verse of the Day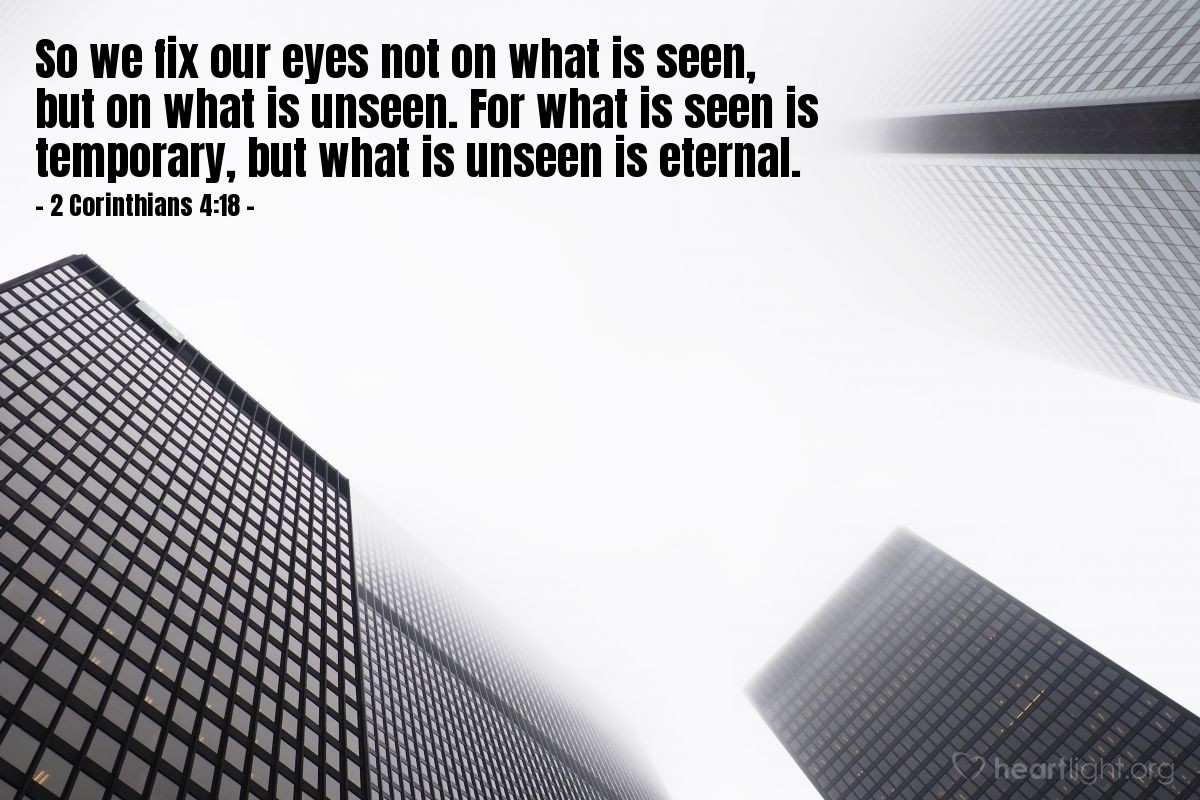 Thoughts on Today's Verse…
What do you see most clearly today? Is it what is seen or what is unseen? No matter our belief system, we ultimately have to trust what we can't see. Even the most atheistic scientist trusts gravity, breathes air, and depends upon principles s/he cannot see until they produce results in the tangible world of human perception. But as Christians, we don't believe the seen world is as real as the unseen world. The seen world is subject to disease, disaster, decay, disorder, and death. I don't know about you, but if it isn't any more permanent than that, it's not very real. I want something to hang on to. That requires I look past the seen to find my Father who is unseen. He is the one who guarantees the unseen!
My Prayer…
Eternal Father and God of all peoples, help me see more clearly the spiritual, eternal, and real world of the unseen. I am not seeking novelty, nor am I on some quest for the bizarre. I only want to know you, your truth, and your character so I may more appropriately display them to others and help them come find you in the world of the unseen. Please grant me greater success at reaching others, to your glory. In the name of Jesus I pray. Amen.
Waiting, waiting, and waiting, then hanging on for dear life when it took off. Walking with God reminds me of something else that I once experienced. Read the message today to learn more.
The Roller Coaster
After many days the word of the LORD came to Elijah, in the third year, saying, 'Go, show yourself to Ahab, and I will send rain upon the earth.' 1Kings 18:1 ESV
I remember some friends once got me on a roller coaster. We waited for everyone to board and then it started slowly climbing up and up the rails. After a pretty long wait, it crossed the crest of the hill and the real ride began. It was pretty boring until it started and then oh my'hang on!
Elijah waited for three years, just waiting, waiting, and then waiting some more. But when the Lord spoke this scripture to him, within hours, he had a showdown with 950 false prophets, caused fire to come down from heaven, executed the false prophets, turned Israel back to the Lord, caused it to rain when it had not for three years, and then outran a chariot back to town. I think he had crossed the top of the hill and was hanging on for dear life at that point.
Don't give up on God during the hill climb. When His plan finally comes together it can move very quickly and you can be racing just to stay up with Him. The roller coaster climbs the hill slowly but when God says it is now time, hang on for the ride to come.
Prayer: Heavenly Father, thank You for being there for me. Though it comes slow, I know that it is coming and that You have plans for me. Guide me and teach me along the way, in the name of Jesus I pray.
Bible Fun Fact: The Bible was written by more than 40 human authors inspired by the Holy Spirit over a time frame of 1400 years.
01/06/AM
"Casting all your care upon Him; for He careth for you."
—1Pe 5:7
It is a happy way of soothing sorrow when we can feel—"HE careth for me." Christian! do not dishonour religion by always wearing a brow of care; come, cast your burden upon your Lord. You are staggering beneath a weight which your Father would not feel. What seems to you a crushing burden, would be to Him but as the small dust of the balance. Nothing is so sweet as to
"Lie passive in God's hands,
And know no will but His."
O child of suffering, be thou patient; God has not passed thee over in His providence. He who is the feeder of sparrows, will also furnish you with what you need. Sit not down in despair; hope on, hope ever. Take up the arms of faith against a sea of trouble, and your opposition shall yet end your distresses. There is One who careth for you. His eye is fixed on you, His heart beats with pity for your woe, and his hand omnipotent shall yet bring you the needed help. The darkest cloud shall scatter itself in showers of mercy. The blackest gloom shall give place to the morning. He, if thou art one of His family, will bind up thy wounds, and heal thy broken heart. Doubt not His grace because of thy tribulation, but believe that He loveth thee as much in seasons of trouble as in times of happiness. What a serene and quiet life might you lead if you would leave providing to the God of providence! With a little oil in the cruse, and a handful of meal in the barrel, Elijah outlived the famine, and you will do the same. If God cares for you, why need you care too? Can you trust Him for your soul, and not for your body? He has never refused to bear your burdens, He has never fainted under their weight. Come, then, soul! have done with fretful care, and leave all thy concerns in the hand of a gracious God.
January 6: I Did It My Way
Genesis 10–11; Matthew 9; Ecclesiastes 2:18–26
Frank Sinatra was wrong to do things "his way." In Gen 11, we see people uniting in building what seems like a great triumph of humanity—until we realize what their work is all about. They're tired of being distant from God, so they build a structure that will reach the heavens.
"Surely the gods will know and find us now.… Let's meet our maker," you can almost hear them say. But the true God, Yahweh, knows their plan and says: "Come, let us go down and there confuse their language, so that they may not understand one another's speech" (Gen 11:7). Because all the people spoke one language, they were dangerous to themselves. In the unity of one world, there is disunity: we choose to assault the God we should serve.
There is an alternative—a unity that God desires: where we serve Him by serving others. Jesus describes how we should act towards one another and towards Him, even teaching us how to pray. With Christ, God has resolved the reason the tower was attempted. Since the Holy Spirit came and brought us comfort (John 16:4–15), the very presence of God is always with us.
Sinatra also said that if a man doesn't have himself, "then he has naught." But God wants us to stop focusing on ourselves, building towers, and trying to do things our own way. He wants us to seek Him, and to treat others with the love, respect, and self-sacrifice that Christ gave us. He wants us to do things His way.
What towers are you building? What type of investments should you be making instead?
JOHN D. BARRY
Barry, J. D., & Kruyswijk, R. (2012). Connect the Testaments: A One-Year Daily Devotional with Bible Reading Plan. Bellingham, WA: Lexham Press.
SUNDAY, JANUARY 6, 2019 | EPIPHANY
EPIPHANY OF THE LORD
YEARS ABC
Old Testament Isaiah 60:1–6
Psalm Psalm 72:1–7, 10–14
New Testament Ephesians 3:1–12
Gospel Matthew 2:1–12
Index of Readings
OLD TESTAMENT
Isaiah 60:1–6
Arise, shine; for thy light is come,
And the glory of the LORD is risen upon thee.
2 For, behold, the darkness shall cover the earth,
And gross darkness the people:
But the LORD shall arise upon thee,
And his glory shall be seen upon thee.
3 And the Gentiles shall come to thy light,
And kings to the brightness of thy rising.
4 Lift up thine eyes round about, and see:
All they gather themselves together, they come to thee:
Thy sons shall come from far,
And thy daughters shall be nursed at thy side.
5 Then thou shalt see, and flow together,
And thine heart shall fear, and be enlarged;
Because the abundance of the sea shall be converted unto thee,
The forces of the Gentiles shall come unto thee.
6 The multitude of camels shall cover thee,
The dromedaries of Midian and Ephah;
All they from Sheba shall come:
They shall bring gold and incense;
And they shall shew forth the praises of the LORD.
PSALM
Psalm 72:1–7, 10–14
1 Give the king thy judgments, O God,
And thy righteousness unto the king's son.
2 He shall judge thy people with righteousness,
And thy poor with judgment.
3 The mountains shall bring peace to the people,
And the little hills, by righteousness.
4 He shall judge the poor of the people,
He shall save the children of the needy,
And shall break in pieces the oppressor.
5 They shall fear thee as long as the sun
And moon endure, throughout all generations.
6 He shall come down like rain upon the mown grass:
As showers that water the earth.
7 In his days shall the righteous flourish;
And abundance of peace so long as the moon endureth.
10 The kings of Tarshish and of the isles shall bring presents:
The kings of Sheba and Seba shall offer gifts.
11 Yea, all kings shall fall down before him:
All nations shall serve him.
12 For he shall deliver the needy when he crieth;
The poor also, and him that hath no helper.
13 He shall spare the poor and needy,
And shall save the souls of the needy.
14 He shall redeem their soul from deceit and violence:
And precious shall their blood be in his sight.
NEW TESTAMENT
Ephesians 3:1–12
For this cause I Paul, the prisoner of Jesus Christ for you Gentiles, 2 If ye have heard of the dispensation of the grace of God which is given me to you-ward: 3 How that by revelation he made known unto me the mystery; (as I wrote afore in few words, 4 Whereby, when ye read, ye may understand my knowledge in the mystery of Christ) 5 Which in other ages was not made known unto the sons of men, as it is now revealed unto his holy apostles and prophets by the Spirit; 6 That the Gentiles should be fellowheirs, and of the same body, and partakers of his promise in Christ by the gospel: 7 Whereof I was made a minister, according to the gift of the grace of God given unto me by the effectual working of his power. 8 Unto me, who am less than the least of all saints, is this grace given, that I should preach among the Gentiles the unsearchable riches of Christ; 9 And to make all men see what is the fellowship of the mystery, which from the beginning of the world hath been hid in God, who created all things by Jesus Christ: 10 To the intent that now unto the principalities and powers in heavenly places might be known by the church the manifold wisdom of God, 11 According to the eternal purpose which he purposed in Christ Jesus our Lord: 12 In whom we have boldness and access with confidence by the faith of him.
GOSPEL
Matthew 2:1–12
Now when Jesus was born in Beth-lehem of Judaea in the days of Herod the king, behold, there came wise men from the east to Jerusalem, 2 Saying, Where is he that is born King of the Jews? for we have seen his star in the east, and are come to worship him. 3 When Herod the king had heard these things, he was troubled, and all Jerusalem with him. 4 And when he had gathered all the chief priests and scribes of the people together, he demanded of them where Christ should be born. 5 And they said unto him, In Beth-lehem of Judaea: for thus it is written by the prophet, 6 And thou Beth-lehem, in the land of Juda, art not the least among the princes of Juda: for out of thee shall come a Governor, that shall rule my people Israel. 7 Then Herod, when he had privily called the wise men, inquired of them diligently what time the star appeared. 8 And he sent them to Beth-lehem, and said, Go and search diligently for the young child; and when ye have found him, bring me word again, that I may come and worship him also. 9 When they had heard the king, they departed; and, lo, the star, which they saw in the east, went before them, till it came and stood over where the young child was. 10 When they saw the star, they rejoiced with exceeding great joy. 11 And when they were come into the house, they saw the young child with Mary his mother, and fell down, and worshipped him: and when they had opened their treasures, they presented unto him gifts; gold, and frankincense, and myrrh. 12 And being warned of God in a dream that they should not return to Herod, they departed into their own country another way.
Revised Common Lectionary. (2009). Bellingham, WA: Faithlife.
'First Things First'
Note from Jesus
Dear Disciple,
If you are going to put "first things first," then what are these "first things" you must do with your friends and family?
I know each of your relationships is unique. The history you have with friends and family can make relationships easy, quirky, difficult, confusing, and a host of all sorts of other things. So when I was asked about the two greatest commands in the Scriptures, I tried to make things very clear: Love God with all you are and love your neighbor as you love yourself (Matthew 22:36-40).
Your "first things" with your friends and family should be clear: Love God and love them.
After I had been baptized by John the Baptist, he began to point his disciples to Me. He wanted them to follow Me. One of those who followed Me first was a fellow who eventually becomes one of My twelve apostles. His name was Andrew. Andrew was always bringing people to meet me (John 6:5-9; John 12:20-22). This focus of Andrew's life began immediately after he realized Who I AM. The first thing he did after spending time with Me was to go and find his brother, Simon Peter, and bring him to meet Me.
One of the ways you put "first things first" with friends and family is to do what Andrew did: you bring them to Me. You don't have to convince them of anything. Share why you have hope in Me (1 Peter 3:15-16). Then, with gentleness and respect, help them come to Me and learn more about me. You don't have to answer all of their questions. You shouldn't criticize them for not following me. Just simply invite them to come and see Who I AM for themselves. Invite them to decide what they believe they should do with Me.
One of the reasons the Father gave you four gospels — Matthew, Mark, Luke, and John in your New Testament — is to tell the story of My life so that you would have a way of inviting people to come and to get to know about Me. So I want to challenge you to let first things be first. Love the Father with all that you are. Love your friends, family, and neighbors as you love yourself. Let these two principles overlap and invite those you love to come and meet Me! It won't necessarily be easy, but I will help you know what to say, when to say it, and how to share the invitation. Who knows, one of your friends or family members just may be someone waiting for you to be like Andrew!
Verses to Live
Andrew could invite his brother to meet Me physically. You can invite your friends and family to meet Me by reading John or Mark or Luke or Matthew with you. You don't have to know the answers to all of their questions; just be a friend and an example to them of how I love them!
The following day John [the Baptist] was again standing with two of his disciples. As Jesus walked by, John looked at him and declared, "Look! There is the Lamb of God!" When John's two disciples heard this, they followed Jesus.

Jesus looked around and saw them following. "What do you want?" he asked them.

They replied, "Rabbi" (which means "Teacher"), "where are you staying?"

"Come and see," he said. It was about four o'clock in the afternoon when they went with him to the place where he was staying, and they remained with him the rest of the day.

Andrew, Simon Peter's brother, was one of these men who heard what John said and then followed Jesus. Andrew went to find his brother, Simon, and told him, "We have found the Messiah" (which means "Christ").

Then Andrew brought Simon to meet Jesus. Looking intently at Simon, Jesus said, "Your name is Simon, son of John — but you will be called Cephas" (which means "Peter").
(John 1:35-42 NLT)
Response in Prayer
O Father, there are precious people in my life who I want so desperately to know Jesus. I ask that the Holy Spirit give me the wisdom to know the right moment, the best way, and the most helpful attitude to reach their hearts. Use me, please dear Father, to invite them to Jesus, in Whose name I pray. Amen.
The "Other" Purpose…
On January 6, 1956, another baby boy came into this old world…..my brother, James Victor Immediato.
Jimmy was scrawny as a child, actually smaller, and two years younger, than me.  But, as he matured, he grew.  As an adult, he towered over even our Dad!  So, he acquired the nickname of being our "Little/Big Brother".  He was married and had two sons, both married now.  Well, Jim got into trouble and went to jail three times for it….such a waste because he was a truly good and generous person!  We were close and his death hit me hard…still does……because I wasn't there…….I had promised to be there when he came out of jail that last time, but I wasn't…..I was already living down here, in Oklahoma.  So, he was angry at me and I don't know if he ever forgave me…….I miss him so!!  I wish he could still be alive and I hope that he's in Heaven, watching over us…..I hope he did forgive me in the end……………..Rest In Peace, Little Big Brother!!!