Christoph Friedrich Blumhardt
The Lord reigns, let the earth be glad; let the distant shores rejoice… The heavens proclaim his righteousness, and all peoples see his glory. Psalm 97:1, 6, NIV
Lord our God, we turn to you, for you are our help. Hear our prayer, we beseech you; let our cry rise to you so that you may send your mighty help in our generation. Continue to protect us from all evil, from death and destruction. Protect us because we are your children. As your children we turn to you, the almighty God, who can make everything work together for good. Be merciful to us, O Lord God. Help us for your name's sake. Help, Lord, for you alone can bring everything to a good end. So we stand before you in Jesus Christ, holding to every word you have given us and knowing for certain that you hear us. Amen.
TODAY'S DAILY DIG
Advent hope is a certainty of faith that shows itself in action through mutual responsibility for the whole of life. The church of Christ is the fellowship of this hope. It believes so unreservedly that it is convinced that the divine must conquer the demonic, that love must conquer hate, that the all-embracing must conquer the isolated. Certainty tolerates no limitation. God embraces everything. When we trust in him for the future, we trust for the present. When we have faith in him, our faith holds true for everything that touches our lives.
Source: When the Time Was Fulfilled
Prison Voices…
Dear Friend,
Nineteen-year-old Bobby Bostic was sentenced to 240 years in prison for robbery, kidnapping, and other crimes. Now, at age thirty-nine, he still has no chance of parole, though the judge who originally told him he would "die in the Department of Corrections" deeply regrets her decision. From behind bars, Bobby writes of redemption from an unexpected source: "I signed up for garden duty just to get out of my cell …"
"I did not leave just became easy to overlook / easy to forget" In his lyric poem "reenter," Cozine Welch Jr. calls out the distance between those who ought to be close. In "look …" he takes us behind bars to see – truly see – the men who stand in the prison common room. (Cozine is now an editor at Michigan Review of Prisoner Creative Writing. Check it out!)
"Societies never know it, but the war of an artist with his society is a lover's war." From our Plough Quarterly issue on art and community, don't miss James Baldwin on an artist's responsibility to express truths discovered only in the aloneness of birth, suffering, love, and dying.
Till next week,
Maureen Swinger
PS: A retired police chief and an ex–gang member have teamed up to address dozens of school assemblies in New York and New Jersey. Their message to young people: forgive. Plough asked them to reflect on their unlikely friendship:
Plough: How come a former cop and a former gang member are on speaking terms?
Charles Williams: Clearly we used to be enemies on different ends of the gun, even if we didn't know each other. As a young officer with the New York City Housing Authority police department in the 1980s, I was assigned to patrol in the South Bronx just when the crack epidemic hit. My job was to restore or keep peace, while Hashim, with all due respect, was out to cause havoc and chaos. Had we crossed paths back then, we both would have pulled our guns. And if one of us had made the wrong move, there's a good chance we could have killed each other.
Even as I say that now, I get emotional because the man sitting next to me is my brother, my best friend. How did we get here? Hashim and I are very different, but we have at least two things in common: we're both human beings, and we've both experienced the power of forgiveness.
Hashim, what's the story from your side?
Hashim Garrett: I grew up in Brooklyn. After my parents separated, I lived with my mother and her boyfriend, who had a drinking problem. While under the influence, he would become abusive and would bang on the metal door of our home. Hearing him, I would lie on the floor of my room crying and praying: "Dear God, please make him stop, in Jesus Christ's name" – even though I was born Muslim.
I was bullied at school, so when I was thirteen I decided to befriend my bullies and joined their gang. Sometimes I would shoot people for money, sometimes just for the thrill. At age fifteen, I found a new group of friends – they were big guys, age eighteen to twenty-one. In that gang, the dirty work was reserved for me, since if we were caught, I as a juvenile would be eligible for a reduced sentence. After a while I realized I was being used and began to object when asked to do things. Ultimately, they decided that they would get rid of me.
On May 7, 1990, my so-called friends knocked on my door and asked me to come outside. I should have known something was wrong, because one of them said, "Yo, when you come out, don't bring the guns."
Verse of the Day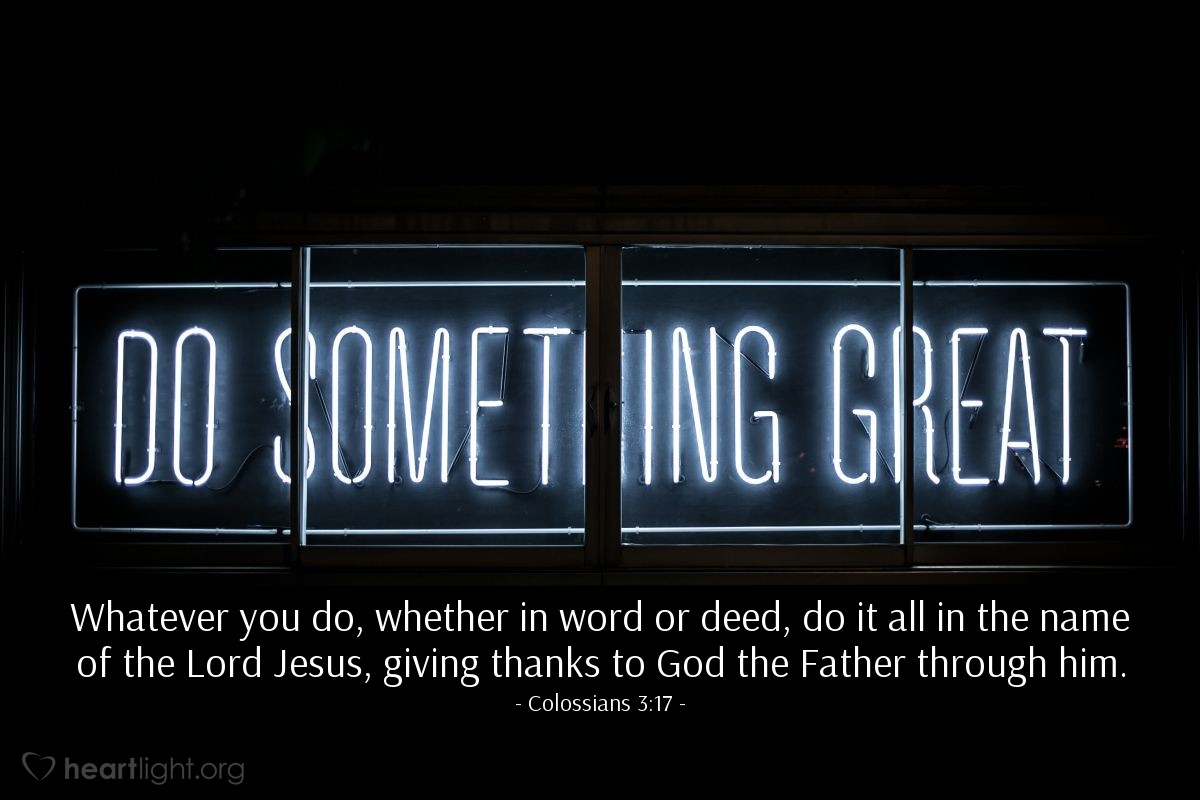 Thoughts on Today's Verse…
Everything! All! No matter what we say, no matter what we do, it is to be offered as a gift of thanks to God with Jesus' name, power, and honor attached! This makes all of life our worship and thanksgiving to God. There's no such thing as going to worship, if we live, if we talk, if we act it's worship and should always involve thanksgiving. So how has your worship been lately?
My Prayer…
Almighty and Most Holy God, I want all of my life to be lived out to your glory, a living testament of thanks to you for the grace you have given me in Jesus. While I do not always do this as well as I would like, I lovingly offer you my words, my actions, my heart and my mind to bring you glory by doing your will. Please, use your Spirit to remove the areas of self-deception from my life so that weakness and hypocrisy will not rob my discipleship of its intended worship of your majesty. In the name of Jesus, my gracious Lord, I pray. Amen.

What Jesus Did!

 'Frightened or Fearless?'

The Jewish leaders replied [to Pilate], "By our law [Jesus]ought to die because he called himself the Son of God." When Pilate heard this, he was more frightened than ever. He took Jesus back into the headquarters again and asked him, "Where are you from?" But Jesus gave no answer.
Key Thought
Pilate was trying to find a way out of dealing with Jesus. He knew Jesus was innocent, but couldn't appease the crowd. What if Jesus was who he said he was? How could he convict an innocent man? How could he keep his constituents happy? Who was this Jesus and where was he from? Pilate would lose his integrity unless he released Jesus. He couldn't release Jesus without infuriating the crowd. Jesus would not answer him. Jesus refused to be a pawn in Pilate's political game. Jesus followed the will of his Father, and no one would deter his commitment to righteousness. Facing a choice about Jesus' identity, Pilate the ruler showed fear, gave up his integrity, and became a prisoner to the fickle will of the mob. In the face of death, Jesus showed courage, displayed integrity, and demonstrated the freedom to be who he was truly committed to being no matter the will of the crowd. The stark differences in their choices and character remind us of the importance of the choices we make about Jesus and the will of God.
Today's Prayer
Righteous and holy God, what can I say to convey my thanks and appreciation of the horrible price paid for my sin? Thank you! Please purify me, and strengthen me so that my life from this day forward deepens in your character and in my love for Jesus, my Savior, in whose name I pray. Amen.
Related Scripture Readings
Passion for Praise:

 'Abundant Thanksgivings to God'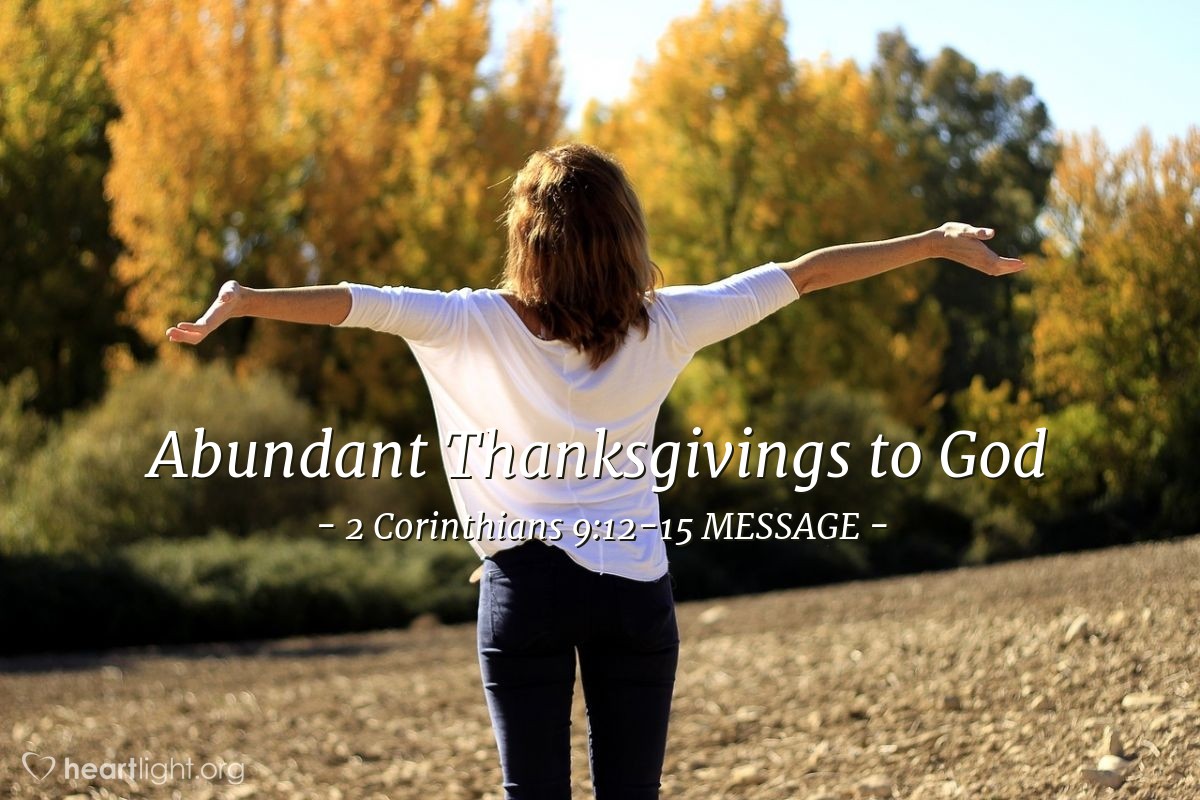 A Year with Jesus:

 'War and Hell's Defeat'
Note from Jesus
Dear Beloved,
The images in My Revelation to John are strong and powerful. Today's images are a reminder that My incarnation and ministry on earth were more than just My living a good life and doing kind deeds. My coming to earth was the beginning of the final battle in the Father's war against Satan. I came to save the people of the world, including you, from Satan's demonic forces and evil's grip on your world. I came to bring deliverance for the people of God. I came to defeat Satan and assure you that the final victory over Satan and his banishment to hell are certain.
Satan has his heart set on evil. When I came to earth, I defeated the evil one because of My willing surrender to the will of the Father. Because of My victory over Satan, the Father brought you the promise of victory over sin, death, and hell. Not only did the Father deliver Me from My death brought on by Satan's influence, but He also delivered you through My resurrection. The Father banished Satan from heaven (Luke 10:18). Satan's recognition that his presence and power on earth were limited made him determined to use his influence for evil. Even though his power was limited, he has repeatedly unleashed violence and evil against Me and My people. His being cast down from heaven and My resurrection signaled that his defeat will one day be final and complete.
My sacrifice ("the blood of the Lamb") and My people's faithfulness ("by… the word of their witnesses… [and their willingness to] not hold on to their lives, even under the threat of death") have assured My people of victory over hell's power and fury. Despite Satan's anger and evil intentions, he will not defeat My people. Their faithfulness unto death ensures their ultimate victory with Me in the presence of the Father. However, as long as I have not returned for you, My people, Satan roams the earth and seeks to claim more victims. What Peter warned is true:
Most importantly, be disciplined and stay on guard. Your enemy the devil is prowling around outside like a roaring lion, just waiting and hoping for the chance to devour someone.
(1 Peter 5:8)
My resurrection from the dead and My exaltation to the right hand of the Father on high have assured My people ultimate victory — whether through life or death. So Peter finished his warning with this assurance:
Resist him [the devil] and be strong in your faith, knowing that your brothers and sisters throughout the world are fellow sufferers with you. After you have suffered for a little while, the God of grace Who has called you to His everlasting presence through Jesus the Anointed will restore you, support you, strengthen you, and ground you. For all power belongs to God, now and forever. Amen.
(1 Peter 5:9-11)
What Peter says in plain language, I revealed to John in vision and imagery. But if you listen through the imagery in the verses below, you will hear the same message. Satan is evil. He views all people, especially those who are Mine, with murderous intent. He will inflict wounds on My precious followers. But these wounds are not permanent. Evil's defeat is assured; in fact, it has already occurred (Colossians 1:13; Hebrews 2:14-15). That is the reason you can depend on Our power being available to you through the Spirit to defeat temptation as well as to provide ultimate victory through your resurrection. Satan knows this. So be faithful. Resist him. Trust in My victory that will also be yours when I return in glory. While your part of the battle may be fierce, know that both present-day victory and ultimate victory are yours and sharing in My glory is assured.
Verses to Live
While the war of good and evil is fierce and cosmic in scope, the images you read in today's verses paint My truth in powerful and graphic detail. The victory has been won over Satan, evil, the demonic forces, and the power of hell. However, being cast down out of heaven, Satan still wages war on earth until I return to banish him forever. Take heart in knowing that My people will be preserved, and those who are faithful unto death are not lost as casualties in the fight. In their death, they are ushered into My presence and eternal glory.
As I looked, a great sign appeared in heaven: a woman came into view clothed in the radiance of the sun, standing with the moon under her feet, and she was crowned with a wreath of twelve stars on her head. She was painfully pregnant and was crying out in the agony of labor. Then a second sign appeared in heaven, ominous, foreboding: a great red dragon, with seven crowned heads and ten horns. The dragon's tail brushed one-third of the stars from the sky and hurled them down to the earth. The dragon crouched in front of the laboring woman, waiting to devour her child the moment it was born.

She gave birth to a male child, who is destined to rule the nations with an iron scepter. Before the dragon could bite and devour her son, the child was whisked away and brought to God and His throne. The woman fled into the wilderness, where God had prepared a place of refuge and safety where she could find sustenance for 1,260 days.

A battle broke out in heaven. Michael, along with his heavenly messengers, clashed against the dragon. The dragon and his messengers returned the fight, but they did not prevail and were defeated. As a result, there was no place left for them in heaven. So the great dragon, that ancient serpent who is called the devil and Satan, the deceiver of the whole world, was cast down to the earth along with his messengers. Then I heard a great voice in heaven.

A Voice:

Now the salvation and the power
and the kingdom of our God
and the authority of His Anointed One have come.
For the accuser of our brothers and sisters,
who relentlessly accuses them day and night before our God,
has been cast down and silenced.

By the blood of the Lamb
and the word of their witnesses,
they have become victorious over him,
For they did not hold on to their lives, even under threat of death.
Therefore, rejoice, all you heavens;
celebrate, all you who live in them.
But disaster will befall the earth and the sea,
for the devil has come down to your spheres,
And he is incredibly angry
because he knows his time is nearly over.

When the dragon realized he had been cast down to the earth, he pursued the mother of the male infant. In order to escape the serpent, she was given the two wings of the great eagle to fly deeper into the wilderness to her own special place where she would find sustenance for a time, and times, and half a time. Then from his mouth the serpent spewed water like a raging river that chased after the woman, trying to sweep her away in the flood. But the earth came to her rescue. It opened its gaping mouth and swallowed the river that spewed from the dragon's mouth. As a result, the dragon was enraged at the woman and went away to make war on the rest of her children — those who keep the commandments of God and hold fast to the testimony of Jesus.

And the dragon stood waiting on the sand of the seashore.
(Revelation 12:1-17; Revelation 13:1)
Response in Prayer
Father, I confess that war against hell's fury and Satan's deadly attacks wear me down. When I see what is happening to my brothers and sisters who are facing hardship and persecution, I can become discouraged. When evil seems to triumph over good, when those in power seem corrupt, and when good people are hurt and killed for their faith, we — Your disciples — find it hard to keep our hope alive. But I know that over the long course of history, Your people have faced greater hardship, and things seemed far worse, and You intervened in clear ways to deliver them. So now I ask, dear Father, that You bring deliverance for our brothers and sisters who are facing such horrible persecution in many parts of the world. Give them deliverance and show Your power over evil and protect your people from hell's fury. I do trust that Jesus has conquered Satan, but please display hell's defeat in our day or send Jesus to deliver us in His ultimate triumph. In the name of Jesus my Savior, I pray. Amen.
Bible Fun Fact: The people of Lud were famous as archers (Isa 66:19).
Sometimes while serving God, it becomes difficult. We work so hard for Him, but then our life takes a turn for the worse and we wrestle with understanding it. Sometimes we get upset and begin to complain, but God understands why. Read the message today to find out how He taught us that in our life. 
He Understands
Have you not known? Have you not heard? The LORD is the everlasting God, the Creator of the ends of the earth. He does not faint or grow weary; His understanding is unsearchable. Isaiah 40:28 ESV
Tired and in a bad mood, we arrived home. We had worked at the church all day once again, and a new tax bill came while we were gone. We now owed five hundred dollars for additional taxes. Angrily I said, "If we had spent the time working in our business that we spent working at the church over the last month, we would have the money to pay this."
When we went to church that Sunday, one of the elders handed me an envelope and said that the church felt that they should pay us something for all the work that we had been doing recently. I knew before I opened it what was inside, it was a check for five hundred dollars. Without us mentioning the tax bill, God had told them the amount to give us and when we needed it.
God understands. He knows what you are going through. The temper tantrums that we throw don't even matter. He knows what you feel inside and why you act the way that you do. Don't give up when you stumble, get up.
Prayer: Father, I trust that You will take care of me. You know my needs before I ask and I know that you are a rewarder of those that seek You. Please be with me this day and work Your perfect will in my life, in the name of Jesus.
For in the gospel a righteousness from God is revealed, a righteousness that is by faith from first to last, just as it is written: "The righteous will live by faith." —Romans 1:17
It is one thing for us to believe it once and be electrified and be thrilled, to have our world turned upside down, but quite another to keep believing it. The devil will come alongside and tell you that it can't be true, and he appeals to our natural reasoning. He appeals to what we know to be true about ourselves, that we are sinners. If he can, he will bring us right back to our bondage.
It was Martin Luther who rediscovered the Pauline doctrine of justification by faith. Luther was a very conscientious person. He had a sensitive conscience and was known to go to confession not only every day but sometimes two or three times a day, because after spending an hour confessing his sins, he would come back an hour or two later remembering there was a sin he didn't confess.
But during these days he was also reading Romans, as well as Galatians and certain of the Psalms. Here he had a breakthrough, largely from Romans 1:17. When Luther saw that what Paul was saying was that faith alone pleases God, and it satisfies, to use Luther's term, "the passive justice of God," his world was changed. He, in fact, woke up the world by his own world being turned upside down. He did not know that he would turn the world upside down by simply trying to save his own soul. The interesting thing is that Paul too rediscovered this teaching. Paul realized that Abraham saw it long before, and David saw it.
The principal thing that we are to see is that we are justified by the combination of two things: what Jesus did  for us and our own faith in Him. Or, to put it another way: His faith and our faith. These two things must come together.
Excerpted from The God of the Bible (Authentic Media, 2002).
"'Spirit!' Scrooge cried, tight clutching at its robe, 'hear me! I am not the man I was. I will not be the man I would have been but for this intercourse. Why show me this, if I am past all hope?' …
"'Good Spirit,' he pursued, as down upon the ground he fell before it: 'Your nature intercedes for me, and pities me. Assure me that I yet may change these shadows you have shown me, by an altered life? … I will honor Christmas in my heart. I will honour Christmas in my heart, and try to keep it all the year. I will live in the Past, the Present, and the Future. The Spirits of all Three shall strive within me. I will not shut out the lessons that they teach. Oh, tell me I may sponge away the writing on this tombstone!'
"In his agony, he caught the spectral hand. It sought to free itself, but he was strong in his entreaty, and detained it. The Spirit, stronger yet, repulsed him.
"Holding up his hands in a last prayer to have his fate reversed, he saw an alteration in the Phantom's hood and dress. It shrunk, collapsed, and dwindled down into a bedpost.
"Yes! and the bedpost was his own. The bed was his own, the room was his own. Best and happiest of all, the Time before him was his own, to make amends in! …
"'I don't know what to do!' cried Scrooge, laughing and crying in the same breath; and making a perfect Laocoon of himself with his stockings. 'I am as light as a feather, I am as happy as an angel, I am as merry as a schoolboy. I am as giddy as a drunken man. A merry Christmas to everybody! A happy New Year to all the world! Hallo here! Whoop! Hallo!'"
God is a decision
to embrace the good in me and in others.
God is a force, a spirit, a choice, a verb.
I do God
by bringing love to every situation.
God is love.
God is the essence of being.
God is the ultimate mystery.
God is the ultimate reality.
God is not up there somewhere controlling everything.
God loves me into existence.
I do nothing to deserve God's love;
God just loves me.
To know God, I give myself away.
It's do, then know — not know, then do.
I am a creature on a journey.
I am happy to be a creature.
It is good to be a creature.
I reflect the essence of God.
My response to the love of God is love.
I love God by loving my neighbor.
My neighbor is anyone I encounter.
My neighbor is anyone with whom I have a relationship
– close, distant, direct or indirect.
In God I find peace in chaos, light in darkness, without denying reality.
The evolving human species has just been born.
I exist therefore I am loved.
I am saved in this world.
I let God worry about the next.
I am part of God's life.
God's love is the true drink.
If I love, God lives in me.
I bloom where I am planted.
I pray for guidance and strength.
God is revealed in Buddha, Krishna, Mohammed,
the Law and the Prophets and many other spiritual teachings.
God is revealed in Jesus.
Jesus is the word of God (love) made flesh.
Jesus is love (the word of God) incarnate.
Jesus is love – the bread of life.
Jesus gives himself away, fully, without reserve.
Jesus gives himself away so that I may be nourished.
Jesus is the example of how to live.
"What did Jesus teach?" That is the question.
Love as Jesus loves and all will be well.
I try to do my best – that is all I can do.
My soul is all that I am and all that I will become.
My soul will exist after my body ceases.
I will not be surprised by what follows this life.
I will die – am I afraid to die?
Yes, but I know God will take care of me.
God bless you all!!!