Christoph Friedrich Blumhardt
Rejoice greatly, Daughter Zion! Shout, Daughter Jerusalem! See, your king comes to you, righteous and victorious, lowly and riding on a donkey, on a colt, the foal of a donkey. Zechariah 9:9, NIV
Lord our God, we stand before you and rejoice that you want to be our Helper, our Father. We live in a dark and evil time when whole nations groan and lament. Our need rises to you in heaven, and we cry out, "Help us, Lord our God!" Help that your will may be done in all things and that your kingdom may come. Our task is to pray to you at all times, calling, "Come, O Lord God, in Jesus Christ, the Lord and Savior of all the world!" For in east and west, in south and north, among all nations, Jesus Christ is Lord and Savior. Praise to your name that you have given us this Lord. Amen.
TODAY'S DAILY DIG
The endless, useless urge to look on life comprehensively, to take a bird's-eye view of ourselves and judge the dimensions of what we have or have not done: this is life as landscape, or life as a résumé. But life is incremental, and though a worthwhile life is a gathering together of all that one is, good and bad, successful and not, the paradox is that we can never really see this one thing that all of our increments (and decrements, I suppose) add up to. "Early we receive a call," writes Czeslaw Milosz, "yet it remains incomprehensible, and only late do we discover how obedient we were."
Source: My Bright Abyss
Rags to Riches
Then the king gave Daniel high honors and many great gifts, and made him ruler over the whole province of Babylon and chief prefect over all the wise men of Babylon. Dan. 2:48 ESV
Daniel, who was born of royal family, was taken prisoner when Nebuchadnezzar captured Jerusalem in 597 BC. He was taken from his homeland, made a eunuch and a servant in Babylon against his will. It wasn't the happiest of starts, but in due time, God raised him up to second-in-command and he was the wisest man in Babylon.
Joseph was born his father's favorite, but then sold into slavery, served time in prison, and then was promoted to second-in-command to Pharaoh. Moses was raised and educated as Pharaoh's royal family, then spent forty years tending sheep in the wilderness, but became the most powerful man living on earth. David was anointed by Samuel and then ran from Saul for years before he actually became the king.
God has a plan for you. Before it comes to pass though, there is a time of proving, pruning, and maturing. To us, it often looks like just plain waiting. Do not get discouraged while you are in the wilderness. God is completely faithful and the things that He has spoken to you, He will bring to pass. You cannot have a rags to riches story without the rags.
Prayer: Heavenly Father, I wait on You. I thank You so much for all that You are doing in my life and I know that You will guide me down the best possible path. Have Your way in my life, in the name of Jesus I pray.
Bible Fun Fact: A man who was a newlywed was exempt from military service for a year (Deut 24:5).
†  Seventy-Two Hours  †
And when David and his men came to the city, they found it burned with fire, and their wives and sons and daughters taken captive. Then David and the people who were with him raised their voices and wept until they had no more strength to weep. 1 Samuel 30:2–4 ESV
David stood amidst the burned ashes of his city with tears running down his face. Though he was anointed as king years ago, he had been running from Saul ever since. Now while the men were away, Amalekites had burned the city and carried off all of their wives and children. His own men were talking of stoning him to death. This was a difficult time for David. One that would break most men, but he strengthened himself in God (1 Sam 30:6).
In seventy-two hours, everything changed (2 Sam 1:2). With God's help, David rescued their families and recovered all (1 Sam 30:18). Saul died during a battle with the Philistines (1 Sam 31:3). They made David king over Judah (2 Sam 2:4). The breakthrough was so close and things that had not changed for years, were now only hours away. David did not know this and if he had given up and fallen on his sword, he would have missed the greatest years of his life.
It is always darkest right before the breakthrough. The battle can become so intense that you want to quit, but hang on. A lot can change in seventy-two hours. You are closer than ever to seeing the promises of God fulfilled in your life.
Prayer: Heavenly Father, give me a heart like David that will trust You even in the face of adversity. Strengthen me Lord and help me to see past the problem, in the name of Jesus I pray. 
Also please join our online community at www.refreshinghope.org and you will find Hope, Christian friends, Encouragement and people that are willing to pray for you. Have a blessed day!
Pastor Dion

Today's Verse:

 John 17:17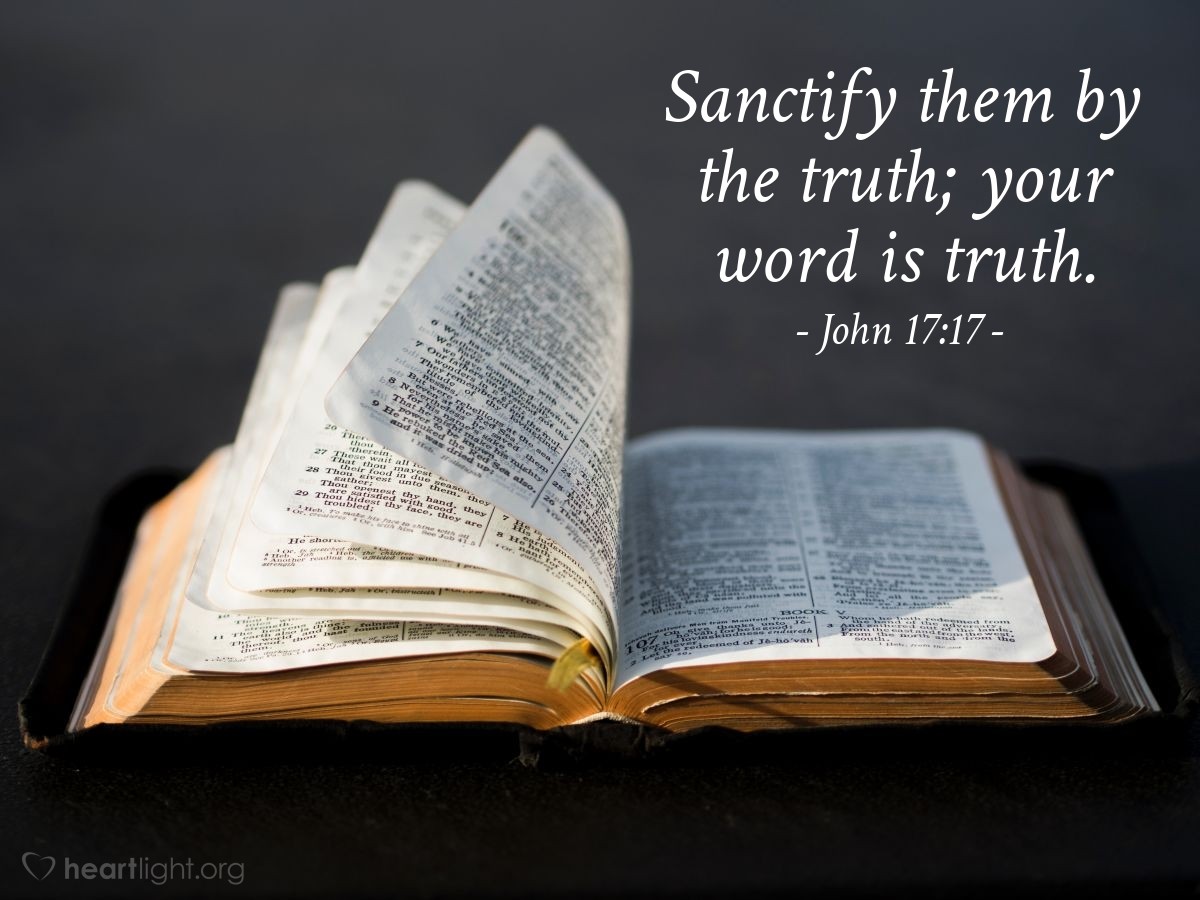 Thoughts on Today's Verse…
God's promises, God's Scripture, and God's clearest message of all, his Son, are truth. But only the last of these is truth, grace, deliverer, friend, Lord, Savior, brother, Redeemer…
My Prayer…
O God, give me a holy passion to know your truth and live it in both word and deed. Make my life a reflection of your Word, who both proclaimed and lived your truth. In the name of Jesus, your ultimate Word, I pray. Amen.
Daily Wisdom:

 Psalm 84:12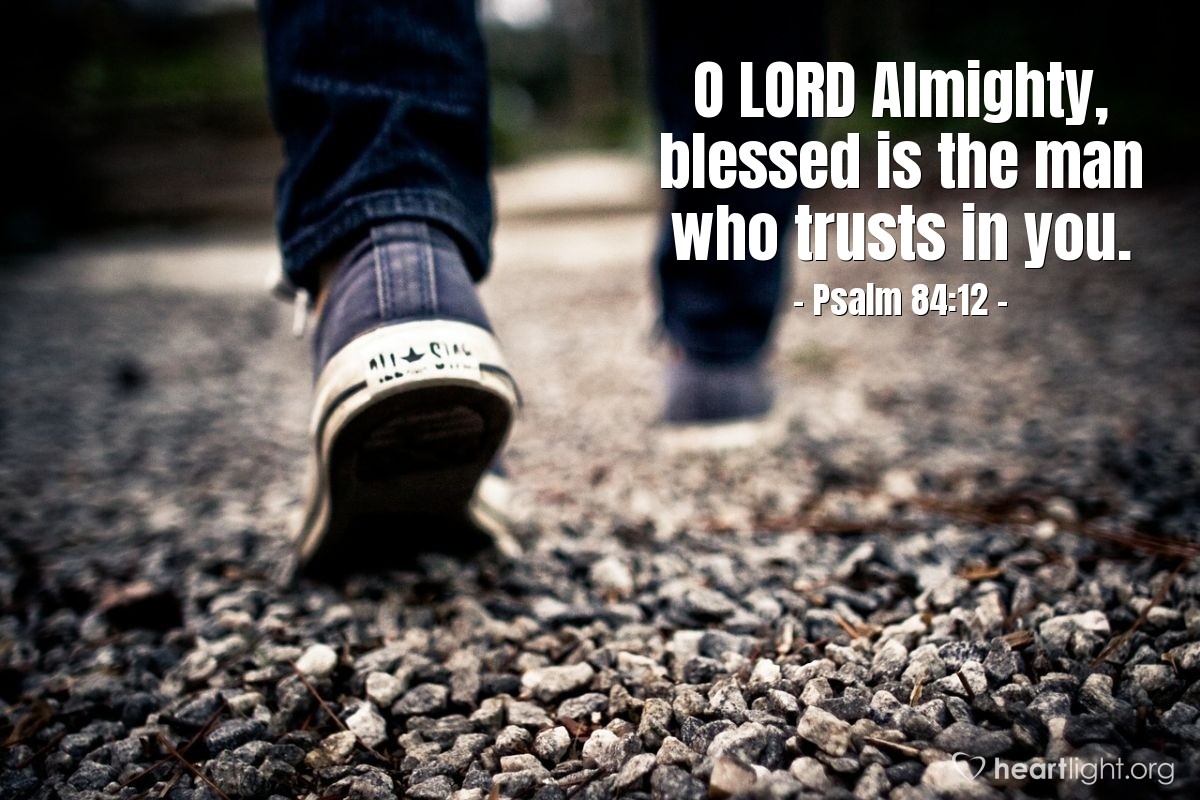 A Year with Jesus:

 'Glory Awaits!'
Note from Jesus
Dear Beloved,
As My apostle Paul's death grew near, he was confident of his deliverance as well as My return. Hear his beautiful words of faith:
For I am already being poured out, and the last drops of this drink offering are all that remain; it's almost time for me to leave. I have fought the good fight, I have stayed on course and finished the race, and through it all, I have kept believing. I look forward to what's in store for me: a crown of righteousness that the Lord — the always right and just judge — will give me that day (but it is not only for me, but for all those who love and long for His appearing).
(2 Timothy 4:6-8)
Glory awaits. A new heaven and a new earth await. Your reward for a life of faithfulness awaits. There will come a time when your suffering will melt away into the glorious deliverance that I will bring you. I will bring justice and comfort for all who have waited patiently and endured injustice, hardship, pain, and anguish for My sake (2 Thessalonians 1:5-10).
Throughout the centuries since My first coming to earth, My disciples have awaited My triumphant return. I have not forgotten. I will return at the time appointed by the Father (Mark 13:32). I will come, and you will share in My glory because you have placed your faith, your life, and your future in My hands (Colossians 3:1-4). So be faithful. Don't give in to despair. Remember My promises for those who long for My appearing: At the end of time, I will bring the fullness of My kingdom and the full experience of My glory to My people forever. Your adoption into glory with Me is coming and will bring everlasting grace to you!
Verses to Live
Your world is struggling with its brokenness and decay. You struggle with your own mortality and the injustice and unfairness in your world. You are tired of saying goodbye in death to precious people you love. If you are bone-weary because of physical, emotional, and spiritual pain, please know, dear beloved, that these problems will all disappear with My return. Glory awaits!
Now I'm sure of this: the sufferings we endure now are not even worth comparing to the glory that is coming and will be revealed in us. For all of creation is waiting, yearning for the time when the children of God will be revealed.

You see, all of creation has collapsed into emptiness, not by its own choosing, but by God's. Still He placed within it a deep and abiding hope that creation would one day be liberated from its slavery to corruption and experience the glorious freedom of the children of God. For we know that all creation groans in unison with birthing pains up until now.

And there is more; it's not just creation—all of us are groaning together too. Though we have already tasted the firstfruits of the Spirit, we are longing for the total redemption of our bodies that comes when our adoption as children of God is complete— for we have been saved in this hope and for this future. But hope does not involve what we already have or see. For who goes around hoping for what he already has? But if we wait expectantly for things we have never seen, then we hope with true perseverance and eager anticipation.
(Romans 8:18-25)

The day of the Lord will come unexpectedly like a thief in the night; and on that day, the sky will vanish with a roar, the elements will melt with intense heat, and the earth and all the works done on it will be seen as they truly are. Knowing that one day all this will come to pass, think what sort of people you ought to be — how you should be living faithful and godly lives, waiting hopefully for and hastening the coming of God's day when the heavens will vanish in flames and the elements melt away with intense heat. What will happen next, and what we hope for, is what God promised: a new heaven and a new earth where justice reigns.
(2 Peter 3:10-13)

I looked again and could hardly believe my eyes. Everything above me was new. Everything below me was new. Everything around me was new because the heaven and earth that had been passed away, and the sea was gone, completely. And I saw the holy city, the new Jerusalem, descending out of heaven from God, prepared like a bride on her wedding day, adorned for her husband and for His eyes only. And I heard a great voice, coming from the throne.

A Voice:

See, the home of God is with His people.

He will live among them;
They will be His people,
And God Himself will be with them. The prophecies are fulfilled:

He will wipe away every tear from their eyes.

Death will be no more;
Mourning no more, crying no more, pain no more,

For the first things have gone away.
Response in Prayer
O God, my Father, give me strength, courage, endurance, and faith to trust in Jesus' coming. I long for that day, Father. I trust that justice, mercy, and grace are on the way and will triumph over injustice, violence, and death and that I will share in Jesus' reign for ever and ever. In His name, I pray. Amen.
Passion for Praise:

 'Death is Swallowed Up in Victory!'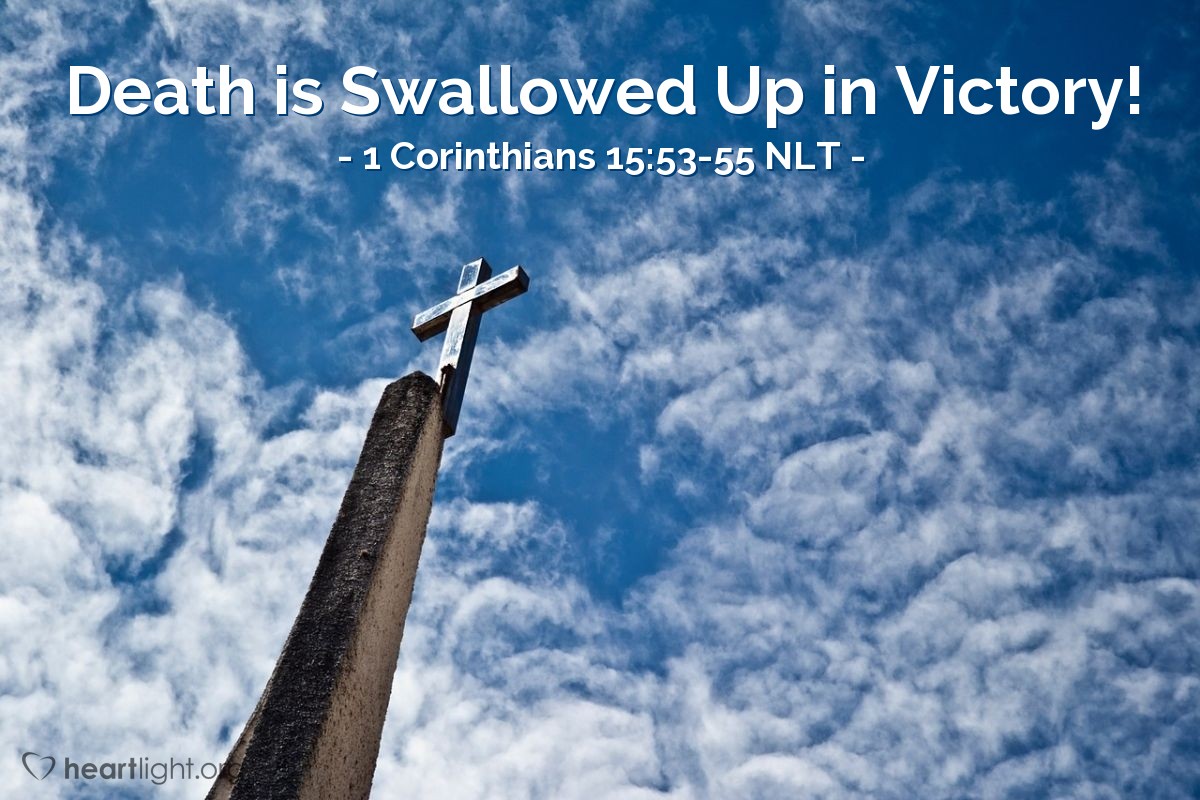 7 Priority Thanksgiving Day Prayers
Most Christians Have Never Prayed
Editor's Note: On November 22, millions of Christian families across America will begin their Thanksgiving Day feast with prayer. They will thank God for all kinds of blessings—financial, health, family, church, including unexpected godsends or miracles in 2018.
But there is a whole other category of prayers of thanksgiving that needs to be included as we unite around the table. Truth be told, they should take priority, becoming the ones we express first. More importantly, this special reason for gratitude ought to be prayed daily, in one form or another, throughout the year.
Yet, for many of us, this seven-fold agenda probably has never crossed our minds.
However, as David Bryant shares in this week's blog post, these dynamic declarations of gratitude to God are at the heart of our walk with Christ. For sure, along with a multitude of believers, we'll all be expressing these seven key prayers before all of heaven on that glorious "Final Thanksgiving Day" when our King returns in victory—and we'll keep doing so forever!
"Thanks Be to God for His
Unspeakable Gift!"
What is the greatest gift you've ever received? Is there one blessing above all others that has ignited your heart with undying gratitude? Is there any work of God's grace toward you that fills your daily prayers with appreciation and praise?
Christians know from Scripture, there's only one answer to all three questions: our Lord Jesus Christ. Paul tells us so in 2 Corinthians 9:15. Here it is in four translations (with emphasis added):
Thanks be to God for his inexpressible gift! (RSV)
Thanks be to God for his indescribable gift! (NIV)
Thank God for this gift too wonderful for words! (NLT)
Thank God for this gift, his gift. No language can praise it enough! (MSG)
In the context, Paul is speaking of Jesus and all the blessings that come to us through him. For example, the apostle reflects in the previous chapter:
For you know the grace of our Lord Jesus Christ, that though he was rich, yet for your sake he became poor, so that you through his poverty might become rich.
Jesus is the greatest gift any of us will ever receive. All other gifts—in fact, all the promises of God—are showered on us through him.
Yet we're told in verse 15, he's the one gift that is inexpressible, indescribable, beyond human description—unspeakable.
So, how can any Thanksgiving Day prayer be shaped by something—by someone—so lofty, so profound, so amazing that current vocabulary fails to do him justice?
Moreover, Paul increases the difficulty of our challenge in Ephesians 3:8 when he adds that in God's Son are found "riches" that are "inexhaustible" (MSG), "boundless" (NIV), "endless" (NLT).
So, even if I'm able to come up with words to express gratitude for how we have "received grace upon grace out of Christ's fullness" (John 1), there will never be an end to my discoveries of all the treasures found in my Savior!
No wonder the Bible declares that our Father "has blessed us in the heavenlyrealms with every spiritual blessing in Christ" (Ephesians 1, NIV, emphasis added). "Heavenly" means we have topics for prayers of thanksgiving defined by eternal, cosmic, angelic realities beyond this world—and defined by who Jesus is, where he sits, and what his current saving reign means for you and me.
Still, as impossible as it may seem, Christians are called to take hold of words and declare with their tongues heartfelt thanks to God the best we know how. We are to "rejoice evermore" and "in everything give thanks" (1 Thessalonians 5, NKJV)—most of all, as we give thanks for Jesus, the one gift that subsumes all others—including in 2018.
Create a New Way to Pray
at Your Thanksgiving Table This Year
What I want to do for the remainder of this blog post is give you SEVEN facets of this one grand gift, suggesting a few key questions for you to answer about each.
Then, I want you to use your answers to compose seven single-paragraph prayers—basically by turning each separate answer for each main topic into an expression of thanksgiving to the Father for the Son, based on what your answers inspire for you.
Finally, I suggest that you type your seven thanksgiving paragraphs on a  sheet of paper and make a copy for each person sharing Thanksgiving with you. Before the meal begins, ask seven guests to each read one of the prayers out loud while everyone else prays along silently.
Encourage everyone to see each prayer as a new kind of Thanksgiving prayer that most of them have never prayed before. Also, remind them that all seven prayers are really one prayer—all about the one Person who is the greatest blessing any of us could possibly celebrate in the past year.
NOTE: The seven topics for these seven prayers are based on the "7 groundbreaking keys" explored in over 600 pages in my latest book, Christ Is NOW!— in case you would like to explore any of this in more depth for yourself.
(1) Thanks for the gift of who Christ is TO us
Prompts to help you shape your prayer:
What is one insight Jesus helped you to see more clearly about the nature and ways of God this past year?
What is one new truth about Jesus' majesty and supremacy you discovered in your study of the Bible this past year?
What is one name or title for Jesus (out of over 300 in Scripture) that brought special joy and meaning at some point in your life this past year?
In 2018, what was one time your identity as one who belongs to God's Son blessed you?
Compose Thanksgiving Prayer #1. Drawing on your four answers, create a one-paragraph prayer thanking the Father for the gift of who Christ is TO us.
(2) Thanks for the gift of who Christ is FOR us
Prompts to help you shape your prayer:
What blesses you about knowing that Jesus can fully understand you in whatever you're going through because for our sakes he became one of us?
At what one specific moment in 2018 did Jesus' sacrifice on the cross for your sins take on a deeper meaning for you, filling you with gratitude for all he suffered for you?
What does it mean to you that Jesus conquered death forever? This past year how has this truth brought you comfort or filled you with renewed hope?
Are you thankful for a moment this past year when the truth about Jesus' victorious reign today increased your confidence to face a challenge?
Compose Thanksgiving Prayer #2. Drawing on your four answers, create a one-paragraph prayer thanking the Father for the gift of who Christ is FOR us.
(3) Thanks for the gift of who Christ is OVER us
Prompts to help you shape your prayer:
Was there one time this past year when the truth that Jesus reigns over the workings of creation filled you with praise?
Was there a time this past year when the truth that Jesus overrules in the unfolding of world history gave you new reasons to celebrate?
Was there a time this past year when the truth that Jesus is in full control of the designs of global leaders brought you a measure of reassurance and hope?
Was there a time this past year when the truth that Jesus is advancing his kingdom among earth's people filled you with renewed excitement about what lies ahead for the gospel?
Was there a time this past year when you witnessed Jesus reigning over the forces of darkness in a way that removed fear from you and ignited bold faith in you?
Compose Thanksgiving Prayer #3. Drawing on your five answers, create a one-paragraph prayer thanking the Father for the gift of who Christ is OVER us.
(4) Thanks for the gift of who Christ is BEFORE us
Prompts to help you shape your prayer:
Christ has gone before us into the future to bring it back to us right now. What is one way you've seen him do that for you this past year?
Jesus has gone before us into the heavens to take us there with him right now. What is one way this reality has encouraged you this past year?
Christ has gone before us into the promises of God to make them ours too, right now. Is there one promise of Scripture that you've had fulfilled in your life this past year through Christ?
Jesus has gone before us into the world to open up a way for us to serve him right now. What is one way this past year our Savior opened a new way to share him with someone else?
Compose Thanksgiving Prayer #4. Drawing on your four answers, create a one-paragraph prayer thanking the Father for the gift of who Christ is BEFORE us.
(5) Thanks for the gift of who Christ is WITHIN us
Prompts to help you form your prayer:
What is one way you have experienced Christ's indwelling presence in your life this past year?
What is one way your Christian fellowship has experienced Jesus' presence among you this past year?
The Spirit of God dwells in us in order to extend the reign of Christ in us and to reveal more of Christ to us. What is one time you experienced his ministry to you this past year?
Can you recall one time this past year you enjoyed the blessing of your unity with other believers as a result of how Jesus was working among you?
Compose Thanksgiving Prayer #5. Drawing on your four answers, create a one-paragraph prayer thanking the Father for the gift of who Christ is WITHIN us.
(6) Thanks for the gift of who Christ is THROUGH us
Prompts to help you form your prayer:
Where have you recently seen evidence of the extension of Christ's ascension and reign, either where you live or somewhere among the nations?
What one work of mission and gospel ministry through a body of believers have you become aware of this past year that fills you with excitement, anticipation, and gratitude?
In what one special way has the Lord Jesus worked through your life to touch someone in the Body of Christ—and about which you're grateful?
In what one special way has the Lord Jesus worked through your life to touch someone who has not become a Christian yet—and about which you're grateful?
Can you recall a time in 2018 when your growing vision of the greatness and glory of Christ inspired you to reach out to someone else to help them see more of who he is?
Compose Thanksgiving Prayer #6. Drawing on your five answers, create a one-paragraph prayer thanking the Father for the gift of who Christ is THROUGH us.
(7) Thanks for the gift of who Christ is UPON us
Prompts to help you form your prayer:
Where have you seen some evidence that Christ's reign is advancing among the nations (or where you live) with new empowerment—for which you give thanks?
Where have you experienced a work of the Spirit in your life (such as a miracle or a healing or some other form of divine intervention) that seemed like a "foretaste" of what it will be like when Jesus returns to reign over all things?
At what point this past year did it feel to you like Jesus was taking charge in some new way, deepening and increasing something he was already doing in you?
Have you seen any signs of the beginnings of a "Christ Awakening" locally or elsewhere that suggest to you a greater work of Christ is about to take place?
What is there about the coming Consummation—the new heavens and earth—that has become more real to you and more precious to you?
Compose Thanksgiving Prayer #7. Drawing on your five answers, create a one-paragraph prayer thanking the Father for the gift of who Christ is UPON us.

OK . . . It's Time to Pray!
One of St. Augustine's most famous quotes (I have it on a plaque in my office, in fact) goes like this:
Those who have Christ have everything.
Those who have everything
but do not have Christ have nothing.
And those who have everything plus Christ
have no more than those who have Christ alone.
Those who have Christ have EVERYTHING! That's why the top priority prayer we should all be praying on Thanksgiving Day is praise and gratitude for ALL Jesus is and all we have in him. Moreover, we should be praying like this all year long! So let me end that way with this prayer:
Dear Father, thank you for your unspeakable gift, our Lord Jesus Christ.

Thank you for all your Son means TO us—especially for all the ways he reveals to us your nature and your heart and brings us into his relationship with you.

Thank you for all your Son means FOR us—for his four-fold salvation by his incarnation, his crucifixion, his resurrection, and his ascension.

Thank you for all your Son means OVER us—as he reigns among the nations and in our lives, defeating all enemies and securing the future of all creation as well as our destinies.

Thank you for all your Son means BEFORE us—as he precedes us and makes a way for us into all you have for us in the future, in the heavens, in the promises, and in the world.

Thank you for all your Son means WITHIN us—as he manifests his presence and power by living out his life in each of us and all of us together.

Thank you for all your Son means THROUGH us—as he unleashes his ministry gifts and his gospel mission to bless others by how he uses us as his servants.

Thank you for all your Son means UPON us—as he gives us today more and more preliminary experiences of the Consummation by the power of his Spirit and as he prepares us to share in even greater displays of his supremacy in the ages to come. AMEN.
May you have a blessed Thanksgiving as you praise the Father from whom comes every good and perfect gift—especially the supreme gift of our Lord Jesus Christ! Our thanksgiving for that indescribable gift will continue for all eternity!
About the Author
Over the past 40 years, David Bryant has been defined by many as a "messenger of hope" and a "Christ proclaimer" to the Church throughout the world. Formerly a minister-at-large with the InterVarsity Christian Fellowship, president of Concerts of Prayer International (COPI), and chairman of America's National Prayer Committee, David now provides leadership to ChristNow.com and to Proclaim Hope!, whose mission is to foster and serve Christ-awakening movements. Order his widely read books at DavidBryantBooks.com.
MICKEY MOUSE BIRTHDAY
Making his debut on November 18, 1928, we commemorate the birth of that ever lovable mouse that was once a rabbit called Oswald. To get to the beginning of the story, we have to go back to 1927 when Walt Disney first sketched a floppy eared bunny while under contract to Universal Studios. The events that unraveled brought us Mickey Mouse.
HOW TO OBSERVE
Wish Mickey Mouse a Happy Birthday! Use #MickeyMouseBirthday to share on social media.
HISTORY
Mickey Mouse came under the roller coaster events of Oswald's success and Universal's disappointing contract negotiations. Disney Bros. Studio took their leave of both the studio and Oswald and set to work creating a character who would go on to lead the company into the future.
From a rabbit named Oswald to a mouse named Mortimer, eventually, the squeaky-voiced rodent was dubbed Mickey. He flopped in two animated short films without any success. Then on November 18, 1928, Mickey's star was born. The first animation synchronized to music and sound effects, Steamboat Willie premiered in New York.
Within a year, a Mickey Mouse Club popped up in Salem, Oregon. This particular club offered admission as a fundraiser for the Salvation Army with a donation of either a potato or a small toy and a penny. According to a December 22, 1929, Statesman Journal (Salem, Oregon) article, $12 and three truckloads of potatoes and toys collected by eager new members.
Remember, the stock market crashed just 20 days before Mickey Mouse was born. That a cute little mouse could bring smiles to the faces of children at an uncertain time really isn't such a surprise.
Generally, new members joined the club by completing an admission form obtained from a local merchant and attending meetings held during matinees at local movie houses. The price of admission often was reduced for good deeds and report cards. By the end of 1930, the Mickey Mouse Clubs had spread across the country.
In 1935, animator Fred Moore gave Mickey a new look that enabled a more fluid movement to the animation.
A makeover in 1935 by animator Fred Moore gave Mickey the look we are familiar with today. The big eyes, white gloves, and the pert little nose. More lovable than ever before, he propelled himself even further into the hearts of children everywhere.
His companions Minnie, Donald, Goofy and Pluto joined him along the way, bringing vaudevillian comedy with them.
Then…..
Now…..
Sunday Puzzle…