Monday Morning Prayer and Bible Verses
As we commence this new work week, let us kick it off with a talk with our Heavenly Father. Let us spend some time in prayer, devotion and praise. The past week is behind us, and new beginnings are ahead..
Heavenly Father, I come before You Oh Lord, my God, thanking You for waking me up this Monday morning to embrace the sunlight that shoots down from the heavens.
Thank You for giving me the health and strength I need to overcome every stronghold in my life. And thank You for loving me unconditionally in the times where I may fail You.
Psalm 90:14 Satisfy us in the morning with your steadfast love, that we may rejoice and be glad all our days.

Psalm 5:3 O Lord, in the morning you hear my voice; in the morning I prepare a sacrifice for you and watch.
Father, I request that Your Holy Presence draws near to me. Wrap me in Your loving arms and never let me go. Cover me under the precious blood of the lamb. Cleanse me of anything that is displeasing to You. Renew my mind, my body and my soul, as I worship You and You alone.
Psalm 19:14 Let the words of my mouth and the meditation of my heart be acceptable in your sight, O Lord, my rock and my redeemer.
Proverbs 8:17 I love those who love me, and those who seek me diligently find me.
When the storms arise, bestow Your tranquility and peace upon me so that I may not be moved. Work from within me, Lord to bring a revival into my Life. When I feel broken Lord, transform my spirit so I can emerge whole again. And, as I pray Lord, use me daily as Your vessel.
Walk beside me as I endure the challenges of today. Give me the strength I need to challenge the week ahead. Send Your angels to guard over me as You lead me into my divine purpose. In Jesus' mighty name I pray, Amen!
Isaiah 26:9 My soul yearns for you in the night; my spirit within me earnestly seeks you. For when your judgments are in the earth, the inhabitants of the world learn righteousness.
Psalm 104:30 When you send forth your Spirit, they are created, and you renew the face of the ground.
Christoph Friedrich Blumhardt
Hear my voice when I call, O Lord; be merciful to me and answer me. My heart says of you, "Seek his face!" Your face, Lord, I will seek. Do not hide your face from me. Psalm 27:7–9a, NIV
We thank you, dear Father in heaven, that you let the light from your face shine into our hearts. Look upon our time, we pray, with your clear, penetrating eyes, and let all people sense that they are watched over by more than they are able to see. Let them realize that a strong God and Father is watching over them. Protect us on our way, and let your light shine ever more brightly, so that in all we do your name is glorified. Amen.
TODAY'S DAILY DIG
It's funny: I always imagined when I was a kid that adults had some kind of inner toolbox, full of shiny tools: the saw of discernment, the hammer of wisdom, the sandpaper of patience. But then when I grew up I found that life handed you these rusty, bent old tools – friendships, prayer, conscience, honesty – and said, Do the best you can with these, they will have to do. And mostly, against all odds they're enough.
Verse of the Day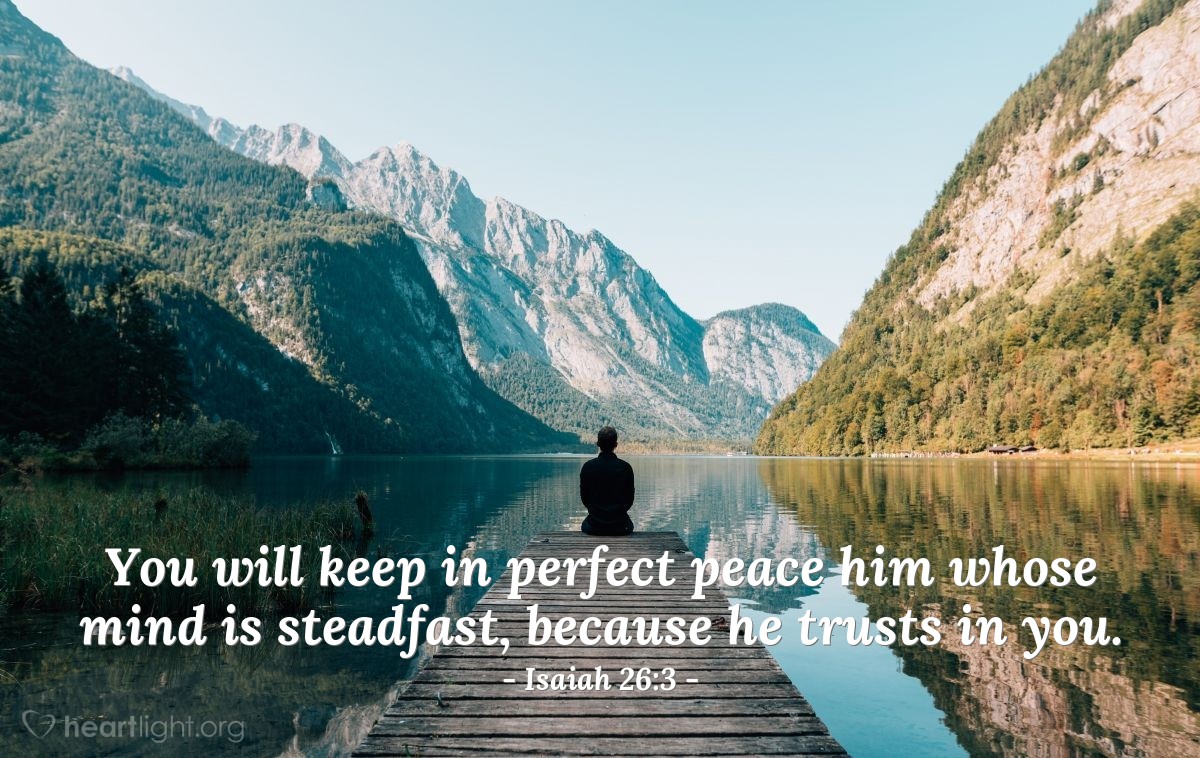 Thoughts on Today's Verse…
While it is naive, on one hand, to think that trusting in God makes all of our problems go away — Christians have many of the same problems that unbelievers do because they share the same mortal flesh, on the other hand it's true. If we trust in God, we believe our work stands or falls in his hands and that ultimately we will share in his victorious and glorious presence. It means our lives will not be lived in vain. That's not just confidence; it's the foundation of true peace — life lived to its fullest and richest, knowing that every moment of life matters and we don't need to be anxious about its results when we rest our life in the hands of the LORD.
My Prayer…
Almighty Father of Peace, thank you for giving me the assurance that my life will not be lived in vain. May I share that peace with others today. In the name of Jesus, my Prince of Peace, I pray. Amen.
Grace
TGIF Today God Is First Volume 1 by Os Hillman
August 27, 2018
…"Peace be with you!" John 20:19
How would you respond to a group of fellow workers if you were their leader and you poured your life into them, teaching them all you know for three years, only to have them disband and go their own way when troubles came? What would you say to them after you were reunited for the first time? Perhaps you might scold them. Perhaps you might cite each one's offense. At the least, you might shame them for their lack of faithfulness and courage.
After Jesus was crucified and raised from the dead, He appeared to the disciples. His first words to them were, "Peace be with you!" The word grace means "unmerited favor." When someone loves you unconditionally, without regard to your behavior in return, it becomes a powerful force in your life. Such was the case for the disciples when Jesus appeared to them. They could have expected reprimand. Instead, they received unconditional love and acceptance. He was overjoyed to see them. They were equally overjoyed to see Him.
Jesus understood that the disciples needed to fail Him as part of their training. It would be this failure that became their greatest motivation for service. Failure allowed them to experience incredible grace for the very first time. Grace would transform them as human beings.
Have you experienced this grace in your life? Have you extended grace to those who have hurt you? Can you let go of any wrongs that have come through friends or associates? The grace you extend may change their lives – and yours.
Sharing Your Faith with Others
TGIF Today God Is First Volume 2 by Os Hillman
August 27, 2018
"I pray that you may be active in sharing your faith, so that you will have a full understanding of every good thing we have in Christ" (Philem 6-7).
There is a strong correlation between those who publicly share their faith with others and an increase in spiritual growth for that individual. In my own journey I've discovered that when I stop sharing my faith with non-believers I begin to see a dryness in my walk with God.
Sometimes we justify our lack of verbal witness by saying we don't have the spiritual gift of evangelism. Or we conclude that because we have an introvert personality we leave witnessing to others who we deem as more qualified. As a well-qualified introvert myself, I've often wanted to use that excuse. Then, the Holy Spirit reminds me of a few instructions Jesus said to EVERYONE:
"But whoever disowns me before men, I will disown him before my Father in heaven" (Matt 10:33). "He said to them, "Go into all the world and preach the good news to all creation" (Mark 16:15-16). There is not much confusion about what Jesus is saying in these verses. And it relates to all of us.
When we share Christ with others God allows us to gain a deeper and greater understanding of every good thing in Christ. Do you see the direct correlation between sharing your faith and your own spiritual growth? Paul says it's actually a prerequisite to spiritual growth.
One of the great ways to turn a conversation to faith is by asking someone if there is anything you can pray for them about. You will be surprised how easily this will transition you into a conversation about their faith lives.
Ask God for boldness today to offer to pray for someone.
Listening to the Father's Heart – August 27 
by Os Hillman
Son, I want you to be at peace with not seeing or understanding the entire picture. Only occasionally do I allow glimpses of future events, as I did with Abraham. "Why" questions are never answered on earth; only in heaven. There was a point in time when Abraham needed to know my plans (Gen 15:13-15). I do answer "what" questions. But I give you only what you need to know. You would not be able to handle knowing your entire picture. I know you understand this, son. Life has many unexpected twists and turns that make up your journey. I give my grace at the time of need, not before. That is why I rarely reveal the future to you unless I know it is needed to encourage you. Just keep seeking me with all your heart day by day. It all turns out good in the end. You must believe this.
And we know that all things work together for good to those who love God, to those who are the called according to His purpose. Romans 8:28
For now we see in a mirror, dimly, but then face to face. Now I know in part, but then I shall know just as I also am known. 1 Corinthians 13:12
NATIONAL JUST BECAUSE DAY
Each year on August 27th it is National Just Because Day.  Feel free to celebrate this day any way you choose.  Just because!
Every day we all do things that are expected or required of us or because we have to. Well, on National Just Because Day, that does not apply.   This day is a chance to do something without rhyme or reason.
It could be that there is an outfit at the mall that you are admiring; buy it…just because.
Maybe you want to use a vacation day just to go fishing; do it…just because.
Perhaps you would like to pay the tab for the table next to you at your favorite restaurant; do it…just because.
Possibly you want to sing really loud while you're in your car, by yourself, with your windows rolled down; do it…just because.
Surprise someone with flowers…just because!
Make something up…just because!
Or maybe, just maybe, do something just because Mom said so.
HOW TO OBSERVE
Do something just because.  Use #NationalJustBecauseDay to post on social media.
HISTORY
Our research indicates that National Just Because Day was created by Joseph J. Goodwin of Los Gatos, CA, in the late 1950s.  It began as a family holiday and has grown into an annual celebration across the United States.
Well, maybe no jokes, humor, or cartoons today……maybe I'm just not in the mood for silliness…..maybe I'm just feeling TOO down!
Well, it's now a whole year since my children and grandchildren up in Pennsylvania decided to cut me out of their lives.  They said it was because I'm "too negative", but, really?  I can't help feeling that it was just an excuse they used to do what they wanted to do…..that I'm an embarrassment……I just don't fit into their design any longer…….I'm what their other Grandmother was…..a poor excuse for both a Mother and a Grandmother!  I can't believe that MY Mariah treated me as she did…….she was always my sweetie…….she would come crying to me so often, because her Mom and Dad were constantly scolding her for overeating and getting fat…….does she recall any of this?  Jenni doted on Mindy way too much!  But, they turned out so well…….and I was so very proud the first time I visited!  Then, my second visit……….my second day at Jenni's, she pointedly told me not to ask her to take me to visit any of MY family (sisters), because she has nothing to do with them……this hurt…….they are family, too, whether she wants to admit this or not!  And, I have since discovered that she associates with my youngest sister, Nan……the one who tossed our Mother out like trash and helped her to die sooner than she should have!  And why?  All because our Dad left money to Mom that Nan thought should have been used to pay for HER big wedding!!  And this is a woman who was invited to my granddaughter's wedding?  It just goes to prove some of what I've said………
I've stayed away from them all as much as possible…….I have no one now……….I have my fella, and I wonder about him, too…..and I have my two sons here…….my fella's family put me and my sons through hell this past Christmas and tried to come between Duane and me………thank God, Duane came back to me!  
Well…….that's all for now……God bless you all!!!!