Christoph Friedrich Blumhardt
The Lord is my strength and my shield; my heart trusts in him, and I am helped. My heart leaps for joy and I will give thanks to him in song. Psalm 28:7, NIV
Lord our God, you are our strength and shield. Our hearts hope in you and we are helped. Accept us from among all the nations as a people who want to serve you. Strengthen our hearts, especially when we must be tested in every way and must face the many hardships that will come when we take up our task of proclaiming your name and witnessing to you. For you are strong and can protect us. You can fill us with light and with joy to proclaim again and again the salvation that is coming through your all-powerful goodness and mercy, salvation in Jesus Christ the Lord. Amen.
TODAY'S DAILY DIG
God does not desire suffering as an end in itself, I am sure. But all suffering is so expensive he will not let it be wasted. He will use it for his children's growth. The first purpose of our lives must be, "Thy kingdom come, thy will be done."This is never a passive statement of endurance or of mere agreement to submit to whatever happens. It is a positive statement of the will to reach out for that which will bring glory to God. I am also sure that the greatest prayer we can pray is, "Whatever brings the greatest glory to God, I want it, even if it brings suffering and loss to me."
Source: Two or Ninety-Two
Verse of the Day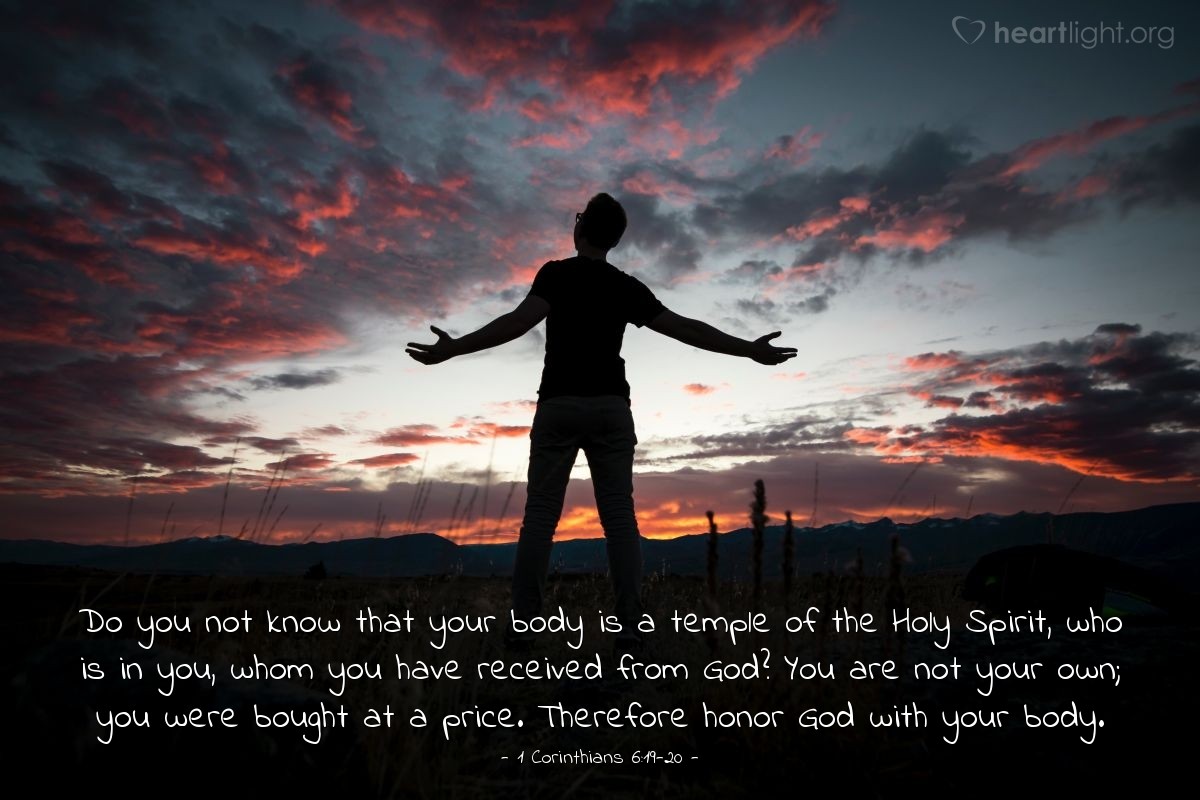 Thoughts on Today's Verse…
We are God's temple! God lives in us. What we do in our bodies is part of our worship to him. We are called to not only abstain from impurity, but we are called to glorify God in our bodies and honor the sacrifice by which our holiness was bought.
My Prayer…
Father, I confess to you that I sometimes lose sight of how precious my body is to you. With aging and the other challenges that daily remind me that my body is a vessel of decay, I find it hard to believe that I can glorify you with it. Please, through your indwelling Spirit, quicken in me a deeper reverence and appreciation of your presence in me. In the name of Jesus, my atoning sacrifice, I pray. Amen.
The bow is seen in the clouds.
Genesis 9:14
The rainbow, the symbol of the covenant with Noah, foreshadows our Lord Jesus, who is the Lord's witness to the people. When may weexpect to see the token of the covenant? The rainbow is only to be seen painted upon a cloud. When the sinner's conscience is dark with clouds, when he remembers his past sin and mourns and laments before God, Jesus Christ is revealed to him as the covenant Rainbow, displaying all the glorious hues of the divine character and declaring peace. To the believer, when his trials and temptations surround him, it is sweet to behold the person of our Lord Jesus Christ—to see Him bleeding, living, rising, and pleading for us. God's rainbow is hung over the cloud of our sins, our sorrows, and our woes, to prophesy deliverance. By itself a cloud does not give a rainbow; there must be the crystal drops to reflect the light of the sun.
So, our sorrows must not only threaten, but they must really fall upon us. There would have been no Christ for us if the vengeance of God had been merely a threatening cloud: Punishment must fall in terrible drops upon Him. Until there is a real anguish in the sinner's conscience, there is no Christ for him; until the chastisement that he feels becomes grievous, he cannot see Jesus. But there must also be a sun; for clouds and drops of rain do not make rainbows unless the sun shines. Beloved, our God, who is as the sun to us, always shines, but we do not always see Him—clouds hide His face; but no matter what drops may be falling or what clouds may be threatening, if He shines there will be a rainbow at once.
It is said that when we see the rainbow, the shower is over. It is certain that when Christ comes, our troubles withdraw; when we look on Jesus, our sins vanish, and our doubts and fears subside. When Jesus walks upon the waters of the sea, how profound the calm!
Business as Ministry
TGIF Today God Is First Volume 1 by Os Hillman
August 12, 2018
"Whatever you do, work at it with all your heart, as working for the Lord, not for men, since you know that you will receive an inheritance from the Lord as a reward. It is the Lord Christ you are serving." Colossians 3:23-24
The Bible is very clear that the purpose for our work life is to reflect Christ in and through our lives. It is an attitude that says our work is to have an overriding "ministry" objective to it. Our work is our worship to God. These two words even originate from the same Hebrew word, avodah.
Robert Laidlaw was born in Scotland in 1885 but grew up in New Zealand. Born to Christian parents, he committed his life fully to the Lord when he was 17. Laidlaw began working in a hardware merchant company as a traveling sales representative when he was 19. Later he had the idea for a mail-order catalogue business that sold everything imaginable including underwear, groceries, cosmetics, and farm equipment, all at bargain-basement prices. His concept proved successful and his business later merged with the Farmer's Union Trading Company. He became general manager and held that position for 50 years.
But this is not the most significant thing that can be said about Robert Laidlaw. He understood that his work life was a tool to affect others for Jesus Christ. He began giving ten percent of his income early in his business life. Later, however, he entered this into his journal: "September 1919, age twenty-five. I have decided to change my earlier graduated scale, and start now giving half (fifty percent) of all my earnings." This he continued for the next 60 years. [John Woodbridge, ed., More Than Conquerors (Chicago, Illinois: Moody Press, 1992), 351.]
The result of that commitment was countless numbers affected for Jesus Christ through the resources he gave to mission groups and other worthy Christian causes. He was personally involved in ministry. He wrote a small book that gave a thoughtful answer to basic questions about life and faith. It was titled "The Reason Why." Many hundreds of thousands came to faith in Christ because of this 46-page booklet. He publicly spoke to many of his faith in Christ and became very involved in the Soldier's and Airmen's Association when World War II broke out. Robert Laidlaw understood what it meant to view business with an overriding ministry objective.
Does the Lord have complete control of your life? If so, you will be able to see your work life as an extension of His life in you. Let the Lord live in and through your work life today.
Listening to the Father's Heart – August 12 
by Os Hillman
Son, when it seems like I am most absent, I am doing some of my greatest work in and through you. My promise to never leave you nor forsake you did not mean you would always feel I am there. You must recognize that the enemy of your soul seeks to convince you that I do not exist or care about my sons and daughters and that I have abandoned you in time of need. But know this my son; I am in the midst of all of life, the good and the bad. I work all things for good for those who love me and are called to my purposes. Sometimes faith alone is all you have. But I am infinitely trustworthy. My nature is always to do good for my sons and daughters. "Yes, I will rejoice over them to do them good, and I will assuredly plant them in this land, with all My heart and with all My soul" (Jer 32:41).
When He works on the left hand, I cannot behold Him; When He turns to the right hand, I cannot see Him. Job 23:9
For He Himself has said, "I will never leave you nor forsake you." Hebrews 13:5b
And we know that all things work together for good to those who love God, to those who are the called according to His purpose. Romans 8:28
God Speaks through Circumstances 
TGIF Today God Is First Volume 2 by Os Hillman
August 12, 2018
"As you do not know the path of the wind, or how the body is formed in a mother's womb, so you cannot understand the work of God, the Maker of all things" (Eccl 11:5).
God will often use circumstances in our lives to direct us in making and confirming decisions. I have often discovered this to be the case – but only after a situation has occurred. I later look back and see how God worked in the situation.
Years ago, I launched a magazine designed for Christians in the workplace and I was having lunch with a Christian leader named Larry who headed a ministry that helps men and women apply biblical principles to managing money.
During our lunch, I explained to Larry that I had noticed that there were many grassroots workplace ministries cropping up all over the country. I asked Larry if he was familiar with some of the groups since he had taught a course and wrote a book on operating a business on biblical principles. But he said he was not. He then asked, "It would be nice to know what all these groups are doing so we don't duplicate efforts. Do you think you could invite some of these groups for a roundtable discussion?" I told him I would and I proceeded to invite four main workplace ministries that I had worked with in the past.
Then something unexpected began to happen. I began to get requests from ministries all around the country that had heard about the gathering and they were asking if they could attend the roundtable. By the time the event actually took place, 54 people showed up representing 45 organizations from around the country! Unfortunately, Larry had a last minute conflict and was not able to attend, and he informed me that I would have to host the meeting myself. That was the birth of Marketplace Leaders, the ministry I now lead full time. I often joke that God tricked me into starting this ministry because He knows I never would have done that on my own at that time.
God often confirms His direction through circumstances. Be on alert that when God sets up situations that are out of your control – He may be giving you direction through these circumstances.
NATIONAL SPIRIT OF '45 Day
National Spirit of '45 Day honors the can-do attitude of an entire generation affected by the trials and hardships of World War II. Observed every year on the second Sunday in August, communities around the country hold events and memorials honoring those who have inspired us, sacrificed and preserved our nation for future generations.
HOW TO OBSERVE
The Spirit of '45 Organization provides a place to register and find events for upcoming the upcoming Spirit of '45 Day.  They also share past Spirit of '45 events to keep the inspiration, honor and preservation alive.  Visit and share using #NationalSpiritof45 on social media.
HISTORY
From a humble project pairing kids with seniors to document the World War II generation's memories, Warren Hegg and the Spirit of '45 Organization soon realized many shared a common story after the project started in 1996.
In 2009, spokesman Ernest Borgnine and Edith Shain (one woman who claimed to be famously photographed kissing a celebrating sailor in Times Square) talked about a day honoring the men and women of the World War II generation. Congress passed a joint resolution in 2010 on the 65th anniversary commemorating the day President Truman announced the end of World War II.