Daily Prayer for August 7
Christoph Friedrich Blumhardt
Believe in the light while you have the light, so that you may become children of light. John 12:36, NIV
Dear Father in heaven, as your children we come into your presence so that you may lead us with the light that streams out from you. We come to your light seeking an inner birth to make us what your children ought to be. Bless us as we thank you for all your goodness and for the powerful help you have given many among us. Accept the thanks we offer you, and grant that we never forget the good you are doing for us. Help us to go forward, always forward, until your kingdom is completed. May it not be in vain that we live in the Lord Jesus and in love to you, the God and Father of all. May it not be in vain that we bring you our requests and prayers for your kingdom to come soon. Yes, Lord Jesus, come! Come soon to this earth so that all people may acknowledge the true God and may love you. Amen.
TODAY'S DAILY DIG
For a long time, I sought safety and security among the wise and clever, hardly aware that the things of the kingdom were revealed to "little children"; that God has chosen "those who by human standards are fools to shame the wise." But when I experienced the warm, unpretentious reception of those who have nothing to boast about, and experienced a loving embrace from people who didn't ask any questions, I began to discover that a true spiritual homecoming means a return to the poor in spirit to whom the kingdom of heaven belongs.
Source: The Return of the Prodigal Son
Verse of the Day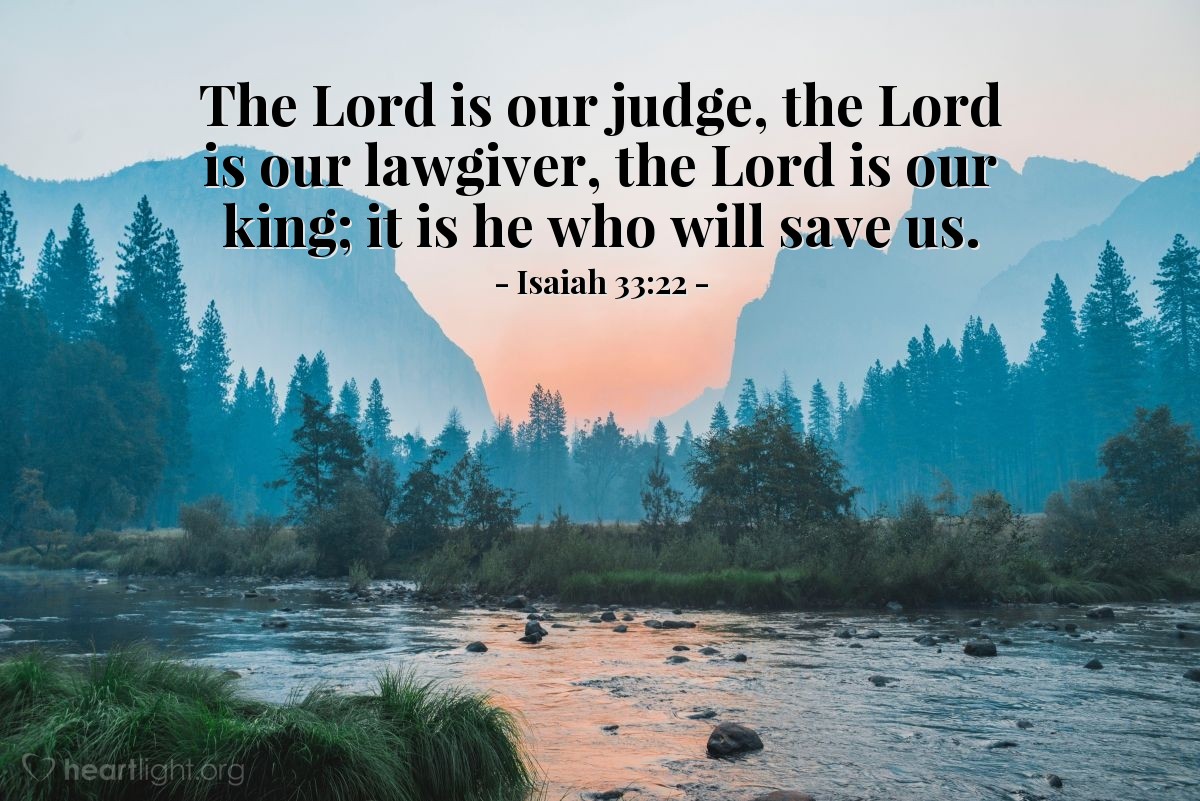 Thoughts on Today's Verse…
When we think about God's being our judge, we normally think of falling into judgment. Isaiah reminds us that God's being our judge means that he will be there to judge us based on his will, his rule, and his grace. He is on our side and is looking to save, not condemn. Using the New Testament idiom, when we stand before our Judge we see instead our Father.
My Prayer…
Holy and Righteous Judge, I am glad that my fate, my future, and my life is in your hands. I know about your love for me because of the gift of Jesus. I know about your desire to save me because of your loving grace. I know your demand for holiness is met by the sacrifice of your Son. So God, I gladly and willingly trust my life, my soul, and my eternal future to you. In Jesus' name I pray. Amen.
Maybe it's the small bead of sweat that rolls down your forehead every time the offering plate starts to come down your pew on a Sunday morning. Maybe it's the quick change of the channel the moment you see those pitiful African orphans on television or the slight revulsion when another late-night huckster screams from the screen, "God wants your money!"
However you approach it, Christians start to get a bit uneasy when the subject of money comes up. But rather than a subject to be avoided, Christians ought to know what the Bible says about money, because what it actually says might surprise you. Did you know that Jesus talked more about money in the New Testament than He did about heaven and hell? Why would money garner more attention than even the afterlife? It speaks to the power of money in your life, for both good and evil. Here's a verse you've probably heard about money:
"No one can serve two masters. Either you will hate the one and love the other, or you will be devoted to the one and despise the other. You cannot serve both God and money." Matthew 6:24
If you think this means God wants you to live in poverty, you would be wrong. If you think you're supposed to give all of your money away to a charity, you would be wrong. When you start to look at what the Bible actually teaches about money, you will find some surprising things. Here are six surprising things the Bible says about money.
Your money isn't really your money.
If you've ever raised a child then you've encountered that humorous moment when they mistakenly claim ownership of something that's not theirs. "My sister can't have my toy. It's mine." To which you would rightfully reply, "Actually, that toy is mine. I bought it with my money. I'm just letting you play with it."
How many of us hoard our money and like that young child try and say, "God, you can't have my money. It's mine!"? In reality, your money is not your money because everything belongs to God. Here's what the Bible says.
"The earth is the Lord's, and everything in it, the world, and all who live in it." Psalm 24:1
The very next breath you take, the mind and intellect and physical strength you exert to go and earn money are all gifts from God. At the end of the day, everything we have belongs to Him, including 'our' money.
God isn't after your money, He's after your heart.
So if everything belongs to God, then why do we need to give Him our money? Is He poor? Does He need a loan? Isn't it all His anyways? When God asks you to give, He's not after your money (because it's already His). God's after your heart. Look at what Jesus taught,
"Teacher, which is the greatest commandment in the Law?' Jesus replied: 'Love the Lord your God with all your heart.'" Matthew 22:37-38
"For where your treasure is, there your heart will be also." Matthew 6:21
When you follow the money, you find your heart. If you opened up your checkbook, it would be quickly obvious where you focused most of your affection. Money is the quickest onramp to your heart. If you can steer your money in the right direction, your heart will soon follow. Why does Jesus talk so much about money in the New Testament? It is because He is concerned with the condition of our hearts.
Giving is the only antidote to greed.
Imagine the greediest person you know: the person that focuses only on themselves, who thinks the world revolves around them and uses people only to further their own interests. Is that the kind of person you want to be around? Is that the kind of person you want to be? Absolutely not! Many people still wear the emotional scars of being around greedy people concerned only with their own interests. This is why the Bible speaks so strongly against greed.
"Put to death, therefore, whatever belongs to your earthly nature: sexual immorality, impurity, lust, evil desires and greed, which is idolatry. Because of these, the wrath of God is coming." Colossians 3:5-6
Greed is a cancer which, if left unchecked, will grip your soul and never let go. What's the antidote? Giving. When you willingly give your money away, when you choose to live a life of generosity, you break the power of greed in your life.
Every time you get paid, you take a test.
A common theme in the Old Testament is the principle of firstfruits: God asks us to trust him with the firstfruits of our wealth as a sign of worship and trust.
"Honor the Lord with your wealth, with the firstfruits of all your crops." Proverbs 3:9
When we honor God with the first portion of our income, also known as the tithe (which means tenth), God blesses us in return. And whether you know it or not, every time you get paid, whether it's weekly, bi-monthly or monthly, you take a test. Will you trust God with the firstfruits of your income? Will you trust Him with the tithe? Here's the promise from God Himself of what happens when you do:
"'Bring the whole tithe into the storehouse, that there may be food in my house. Test me in this,' says the Lord Almighty, 'and see if I will not throw open the floodgates of heaven and pour out so much blessing that there will not be room enough to store it. I will prevent pests from devouring your crops, and the vines in your fields will not drop their fruit before it is ripe,' says the Lord Almighty. 'Then all the nations will call you blessed, for yours will be a delightful land,' says the Lord Almighty." Malachi 3:10-12
You're happier when you give.
When the Apostle Paul was nearing the end of his ministry, he set an example of generosity and reminded the church of the power of giving:
"In everything I did, I showed you that by this kind of hard work we must help the weak, remembering the words the Lord Jesus himself said: 'It is more blessed to give than to receive.'" Acts 20:35
Who are the happiest people you know? Think about it for a moment. Happiness isn't directly tied to your bank statement. In fact, some of the most miserable people in the world are some of the richest (just read the tabloids). Conversely, some of the happiest people you know are people who don't necessarily have a lot in this world but they've found something deeper, a richer joy that transcends worldly wealth and possessions. It all goes back to what Jesus said 2000 years ago. You are more blessed (a word that means joyful and happy) when you give. Try living a life of generosity and see how it improves your disposition and overall mindset.
How you handle God's money now is a trial run for greater riches.
Let's say you've got a cousin that always asks for money. They promise to pay it back, but all they've done is waste it on useless and selfish things. How tempted would you be to give them even more money? Let's say you have a financial or money manager that has managed to waste away all of your retirement. How tempted would you be to give that manager even more of your money?
God looks at us in the same way. We've been called to manage or steward his riches on earth. For many of us, we've wasted away the little amount of money we have on useless and selfish things, and we're angry that God won't give us any more. We ask God for more wealth, but we can't properly manage what we already have. Why would God give us any more financial blessing when we can't take care of what we already have? In the Parable of the Talents Jesus drives home this point in a story of a master who went away and entrusted his servants with money. When they managed it well, here was the master's response:
"His master replied, 'Well done, good and faithful servant! You have been faithful with a few things; I will put you in charge of many things. Come and share your master's happiness!' For whoever has will be given more, and they will have an abundance. Whoever does not have, even what they have will be taken from them.'" Matthew 25:21-29
God doesn't want us to live in poverty all our lives. Instead, it is actually quite the opposite. The Bible gives out an outline on how we can handle our finances in a Christian way that serves the Lord. We can worship God and honor Him by giving to our church and giving up greed. God will bless us financially if we do so.
Saint Cajetan
Saint of the Day for 
August 7
(

October 1, 1480

 – 

August 7, 1547

)
https://www.franciscanmedia.org/wp-content/uploads/2016/08/SODAug07.mp3
Saint Cajetan's Story
Like most of us, Cajetan seemed headed for an "ordinary" life—first as a lawyer, then as a priest engaged in the work of the Roman Curia.
His life took a characteristic turn when he joined the Oratory of Divine Love in Rome, a group devoted to piety and charity, shortly after his ordination at 36. When he was 42 he founded a hospital for incurables at Venice. At Vicenza, he joined a "disreputable" religious community that consisted only of men of the lowest stations of life—and was roundly censured by his friends, who thought his action was a reflection on his family. He sought out the sick and poor of the town and served them.
The greatest need of the time was the reformation of a Church that was "sick in head and members." Cajetan and three friends decided that the best road to reformation lay in reviving the spirit and zeal of the clergy. Together they founded a congregation known as the Theatines—from Teate [Chieti] where their first superior-bishop had his see. One of the friends later became Pope Paul IV.
They managed to escape to Venice after their house in Rome was wrecked when Emperor Charles V's troops sacked Rome in 1527. The Theatines were outstanding among the Catholic reform movements that took shape before the Protestant Reformation. Cajetan founded a monte de pieta—"mountain or fund of piety"—in Naples, one of many charitable, nonprofit credit organizations that lent money on the security of pawned objects. The purpose was to help the poor and protect them against usurers. Cajetan's little organization ultimately became the Bank of Naples, with great changes in policy.
---
Reflection
If Vatican II had been summarily stopped after its first session in 1962, many Catholics would have felt that a great blow had been dealt to the growth of the Church. Cajetan had the same feeling about the Council of Trent, held from 1545 to 1563. But as he said, God is the same in Naples as in Venice, with or without Trent or Vatican II. We open ourselves to God's power in whatever circumstances we find ourselves, and God's will is done. God's standards of success differ from ours.
---
Saint Sixtus II and Companions' Story
Freedom to assemble has always been one of the first liberties that dictators deny to subjects (and one highly prized by our American forebears). The emperor Valerian published his first decree against Christians in 257 and forbade them to hold assemblies. Pope Sixtus had been pope for only one year when he was murdered while presiding at the Eucharist in one of the underground caverns used as cemeteries (catacombs). He and four deacons were seized and beheaded. Two other deacons were probably martyred the same day, and Saint Lawrence four days later.
During his year in office, Sixtus had to deal with the controversy about the validity of baptism by heretics. He supported the positive view but was tolerant toward the practice of the Eastern Church which rebaptized those who had received the sacrament from heretics.
The negative view was shared by Saint Cyprian, to whom Sixtus sent messengers for discussion. Sixtus was asked to be patient with those in error, and contented himself with a strong recommendation of the truth. Other popes did the same, until the error was finally condemned.
---
Reflection
What are we willing to suffer to practice our faith? In times of persecution, Christians have always dared to come together to celebrate the Eucharist—huddled in a corner of the prison, risking life and possessions—in Ireland, for example, by providing "priest's holes." Those of us who live in Christian lands can scarcely comprehend the possibility: Does the Eucharist mean so much to us that, under government persecution, we would gather at night in one of our homes to celebrate the mystery of the Body and Blood of Jesus, risking that fatal knock on the door?

God's Holy Fire:

 'Blessings Brought by the Spirit'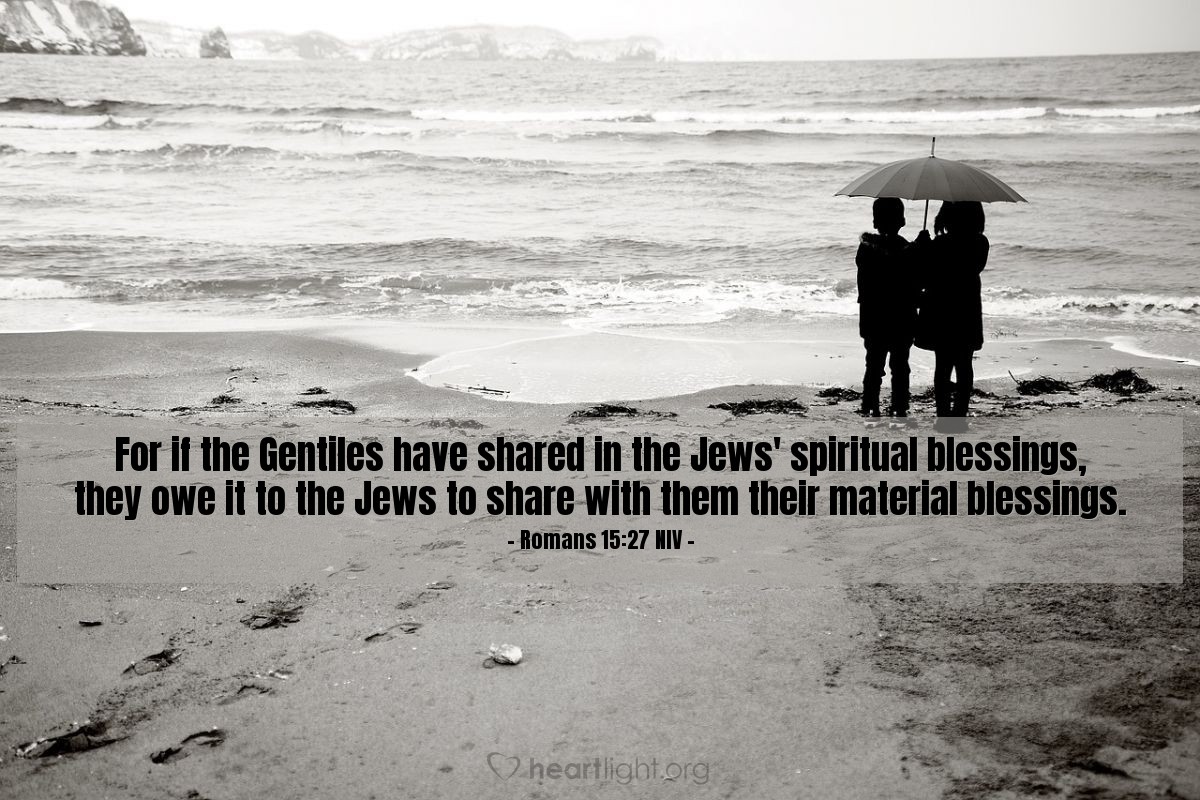 Key Thought
Through the ages, the Spirit 
has guided
 the people of God and brought God's message and his blessings. 
The difficult path through history for God's people
 and the treacherous times of human failings were brought to a culmination because of Jesus' sacrifice and the work of the Holy Spirit in the lives of God's leaders and his people. The blessings, including the blessing of the Holy Spirit, are now ours. But we must remember those from whom we've received all of these blessings and continue to pass these blessings along.
Today's Prayer
Almighty God, you know the future, and I do not. You know who is good and who is bad. I trust you because I see how you worked through your Holy Spirit to bring us to today. Now I ask that you work in us and through us to bring your blessing to the world today. In Jesus' name, I pray. Amen.
Passion for Praise:

 'God's Guarantee Bring Us to Praise Him!'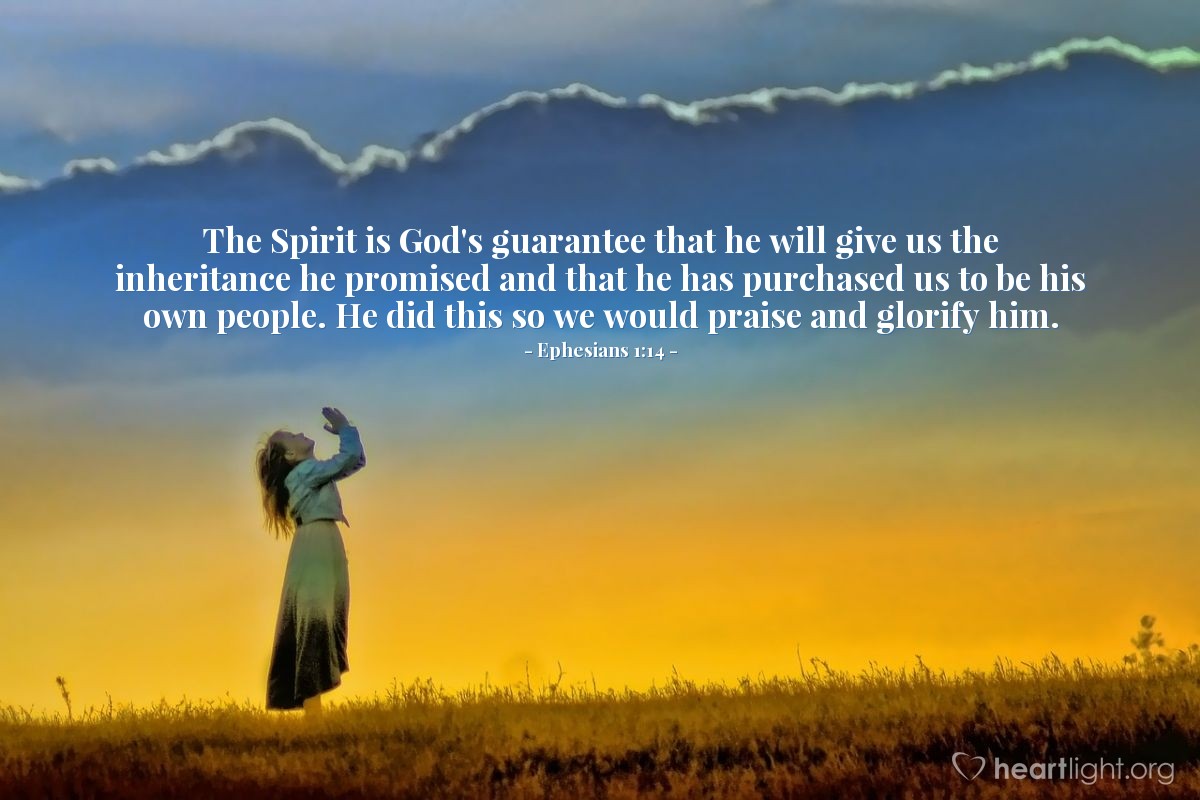 A Year with Jesus:

 'Were!'
Note from Jesus
Dear Holy One,
You confessed Me as your Lord and called on My name as your Savior (Romans 10:9-13). You were joined with Me in My death, burial, and resurrection through your baptism (Romans 6:3-8). You were cleansed and made perfectly holy (Colossians 1:21-23) through the work of the Holy Spirit. As Paul tells the Corinthians,
[Y]ou have been washed clean, set apart, restored, and set on the right path in the name of the Lord Jesus, the Anointed, by the Spirit of our living God.
There are things you once WERE because of your evil and sinful behavior, but you are not those things any longer. Those things should not be part of your life now. Even if you were raised in a Christian family and have tried to live for Me all of your life, you know that there was and is sin in your life. In your conversion and cleansing, you were united with Me. We became one, and My righteousness was given to you. You are now part of Me and a vital part of My Body, the church. So what you do with your body and in your body impacts and involves Me.
Sexual immorality — and by that, I mean any sexual relationship except between a husband and wife in marriage (Matthew 19:4-6) — involves you becoming one flesh with the other person. Sexual intimacy is more than just a physical activity: it is an act of knowing, serving, and being united with another person. Keeping yourself sexually pure shows your appreciation for the price by which you are redeemed from your sin. So please, recognize the importance of being holy in your relationship with others — not just to honor Me, but also to guard your own heart and body.
As Paul writes below, he emphasizes the importance of your heart and your body:
Run from immoral behavior. All other sins are disconnected from the body, but sexual immorality is a sin against your own body. Don't you know that your body is the temple of the Holy Spirit Who comes from God and dwells inside of you? You do not own yourself. You have been purchased at a great price, so use your body to bring glory to God!
Like the Corinthians, you live in a time when holiness in regard to your intimate relationships is not understood or is ignored. This situation breaks My heart for you because I know the confusion, heartache, and abuse that immoral behavior has unleashed into your world. Something made to bring you joy, love, and security has become common and a source of hurt. My call to you for holiness and purity is for your protection and blessing, not for your limitation. Paul said it well:
The body is not meant for sexual immorality but for the Lord; the Lord is over all, and He cares about your body.
So please take these words from Paul very seriously as My call to your heart for your good as My disciple. Regardless of what you once WERE, don't let sinful sexual relations creep in and pull you away from the person you ARE now!
Verses to Live
Notice that Paul twice refers to the fact that some of the Corinthians were justifying their sinful sexual activities by saying 
"For me, all things are permitted."
 There are people in your time who use the same ungodly reasoning. Don't allow yourself to be one of those people. My teaching is clear: Sex outside of marriage is sinful. Paul points out that you are to be holy and pure because 
"your body is the temple of the Holy Spirit"
. If that is not enough motivation for you, notice that he also says 
"A lot of people stand to inherit nothing of God's coming kingdom, including those whose lives are defined by sexual immorality…"
Do you need reminding that the unjust have no share in the blessings of the kingdom of God? Do not be misled. A lot of people stand to inherit nothing of God's coming kingdom, including those whose lives are defined by sexual immorality, idolatry, adultery, sexual deviancy, theft, greed, drunkenness, slander, and swindling. Some of you used to live in these ways, but you are different now; you have been washed clean, set apart, restored, and set on the right path in the name of the Lord Jesus, the Anointed, by the Spirit of our living God.

I can hear some of you saying, "For me, all things are permitted." But face the facts: all things are not beneficial.

So you say, "For me, all things are permitted." Here's my response: I will not allow anything to control me.

Another chimes in: "Food is for the stomach, and the stomach is for food." I suppose so, but a day will come when God will dispense with both food and the stomach.

The body is not meant for sexual immorality but for the Lord; the Lord is over all, and He cares about your body. God has raised the Lord Jesus from death, but He won't stop there. His dynamic power will raise us up from the grips of death as well.

Don't you realize that your bodies are members of the Anointed One? So should I take the members of the Anointed One and unite them to a prostitute? This illicit union should never take place! Don't you understand that when your body is joined with a prostitute, the two of you have become one body? For as it says, "The two come together as one flesh." But when you are joined with the Lord, you become one spirit with Him.

Run from immoral behavior. All other sins are disconnected from the body, but sexual immorality is a sin against your own body. Don't you know that your body is the temple of the Holy Spirit Who comes from God and dwells inside of you? You do not own yourself. You have been purchased at a great price, so use your body to bring glory to God!
(1 Corinthians 6:9-20)
Response in Prayer
O Father, may my life, my thoughts, my actions, and the use of my body be a holy praise unto You. In Jesus' name, I pray. Amen.
Satan hindered us.
1 Thessalonians 2:18
Since the first hour in which goodness came into conflict with evil, it has never ceased to be true in spiritual experience that Satan hinders us. From all points of the compass, all along the line of battle, in the advance party or in the rear, at the dawn of day and in the midnight hour, Satan hinders us. If we work in the field, he seeks to break our implements; if we build a wall, he tries to cast down the stones; if we are serving God in suffering or in conflict—everywhere Satan hinders us. He hinders us when we are first coming to Jesus Christ. We had fierce conflicts with Satan when we first looked to the cross and lived. Now that we are saved, he tries to prevent our growth in Christian character. You may be congratulating yourself: "So far I have walked consistently; no one can challenge my integrity."
Beware of boasting, for your virtue will soon be tested; Satan will direct his energies against the very virtue for which you are most famous. If you have to this point been a firm believer, your faith will soon be attacked; if you have been meek like Moses, expect to be tempted to speak unadvisedly with your lips. The birds will peck at your ripest fruit, and the wild boar will dash his tusks at your choicest vines.
Satan is sure to hinder us when we are faithful in prayer. He hinders our persistence and weakens our faith in order that, if possible, we may miss the blessing. Satan is equally vigilant in obstructing Christian effort. There was never a revival of religion without a revival of his opposition. As soon as Ezra and Nehemiah began to work, Sanballat and Tobiah were stirred up to hinder them. What then? We are not alarmed because Satan hinders us, for it is a proof that we are on the Lord's side and are doing the Lord's work, and in His strength we will win the victory and triumph over our adversary.
Being a Shelter for Those in Need
TGIF Today God Is First Volume 1 by Os Hillman
August 07, 2018
"Each man will be like a shelter from the wind and a refuge from the storm, like streams of water in the desert and the shadow of a great rock in a thirsty land." Isaiah 32:2
Have you ever walked in a dry, hot climate for an extended time? The sun beats down, sweat begins to pour off your brow, and your throat and mouth are parched with thirst. A little shade, a slight breeze, or a cool drink becomes the greatest thing one could value at the moment.
When you and I walk with Christ in the workplace, we become that kind of oasis for non-Christians. However, they may not recognize it at the time. Let's face it, the workplace is pretty tough, especially when Christ is not in the center of it.
When a person becomes aware of their need of Christ through you or me, we have become a shelter from the wind. We become their refuge from the storms of life.
Someone once said that you and I might be the only Bible someone ever reads, so we need to be something worth reading. Are you available to be that shelter for a non-believing friend? If so, then you may open the eyes of someone who has been blind his whole life. What an incredible blessing to know you were the instrument God used to bring a person into the Kingdom of God.
"Then the eyes of those who see will no longer be closed, and the ears of those who hear will listen" (Isaiah 32:3).
Our Staff as Our Protector
TGIF Today God Is First Volume 2 by Os Hillman
August 07, 2018
"The Amalekites came and attacked the Israelites at Rephidim. Moses said to Joshua, 'Choose some of our men and go out to fight the Amalekites. Tomorrow I will stand on top of the hill with the staff of God in my hands'" (Ex 17:9).
Moses' staff represented his vocation as a shepherd. When God first met Moses' in the desert at the burning bush, he told him that he was going to use his staff to perform miracles and bring a people out of slavery. God related to Moses through his vocation as a shepherd.
Moses later faced one of his enemies in the new land, the Amalekites. God told him to go to the top of the mountain and hold his staff up to heaven. As long as his staff was outstretched to heaven, Israel would win the battle. But if it was not uplifted, they would suffer defeat.
"So Joshua fought the Amalekites as Moses had ordered, and Moses, Aaron and Hur went to the top of the hill. As long as Moses held up his hands, the Israelites were winning, but whenever he lowered his hands, the Amalekites were winning." (Ex 17:10-11).
Isn't this an interesting picture? When we raise our "staffs" up to the Lord, He becomes our protector. He is our defender. As long we offer up our staffs before the Lord, He can work through it. He works on our behalf. When we lower it, we lose the blessing of God.
When God told Moses He was going to use his staff to bring a people out of bondage, he first had to lay his staff down on the ground. God changed it into a snake and then God told Moses to pick it up by the tail. God was telling Moses to take authority over the serpent in this prophetic act. When Moses picked up the staff, the scripture tells us it is no longer Moses' staff, but it is now the staff of God.
Friend, the lesson for us is to continually offer up our work lives to the Lord and see His protection and blessing upon us as we continually raise our work to the Lord for His use.
Listening to the Father's Heart – August 7 
by Os Hillman
Son, what you are seeing all around you are individuals and even whole nations that are building upon faulty foundations. When there is a crack in a foundation, that small unprotected opening will grow greater and greater. Debris will penetrate every available crack, piling up deterioration. When my sons and daughters open their lives up to things that are contrary to my ways, their very foundations erode. Eventually a life or a nation will fall from the corruption within. Son, I have called you to be a repairer of the breach. Rebuild that which has been torn down due to a faulty foundation, just as I called my son Isaiah to do: "And they shall rebuild the old ruins, they shall raise up the former desolations, and they shall repair the ruined cities, the desolations of many generations" (Isa 61:4). You are a repairer of the breach.
Whoever comes to Me, and hears My sayings and does them, I will show you whom he is like. He is like a man building a house, who dug deep and laid the foundation on the rock. And when the flood arose, the stream beat vehemently against that house, and could not shake it, for it was founded on the rock. But he who heard and did nothing is like a man who built a house on the earth without a foundation, against which the stream beat vehemently; and immediately it fell. And the ruin of that house was great. Luke 6:47-49
PURPLE HEART DAY
During the American Revolutionary War, the Badge for Military Merit decorated six known soldiers. Purple Heart Day on August 7 commemorates the creation of the oldest American military decoration for military merit, the Purple Heart and honors the men and women who are of the Military Order of the Purple Heart.
Created by General George Washington in 1782 to be presented to soldiers for "any singularly meritorious action", the decoration was a purple, heart-shaped piece of silk bound with a thin edge of silver and the word Merit embroidered in silver across the face.
It is unknown who designed the Badge of Merit. It is also unknown how many soldiers may have received the honor symbolizing the courage and devotion of an American Patriot. According to The Badge of Military Merit by Professor Ray Raymond, The "Book of Merit" where the names of possible recipients and their deeds were recorded has long been missing. According to the Badge of Military Merit by Professor Ray Raymond,
Until Washington's 200th birthday, the Purple Heart remained a Revolutionary War footnote. Through the efforts of General Douglas MacArthur, the U.S. War Department created the Order of the Purple Heart. Today the medal bears a bust of George Washington and his coat of arms.
HOW TO OBSERVE
Honor everyone you know that has received a Purple Heart. Learn more about the Military Order of the Purple Heart.  Use #PurpleHeartDay to post on social media and inform others to do so as well.
HISTORY
Since 1932, Purple Heart Day has been celebrated on various days. Sometimes commemorated on Washington's birthday, other times on Valentine's Day or at other times declared during the year in different cities and states across the country.  Each declaration encouraged citizens to support wounded veterans with the purchase of a purple viola.  Purple Heart Day recognizes not only the merit but more importantly the men and women killed and wounded in combat who have earned the badge of honor. As the day evolved it more commonly was observed on the day the Purple Heart was created. In 2014, the Military Order of the Purple Heart recognized this with a media release.