Christoph Friedrich Blumhardt
For the Spirit God gave us does not make us timid, but gives us power, love and self-discipline. 2 Timothy 1:7, NIV
Lord our God, we are your children. Hear all our concerns, we pray, for we want help from you, not from men, not from anything we can think or say. May your power be revealed in our time. We long for a new age, an age of peace in which people are changed. We long for your day, the day when your power will be revealed to poor, broken humankind. Be with us, and give our hearts what will remain with us, the strength and mercy of Jesus Christ. Amen.
TODAY'S DAILY DIG
Your joy is your sorrow unmasked. And the selfsame well from which your laughter rises was oftentimes filled with your tears. And how else can it be? The deeper that sorrow carves into your being, the more joy you can contain.…When you are joyous, look deep into your heart and you shall find it is only that which has given you sorrow that is giving you joy.
Source: The Prophet
1. Praying for the right job:
(Please share with someone who is seeking employment or a better job!)
I ask that you provided a job suited for my needs this day. Lead me to a job that will accommodate me without hesitations. You are the rock on which I stand I ask that You provide me with a job that is stable and without shaky grounds.
I ask that my talents, skills, abilities and education will be put into practical use, so that I can have sufficient to pay my bills and place bread on my table for myself and my family and even to give back what is due to You, Father.
Lord You command blessings upon me in my barns and in all that I put my hands to do, and You will bless me in the land which You give me. Right now, I proclaim that I will receive many job opportunities that will allow me to perform at my best, remembering You in all that I do.
I speak that doors will be opened to me in every direction I turn, because Your light shines upon me. I decree and declare that unemployment is that of the past and will be no more. In Jesus's name I pray, Amen!
2. Rebuking the enemy
Lord for too long I have waited and I am weary of being unemployed. Today, I cast my anxiety and worry unto You because You are the God that cares. I am tired of being unwanted. Lord, let my race, gender, faith, family background and status be irrelevant to the employer. Let them choose me because Your goodwill is upon my life.
No more will I beg of bread but it will be given abundantly to me in the name of Jesus. Lord Your word says that the same God who takes care of me will supply all my needs from His glorious riches, which have been given to us in Christ Jesus.
This I believe and I rebuke all racism, unfairness, injustice, favoritism and prejudice in the name of Jesus and I speak prosperity in my life. I pray against the devil who came to kill steal and destroy; Satan has kept me back from my blessings for too long and I say no more!
No more will his hands tamper with my mind but I will trust in the Lord of heaven and earth for my breakthrough in only in His mighty wonderful name.
Lord You have done it all on the cross for me and no longer will I suffer the trouble of unemployment in Jesus name.
3. Prayer when applying, seeking employment
Heavenly father, I come before You seeking Your help in this time of desperate need. Lord, You said to ask and it shall be given to me, seek and I will find, knock and doors shall be opened for me. Lord, this day You know my needs, You know my struggles, You know the crisis I face each day and you are not a God of confusion but a God who hears and answers.
You are Jehovah Jireh, my provider and you will never let Your children go a day without bread. I plead for a breakthrough in my life and I trust in You because victory is mine, in Jesus name.
As I am about to apply for a job, I pray for your four favor upon these resumes. I pray that you would cover and shield it under your blood so that whoever reads this will acknowledge it, and not only acknowledge it but I will be hired.
Through You Lord, these applications will be highly considered and favor will be mine. Your blessing upon me this day so that wherever my applications go, it will not be rejected but will be acknowledged. My resumes will not be void but I will get many opportunities for You are the God who gives.
I plead your light upon these resumes and I receive your blessings and believe it is already done. In no other name but in Jesus' name I pray, Amen!
4. Worry arise:
Psalm 90:17 May the favor of the Lord our God rest on us; establish the work of our hands for us, yes, establish the work of our hands.
We all need a job to survive. Without it, we feel worried because we cannot provide our basic needs. It is important to put your trust in God.
In times like these when the world is becoming so difficult to live in, all we can do is pray. Also, we know that children of God are highly favored, so why worry?Put your trust in God and not man.
5. Praying for a great job interview:
Jesus Christ who died for me. I bow before you begging for your guidance in my job interview. I pray for your protection and covering over me with your blood.
Lord, when I walk through that door, they will see your light shining in me. There will be no doubts in their mind that I am the desired person for the job. They will see only decency and ambition, honesty and integrity, determination and perseverance in me because you are the head of my life and I choose to do the right things.
Lord, help me to wear your amour so that you can take your stand against the devil's schemes. Help me stand firm then, with the belt of truth buckled round my waist, with the breastplate of righteousness in place, and with my feet fitted with the readiness that comes from the gospel of peace.
In addition to all this, help me take up the shield of faith and the helmet of salvation and the sword of the Spirit, which is the word of God so that if I do these things, they have no choice but to take me because You are all they see.
I pray that I will speak only as you lead and nothing shall be on my own. Let my conversation be always full of grace, seasoned with salt, so that you may know how to answer everyone.
Lord, help me to say the right things at the right time pleasing you in every way. Lord I pray that my appearance, speech, attitude, and behavior be in a manner of humbleness and not greed.
Guide my steps today lord as I prepare for this interview in Jesus name.
6. Prayer when Waiting:
Lord I will trust in you, acknowledge you and know that you are working out big great plans for me. Your timing is the best timing and I will wait for the time when you bless me with a job.
I thank you, Jesus for answering my prayer. I believe the job is already waiting for me and it is only possible through you. Whatever is for me will be for me. It does not matter if I don't see a way out right now. I know that I serve a big God that is working things out for me.
You are a God of Your word and, as I pray, I know that no prayer of mine will be unanswered.
Wherever you lead me I will follow Jesus. I thank you because my job will be soon coming in Jesus name. Amen.
7. We serve a big God:
Matthew 11:28 Come to me, all you who are weary and burdened, and I will give you rest.
Jobs may be difficult to find in times like these. The world is getting harder to survive in. Many times there is unfair selection of employees and this causes us to become victims of unemployment.
Many times your status and appearance influences if they choose you or not. Racism and religion are factors that contribute to whether you get a job or not.
Deuteronomy 10:17 For the Lord your God is God of gods and Lord of lords, the great, the mighty, and the awesome God, who is not partial and does not take a bribe.
Enough is enough! No more my friends!
We serve a bigger God. A god that is bigger than any company/organization. He's bigger than any employer. Our God is greater than those who want to bring you down.
He is a just God and not unfair. If you believe in Jesus Christ, then all things are possible.
Verse of the Day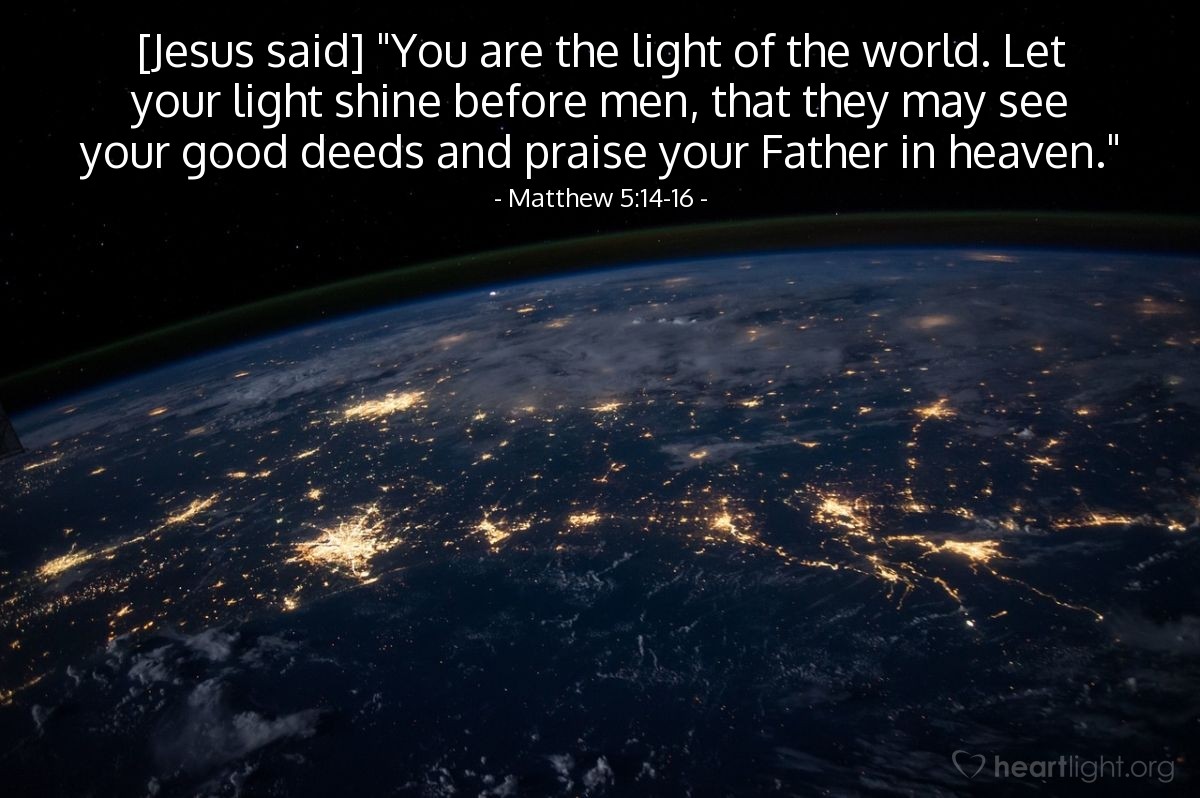 Thoughts on Today's Verse…
Our life will not be neutral. We will either point others away from God or show them that allegiance to God is important. Let's make an intentional effort today to shine the light of God's holiness and grace in all we do and say.
My Prayer…
O God, may the words of my mouth, the actions of my life, and the influence of my deeds show others your holiness and grace and lead them to acknowledge your majesty and might. In Jesus name I pray. Amen.
Recently, I have been praying about multiplication. I've been praying that we wouldn't just see addition but instead we would see multiplication in the church. I've also been praying that I wouldn't see people just adding a few things into their life, but that there would be multiplication and quick growth in people's lives and in the body of Christ.

As I was praying about multiplication, the Lord gave me four areas that He is going to bring multiplication in and they all start with the letter D. The 4 words were dreams, destiny, doors and dimensions.

The first word the Lord spoke to me about was "dreams." This is the season that so many are going to start living their dreams. Each time the Lord spoke to me about this, He did not say, "dream," as in just one dream. Instead every time I heard it, it was "dreams"—more than one dream, as in multiplication.

Many people do not think God pays attention to the details of their lives. If you are believing for God a new house, you can't just pray for a new house. Start dreaming about what you want the kitchen to look like, about what kind of light fixtures you want. Get specific. This is a season where God wants to multiply your dreams. You may have a dream job, a dream vacation; you may have dreams about specific things you want to do with your children. You have many dreams in your heart, and now is the time to get specific with those dreams. The Lord is saying, "There is a multiplication that is coming to the dreams." Don't limit God; allow God to dream through you. And dream big!

I recently shared this, but think about Hannah in the Bible. She was crying out to God to give her a baby, a baby boy. But God wasn't just interested in giving her one child. He wanted to multiply her by giving her several children.

The second thing the Lord spoke to me about was "destiny." Destiny is the deep thing God has placed inside you. Destiny is like a seed the Lord has planted deep inside you, and it will not go away. Someone recently asked me, "Joe, how do you do what you do? You have a great marriage and kids; your family life seems great. You also have a great church, apostolic network and you write tons of material. You're always doing videos and traveling all over America. How do you do all of this?!"

My simple answer was, "Destiny." When you start going and flowing with God, your destiny begins to be multiplied. You don't do just one thing; you do multiple things. As God multiplies your destiny, He will empower you to do multiple things. Don't limit God in your destiny. It's much bigger than you think.

The third word the Lord spoke to me was "doors." Not a door but doors. Many people are waiting for God to just open one door. God doesn't just want to open up one door for you; He wants to open up multiple doors. I recently had a vision where I was walking down a hallway and there were doors all along its sides. I kept walking straight ahead and came to a door directly in front of me. I opened the door, and as I walked through it, I came upon another door. I opened it and walked through the next door, and another door opened to me. This happened many times. What God was showing to me in this vision is this is a season of multiplied doors. God is sending open doors to you, one right after another, after another. You don't have to look for doors of opportunity; open doors will find you. You don't have to ask for favor; the favor of God will find you. If you are faithful to stay in the secret place of fasting, prayer and seeking, the Lord God will open doors for you. You won't have to go looking or knocking on doors. As you stay humble and walk in humility, God will open up doors for you that you can't even imagine.

And finally, the fourth word was "dimensions." A dimension is when someone jumps at least two levels. Moving into a new dimension is not just if you move up one level. I received a prophetic word recently that I was going to jump dimensions. I was excited by this word but didn't understand how powerful this actually was. As I stepped into a new level of favor in my life, I experienced a jump into greater dimensions. We suddenly made incredible connections; we met the right people with the right equipment that we needed to move forward. We also experienced an influx in our finances. I felt as if the goodness of God was overtaking me. I asked the Lord, "God, I'm thankful for what is happening, but what is this?" And I felt the Lord tell me, "Did I not tell you that you were going to jump dimensions?" This is a season where God is going to move people into a multiplication of dimensions. Expect to jump up several levels in the spirit.

Many people ask my wife, Autumn and me how we have so much joy and why we seem so happy and peaceful all the time. It is because we are living out every dream and every calling God has placed upon us. We have peace and joy because we know God has us in a season of multiplication and because we trust that He has us. We never try to make anything happen for ourselves. We always trust God to make a way and to multiply us as we walk with Him. Get ready, my friends, you're about to experience multiplication in your dreams, destiny, doors and dimensions! 
Joe Joe Dawson is the founder and apostle of ROAR Apostolic Network and ROAR Church Texarkana. Joe Joe is married to the love of his life, Autumn Dawson, and they have three children, Malachi, Judah and Ezra. The Dawsons live and teach a lifestyle of revival and awakening. Their desire is to see every believer fulfill their God-given destiny and live life to the fullest in God. Joe Joe is also the author of Living Your God-Sized Dream and Recipe for Revival. To connect with Joe Joe or for more information, visit joejoedawson.net.
Blessed Solanus Casey
Saint of the Day for 
July 30
(
November 25, 1875

 – 

July 31, 1957

)

https://wp.franciscanmedia.org/wp-content/uploads/2016/08/SODJul30.mp3
Blessed Solanus Casey's Story
Barney Casey became one of Detroit's best-known priests even though he was not allowed to preach formally or to hear confessions!
Barney came from a large family in Oak Grove, Wisconsin. At the age of 21, and after he had worked as a logger, a hospital orderly, a streetcar operator, and a prison guard, he entered St. Francis Seminary in Milwaukee—where he found the studies difficult. He left there, and in 1896, joined the Capuchins in Detroit, taking the name Solanus. His studies for the priesthood were again arduous.
On July 24, 1904, Solanus was ordained, but because his knowledge of theology was judged to be weak, he was not given permission to hear confessions or to preach. A Franciscan Capuchin who knew him well said this annoying restriction "brought forth in him a greatness and a holiness that might never have been realized in any other way."
During his 14 years as porter and sacristan in Yonkers, New York, the people there recognized Solanus as a fine speaker. James Derum, his biographer writes, "For, though he was forbidden to deliver doctrinal sermons, he could give inspirational talks, or feverinos, as the Capuchins termed them." His spiritual fire deeply impressed his listeners.
Father Solanus served at parishes in Manhattan and Harlem before returning to Detroit, where he was porter and sacristan for 20 years at St. Bonaventure Monastery. Every Wednesday afternoon he conducted well-attended services for the sick. A co-worker estimates that on the average day 150 to 200 people came to see Father Solanus in the front office. Most of them came to receive his blessing; 40 to 50 came for consultation. Many people considered him instrumental in cures and other blessings they received.
Father Solanus' sense of God's providence inspired many of his visitors. "Blessed be God in all his designs" was one of his favorite expressions.
The many friends of Father Solanus helped the Capuchins begin a soup kitchen during the Depression. Capuchins are still feeding the hungry there today.
In failing health, Solanus was transferred to the Capuchin novitiate in Huntington, Indiana, in 1946,  where he lived for ten years until needing to be hospitalized in Detroit. Father Solanus died on July 31, 1957. An estimated 20,000 people passed by his coffin before his burial in St. Bonaventure Church in Detroit.
At the funeral Mass, the provincial Father Gerald said: "His was a life of service and love for people like me and you. When he was not himself sick, he nevertheless suffered with and for you that were sick. When he was not physically hungry, he hungered with people like you. He had a divine love for people. He loved people for what he could do for them—and for God, through them."
In 1960, a Father Solanus Guild was formed in Detroit to aid Capuchin seminarians. By 1967, the guild had 5,000 members—many of them grateful recipients of his practical advice and his comforting assurance that God would not abandon them in their trials. Solanus Casey was declared Venerable in 1995, and beatified on November 18, 2017.
---
Reflection
His biographer James Patrick Derum writes that eventually Father Solanus was weary from bearing the burdens of the people who visited him. "Long since, he had come to know the Christ-taught truth that pure love of God and one's fellowmen as children of God are in the final event all that matter. Living this truth ardently and continuously had made him, spiritually, a free man—free from slavery to passions, from self-seeking, from self-indulgence, from self-pity—free to serve wholly both God and man" (The Porter of St. Bonaventure's, page 199).
The Beatification of Solanus Casey
"God knows best, and, while we'll still hope for a favorable surprise, we can hardly do better than not only being resigned to whatever God permits but even beforehand to thank Him for His loving designs."
Solanus Casey

What Jesus Did!

 'Wake Up Call'

Finally, [Jesus] said to his disciples, "Let's go back to Judea." But his disciples objected. "Rabbi," they said, "only a few days ago the people in Judea were trying to stone you. Are you going there again?" Jesus replied, "There are twelve hours of daylight every day. During the day people can walk safely. They can see because they have the light of this world. But at night there is danger of stumbling because they have no light." Then he said, "Our friend Lazarus has fallen asleep, but now I will go and wake him up." The disciples said, "Lord, if he is sleeping, he will soon get better!" They thought Jesus meant Lazarus was simply sleeping, but Jesus meant Lazarus had died. So he told them plainly, "Lazarus is dead. And for your sakes, I'm glad I wasn't there, for now you will really believe. Come, let's go see him."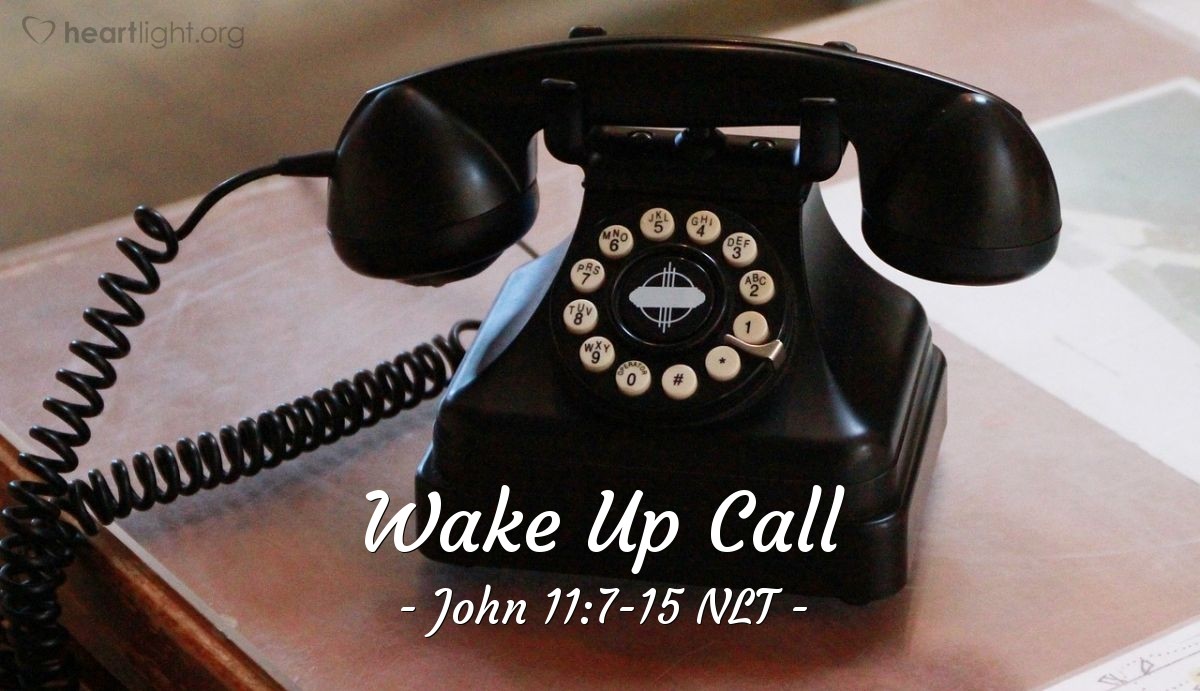 Key Thought
For those of us who die before Jesus returns, he will awaken each of us that belong to him. Death does not sever our relationship with the Lord, and he will return one day and summon those of us who have died from our graves. His victory over death at the empty tomb and his triumph over death for Lazarus in this story remind us that at its worst, death is just a restful sleep. He will call us and bring us unto himself in glory and victory. We will hear his wakeup call and rise for death does not keep us. We died with Christ in baptism so that sin and death no longer have a claim over us. We await the full realization of his resurrection in our lives but know it will come. We have a wakeup call!
Today's Prayer
Father, thank you for a hope that cannot be destroyed by death. Stir the urgency and passion in my heart to live victoriously because of that hope. In Jesus' name, I pray. Amen.
Related Scripture Readings
Whoever comes to me I will never cast out.
John 6:37
There is no expiration date on this promise. It does not merely say, "I will not cast out a sinner at his first coming," but "I will never cast him out." The original reads, "I will not, not cast out," or "I will never, never cast out." The text means that Christ will not at first reject a believer, and that as He will not do it at first, so He will not to the last.
But suppose the believer sins after coming? "If anyone does sin, we have an advocate with the Father, Jesus Christ the righteous."1 But suppose that believers backslide? "I will heal their apostasy; I will love them freely, for my anger has turned from them."2 But believers may fall under temptation! "God is faithful, and he will not let you be tempted beyond your ability, but with the temptation he will also provide the way of escape, that you may be able to endure it."3 But the believer may fall into sin as David did! Yes, but He will "Purge me with hyssop, and I shall be clean; wash me, and I shall be whiter than snow."4
Once in Christ, in Christ forever,
Nothing from His love can sever.
Jesus said, "I give them eternal life, and they will never perish, and no one will snatch them out of my hand."5 What do you say to this, O trembling, feeble mind? This is a precious mercy. Coming to Christ, you do not come to One who will treat you well for a little while and then send you about your business, but He will receive you and make you His bride, and you shall be His forever! Live no longer in the spirit of bondage to fear, but in the spirit of adoption, which cries, "Abba, Father!" Oh, the grace of these words: "I will never cast out."
1) 1 John 2:1 
2) Hosea 14:4
3) 1 Corinthians 10:13
4) Psalm 51:7
5) John 10:28
Bad Alliances
TGIF Today God Is First Volume 1 by Os Hillman
July 30, 2018
"Woe to the obstinate children," declares the Lord, "to those who carry out plans that are not Mine, forming an alliance, but not by My Spirit, heaping sin upon sin; who go down to Egypt without consulting Me; who look for help to Pharaoh's protection, to Egypt's shade for refuge." Isaiah 30:1-2
Have you ever entered a business relationship with someone you knew you were not supposed to? Throughout the history of Israel, the people were called to come out of an old way of life. Egypt represented that old way; when things got tough, the Israelites reverted to what was comfortable. They always knew they could take a trip to Egypt and find what they lacked. Perhaps this was their reasoning: "If we can't get it accomplished under the new way, why not go back to the way we used to do it? At least we know we can get it there."
When God calls us into a walk of faith, we can expect to be tested in this walk. If we enter into alliances that God has not ordained, it will only bring heartache. Such was the case for Israel. "But Pharaoh's protection will be to your shame, Egypt's shade will bring you disgrace" (Is. 30:3).
Beware what you perceive as an alliance that may advance your business. It may actually bring you great distress if God has not directed you to align it. Ask yourself what the motive is behind this possible alliance. Make sure that it is not based on fear or a quick fix. Get confirmation that God is leading you to make such an alliance. Then you will not end up in the way of Israel, experiencing shame and disgrace.

Your Position Is a Result of Your Actions
TGIF Today God Is First Volume 2 by Os Hillman
July 30, 2018
"Even a child is known by his actions, by whether his conduct is pure and right" (Prov 20:11).
In the marketplace companies and products are known by their position in the industry they represent. Lexus and Mercedes hold the top position among luxury automobiles. They are known for their high quality. Nike is a sports merchandise company known for its products serving those who play sports and they own the number one position in their industry. Coca-Cola is a soft drink company that currently has the number one position in the world among soft drinks. Companies spend millions trying to gain the number one position.
You also are called to achieve a certain position in what and how you do it. Your position is often a result of your actions taken over several years. Usually when your name is mentioned, your position is revealed. It is the most distinguishing attribute of your life and work and people associate you with your perceived position.
In the workplace you are known more by what you do and what you achieve. Your reputation is often built either around productivity or the lack of it. Years of productivity in an industry can allow you to own the number one position in your industry.
Do your actions line up with the position God desires for your life? Are you modeling the fruits of the Holy Spirit in all aspects of your life? Paul prayed that "you would live a life worthy of the Lord and please him in every way: bearing fruit in every good work, growing in the knowledge of God?"( Col 1:10-11). Paul desired that we all have a position of a person who bears fruit from our knowledge of God.
May each of us strive to have an excellent position for the benefit of the Kingdom.
Listening to the Father's Heart – July 30 
by Os Hillman
Son, I made fruit trees to bear fruit. Each tree bears fruit in its own time. For some it only requires one year, for others it may take many years. So it is with my sons and daughters. There is a time for fruit-bearing in every life. The problem is that you cannot determine when that season is to be. Only I do that. When you try to bear fruit for my kingdom before your time, you make a mess. You become frustrated. Remember the words of my Son: "Abide in Me, and I in you. As the branch cannot bear fruit of itself unless it abides in the vine, neither can you, unless you abide in Me." Moses began bearing fruit at 80. David and Joshua's fruit-bearing began at 30. Samuel began bearing fruit as a child. There is no "right age" for you to begin. Your job is to abide in me. My job is to produce fruit through your life. Do not fret if you are not bearing fruit when you think you should be. The fruit must come in my season for it to be the kind of fruit that nourishes others.
He shall be like a tree planted by the rivers of water, that brings forth its fruit in its season, whose leaf also shall not wither; and whatever he does shall prosper. Psalms 1:3
Abide in Me, and I in you. As the branch cannot bear fruit of itself, unless it abides in the vine, neither can you, unless you abide in Me. John 15:4
NATIONAL CHEESECAKE DAY
National Cheesecake Day is observed annually on July 30th.  Cheesecake is a delicious dessert that is loved by millions around the country.  It is a sweet dessert that is a mixture of soft fresh cheese, cream cheese or cottage cheese, eggs and sugar on a crust made from crushed graham crackers, crushed cookies, pastry or sponge cake.
Cheesecakes can be prepared baked or unbaked, can be flavored and are often served topped with fruit, fruit sauce, chocolate or whipped cream.  There are many flavors in which cheesecakes can be prepared, some of which are blueberry, strawberry, pumpkin, chocolate, key lime, lemon, orange, raspberry or toffee.
It is possible that an ancient form of cheesecake may have been a popular dish in ancient Greece.  It has been found that the earliest attested mention of a cheesecake is by Greek physician Aegimus, who wrote a book on the art of making cheesecakes.
James Kraft developed a form of pasteurized cream cheese in 1912.  In 1928, Kraft acquired the Philadelphia trademark and marketed pasteurized Philadelphia Cream Cheese which is now the most commonly used cheese for cheesecake.
North America has several different styles of cheesecakes:
New York-style cheesecake
Pennsylvania Dutch-style cheesecake
Philadelphia-style
Farmer cheese cheesecake
Country-style cheesecake
Lactose-free cheesecake
Cheesecake Kludys
Chicago Style cheesecake
Savory cheesecake
HOW TO OBSERVE
Enjoy this New York Cheesecake.  Post on social media using #NationalCheesecakeDay and encourage others to join in.
HISTORY
Within our research, we were unable to find the creator and the origin of National Cheesecake Day.