Christoph Friedrich Blumhardt
I have other sheep that are not of this sheep pen. I must bring them also. They too will listen to my voice, and there shall be one flock and one shepherd. John 10:16, NIV
Lord our God, bring us together as one. Give us your Spirit so that we may know you, so that joy may fill our hearts, not only for ourselves but also for others. Root out evil from the earth. Sweep away all that offends you, all lying, deceit, and hate between nations. Grant that all people may come to know you, so that disunity and conflict may be swept away and your eternal kingdom may arise on earth and we may rejoice in it. For your kingdom can come to people even while on earth to bring them happiness and to make them your own children. Yes, Lord God, we want to be your children, your people, held in your hand, so that your name may be honored, your kingdom may come, and your will be done on earth as in heaven. Amen.
Forgiveness
The weak can never forgive. Forgiveness is the attribute of the strong. —Mahatma Gandhi
God's Cop
A Tribute to Steven McDonald: Friend, Hero, Saint
Detective Steven McDonald of the New York City Police Department, who died January 10, was shot in the line of duty in 1986 and paralyzed from the neck down. Confined to a wheelchair and dependent on a ventilator to breathe, he forgave his teenage assailant.
I first met Steven McDonald in the studio of a national TV talk show. The night before, a young black man, Malcolm Ferguson, had been shot and killed by police in the Bronx after protesting the acquittal of four police officers in the shooting death of unarmed immigrant Amadou Diallo in the same neighborhood. Tensions between police and the black community had skyrocketed. Could anyone bridge that chasm or at least close the distance? Or would a third-generation Irish-Catholic NYPD officer who had been shot point-blank by a black teenager pour gas on the fire?
I needn't have worried. McDonald was there to promote a new book, Why Forgive?, in which his friend, Bruderhof pastor Johann Christoph Arnold, tells McDonald's story. Joining him was Roberto Rodriguez, a victim of police brutality in Los Angeles who is also featured in Why Forgive? Radiating peace as they calmly recounted their stories, the two men acknowledged the need for justice but offered a more radical prescription for the healing of individual souls and entire cities: forgiveness and prayer.
Speaking in bursts between the puffs of his breathing machine, McDonald said, "Many people of different races and different religions were praying for me to live when I was dying, which I was. And when I was told that I would be completely disabled, they prayed that I would recover my abilities. I believe God answered that prayer in giving me the faith and love to forgive the young man who shot me."
On July 12, 1986, McDonald, a twenty-nine-year-old police officer on patrol in Central Park, stopped to question three teenagers about a recent bicycle theft. The oldest, a fifteen-year-old, took out a gun and shot him in the head, neck, and arm. McDonald was rushed to a hospital, where surgeons told his wife that he would be paralyzed from the neck down for the rest of his life. He later wrote:
My wife, twenty-three years old, was three months pregnant. Patti Ann was crying uncontrollably at the cards she had been dealt, and I cried too. I was locked in my body, unable to speak, move, or reach out to her.
A week after I was shot, the media asked to speak to my wife. Though still in shock, Patti Ann bravely told everybody that she would trust God to do what was best for her family. That set the tone not only for my recovery but also for the rest of our lives.
McDonald spent the next eighteen months in hospital. Six months after the shooting, Patti Ann gave birth to their son, Conor. At Conor's baptism, McDonald publicly forgave Shavod Jones, the teen who had shot him.
I wanted to free myself of all the negative, destructive emotions that this act of violence awoke in me – the anger, the bitterness, the hatred. I needed to free myself of those so I could be free to love my wife and our child and those around us. I often tell people that the only thing worse than a bullet in my spine would have been to nurture revenge in my heart. Such an attitude would have extended my tragic injury into my soul, hurting my wife, son, and others even more. It is bad enough that the physical effects are permanent, but at least I can choose to prevent spiritual injury.
A year or two later, Jones called the McDonalds from prison and apologized. McDonald hoped that someday the two of them could travel the country together, sharing the story of the terrible day that changed the course of both their lives. In 1995, Jones was released from prison. Three days later he died in a motorcycle accident. But as McDonald would often say, "Shavod Jones is with me wherever my story is told. We have helped many people, the two of us."
I know it may be hard to understand, but I would rather be like this and feel the way I do, than go on living like I was before. Of course, I have my ups and downs. Some days, when I am not feeling well, I get angry. I get depressed. There have been times when I even felt like killing myself. But I have come to realize that anger is a wasted emotion. So I forgive that young man all over again, and every time I tell my story, I think of Shavod, and I forgive him.
Months and years have come and gone, and I've never regretted forgiving Shavod. Back then we never imagined it would carry any importance in other people's lives. We did it for ourselves. But ever since, people have wanted to hear about this act of forgiveness. It helped us, but more importantly it has helped others as well.
In the wake of the Columbine High School shooting in 1999, McDonald and Arnold joined forces to launch a program called Breaking the Cycle, bringing a message of nonviolent conflict resolution through forgiveness to assemblies at New York–area schools.
I've been able to reach out to children in particular, because it was a child of my city that did this terrible thing to me. I have spoken at hundreds of schools about nonviolence, and I know from responses I get that many of the children have embraced my message and internalized it. Instead of responding to violence with more violence they have decided to choose forgiveness and love. So God has turned something terrible into something beautiful.
A quintessential Irishman and Catholic, McDonald asked Arnold, a Protestant, to help him bring their message of healing through forgiveness to Northern Ireland. The Good Friday Agreement had recently been effected, ending decades of open conflict, but the wounds were still raw and deep. With "marching season" tensions simmering and police in armored vehicles and riot gear standing by, the two men accompanied a children's chorus up Garvaghy Road and through other volatile neighborhoods, prayed together in Protestant and Catholic churches, listened to victims of violence on both sides, and addressed members of Parliament at Stormont.
Accompanying them was Franciscan priest Mychal Judge, the New York Fire Department chaplain who would become the first recorded fatality at the World Trade Center on September 11, 2001, where he had gone to minister to the wounded. That day scuttled the three men's plans to bring their work for reconciliation to the Middle East. Four years later McDonald and Arnold made the trip, meeting with Jewish and Palestinian bereaved parents, police, and human rights activists.
World leaders, celebrities, and millions of ordinary people have drawn inspiration from the McDonalds' story. And who can deny that it was their witness to faithfulness in marriage, come what may, that so stirred and challenged us? Last December, Patti Ann, now the mayor of Malverne, New York, joined Steven on stage at a school assembly. Looking back over their thirty-one years of marriage, she told the students, "We were married eight months when Steven was shot. People ask me if I was to do it all over again, would I do it, and I say yes. I would do it again even if I knew what was going to happen." Steven responded, "I'm very blessed to have had this time with Patti Ann. I think I never understood or appreciated how beautiful, wonderful, and great an experience it would be to share a life with someone else. It's been life-giving without any end. Without Patti Ann in my life, I wouldn't be here today, I wouldn't be speaking on these very important issues, I wouldn't be alive."
Steven McDonald's life ended on January 10, four days after a heart attack left him in a coma. Thousands of New Yorkers packed Saint Patrick's Cathedral and the streets outside to pay their respects at his funeral Mass, which Timothy Cardinal Dolan officiated. Mayor Bill de Blasio said McDonald showed us that "the work of policing is profoundly based on love and compassion for your fellow man and woman" and must be guided by Jesus' greatest commandments: to love God and to love your neighbor as yourself. "Brothers and sisters, we all watched Steven live out these commandments. That message from the gospel governed his life, a message centuries and centuries old that he made fresh and real for us all."
Conor McDonald, now an NYPD sergeant, recounted how his father would call him every day at 5:00 a.m. while he patrolled, just to wish him a good morning, and how during his college years his father would make a weekly trip to Boston just to have lunch together at Applebee's. "My father was always committed to me. He did more than most able-bodied fathers could ever do with their sons.… My parents created the most phenomenal life out of such darkness. It was due to their unmatched, unconditional devotion and love for each other, which I witnessed from the beginning of my life."
At one of his last school assemblies, at the Mount Academy in Esopus, New York, Steven McDonald said:
People want to know: How did you forgive the young man who shot you? And again, looking back, pondering on my life since that time, it's clear to me that God was in charge. All he wanted was the opportunity to use me. He just needed my yes, and that was made possible by prayer. It's that simple, really.
Through the people, the family and friends, that God put in my life, and their prayers, God spoke to me and said, "Will you love this boy who shot you?" And the best way that I could love him was to forgive him. Left to my own abilities, I don't think I would have done it. But it was through those around me, God speaking through them and touching me through them, that I was able to say yes. And I know that I would have died a long time ago had I not listened to God, said yes to God, followed the example of his Son, and loved and forgiven.…
Everything that I've experienced in the last thirty-plus years can only be from God. At first I wondered why this was happening to me, to us, and a quiet, still voice – we all know what it is: God – spoke to me. After the shooting and throughout the hours, days, months, and years that have followed, that quiet, still voice has assured me that it's of God, from God, a blessing.
Catholics have their own criteria and process for sainthood. But as far as many a New Yorker is concerned, we can skip the formalities: McDonald is a saint for our times. He wasn't just a hero and role model. He allowed God to work powerfully through his suffering and weakness, and everyone whose life he touched came away blessed.
TODAY'S DAILY DIG
The man who preserves his selfhood, ever calm and unshaken by the storms of existence – not a leaf, as it were, astir on a tree; not a ripple upon the surface of shining pool – his, in the mind of the unlettered sage, is the ideal attitude and conduct of life. If you ask him: "What is silence?" he will answer: "It is the Great Mystery! The holy silence is His voice!" If you ask: "What are the fruits of silence?" he will say: "They are self-control, true courage or endurance, patience, dignity, and reverence. Silence is the cornerstone of character."
Verse of the Day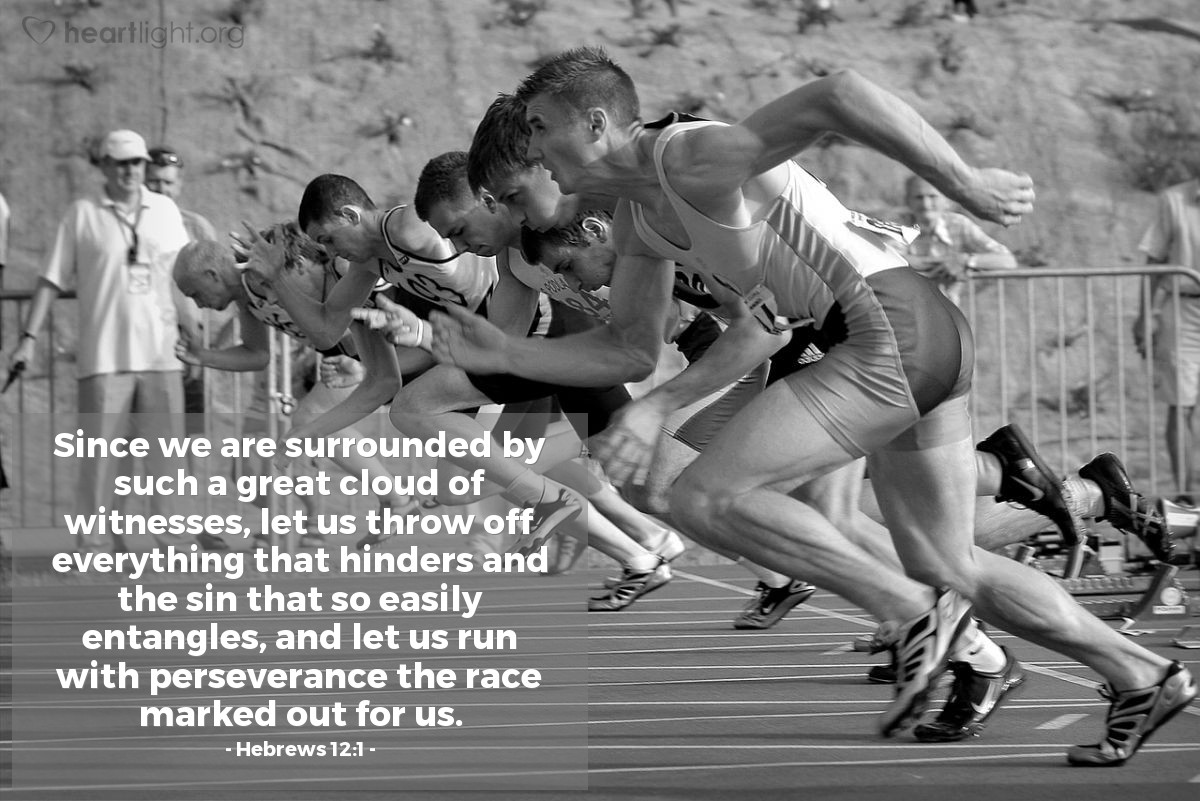 Thoughts on Today's Verse…
With all the great heroes of the Bible, both big and small, we can do God's work with confidence. But to boldly go where he wants us to go, we must first be willing to let go of the sin that entangles our lives, distorts our vision, enlarges our doubts, and robs us of our spiritual vitality and stamina.
My Prayer…
Holy Father, forgive me for my sin. Not just my blatant sins, but my willingness to dabble in things that are not holy, to flirt with things that are spiritually dangerous, and to expose myself to things that leave a residue of Satan's world. Give me strength to say no to the things that distract me from you and to embrace with passion those things that make me more like you. In the name of Jesus my Lord I pray. Amen.
Blessed Antonio Lucci
Saint of the Day for 
July 27
(
August 2, 1682

 – 

July 25, 1752

)

https://www.franciscanmedia.org/wp-content/uploads/2016/08/SODJul27.mp3
Blessed Antonio Lucci's Story
Antonio studied with and was a friend of Saint Francesco Antonio Fasani, who after Antonio Lucci's death, testified at the diocesan hearings regarding the holiness of Lucci.
Born in Agnone in southern Italy, a city famous for manufacturing bells and copper crafts, he was given the name Angelo at baptism. He attended the local school run by the Conventual Franciscans and joined them at the age of 16. Antonio completed his studies for the priesthood in Assisi, where he was ordained in 1705. Further studies led to a doctorate in theology and appointments as a teacher in Agnone, Ravello, and Naples. He also served as guardian in Naples.
Elected minister provincial in 1718, the following year he was appointed professor at St. Bonaventure College in Rome, a position he held until Pope Benedict XIII chose Antonio as bishop of Bovino in 1729. The pope explained, "I have chosen as bishop of Bovino an eminent theologian and a great saint."
His 23 years as bishop were marked by visits to local parishes and a renewal of gospel living among the people of his diocese. He dedicated his episcopal income to works of education and charity. At the urging of the Conventual minister general, Bishop Lucci wrote a major book about the saints and blesseds in the first 200 years of the Conventual Franciscans.
Antonio Lucci was beatified in 1989, three years after his friend Francesco Antonio Fasani was canonized. His Liturgical Feast Day is July 25.
---
Reflection
As Pope Paul VI wrote in 1975, people today "are more impressed by witnesses than by teachers, and if they listen to these it is because they also bear witness" (Evangelization in the Modern World, #41).

What Jesus Did!

 'Bad Things, God's People'

A man named Lazarus was sick. He lived in Bethany with his sisters, Mary and Martha. This is the Mary who later poured the expensive perfume on the Lord's feet and wiped them with her hair. Her brother, Lazarus, was sick.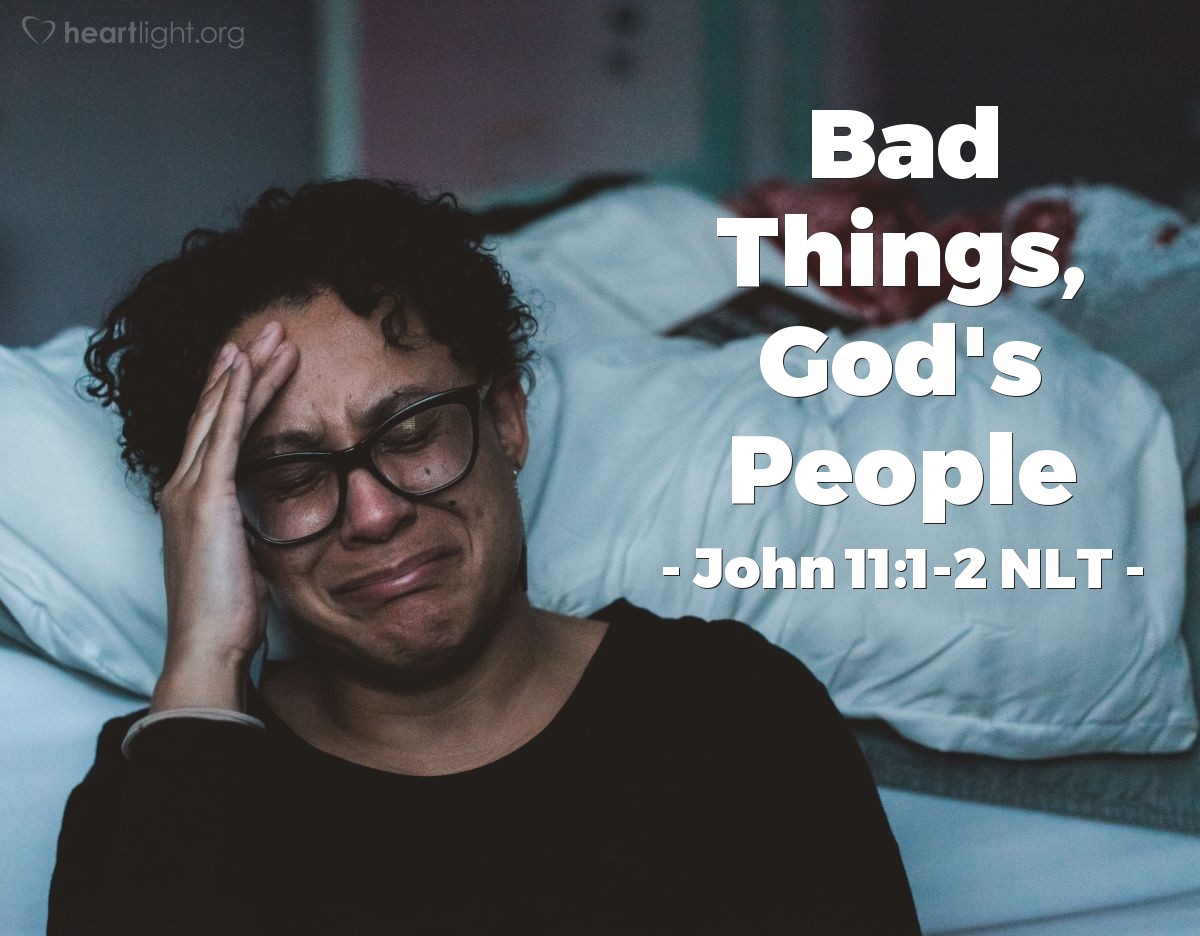 Key Thought
While John tells us this story of Lazarus' sickness and death in today's verses and the following verses, this story is part of a much bigger story. Martha, Mary, and Lazarus are Jesus' disciples. Jesus knows them and loves them deeply. They love him and have chosen to follow him no matter the cost. Their loyalty and love are without fault. Yet Lazarus gets sick. Death comes to their door. Grief rips at their hearts. This story is also our story. We can listen to it and look and find our answers to life's most painful reality and several of life's most confusing questions. We are touched by Jesus and the simple, incomplete, and determined faith of these precious people. Bad stuff does happen to God's people, but Jesus will not allow the bad stuff to win! Jesus triumphs. Jesus is glorified. Those who love Jesus enjoy the reunion. Let your heart settle in this place for the next several days as we continue through the story. Drink deeply of Jesus' words. Let the questions, as well as the faith of Martha and Mary, become your own. Find hope and life here, for while dark days will come your way, Jesus has the final victorious word, and you will have the final joy!
Today's Prayer
Father, please deepen my faith and stitch these words of faith and comfort on my heart these next several days walking with Martha, Mary, Lazarus, and Jesus. Give me hope beyond my fear of death and trust beyond my limited faith sight. In Jesus' name, I pray. Amen.
Related Scripture Readings
Passion for Praise:

 'Praise Him'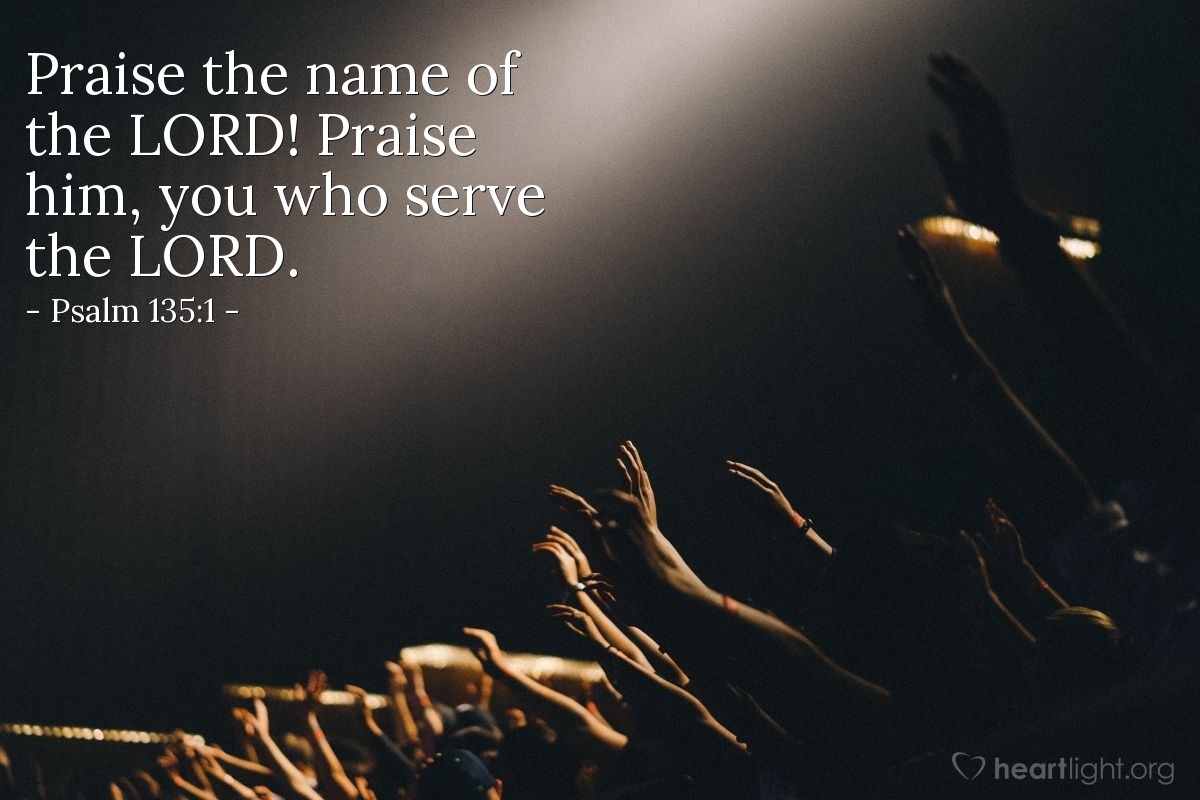 Spiritual Warfare:

 'Warn Each Other Every Day'

God's Power for Our Battles

You must warn each other every day, while it is still "today," so that none of you will be deceived by sin and hardened against God. For if we are faithful to the end, trusting God just as firmly as when we first believed, we will share in all that belongs to Christ.

Lord, it's hard to go to a fellow Christian and warn them about some sin they might be inadvertently involved in because I know I also have sin and deception in my own life. So I have a two-part prayer concerning this verse. One, please help me to recognize my own sin and immediately correct it. Then, two, help me to have the boldness and the kindness to properly bring an issue to my brother or sister in Christ if I need to. Then please give them a heart willing to receive it. In Jesus' Name, Amen.
A Year with Jesus:

 'Dealing with Idlers'
Note from Jesus
Dear Disciple,
Some messages of truth are hard to hear. Nevertheless, a family has to have expectations of family members if it is going to function productively and impact the community around it positively. The way one "bad apple" behaves can destroy the influence of the whole family and can bring disorder and frustration to the whole family.
Today's message is a hard message. Paul and the church in Thessalonica were facing a real problem. The group of disciples in Thessalonica had some folks who were "idler busy-bodies" — folks who didn't work and went around sticking their noses into everyone else's business telling these productive folks how to live their lives. The idlers' reputations were rubbing off on the whole body of believers. The result was that the church was becoming more and more disrespected in the community. So Paul sent some instructions to the Thessalonians about how to discipline these idlers, the purpose behind this discipline, and the principles upon which the discipline was built.
Paul taught the Thessalonian Christians to discipline these "idler busy-bodies" by warning those who were lazy and who were depending on the church to take care of them. If they didn't change their lazy ways, the church family was to "withdraw" from active fellowship and support of the idlers. There should be no more help for folks too lazy to work.
Paul reminded the Thessalonian disciples of the purpose of this discipline. The goal was to restore these brothers and sisters to fruitful lives of service. This discipline was to be done with an attitude of helping a family member, not treating this idler as an enemy.
Paul also helped the Thessalonian believers recall his own teaching and example when he was with them. He had purposefully worked hard when he was among them to set an example so they could see what it looked like to work hard and not depend on others for support.
For Paul, the church family needed to have a reputation in the community as good, decent, hard-working folks: people who "never grow tired of doing good"!
Verses to Live
I know that you sometimes struggle with what to do when people do not seem "to get it" — that is, when they do not realize that they are not going to change their circumstances until they change their behaviors. This complacency is especially true of folks who can work but learn to grow dependent upon support from the church family and become lazy in their own lives. I hope you will read carefully as you see Paul lay down some great principles for you to follow as you try to deal with these kinds of situations.
Brothers and sisters, we urge you to warn those who are lazy. Encourage those who are timid. Take tender care of those who are weak. Be patient with everyone.

See that no one pays back evil for evil, but always try to do good to each other and to all people.
(1 Thessalonians 5:14-15 NLT)

For the sake of the church, brothers and sisters, we insist in the name of our Lord Jesus the Anointed that you withdraw from any brother or sister who is out of order and unwilling to work, who is straying from the line of teaching we passed on to all of you. You know how essential it is to imitate us in the way we live life. We were never undisciplined nor did we take charity from anyone while we were with you. Instead, you saw how we worked very hard day and night so we wouldn't be a burden to even one person in the community. We had the right to depend on your help and hospitality, as you know; but we wanted to give you a model you could follow, to lay a path of footprints for you to walk in. This is exactly why, while with you, we commanded you: "Anyone not willing to work shouldn't get to eat!" You see, we are hearing that some folks in the community are out of step with our teaching; they are idle, not working, but really busy doing nothing — and yet still expect to be fed! If this is you or someone else in the community, we insist and urge you in the Lord Jesus the Anointed that you go to work quietly, earn your keep, put food on your own table, and supply your own necessities. And to the rest of you, brothers and sisters, never grow tired of doing good.

If someone disregards the instructions of this letter, make a note of who it is and don't have anything to do with that person so that this one may be shamed. Don't consider someone like this an enemy (he is an enemy only to himself) but warn him as if you were redirecting your own brother.
(2 Thessalonians 3:6-15)
Response in Prayer
Righteous Father, I want to be a compassionate person who helps those in need and yet does not enable those who are lazy. Please give me wisdom and grace to deal with these kinds of situations that I find in my world. In Jesus' name, I pray. Amen.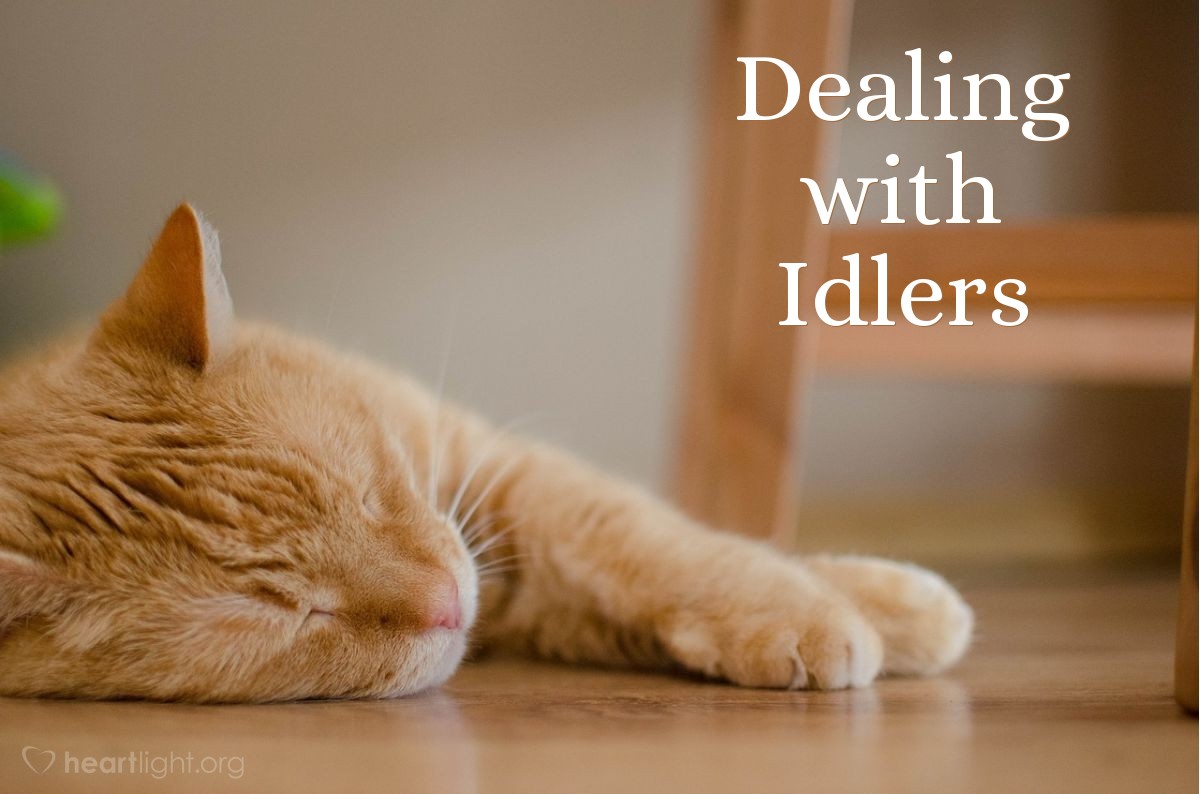 Who shall bring any charge against God's elect?
Romans 8:33
Most blessed challenge! How unanswerable it is! Every sin of the elect was laid upon the great Champion of our salvation, and by the atonement carried away. There is no sin in God's book against His people: He sees no sin in Jacob, neither iniquity in Israel; they are justified in Christ forever. When the guilt of sin was taken away, the punishment of sin was removed. For the Christian there is no stroke from God's angry hand—no, not so much as a single frown of punitive justice. The believer may be chastised by his Father, but God the Judge has nothing to say to the Christian except "I have absolved you: you are acquitted."
For the Christian there is no penal death in this world, much less any second death. He is completely freed from all the punishment as well as the guilt of sin, and the power of sin is removed too. It may stand in our way and agitate us with perpetual warfare; but sin is a conquered foe to every soul in union with Jesus. There is no sin that a Christian cannot overcome if he will only rely upon his God to do it. They who wear the white robe in heaven overcame through the blood of the Lamb, and we may do the same. No lust is too mighty, no besetting sin too strongly entrenched; we can overcome through the power of Christ.
Do believe it, Christian—your sin is a condemned thing. It may kick and struggle, but it is doomed to die. God has written condemnation across its brow. Christ has crucified it, nailing it to His cross. Go now and mortify it, and may the Lord help you to live to His praise, for sin with all its guilt, shame, and fear is gone.
Here's pardon for transgressions past,
It matters not how black their cast;
And, O my soul, with wonder view,
For sins to come here's pardon too.
=====