Christoph Friedrich Blumhardt
You are those who have stood by me in my trials. And I confer on you a kingdom, just as my Father conferred one on me, so that you may eat and drink at my table in my kingdom Luke 22:28–30a, NIV
Lord our God, we thank you that we may be your children and that we may hope in your Spirit. Your Spirit rules us as people whom you want to draw to yourself, as people who may serve you in their lives here on earth. Grant that we may be childlike, so that your Spirit can rule us more and more and what is good may come to many people in all places. May many come to know that their lives are not merely temporal. May they realize that they can live and act in you, and through you may experience the good that is to come to all nations on earth. Amen.
TODAY'S DAILY DIG
"I have been crucified with Christ and I no longer live, but Christ lives in me" (Gal. 2:20). These words mean the breaking of my own independence with my own hand and surrendering to the supremacy of the Lord Jesus. No one can do this for me, I must do it myself. God may bring me up to the point three hundred and sixty-five times a year, but he cannot put me through it. It means breaking the husk of my individual independence of God, and the emancipating of my personality into oneness with himself, not for my own ideas, but for absolute loyalty to Jesus.
Source: My Utmost for His Highest
Saint Mary Magdalene
Saint of the Day for 
July 22
(d. c. 63)
https://www.franciscanmedia.org/wp-content/uploads/2016/08/SODJul22.mp3
Saint Mary Magdalene's Story
Except for the mother of Jesus, few women are more honored in the Bible than Mary Magdalene. Yet she could well be the patron of the slandered, since there has been a persistent legend in the Church that she is the unnamed sinful woman who anointed the feet of Jesus in Luke 7:36-50.
Most Scripture scholars today point out that there is no scriptural basis for confusing the two women. Mary Magdalene, that is, "of Magdala," was the one from whom Christ cast out "seven demons" (Luke 8:2)—an indication at the worst, of extreme demonic possession or possibly, severe illness.
Writing in the New Catholic Commentary, Father Wilfrid J. Harrington, O.P., says that "seven demons" "does not mean that Mary had lived an immoral life—a conclusion reached only by means of a mistaken identification with the anonymous woman of Luke 7:36." In the Jerome Biblical Commentary, Father Edward Mally, SJ, agrees that she "is not…the same as the sinner of Luke 7:37, despite the later Western romantic tradition about her."
Mary Magdalene was one of the many "who were assisting them [Jesus and the Twelve] out of their means." She was one of those who stood by the cross of Jesus with his mother. And, of all the "official" witnesses who might have been chosen for the first awareness of the Resurrection, she was the one to whom that privilege was given. She is known as the "Apostle to the Apostles."
---
Reflection
Mary Magdalene has been a victim of mistaken identity for almost 20 centuries. Yet she would no doubt insist that it makes no difference. We are all sinners in need of the saving power of God, whether our sins have been lurid or not. More importantly, we are all "unofficial" witnesses of the Resurrection.
---
Saint Mary Magdalene is the Patron Saint of:
Penitents
Perfumers
Thanks to the Gospels, we know who Jesus' disciples were. First and foremost there was Mary, the Mother of Jesus. Vatican II expressly referred to her as the "perfect disciple of Jesus." Jesus said, "Whoever does the will of my Father is my disciple."
Mary fulfilled that statement of Jesus perfectly. But after Mary we have Magdalene, a woman some would call an unlikely disciple given the fact that the Gospel tells us "she was possessed by seven demons" (Lk 8:2). That statement does not presume that she was a sinner. That would be unjust to good people, including saints who can be besieged terribly by Satan.
Regardless, there was that moment when she came into Jesus' presence, though the event is not described in the Gospel. What a moment that must have been! Remember, the number seven in scripture is a symbol for fullness or completeness. We have seven Sacraments, seven Cardinal virtues, etc. Regardless of what possession Satan had over her, when Jesus met her, there was no contest. The demons were cast out and Mary was free. One way to imagine the effect is that the fullness of Satan within her was replaced by the fullness of God's grace.
AHEAD OF HER TIME
Mary became one of the women whom the Gospel describes as followers of Jesus (Mt 8:1ff). We have to remember that this fact alone was a scandalous situation as far as the religious leaders were concerned. First of all, women lacked the status to be called a "disciple." Only men could be disciples. But Jesus changed that and called them to be his followers. Also, there could have been sexual innuendos pressed forth by the religious leaders. Sometimes, today, you will hear novelists allude to affairs between Jesus and Mary Magdalene. We know there is no evidence for such a circumstance.
There are many words written about Mary Magdalene in the Gospel. Not only did she follow Jesus in his public life, but, as we know, she was with Mary, Jesus' mother, through the passion, death, and burial of Jesus.
The film The Passion of the Christ presents Magdalene's presence very powerfully. She is described with Jesus' mother at the foot of the cross (Jn 19:25). The apostles were nowhere to be seen. My own image of Mary is that of a strong woman with a love for Jesus—so strong that, if it could have happened, she would have gladly taken Jesus' place on the cross.
Mary Magdalene is also the first one to see the empty tomb, having gone to care for the dead body of Jesus—surely a gruesome task. She is the first to touch Jesus after the resurrection, and the one chosen by Jesus to announce the good news to the Apostles who were huddled in the upper room.
There is something special about this marvelous woman, and the Gospel reminds us that, from the beginning of Jesus' life and ministry, women played a most significant role. They have so much to contribute to the Church and to the people of God. They are a force for good that shouldn't be neglected.

What Jesus Did!

 'Can't Take Them Away'

[To the people questioning Jesus at the Temple, he said,]"But you don't believe me because you are not my sheep. My sheep listen to my voice; I know them, and they follow me. I give them eternal life, and they will never perish. No one can snatch them away from me, for my Father has given them to me, and he is more powerful than anyone else. No one can snatch them from the Father's hand."
Key Thought
How strong a grip do you have? Well, know this: Jesus' grip is stronger! As your shepherd, he will never let you go.
Today's Prayer
Father, I trust my life, my hope, and my future to you. I trust that as I seek you, you will never let me go. Give me strength so that I can respond to such assurance and grace with passion for you, for your kingdom, and for your holiness. In Jesus' name. Amen.
Related Scripture Readings
'Behold the man!'
John 19:5
If there be one place where our Lord Jesus most fully becomes the joy and comfort of His people, it is where He plunged deepest into the depths of woe. Come, gracious souls, and behold the Man in the garden of Gethsemane; behold His heart so brimming with love that He cannot hold it in—so full of sorrow that it must find expression. Behold the bloody sweat as it distills from every pore of His body and falls upon the ground. Behold the Man as they drive the nails into His hands and feet. Look up, repenting sinners, and see the sorrowful image of your suffering Lord. Consider Him as the ruby drops stand on the thorn-crown and adorn with priceless gems the diadem of the King of Misery. Behold the Man when all His bones are out of joint, and He is poured out like water and brought into the dust of death; God has forsaken Him, and hell surrounds Him.
Look and see, was there ever sorrow like His sorrow that is done unto Him? All passersby pause and look upon this spectacle of grief, a wonder to men and angels, an unparalleled phenomenon. Behold the Emperor of Woe who had no equal or rival in His agonies! Gaze upon Him, you mourners, for if there is no consolation in a crucified Christ there is no joy in earth or heaven. If in the ransom price of His blood there is no hope, there is no joy in the harps of heaven, and the right hand of God shall know no pleasures forevermore.
We need only sit more continually at the cross to be less troubled with our doubts and woes. We need only see His sorrows, and our sorrows we shall be ashamed to mention; we need only to gaze into His wounds and heal our own. If we would live properly, it must be by the contemplation of His death; if we would rise to dignity, it must be by considering His humiliation and His sorrow.
Beware of the Thief
TGIF Today God Is First Volume 1 by Os Hillman
July 22, 2018
"But understand this: If the owner of the house had known at what hour the thief was coming, he would not have let his house be broken into." Luke 12:39
What are the times when you and I are most vulnerable to being caught off guard by the enemy of our souls? One of those times is just after you've had a great victory. Consider Jesus when He was baptized and was about to begin His public ministry. He was taken away into the desert to be tempted by satan.
Leisure time is another place in which satan seeks to take us off our normal routine of personal quiet times. In the normal routine of life, our senses are tuned to the need to draw upon God's Spirit to see us through the activities of each day. However, when we get away from our routine and go on vacation, we can often drop these routines. We wrongfully think that we do not need to spend time with the Lord during leisure times. This is a grave mistake. The vacation becomes a test of character. During vacations we turn freely to what we love most. It reveals to us what is at the core of our existence.
A teacher in a large school reportedly said, "The greatest difficulty we encounter is the summer vacation. Just when we have brought a student to a certain discipline and place in their study habits, we lose him; when he comes back we have to begin all over again." It is the same in our spiritual lives. It only takes a small crack in the door of our heart to lose our spiritual focus.
This summer, be on guard when times of retreat are made available to you. Use these times for spiritual refreshment, not just physical refreshment, and you will keep the thief from entering your house.

Finish the Job
TGIF Today God Is First Volume 2 by Os Hillman
July 22, 2018
"When Israel became strong, they pressed the Canaanites into forced labor but never drove them out completely" (Judg 1:28-29).
Have you ever hired a contractor to do some work and ended up having to spend time and energy to get him back to finish the job? The small unfinished projects simply irritate you and create ill-will between you and your contractor. If you have been involved in a building project, you have surely had this experience.
God wanted his people to finish the job. He often told the Israelites to remove your enemies from the Promised Land. However, many times they would not finish the job and the remnant that was left would come back and create difficulties. In most cases, the people of Israel would intermarry which enticed them into their enemy's way of living. Other times they had to enslave them, which took time away from their mission.
Whenever we fail to complete a job it creates ill-will from those we are serving. It also violates a basic biblical mandate for every believer to do their work with excellence. The Bible says that Daniel and his friends did their work ten times better than anyone else. They were known for their excellence.
It is often said of American football that the hardest place to score from is the one yard line. That is because the defenses are greatest where there is the most resistance. Sometimes completing a job is like this.
Whenever you have a project to do make sure you complete the job fully. Go the extra distance to make sure your boss or your client is totally satisfied with your work. You may complete 95% of your work, but if it is not completed you will be known for what you did not finish, rather than for what you did finish.
Listening to the Father's Heart – July 22 
by Os Hillman
Son, you are sad. I know why you are sad. Many of my greatest sons struggled with their circumstances. Consider Isaiah. He struggled to understand his very existence and purpose (Isa 49:4). All my sons and daughters have these doubts at times. I want to encourage you to do something that is contrary to what you are feeling. I want you to begin thanking me. Don't thank me for the circumstances, but thank me for who I am and the fact that my presence sustains you. Thank me for being a God who turns all things into good (Rom 8:28). Gratitude is the currency to acquire a greater measure of my presence. You know I am always with you. But something happens when you begin to praise me, especially in situations where you are tempted to let your circumstances define your attitude. This is the enemy's strategy against you. He wants to subtly introduce doubts, causing you to question my love. Thankfulness will break that assault and release a new sense of hope in you. Take the next step, son. Begin to praise me in this circumstance.
Enter into His gates with thanksgiving, and into His courts with praise. Be thankful to Him, and bless His name. Psalm 100:4
In everything give thanks; for this is the will of God in Christ Jesus for you. 1 Thess 5:18
Verse of the Day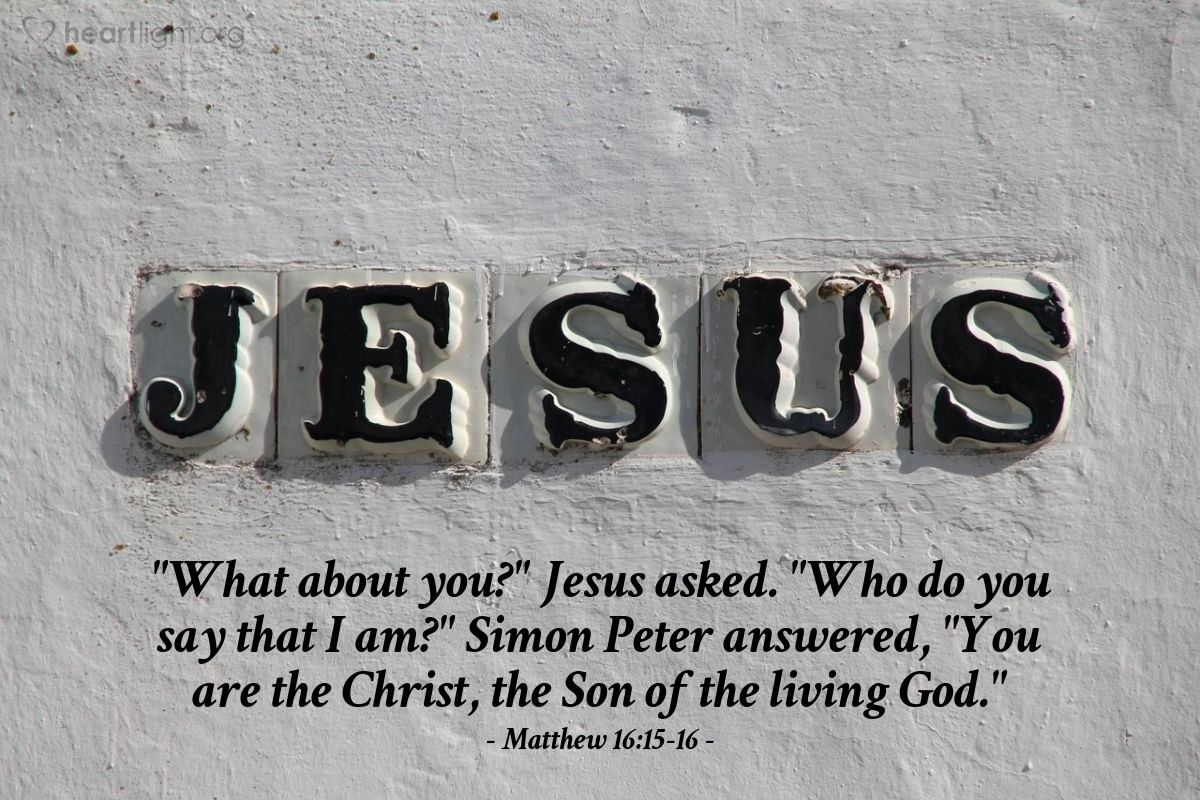 Thoughts on Today's Verse…
There is no other name under heaven that can save us (Acts 4:12). We are to confess Jesus before men, knowing that when we do, we can be sure he will confess us before the Father in heaven. Jesus Christ is the Son of God, our Savior and Lord. We may not know all the theological gravity behind those words — after all, Peter didn't when he confessed Jesus as Christ — but we can make a commitment to know him and follow him until we do know more. Jesus asks us to open our hearts to his lordship and begin the journey toward fuller knowledge and experience of him.
My Prayer…
Living God and Holy Father, I believe you sent Jesus as your Son to save me. I confess to you that I want Jesus to be Lord of my life because I believe him to be your Son and my Savior. It is through your Son, the Christ promised in Scripture, and in Jesus' name that I pray. Amen.
NATIONAL PARENTS' DAY
National Parents' Day honors all parents on the fourth Sunday in July.
In May we celebrated mothers, and in June we celebrated fathers.  It follows that in July we can bring all our parents together and show them some appreciation all at once.  Parents play a vital role in the lives of children.  From the day we are born, parents are our protectors, teachers, providers and role models.  As families, they are the core of our communities.  On National Parents' Day, we honor all parents do every day to raise up their children in a world that is constantly changing and challenging.
HOW TO OBSERVE
Spend some time with your parents or visit someone who was like a parent to you.  Post on social media using #NationalParentsDay and encourage others to join in.
HISTORY
National Parents' Day was established in 1994 when President Bill Clinton signed a Congressional Resolution into Law  (36 U.S.C. § 135) for: recognizing, uplifting, and supporting the role of parents in the rearing of children."  The bill was introduced by Republican Senator Trent Lott.