Christoph Friedrich Blumhardt
They will be my people, and I will be their God. I will give them singleness of heart and action, so that they will always fear me and that all will then go well for them and for their children after them. Jeremiah 32:38–39, NIV
Lord our God, you want to be our God and you want us to be your people. Give us the inner integrity and the power to discern and reject what does not come from the heart, so that everything may be genuine among us. Then no lies and deception will creep in, and honesty and goodness will flow from our hearts to the glory of truth, to the glory of the gospel and the great hope you give us through the gospel. Guard our hearts. Protect the good that is planted in them, that it may grow and thrive and bear fruit. Amen.
TODAY'S DAILY DIG
God and the suffering caused by sin are inseparably united, and will be so until sin ends. The mind boggles but there is enormous comfort here. For one thing it is hard to doubt the love of a God who is ready to suffer and die for us. For another thing, when we suffer we must be as close to God as we are to the pain.
Source: The Joy of the Snow
Verse of the Day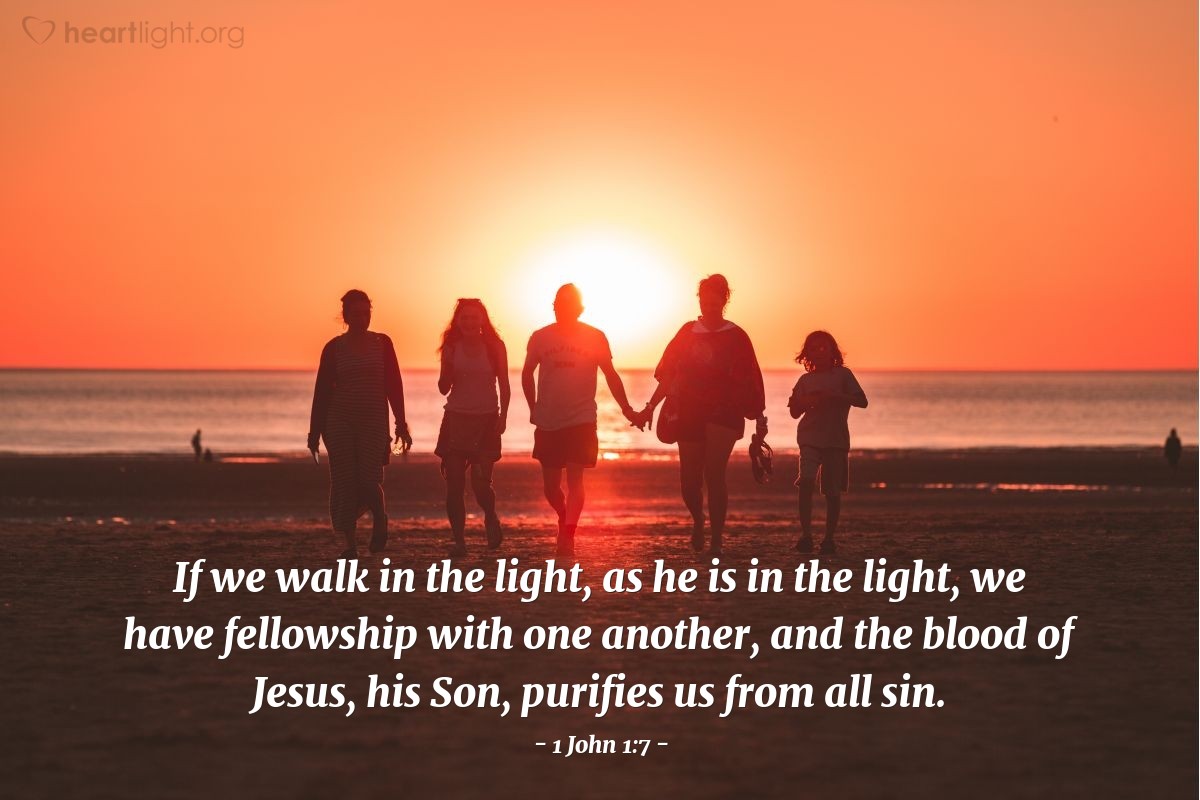 Thoughts on Today's Verse…
As we seek to please God and trust in his grace, more grace is supplied — we are given relationship with each other. And while Jesus' death was "once for all," its cleansing power goes on and on as long as our hearts are tuned to his grace and our hearts seek to walk his path.
My Prayer…
Loving Father, thank you for the gift of Jesus and the cleansing his death brings me. Help me today to live a more dedicated life. Thank you for the assurance that as I seek your will and live your life you are also forgiving me of my sins and cleansing me and making me new. Through the intercession of Jesus, and in his mighty name, I offer these words of thanks. Amen.
Saint Apollinaris
Saint of the Day for 
July 20
(d. c. 79)
https://www.franciscanmedia.org/wp-content/uploads/2016/08/SODJul20.mp3
Saint Apollinaris' Story
According to tradition, Saint Peter sent Apollinaris to Ravenna, Italy, as its first bishop. His preaching of the Good News was so successful that the pagans there beat him and drove him from the city. He returned, however, and was exiled a second time. After preaching in the area surrounding Ravenna, he entered the city again. After being cruelly tortured, he was put on a ship heading to Greece. Pagans there caused him to be expelled to Italy, where he went to Ravenna for a fourth time. He died from wounds received during a savage beating at Classis, a suburb of Ravenna. A beautiful basilica honoring him was built there in the sixth century.
---
Reflection
Following Jesus involves risks—sometimes the supreme risk of life itself. Martyrs are people who would rather accept the risk of death than deny the cornerstone of their whole life: faith in Jesus Christ. Everyone will die eventually—the persecutors and those persecuted. The question is what kind of a conscience people will bring before the Lord for judgment. Remembering the witness of past and present martyrs can help us make the often small sacrifices that following Jesus today may require.

What Jesus Did!

 'Again, Time to Decide'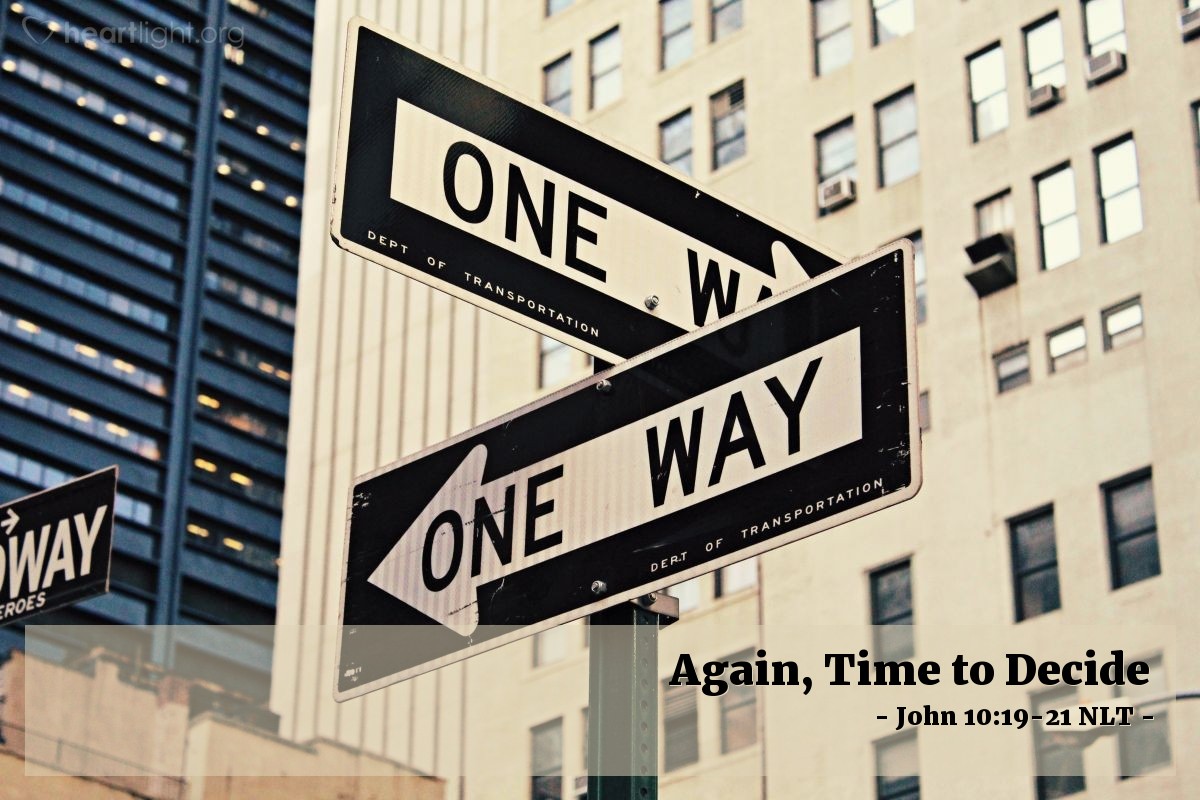 When [Jesus] said these things [about laying down his life and taking it back up], the people were again divided in their opinions about him. Some said, "He's demon possessed and out of his mind. Why listen to a man like that?" Others said, "This doesn't sound like a man possessed by a demon! Can a demon open the eyes of the blind?"
Key Thought
Sometimes we fail to hear the bite in Jesus' words because we have heard them so many times before. For Jesus to claim to have the power to lay down his life and take it back up again is to claim the humanly impossible and preposterous. The people react with clamoring, as they often did, to his strong claims. They recognize that they either have to believe him and put their trust in him, or else recognize him as self-deluded and crazy. What's your choice? You cannot be neutral about Jesus. He is either Lord or liar, Christ or crazy man.
Today's Prayer
Father, I choose to believe that Jesus is your Son, and I want him to be my Lord. Fill me with your Spirit and with the passion to live this truth and to share it with others. In Jesus' name, I pray. Amen.
Related Scripture Readings
Daily Wisdom:

 Deuteronomy 4:31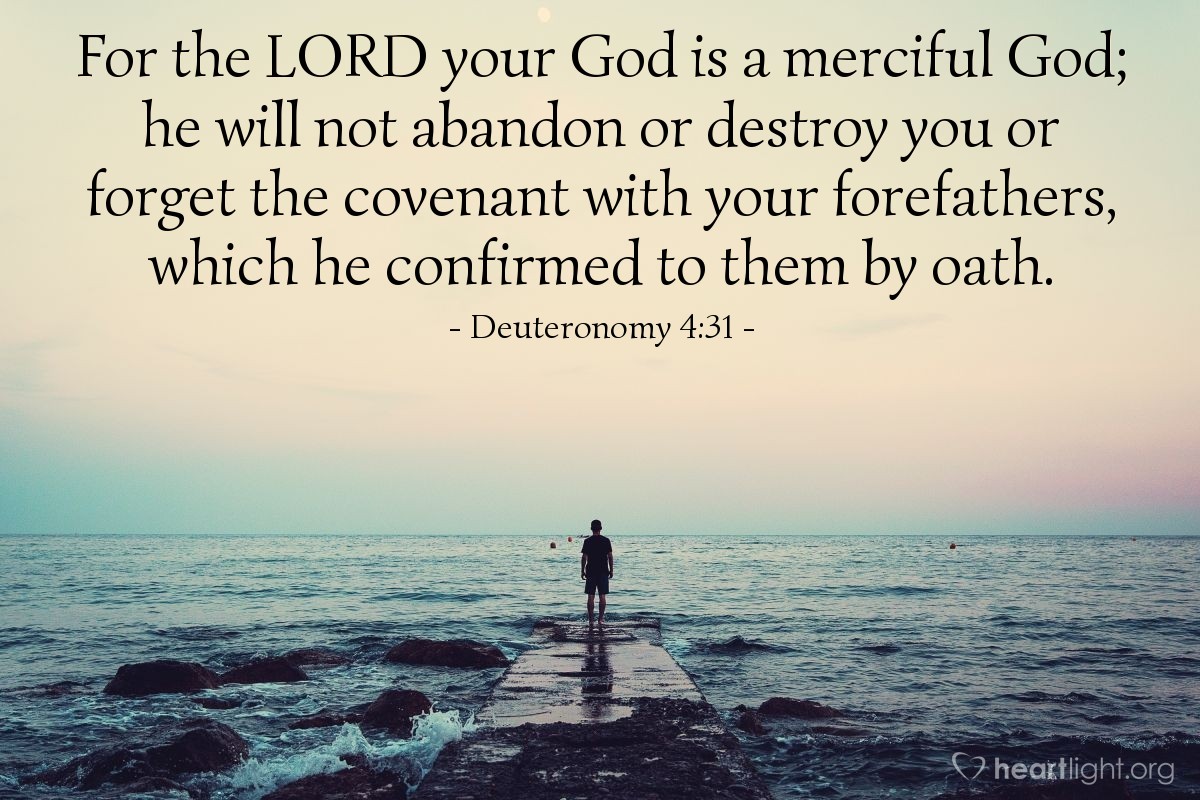 And now what do you gain by going to Egypt
to drink the waters of the Nile?
Jeremiah 2:18
By different miracles, by various mercies, by strange deliverances Jehovah had proved Himself to be worthy of Israel's trust. Yet they broke down the hedges with which God had enclosed them as a sacred garden; they forsook their own true and living God and followed after false gods. Constantly the Lord reproved them for this infatuation, and our text displays God's remonstrating with them, "And now what do you gain by going to Egypt to drink the waters of the Nile?" "Why are you wandering and leaving your own cool stream? Why do you forsake Jerusalem and turn aside to the wasteland? Why are you so strangely set on mischief that you cannot be content with what is good and healthy, but instead chase after what is evil and deceitful?" Is there not here a word of exposition and warning to the Christian?
O true believer, called by grace and washed in the precious blood of Jesus, you have tasted a better drink than the muddy river of this world's pleasure. You have fellowship with Christ; you have obtained the joy of seeing Jesus and resting in His loving embrace. Do the trifles, the songs, the honors, the merriment of this earth content you after that? Have you eaten the bread of angels, and can you live on scraps?
Good Rutherford once said, "I have tasted of Christ's own manna, and it has put my mouth out of taste for the brown bread of this world's joys." I think it should be so with you. If you are wandering after the waters of Egypt, O return quickly to the one living fountain: The waters of the Nile may be sweet to the Egyptians, but they will prove only bitterness to you. What have you to do with them? Jesus asks you this question this evening—what will you answer Him?
A Faithful Man
TGIF Today God Is First Volume 1 by Os Hillman
July 20, 2018
"A faithful man will be richly blessed, but one eager to get rich will not go unpunished." Proverbs 28:20
There is a distinct difference between the workplace believer who operates based on living in the Promised Land versus the one who operates in Egypt. In Egypt, the workplace believer sweats and toils to generate an outcome. The final objective is foremost in their mind. Outcome is everything.
In the Promised Land, we learn that obedience is the only thing that matters. We are called to execute, and leave outcome to God. Sometimes that outcome is very positive, yielding a return. In other cases, we may not yield a corresponding return. We may even get a negative outcome. The difference is that we know that we have been faithful to what God has called us to and we yield results to God. God often blesses obedience beyond what we deserve. If God brings wealth to your life, it should come as a by-product of obedience, not an end in itself.
God may call each of us to be obedient to situations that may not yield immediate, positive results. It is in these times that our faith must be obedience-based versus outcome-based. What if Jesus had considered the immediate ramifications of whether he would go to the cross? Based on the immediate outcome, the decision would have been an easy one. Who wants to die on a cross? However, for Him there was a higher purpose in that obedience. We are called to this same kind of obedience. This means putting our own flesh on the line daily, dying to our own self-will.
This is what it means to be a faithful man. Pray that God will make you a faithful man today.
God Delays
TGIF Today God Is First Volume 2 by Os Hillman
July 20, 2018
On his arrival, Jesus found that Lazarus had already been in the tomb for four days (John 11:17).
Mary and Martha were very close to Jesus. The Bible says Jesus loved Mary, Martha and Lazarus. Mary was the woman who came and poured expensive perfume on Jesus and the disciples rebuked her. Lazarus, Mary and Martha's brother, had become terminally ill. Jesus was away in Jerusalem during the time of Lazarus' illness. After Jesus heard the news that Lazarus was ill, instead of running to the aid of Mary and Martha, Jesus waited two days. Lazarus died and was placed in a tomb. His response to the news was: "This sickness will not end in death. No, it is for God's glory so that God's Son may be glorified through it" (John 11:4). Jesus had to look beyond Mary and Martha's current grief in order to fulfill God's purpose for this sickness.
"When Martha heard that Jesus was coming, she went out to meet him, but Mary stayed at home" (John 11:20-22). Mary was in deep mourning over the death of her brother. When she finally went to see Jesus, she immediately cried out to Him, "Lord, if you had been here, my brother would not have died."
There was a pre-ordained plan for the purpose of Lazarus' death. But only Jesus knew this. Jesus healed Lazarus that day after being dead four days.
When we experience sickness and do not see a breakthrough, we can only seek Jesus for our healing and leave the outcome to Him. We must trust that He knows the answer to our need and the timing for its solution. There are times when we experience supernatural healing and other times that we simply do not know why Jesus chooses not to heal. In either case, our devotion to Jesus must not change.
God-delays are always pre-ordained for a greater purpose. If you find yourself in this place, bring your concerns to Jesus and leave them there. A day will come when Jesus will reveal His purposes in your situation. The psalmist said, "My times are in your hand" (Ps 31:14b). Jesus may have been four days late, but as is often the case, He was still right on time. Are you able to trust His timing?
Listening to the Father's Heart – July 20 
by Os Hillman
Son, sometimes delays are self-inflicted. You must know that my heart is always to deliver, always to bless my sons and daughters. However, it cannot be at the expense of obedience. The freedom you have in your relationship with me comes with imperative boundaries. Take my sons in Israel for example. Their journey to the Promised Land was to be accomplished in 12 days. But due to the stubbornness of their hearts I could not deliver them. They chose not to honor me, but rebelled instead due to the hardness of their hearts. Most things do ultimately come down to the heart. Those whose hearts remain soft see my goodness revealed. Keep your heart soft towards me son, and you will see me move on your behalf.
Oh, that My people would listen to Me, that Israel would walk in My ways! I would soon subdue their enemies, and turn My hand against their adversaries. Psalms 81:13-14
Yet they did not obey or incline their ear, but followed the counsels and the dictates of their evil hearts, and went backward and not forward. Jeremiah 7:2
Join us on our podcast each weekday for an interesting story, well told, from Charisma News. Listen at charismapodcastnetwork.com.
---
Documents filed with the United Methodist Church's top court are shedding first light on specifics of long-awaited proposals to avoid schism in the second-largest Protestant denomination in the United States.
The three plans were published Tuesday (July 17) as part of the docket for the United Methodist Church Judicial Council's October meeting. The denomination's Council of Bishops is asking its top court for a decision on whether those plans and related petitions are constitutional.
"We are asking for this so that we can gain greater clarity about constitutional issues within the three plans, and in service to and support of the delegations, who will do extremely important work in a very limited amount of time," Bishop Kenneth H. Carter, president of the Council of Bishops, said in a written statement last week.
The Rev. Maidstone Mulenga, director of communications for the Council of Bishops, described the request in an email as "a pre-emptive move by the bishops."
The three plans were expected to be made public earlier this month as part of the Commission on a Way Forward's report to the upcoming special session of the General Conference on sexuality, but their release was postponed until they could be translated into all the official languages of the global denomination's General Conference: English, French, Kiswahili and Portuguese. That work is expected to be complete by July 30, but the Council of Bishops noted on its Facebook page that it has "no control over the Judicial Council procedures and deadlines."
At the 2016 General Conference in Portland, Oregon, delegates had voted to defer all proposals on issues related to sexuality to a specially appointed commission and left the door open for a special session.
The denomination's rulebook, the Book of Discipline, states that "the practice of homosexuality is incompatible with Christian teaching" and "self-avowed practicing homosexuals" cannot be ordained as ministers, appointed to serve or married in the church. But United Methodists long have been divided on their beliefs about sexuality.
The Commission on A Way Forward concluded its work earlier this year, and bishops recommended one of the three plans it put forward: the so-called One Church Plan. Its report to the special session of the General Conference, scheduled for February 2019, also includes the Connectional Conference Plan and Traditional Plan, as well as proposed legislation to put each into effect.
Here is a brief summary of each plan:
One Church Plan
The first of 17 petitions that would enact bishops' recommended plan begins with the words, "We agree that we are not of one mind regarding human sexuality."
The One Church Plan acknowledges "persons of good conscience" can interpret what Scripture says about sexuality differently. It affirms both those who believe it does not "condone the practice of homosexuality" as well as those who believe it "calls us to reconsider the teaching of the church with respect to monogamous homosexual relationships."
Related petitions would amend the Book of Discipline to remove the language about incompatibility with Christian teaching and marriage being limited to a man and woman. They would allow regional decision-making bodies called annual conferences to determine whether to ordain LGBTQ clergy and allow individual churches to vote whether to perform same-sex marriages in their buildings. They also would clarify that no clergy would be required to perform a same-sex marriage and would allow them to transfer or be reassigned if their beliefs conflict with those of their churches.
Bishops could not prevent or require a pastor or church to perform a same-sex marriage under the plan, and they would not be required to ordain LGBTQ clergy, who could be ordained instead by the larger jurisdictional conference's College of Bishops.
Traditional Plan
The Traditional Plan would clarify what is meant in the Book of Discipline by a "self-avowed practicing homosexual." That would include those who have publicly stated or told clergy they are "a practicing homosexual," or those in a same-sex marriage, domestic partnership or civil union.
It would make a way to recommend a bishop for an involuntary leave of absence or retirement and a Council Relations Committee to hear those requests, creating a "process by which the Council of Bishops may hold one another accountable." And it would strengthen current complaint procedures and penalties in the Book of Discipline.
It also would include language that bishops are not allowed to consecrate, ordain or commission "self-avowed homosexuals" even if they have been elected or approved by the appropriate church body, and it would require bishops to sign a statement certifying, "I will uphold United Methodist standards on marriage and sexuality in their entirety." If they do not, they would be subject to review by the Council Relations Committee.
As part of the process to determine whether to ordain a candidate, the plan says the Board of Ministry "shall conduct an examination to ascertain whether an individual is a practicing homosexual, including information on social media."
A church or annual conference that differs in its beliefs about sexuality would be allowed to leave the denomination to form its own "self-governing Methodist church," and clergy would be allowed to transfer to those churches.
Connectional Conference Plan
The Connectional Conference Plan would create new connectional conferences from the denomination's existing jurisdictional conferences inside the U.S. and central conferences around the world. Central conferences either could become their own geographically based connectional conferences or vote to join one of three "theologically based" connectional conferences in the U.S., which would align like-minded congregations on matters of sexuality.
The plan would include sections regarding sexuality in the parts of the Book of Discipline that those connectional conferences could change or adapt to "more fruitfully accomplish our mission in various contexts."
The so-called Traditional Connectional Conference would define marriage as between one man and one woman, would not allow same-sex weddings or LGBTQ clergy and would express a "covenantal commitment to a more traditional understanding of the doctrinal and moral standards of the church with enhanced accountability." Like all proposed connectional conferences, it would choose its own name later.
The Unity Connectional Conference would acknowledge members "are not of one mind regarding biblical interpretations related to human sexuality." Clergy would be allowed, but not required, to perform same-sex weddings. Similarly, annual conferences could decide to ordain LGBTQ clergy, and local churches could decide to receive them.
In the Progressive Connectional Conference, all clergy would perform same-sex weddings, all annual conferences would ordain qualified LGBTQ clergy and all churches would welcome LGBTQ pastors who "match the needs of the congregation and its ministry." 
© 2018 Religion News Service. All rights reserved.
Deborah, Esther and Anna carried a profound anointing. Become a Godly woman of boldness, power and strength. Get the Anointing Bundle.
NATIONAL MOON DAY
National Moon Day is observed annually on July 20 and commemorates the day man first walked on the moon in 1969.   NASA reported the moon landing as being "…the single greatest technological achievement of all time."
On July 20, 1969, Apollo 11 landed the first humans, Americans Neil Armstrong and Buzz Aldrin, on the moon.  Six hours after landing, Armstrong stepped onto the lunar surface. He spent two and a half hours outside the spacecraft. He was soon followed by Buzz Aldrin. While Aldrin spent slightly less time on the moon than Armstrong, together they collected 47.5 pounds of lunar material to bring back to Earth.  Michael Collins, piloted Apollo 11, remained alone in orbit until Armstrong and Aldrin returned.
Caught up in the thrill of the adventure, millions watched the mission from Earth. Televisions around the world tuned in to the live broadcasts giving the astronaut a world-wide audience. As a result, all witnessed as Armstrong stepped onto the moon's surface and described the event as "one small step for [a] man, one giant leap for mankind."
Unquestionably a tangible achievement in the space race, reaching the moon placed the United States in a role to go forth and explore farther and deeper into the reach of the universe. In the months and decade that followed, NASA and the Soviets stepped up the missions.
Fast forward forty years and private expeditions plan to take humankind exploring our solar system. Armstrong's "one small step for mankind" inspired imaginations and sparked innovation for generations to come.
HOW TO OBSERVE
Share your memories of the moon landing. View the moon through a telescope and explore the surface. Start a discussion about space exploration and how it's influenced the world today. Use #NationalMoonDay to share on social media.
NATIONAL MOON DAY HISTORY
In 1971, President Richard Nixon proclaimed National Moon Landing Day on July 20 to commemorate the anniversary of man's first moon landing.
With no continuing proclamation to follow, Richard Christmas took up the baton and began a "Chrismas Card" writing campaign. A former gas station attendant, the Michigan native wrote to governors, congressmen and senators in all 50 states urging them to create National Moon Day. By July of 1975, 12 states had sponsored bills observing Moon Day.
James J. Mullaney, former Curator of Exhibits and Astronomy at Pittsburgh's original Buhl Planetarium and Institute of Popular Science and Staff Astronomer at the Allegheny Observatory, is a modern day supporter of a National Moon Day.  He says, "If there's a Columbus Day on the calendar, there certainly should be a Moon Day!"  Mr. Mullaney has been working toward making National Moon Day an official Federal holiday.