Christoph Friedrich Blumhardt
But he said to me, "My grace is sufficient for you, for my power is made perfect in weakness." Therefore I will boast all the more gladly about my weaknesses, so that Christ's power may rest on me. That is why, for Christ's sake, I delight in weaknesses, in insults, in hardships, in persecutions, in difficulties. For when I am weak, then I am strong. 2 Corinthians 12:9–10, NIV
Lord our God, we rejoice that we may be called your children. In our weakness we ask you to shelter us in your hands. Strengthen us in the hope and faith that our lives will surely go the right way, not through our strength but through your protection. Grant that through your Spirit we may come to know more and more that you are with us. Help us to be alert in our daily life and to listen whenever you want to say something to us. Reveal the power and glory of your kingdom in many people, to the glory of your name, and hasten the coming on earth of all that is good and true. Amen.
TODAY'S DAILY DIG
When despair for the world grows in me
and I wake in the night at the least sound
in fear of what my life and my children's lives may be,
I go and lie down where the wood drake
rests in his beauty on the water, and the green heron feeds.
I come into the peace of wild things
who do not tax their lives with forethought
of grief. I come into the presence of still water.
And I feel above me the day-blind stars
waiting with their light. For a time
I rest in the grace of the world, and am free.
Verse of the Day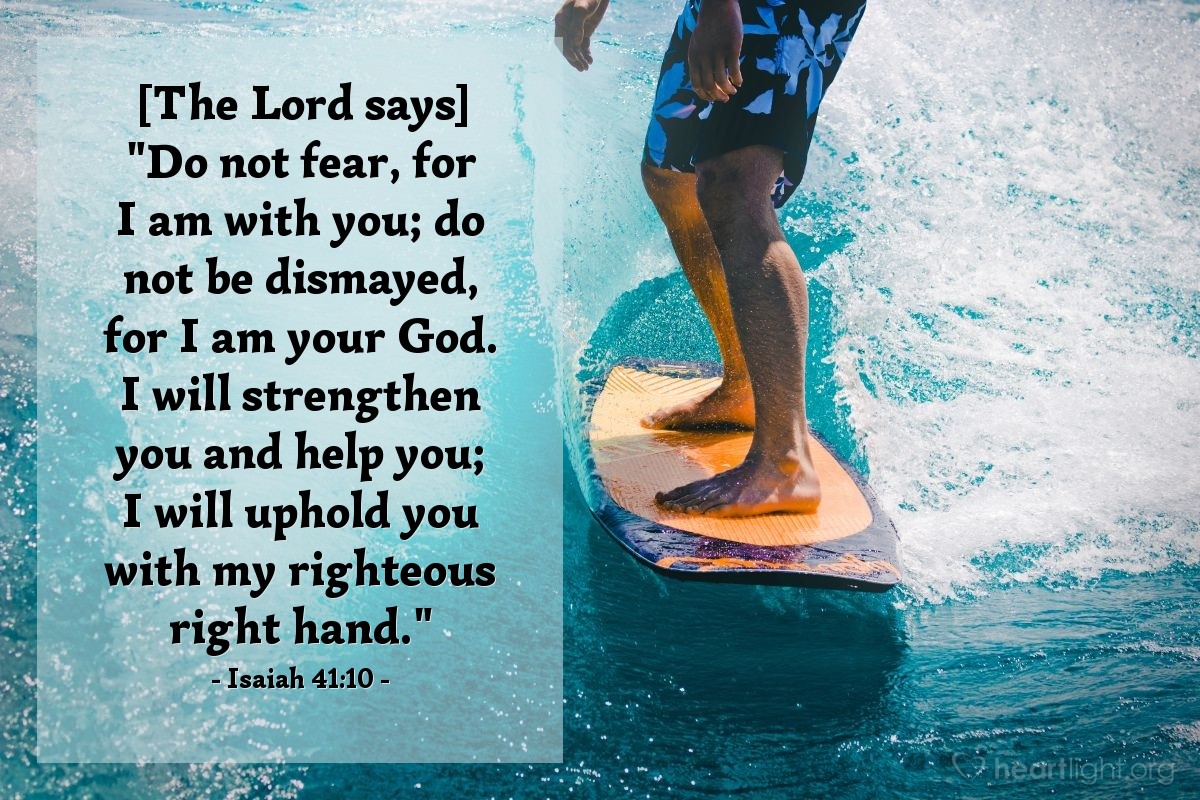 Thoughts on Today's Verse…
Fear saps our will power and leaves us feeling depleted and hopeless. Yet very few of us have ever experienced a defeat so complete and bitter as the one God's people faced when Isaiah shared this message of hope. The preservation of Israel through their horrors to the time of Jesus, the resurrection of Jesus from the dead when all appeared lost, the triumph of the Church through centuries of persecution and opposition are all powerful reminders that underneath us are the everlasting arms of a mighty and loving God who will ultimately bring us to share in his eternal victory.
My Prayer…
Almighty and Eternal Father, it is such sweet comfort to know that you are always there. Thank you for always being there and guaranteeing my victory! In Jesus' name. Amen.
Saint Mary MacKillop
Saint of the Day for 
July 19
(

January 15, 1842

 – 

August 8, 1909

)
https://www.franciscanmedia.org/wp-content/uploads/2016/08/SODJul19.mp3
Saint Mary MacKillop's Story
If Saint Mary MacKillop were alive today, she would be a household name. It's not that she sought the limelight. On the contrary, she simply wanted to serve the poor wherever she found them in her native Australia. But along the way, she managed to arouse the ire of some rather powerful churchmen. One even excommunicated her for a time.
Born in Melbourne in 1842, to parents who had emigrated from Scotland, Mary grew up in a family that faced constant financial struggles. As a young woman she was drawn to religious life but could not find an existing order of Sisters that met her needs. In 1860, she met Father Julian Woods, who became her spiritual director. Together they founded a new community of women—the Sisters of St. Joseph of the Sacred Heart, also known as the Josephite Sisters. Its members were to staff schools especially for poor children, as well as orphanages, and do other works of charity.
As the congregation grew, so did Mary MacKillop's problems. Her priest-friend proved unreliable in many ways and his responsibilities for direction of the Sisters were removed. Meanwhile, Mary had the support of some local bishops as she and her Sisters went about their work. But the bishop in South Australia, aging and relying on others for advice, briefly excommunicated Mary—charging her with disobedience—and dispensed 50 of her Sisters from their vows. In truth, the bishop's quarrel was about power and who had authority over whom. He ultimately rescinded his order of excommunication.
Mary insisted that her congregation should be governed by an elected mother general answerable to Rome, not to the local bishop. There also were disputes about whether or not the congregation could own property. In the end, Rome proved to be Mary's best source of support. After a long wait official approval of the congregation—and how it was to be governed—came from Pope Leo XIII.
Despite her struggles with Church authorities, Mary MacKillop and her Sisters were able to offer social services that few, if any, government agencies in Australia could. They served Protestants and Catholics alike. They worked among the aborigines. They taught in schools and orphanages and served unmarried mothers.
Money, actually the lack of it, was a constant worry. But the Sisters who begged from door to door, were bolstered by faith and by the conviction that their struggles were opportunities to grow closer to God.
By the time Mary was approaching the end of her life, the congregation was thriving. She died in 1909 at the age of 67. Pope John Paul II beatified her in 1995. In 2010, when Pope Benedict XVI canonized her, she became Australia's first saint. Her Liturgical Feast Day is August 8.
---
Reflection
The story of many foundresses of religious communities and the tales of the early days of those communities can make for fascinating reading. Those women were dedicated and tough and fought for those they served. Let's thank the Lord for raising up such wonderful examples of faith.

What Jesus Did!

 'The Power to Lay It Down'

[Jesus said,] "The Father loves me because I sacrifice my life so I may take it back again. No one can take my life from me. I sacrifice it voluntarily. For I have the authority to lay it down when I want to and also to take it up again. For this is what my Father has commanded."
Key Thought
Jesus didn't just die; he died with power and authority. His life wasn't taken from him; he laid it down willingly to die for our sins. His crucifixion was an apparent defeat for him, but it was turned into a lasting defeat for the evil one who sought to use Jesus' death to win a victory over God. No one could take Jesus' life. He gave it willingly to save us and purchase us from death. The cross is God's power demonstrated in humanity's worst forum. The cross is our glory!
Today's Prayer
Father, as the old hymn says, "My glory all the cross." I thank you for purchasing me from sin and death through the gift of Jesus. I trust in your sacrifice to atone for my sins. I entrust my life to Jesus, who had the power both to lay down his life for me and to take that life back up again for my eternal salvation. Praise and glory be to you, dear Father, and to the Son who is to be forever praised. Amen.
Related Scripture Readings
A bruised reed he will not break,
and a smoldering wick he will not quench.
Matthew 12:20
What is weaker than the bruised reed or the smoldering wick? A reedthat grows in the marshland—let a wild duck land on it, and it snaps; let but the foot of man brush against it, and it is bruised and broken; every wind that flits across the river moves it to and fro. You can conceive of nothing more frail or brittle or whose existence is more in jeopardy than a bruised reed. Then look at the smoldering wick—what is it? It has a spark within it, it is true, but it is almost smothered; an infant's breath might blow it out; nothing has a more precarious existence than its flame.
Weak things are here described; yet Jesus says of them, "The smoldering wick I will not quench; the bruised reed I will not break." Some of God's children are made strong to do mighty works for Him; God has His Samsons here and there who can pull up Gaza's gates and carry them to the top of the hill. He has a few mighties who are lionlike men, but the majority of His people are a timid, trembling race. They are like starlings, frightened at every passerby, a little fearful flock. If temptation comes, they are taken like birds in a snare; if trial threatens, they are ready to faint. Their frail craft is tossed up and down by every wave; they drift along like a seabird on the crest of the billows—weak things, without strength, without wisdom, without foresight. Yet, weak as they are, and because they are so weak, they have this promise made especially to them.
Herein is grace and graciousness! Herein is love and loving-kindness! How it opens to us the compassion of Jesus—so gentle, tender, considerate! We need never shrink back from His touch. We need never fear a harsh word from Him; though He might well chide us for our weakness, He rebukes not. Bruised reeds shall have no blows from Him, and the smoldering wick no damping frowns.
Thank God for Unanswered Prayer
You do not have, because you do not ask God. When you ask, you do not receive, because you ask with wrong motives… —James 4:2-3
I have lived long enough, as far as I can tell, to thank God for every unanswered prayer. That is, prayers prayed in the distant past. To be honest, I have offered prayers more recently that have gone unanswered (so far), which makes no sense to me at all. But I predict that, in the end, I will have no complaints. God is not only sovereign, but He is also loving and gracious. No good thing does He withhold from those who sincerely try to do His will in everything (Ps. 84:11).
Unanswered prayer is still an enigma—that is, puzzling in the light of Jesus' words, "You may ask me for anything in my name, and I will do it" (John 14:14). God does not answer prayers that are not in His will. After all, John said, "This is the confidence we have in approaching God: that if we ask anything according to his will, he hears us" (1 John 5:14).
I can only conclude that asking in Jesus' name must in some direct sense relate to God's will. The enigma of unanswered prayer lies in the apparent incongruity between what seems good to us at the time and what God knows is good for us.
Sometimes our prayers, which seem so right, flow from a faulty theology. When we are in love with our theological assumptions—and can't imagine they could be wrong—we tend to presume God surely agrees with us! The disciples asked the resurrected Christ, "Lord, are you at this time going to restore the kingdom to Israel?" (Acts 1:6). It had not crossed their minds that Jesus never once planned to do anything of the kind.
Although unanswered prayer is a mystery, there is also an explanation. It is only a matter of time before we will be given an explanation. But it comes down to this: God has a better idea than that which we asked for.
Excerpted from The Thorn in the Flesh (Charisma House, 2004).
Faith in the Blood
Whom God hath set forth to be a propitiation through faith in his blood, to declare his righteousness for the remission of sins that are past, through the forbearance of God. —Romans 3:25
Have faith in God, but also have faith in what He has done. Calvary was proof of God's righteousness, not only for your yesterday, but also for your today and your tomorrow.
God never said because you believe in Jesus you are automatically declared righteous. He gave us the basis for forgiveness of sin and the basis on which He could declare sinners righteous—faith in the shed blood of Jesus.
Jesus is the foundation on which our faith stands. His sinless blood blotted out your sins forever; but for that blood to be effective in your life, you must have faith to believe.
Faith in the atoning blood of Jesus means protection and provision in our daily walk. Plead the blood of Jesus over your mind, your body, your work, and your walk with Him. Apply the blood to the doorposts of your life, your family, your church, your work, and your friends.
Lord Jesus, thank You for shedding Your blood
to atone for my sins. I apply the blood to every
relationship in my life for Your protecting,
cleansing, healing, and saving power.
Amen.
Knowing Our Limits
TGIF 

Today

 God Is First Volume 1 by Os Hillman
July 19, 2018
"He who works his land will have abundant food, but the one who chases fantasies will have his fill of poverty." Proverbs 28:19Webster's defines entrepreneur: "one who organizes, operates, and assumes the risk in a business venture." [Merriam-Webster's Collegiate Dictionary, Tenth ed. (Springfield, Massachusetts, 1993), "entrepreneur."] Entrepreneurs can smell an opportunity a mile away. However, what is often their greatest asset can become their greatest downfall. The road is littered with entrepreneurs who have been successful in one venture only to fail in countless others. Is this the natural way for an entrepreneur, or is there a better way?
King David was an entrepreneur. He grew up as a shepherd boy and later became Israel's greatest warrior. He responded to opportunities, like the time when no one would fight Goliath. He saw this as an opportunity. He ultimately became king of Israel and faced many opportunities placed before him. David learned an important lesson somewhere along the way that each of us as workplace believers should learn. As an entrepreneur the greatest danger is engaging ourselves in activities in which God never intended us to be involved. This is poor stewardship of what God has entrusted to us. When the Philistines attacked David, he always inquired of God as to if and when he was to counterattack. When he was attacked a second time on one occasion, David inquired of God as to whether he was to attack yet. This time God said yes, but with a condition, "Wait until you hear the sound of marching in the balsam trees" (see 2 Sam. 5:24). This story tells us that David had learned an important lesson about staying vertical in his relationship with God at all times. David had learned the important principle of staying focused on what God wanted for him, not what seemed logical. He was an opportunist, but only through the filter of the Holy Spirit in his life.
How do you approach opportunities? Do you consider the merits of the opportunity only? Or do you inquire of God as to whether He desires you to pursue? It may be a wonderful opportunity, but it may not be God's will for you to be involved. Ask the Holy Spirit to direct you as you seek to use the skills He has given you.
Crying Out to the Lord
TGIF Today God Is First Volume 2 by Os Hillman
July 19, 2018
"But when they cried out to the LORD, he raised up for them a deliverer. . ." (Judg 3:8-9).
I often receive requests to help someone whose life is in a difficult place. After a few questions I am able to discern if the Lord has called me to get involved. More often than not, I am not to be involved. Many times I find this person has not experienced enough pain to want to do anything about their situation. Until they are really ready to cry out to the Lord for a solution to their situation, they will simply talk about desiring change but never take the necessary steps needed for change."
If you invest time into someone who has not yet come to the place of wanting a spiritual solution to their problem, you will become emotionally exhausted. The apostle Paul understood this principle when he actually turned such people over to Satan for the destruction of their flesh (I Cor. 5:5).
The people of Israel were finally in enough pain to cry out to God for relief from their oppression. Like so many times throughout the scriptures, God answered by raising up a deliverer. "But when they cried out to the LORD, he raised up for them a deliverer, Othniel son of Kenaz, Caleb's younger brother, who saved them. The Spirit of the LORD came upon him, so that he became Israel's judge and went to war. The LORD gave Cushan-Rishathaim king of Aram into the hands of Othniel, who overpowered him. So the land had peace for forty years, until Othniel son of Kenaz died (Judg 3:8-11)."
Are you in a difficult place in your life? Are you only talking about changing or are you really ready to cry out to the Lord for a solution? Start now the process of changing your situation for the better and asking for help if needed.
Listening to the Father's Heart – July 19
by Os Hillman
Do you recall when my son Paul got caught in a storm on the sea and circumstances seemed to threaten his life and all those on board? Paul had received a word from me and it was confirmed through an angel during the night on the ship that he would reach his destination. Sometimes circumstances can look like you won't make it. I don't always send angels to my sons and daughters, but I give you my word and the Holy Spirit to reveal my purposes and destiny for your life. It is in these times that you must rely solely on my promises, and not on what appears to be going on around you. I control the storms and I determine what level of impact they will have on your life. Stand firm and trust me to get you to the destiny I have preordained for you.
For there stood by me this night an angel of the God to whom I belong and whom I serve, saying, 'Do not be afraid, Paul; you must be brought before Caesar; and indeed God has granted you all those who sail with you.' Therefore take heart, men, for I believe God that it will be just as it was told me. Acts 27:23-25
You will not need to fight in this battle. Position yourselves, stand still and see the salvation of the LORD, who is with you, O Judah and Jerusalem! Do not fear or be dismayed; tomorrow go out against them, for the LORD is with you. 2 Chronicles 20:17
The Truth About the Trump-Putin Summit
The Western world waited with bated breath on Monday for President Donald Trump to castigate Vladimir Putin and demand answers from the Russian president. That did not happen to the satisfaction of the news media.
It is no secret that the president has desired to foster a relationship with Putin as a step to resolving problematic issues worldwide. National Security Adviser John Bolton said Mr. Trump believed "strongly" that it was time for a new manner of cooperation between the two world leaders. According to Bolton, "Both President Trump and President Putin think they may be able to find constructive solutions. I'd like to hear someone say that's a bad idea."
Mr. Bolton certainly got his wish. It seems there are few, if any, who deemed the summit a good idea despite the apocalyptic issues that need to be addressed, i.e., the civil war in Syria, the disastrous nuclear situation in North Korea and of course, Iran. CNN's Anderson Cooper called the interaction "disgraceful" and added his own dramatic visual effects for good measure. Even Brit Hume, Fox News senior political analyst, said of the president, "Trump is unable to see past himself, he sees the Russian meddling investigation as only about him."
Sen. Rand Paul was one of the few to say anything positive about the summit. "It's gotten so ridiculous that someone has to stand up and say we should try to engage even our adversaries and open up our lines of communication."
What President Trump did was, in my opinion, absolutely genius. Given that the three biggest crises the world faces are Syria, North Korea and Iran, Putin has the ability to help in the resolution of all of them. What did the Trump-haters wish him to do? Open the press conference by insulting Putin? How is it possible that this would be in America's national interest? If anything, it would make Putin even more tenacious in his dealings with world leaders.
During World War II, president Franklin Roosevelt shocked the world by developing an alliance with Russia's Joseph Stalin for only one purpose: to win the war. There is no possibility that Mr. Trump does not understand all the facts concerning Putin. To use the charm offensive is brilliant. You might say President Trump is "dumb as a fox." He knows exactly what his objectives are.
The media, in rushing to bash the president, seems to have conveniently forgotten an occurrence in Seoul, South Korea, in March 2012. President Barack Obama and Russian president Dmitry Medvedev were caught in an unscripted, open-mike moment. Mr. Obama assured the Russian: "Let me get reelected first," he said, "then I'll have a better chance of making something happen … on all these issues, but particularly missile defense … this can be solved, but it's important for him to give me space … this is my last election. After my election I have more flexibility." The reference was apparently to incoming Russian president, Vladimir Putin.
The liberal left media seems to be trying to conjure up a mob to turn the Robert Mueller election investigation into a bonfire. Few people seem to remember Barack Obama's interference in Israeli politics in an attempt to oust Benjamin Netanyahu in 2015. Certainly, a limited number might recall Bill Clinton's interference in Israeli politics in 1996.
No evidence has been uncovered to support claims that Russian hackers changed the course of the 2016 election. Mr. Obama himself said, "No serious person out there would suggest somehow that you could rig America's elections."
Were an angel choir to announce President Trump's innocence, liberals, and now some members of his own party, would surely continue to mock and castigate him in further attempts to drive him from office in disgrace. 
Mike Evans is a No. 1 New York Times best-selling author with 89 published books. He is the founder of Friends of Zion Museum in Jerusalem and serves on the Trump Evangelical Faith Initiative.