Christoph Friedrich Blumhardt
I will greatly rejoice in the Lord, my soul shall exult in my God; for he has clothed me with the garments of salvation, he has covered me with the robe of righteousness, as a bridegroom decks himself with a garland, and as a bride adorns herself with her jewels. Isaiah 61:10, RSV
Lord our God, grant that we may find the power of your Spirit so that we may live on a higher level, no longer controlled by our lower natures but strengthened to take up the battle of life. May we be children of the Spirit and may we walk in the Spirit. Guard us against carelessness and keep us joyful and courageous. Help us and counsel us on all our ways so that we may honor you and testify that you are our God, our true help. Amen.
TODAY'S DAILY DIG
What have you
To offer to me?
What is it
You feel I ask?
Reconsider,
O my people,
What you see
To be your task.
Not that you
Forever harp on
Things so clear
To me above –
Simple are my
Expectations.
All I ask
Is that you love.
Love is clear
And Love is simple,
Quick to help
And slow to cease,
Love is Gratitude
And Patience,
Love is Kindness,
Love is Peace.
Source: excerpt of the poem "In This Stillness" from Water at the Roots
Verse of the Day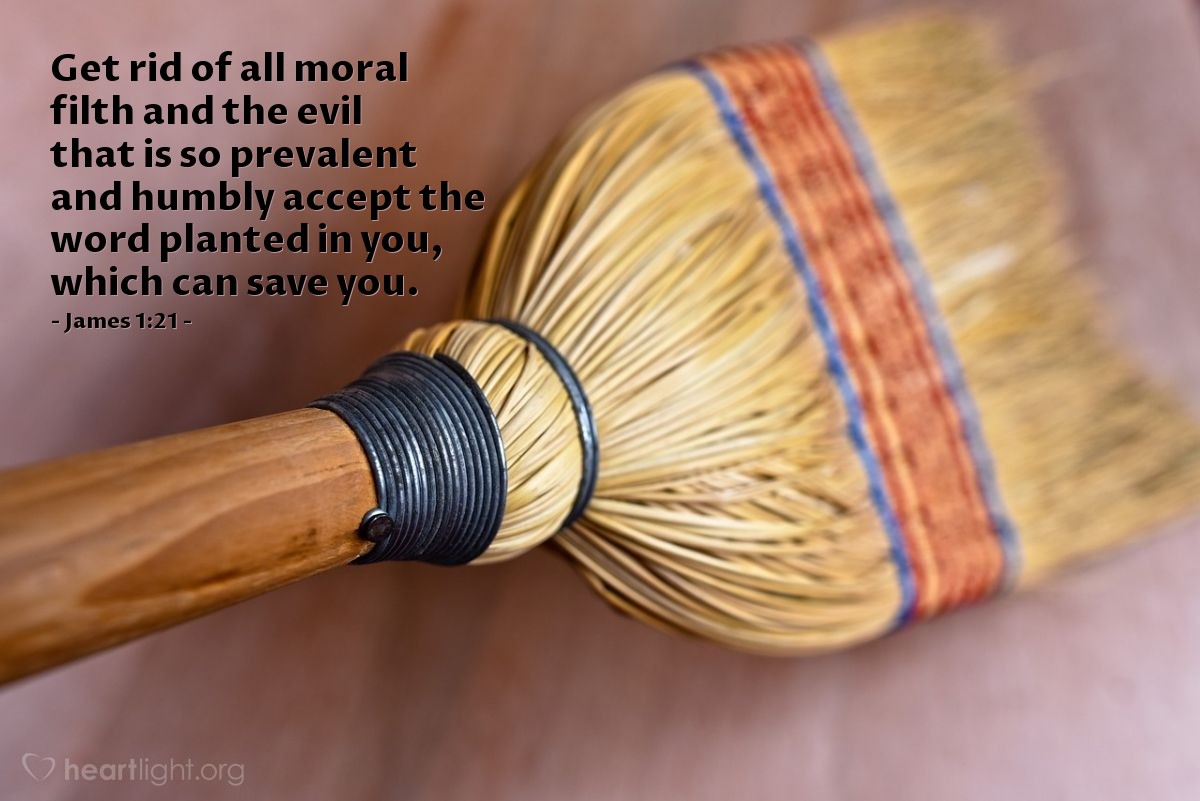 Thoughts on Today's Verse…
Isn't it true! When we find ourselves caught in the clutches of the moral filth of our culture, we find the Word of God boring and irrelevant. Yet even in those moments when Satan uses sin to harden our hearts, God's Spirit calls us to change at a level deeper than just the mere understanding of the words of Scripture. Thank God for his Spirit which can use his Word like a surgeon's scalpel and do the needed surgery on our hearts.
My Prayer…
Holy God, with the help of your Holy Spirit, today I willingly and decisively give up the immoral habits in my life. I recognize that these not only offend your holiness and grace, but also harden me to your will, pull me away from your character, and blunt my witness to others. Please forgive me and sustain me as I seek to live a life wholly pleasing to you. In Jesus' name I pray. Amen.
Saint Bonaventure
Saint of the Day for 
July 15
(
1221

 – 

July 15, 1274

)

https://www.franciscanmedia.org/wp-content/uploads/2016/08/SODJul15.mp3
Saint Bonaventure's Story
Perhaps not a household name for most people, Saint Bonaventure, nevertheless, played an important role in both the medieval Church and the history of the Franciscan Order. A senior faculty member at the University of Paris, Saint Bonaventure certainly captured the hearts of his students through his academic skills and insights. But more importantly, he captured their hearts through his Franciscan love for Jesus and the Church. Like his model, Saint Francis, Jesus was the center of everything—his teaching, his administration, his writing, and his life. So much so, that he was given the title "Seraphic Doctor."
Born in Bagnorea in 1221, Saint Bonaventure was baptized John, but received the name Bonaventure when he became a Franciscan at the age of 22. Little is known about his childhood, but we do know that his parents were Giovanni di Fidanza and Maria Ritell. It seems that his father was a physician and a man of means. While Saint Francis died about five years after the saint's birth, he is credited with healing Bonaventure as a boy of a serious illness.
Saint Bonaventure's teaching career came to a halt when the Friars elected him to serve as their General Minister. His 17 years of service were not easy as the Order was embroiled in conflicts over the interpretation of poverty. Some friars even ended up in heresy saying that Saint Francis and his community were inaugurating the era of the Holy Spirit which was to replace Jesus, the Church, and Scripture. But because he was a man of prayer and a good administrator, Saint Bonaventure managed to structure the Order through effective legislation. But more importantly, he offered the Friars an organized spirituality based on the vision and insights of Saint Francis. Always a Franciscan at heart and a mystical writer, Bonaventure managed to unite the pastoral, practical aspects of life with the doctrines of the Church. Thus, there is a noticeable warmth to his teachings and writings that make him very appealing.
Shortly before he ended his service as General Minister, Pope Gregory X created him a Cardinal and appointed him bishop of Albano. But a little over a year later, while participating in the Second Council of Lyon, Saint Bonaventure suddenly died on July 15, 1274. There is a theory that he was poisoned.
Saint Bonaventure left behind a structured and renewed Franciscan Order and a body of work all of which glorifies his major love—Jesus.
---
Reflection
Bonaventure so united holiness and theological knowledge that he rose to the heights of mysticism while remaining a very active preacher and teacher, one beloved by all who met him. To know him was to love him; to read him is still for us today to meet a true Franciscan and a gentleman.
Saint Bonaventure may not be as well-known as Saints Francis and Anthony, but he is an important figure in both Franciscan history and the history of the medieval Church. A Minister General of the Franciscan Order and a Cardinal and Doctor of the Church, Bonaventure left his mark as a scholastic philosopher and theologian, as well as a mystic writer adding significantly to the spirituality of the Franciscan movement.
Known as the Seraphic Doctor because of his devotion to Saint Francis and the Franciscan way of life, Saint Bonaventure brought the warmth and affection of Francis' love of Jesus to bear on the scholastic thought of his day. Thus, his writings show both his highly developed ability to reason and his down-to-earth devotion to the persons of the Trinity and to the Church.
THE MAN
Born in Bagnorea, Italy, to Giovanni di Fidanza and Maria Ritell in 1221, just five years before the death of Saint Francis, Saint Bonaventure was baptized John. He received the name Bonaventure when he entered the Order of Friars Minor. Bonaventure entered the Franciscans around 1243 as a member of the Roman Province.
He attended the University of Paris studying under the founder of the Franciscan school there, Alexander of Hales, receiving his licentiate in 1248. This degree afforded him the right to teach, which he did until his election as Minister General of the Order of Friars Minor in 1257, an office he held until May 1274.
---
---
Those were difficult times as the Order was split over the issue of the observance of poverty, and Bonaventure wasted no time addressing it. He called several General Chapters at which he proposed corrective legislation. It was at one of these Chapters that the friars asked him to write about the life of Saint Francis. This was adopted as the official biography of the Order in 1263.
On June 23, 1273, he was made a cardinal and named the bishop of Albano by Pope Gregory X, whom he both advised and helped prepare for the Second Council of Lyon. While attending that council, he died suddenly on Sunday, July 15, 1274. According to some, he was poisoned.
THE FRANCISCAN THEOLOGIAN
In many ways, Bonaventure remained a simple man of faith and holiness; his life and administration governed by prayer and reflection. Legends have it that when the papal legates came to give him his cardinal's hat, they found him washing dishes.
He is said to have asked them to hang the hat on a tree until he finished and could dry his hands. Legend also states that he drew attention to a woman hanging her laundry and commented to his fellow clergymen that, in all probability, the woman exceeded all of them in holiness due to her simple faith. Unlike them, he reasoned, she was not burdened by sophisticated learning and the trappings of office.
As a theologian, Bonaventure was able to reflect on the practical aspects of life and see how they interacted with the insights of faith—truly an incarnational approach, which is so typically Franciscan. He was a well-seasoned philosopher and theologian capable of thinking things through carefully in the light of reason drawing truly academic yet pastoral conclusions.
But always a true follower of Saint Francis and faithful disciple of Jesus, Bonaventure remained centered in the teachings of the Church.
THE ORGANIZER
Like Saint Paul, who organized the institutional Church and formulated a Christian spirituality, he gave structure to the Franciscan way of life and the spirituality of Saint Francis. Many have described Francis as a dreamer. I don't know what his Myers-Briggs score would have been, but I do know that he tended to avoid structure and legislation. He wrote his Rule because he had to. It was required by the Church, especially considering the sudden growth in the number of his followers.
Saint Francis had wanted to simply live the life of the Gospel and let the Spirit be the guide of the friars. But the very human friars needed more structure and organization in their lives. Saint Bonaventure offered that to them without losing the idealism of the Franciscan vision.
THE SPIRITUAL WRITER
Saint Bonaventure saw the spires of the great cathedrals reaching up to heaven as a reflection of the human soul's reaching up to God in his The Soul's Journey into God. Likewise, the streams of light coming into the church through the stained-glass windows reflect God expressing himself in the wide variety of creatures upon whom he showers his gifts of grace.
And the images go on and on as the saint reaches into human experience of creation and cultural artifacts and finds vestigium (the footprints) of God since everything in creation reflects in some way the grandeur of God. Human beings, of course, are the actual image of God.
It was this ability to take the spirituality of Saint Francis—as reflected in Saint Francis' Canticle of the Sun, for instance—and place it at the heart of his writings, keeping the simplicity of the Franciscan insights and creating a sublime theology that truly deserves the name "Seraphic."
When Bonaventure was declared a Doctor of the Universal Church in 1588 by Pope Sixtus V, he was given the title "Seraphic Doctor." Merriam-Webster defines a seraph as one of the highest-ranking angels as well as "one of the six-winged angels standing in the presence of God." It was as a seraph that Christ appeared to Saint Francis when he received the stigmata on Mount La Verna. Therefore, it is fitting to use the term to describe the soaring mysticism of Saint Bonaventure.
THE SAINT
As is true of all saints, Saint Bonaventure had—and has—his detractors. While considered the second founder of the Franciscan Order, there are those who feel that he took the community in the wrong direction. But the Order needed organization, and Bonaventure was the man for the job. We'll let history continue to discern whether he did a good job.
But beyond his organizational and administrative skills, the saint expresses a heart of love after the model of Saint Francis. One cannot read The Soul's Journey into God or the Tree of Life, for example, without feeling the devotion of the saint as he, like Saint Francis, almost gushes over the poverty shown in the Incarnation and the love expressed in the Passion of Jesus. In all he did he seems to have been a true Franciscan at heart.
In his bull of canonization, Pope Sixtus IV wrote:
Bonaventure was great in learning, but no less great in humility and holiness. His innocence and dove-like simplicity were such that Alexander of Hales, the renowned doctor whose disciple Saint Bonaventure became, used to say of him that it seemed as though Adam had never sinned in him.

What Jesus Did!

 'Laying Down His Body'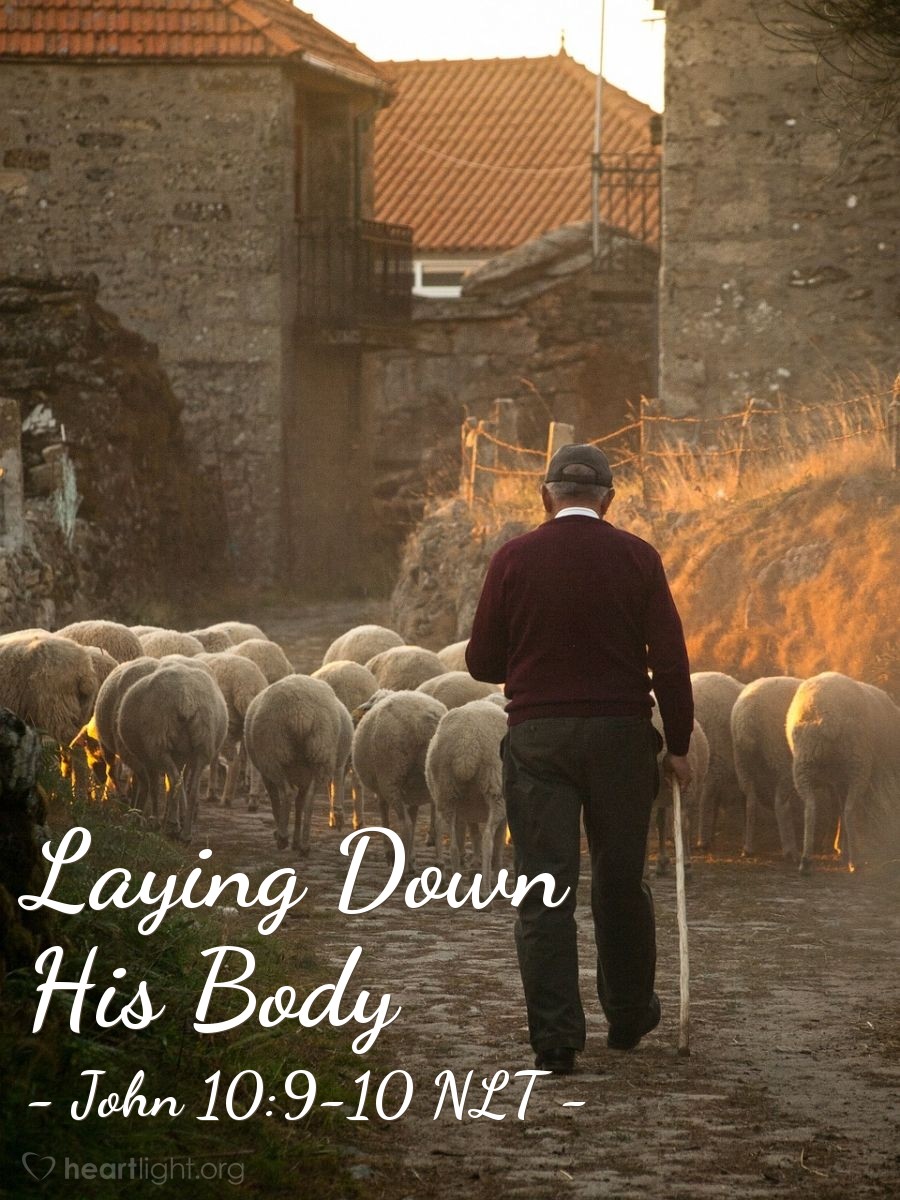 [Jesus said,] "Yes, I am the gate. Those who come in through me will be saved. They will come and go freely and will find good pastures. The thief's purpose is to steal and kill and destroy. My purpose is to give them a rich and satisfying life."
Key Thought
When a shepherd would take his sheep to open pastureland, he would sometimes place them in a small pen at night. This pen didn't have a gate. The shepherd would actually sleep in the opening to the pen. He was their protector during the night. When daylight came, he would get up and lead them to good pasture. The shepherd left the comforts of home to bring the sheep to good pasture. The shepherd slept out in the open land to offer protection and company for the sheep. Why? His desire was that the sheep be healthy, fed, and protected. The parallels to Jesus leaving heaven, laying down his life for us, and doing all he can to give us health and life are clear. O what a Savior! O what love! That's how Jesus cares for you and me.
Today's Prayer
What words, dear Father, can truly describe my appreciation for your love for me? What "thank you" is suitable for your sacrifice, Lord Jesus? I confess that some days I lose sight of your amazing love for me and your desire to give me life. I know that it is on those days that I am most vulnerable to Satan's temptations. Please forgive me. I know you have come to give me a life that is rich here and knows no boundaries. Thank you! In Jesus' name. Amen.
Related Scripture Readings
Spiritual Warfare:

 'Shared Suffering Leads to Shared Comfort'

God's Power for Our Battles

Even when we are weighed down with troubles, it is for your comfort and salvation! For when we ourselves are comforted, we will certainly comfort you. Then you can patiently endure the same things we suffer. We are confident that as you share in our sufferings, you will also share in the comfort God gives us.

Lord, when suffering comes bringing pain and sorrow, remind me that Your comfort will always follow. As I feel the pain, Lord, help me to begin to feel the weight lift up and see the future begin to brighten. Help me to remember that You won't leave me like this, Lord, and that there is often even a purpose to the current suffering—even if I can't see that yet. Grant me endurance and patience as I pass through difficulty. In Jesus' Name, Amen.
Christ's Delivery
He appeared first to Mary Magdalene.
Jesus "appeared first to Mary Magdalene," probably not only on account of her great love and persevering seeking, but because, as the context intimates, she had been a special trophy of Christ's delivering power. Learn from this that the greatness of our sin before conversion should not make us imagine that we may not be specially favored with the very highest grade of fellowship. She was one who had left all to become a constant attendant on the Savior. He was her first, her chief, object.
Many who were on Christ's side did not take up Christ's cross; shedid. She spent her substance in relieving His wants. If we would see much of Christ, let us serve Him. Tell me who they are who sit most often under the banner of His love and drink the deepest from the cup of communion, and I am sure they will be those who give most, who serve best, and who abide closest to the bleeding heart of their dear Lord.
But notice how Christ revealed Himself to this sorrowing one—by a word: "Mary."1 It needed but one word in His voice, and at once she knew Him. Her heart expressed allegiance by another word, but her heart was too full to say more. That one word would naturally be the most fitting for the occasion. It implies obedience. She said, "Master" [KJV]. There is no state of mind in which this confession of allegiance will be too cold. When your spirit glows most with the heavenly fire, then you will say, "I am your servant. . . . You have loosed my bonds."2 If you can say, "Master," if you feel that His will is your will, then you stand in a happy, holy place. He must have said, "Mary," or else you could not have said, "Rabboni," "Master." See, then, from all this how Christ honors those who honor Him, how love draws our Beloved, how it needs but one word of His to turn our weeping to rejoicing, how His presence makes the heart's sunshine.
1) John 20:16
2) Psalm 116:16
The Glory Assigned to Us
Do not be surprised at the painful trial you are suffering … but rejoice that you participate in the sufferings of Christ … for the Spirit of glory … rests on you. —1 Peter 4:12-14
God has a glory in mind for each of His people, whoever they are. It does not mean that you will necessarily be famous or a great thinker, a great speaker, a singer, a politician, a doctor, an accountant, a theologian, or a philosopher. But God wants to make you great.
The point is that your glory is true spirituality, and it comes through tribulation: "We must go through many hardships to enter the kingdom of God" (Acts 14:22).
Although your gift under God could lead to greatness even in the eyes of men, it will never be apart from your receiving the glory that He has assigned for you. For God has a glory in mind for you, and that is that you become a truly spiritual person, an unpretentious person like Jesus.
When we are pretentious, people can see it, and yet we do not have any objectivity about ourselves. We go right on trying to pretend how clever, brilliant, sophisticated, or cultured we are, but that is not spirituality. Peter said, "Humble yourselves, therefore, under God's mighty hand, that he may lift you up in due time" (1 Pet. 5:6). Unless you become humble, unpretentious, and truly spiritual, all that you seek to do will not amount to a hill of beans.
When we speak of the glory of Christ, we are talking about the sum total or essence of all that He was; you could actually refer to Jesus, properly, as "His Glory." In fact, Paul called the very gospel that we preach, "the gospel of the glory of Christ" (2 Cor. 4:4).
Excerpted from Meekness and Majesty (Christian Focus Publications Ltd., 1992, 2000).
Pursuit Is Proof
As the hart panteth after the water brooks, so panteth my soul after thee, O God. —Psalm 42:1
I told a friend of mine one time that I would love to play the piano like he did. He replied, "No you wouldn't. If you really wanted to play the piano you would be taking lessons and practicing every chance you could. Are you doing those things?"
Well, no, I wasn't. If I really wanted to play the piano I would have been taking some action and making some plans instead of just talking about it. When you really want something, you pursue it with your whole heart.
You say that you want the things of God, you want to operate in the gifts of the Holy Spirit and you want to have an anointing on your life—but are you pursuing Him? Are you climbing the mountain of God and, like Jacob, refusing to let go until He blesses you? When was the last time you spent time in prayer and in the Word?
Pursue Him with all your might. The proof of your desire is in your pursuit. The pursuit of God will lead to holiness, purity, passion, zeal, and power in your life.
God, I pursue You this day with all my
being. I give You my heart, mind, soul,
and strength in love. Amen.