Christoph Friedrich Blumhardt
For those who are led by the Spirit of God are the children of God. The Spirit you received does not make you slaves, so that you live in fear again; rather, the Spirit you received brought about your adoption to sonship. Romans 8:14–15a, NIV
Dear Father in heaven, open our hearts to the wonder of being able to call you Father, the wonder of being united with you. You are the source of all life and strength. In you is redemption, and we need to be redeemed before we can live rightly. Take from us the pressures forced on us by the flood of events. Make us completely free as people led by your hand, people who may be joyful because everything will be overcome through the power you grant us in Jesus Christ. Protect us from fear and from all evil. Show more and more clearly your good and wonderful goal for all people on earth, so that in expectation they may find happiness even in all the stress of today. Amen.
TODAY'S DAILY DIG
It is not how much
we are doing but how much love, how much honesty, how much faith is put into doing it. It makes no difference what we are doing. What you are doing, I cannot do, and what I am doing, you cannot do. Only sometimes we forget and we spend more time looking at somebody else and wishing we were doing something else. We waste our time thinking of tomorrow, and today we let the day pass, and yesterday is gone.
Verse of the Day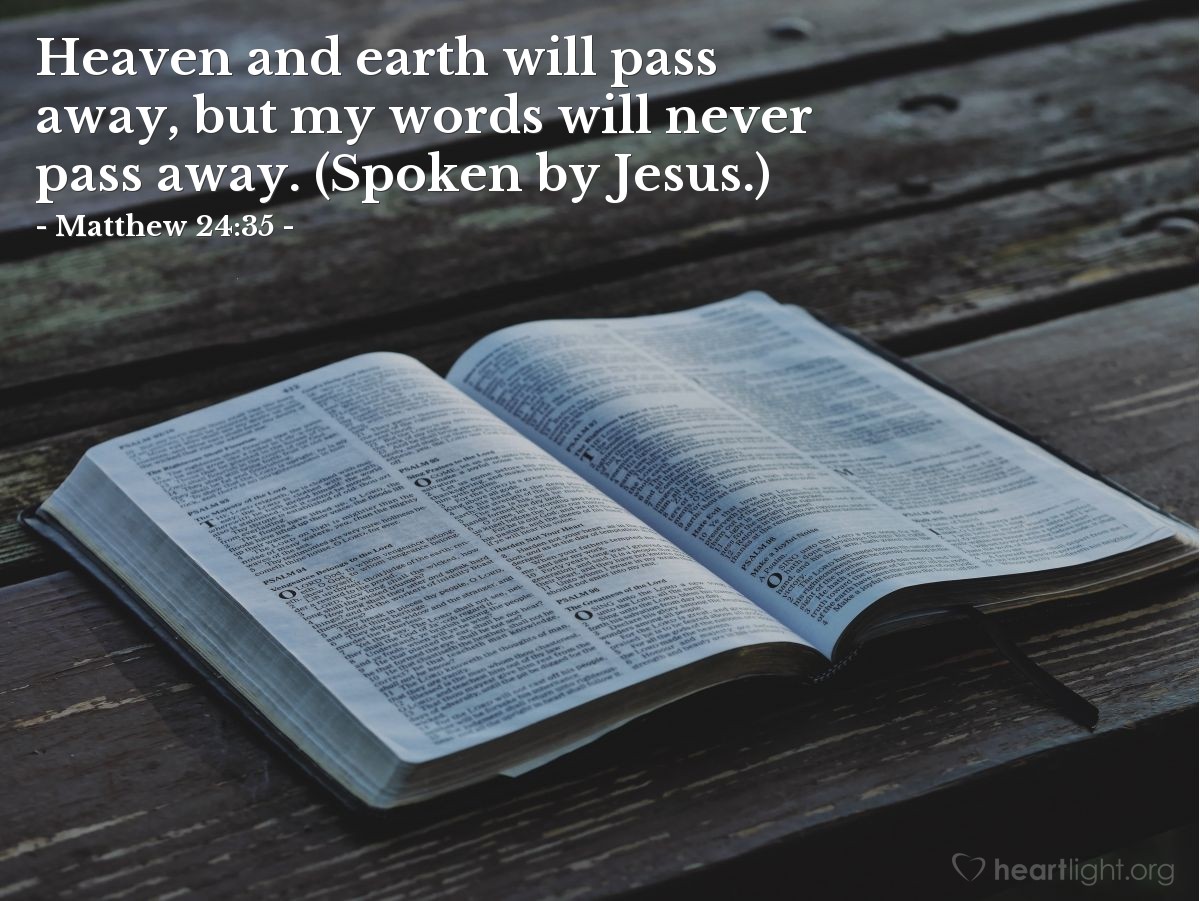 Thoughts on Today's Verse…
What do you have that will last? Not much — the love you have for God and his children, the praise you offer him, and the Word he has spoken to us through his Spirit, the prophets, and his Son Jesus. Invest in these things and you will never be without lasting truth, blessing, and hope!
My Prayer…
Eternal God and loving Father, give me wisdom to discern what is truly lasting and invest my life in them. I want my life built on things that will never suffer decay. Thank you for sending Jesus to teach me truth that will last. I want to be obedient to his words and his life. Bless me in ways that help me live a life that is true. In the name of Jesus, my eternal Savior I pray. Amen.
Vindication is the story of my life. Time doesn't permit me to share all the details of the wrongs I've endured from a husband who left me and my daughter behind, to being falsely accused of a crime I did not commit, to being lied on, robbed hundreds of thousands of dollars…
Time doesn't permit. But God is a vindicator. Our job is to hold out faith and keep our hearts right. In my devotional, Mornings With the Holy Spirit, I share these words God spoke to my heart in a past season:
"Don't seek to protect yourself. Father is your Protector. Love seeks not its own. I know it's difficult not to speak up or act out when people are trampling on your perceived rights. But a humble spirit gives up what it deserves. Humility does not fight for its rights. Take your cue from Jesus, who laid down everything that belonged to Him for your sake. Father vindicated Him and blessed Him with more than He gave away. Father will vindicate you in the same way—but you have to get out of His way. Seek the path of humility, and you will find what you really want."
If you are hurting, if your head is spinning, hold on to hope. Let these 12 vindication promises strengthen you in the midst of this trial:
"Rachel said, 'God has vindicated me, and He has also heard my voice and has given me a son.' Therefore she called his name Dan" (Gen. 30:6).
"Judge me, O Lord, for I have walked in my integrity. I have trusted in the Lord; I will not slip" (Ps. 26:1).
"Vindicate me, O God, and plead my cause against an ungodly nation; deliver me from the deceitful and unjust man" (Ps. 43:1).
"O God, save me by Your name, and judge me by Your strength" (Ps. 54:1).
"He who vindicates Me is near; who will contend with Me? Let us stand up to each other. Who is my adversary? Let him come near to me" (Isa. 50:8).
"Behold now, I have prepared my case; I know that I will be vindicated" (Job 13:18, NASB).
"For the Lord will vindicate His people, And will have compassion on His servants, When He sees that their strength is gone, And there is none remaining, bond or free" (Deuteronomy 32:36).
"The Lord has brought about our vindication; Come and let us recount in Zion The work of the Lord our God!" (Jer. 51:10).
"He will bring forth your righteousness as the light, and your judgment as the noonday" (Ps. 37:6, MEV).
"For You have maintained my right and my cause; You sat on the throne judging righteously" (Ps. 9:4).
"Let them shout for joy and rejoice, who favor my vindication; And let them say continually, 'The Lord be magnified, Who delights in the prosperity of His servant" (Ps. 35:27, NASB).
Here's a prayer you can say: Holy Spirit, give me the grace of humility. I choose to lay down my rights and humble myself as Christ did. I know that if I humble myself, You will exalt me over my enemies. Give me a patient spirit so that I will wait on Your vindication with peace.
Jennifer LeClaire is senior leader of Awakening House of Prayer in Fort Lauderdale, Florida, founder of the Ignite Network and founder of the Awakening Blaze prayer movement. She is author of over 25 books. Find her online at jenniferleclaire.org or email her at info@jenniferleclaire.org.
Saint of the Day for 
July 6
(

October 16, 1890

 – 

July 6, 1902

)
https://www.franciscanmedia.org/wp-content/uploads/2016/08/SODJul06.mp3
Saint Maria Goretti's Story
One of the largest crowds ever assembled for a canonization—250,000—symbolized the reaction of millions touched by the simple story of Maria Goretti. She was the daughter of a poor Italian tenant farmer, had no chance to go to school, never learned to read or write. When Maria made her First Communion not long before her death at age 12, she was one of the larger and somewhat backward members of the class.
On a hot afternoon in July, Maria was sitting at the top of the stairs of her house, mending a shirt. She was not quite 12 years old, but physically mature. A cart stopped outside, and a neighbor, 18-year-old Alessandro, ran up the stairs. He seized her and pulled her into a bedroom. She struggled and tried to call for help. "No, God does not wish it," she cried out. "It is a sin. You would go to hell for it." Alessandro began striking at her blindly with a long dagger.
Maria was taken to a hospital. Her last hours were marked by the usual simple compassion of the good—concern about where her mother would sleep, forgiveness of her murderer (she had been in fear of him, but did not say anything lest she cause trouble to his family), and her devout welcoming of Viaticum, her last Holy Communion. She died about 24 hours after the attack.
Alessandro was sentenced to 30 years in prison. For a long time he was unrepentant and surly. One night he had a dream or vision of Maria gathering flowers and offering them to him. His life changed. When he was released after 27 years, his first act was to go to beg the forgiveness of Maria's mother.
Devotion to the young martyr grew, miracles were worked, and in less than half a century she was canonized. At her beatification in 1947, her 82-year-old mother, two sisters and a brother, appeared with Pope Pius XII on the balcony of St. Peter's. Three years later at Maria's canonization, a 66-year-old Alessandro Serenelli knelt among the quarter-million people and cried tears of joy.
---
Reflection
Maria may have had trouble with catechism, but she had no trouble with faith. God's will was holiness, decency, respect for one's body, absolute obedience, total trust. In a complex world, her faith was simple: It is a privilege to be loved by God, and to love him—at any cost.
---
Saint Maria Goretti is the Patron Saint of:

Catholic Youth
Girls
Teenagers
The Legacy of Saint Maria Goretti
Maria Goretti was close to her 12th birthday when she was stabbed to death by 20-year-old Alessandro Serenelli, a farmworker who shared a dwelling with the Goretti family in Nettuno, Italy, just outside of Rome. Alessandro had attacked the young girl when she resisted his efforts to sexually assault her. Maria initially survived the horrific wounds to her body and was transported to a hospital, where doctors were able to do little for her. During the painful 20 hours leading to her death on July 6, 1902, Maria prayed with her mother, siblings, and priest, stating repeatedly that she forgave her attacker and that she was sure that God had forgiven him, as well.
Alessandro was imprisoned immediately following his attack on Maria. Since he was a minor, he was sentenced to only 30 years hard labor. One night during the third year of his confinement, Maria appeared to Alessandro in his cell.
According to Alessandro, she was smiling and holding an armful of flowers— often identified as 14 lilies to symbolize the 14 wounds suffered by Maria—which she lovingly offered to the man who had taken her life. Alessandro described being enveloped in a wave of peace. From that moment on, he lived a life of goodness and grace during the remaining years of his prison term.
Alessandro was released from prison three years early due to his exemplary behavior. His first action as a free man was to visit Assunta Goretti, Maria's mother, and beg her forgiveness. Said Assunta, "Maria has forgiven you, and surely God has forgiven you. Who am I to withhold my forgiveness?" That Christmas Eve, and each one thereafter, Alessandro attended midnight Mass with the Goretti family.
Although Maria and her mother had forgiven Alessandro, the local townspeople found it difficult to forget the terrible acts he had committed in his youth. He was rejected by several nearby communities, whose residents treated him as an outcast. He was offered safe lodging at a monastery belonging to the Capuchin Franciscan friars. He became a Third Order Franciscan and lived and worked the rest of his life on the friary grounds.
Along with 30 other witnesses, Alessandro testified to Maria's sanctity during her cause of beatification. On June 24, 1950, Maria was canonized by Pope Pius XII at an outdoor ceremony in St. Peter's Square attended by her mother, her siblings, and the man who had taken her life. Saint Maria Goretti is the only saint who has the distinction of having not only her mother but also her murderer at her canonization. More than 250,000 people were present at the event, which was the first canonization broadcast through news outlets.
The Power of Pardon
In "Misericordiae Vultus: The Bull of Indiction of the Extraordinary Jubilee of Mercy," Pope Francis declares, "Pardoning offenses becomes the clearest expression of merciful love, and for us Christians it is an imperative from which we cannot excuse ourselves. At times how hard it seems to forgive! And yet pardon is the instrument placed into our fragile hands to attain serenity of heart."
In Saint Maria Goretti we experience the consummate example of mercy and clemency. Her radical forgiveness—that of the young man who tried to violate her, then stabbed her multiple times causing her death—is something that few of us are able to comprehend, much less imitate. How many of us are able to forgive even the most minor of slights that come our way? It's an inevitable consequence of having to share our world with others certainly not as perfect as ourselves.
Would we be able not only to forgive, but also to welcome into our lives someone who has caused us serious hurt and anguish? Would we be able to pray for that person, asking for the grace of a softened heart on their behalf, then rejoicing with them when it is accepted?
The life of Maria Goretti serves as a blueprint for Christians, all of whom are called to forgive unconditionally in the same manner as Jesus. After all, the first person that Jesus took with him to heaven was not only a sinner, but a convicted criminal. "Then he said, 'Jesus, remember me when you come into your kingdom.' He replied to him, 'Amen, I say to you, today you will be with me in Paradise'" (Lk 23:42-43).
Since the time of the announcement of the Holy Year of Mercy, the Vatican has made a great effort to provide numerous catechetical and experiential opportunities for the faithful to celebrate the jubilee year in their lives. Under the direction of the Vatican Congregation for the Causes of Saints, the relics of Saint Maria Goretti were recently brought to the United States as part of "The Pilgrimage of Mercy."
Father Carlos Martins, CC, director of Treasures of the Church in the Archdiocese of Galveston-Houston, Texas, was approached by officials from the Congregation for the Causes of Saints about the feasibility of bringing her body on a tour of the United States. Plans were immediately developed and a team was assembled to bring Saint Maria across the Atlantic, under the guidance of Father Martins. The first tour covered 16 states and included 61 churches, as well as several schools and a correctional facility. A fall 2016 tour of the West and Northwest states is currently being organized.
'A Friend of Mercy'
The first stop on the tour, which began September 20, 2015, was Sing Sing Correctional Facility in Ossining, New York. The selection of a maximum-security prison as the first place of exhibition was no accident, as Maria, who famously forgave her murderer on her deathbed, is venerated not only as the patroness of victims of violent crimes, but also of those guilty of committing such heinous acts. Father Martins reported that many of the inmates at the prison openly wept upon learning the saint's story. "She's here as a friend of mercy," he told them. "Ask her to pray for you, and invite her into your hearts."
Among the first churches to receive the relics was Good Shepherd Parish in the Marine Park neighborhood of Brooklyn, New York. Reverend Thomas Doyle, pastor of the parish of about 3,500 families, was quick to offer the church as a location for the exhibition. "What a powerful story, a saint for our times," he says. "We usually think of saints as old people who lived long ago, but Maria was a young person who lived relatively recently and whose story of mercy and forgiveness speaks to all of us of all ages still today."
Adds Permanent Deacon Christopher Wagner, "The motorcade bearing the relics of Saint Maria arrived at 1 a.m. the morning of the exhibition, and we all came out to welcome her. As the police escort arrived at church, I was filled with pride that our parish was chosen for such a great honor."
At Good Shepherd Church, as at all the churches that hosted the exhibition, the young and old came out in large numbers—as many as 35,000 at some locations across the United States—to venerate the relics. Some solemnly touched holy cards, medals, and rosaries to the gold-plated reliquary adorned with cherubs, while others knelt in prayer, asking for Maria's intercession. More than a few approached with tear-filled eyes.
The glass reliquary contains a life-size wax figure in the youthful likeness of Maria. None of her actual human remains are visible, but are contained within the wax figure itself. A woman healed by Maria's intercession donated her own hair for the wig that adorns the head of the figure.
Assunta Goretti, Maria's mother, worked with an artist to produce an image that best represents what Maria looked like. Because there were no photographs ever taken of the young saint, this portrait, reproduced in all manner of media, is considered the only accurate representation of her.
Says Deacon Wagner, "As a father of two daughters myself, I was moved by her story and knew that my daughters would be, as well. I wanted her to visit us because we are a parish made up of many young families, and I hoped that this exhibition and veneration would help strengthen their relationship with God and allow them to see that we are all called to be saints. I knew that many of our youth could look to Saint Maria as a model and a guide."
Lifelong Good Shepherd parishioner Susan Indart is a breast cancer survivor currently undergoing treatment for stage IV colon cancer. "I prayed to Saint Maria Goretti for healing, not only physical, but spiritual as well. Experiencing her relics in person was amazing. I could feel her presence as soon as I walked into the church. I pray her novena every night, asking for strength and to help me not only to forgive, but to be forgiven."
Maria Resciniti, a teacher at Good Shepherd School, came to know of Saint Maria Goretti through one of her students. "I had given the class an assignment to write about a favorite saint, and this student wrote about Maria Goretti," she explains. "Up until then I had never heard of her. I was deeply moved by her story. Praying before her relics has made me see forgiveness and mercy in a brand-new light. It has made me realize that I have not been very good at it, and for far less than what Maria suffered.
"What better example of mercy and forgiveness could there be?" asks Resciniti. "Maria Goretti not only forgave her attacker, but felt compassion for him, too. Such reconciliation takes someone with a true understanding of what Jesus teaches us about forgiveness."
An Inspiration for Future Generations
Maria's great example was not lost on the young who visited the church to hear her story and pray at her relics. Parish schoolchildren had learned about Maria Goretti in their classes. "I was amazed at how Maria forgave," says 11-year-old Emily Monahan. "I hope I am able to forgive like that." Adds 12- year-old Michael Santoro, "It was an honor to see her in the church I attend with my family. It took my breath away to see the relic of a saint right in front of me. I did not know her before this, but I feel now that she will help me and pray for me."
Michael's 10-year-old sister, Gianna, was equally touched by the event. "I have only ever prayed to a statue of a saint, and this was an amazing experience. These were the real relics of Saint Maria Goretti. I wrote down my prayers and put them in her prayer box. I put my grandma's name on a candle near her relics and asked Saint Maria Goretti to take care of her and us."
Saint Maria Goretti allowed the grace of God to touch her heart and let flow from it the compassion to see the goodness, dignity, and worth in a person who had sinned greatly. It was this act of love that helped bring about the conversion of that person's heart.
A few years before his death in 1970, at the age of 87, Alessandro Serenelli wrote in a reflection upon his life, "Looking back at my past, I can see that in my youth, I chose a bad path, which led me to ruin myself. Maria Goretti, now a saint, was my good angel, sent to me from God to guide and save me. She prayed for me, she interceded for me, her murderer."
In both Alessandro Serenelli and Saint Maria Goretti, let us find the strength to seek the type of reconciliation that brings peace and new life to even the most unholy among us.

What Jesus Did!

 'Admitting the Truth'

Then [the Jewish leaders cursed the man who had been healed of his blindness] and said, "You are [Jesus']disciple, but we are disciples of Moses! We know God spoke to Moses, but we don't even know where this man comes from."
Key Thought
Sadly, about the only truthful thing the authorities say about Jesus in the whole episode is that they know nothing about him. But, if they really knew Moses, they would know Jesus. If they really knew God, they would know Jesus. So many people reject Jesus because they don't really know him — church experiences, church people, or chosen lifestyles get in their way of knowing Jesus. As we seek to reach the lost, we must remember that the core, the essence, the truth we share is centered in Christ Jesus. Rather than getting lost in a lot of church mumbo jumbo, let's share Jesus with them. Let's help them see the Savior.
Today's Prayer
Dear heavenly Father, thank you for sending Jesus. I know that he is your greatest message. Forgive me for the times that I have gotten lost in religious arguments and forgotten to share Jesus with those who need him. Bless my efforts to share Jesus with those who do not recognize him as their Lord and Savior. It's in Jesus' precious and mighty name that I pray. Amen.
Related Scripture Readings
How many are my iniquities and my sins?
Job 13:23
Have you ever really weighed and considered how great the sin of God's people is? Think how heinous is your own transgression, and you will find that not only does a sin here and there tower up like an alp, but that your iniquities are heaped upon each other, as in the old fable of the giants who piled Pelian upon Ossa,1 mountain upon mountain. What an aggregate of sin there is in the life of one of the most sanctified of God's children! Attempt to multiply this, the sin of one only, by the multitude of the redeemed, "a great multitude that no one could number,"2 and you will have some conception of the great mass of the guilt of the people for whom Jesus shed His blood. But we arrive at a more adequate idea of the magnitude of sin by the greatness of the remedy provided.
It is the blood of Jesus Christ, God's only and well-beloved Son. God's Son! Angels cast their crowns before Him! All the choral symphonies of heaven surround His glorious throne. "God over all, blessed forever. Amen."3 And yet He takes upon Himself the form of a servant and is scourged and pierced, bruised and torn, and at last slain; nothing but the blood of the incarnate Son of God could make atonement for our offenses.
No human mind can adequately estimate the infinite value of the divine sacrifice, for although the sin of God's people is great, the atonement that takes it away is immeasurably greater. Therefore, even when sin rolls in like a flood, and the remembrance of the past is bitter, the believer can still stand before the blazing throne of the great and holy God and cry, "Who is to condemn? Christ Jesus is the one who died—more than that, who was raised."4 While the recollection of the believer's sin fills him with shame and sorrow, its very darkness serves to show the brightness of mercy; guilt is the dark night in which the fair star of divine love shines with serene splendor.
1) The giant sons of Iphimedia who tried to reach Olympus by piling Mt. Pelian on Mt. Ossa (The Odyssey).
2) Revelation 7:9 
3) Romans 9:5
4) Romans 8:34
NATIONAL FRIED CHICKEN DAY
In the United States, National Fried Chicken Day is observed each year on July 6th.  On this day, fried chicken lovers across the country celebrate this American favorite at a nearby restaurant, home or an outdoor picnic.
Scottish immigrants brought their tradition of deep-frying chicken in fat to the southern United States.  After its introduction to the American South, fried chicken soon became a staple. Over time, seasonings and spices were added to enrich the flavor of the chicken.
Fried chicken is a dish that consists of chicken pieces which have been floured or battered then pan-fried, deep-fried or pressure-fried. The breading adds a crisp coating to the exterior of the chicken.
Traditionally the chicken is fried in lard.  However, corn oil, peanut oil, canola oil or vegetable oil are also frequently used.
HOW TO OBSERVE
To celebrate, try this fried chicken recipe!
Invite some friends over, make some fried chicken and share photos on social media using #NationalFriedChickenDay.
HISTORY
Within our research, we were unable to find the origin of National Fried Chicken Day.