Christoph Friedrich Blumhardt
We know that the whole creation has been groaning as in the pains of childbirth right up to the present time. Not only so, but we ourselves, who have the firstfruits of the Spirit, groan inwardly as we wait eagerly for our adoption to sonship, the redemption of our bodies. For in this hope we were saved. Romans 8:22–24a, NIV
Lord our God, we thank you for the great calling you have given us. We thank you that in all the evils of today's world you give us the hope and faith that you are leading us to a goal that is good, and you make us free. You make your children free so that throughout humankind a new spirit may come, a new life and a new power to serve you in time and eternity. Praise to your name that we can always have hope; nothing can discourage us, but everything must work together for good in accordance with your great purpose. Grant that your compassion may come to all the world, to all peoples, whom you have looked upon with mercy in sending Jesus Christ as Savior. Amen.
TODAY'S DAILY DIG
The healthy body is being constantly renewed. This is just as true mentally and spiritually. There is so much in God's Word about renewal of life that it is strange that any conscientious Christian would be afraid of change in his outlook on life or even in his religious ideas. Of course, the fear is that change would mean loss of faith, but this is never true if the faith is in the living God and not in one's ideas of God. God never changes, but our minds must be open to new knowledge or grow stagnant. When we quit growing we begin to die. Renewal can come to anyone at any time by turning to God in faith
.
Source: So Who's Afraid of Birthdays
Verse of the Day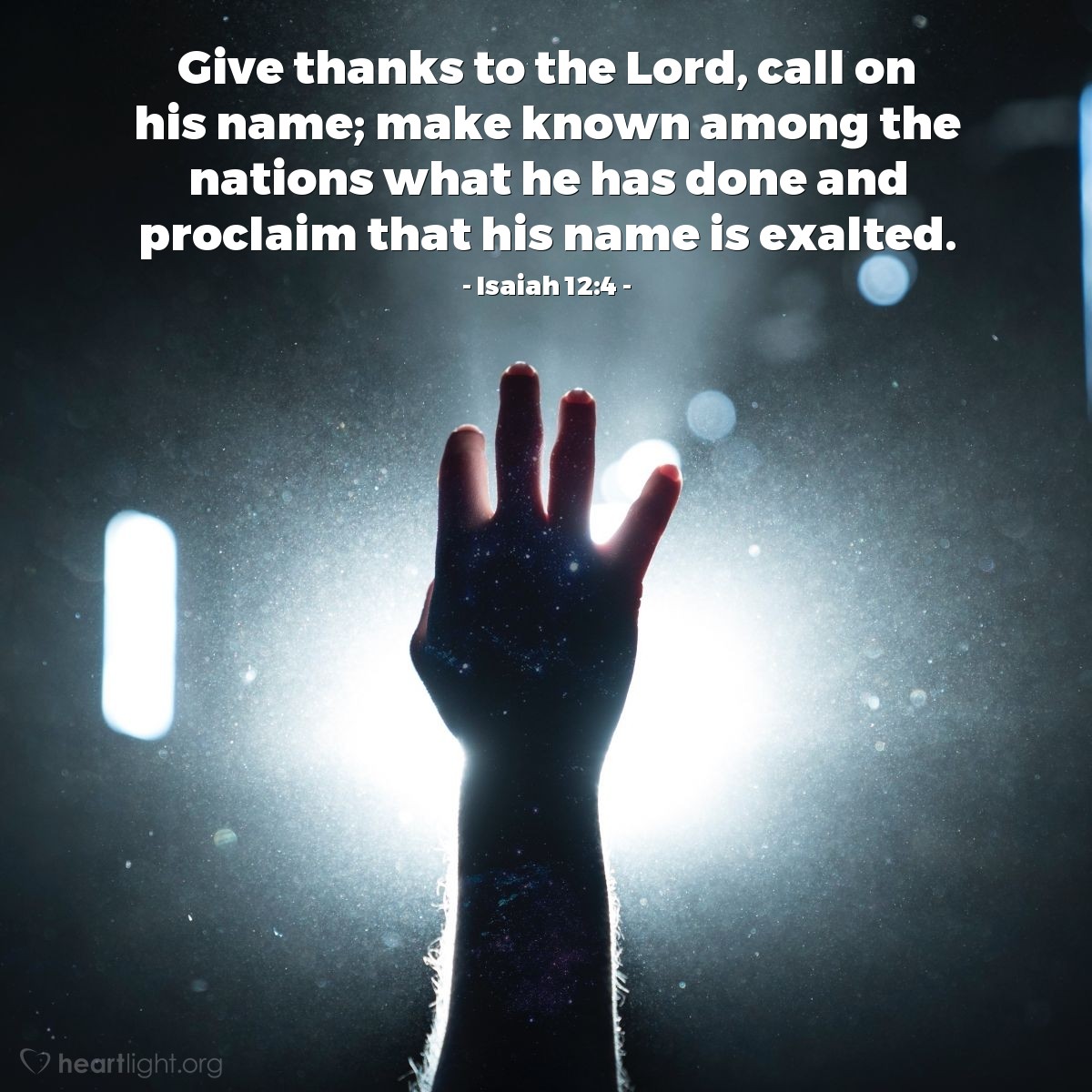 Thoughts on Today's Verse…
It is wrong to think God's love for the nations began only with Jesus and the Great Commission. Remember Jonah's preaching to save Israel's great enemy, Nineveh? Remember the precious story of Ruth, a foreigner grafted into the lineage of King David and ultimately Jesus the Messiah? God loves all people and wants them to come to share in his grace. As Christians, we are his salt and light. We are here to touch all the peoples of the world and beckon them to come back to the one Father who truly loves them.
My Prayer…
Holy God, stir in my heart a greater passion to share your love with the world. May my life, my money, and my concern be used to do more of your work throughout the world. Please bless the efforts of all those who share the Gospel of Jesus in a culture other than their own. In Jesus' name I pray. Amen.
Saint Anthony Zaccaria
Saint of the Day for 
July 5
(1502 – 
July 5, 1539

)

https://www.franciscanmedia.org/wp-content/uploads/2016/08/SODJul05.mp3
Saint Anthony Zaccaria's Story
At the same time that Martin Luther was attacking abuses in the Church, a reformation within the Church was already being attempted. Among the early movers of the Counter-Reformation was Anthony Zaccaria. His mother became a widow at 18, and devoted herself to the spiritual education of her son. He received a medical doctorate at 22, and while working among the poor of his native Cremona in Italy, was attracted to the religious apostolate. He renounced his rights to any future inheritance, worked as a catechist, and was ordained a priest at the age of 26. Called to Milan in a few years, he laid the foundations of three religious congregations, one for men, one for women, and an association of married couples. Their aim was the reform of the decadent society of their day, beginning with the clergy, religious, and lay people.
Greatly inspired by Saint Paul—his congregation is named the Barnabites, after the companion of that saint—Anthony preached with great vigor in church and street, conducted popular missions, and was not ashamed of doing public penance.
He encouraged such innovations as the collaboration of the laity in the apostolate, frequent Communion, the Forty Hours devotion, and the ringing of church bells at 3:00 p.m. on Fridays. His holiness moved many to reform their lives, but as with all saints, it also moved many to oppose him. Twice his community had to undergo official religious investigation, and twice it was exonerated.
While on a mission of peace, he became seriously ill and was brought home for a visit to his mother. He died at Cremona at the age of 36.
---
Reflection
The austerity of Anthony's spirituality and the Pauline ardor of his preaching would probably "turn off" many people today. When even some psychiatrists complain at the lack of a sense of sin, it may be time to tell ourselves that not all evil is explained by emotional disorder, subconscious and unconscious drives, parental influence, and so on. The old-time "hell and damnation" mission sermons have given way to positive, encouraging, biblical homilies. We do indeed need assurance of forgiveness, relief from existential anxiety, and future shock. But we still need prophets to stand up and tell us, "If we say 'We are without sin,' we deceive ourselves and the truth is not in us" (1 John 1:8).

What Jesus Did!

 'Search Away from the Truth'

"But what did [Jesus] do?" [the Jewish leaders] asked. "How did he heal you?" "Look!" the man exclaimed. "I told you once. Didn't you listen? Why do you want to hear it again? Do you want to become his disciples, too?"
Key Thought
Sometimes folks make themselves the enemies of the truth because they don't want to discover it. The interchange between the authorities and the man who was healed reaches an absurd and almost humorous point. The authorities interrogate the healed man because they want to find some discrepancy in his story to discredit Jesus. They don't want the truth, so the healed man chides them for their repeated questions. This bitter irony helps us understand that the authorities reject Jesus because they have decided he is the enemy and so they must re-write the truth of his grace and power. Unfortunately, there are those who do the same thing with Jesus today. Their evil deeds have alienated them from the truth. We, however, must love them, pray for their hearts to be changed, and live as people with a Christ-like character looking for an opportunity to share the Savior's grace.
Today's Prayer
Father, I have friends who are far from your Kingdom. I know that some of them have hardened their hearts because they are caught up in sin. Please use me and my influence to bring them to Jesus. Please be actively at work in their lives to do all within your will to give them reasons to re-evaluate their lives and the way they are living. In Jesus' name, I pray. Amen.
Related Scripture Readings
Trust in the Lord forever,
for the Lord God is an everlasting rock.
Isaiah 26:4
Seeing that we have such a God to trust, let us rest upon Him with all our weight; let us resolutely drive out all unbelief and endeavor to get rid of doubts and fears, which spoil our comfort, since there is no excuse for fear when God is the foundation of our trust. A loving parent would be sorely grieved if his child could not trust him; and how ungenerous, how unkind is our conduct when we put so little confidence in our heavenly Father, who has never failed us and who never will.
It would be good if doubting was banished from the household of God; but it is to be feared that old Unbelief is as nimble today as when the psalmist asked, "Will the Lord spurn forever, and never again be favorable?"1 David had not tested the mighty sword of the giant Goliath for long, and yet he said, "There is none like that."2 He had tried it once in the hour of his youthful victory, and it had proved itself to be of the right metal, and therefore he praised it ever afterwards.
Even so should we speak well of our God; there is none like unto Him in the heaven above or the earth beneath. "To whom will you liken me and make me equal, and compare me, that we may be alike?"3 There is no rock like the rock of Jacob, our enemies themselves being judges. So far from tolerating doubts to live in our hearts, we will take the whole detestable crew, as Elijah did the prophets of Baal, and slay them over the brook; and for a stream to kill them at, we will select the sacred torrent that flows from our Savior's wounded side. We have been in many trials, but we have never yet been placed where we could not find in our God all that we needed. Let us then be encouraged to trust in the Lord forever, assured that His ever-lasting strength will be, as it has been, our deliverance and comfort.
1) Psalm 77:7 
2) 1 Samuel 21:9 
3) Isaiah 46:5
5 Founding Principles That Made America Great
America was founded as a Christian nation, but not as a theocracy. Theocratic rulers claim a divine right to rule over their subjects. America's founders held no such grandiose view of themselves or any human being, and they had rejected the theocratic claims of popes, bishops and monarchs. They had not, however, rejected Christianity.
America's Founders, for the most part, identified with the mindset of those they called "dissenting Protestants." The dissenting Protestant insisted that civil government should have no role in the church nor in matters of faith and conscience. Freedom from government tyranny in matters of faith was an ideal that pervaded the thinking of America's Founders.
However, for there to be liberty without license, the Founders knew that the populace would have to be governed from within by virtuous values. That is why they all agreed that only Christianity provided the moral values and intellectual underpinnings for a stable and prosperous nation.
The principles that made America great are universal principles that span time, race and space. They will work with any people or nation who have the courage to apply them. Here are five founding principles that made America great and will make her great again.
Principle 1: Faith in God as the Creator and Moral Governor of the Universe
The Founders considered belief in the God of the Bible as being essential for good citizenship. Unless the citizens would have a moral sense of obligation to their Creator, they would tend to live selfish, unrestrained lives, harmful to society.
This was expressed by James Madison when he wrote, "Before any man can be considered as a member of civil society, he must be considered as a subject of the Governor of the Universe." Madison, the chief architect of the U.S. Consitution, also wrote:
The belief in a God All Powerful wise and good, is so essential to the moral order of the world and to the happiness of man, that arguments which enforce it cannot be drawn from too many sources nor adapted with too much solicitude to the different characters and capacities impressed with it.
The Declaration of Independence begins by acknowledging the Creator and recognizing that all human rights come from Him. That is the basis on which John Dickinson, chairman of the committee for the Declaration of Independence, declared in 1776, "Our liberties do not come from charters for these are only the declarations of preexisting rights. They do not depend on parchment or seals; but come from the King of kings and the Lord of all the earth."
After being sworn in as president with his hand on a Bible, George Washington issued a proclamation designating Nov. 26, 1789, as a Day of Thanksgiving. The proclamation assumes the obligation of all citizens to acknowledge God's existence and to show honor to Him. It opened with the following statement:
Whereas it is the duty of all Nations to acknowledge the providence of Almighty God, to obey his will, to be grateful for his benefits, and humbly to implore his protection and favor, and whereas both Houses of Congress have by their joint Committee requested me to recommend to the People of the United States a day of public thanksgiving and prayer to be observed by acknowledging with grateful hearts the many signal favors of Almighty God.
Indeed, although there was tolerance for those of various faiths, there was a hostility toward atheism in early America. This was born out when a judge in the court of Chester County in the state of New York, threw out the testimony of a witness when the witness admitted he did not believe in the existence of God.
The judge said that by denying the existence of God, the witness had "destroyed all the confidence of the court in what he was about to say." The judge went on to say that it was the first time he had met someone who did not acknowledge the existence of God.
This event was recorded by the French sociologist, Alexis de Tocqueville, and occurred during his visit to America in 1831. Tocqueville said the incident was merely noted in the newspaper without further comment.
Yes, belief in the all-knowing, all-powerful God of the Bible—the moral Governor of the Universe—was considered a necessity for a prosperous and stable nation by virtually all early Americans.
Principle 2: Belief in the Bible as the Source of Ultimate Truth
When George Washington placed his hand on a Bible to take the oath of office it was no mere formality, but a declaration that the Bible would be the ultimate source of wisdom and guidance for his administration. He also once said, "It is impossible to rightly govern the world without God and the Bible."
A 10-year project instituted to discover where the Founders got their ideas for America's founding documents found that by far the single most cited authority in their writings was the Bible. They were people of the Book and consciously and unconsciously used it as the standard for measuring all other writings both ancient and modern.
Knowing how the Founders esteemed and reverenced the Bible, it comes as no surprise that The First Continental Congress was opened with Bible reading and prayer. It is also no surprise that when Benjamin Franklin called the Constitutional Convention to Prayer, he quoted from both the Psalms and the Gospels.
The Founders' respect for the Bible is why the first English Bible published in America, in 1782, included a recommendation from Congress. The recommendation read:
Resolved: That the United States in Congress assembled, highly approve the pious and laudable undertaking of Mr. Aitken, as subservient to the interest of religion as well as an instance of the progress of the arts in this country, and being satisfied from the above report, of his care and accuracy in the execution of the work they recommend this edition of the Bible to the inhabitants of the United States and hereby authorize him to publish this recommendation in the manner he shall think proper.
The Founders lived at a time when the European Enlightenment and its emphasis on reason was drawing many on the European continent away from the Bible. America's Founders, however, saw no dichotomy between the Bible and reason. William Novak says:
Everywhere that reason led, Americans found the Bible. If they read Francis Bacon, they found the Bible. If they read Isaac Newton or John Milton, they found the Bible. In Shakespeare, they found the Bible. In the world of the Founders, the Bible was an unavoidable and useful rod of measurement, a stimulus to intellectual innovation.
This primary role of the Bible in America's founding was acknowledged by Andrew Jackson, America's seventh president, when he said, "That book, sir, is the rock on which our republic rests." Theodore Roosevelt, America's 26th president, confirmed this, saying, "No other book of any kind ever written in English has ever so affected the whole life of a people."
Principle 3: Human Nature Has Been Flawed by Sin and Cannot Be Trusted With Unlimited Power
The Founders held the traditional Christian belief that humanity had been created a noble creature in the image and likeness of God, but that this image had become marred because of the fall and sin (Gen. 1-3). Because the image was not erased, humanity is capable of very noble deeds; but since the image is marred, he is also capable of very dastardly deeds.
Although modern society does not want to hear about sin, human history cannot be understood apart from it. Only the Biblical account of the entry of sin into the world provides the context for understanding the wars, genocides, inquisitions, holocausts, and cruelties that have been an ongoing part of human history down to the present time.
Yes, salvation through Jesus Christ restores the image of God in mankind, but this restoration is a process that is not completed in this world. Humanity—even Christian humanity—in this flawed condition cannot be trusted with unlimited power.
The historian, Benjamin Hart, wrote, "A central assumption of America's Founders was original sin, meaning the corruption of man's character."
"Take mankind in general," said Alexander Hamilton, "they are vicious." James Madison added, "If men were angels no government would be necessary,"
It was this mistrust of human nature that influenced the Founders to divide the powers of government into three branches and to provide checks and balances to keep any individual or group from gaining unlimited power. The Founders would agree with Sir John Acton, who said, "Power corrupts; absolute power corrupts absolutely."
Marxism and liberalism claim that the problem with human corruption stems from corrupt institutions. The Bible teaches the opposite. It is corrupt human beings who create corrupt institutions. The Founders, therefore, not only instituted a limited government, but also counted on Christianity to provide the moral and intellectual influence necessary for a stable society, for only a virtuous people could be a truly free people.
Principle 4: Christian Values and Morality Are Essential for a Stable and Prosperous Nation
In his Farewell address after serving two terms as America's first president, George Washington declared, "Of all the dispositions and habits which lead to political prosperity, religion [Christianity] and morality are indispensable supports." He goes on to say that the person who would "labor to subvert these great pillars of human happiness" can never claim to be an American patriot.
Thomas Jefferson was in complete agreement and he made Washington's Farewell Address required reading at the University of Virginia, which he had founded. And notice that Washington did not call religion optional. The word he used was "indispensable" and Jefferson obviously agreed. It should be remembered that when the Founders used the word "religion" they were referring to Christianity.
Jefferson may have had questions at times about certain aspects of Christian doctrine, but there is no question that he saw Christianity as providing the moral and intellectual system necessary for a stable society. Having read the Quran and the literature of ancient Greece, Rome and the Enlightenment, he stated, "Of all the systems of morality that have come under my observations, none appear to me so pure as that of Jesus."
Jefferson's commitment to Christian values is why he closed all presidential documents with the appellation, "In the year of our Lord Christ." It is also why he took money from the federal treasury to pay for missionaries to work among the Kaskasia Indian tribe and to build them a building in which to worship.
Washington, Jefferson and all the Founders knew that the success of the nation they had formed hinged on the moral character of its citizens and their ability to govern themselves according to Biblical values. This is why John Adams, in a 1798 address to the officers of the Massachusetts Militia, declared:
We have no government armed with power capable of contending with human passions unbridled by morality and religion … Our Constitution was made only for a moral and religious [Christian] people. It is wholly inadequate to the government of any other.
The Founders did not believe that there could be liberty apart from virtue, or freedom apart from morality. Only Christianity offered the moral and intellectual underpinnings that would preserve the nation they had brought into existence. This is why Novak says, "The founders did not believe the constitutional government they were erecting could survive without Hebrew-Christian faith."
Principle 5: Government Exists to Protect Faith and Freedom
No part of the Constitution has been so mangled and misapplied as that part of the First Amendment that reads, "Congress shall make no law concerning the establishment of religion or hindering the free exercise thereof." Secularists have wrenched this statement from its historical context and original intent and made it to mean, not freedom of religion, but freedom from religion.
The fact is, however, that the day after voting to ratify the First Amendment, those same Founders issued a proclamation for a day of prayer and thanksgiving. Congress continued to be opened with prayer and Bible reading and prayer continued to be a daily part of the normal school day in America. Presidents also continued to issue proclamations for special days of prayer and thanksgiving.
When Jefferson used the phrase "wall of separation" in a letter to a Baptist association, he was assuring them that the First Amendment guaranteed them protection from persecution by the state such as they had known in the Old World and even in Jefferson's home state of Virginia. Jefferson saw the First Amendment as a unilateral wall erected to keep the government out of the church, not to keep the influence of the church out of government.
By implementing the First Amendment, the Founders were simply saying that America would never have a national, state church as had been the case in Europe since the time of Constantine. Indeed, it was from these oppressive state churches that their parents and grandparents had fled. They wanted to guarantee that no American citizen would ever be forced to act against their conscience and sincerely held religious beliefs.
The Founders would be astonished to see how the First Amendment has been distorted by modern secularists into a weapon against religious liberty, the very thing they meant to protect. Their simple purpose was to make sure that Christianity would be protected from government intrusion and that no denomination would ever be singled out for special favors.
America Founded as a Christian Nation
Yes, America was founded as a Christian nation. This is not to be equated with a theocracy where individuals claim a direct mandate from God to rule and govern a people. The Founders had rejected that sort of thinking, but they had not rejected Christianity itself, for they considered Christianity to be necessary for the nation's success and survival.
America as a Christian nation was understood as late as 1892 as expressed in the Supreme Court ruling of Church of the Holy Trinity vs The United States. After reviewing thousands of historical documents, the nation's highest Court declared:
Our laws and our institutions must necessarily be based upon and embody the teachings of The Redeemer of mankind. It is impossible that it should be otherwise; and in this sense and to this extent our civilization and our institutions are emphatically Christian … From the discovery of this continent to the present hour, there is a single voice making this affirmation … we find everywhere a clear recognition of the same truth that this is a Christian nation.
It is time to reject the lie that America was founded on secularism and multiculturalism. It is time for all freedom-loving people to stand up for truth. It is also time to pray for another Great Awakening that will return America to its founding principles, for only by returning to her founding principles will she ever truly be great again. 
This article is derived from Dr. Eddie Hyatt's books, 5 Pillars of the American Republicand Pilgrims and Patriots, available from Amazon and his website atwww.eddiehyatt.com. Eddie has a passion to see another Great Awakening in America and he conducts "America Reawakening" events in which he shows how America was birthed out of a great Spiritual awakening and explains how we can expect another Great Awakening in our day.
NATIONAL GRAHAM CRACKER DAY
National Graham Cracker Day is observed annually on July 5th.  The graham cracker was originally invented as a "health food" as part of the "Graham Diet".  Developed by Presbyterian minister, Sylvester Graham in the early 1800s, graham crackers were originally made from whole-wheat graham flour with added bran and wheat germs.  The minister believed this snack would curb a variety of sinful cravings.
Modern graham crackers are made with bleached white flour and come in a variety of flavors including honey, cinnamon and chocolate. While a delicious snack on their own, they are also terrific ingredients for desserts. Crushed graham crackers blended with butter and pressed into pie tins or springform pans make excellent crusts when lightly toasted. One of the most popular treats made with graham crackers is the S'more.
HOW TO OBSERVE
Buy some graham crackers and have a snack. Post on social media using #GrahamCrackerDay to encourage others to join in paying it forward.
HISTORY
Within our research, we were unable to identify the creator of National Graham Cracker Day.