Christoph Friedrich Blumhardt
I instruct you in the way of wisdom and lead you along straight paths. When you walk, your steps will not be hampered; when you run, you will not stumble. Proverbs 4:11–12, NIV
Dear Father in heaven, you are our God. You rule and guide us, and our trust remains in you even when many needs pull at our hearts and try to draw us into their whirlpool. Protect us, we pray. May your divine hand govern us so that we remain aware of the calling we receive from you and always have a light shining into our lives to show us how to serve you. Let your power work wherever hearts respond to you on this earth, wherever the strength of Jesus Christ is revealed, so that people acknowledge his deeds to your honor. Be with the lowliest and least noticed of your children. Keep them in your hands and enable them to be fellow workers who persevere courageously and confidently until the time when you reveal yourself to all peoples on earth. Amen.
TODAY'S DAILY DIG
The marks life leaves on everything it touches transform perfection into wholeness. Older, wiser cultures choose to claim this wholeness in the things that they create. In Japan, Zen gardeners purposefully leave a fat dandelion in the midst of the exquisite, ritually precise patterns of the meditation garden. In Iran, even the most skilled of rug weavers includes an intentional error, the "Persian Flaw," in the magnificence of a Tabriz or Qashqai carpet…and Native Americans wove a broken bead, the "spirit bead," into every beaded masterpiece. Nothing that has a soul is perfect. When life weaves a spirit bead into your very fabric, you may stumble upon a wholeness greater than you had dreamed possible before.
Source: My Grandfather's Blessings
Jehovah Mekoddishkem (The Lord who sets us apart), redeem our hearts today. Open our eyes and help us to realize you are the way, the truth and the life. No one can come to the Father, except through you. Bless us and keep us safe as you lead us through life's journey.
We give you all the glory, the honor and the praise. We worship you, Mighty Redeemer, none can compare to your glorious name.
We give you all the glory, the honor and the praise. We worship you, Mighty Redeemer, none can compare to your glorious name.
Luke 11:9 And I say unto you, Ask, and it shall be given you; seek, and ye shall find; knock, and it shall be opened unto you.
Whatever We Ask For in Faith
Jehovah Jireh, we know that you said that whatever we ask for, through faith we shall receive. If we seek, we will surely find. And if we knock, doors will swing open that no man can shut, at the sound of your mighty name.
Heavenly Father, on this precious day, we request bodily healing, abundant blessings, and for our lives to be saved.
Lord, we seek you with all our hearts today. We just want to be wrapped in your loving arms and warm presence.
Jeremiah 29:12-14 Then shall you call upon me, and you shall go and pray unto me, and I will hearken unto you.
You shall seek me, and find me, when you shall search for me with all your heart.
And I will be found of you, says the Lord: and I will turn away your captivity, and I will gather you from all the nations, and from all the places whither I have driven you, says the Lord; and I will bring you again into the place whence I caused you to be carried away captive.
Seek the Blesser, not the Blessing
El Shaddai, help us to seek the blesser, not the blessing, and the healer, not the healing. We will set our love upon you, our master and allow you to fill us with the Holy Spirit and we know we will receive the things we ask for: love, joy, peace and happiness in life.
Adonai, knocking involves persistence. Help us, give us strength to pray even when we feel like surrendering.
Help us to remember you are the door and you will make a way where there seems to be no way, for You are The Way, hallelujah!
Psalm 91:14-15 Because he has set his love upon me, therefore will I deliver him: I will set him on high, because he has known my name. He shall call upon me, and I will answer him: I will be with him in trouble; I will deliver him, and honor him.
The Door is Open!
As we continue to knock, help us to use our eyes of faith and realize that the door is open. Help us to not only see it, but enter it.
Lord, we want to see the new horizons opening up to us, through Jesus Christ, our Lord and Saviour who is worthy to be praised! Amen!
Saint Oliver Plunkett
Saint of the Day for 
July 2
(

November 1, 1629

 – 

July 1, 1681

)
https://www.franciscanmedia.org/wp-content/uploads/2016/08/SODJul02.mp3
Saint Oliver Plunkett's Story
The name of today's saint is especially familiar to the Irish and the English—and with good reason. The English martyred Oliver Plunkett for defending the faith in his native Ireland during a period of severe persecution.
Born in County Meath in 1629, Oliver studied for the priesthood in Rome and was ordained there in 1654. After some years of teaching and service to the poor of Rome he was appointed Archbishop of Armagh in Ireland. Four years later, in 1673, a new wave of anti-Catholic persecution began, forcing Archbishop Plunkett to do his pastoral work in secrecy and disguise and to live in hiding. Meanwhile, many of his priests were sent into exile, schools were closed, Church services had to be held in secret, and convents and seminaries were suppressed. As archbishop, Plunkett was viewed as ultimately responsible for any rebellion or political activity among his parishioners.
Archbishop Plunkett was arrested and imprisoned in Dublin Castle in 1679, but his trial was moved to London. After deliberating for 15 minutes, a jury found him guilty of fomenting revolt. He was hanged, drawn, and quartered in July 1681.
Pope Paul VI canonized Oliver Plunkett in 1975.
---
Reflection
Stories like that of Oliver Plunkett seem to fit history. "Things like that don't happen today" is often our thought. But they do. False accusations, prejudice, anti-Catholic sentiments, racism, sexism, etc. are still an active reality in our day. Maybe a prayer to Saint Oliver for peace and justice may be appropriate.

What Jesus Did!

 'Bending Reality to Fit Our Theology'

Then [the people questioning the man who had been healed of his blindness took him] to the Pharisees, because it was on the Sabbath that Jesus had made the mud and healed him. The Pharisees asked the man all about it. So he told them, "He put the mud over my eyes, and when I washed it away, I could see!" Some of the Pharisees said, "This man Jesus is not from God, for he is working on the Sabbath." Others said, "But how could an ordinary sinner do such miraculous signs?" So there was a deep division of opinion among them. Then the Pharisees again questioned the man who had been blind and demanded, "What's your opinion about this man who healed you?" The man replied, "I think he must be a prophet."
Key Thought
Isn't it interesting how we can "bend" reality to make it fit faulty theology? This man was healed. He was healed on the Sabbath. But, in the theological wrangling of the Pharisees, that "work" of healing was a violation of the Sabbath. So either Jesus was bad, or the man hadn't really been healed. Some disagreements on obscure or much-debated minor theological points are inconsequential. However, when we use disagreements to wall out and condemn people, or we use them to make God's good work appear to be something bad, then those theological positions become evil. That misuse of theological principles doesn't mean we water down the plain teaching of Scripture on morality or the nature of Jesus; it does mean that we should be a lot more humble and generous when it comes to the value of people.
Today's Prayer
Dear Heavenly Father, please forgive me for the times that I have wrongly used your word to hurt other people. Empty me of my theological and doctrinal arrogance that could blind me to your work in the people around me. In Jesus' name, I pray. Amen.
Related Scripture Readings
To you, O Lord, I call;
my rock, be not deaf to me,
lest, if you be silent to me,
I become like those who go down to the pit.
Psalms 28:1
A cry is the natural expression of sorrow, and a suitable utterance when all other modes of appeal fail us; but the cry must be alone directed to the Lord, for to cry to man is to waste our entreaties upon the air. When we consider the readiness of the Lord to hear and His ability to aid, we shall see good reason for directing all our appeals at once to the God of our salvation. It will be in vain to call to the rocks in the day of judgment, but our Rock attends to our cries.
"Be not deaf to me." Mere formalists may be content without answers to their prayers, but genuine suppliants cannot; they are not satisfied with the results of prayer itself in calming the mind and subduing the will—they must go further and obtain actual replies from heaven or they cannot rest; and those replies they long to receive at once—they dread even a little of God's silence.
God's voice is often so terrible that it shakes the wilderness; but His silence is equally full of awe to an eager suppliant. When God seems to close His ear, we must not therefore close our mouths but rather cry with more earnestness; for when our note grows shrill with eagerness and grief, He will not long deny us a hearing. What a dreadful case we would be in if the Lord should become forever deaf to our prayers. "Lest, if you be silent to me, I become like those who go down to the pit." Deprived of the God who answers prayer, we would be in a more pitiable plight than the dead in the grave and would soon sink to the same level as the lost in hell. We must have answers to prayer: Ours is an urgent case of dire necessity; surely the Lord will speak peace to our agitated minds, for He never can find it in His heart to permit His own elect to perish.
How many times have you heard the saying "opposites attract"? Do you believe that or do you think it's just a catchphrase? I'm sure there is some truth to it because several of my friends are married to men whose personalities are the opposite of theirs. They say their husbands' differences actually complement the marriage and don't hurt it, and if they had to do it all over again, they would gladly marry the same man.
However, I have prayed with enough hurting couples to know that being married to someone who is very different can be challenging. Dr. Neil Warren, a clinical psychologist and founder of the popular online dating website eHarmony, encourages dating couples to proceed with caution if they have opposite characteristics. "I don't discount how hard it is to find someone who is a lot like you," he says. "It has always been difficult, and it's become even more so, as diversity increases. But when two people come from similar backgrounds, they operate from a position of strength. Their relationship is made significantly easier by all the customs and practices they have in common."
What to look for in a husband isn't the main focus of this, but it is the perfect segue to this next unthinkable character. Her name is Abigail. She was a beautiful woman whose wisdom saved her fool of a husband, Nabal, from certain death after he insulted David, who was later crowned king of Israel.
Yes, I called Nabal a fool but you don't have to take my word for it. He and Abigail are introduced to us in 1 Samuel 25:1-3, where we learn a lot about them in just a few sentences.
From the moment we meet Nabal we know he's trouble. He was wicked, foulmouthed, and mean-spirited. In fact, his name literally means "foolish" and "stupid." Then out of nowhere Caleb is mentioned. When I first read "a descendant of Caleb," it seemed out of place to me. But after rereading about this great man of faith, I realized the text fit perfectly.
Nabal was able to build a lucrative sheep shearing business because he owned prime property that had been passed down to him from his famous ancestor, Caleb, who had been among those who wandered in the wilderness after the great exodus from Egypt. When God told Moses to handpick 12 men to scout out the land of Canaan, Caleb was one of the spies. When he returned to Moses with a good report based on his faith in God and not fear, God rewarded him with the very land Nabal now possessed.
Nabal was the beneficiary of someone else's blessings, but his life is proof that godly character cannot be inherited. Abigail, however, is described as a sensible, beautiful woman with great understanding and a joyful spirit. Her name even means "cause of joy." In this story it is clear that sometimes opposites don't attract; they distract.
I don't know how Abigail became the wife of a fool. Perhaps her father agreed to give his beautiful daughter to Nabal in exchange for a handsome bride price. Whatever the case, I know that when she was confronted with a life-or-death situation, Abigail responded with a rare weapon: wisdom. Her wisdom saved their lives.
First, when she heard that David was going to kill Nabal for being condescending and disrespectful to him, she didn't go yelling and screaming at her husband. Had that been many women today, they would have told Nabal, "Because of your big mouth, every man in this family is going to die, including you!"
But Abigail must have known that it doesn't pay to argue with a fool, because she did the opposite. She didn't even tell Nabal that she knew about all the ugly words he had spoken to David's messengers. Sometimes wisdom requires that we measure our words carefully and use them to calm a situation and not make matters worse.
I don't know Abigail prayed or if she prayed at all, but when she got the news about David, she prepared a peace offering. She gathered hundreds of pounds of food and gave the man of God what he requested, despite Nabal's selfishness.
The Bible says there are two types of wisdom, earthly and godly. Earthly wisdom is this: "But if you are bitterly jealous and there is selfish ambition in your heart, don't cover up the truth with boasting and lying. For jealousy and selfishness are not God's kind of wisdom" (James 3:14-15).
The text goes on to say that where there is jealousy and selfish ambition, every evil imaginable is also there.
Now, juxtapose the definition of earthly wisdom with godly wisdom in James 3:17: "But the wisdom from above is first of all pure. It is also peace loving, gentle at all times and willing to yield to others. It is full of mercy and the fruit of good deeds."
Do you know anyone who fits this description? I wish I could say that I have perfected all six of these qualities, but I am a work in progress, as we all are. To have wisdom, though, we must first ask for it, and God will "generously" give it to us according to James 1:5. This brings me to my next point: I believe it is impossible to live a lifestyle of godly wisdom without help from the Holy Spirit. The Spirit will tell us when and how to respond in every area of our lives. He is the Paraclete, the One who gives us counsel, and He is our helper. The Holy Spirit will prompt you if a response is needed, and He will let you know if nothing at all needs to be said or done.
Abigail had godly wisdom, was humble and was prepared for the challenge she faced. You can do the same.
Adapted from Unthinkable by Mia K. Wright, copyright 2018, published by Charisma House. This book will show you what happens when you get out of your comfort zone and trust in God alone to take you beyond your status quo into His dreams for you. To order your copy click on this link.
Prayer Power for the Week of July 1, 2018
This week, ask God for godly wisdom every day and thank Him when He provides it. Pray that the Lord will give our president and all those in leadership the wisdom they need to make decisions affecting our nation and the world. Pray concerning the selection of our next Supreme Court judge and ask the Lord for His choice to fill the position. (James 1:5; 1 Samuel 25:32-34; James 3:17)
Verse of the Day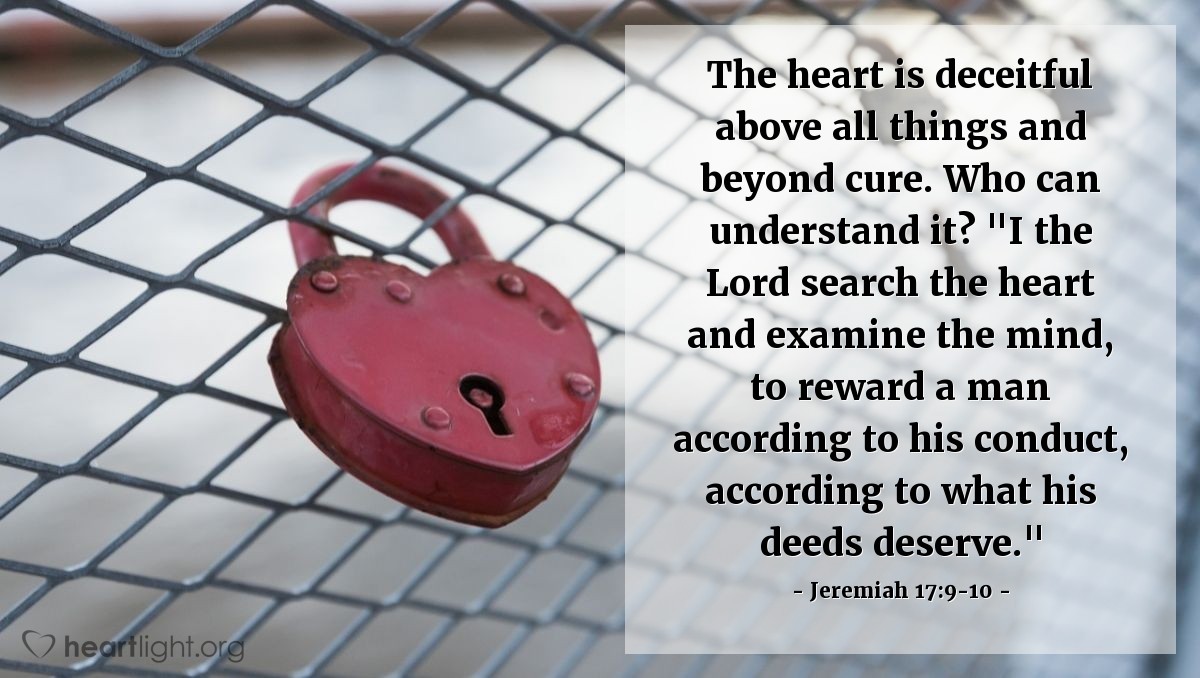 Thoughts on Today's Verse…
Jesus told us that what is in our heart ultimately works its way out into our public life. The great wise man of Proverbs told us to guard our heart because it is the well spring of our life. Jeremiah wants us to know that God knows our heart. At Heartlight, we want to stress the importance of what goes into our hearts because it really makes a difference in what goes on inside our heart. Invite the Lord into what you do and think and read and watch and hear. Ask him to remove deceit and help you see if what you are doing is really worthy of your time and interest.
My Prayer…
Righteous Father, please help me guard my heart and be wise enough not to place things into it that would rob it of its devotion to you. I want to be pure through and through. Please search me and help me remove everything that would steal my devotion from you and that would ruin my influence with others for you. In the name of Jesus I pray. Amen.
NATIONAL ANISETTE DAY
On July 2nd we observe National Anisette Day.   Anisette is an anise-flavored liqueur that is made by distilling aniseed and sometimes adding a sugar syrup.  Anisette is popular in Spain, Italy, Portugal and France.
Pure Anisette should not be drunk straight as its alcoholic content is high enough to cause irritation to the throat. However, mixing it in with coffee, gin, bourbon or water will bring out a bit of a sweet flavor. To enjoy this sweetness without drinking, you can make Anisette cookies!
If you are one to grab all of the black jelly beans at Easter, you will surely enjoy this day and the drink that makes it unique, Anisette. Although Anisette does not contain licorice, it does have that sort of distinct flavor.
HOW TO OBSERVE
To celebrate, mix some anisette into a favorite drink to enhance the sweetness. You can also make anisette cookies. Post on social media using #NationalAnisetteDay.
HISTORY
Within our research, we were unable to identify the creator of National Anisette Day.