Christoph Friedrich Blumhardt
People will come from east and west and north and south, and will take their places at the feast in the kingdom of God. Indeed there are those who are last who will be first, and first who will be last. Luke 13:29–30, NIV
Dear Father in heaven, Almighty God, grant that the nations come under your rule, under your judgment from morning to evening, from east to west, from north to south. For your will must be done, and your name must be honored among all nations. Yours alone is the kingdom; all kingdoms belong to you. Your heavenly kingdom must come so that at last we learn to be at peace and become your children, who submit to you. For your Christ shall carry out your loving, merciful, and perfect will throughout the world. We thank you for all the good you want to provide for us. May your angels watch over us this night. Be with us in all we do or leave undone. Help us with your strong hands, that we may rejoice at heart in all the good you give us. Amen.
Summer Solstice: Light Your Bonfires
Midsummer, the summer solstice, has been celebrated for centuries as the longest day of the year. In ancient Greece, it marked the beginning of the year and coincided with a celebration of agriculture and the earth's yield. In northern climates particularly, it became a spiritual festival celebrating the warmth and life-giving power of the sun. In Scandinavia, Iceland, and Northern Europe the solstice is traditionally celebrated with a bonfire.
Rather than give up this pagan tradition, Christians in these countries rechristened the festival St. John's Day, which is celebrated by Orthodox, Catholic, and Protestant churches. (The Bible suggests that John the Baptist was born six months before Jesus, and Midsummer falls six months before Christmas, another holiday with pre-Christian roots tied to a solstice.)
The summer solstice celebration was revived in the early twentieth century by the European youth movement, a counter-cultural movement that sought genuine spirituality, brotherhood, and freedom from artificial conventions. They enjoyed communal work, artistic expression, and hikes in nature, and treasured folk traditions of dance, song, and artisan crafts. The youth movement took the summer solstice as their central festival. The bonfire, its flames rising phoenix-like from the burning wood, crowned their celebration as a symbol of their longing for a renewal of humanity. One young woman, Irmgard Blau, described such a celebration:
One feast that we celebrate for the sake of community is the summer solstice. The purifying, liberating power of the fire is a symbol to us of the will, of the inner powers through which we overcome the finite in order to attain deeper life. Fire frees people from the present and binds them in a higher spiritual community. In the circle around the fire we are no longer individuals. We become a whole, a unity. We want to become part of the flame itself and not simply observe it; therefore we jump through it.
Her friend Annemarie Wächter recalled a summer solstice celebration in her diary. The evening included a hike, folk dancing, sack racing, and a puppet show.
Then came the most beautiful part of the evening – the huge, huge fire. As it flared high, we joined hands in a chain and walked around the fire in the midst of the shower of sparks. Then Pasche said something that made you feel that we all had the same goal and were united in it:
Flame, free us from everything that is evil in us;
make us free from it, O Flame.
Let us not seek to rule and lord it over others.
Flame, let your glow fill our souls and consume us.
Flame, become ever greater in us.
Thou, Flame, make us free, pure, and good!
. . . Then we stood and let the fire, the holy fire, soak into us. The glow made our faces burn, but I wanted to absorb as much as possible of the great flame so that I would be completely consumed by it. . . . I had a feeling that was so strong, so free and pure, that I believe that it was truly life.
A few years later National Socialism would hijack the energy and idealism of this youth movement for its own ends. But before that happened, the original genuineness and rigor, the emphasis on simplicity and respect for nature, and the intense search for truth would lead some participants to a firm faith in God – and a deeper appreciation for the symbolism of sun and fire.
Today, despite neo-pagans asserting their claim to this age-old holiday, many others around the world will light their bonfires in praise of the one God who created the sun and the world and has blessed us all with light and life.
TODAY'S DAILY DIG
Nations are building their freedom and security on the most dangerous weapons that have ever existed. Yet we are called to build our security on something else – that which is of God. And we long that something of God might be given to all nations. It is not enough to lead even the most perfect life of personal peace. Our longing will be satisfied only when the whole earth comes under the rulership of God.
Source: Discipleship
Verse of the Day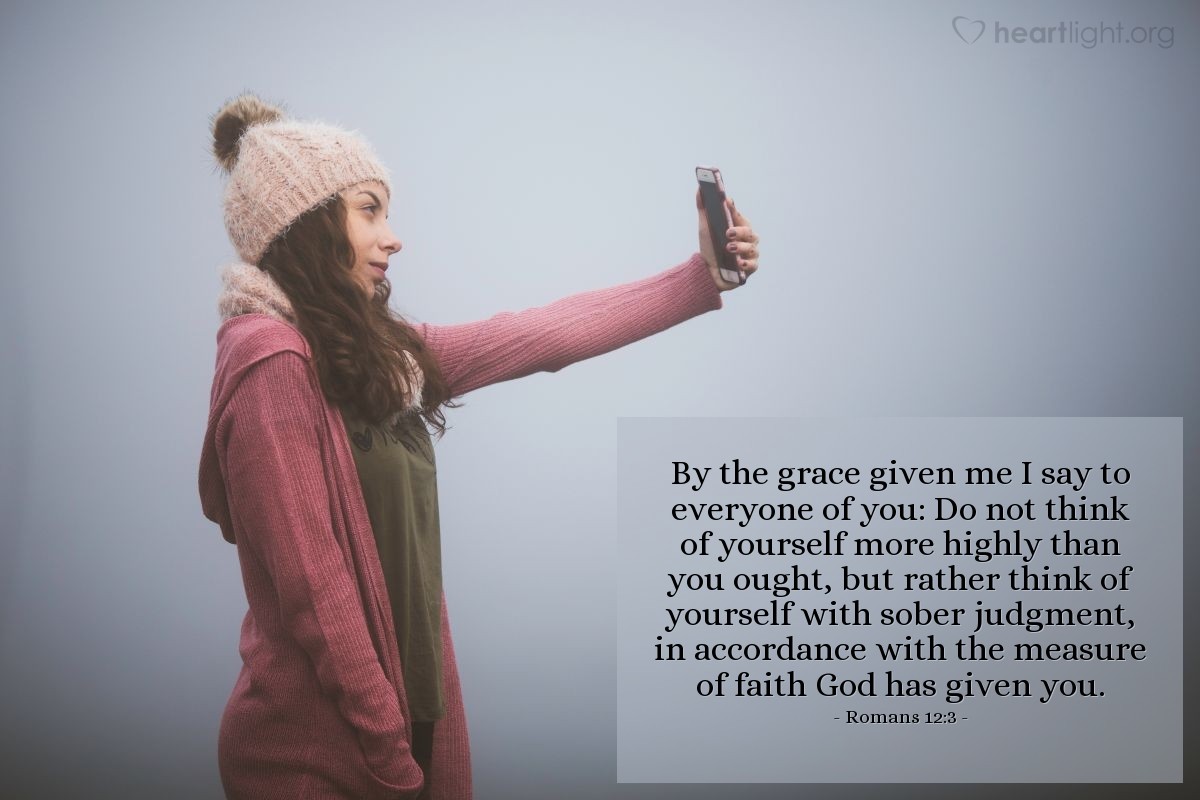 Thoughts on Today's Verse…
Pride does go before a fall! Try balancing these two truths: "I must not be prideful, but I must understand just how much God values me." It's not easy. Satan can use our self denigration, what I call the worthless worm syndrome, to discourage us and keep us from using our gifts and knowing our value to God for Kingdom work. On the other hand, pride takes God out of the picture and attributes any contribution to God's Kingdom to us and not to God. To be both bearer of the image of God and part of fallen humanity is more than a theological issue; it is the daily struggle of being a disciples. But we maintain the proper balance by praising the One who made us his child and adopted us into his family.
My Prayer…
Holy Father, as your child, redeemed at the cost of Jesus' life, I know I am loved and valuable to you. I know you have given me abilities and gifts to use for your glory and to bless your church. But Father, I do not want to ever think that my abilities are somehow tied to my superiority or work. I know you have given me the gifts, abilities, and experiences that have shaped me, so please empower me to your glory. But Father, I never want the glory that is achieved from your gifts to puff me up or rob from me the realization that I am what I am, I have what I have, and I do what I do, because of your grace and your generous gifts. May I ever be your humble but valuable child at work in your Kingdom. I pray in the name of Jesus, my older brother and your Son. Amen.
Saint Junipero Serra
Saint of the Day for 
July 1
(

November 24, 1713

 – 

August 28, 1784

)
https://www.franciscanmedia.org/wp-content/uploads/2016/08/SODJul01.mp3
Saint Junipero Serra's Story
In 1776, when the American Revolution was beginning in the east, another part of the future United States was being born in California. That year a gray-robed Franciscan founded Mission San Juan Capistrano, now famous for its annually returning swallows. San Juan was the seventh of nine missions established under the direction of this indomitable Spaniard.
Born on Spain's island of Mallorca, Serra entered the Franciscan Order taking the name of Saint Francis' childlike companion, Brother Juniper. Until he was 35, he spent most of his time in the classroom—first as a student of theology and then as a professor. He also became famous for his preaching. Suddenly he gave it all up and followed the yearning that had begun years before when he heard about the missionary work of Saint Francis Solano in South America. Junipero's desire was to convert native peoples in the New World.
Arriving by ship at Vera Cruz, Mexico, he and a companion walked the 250 miles to Mexico City. On the way Junipero's left leg became infected by an insect bite and would remain a cross—sometimes life-threatening—for the rest of his life. For 18 years, he worked in central Mexico and in the Baja Peninsula. He became president of the missions there.
Enter politics: the threat of a Russian invasion south from Alaska. Charles III of Spain ordered an expedition to beat Russia to the territory. So the last twoconquistadors—one military, one spiritual—began their quest. José de Galvez persuaded Junipero to set out with him for present-day Monterey, California. The first mission founded after the 900-mile journey north was San Diego in 1769. That year a shortage of food almost canceled the expedition. Vowing to stay with the local people, Junipero and another friar began a novena in preparation for St. Joseph's day, March 19, the scheduled day of departure. On that day, the relief ship arrived.
Other missions followed: Monterey/Carmel (1770); San Antonio and San Gabriel (1771); San Luís Obispo (1772); San Francisco and San Juan Capistrano (1776); Santa Clara (1777); San Buenaventura (1782). Twelve more were founded after Serra's death.
Junipero made the long trip to Mexico City to settle great differences with the military commander. He arrived at the point of death. The outcome was substantially what Junipero sought: the famous "Regulation" protecting the Indians and the missions. It was the basis for the first significant legislation in California, a "Bill of Rights" for Native Americans.
Because the Native Americans were living a nonhuman life from the Spanish point of view, the friars were made their legal guardians. The Native Americans were kept at the mission after baptism lest they be corrupted in their former haunts—a move that has brought cries of "injustice" from some moderns.
Junipero's missionary life was a long battle with cold and hunger, with unsympathetic military commanders and even with danger of death from non-Christian native peoples. Through it all his unquenchable zeal was fed by prayer each night, often from midnight till dawn. He baptized over 6,000 people and confirmed 5,000. His travels would have circled the globe. He brought the Native Americans not only the gift of faith but also a decent standard of living. He won their love, as witnessed especially by their grief at his death. He is buried at Mission San Carlo Borromeo, Carmel, and was beatified in 1988. Pope Francis canonized him in Washington, D.C., on September 23, 2015.
---
Reflection
The word that best describes Junipero is zeal. It was a spirit that came from his deep prayer and dauntless will. "Always forward, never back" was his motto. His work bore fruit for 50 years after his death as the rest of the missions were founded in a kind of Christian communal living by the Indians. When both Mexican and American greed caused the secularization of the missions, the Chumash people went back to what they had been—God again writing straight with crooked lines.
The first journey of Padre Junípero Serra when he arrived in the New World was to the Shrine of Our Lady of Guadalupe near Mexico City. There he offered the success of his missionary efforts to her intercession, for Mary, as Serra knew, is the Church's inspiring model for the work of missionary discipleship. When she appeared to the indigenous Juan Diego as Our Lady of Guadalupe, she was dressed like his people, spoke his language, and had the face of a mestiza, a woman of mixed race.
The very purpose of Mary's apparitions to Mexico's Juan Diego was to draw the people of the New World to her Son. Both Saint Juan Diego, Mexico's first indigenous saint, and Saint Junípero Serra, North America's first Hispanic saint, are models for evangelization, dedicated to bringing about the reconciliation of cultures while leading all to Jesus Christ.
Following the Camino of Saint Junípero Serra goes well beyond traveling his historical path through the missions of California. It also involves imitating his missionary fervor, demonstrating always a loving understanding and respect for others and their cultures. Like our new saint who walked along the coast of California sharing the Gospel, we too are called to step forward in our daily lives and bring to others the Gospel of God's love. We are called not just to proclaim the Good News, but to be that good news; not only to invite others into the Church, but to be the Church in the world.
THE MISSIONARY EXAMPLE OF SAINT FRANCIS OF ASSISI
Saint Francis of Assisi, the thirteenth-century spiritual father of Junípero Serra, was filled with a deep desire to proclaim the Gospel to others. God gave Saint Francis extraordinary grace to preach with confidence, compassion, and clarity, motivated by a love for Jesus and zeal for the salvation of souls. Following the footsteps of Jesus, he demonstrated an unrelenting commitment to seek and save the lost.
Showing his own followers how to rebuild the Church, Francis of Assisi desired to be a living Gospel for all to see and hear, and, with single-minded devotion, even while burdened by frequent illness and bodily pain, he abandoned himself completely to the call Jesus had given him. These were dynamic traits that Junípero Serra shared.
While this following description of Saint Francis comes from the first biographer of Francis of Assisi, the words echo into the life of Junípero, the eighteenth-century son of Francis: For during the space of eighteen years, which was now completed, his body had little or no rest while he traveled through various very large regions so that that willing spirit, that devoted spirit, that fervent spirit that dwelt within him might scatter everywhere the seeds of the word of God…. He filled all the earth with Christ's Gospel, so that often in one day he would make the circuit of four or five villages or even towns preaching to everyone the Gospel of the Kingdom of God: and, edifying his hearers not less by his example than by his words, he had made a tongue of his whole body.
By embracing evangelical poverty, Saint Francis gave himself up for the salvation of others. His love for the lost inspired him to kiss the leper, to embrace the marginalized, to give all of his riches to the poor, unbinding himself from the shackles of wealth. This radical freedom enabled him to live in constant prayer, submitting his body entirely to Christ and allowing God to fill his heart with humility, compassion, and mercy.
Followers of Francis in later centuries took up his missionary impulse and traveled continually further afield. One of the greatest influences on this missionary movement was Ramon Llull, a medieval Mallorcan who became a secular Franciscan. Llull urged the study of Arabic and other languages for the purpose of missionary work and traveled through Europe establishing colleges to prepare future missionaries. He traveled to North Africa several times, and some traditions claim that he was martyred there at the age of eighty-two. The young Junípero Serra read the works of this medieval missionary, which helped him to internalize Christ's call to go forth and proclaim the Gospel to all nations. In fact, Serra was a professor at the Llullian University in Mallorca, named in honor of this esteemed Mallorcan. So great was Llull's influence on Serra that he carried a small cross containing a relic of Llull, which was buried with him at his death.
Another Franciscan missionary influence on Serra was Saint Francis Solano, the Apostle of South America, who was canonized when Serra was in his teens. A Spanish Franciscan of the sixteenth century, Solano traveled to the missions of Paraguay, Argentina, and Peru, where he labored tirelessly for Indians and Africans and against slave traders.
Following in the Franciscan tradition of these men and others, Serra would answer the call of Jesus Christ to bring the Gospel "to the ends of the earth" (Acts 1:8). As Saint Francis knew well, God reveals himself and the plan of salvation through the missionary proclamation of the Gospel. And as his followers have understood, this salvation is implanted in those who call on the name of the Lord:
But how are they to call on one in whom they have not believed? And how are they to believe in one of whom they have never heard? And how are they to hear without someone to proclaim him? And how are they to proclaim him unless they are sent? As it is written, "How beautiful are the feet of those who bring good news!" (Romans 10:14–15)
The beautiful feet of missionary disciples bring the Good News of Jesus Christ to the world so that others can hear, believe, call on his name, and experience his salvation.
LIVING MISSIONARY DISCIPLESHIP TODAY
The Church today teaches us that all of the baptized have two fundamental calls: the universal call to holiness and the universal call to mission. In the extraordinary lives of Saint Francis and Saint Junípero Serra, holiness and mission were one, unified in the joy of the Gospel. When we follow in their way, they show us the way forward as witnesses of Jesus in the world.
As disciples of Jesus, we experience the joy of faith, the joy of prayer, the joy of life's pilgrimage, the joy of detachment, the joy of relationship, the joy of service, and indeed the joy of salvation. Like Francis and Junípero, we find deep joy in following the command: Go forth and proclaim the Good News! Because of our call to holiness, we proclaim the Good News not only with words, but above all by a life transfigured by Jesus Christ.
When Pope Francis canonized Saint Junípero Serra during his 2015 visit to the United States, the pope called us all to take on the joyful courage of our new saint, to leave behind our islands of comfort, and to proclaim Christ to the modern world.
The joy of the Gospel is something to be experienced, something to be known and lived only through giving it away, through giving ourselves away. Jesus sends his disciples out to all nations. To every people. We too were part of all those people of two thousand years ago. Jesus did not provide a short list of who is, or is not, worthy of receiving his message and his presence. Instead, he always embraced life as he saw it. In faces of pain, hunger, sickness and sin. In faces of wounds, of thirst, of weariness, doubt and pity. Far from expecting a pretty life, smartly-dressed and neatly groomed, he embraced life as he found it. It made no difference whether it was dirty, unkempt, broken. Jesus said: Go out and tell the good news to everyone.
Serra was part of a missionary team who went out to the peripheries—beyond the geographical, social, and racial boundaries of their time—to proclaim the Gospel. Pope Francis says that this call to evangelize must be a normal part of a mature, authentic, and integrated Christian life. The peripheries don't have to be far away. Evangelization is the urgent call of our Church: to renew, expand, and cultivate disciples.
Young people who are dissatisfied with the consumer-driven and self-centered culture of our time ought to listen to the voice of the Holy Spirit calling them to give over their lives for a noble cause, coming to know the great joy to be found in serving and in announcing the Gospel.
Pope Francis said that Saint Junipero Serra embodies a Church which goes forth: "He was excited about blazing trails, going forth to meet many people, learning and valuing their particular customs and ways of life. He learned how to bring to birth and nurture God's life in the faces of everyone he met; he made them his brothers and sisters."
Serra's canonization and following his Camino in California should prompt us to awaken our own missionary spirit. Taking with him only the certainty that God was calling him to missionary discipleship, he came to the New World to be a witness to God's love. As we follow in his way, let us keep his spirit before us, a vision of life encompassed in his motto recalled by Pope Francis:
Fr. Serra had a motto which inspired his life and work, not just a saying, but above all a reality which shaped the way he lived: siempre adelante! Keep moving forward! For him, this was the way to continue experiencing the joy of the Gospel, to keep his heart from growing numb, from being anesthetized. He kept moving forward, because the Lord was waiting. He kept going, because his brothers and sisters were waiting. He kept going forward to the end of his life. Today, like him, may we be able to say: Forward! Let's keep moving forward!
PRAYER FOR MISSIONARY DISCIPLESHIP
Mighty and Merciful God, who has called your people to proclaim and teach the Gospel to all the nations so that your word may reach the ends of the earth, we give you praise for your missionary Saint Junípero Serra, the apostle of California. As he served your Church and loved the native peoples of this land to the end of his life, may we follow his example, always going forward and never turning back. With all your missionary saints, may we walk the way of holiness and embrace the call to discipleship. We ask this through Jesus Christ, who is the Way, the Truth, and the Life forever. Amen.

What Jesus Did!

 'Beyond Appearances'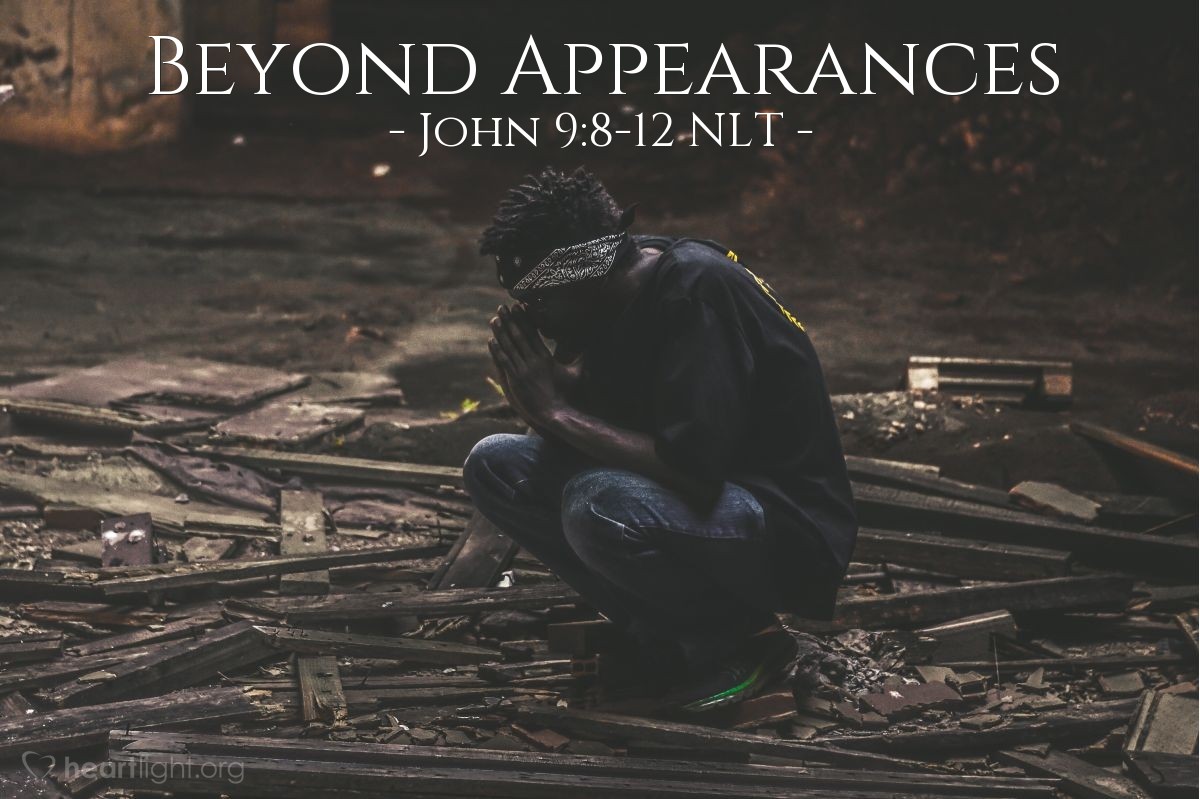 His neighbors and others who knew him as a blind beggar asked each other, "Isn't this the man who used to sit and beg?" Some said he was, and others said, "No, he just looks like him!" But the beggar kept saying, "Yes, I am the same one!" They asked, "Who healed you? What happened?" He told them, "The man they call Jesus made mud and spread it over my eyes and told me, 'Go to the pool of Siloam and wash yourself.' So I went and washed, and now I can see!" "Where is he now?" they asked. "I don't know," he replied.
Key Thought
How often have you judged someone simply based on his or her appearance? The folks who were supposed to be the neighbors of this man Jesus healed knew him only as a label. That label was based on his physical blindness and his need to beg. They never spent enough time to move beyond the label to the man. They didn't know him, only his label. They didn't bother to befriend him because he was a blind beggar. Before we become self-righteous, let's ask how different we are! We all need to ask ourselves: Do I make unfair assumptions about people based on external appearances? Do I use labels to push people away so that I do not have to deal with them in everyday life?
Today's Prayer
Father, please forgive me. I confess that many times I do not view people as you do. I find myself dismissing them based on external appearances, so I don't have to involve myself in their lives. Father, I don't want to use my time with folks who won't change. However, dear Father, I also don't want to neglect to bless anyone that you send my way including anyone that has not yet experienced your grace. Please give me the wisdom to know how to balance the two responses so that I do what you would have me do in the life of anyone I meet. In Jesus' name, I pray. Amen.
Related Scripture Readings
God's Holy Fire:

 'Contrary to the Spirit'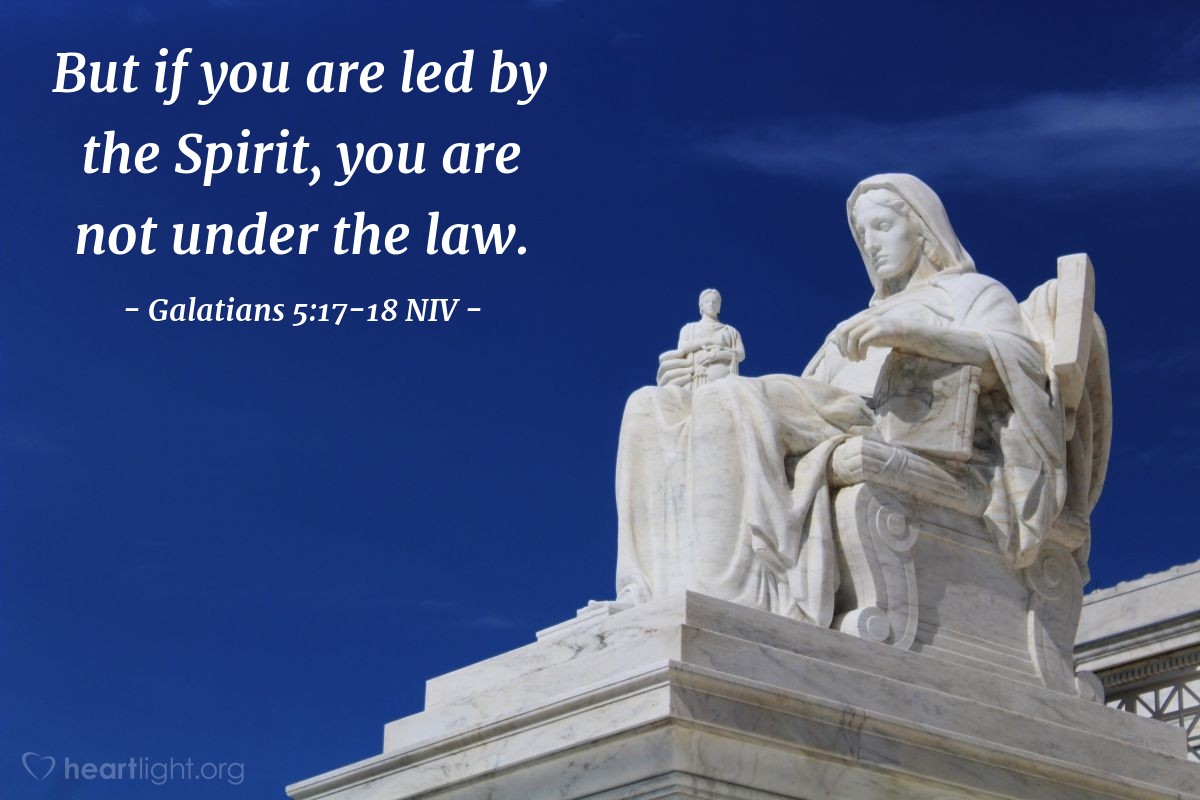 For the flesh desires what is contrary to the Spirit, and the Spirit what is contrary to the flesh. They are in conflict with each other, so that you are not to do whatever you want. But if you are led by the Spirit, you are not under the law.
Key Thought
Our flesh, our sinful nature, is at odds with the Spirit of God. Our flesh and the Spirit are at war. So we must yield to the Spirit's leading rather than doing whatever we want. Our desires can 
be purified only
 by the Holy Spirit's transformation of us into the likeness of Jesus. Only the Spirit's power can help us put to death the misdeeds and desires of the flesh (
Romans 8:13
).
Today's Prayer
O Father, I am tired of tripping over my own religious striving. I confess to you my inadequacy at becoming holy on my own willpower and strength. I want to be led by your Holy Spirit. I want to live by the power of your Holy Presence within me. So liberate me from my human desire to show myself righteous, and deliver me into the transforming power of your Spirit. In Jesus' name, I pray. Amen.
. . . The sound of the Lord God walking in the garden in the cool of the day.
Genesis 3:8
My soul, now that the cool of the day has come, retire awhile and hearken to the voice of God. He is always ready to speak with you when you are prepared to hear. If there is any slowness to commune, it is not on His part, but altogether on yours, for He stands at the door and knocks, and if His people will but open, He rejoices to enter. But in what state is my heart, which is my Lord's garden? May I venture to hope that it is well trimmed and watered and is bringing forth fruit fit for Him? If not, He will have much to reprove, but still I pray Him to come to me, for nothing can so certainly bring my heart into a right condition as the presence of the Sun of Righteousness, who brings healing in His wings.
Come, therefore, O Lord, my God, my soul invites You earnestly and waits for You eagerly. Come to me, O Jesus, my well-beloved, and plant fresh flowers in my garden, such as I see blooming in such perfection in Your matchless character! Come, O my Father, who is the Gardener, and deal with me in Your tenderness and prudence! Come, O Holy Spirit, and saturate my whole nature, as the herbs are now moistened with the evening dews. O that God would speak to me. Speak, Lord, for Your servant hears! O that He would walk with me; I am ready to give up my whole heart and mind to Him, and every other thought is hushed.
I am only asking what He delights to give. I am sure that He will condescend to have fellowship with me, for He has given me His Holy Spirit to abide with me forever. Sweet is the cool twilight, when every star seems like the eye of heaven and the cool wind is as the breath of celestial love. My Father, my elder Brother, my sweet Comforter, speak now in loving-kindness, for You have opened my ear and I am not rebellious.
NATIONAL CREATIVE ICE CREAM FLAVORS DAY
I scream, you scream, we all scream for ice cream!  July 1st marks National Creative Ice Cream Flavors Day, a day to sample or wonder about the awkward or just plain silly kinds of ice cream flavors. It is meant for more than the love of the traditional vanilla, chocolate and strawberry ice cream.
Mitchell's Ice Cream in downtown Cleveland is known to mix up some seasonal flavors that to some might seem funky and to others are well worth the wait.  Their salted butter sweet corn layers the flavors on your tongue making you wonder why every bothered trying to pick the perfect cob in the first place.  And their jalapeno strawberry has just the right combo of heat and sweet.
Another great shop churning out wacky flavors is Ample Hills Creamery in New York City. With two locations plus season kiosks, they are sure to satisfy some flavor-seeking tastebuds.
From the savory and smokey to the sweet and surprising, LICK Pure Cream in Seattle offers curiosity and thrill seekers a chance to test those boundaries, too. Flavors like pork-belly pecan can't go wrong, right?
HOW TO OBSERVE
Celebrate by venturing out to your local ice creamery and testing their many concoctions, or head down to the grocery store and get creative by finding different ingredients to make your own!  You can also try to find some crazy flavors yourself!  Here are just a few we came across – mashed potato ice cream, beer ice cream, olive oil ice cream, buffalo wing ice cream, goat cheese ice cream and candied bacon ice cream.  Willing to try one?  Use #CreativeIceCreamFlavorsDay to share your creations on social media.
HISTORY
Within our research, we were unable to identify the creator of National Creative Ice Cream Flavors Day.
Stay blessed!!!!