Christoph Friedrich Blumhardt
And over all these virtues put on love, which binds them all together in perfect unity. Let the peace of Christ rule in your hearts, since as members of one body you were called to peace. And be thankful. Colossians 3:14–l5, NIV
Lord our God, grant your peace in our hearts. Grant that we may be your children, allowed to serve you in true peace through the forgiveness of sins. Turn your eyes to the world and its sin, that something new may come for all who are deeply unhappy, groaning under the anguish of their lives. Your mercy is great, your compassion is beyond measure. For Jesus Christ's sake you will bring into the world the salvation that is promised. You will bring the great day of Jesus Christ the Savior, who has shed his blood for us. He can come to those now in need and misery, bringing his peace and his power into their hearts so that even death turns into life and everything serves your praise and glory, Lord our God and Father in heaven. Bless us and bless our nation. May life from heaven grow in those who understand you and who are to be your people. May your will be done, Lord God, until your kingdom comes in its fullness and all the world may see that Jesus Christ is the Lord, to your glory, O God our Father. Amen.
TODAY'S DAILY DIG
If we are able to tell everybody straight out and with a joyful heart that we praise God and thank him for all his goodness, if we represent and proclaim our kind and merciful God, then we will be a great comfort to many people. We will forget about our own cross and rejoice with those who praise God. Then we will be able to sing songs of praise from the bottom of our hearts. How good, how pleasant it is to praise the Lord!
Source: The God Who Heals
Verse of the Day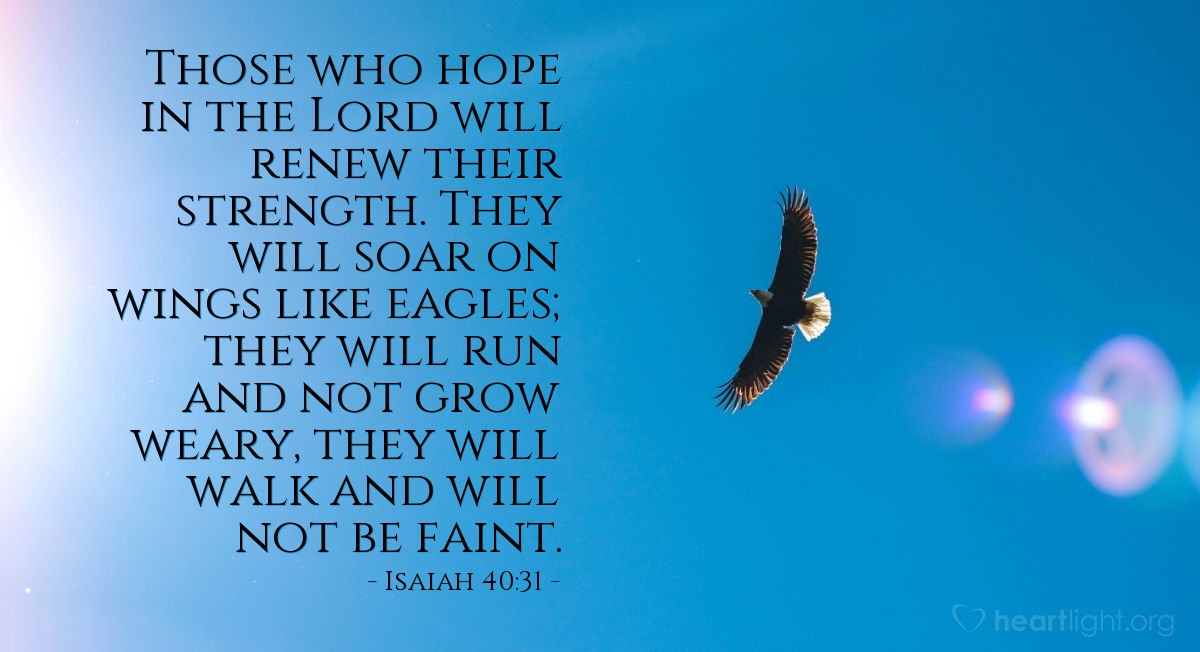 Thoughts on Today's Verse…
It is easy for us to live victoriously for the Lord when we soar on the wings of eagles. It can be exciting when we run and don't grow weary in the work of the Lord, buoyed by his power and presence. But it often takes heroes to keep walking and not faint when trying times come. Keep on walking brother and sister. The Lord is there when you most fear he has forgotten you!
My Prayer…
Majestic God, whose voice holds together our universe, give those who can barely walk the strength to continue as they face the stress and assault of the evil one. I specifically want to pray for those I know personally who are facing trying times. Please, dear LORD, give them strength and meet their most pressings needs. Through Jesus, who conquered Satan, sin and death, and in the power of his holy name I pray. Amen.
Saint John Fisher
Saint of the Day for 
June 23
(
1469

 – 

June 22, 1535

)

https://www.franciscanmedia.org/wp-content/uploads/2016/08/SODJun23.mp3
Saint John Fisher's Story
John Fisher is usually associated with Erasmus, Thomas More, and other Renaissance humanists. His life therefore, did not have the external simplicity found in the lives of some saints. Rather, he was a man of learning, associated with the intellectuals and political leaders of his day. He was interested in the contemporary culture and eventually became chancellor at Cambridge. He had been made a bishop at 35, and one of his interests was raising the standard of preaching in England. Fisher himself was an accomplished preacher and writer. His sermons on the penitential psalms were reprinted seven times before his death. With the coming of Lutheranism, he was drawn into controversy. His eight books against heresy gave him a leading position among European theologians.
In 1521, Fisher was asked to study the question of King Henry VIII's marriage to Catherine of Aragon, his brother's widow. He incurred Henry's anger by defending the validity of the king's marriage with Catherine, and later by rejecting Henry's claim to be the supreme head of the Church of England.
In an attempt to be rid of him, Henry first had Fisher accused of not reporting all the "revelations" of the nun of Kent, Elizabeth Barton. In feeble health, Fisher was summoned to take the oath to the new Act of Succession. He and Thomas More refused to do so because the Act presumed the legality of Henry's divorce and his claim to be head of the English Church. They were sent to the Tower of London, where Fisher remained 14 months without trial. Finally both men were sentenced to life imprisonment and loss of goods.
When the two were called to further interrogations, they remained silent. On the supposition that he was speaking privately as a priest, Fisher was tricked into declaring again that the king was not supreme head of the church in England. The king, further angered that the pope had made John Fisher a cardinal, had him brought to trial on the charge of high treason. He was condemned and executed, his body left to lie all day on the scaffold and his head hung on London Bridge. More was executed two weeks later. His Liturgical Feast Day is June 22.
---
Reflection
Today many questions are raised about Christians' and priests' active involvement in social issues. John Fisher remained faithful to his calling as a priest and bishop. He strongly upheld the teachings of the Church; the very cause of his martyrdom was his loyalty to Rome. He was involved in the cultural enrichment circles as well as in the political struggles of his time. This involvement caused him to question the moral conduct of the leadership of his country.
"The Church has the right, indeed the duty, to proclaim justice on the social, national and international level, and to denounce instances of injustice, when the fundamental rights of man and his very salvation demand it" (Justice in the World, 1971 Synod of Bishops).
We wait eagerly for adoption as sons.
Romans 8:23
Even in this world saints are God's children, but the only way that people will discover this is by certain moral characteristics. The adoption is not displayed; the children are not yet openly declared. Among the Romans a man might adopt a child and keep it private for a long time; but there was a second adoption in public; when the child was brought before the constituted authorities, its old clothes were removed, and the father who took it to be his child gave it clothing suitable to its new status in life. "Beloved, we are God's children now, and what we will be has not yet appeared."1 We are not yet clothed in the apparel of heaven's royal family; we are wearing in this flesh and blood just what we wore as the children of Adam. But we know that "when he appears" who is "the firstborn among many brothers,"2 we will be like Him, for we will see Him as He is.
Can't you imagine that a child taken from the lowest ranks of society and adopted by a Roman senator would say to himself, "I long for the day when I shall be publicly adopted. Then I shall discard these poor clothes and be dressed in clothes that depict my senatorial rank"? Glad for what he has already received, he still groans until he gets the fullness of what has been promised to him. So it is with us today. We are waiting until we put on our proper clothes and are declared as the children of God for all to see. We are young nobles and have not yet worn our crowns. We are young brides, and the marriage day has not arrived, but our fiancée's love for us leads us to long and sigh for the bridal morning. Our very happiness makes us long for more; our joy, like a swollen stream, longs to spring up like a fountain, leaping to the skies, heaving and groaning within our spirit for lack of space and room by which to reveal itself to men.
NATIONAL PINK DAY
National Pink Day is observed annually on June 23rd.  This day is set aside for the color pink and all it represents.
First used as a color name in the late 17th century, pink is a pale red color which got its name from a flower of same name.
According to surveys in both the United States and Europe with results indicating that the color pink combined with white or pale blue is most commonly associated with femininity, sensitivity, tenderness, childhood and the romantic.  Pink, when combined with violet or black is associated with eroticism and seduction.
Dating back to the 14th century, "to pink" (the verb) means "to decorate with a perforated or punched pattern."
It would have been curious to find pink used in fabric or decor during the Middle Ages.  Occasionally it was seen in women's fashion and religious art.  In the 13th and 14th century, the Christ child was sometimes portrayed dressed in pink, the color associated with the body of Christ. Pink was mainly used for the flesh color of faces and hands during the Renaissance.
The Rococo Period (1720-1777) was the golden age for the color pink. Pastel colors became very fashionable in all the courts of Europe during this time.  Madame de Pompadour (1721-1764), the mistress of King Louis XV of France, was known for wearing the color pink, often combined with light blue.  At one point in time, Ms. Pompadour had a particular tint of pink made specifically for her.
Pink ribbons or decorations were worn by young boys in 19th century England.  The men in England wore red uniforms and since boys were considered small men, boys wore pink.
Pink became much bolder, brighter and more assertive in the 20th century and 1931, the color "Shocking Pink" was introduced.
As one of the most common colors of flowers, pink serves to attract the insects and birds that are necessary for pollination.
~~~~~~~~~~
In the pink – To be in top form, in good health, in good condition.
To see pink elephants – To hallucinate from alcoholism.
Pink slip – To be given a pink slip means to be fired or dismissed from a job. First recorded in 1915 in the United States.
Pink-collar worker – Persons working in jobs conventionally regarded as  "women's work."
Pink Money –  the pink pound or pink dollar is an economic term which refers to the spending power of the LGBT community.
Tickled pink – means extremely pleased.
~~~~~~~~~~
HOW TO OBSERVE
The most apparent way to celebrate is to wear pink.  Enjoy foods and beverages that are pink.  Give a donation to any of the charities that use the color pink.  Use #NationalPinkDay in social media.
HISTORY
Within our research, we were unable to find the creator and origin of National Pink Day.