Christoph Friedrich Blumhardt
But since we belong to the day, let us be sober, putting on faith and love as a breastplate, and the hope of salvation as a helmet. For God did not appoint us to suffer wrath but to receive salvation through our Lord Jesus Christ. 1 Thessalonians 5:8–9, NIV
Lord God Almighty, bring in the day, the day of Jesus Christ, through whom we shall be united. Then we shall recognize each other as fellow citizens, as brothers and sisters, and we shall have peace on earth. Give your Spirit anew, O Lord our God. Free and enlighten every heart so that each person can acknowledge the Word you have given and hold fast to all your promises, even in dark and troubled times. Be with us. Be with our people. Help us in our times, O Lord God. We wait for you. We await your peace, a new peace – not the old peace, not a return to comfort and selfish desires, but your peace – which shall bring us into the life of heaven, where we find Jesus Christ, the Living One, our Shepherd and Leader. Amen.
TODAY'S DAILY DIG
Unless we have community in the body, in things material, we will never have it in spiritual matters. We are not mere spirits. We are human beings of flesh and blood. Every day we need to eat. We need clothing for every season. We must share our tools; we must work together; we must work communally and not each for himself. Otherwise we can never become one in the love of Christ, can never become the flock, the community of Jesus, which stands up in the world and says, "Now things must become quite different. Now individuals must stop living for themselves. Now a society of brothers and sisters must arise."
Source: Action in Waiting
Verse of the Day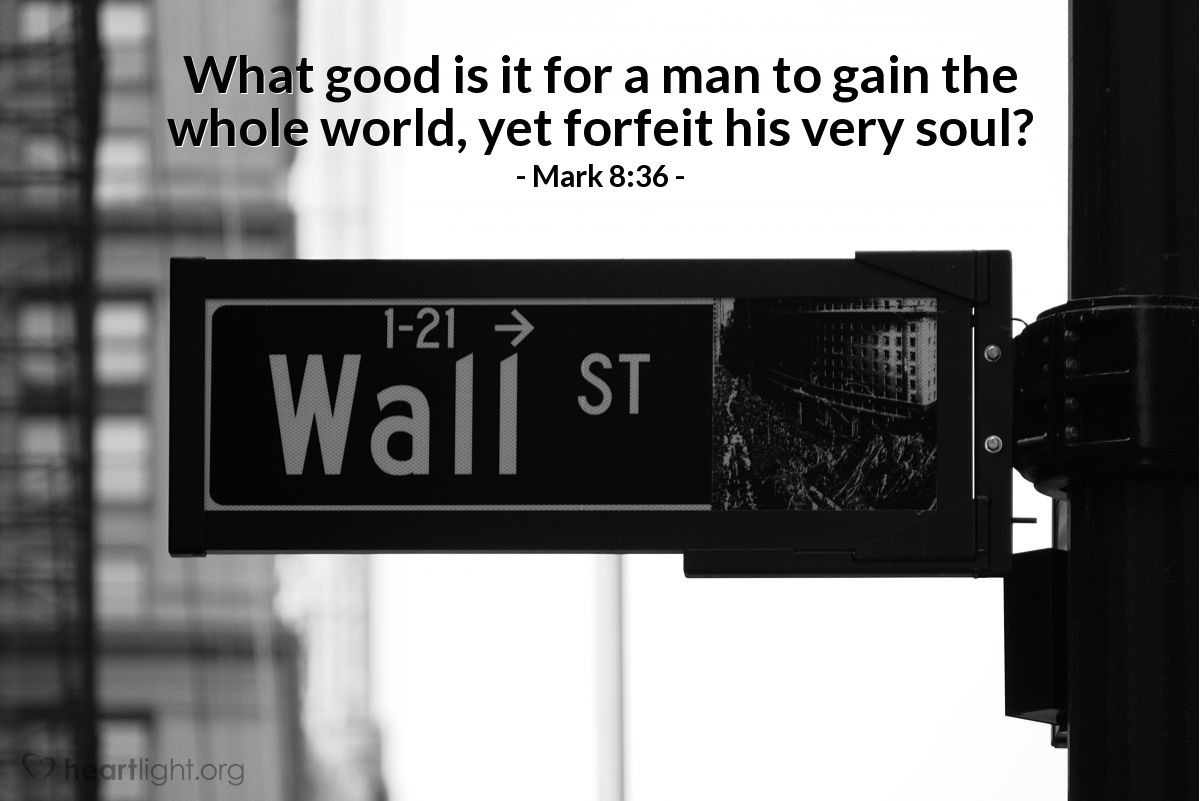 Thoughts on Today's Verse…
We chase after so many different things. Only one thing is needful. Having a fist full of dollars, a great estate, and lots of prestige doesn't mean a whole lot if you've gone to your ultimate address without the Lord. Even worse is to find that in the middle of your busy-ness, you awake to find yourself in the barren land where Christ does not dwell and life is not found. Let's not lose our life, our soul, our meaning, chasing after what is not lasting.
My Prayer…
Father, help me to keep my priorities right, my life holy, and my heart open to your will rather than being blinded with my own self-seeking. In Jesus' precious name I pray. Amen.
4 Great Bible Verses To Read When You're Doubting God
Have you or someone you know had time where God seems silent, and so much so that you begin to doubt Him? If so, here are four great Bible verses to read when you doubt God.
Joshua 1:9 Have I not commanded you? Be strong and courageous. Do not be frightened, and do not be dismayed, for the LORD your God is with you wherever you go.
If God had not encouraged Joshua after Moses' death, then Joshua may not have had the courage to take over the leadership of Israel, especially following what is considered the greatest leader of the Jews (save, Jesus Christ of course). If you know someone who is experiencing a time of doubt in the goodness of God, please share some of these Bible quotes with them, because they're not just the Word of God, they are the truth, and what is true never changes, just like the promises of God which included His never leaving us or forsaking us (Heb 13:5), even when we do for a season. It might give them some reassurance, and perhaps the peace of God which only He can give. It should give you some peace of mind.
John 16:22 So also you have sorrow now, but I will see you again, and your hearts will rejoice, and no one will take your joy from you.
Only later would the disciples see that this came true. On the day Jesus died, they had lost all hope for like the Jews, they had thought the Messiah would come to rule, not live and be crucified. That would be the last thing they expected, but if not for Jesus sinless life, death, and resurrection, we wouldn't have the gospel (2 Cor 15:1-3) or the opportunity for eternal life (John 3:16), so we can't always trust what we see, but we can always trust what God says. For example, Solomon wrote, "Trust in the LORD with all your heart, and do not lean on your own understanding. In all your ways acknowledge him, and he will make straight your paths. Be not wise in your own eyes; fear the LORD, and turn away from evil. It will be healing to your flesh and refreshment to your bones" (Prov 3:5-6).
Psalm 50:15 "Call upon me in the day of trouble; I will deliver you, and you shall glorify me."
In the economy of God, nothing goes to waste, and even Joseph understood that, tell his brothers "you meant evil against me, but God meant it for good, to bring it about that many people should be kept alive, as they are today" (Gen 50:20). The Apostle Paul would suggest that we can "know that for those who love God all things work together for good for those who are called according to his purpose" (Rom 8:28), and it's nothing to compare with the glory that's coming with Christ (Rom 8:18). Do you want to have God more clearly manifest Himself to you? I do. Jesus says that it is a cause and effect, saying, "Whoever has my commandments and keeps them, he it is who loves me. And he who loves me will be loved by my Father, and I will love him and manifest myself to him" (John 14:21). For Thomas, seeing was believing, but it should not be so with us. Jesus, in rebuking Thomas's lack of faith told him, "Have you believed because you have seen me? Blessed are those who have not seen and yet have believed" (John 20:29). This is all the more reason to "not your hearts be troubled. Believe in God; believe also in me" (John 14:1).
Romans 8:38-39 For I am sure that neither death nor life, nor angels nor rulers, nor things present nor things to come, nor powers, nor height nor depth, nor anything else in all creation, will be able to separate us from the love of God in Christ Jesus our Lord.
The promise of no more separation from God and no more separation being possible because of God, so we are to "be content with what you have, for he has said, "I will never leave you nor forsake you." So we can confidently say, The Lord is my helper; I will not fear; what can man do to me" (Heb 13:5b-6)? Why fear when we have God's Word on it that someday, God "will wipe away every tear from their eyes, and death shall be no more, neither shall there be mourning, nor crying, nor pain anymore, for the former things have passed away" (Rev 21:4). The disciples were troubled by Jesus' leaving and feeling a sense of loss, so Jesus reminded them that it was only temporary, saying, "Yet a little while and the world will see me no more, but you will see me. Because I live, you also will live" (John 14:19), so "Peace I leave with you; my peace I give to you. Not as the world gives do I give to you. Let not your hearts be troubled, neither let them be afraid" (John 14:27). And the peace of God "surpasses all understanding, will guard your hearts and your minds in Christ Jesus" (Phil 4:7). It is as the Apostle Peter wrote: "For it stands in Scripture: Behold, I am laying in Zion a stone, a cornerstone chosen and precious, and whoever believes in him will not be put to shame" (1 Pet 2:6). The last time I checked, that cornerstone was still standing, and like the Word of God, He abides forever.
Conclusion
What Bible verse might you add to someone who is having a season of doubt? What verses help you in times where it seems God is silent? Are there some chapters you automatically turn to when you feel like you beginning to have doubts? Jude comes to my mind he wrote about those who may have been experiencing a time of doubt. He wrote, "And have mercy on those who doubt; save others by snatching them out of the fire; to others show mercy with fear, hating even the garment stained by the flesh" (Jude 1:22-23).
Article by Jack Wellman
Jack Wellman is Pastor of the Mulvane Brethren Church in Mulvane Kansas. Jack is a writer at Christian Quotes and also the Senior Writer at What Christians Want To Know whose mission is to equip, encourage, and energize Christians and to address questions about the believer's daily walk with God and the Bible. You can follow Jack on Google Plus or check out his book Teaching Children the Gospel available on Amazon.
Saint Paulinus of Nola
Saint of the Day for 
June 20
(354 – 
June 22, 431

)

https://www.franciscanmedia.org/wp-content/uploads/2016/08/SODJun20.mp3
Saint Paulinus of Nola's Story
Anyone who is praised in the letters of six or seven saints undoubtedly must be of extraordinary character. Such a person was Paulinus of Nola, correspondent and friend of Saints Augustine, Jerome, Melania, Martin, Gregory the Great, and Ambrose.
Born near Bordeaux, he was the son of the Roman prefect of Gaul, who had extensive property in both Gaul and Italy. Paulinus became a distinguished lawyer, holding several public offices in the Roman Empire. With his Spanish wife, Therasia, he retired at an early age to a life of cultured leisure.
The two were baptized by the saintly bishop of Bordeaux and moved to Therasia's estate in Spain. After many childless years, they had a son who died a week after birth. This occasioned their beginning a life of great austerity and charity, giving away most of their Spanish property. Possibly as a result of this great example, Paulinus was rather unexpectedly ordained a priest at Christmas by the bishop of Barcelona.
He and his wife then moved to Nola, near Naples. He had a great love for Saint Felix of Nola, and spent much effort in promoting devotion to this saint. Paulinus gave away most of his remaining property—to the consternation of his relatives—and continued his work for the poor. Supporting a host of debtors, the homeless and other needy people, he lived a monastic life in another part of his home. By popular demand he was made bishop of Nola and guided that diocese for 21 years.
Paulinus' last years were saddened by the invasion of the Huns. Among his few writings is the earliest extant Christian wedding song. His Liturgical Feast Day is June 22.
---
Reflection
Many of us are tempted to "retire" early in life, after an initial burst of energy. Devotion to Christ and his work is waiting to be done all around us. Paulinus' life had scarcely begun when he thought it was over, as he took his ease on that estate in Spain. "Man proposes, but God disposes."

And immediately they left their nets and followed him.
Mark 1:18
When they heard the call of Jesus, Simon and Andrew obeyed at once without hesitation. If we did likewise and punctually with resolute zeal put into practice what we hear immediately, then our attendance at the means of grace and our reading of good books could not fail to enrich us spiritually. He will not lose his loaf who has taken care to eat it immediately; neither can he be deprived of the benefit of the doctrine who has already acted upon it. Most readers and hearers become moved to decide to take action; but sadly, the proposal is a blossom that has not flowered, and as a result no fruit comes from it; they wait, they waver, and then they forget, until, like the ponds on frosty nights, when the sun shines by day, they are only thawed in time to be frozen again.
That fatal tomorrow is blood-red with the murder of good resolutions; it is the slaughterhouse of the innocents. We are very concerned that our little book of "Evening Readings" should not be fruitless, and therefore we pray that readers may not be readers only, but doers of the Word.The practice of truth is the fruit of profitable reading.
Should the reader be impressed with any duty while perusing these pages, let him be quick to fulfill it before the holy glow has departed from his soul, and let him leave his nets and all that he has rather than be found rebellious to the Master's call. Do not give place to the devil by delay! Act while opportunity and desire are working in happy partnership. Do not be caught in your own nets, but break the meshes of worldliness, and go where glory calls you. Happy is the writer who will meet with readers resolved to carry out his teachings: His harvest will be a hundredfold, and his Master will have great honor. We can only pray that this might be our reward from these brief meditations and hurried hints. Grant it, O Lord, to Your servant!
Being Fully Persuaded
TGIF Today God Is First Volume 1 by Os Hillman
June 20, 2018
"Being fully persuaded that God had power to do what He had promised." – Romans 4:21
Why did God consider Abraham a righteous man? It was because Abraham looked beyond his own limitations of age and strength and considered God as the one who could accomplish His own goals. Abraham came to a place in his life where he realized it had little to do with him and all to do with God. His part was initiating the faith within himself.
Against all hope, Abraham in hope believed and so became the father of many nations, just as it had been said to him, "So shall your offspring be." Without weakening in his faith, he faced the fact that his body was as good as dead-since he was about a hundred years old-and that Sarah's womb was also dead. Yet he did not waver through unbelief regarding the promise of God, but was strengthened in his faith and gave glory to God (Romans 4:18-20).
What are the things in your life that are mere impossibilities? What are the mountains in your life? Are these there in order to build your faith in the one who can enable you to ascend to the peak? Once you know that it is His will for you to pursue, do it with faith. Faith requires action when we know it is He who is leading. It may require risk. Faith is sometimes spelled R-I-S-K. Abraham did not limit God. It is this confidence in God that God honored and rewarded. He wants to do the same with you and me.
NATIONAL AMERICAN EAGLE DAY
Observed each year on June 20th is National American Eagle Day.  This day is set aside to honor our national symbol, raise awareness for protecting the Bald Eagle, assist in the recovery of their natural environments and take part in educational outreach.
The Bald Eagle is both the national bird and the national animal of the United States of America and appears on its Seal.
In the latter 20th century, the Bald Eagle was on the brink of extinction in the continental United States.  Eventually, populations recovered and on July 12, 1995, the species was removed from the U.S. Federal Government's List of Endangered Species and transferred to the List of Threatened Species. On June 2007, it was withdrawn from the List of Endangered and Threatened Wildlife in the Lower 48 States.
The Bald Eagle's range includes most of Canada, Alaska, all of the contiguous United States and northern Mexico.  They can be found near large bodies of open water where there is an abundant food supply and old-growth trees for nesting.
Opportunistic feeders, Bald Eagles survive mainly on fish, swooping down and snatching them from the water.  Their nests are the largest nests of any North American bird and the largest tree nests ever recorded for any animal species. The largest recorded eagle's nest was found in St. Petersburg, Florida.  It measured 9.5 feet in diameter and 20 feet deep.  It weighed in at nearly 3 tons.
The name "Bald Eagle" derives from an older meaning of "white headed" as the bird is actually not bald.  The adult eagle is mainly brown with a white head and tail.
HOW TO OBSERVE
For more information on National American Eagle Day visit www.eagles.org.  Use #NationalAmericanEagleDay to share on social media.
HISTORY
National American Eagle Day is sponsored by The American Eagle Foundation.