Christoph Friedrich Blumhardt
I do not hide your righteousness in my heart; I speak of your faithfulness and your saving help. I do not conceal your love and your faithfulness from the great assembly. Psalm 40:10, NIV
Lord our God, in the grace of Jesus Christ we turn to you, our Father in heaven and on earth, for we know your truth and your saving power. Grant that all may learn to look upward to you in faith and in trust that your will is being done on earth, even though so much seems to be the work of humans alone. But your will is behind everything and we put ourselves under your will. We hope in your will. In your will we are certain that everything will be made right and good, to the glory of your name. Amen.
TODAY'S DAILY DIG
Because egoism nourishes mistrust, it is very important, if we want to be freed from this, to make a serious, sober commitment such as, "I do not want to be respected by certain people; I do not want to be admired. Lord, accept my commitment today. I do not want to worry about whether I get a bad deal; I do not want to be involved in myself. I want to trust that you will not let anything happen to me that would not be for my good. I always want to think the best of my brother and sister and not give way to any mistrustful thoughts again.…" Then we should go and seek ways to bring love and trust to those whom we have mistrusted. That will help us; for if we give others love, we will no longer center around ourselves.
Source: Called to Community: The Life Jesus Wants for His People
Verse of the Day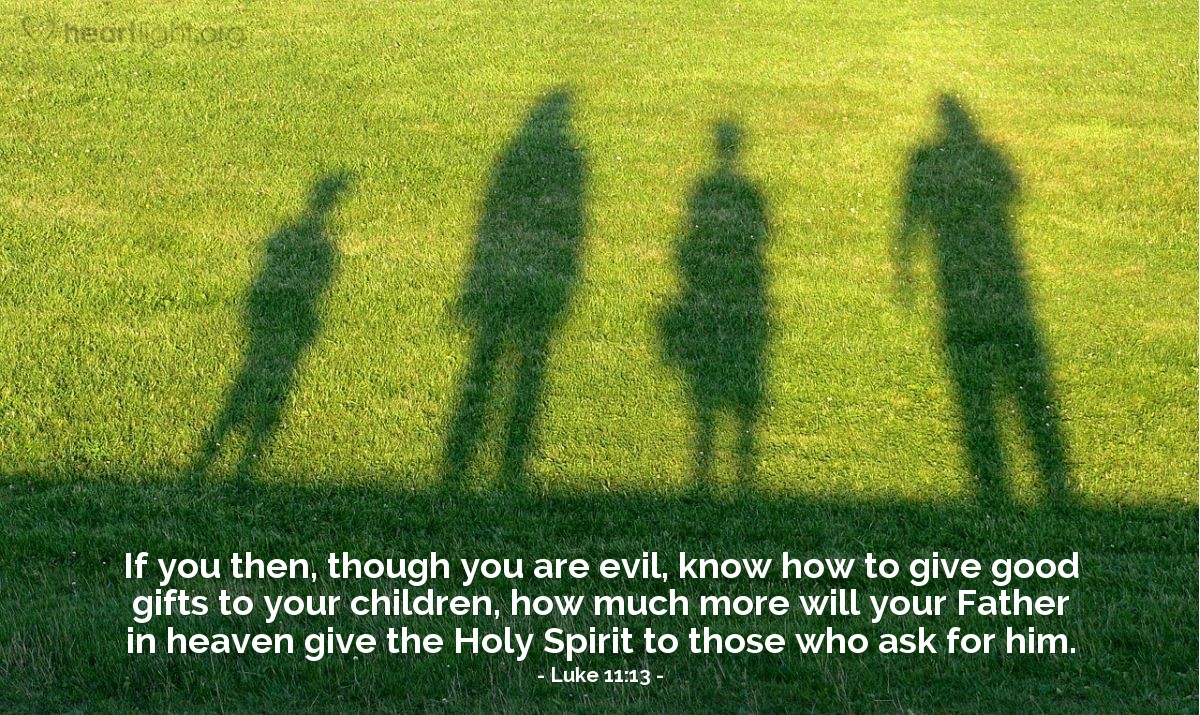 Thoughts on Today's Verse…
Think of all the great gifts you've been given. Next to Jesus, God's gracious sacrifice for our salvation, the greatest gift we can receive is God's abiding presence in the Holy Spirit! He is ours if we ask. In fact, when we ask God for anything, the Spirit is already in God's presence interceding for us!
My Prayer…
Abba Father, through the precious Holy Spirit I come before you asking you to empower me, my loved ones, and our church through the power of your Holy Spirit. I pray for renewal to sweep over our country and our world led by your Spirit of grace, power, and love. In the name of Jesus, the giver of this great gift I pray. Amen.
Saint Anthony of Padua
Saint of the Day for 
June 13
(1195 – 
June 13, 1231

)

https://www.franciscanmedia.org/wp-content/uploads/2016/08/SODJun13.mp3
Saint Anthony of Padua's Story
The gospel call to leave everything and follow Christ was the rule of Anthony's life. Over and over again, God called him to something new in his plan. Every time Anthony responded with renewed zeal and self-sacrificing to serve his Lord Jesus more completely.
His journey as the servant of God began as a very young man when he decided to join the Augustinians in Lisbon, giving up a future of wealth and power to be a servant of God. Later when the bodies of the first Franciscan martyrs went through the Portuguese city where he was stationed, he was again filled with an intense longing to be one of those closest to Jesus himself: those who die for the Good News.
So Anthony entered the Franciscan Order and set out to preach to the Moors. But an illness prevented him from achieving that goal. He went to Italy and was stationed in a small hermitage where he spent most of his time praying, reading the Scriptures and doing menial tasks.
The call of God came again at an ordination where no one was prepared to speak. The humble and obedient Anthony hesitantly accepted the task. The years of searching for Jesus in prayer, of reading sacred Scripture and of serving him in poverty, chastity, and obedience had prepared Anthony to allow the Spirit to use his talents. Anthony's sermon was astounding to those who expected an unprepared speech and knew not the Spirit's power to give people words.
Recognized as a great man of prayer and a great Scripture and theology scholar, Anthony became the first friar to teach theology to the other friars. Soon he was called from that post to preach to the Albigensians in France, using his profound knowledge of Scripture and theology to convert and reassure those who had been misled by their denial of Christ's divinity and of the sacraments..
After he led the friars in northern Italy for three years, he made his headquarters in the city of Padua. He resumed his preaching and began writing sermon notes to help other preachers. In the spring of 1231 Anthony withdrew to a friary at Camposampiero where he had a sort of treehouse built as a hermitage. There he prayed and prepared for death.
On June 13, he became very ill and asked to be taken back to Padua, where he died after receiving the last sacraments. Anthony was canonized less than a year later and named a Doctor of the Church in 1946.
---
Reflection
Anthony should be the patron of those who find their lives completely uprooted and set in a new and unexpected direction. Like all saints, he is a perfect example of turning one's life completely over to Christ. God did with Anthony as God pleased—and what God pleased was a life of spiritual power and brilliance that still attracts admiration today. He whom popular devotion has nominated as finder of lost objects found himself by losing himself totally to the providence of God.
---
Saint Anthony of Padua is the Patron Saint of:
Lost items
Poor
Travelers
Saint Anthony of Padua is a name that conjures up many ideas and images: some factual, some the stuff of legends, some just plain silly. But doesn't that attest to his importance as a saint? Only the saints can have that kind of an effect on people's thinking. They tend to be bigger than life, and that's what their stories are all about—men and women who are bigger than life, and who passionately love the Lord.
PERSONAL ADMISSION
When I was a child, there were three devotional practices I could count on in my family and among friends. We all had a statue of Saint Francis in a birdbath somewhere in the yard, we all prayed to Saint Anthony when we lost something, and we all prayed the rosary every day. These religious observances almost defined us as Catholics. I grew up knowing that Saint Francis loved animals and Saint Anthony was very good at finding lost articles. And that's about all I knew of either one of them.
When I entered formation as a Franciscan, I began to appreciate the depth and wisdom of Saint Francis. I reasoned that if I was going to profess vows as a member of his community, I had better learn what he is all about. And the more I learned, the more there seemed to be to take in.
I found that he is far more than the simple man in the birdbath. But Saint Anthony was still the one to turn to if I lost something. There wasn't much development and, to be honest, being required to attend awful Saint Anthony devotions as a student didn't help.
So, I approached adulthood with neutral feelings at best, and little or no real knowledge about Saint Anthony of Padua. (And to make matters worse, my middle name is Anthony—he's one of my patrons!).
As an adult priest, however, I began to learn that there was a lot more to Saint Anthony. He was also a great teacher and preacher. I have grown to appreciate a little bit more about the man who is probably the most popular Franciscan to ever live—maybe even more so than Saint Francis himself.
But that didn't mean I had to give up the image of the "saint of the birdbath" and the "finder of lost articles"—it's just that I learned there's a whole lot more to these men than those simplistic labels imply.
SAINT ANTHONY'S ORIGINS
Fernando Martins de Bulhões was born in Lisbon, Portugal in 1195. Therefore, Saint Anthony, as we know him, was Portuguese, rather than Italian.
At age 15, he joined the Congregation of Canons Regular of Saint Augustine and lived in the monastery in Coimbra, in west-central Portugal. Young Fernando would have known of the Franciscans—whom Francis had founded when Fernando was only about 10 years old—because they had come to Coimbra to live and beg in the city marketplace.
Most of the people were edified by the friars' poverty and simplicity, but it was their going to the missions that truly impressed them. It was in 1219 that some went to preach the word in Morocco. Their enthusiasm, however, met with martyrdom and a sea merchant brought their remains back to Coimbra in apparent defeat.

What Jesus Did!

 'What Greater Witness?'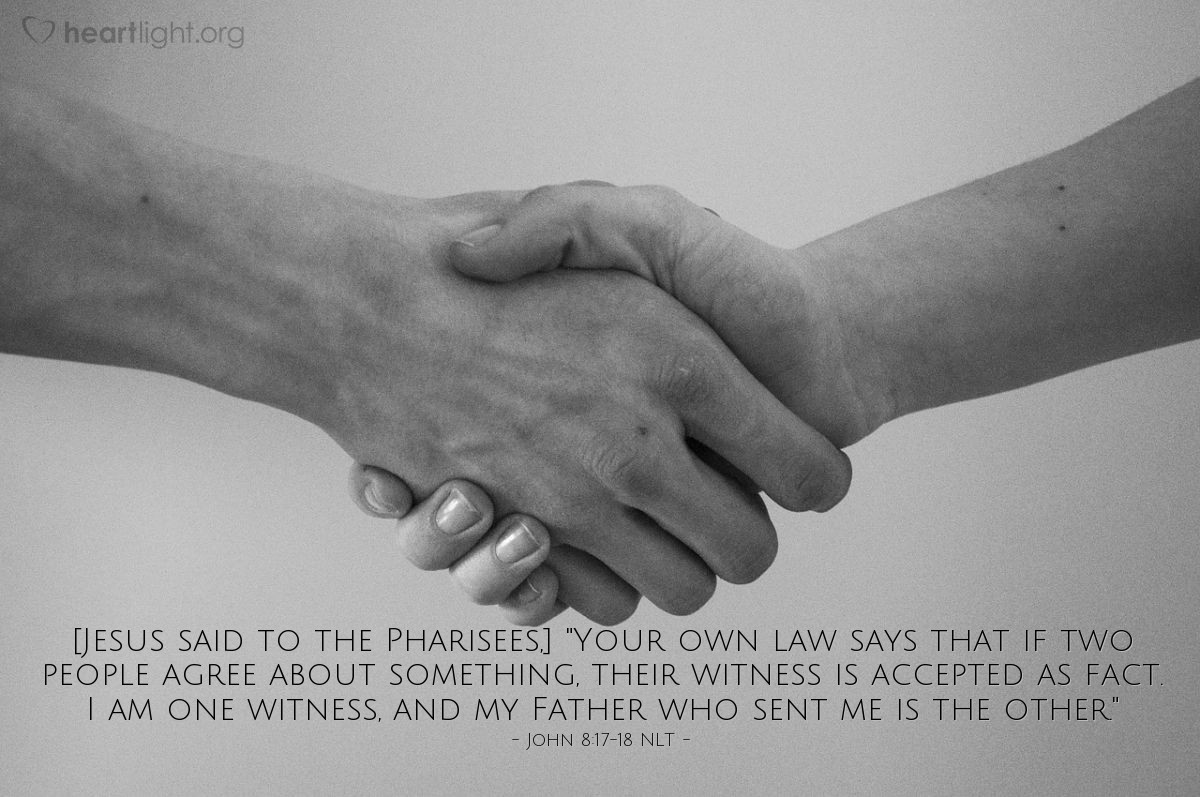 Key Thought
What witnesses could Jesus call to prove he came from God? He needed two witnesses under Jewish law. He had more than two, but the first two are the most important. Jesus himself was a witness and so was his Father. Elsewhere in the Gospel of John, Jesus will list John the Baptist, his own mighty works, and even those who saw his miracles as his witnesses. However, only two witnesses really know that Jesus came from God — the Son and the Father. Once again, Jesus is pushing people to make a hard and definitive choice: Is he a blasphemer who is saying the unthinkable, or is he really from God? Jesus leaves us no middle ground. So what is your decision?
Today's Prayer
Father in heaven, I confess that I often find it hard to make difficult and potentially life-altering decisions. I don't like them. I fear that I will make the wrong decision. But, dear Father, I really do want to honor you with all my heart and to live as a person of faith and integrity. So today I renew my decision to believe that Jesus is your Son and that he came as your presence in our world and showed us you in all your fullness. I trust him as my Savior and follow him as my Lord. I give you all thanks and praise, in Jesus' name. Amen.
Related Scripture Readings
Spiritual Warfare:

 'Seek God with All Your Heart & You'll Find Him'

God's Power for Our Battles

Then you will call on Me and you will come and pray to Me, and I will hear [your voice] and I will listen to you. Then [with a deep longing] you will seek Me and require Me [as a vital necessity] and [you will] find Me when you search for Me with all your heart.
Today's Prayer
Lord, every day I will call on You. Every day I will pray to You and listen and watch for Your responses because I believe that You will hear, You will pay attention, and that You will also respond. Help me to recognize when and how You are responding. I long for Your presence and active involvement in my daily life, Lord, and I know You are willing and able to do that. It is vital to my being and my future. I seek Your face with all my heart, Lord, and I know You will help me find You. In Jesus' Name, Amen.
Humility in Relationships
TGIF Today God Is First Volume 1 by Os Hillman
June 13, 2018
"All of you, clothe yourselves with humility toward one another, because, 'God opposes the proud but gives grace to the humble.'" – 1 Peter 5:5b
I'll never forget the first time I discovered what a feeling was. It was in my early forties. "Surely not!" you may be thinking. Yes, it is true. Since then, I have discovered many men still live in this condition. It took an older mentor to help me understand the difference between information and a feeling. Wives are frustrated because their husbands share information, but not their feelings. They want to know what is going on inside their man. The fact is, most men have not been taught to identify feelings, much less how to share them. It is something that men must learn to do because it is not a natural trait. If they do share their feelings, society often portrays them as weak. No man willingly wants to be portrayed as weak.
In order to become an effective friend and leader, one must learn to be vulnerable with others and develop an ability to share feelings. It is a vital step to becoming a real person with whom others can connect emotionally. This is not easy to do if your parents did not teach you to share your emotional life with others. Emotional vulnerability is especially hard for men. Author Dr. Larry Crabb states,
Men who as boys felt neglected by their dads often remain distant from their own children. The sins of fathers are passed on to children, often through the dynamic of self-protection. It hurts to be neglected, and it creates questions about our value to others. So to avoid feeling the sting of further rejection, we refuse to give that part of ourselves we fear might once again be received with indifference. When our approach to life revolves around discipline, commitment, and knowledge [which the Greek influence teaches us] but runs from feeling the hurt of unmet longings that come from a lack of deeper relationships, then our efforts to love will be marked more by required action than by liberating passion. We will be known as reliable, but not involved. Honest friends will report that they enjoy being with us, but have trouble feeling close. Even our best friends (including spouses) will feel guarded around us, a little tense and vaguely distant. It's not uncommon for Christian leaders to have no real friends. [Larry Crabb, Inside Out (Colorado Springs, Colorado: Navpress, n.d.), 98-99.]
If this describes you, why not begin on a new journey of opening up your life to others in a way that others can see who you really are? It might be scary at first, but as you grow in this area, you will find new freedom in your life. Then, others will more readily connect with you.
NATIONAL KITCHEN KLUTZES OF AMERICA DAY
Each June 13 honors those who would like to cook and be in the kitchen, but it just doesn't seem to work well for them.  After all, it is National Kitchen Klutzes of America Day.
Klutz:  most commonly referred to as a clumsy person.
These are the people who set out with the intentions of Paula Dean or Julia Child as the open up the cookbook.  Setting out the mixing bowl and ingredients, they imagine knife cuts as swift as Wolfgang Puck or Bobby Flay.  However, reality quickly dissolves all those dreams as smoke billows from the oven and salt is mistaken for sugar.  Those knife cuts become bloody, and cookies and fingers are burnt.  The Kitchen Klutz has struck, and visions of spilled milk are pitifully cried over.
It may be necessary to keep a first aid kit and fire extinguisher handy when Kitchen Klutzes are around.  Be ready to call 911 and your favorite take out if you're still hungry.
HOW TO OBSERVE
Use #NationalKitchenKlutzes to post on social media.
HISTORY
Within our research, we were unable to find the origin of Kitchen Klutzes of America Day.