Daily Prayer for June 12
Christoph Friedrich Blumhardt
And when he comes, he will prove to the people of the world that they are wrong about sin and about what is right and about God's judgment. They are wrong about sin, because they do not believe in me; they are wrong about what is right, because I am going to the Father and you will not see me any more; and they are wrong about judgment, because the ruler of this world has already been judged. John 16:8–11, TEV
Lord our God, we thank you that throughout our lives you continually renew your Spirit in us. We thank you that your Spirit enables us to understand Jesus Christ and to follow him all our days on earth. Bless us, and let the revelation of your Spirit come to the world, to the people of all nations, a new outpouring of the Holy Spirit in each heart. But there must still be punishment for sin. For the sake of justice the world has to suffer punishment through judgment. For you, Almighty God, are Lord, and not even Satan, the prince of this world, can act against your will. You will carry out your will through the Holy Spirit. Our task is simply to follow Jesus all our days. This shall be our joy, this priceless gift of following the Lord Jesus. Praise to your name that we have him and his witness in the gospel every day. Praise to your name that every day, even through great distress, we can joyfully follow him in the strength of the Holy Spirit. Amen.
TODAY'S DAILY DIG
There are those who say that because God is love, he could not allow punishment. But that is too easy. It is like saying that because God is love, when you put water into a bag with a hole in it, the hole in the bag won't matter! You must close up the hole!
Source: 
Meditations on the Cross
A prayer for faith in healing, deliverance and in times of trouble
Heavenly Father, I thank You greatly for Your beloved Son, Lord Jesus Christ, one clothed in Divine power, a great Physician, who walked upon the earth, curing the sick, delivering the many tormented by evil spirits, making the lame walk and the blind to see.
What great authority He had over the demons and what great power He had over those who needed His healing!
Matthew 8 : 17 He Himself took our infirmities And bore our sicknesses.
Healing of bodily diseases
Lord Jesus Christ, You bore our sufferings and carried our sorrows. To You was revealed the powers of heaven and might. I call upon Your blessed name to come upon with power on my bodily diseases and heal them.
As You made clean the lepers, heal those with diseases that affect the body and make them clean and whole again. Heal me too from any spiritual leprosy, as I humble myself under Your feet and seek forgiveness for all I have done against the word of the Father and His will.
I pray and believe that no guilt is so great, that which Your precious blood cannot atone. No corruption so strong, that Your grace cannot subdue. No illness that is incurable in Your blessed name, Lord Jesus.
Read: Powerful Prayer for total and complete Healing
Matthew 8 : 8 The centurion answered and said, "Lord, I am not worthy that You should come under my roof. But only speak a word, and my servant will be healed.
Praying for faith
Help me, Lord Jesus, to have great faith like the centurion. Remove my unbelief and my excuses to doubt. Help me to humble myself before You at all times, in all circumstances, bringing my supplications and prayers, and bringing before You those who need Your power of healing and recovery.
Read: Prayer: Command and Declare Healing
Matthew 8 : 31 So the demons begged Him, saying, "If You cast us out, permit us to go away into the herd of swine."
Outpouring of the Holy Spirit
Lord Jesus, pour out Your Holy Spirit on those who minister in the ministry of deliverance. May Your power of deliverance work through their hands as they bring those affected by demons and captivated by evil spirits, and relieve them of satan's trap and antagonism.
Lord Jesus, may nothing come in the way of following Your will and way. May my earthly duties and cares never take over Your call to follow You in service and to do Your will.
Matthew 8:26 But He said to them, "Why are you fearful, O you of little faith?" Then He arose and rebuked the winds and the sea, and there was a great calm
Lord, may no harm or tragedies scare me away from Your comfort and help. Help me, Lord, to always rely on Your strength and Your saving grace, as I remember that even the waves and winds obey Your order. May I always keep the light of faith burning in all the troubles and afflictions I face.
Read: God's Healing is for everyone
Matthew 21 : 22 And whatever things you ask in prayer, believing, you will receive.
May I always remember and have great faith in Your words, "Believe, and you shall receive, only believe". In my faith and belief, I will see Your power, Lord Jesus Christ, healing my soul. And may I rejoice and give God all glory, in Your blessed name, Amen!
Verse of the Day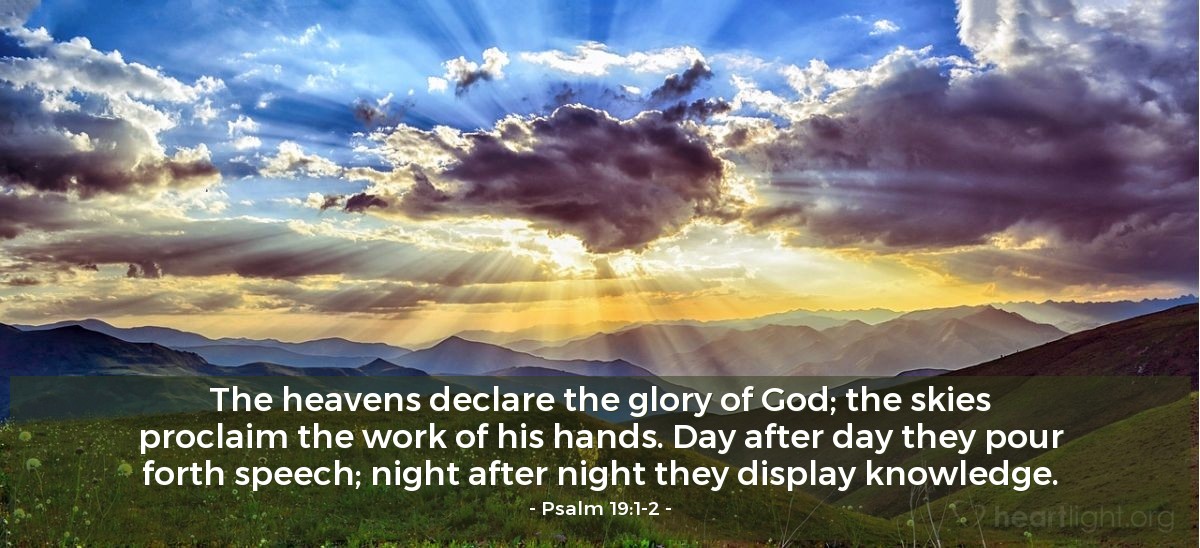 Thoughts on Today's Verse…
God's voice is always speaking. His witnesses give testimony to his glory, majesty, and creative grace. The universe shouts with joy that behind its intricate beauty and paralyzing powers is the One who gave it life, purpose, and intention.
My Prayer…
O Great God, Creator of the countless heavens and our own small blue planet, thank you for noticing the heart cries of one so small in a universe so large. I love you, admire you, trust you, and worship you with wonder. Be exalted in my life, my words, and my deeds this day. In Jesus' name I pray. Amen.
. . . Who saved us and called us to a holy calling.
2 Timothy 1:9
The apostle uses the perfect tense and says, "who saved us." Believers in Christ Jesus are saved. They are not looked upon as people who are in a hopeful state and may ultimately be saved, but they are already saved. Salvation is not a blessing to be enjoyed upon our dying bed and to be sung of in a future state above, but a matter to be obtained, received, promised, and enjoyed now.
The Christian is perfectly saved in God's purpose; God has ordained him to salvation, and that purpose is complete. He is saved also as to the price that has been paid for him: "It is finished" was the cry of the Savior before He died. The believer is also perfectly saved in His covenant Head, for as he fell in Adam, so he lives in Christ.
This complete salvation is accompanied by a holy calling. Those whom the Savior saved upon the cross are in due time effectually called by the power of God the Holy Spirit to holiness: They leave their sins; they endeavor to be like Christ; they choose holiness, not out of any compulsion, but from the power of a new nature, which leads them to rejoice in holiness just as naturally as when previously they delighted in sin. God neither chose them nor called them because they were holy, but He called them that they might be holy, and holiness is the beauty produced by His workmanship in them.
The excellencies that we see in a believer are as much the work of God as the Atonement itself. In this way the fullness of the grace of God is beautifully displayed. Salvation must be of grace, because the Lord is the author of it: And what motive but grace could move Him to save the guilty? Salvation must be of grace because the Lord works in such a manner that our righteousness is forever excluded. Such is the believer's privilege—a present salvation; such is the evidence that he is called to it—a holy life.
When Planting Yields No Fruit
TGIF Today God Is First Volume 1 by Os Hillman
June 12, 2018
"You have planted much, but have harvested little…." – Haggai 1:6
Have you ever worked and worked only to yield very little from your efforts? Such was the case for the workplace believers during the time of the prophet Haggai. Finally, God spoke through the prophet Haggai to inform the people why their efforts were not yielding any fruit. There was a specific reason this was happening.
"You expected much, but see, it turned out to be little. What you brought home, I blew away. Why?" declares the Lord Almighty. "Because of My house, which remains a ruin, while each of you is busy with his own house. Therefore, because of you the heavens have withheld their dew and the earth its crops. I called for a drought on the fields and the mountains, on the grain, the new wine, the oil and whatever the ground produces, on men and cattle, and on the labor of your hands" (Haggai 1:9-11).
God had finally had enough. His priorities were not His people's priorities. So, He withheld in order to get their attention. Zerubbabel was governor of Judah at the time. He was a godly man who sought to do God's will. He listened as the prophet gave these words; then he responded.
Then Zerubbabel son of Shealtiel, Joshua son of Jehozadak, the high priest, and the whole remnant of the people obeyed the voice of the Lord their God and the message of the prophet Haggai, because the Lord their God had sent him. And the people feared the Lord (Haggai 1:12).
Sometimes God has to stir up the spirit of one man to initiate needed change. Zerubbabel was that man. Scriptures say, "The Lord stirred up the spirit of Zerubbabel" (Hag. 1:14). God is stirring up the spirit of a remnant of workplace believers throughout the world today. They are seeing what breaks God's heart, and they're responding. Has God placed the spirit of Zerubbabel in you? Are you one who will make a difference for the Kingdom, or are you concerned about building bigger and better barns? The Lord is calling forth His people in these last days to make a difference. Ask Him what He wants to do through you.
NATIONAL LOVING DAY
National Loving Day is observed each year on June 12.   National Loving Day is an annual celebration that commemorates the anniversary of the 1967 United States Supreme Court decision Loving vs. Virginia.  This decision struck down all anti-miscegenation laws remaining in sixteen U.S. states citing "There can be no doubt that restricting the freedom to marry solely because of racial classifications violates the central meaning of the equal protection clause."  Anti-miscegenation laws in the United States were U.S. state laws banning interracial marriage.
Childhood friends, Mildred and Richard, met when she was 11, and he was 17.  Over the years they began courting and in 1958 when she turned 18, they married in Washington.  They returned to their hometown north of Richmond and two weeks later, not realizing that interracial marriage was illegal, they were arrested.  Mildred and Richard Loving pleaded guilty and to avoid jail time; they agreed to leave Virginia.
The Loving's moved to Washington D.C. and started legal action writing to Attorney General Robert F. Kennedy.  Kennedy referred the case on to the American Civil Liberties Union.  The Warren Court unanimously ruled in their favor, and the Loving's returned to their Virginia home where they resided with their three children.
HOW TO OBSERVE
Use #NationalLovingDay to post on social media.
HISTORY
National Loving Day is not yet an officially recognized holiday by the U.S. government. However, there is a movement to persuade the government to do so.  This day was inspired by Juneteenth and seeks both to commemorate and celebrate the Supreme Courts 1967 ruling, keeping its importance fresh in the minds of a generation which has grown up with interracial relationships being legal as well as explore issues facing couples currently in interracial relationships.